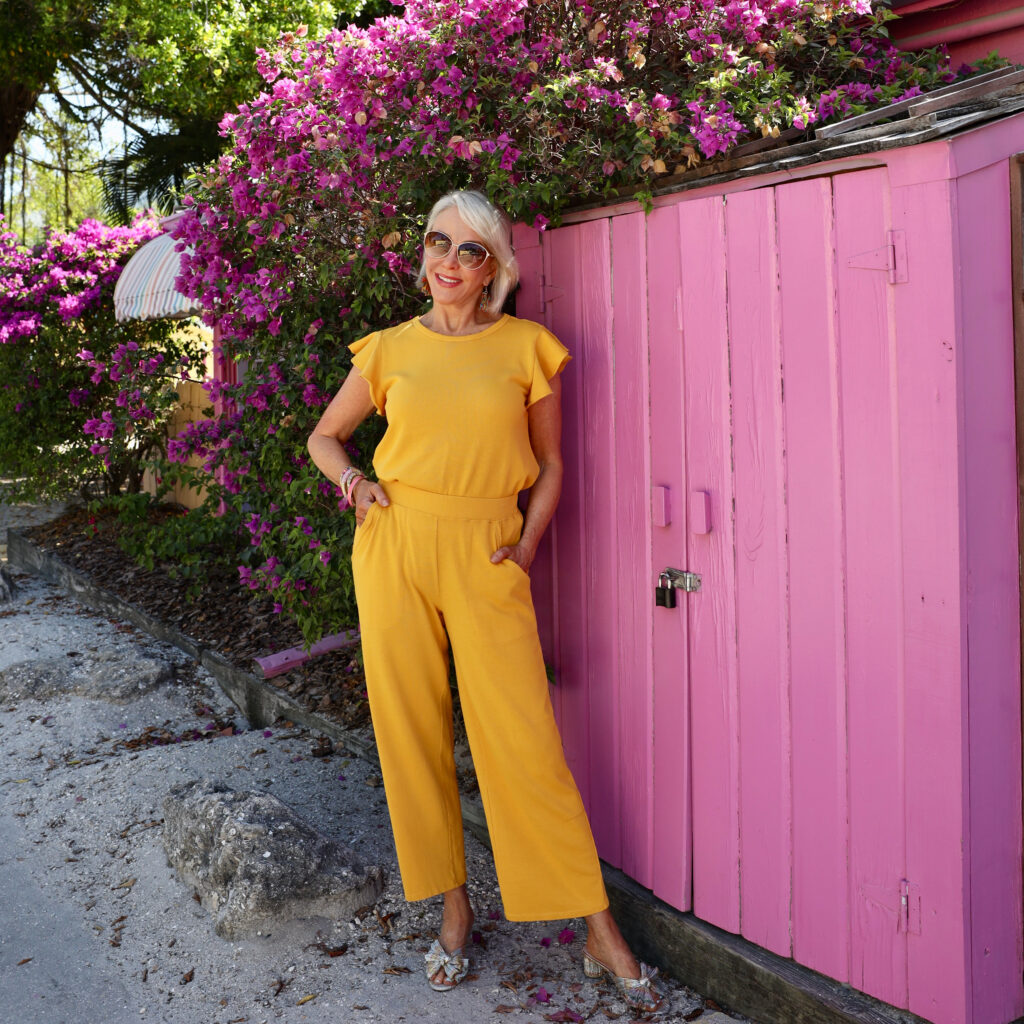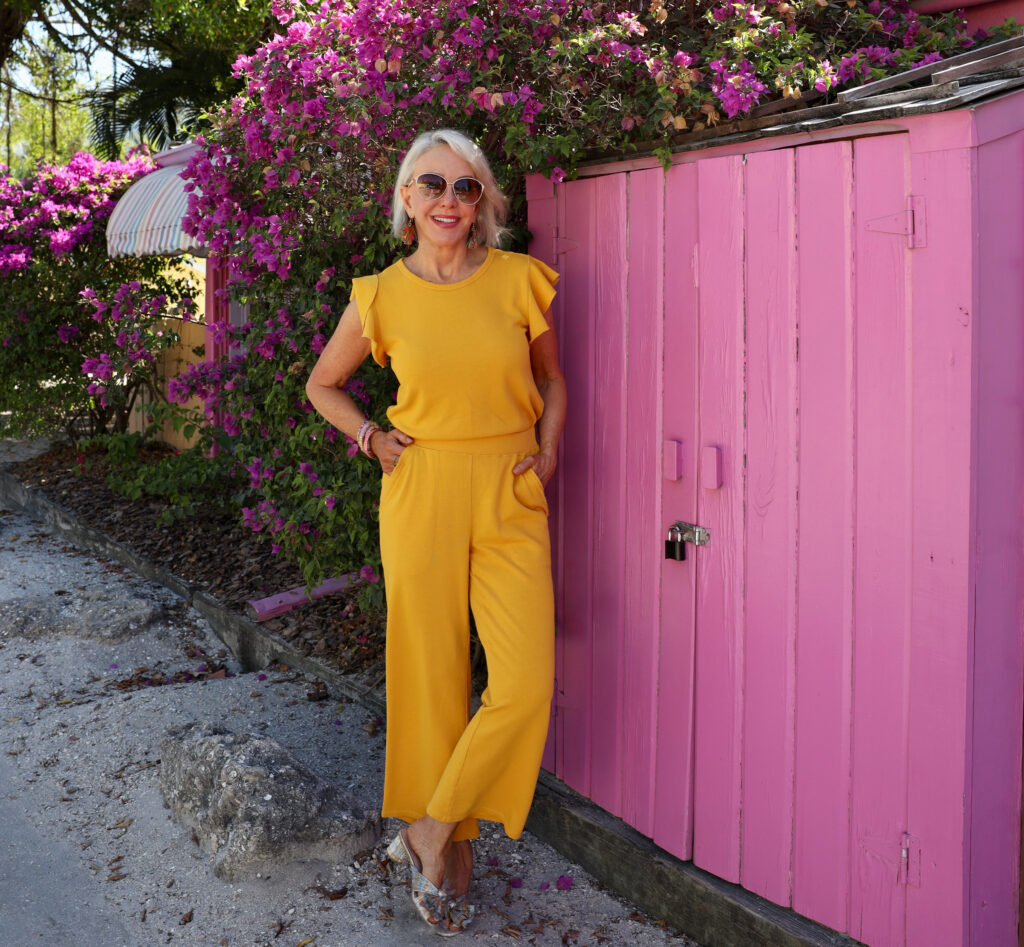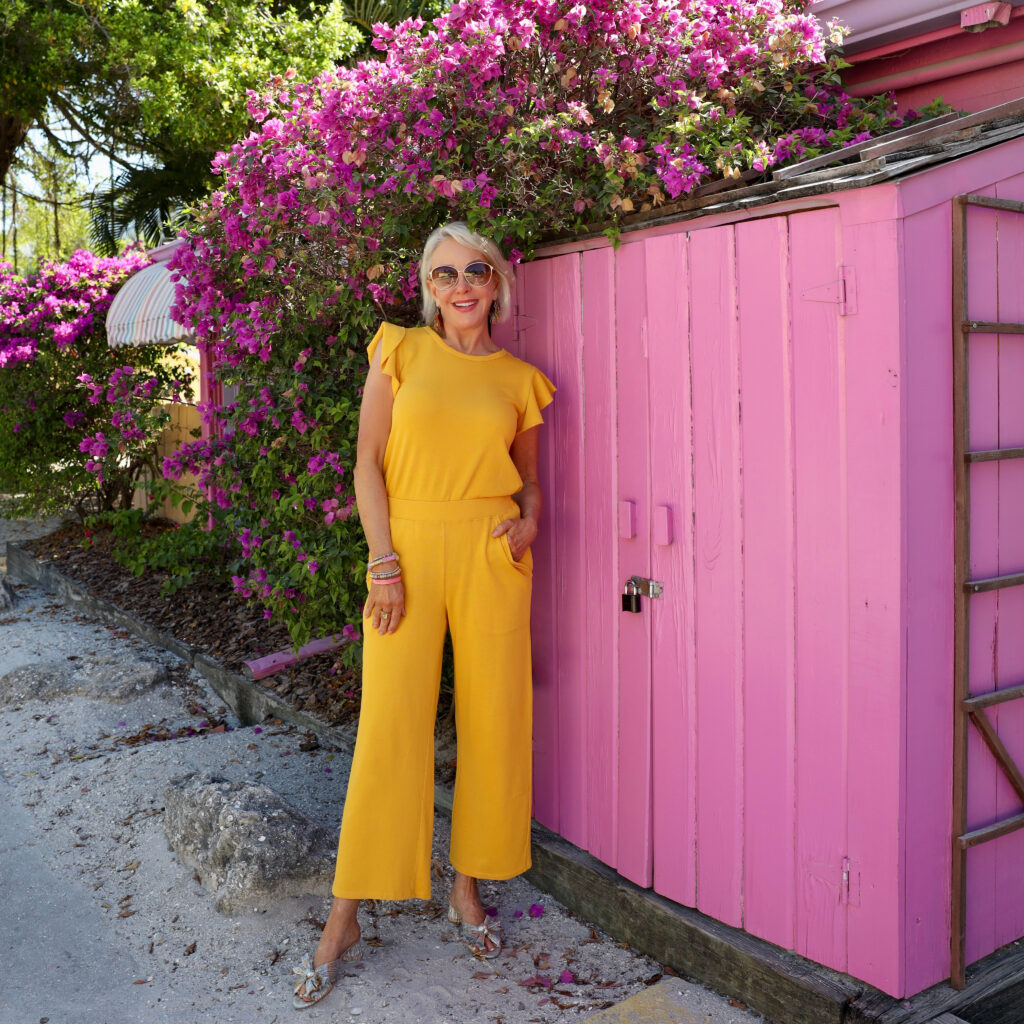 I travel back and forth, home to home, year-round. One thing about traveling is I like to be stylish yet comfortable. Today we have our most fashionable and comfiest looks focusing on air travel!
My Look

Pictured above is a set by Lilla P. While it looks like a jumpsuit it is not! As you can see on Shauna (@chicover50 it is also available in pink and gray! I am wearing a cute pair of heels with this look, but I did wear it to travel home and switched the heeled sandal for sneakers like these. I felt oh-so-chic and was able to be on the move easily in my Lilla P set. Get the top here and the pant here
.
Tops for Travel


For tops to travel in I love something casual, like a classic white tee or this ruffle sleeve crew neck shirt. When picking out my top, I like to think about layering as the climate is constantly changing when traveling. A lot of times I am hot in the airport from all of the chaos then tend to get cold on the plane once settled in.

Bottoms

You can definitely catch me in a cute set of joggers when I am traveling. I think they are warm enough to be comfortable and light enough to stay on the go. These are one of my favorite joggers. I am not a huge fan of shorts on a plane…but these shorts get a pass from SheShe. Length is everything for me and while I do not overdress to travel, I also do not like to be underdressed. First impressions happen everywhere and the last thing I would want for myself is to bump into the Queen wearing booty shorts!! With that said, if traveling I think a knee-length or near-knee length like these shorts, is the best choice.
Jackets + Cardigans + Wraps


I normally carry a great wrap or something light to toss on while I'm traveling. I tend to get chilly on a plane and something light like this wrap is perfect to keep me comfortable! Even a light jacket that is easy to pack and does not wrinkle easily is great for your travels. This one is a fave of mine. A wrap like this one also, fit better in a tote and takes up less space than a heavy jacket
Travel Dresses


Even though dresses are easy, they are not my first choice unless it is a very short trip. They tend to bunch up and twist up on a plane. When I pick out what I am wearing to travel in, I always make sure it does not require a lot when I'm going through TSA and using the bathroom. With that being said, I steer clear of jumpsuits. While it may seem like a simple outfit, think about how small the bathrooms are on a plane. That makes wearing a jumpsuit a MAJOR struggle!! This dress is one of my choices when picking out a dress. It's great to pair with sneakers or a sandal and of course, a denim jacket looks great with it as well.
Travel In Style Shop

SHESHE'S TIDBITS
We are off to Montrose, Colorado where we will close and move out of our river ranch this week. After selling my business and some commercial properties over the last 10 years, this is our last tie to this area after 27 years. Yes, bittersweet!!! So many great friendships, so many great memories…. feeling a tear coming on.
ABOUT SHESHE SHOW
WELCOME new readers. We are a fashion/travel/lifestyle blog. We talk about anything and everything, from fashion, travel, health issues, skincare tips, to even an occasional recipe. Let us know if there is a topic that interests you. We will do our best to bring that story to you. Have a great week sweet friends and thank you for following along. Without you, we could not continue on this crazy fun journey.
Be sure to check out the Shop SheShe tab at the top of the menu bar. Hover over and choose the category in the dropdown. We try to keep it up to date with the latest and greatest for all budgets. Subscribe here and then you won't miss a post. Simply enter your email in the pop-up box or below. Also, download the LiketoKnow.It App, follow @shesheshow to shop all of our daily outfits, home, beauty, and more. Go here for our LiketoKnow.It tutorial.