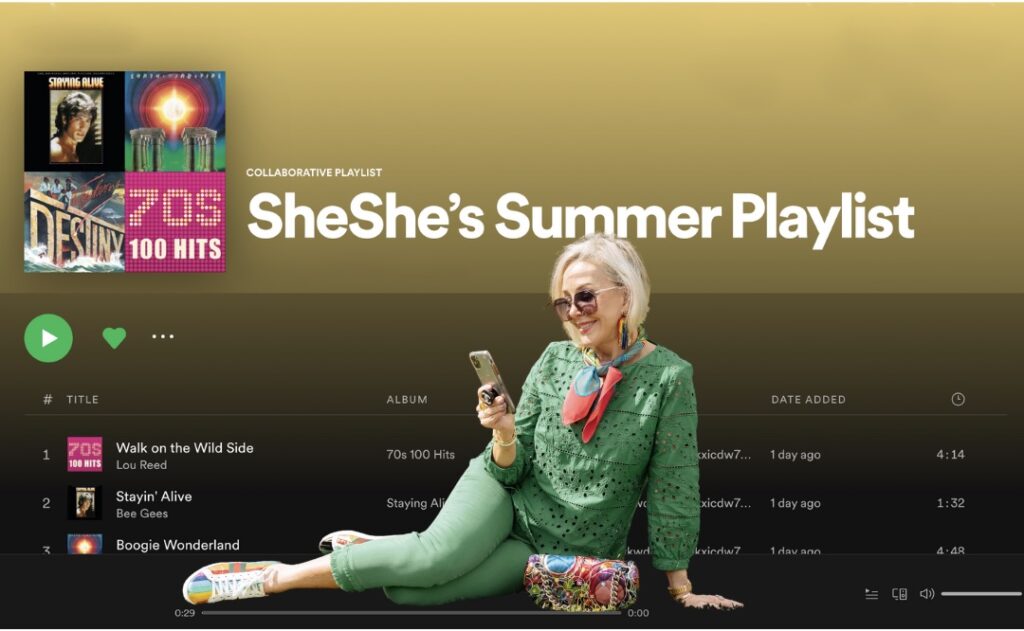 Today we are sharing SheShe's summer playlist! Summer is here and I find it's the time of the year where we listen to more music especially since family time and being outdoors is part of summer!
My Summer Playlist
So as you may know I am a matured woman and I was born in the '50s…so they say. With that being said the '70s was the time for me as a young woman and so it stays in my memory as a very happy and youthful time! From Carole King to Jimmy Buffet, this playlist has it all! This playlist is definitely perfect for summer, whether relaxing or sitting beachside these tunes are full of good vibes and made to make even more great memories too.
Outfit Details

SHESHE'S TIDBITS
I have spent the last day and a half going through every room of our house located on the river in Montrose, Colorado. Packing is not my favorite thing to do but it does give me a chance to reminisce over some very fond memories of our 27 years in this area. I really wasn't expecting to be so emotional about selling our last property in this area, but friends I have cried a bucket of tears!! Cheers to all of my beautiful memories. What a blessing it has been for me!
ABOUT SHESHE SHOW
WELCOME new readers. We are a fashion/travel/lifestyle blog. We talk about anything and everything, from fashion, travel, health issues, skincare tips, to even an occasional recipe. Let us know if there is a topic that interests you. We will do our best to bring that story to you. Have a great week sweet friends and thank you for following along. Without you, we could not continue on this crazy fun journey.
Be sure to check out the Shop SheShe tab at the top of the menu bar. Hover over and choose the category in the dropdown. We try to keep it up to date with the latest and greatest for all budgets. Subscribe here and then you won't miss a post. Simply enter your email in the pop-up box or below. Also, download the LiketoKnow.It App, follow @shesheshow to shop all of our daily outfits, home, beauty, and more. Go here for our LiketoKnow.It tutorial.