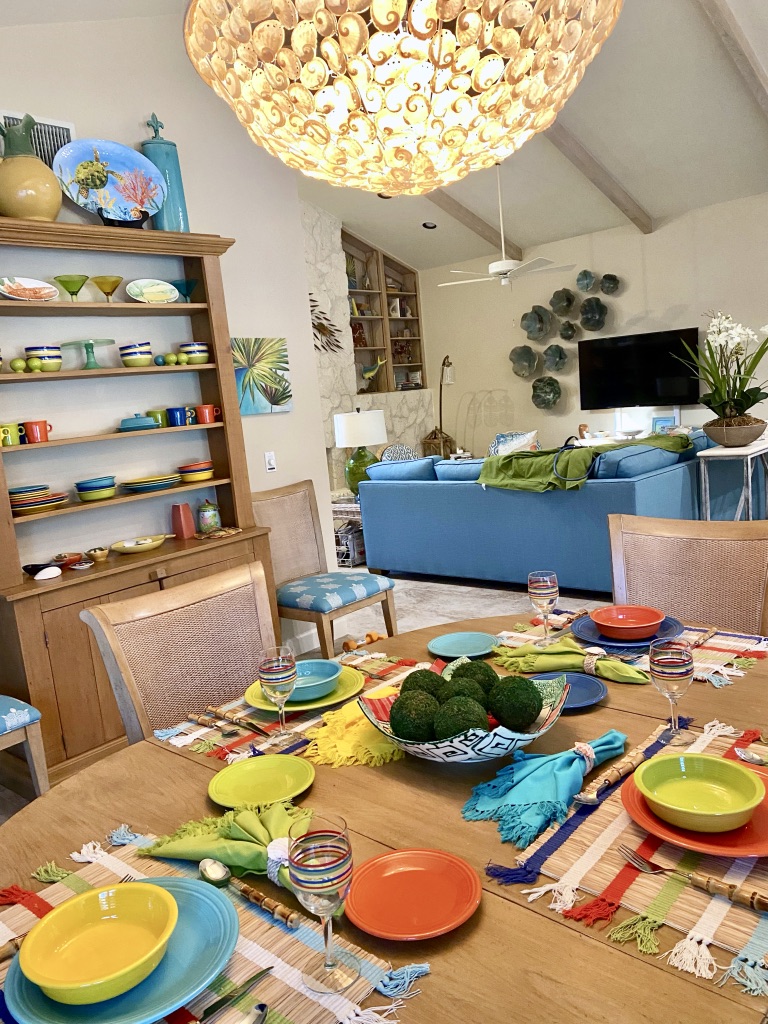 Summer is ending and that's just a calendar thing to me because the temps here are just now starting to push the high 90s! I have set my table in Sanibel and wanted to share with you all, this fabulous setting and so many more. A few of these are great transitional tablescapes, or great for year-round!
Fiesta Tablescapes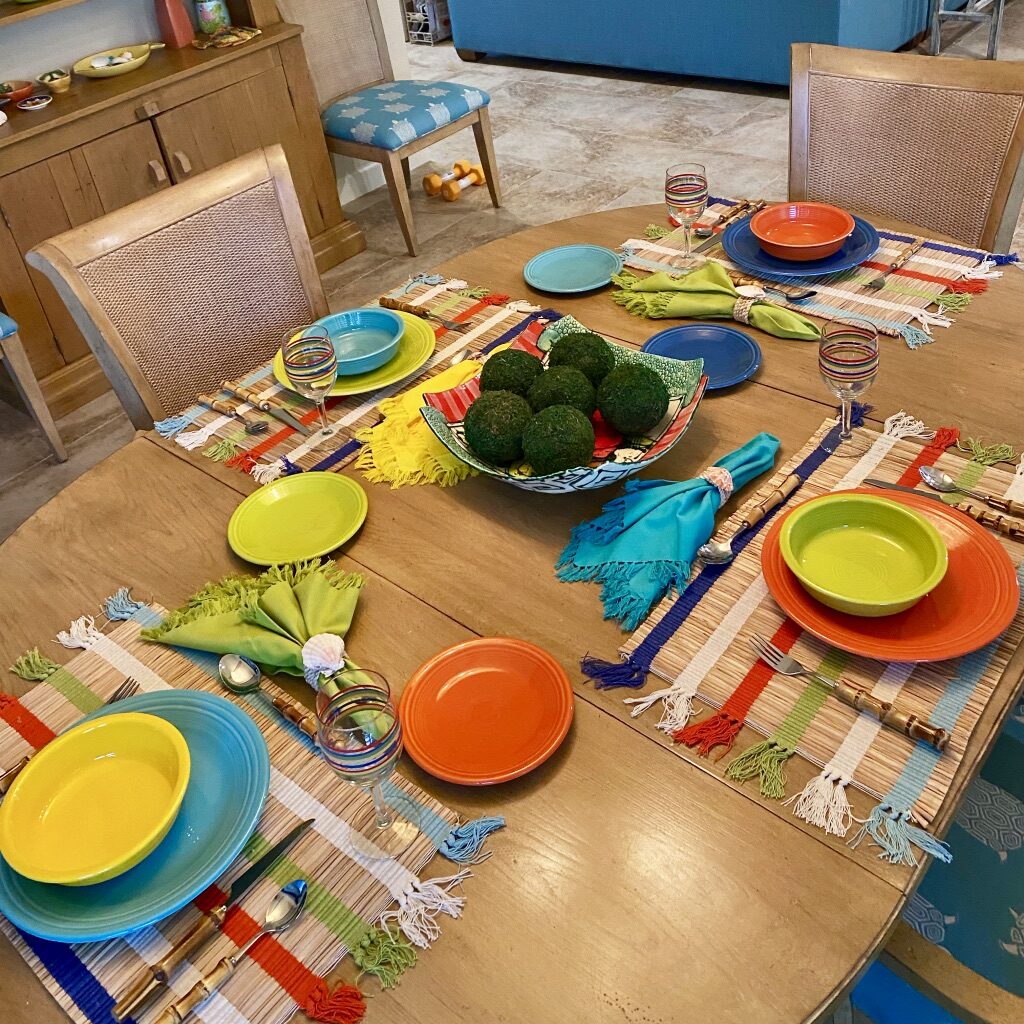 The title is PERFECT for this table setting. Definitely, a setting made for Taco Tuesday and since this was at my house in Florida – I mixed in the seashell napkin rings! This Fiesta ware is a classic that I remember my mom AND grandma having at their house! Now they are considered vintage and sought after! Fiesta is still making dinnerware and everything you need to set your table! By them in multiple colors or choose a single color theme. I love these cups by them as well. As far as my serving set, you will be shocked like I was – they are from SHEIN for only $8 a set!! Who would've known? The moss balls are Amazon and I have them in every home and year-round.
Tropical Tablescapes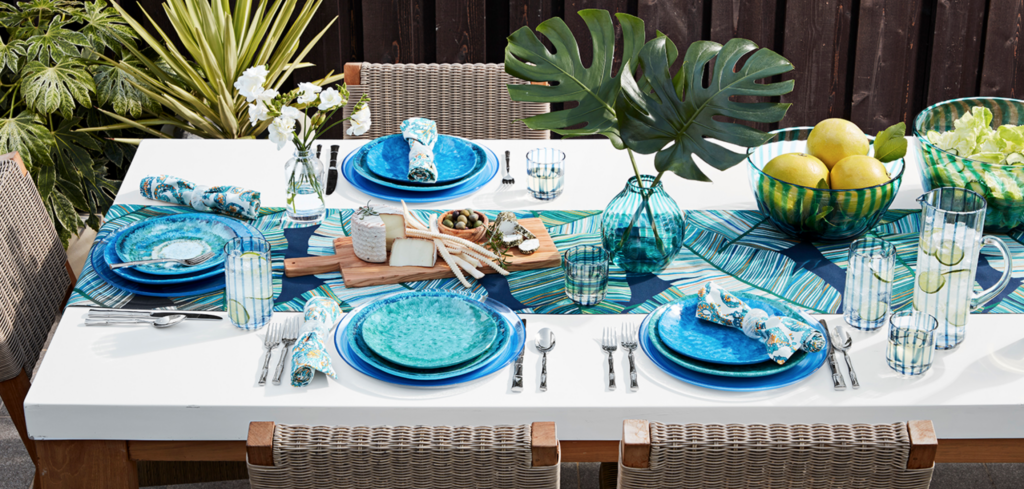 This affordable melamine tabletop set is absolutely breathtaking and without a doubt refreshing! The colors are stunning and it gives off ALL of the tropical vibes we crave! I love this pitcher and cannot get enough of these swirl chargers. As a lover of palms, this palm print table runner is not only beautiful but is sustainably sourced!
A Bee-utiful Tablescape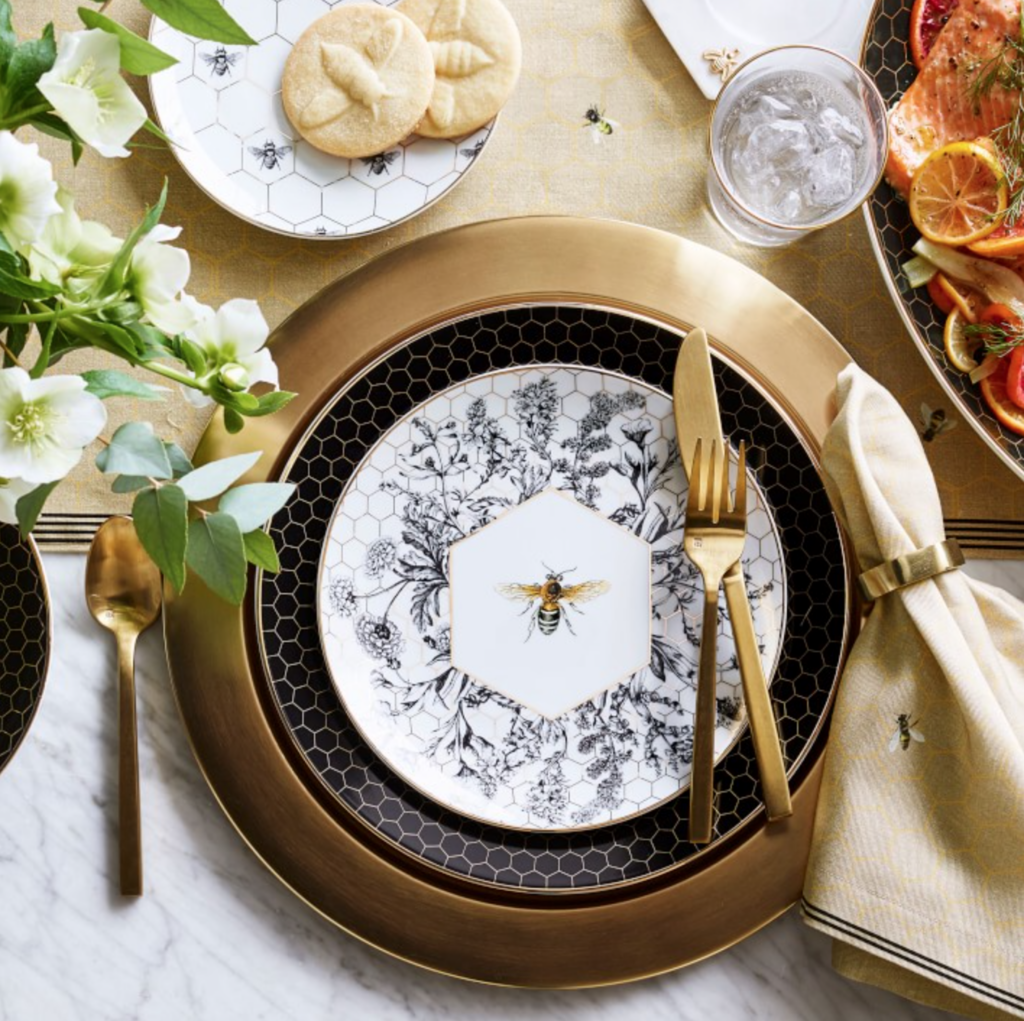 Equal parts elegant and eye-catching, this porcelain dinnerware showcases coordinating architectural honeycomb designs featuring bees and blooms. I have been obsessed with bees for the last couple of years, especially in jewelry. Detailed with 18k gold, the collection layers beautifully with white porcelain dinnerware and serve ware to create a welcoming table all year long.
Botanical Pumpkin Tablescapes


Set a showstopping autumn table with the natural warmth of heirloom pumpkins on the vine. The rich colors and meandering shapes on this porcelain dinnerware and serving pieces were inspired by archival botanical prints. With the holidays right around the corner, I am already thinking about my fall and thanksgiving tablescape! This Botanical Pumpkin Dinnerware set from Williams Sonoma has definitely caught my eye!
We will be back later this fall for some more Thanksgiving and Christmas table decor!!
Shop Our Tablescapes

SHESHE'S TIDBITS
We made it home from Sanibel but boy was it exhausting for me. There is always so so much to do when locking up the house for a few months and to top it off, my dog Miss Pippa got out and was gone for almost 2 hours right before our driver was to arrive. One of our neighbors happened to see her over a half-mile from our house covered in black mud so she brought her to us. OMG….she could have been a really good lunch for an alligator or big hungry bird. She weighs only 7 pounds. It seemed like it took forever to clean her up. I will say, we thanked God that he brought her back to us.
Norman's lower back was so bad (we think pinched nerve ) that he was almost crippled up so I was left to do everything. I handled 8 huge suitcases, Miss Pippa and him. By the time I got home I was toast and still toast as of this writing. Whew!! So glad to be grounded at home for a while.
Cheers to the weekend sweet friends!!
Have a wonderful day sweet friends!
ABOUT SHESHE SHOW
WELCOME new readers. We are a fashion/travel/lifestyle blog. We talk about anything and everything, from fashion, travel, health issues, skincare tips, to even an occasional recipe. Let us know if there is a topic that interests you. We will do our best to bring that story to you. Have a great week sweet friends and thank you for following along. Without you, we could not continue on this crazy fun journey.
Be sure to check out the Shop SheShe tab at the top of the menu bar. Hover over and choose the category in the dropdown. We try to keep it up to date with the latest and greatest for all budgets. Subscribe here and then you won't miss a post. Simply enter your email in the pop-up box or below. Also, download the LiketoKnow.It App, follow @shesheshow to shop all of our daily outfits, home, beauty, and more. Go here for our LiketoKnow.It tutorial.