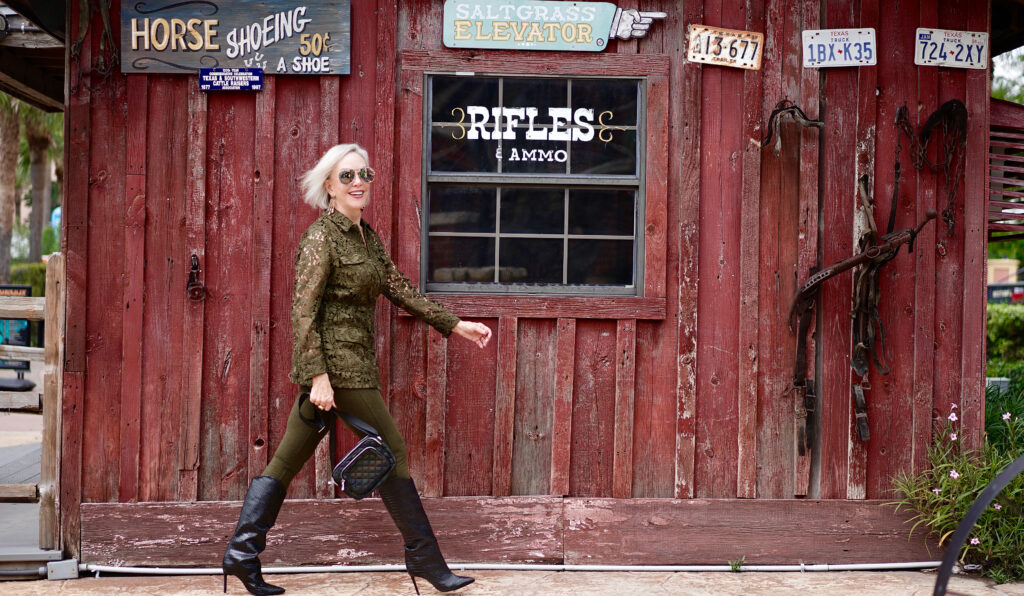 Emerald green was the color of spring/summer this year and now, as fall has arrived we are seeing softer shades. From olive to sage, green is everywhere. So today, we are showing you all of our favorite shades of green.
SHOP TRENDING GREEN HUES
Green Tops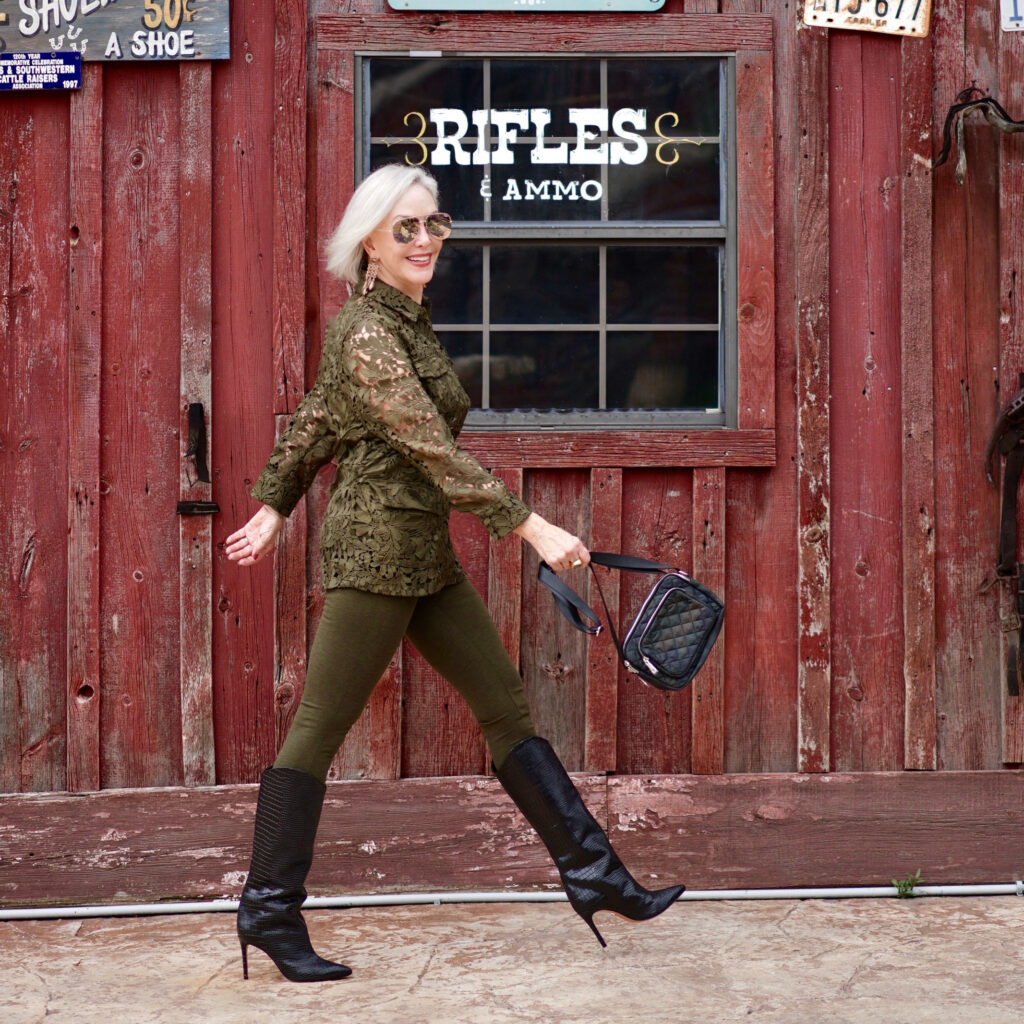 Shop Featured Outfit



For tops, I am loving this casual sweater that is lightweight and has the trendiest ruffled shoulders. For my top pictured, I'm wearing this Chico's Easy Chic Round Front Top with these Tailored Ponte Leggings, and this FABULOUS Lace Explorer Jacket. As far as a cozy top I am eyeballing this Arden Tee.
Dresses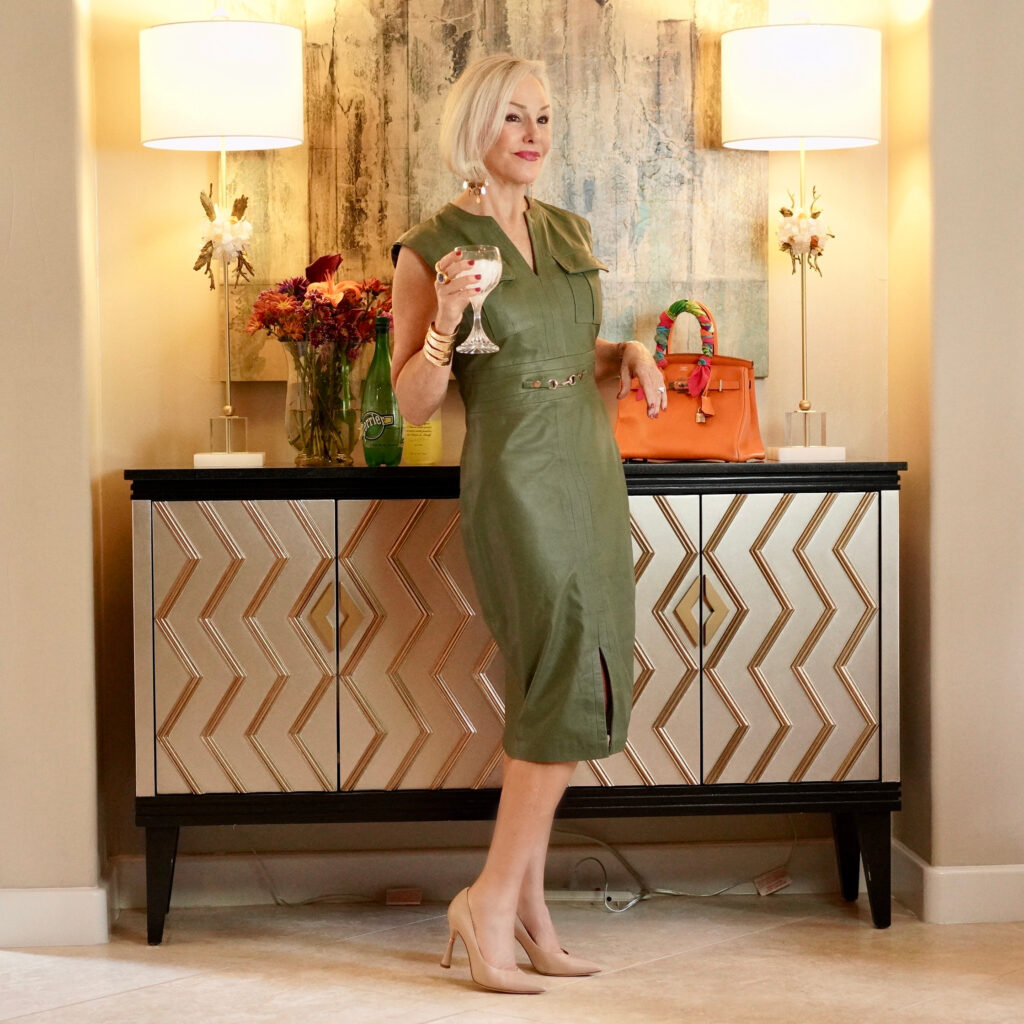 There are so many great dresses out this year that are stunning. But, I wanted to mention this one by Karen Millen Leather Snaffle Trim Pocket Dress. This dress is one of our best-selling dresses of the year and truly is a stunning piece and worth the splurge. Created using leather that'll last you a lifetime, this dress is just as timeless. Molded to every contour, the leather is carefully cut, paneled, and darted to hold you in perfectly. A V-neck bodice and front-flap pockets are flattering touches, while the snaffle-trim detail subtlety draws the eye in at the waist.
Jackets


A green jacket will always be trendy in fall. Pictured I am wearing my fabulous jacket from Draper's and Damon's. perfect for the holidays! To read more on all Draper's has to offer for your fall/Winter wardrobe click here.
Bottoms


Shop Trending Green

SHESHE'S TIDBITS
We spent the weekend in Austin and went to see our Texas Longhorn's lose a big first-half lead…..again. Two weeks in a row, same scenario. We are scratching our heads. Then, I streamed my beloved Volunteer football game to be horrified at the actions of our fans at Neyland Stadium. I know they couldn't see what was seen on TV but in my opinion, there is no excuse to do things that could injure anyone. What a day of football?! If you don't know what I am talking about then no worries. I am just so passionate about my college football teams.
It's a new week, so let's make it great!!
ABOUT SHESHE SHOW
WELCOME new readers. We are a fashion/travel/lifestyle blog. We talk about anything and everything, from fashion, travel, health issues, skincare tips, to even an occasional recipe. Let us know if there is a topic that interests you. We will do our best to bring that story to you. Have a great week sweet friends and thank you for following along. Without you, we could not continue on this crazy fun journey.
Be sure to check out the Shop SheShe tab at the top of the menu bar. Hover over and choose the category in the dropdown. We try to keep it up to date with the latest and greatest for all budgets. Subscribe here and then you won't miss a post. Simply enter your email in the pop-up box or below. Also, download the LiketoKnow.It App, follow @shesheshow to shop all of our daily outfits, home, beauty, and more. Go here for our LiketoKnow.It tutorial.