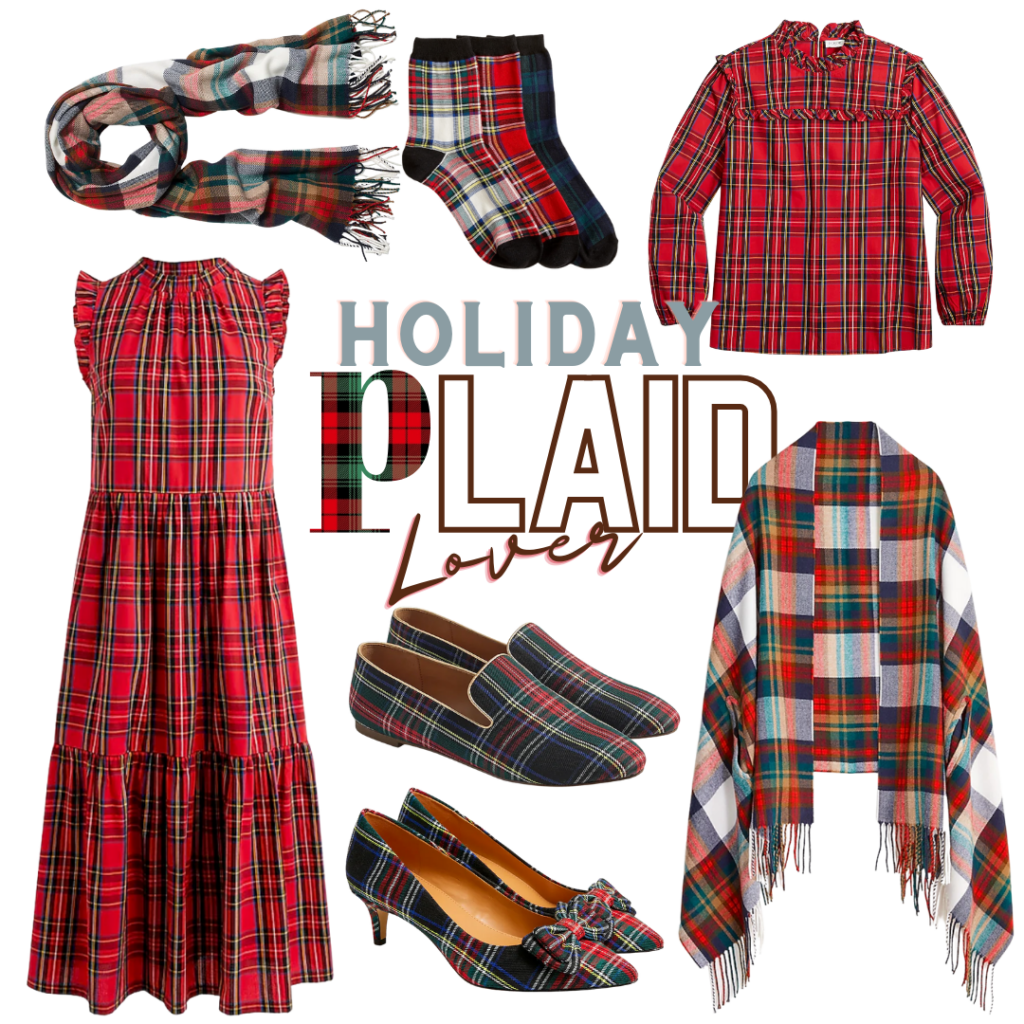 Can you believe Christmas is in less than a month? I still have a couple of gifts left to buy and a lot of wrapping to do, but I have picked out my Christmas Eve and Christmas Day outfits. I guess that is the fashionista in me. Should you be like me but you don't know what to wear then why don't you invest in something plaid. I especially love a plaid blazer or jacket because it screams tradition and I love creating my own traditions….how about you?

My Tradition | Plaid
Over the last 2 or 3 years, I have gone bonkers over something plaid to wear during the holidays. I have now collected several shirts, a pair of pants, 3 plaid blanket scarves, and a cute clutch bag as well as the jacket I am wearing in these 2 photos (sold out – find similar below), and 2 wraps! I am watching the sales every day.
So what is it about plaid? Well, it started a long time ago. This fabric dates as far back as the 8th Century BC when it became a symbol of Sottish power.
Tops


Bottoms


Did we say we were mad for plaid? Well, how about in wide-leg pants or paper bag style pants? Not only trendy, but these patterned pants are fabulously classy! Pairing a blazer, jeans, graphic Ts, romantic blouses, cashmere sweater or simply a white button-up is the perfect match for any of these pants.
Shoes


Accessories


If plaids are too much or too busy for you but you want to try the trend then maybe an accessory is the way to go!
Scarves & Wraps


IN CONCLUSION
Plaid is a charming fabric that can come in many colors and styles but what I know for sure is that I love to wear red or green plaid at Christmas time. So if you want to dress with the spirit of Christmas then I say start your plaid collection. We linked several plaid items for you today. It's the most WONDERFUL time of the year!
Plaid is going to be seen lots and lots this Winter. Don't be afraid to mix in different patterns or colors! Simply take it from day to night and make the most out of your plaid.
The Boutique

ABOUT SHESHE SHOW
WELCOME new readers. We are a fashion/travel/lifestyle blog. We talk about anything and everything, from fashion, travel, health issues, skincare tips, to even an occasional recipe. Let us know if there is a topic that interests you. We will do our best to bring that story to you. Have a great week sweet friends and thank you for following along. Without you, we could not continue on this crazy fun journey.
Be sure to check out the Shop SheShe tab at the top of the menu bar. Hover over and choose the category in the dropdown. We try to keep it up to date with the latest and greatest for all budgets. Subscribe here and then you won't miss a post. Simply enter your email in the pop-up box or below. Also, download the LiketoKnow.It App, follow @shesheshow to shop all of our daily outfits, home, beauty, and more. Go here for our LiketoKnow.It tutorial.