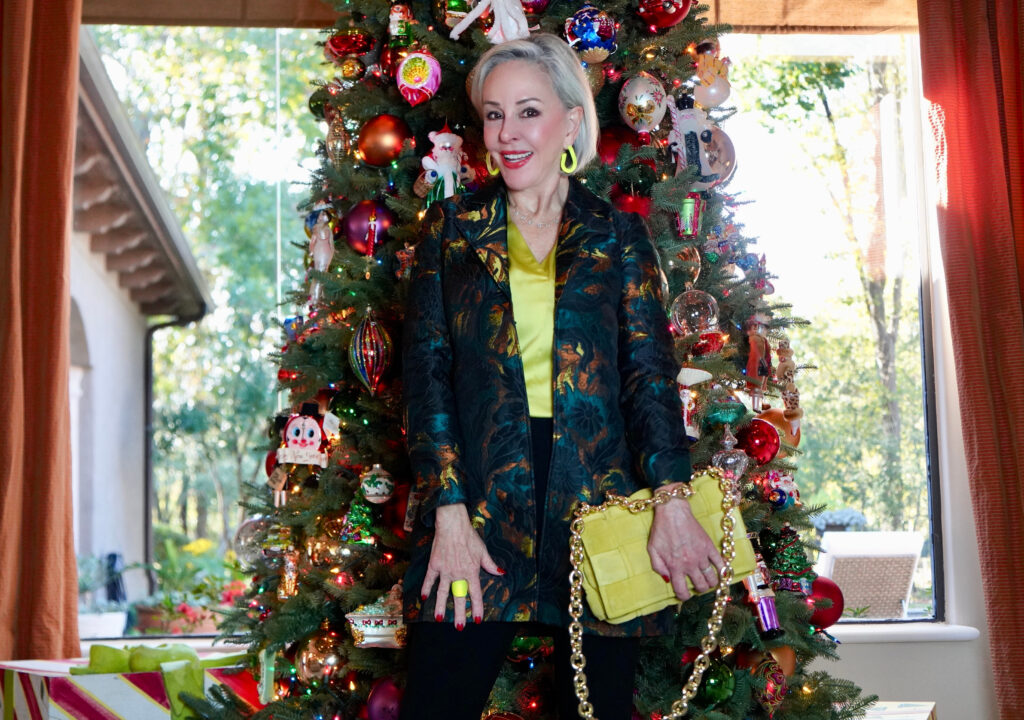 Hello and Happy Holidays!!! Thanksgiving and Black Friday are over but now it's time to think about our holiday outfits. That being said with holiday parties back in full swing in most states, we wanted to share 6 holiday outfits from Chico's. So here we go…… Let's party!!
OUTFIT #1
My first outfit would be perfect for the office then straight to a dinner party and still be oh so fabulous. I am the girl who loves to touch beautiful fabrics and this floral tapestry jacket hits all the marks. With it's embroidered applique details and pop of color, the citrine silk-like satin blouse works perfectly and glams the look up. I would also wear it with jeans and a low heeled pump. It comes in 4 more gorgeous colors.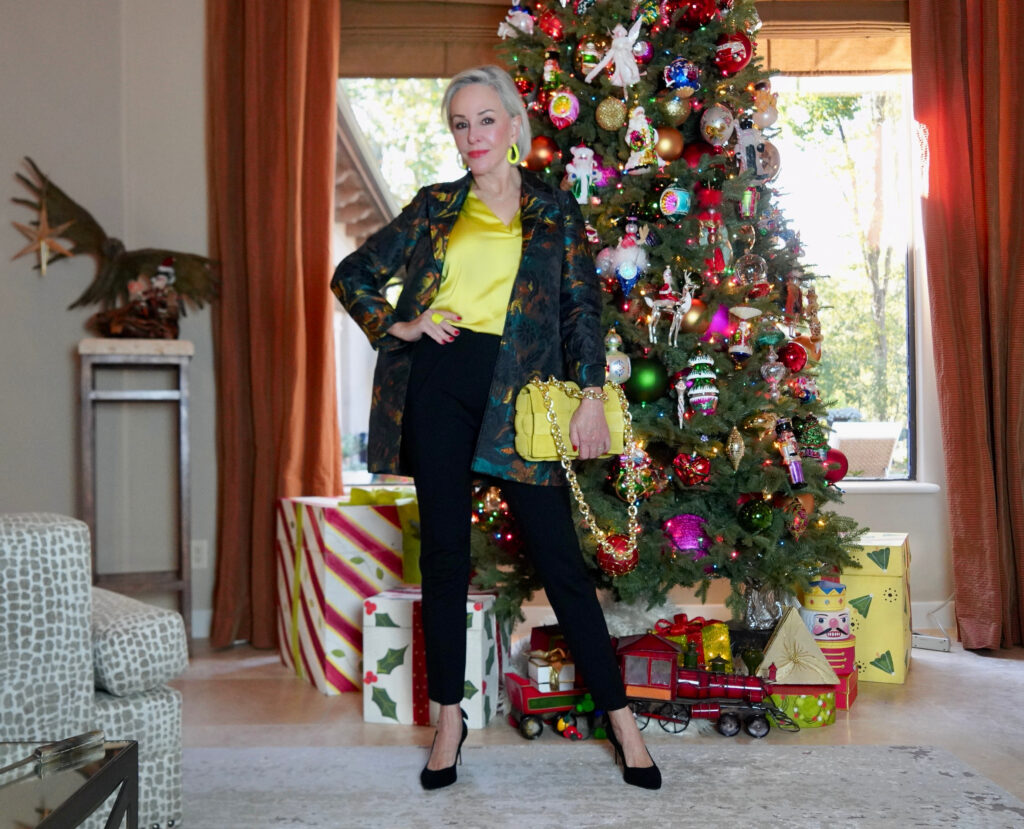 OUTFIT #2
Take 2 basic pieces like these gold coated jeans and white blouse can be re-styled several ways. The billowy sleeves make this blouse fabulously feminine. Just add a dramatice necklace piece to frame your face for a festive outfit that perfectly shows off the beauty of the necklace and the beauty of you!!
My gold coated jeans are nearly sold out but this pair or this pair would make a good substitue. I love to wear this kind of look. So dang chic!!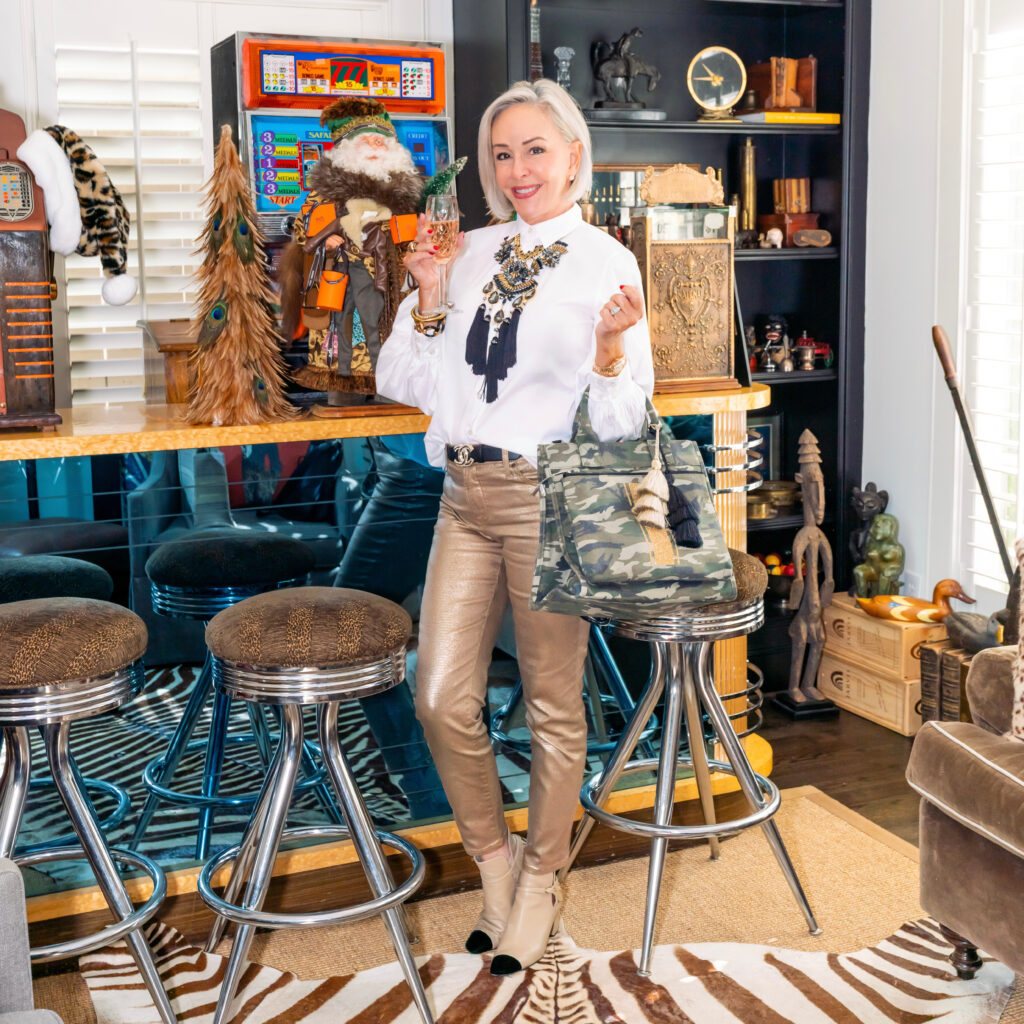 Quilted Koala Bags
I discovered this cute bag concept recently and have excited so many friends to custom create their own bag. This woman owned small business has incorporated versatility and style into their adorable bags. I love that I can make it my own.
Pick out your bag and fabrication
Choose your own shoulder strap from many styles
Add tassels
Your intitials can be added
A broach makes it unique
Snap off the front and back pouch that converts to a chic clutch
To top it off buy the tutu.
To see more and read more about Quilted Koala, go here ––> Quilted Koala
This personalized bag concept would make a great gift for any age. Gift the bag and let others gift the add ons or just buy it all in one click. For a 20% discount use Code: Sheree20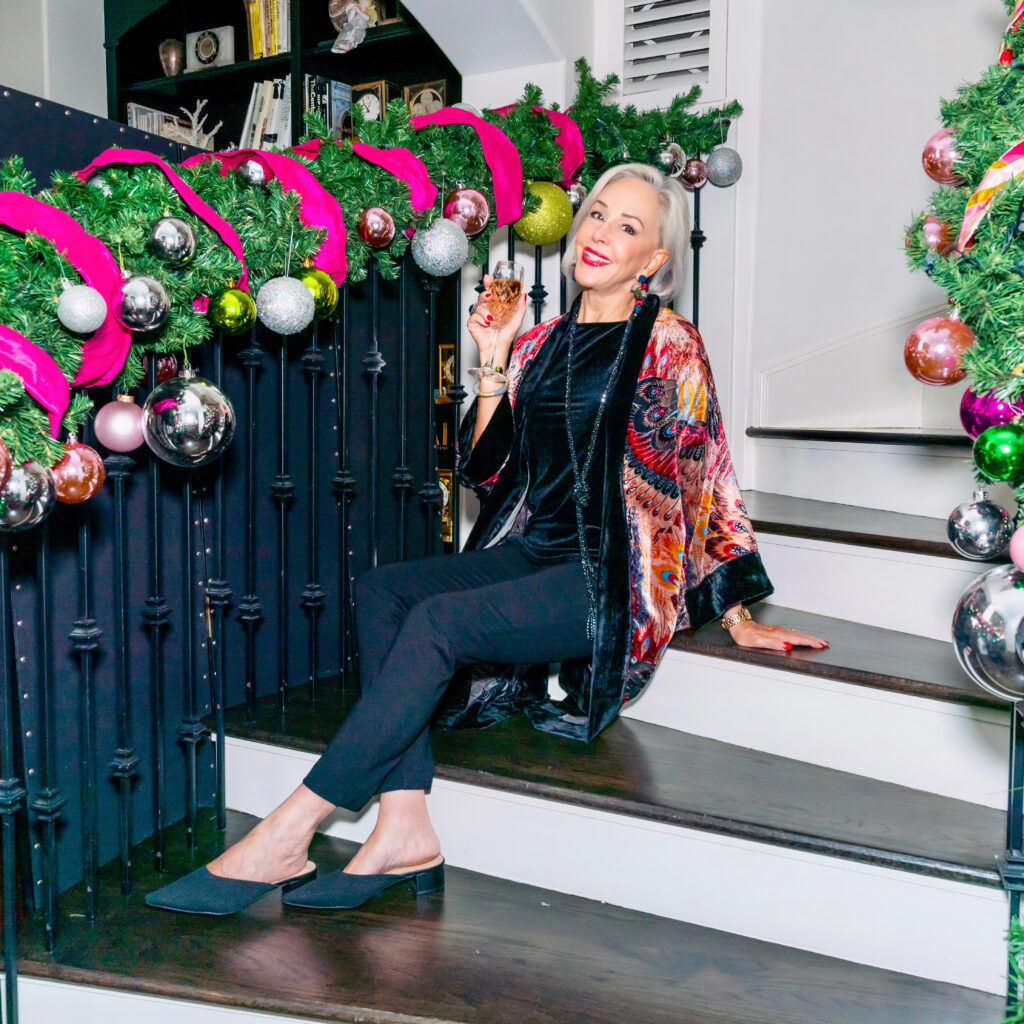 OUTFIT #3
I have collected beautiful kimonos for years because they never go out of style and can be so versatile.
Brilliant colors and a sleek burnout fabric add dramatic style to this Travelers™ velvet peacock kimono. Edged in solid velvet, this longer-length jacket has an elegant flow, perfect to wear for elegant evenings with a pair of pants or to dress up jeans with unique, colorful style. The wrinkle-resistant fabric stays fresh day and night for flawless, fabulous wear.
I chose the tailored legging to wear with thie beauty or I also love my Juliet pant. You can find other custom-colored pieces to match back like this velvet tank or these velvet no tummy wide-legged pants.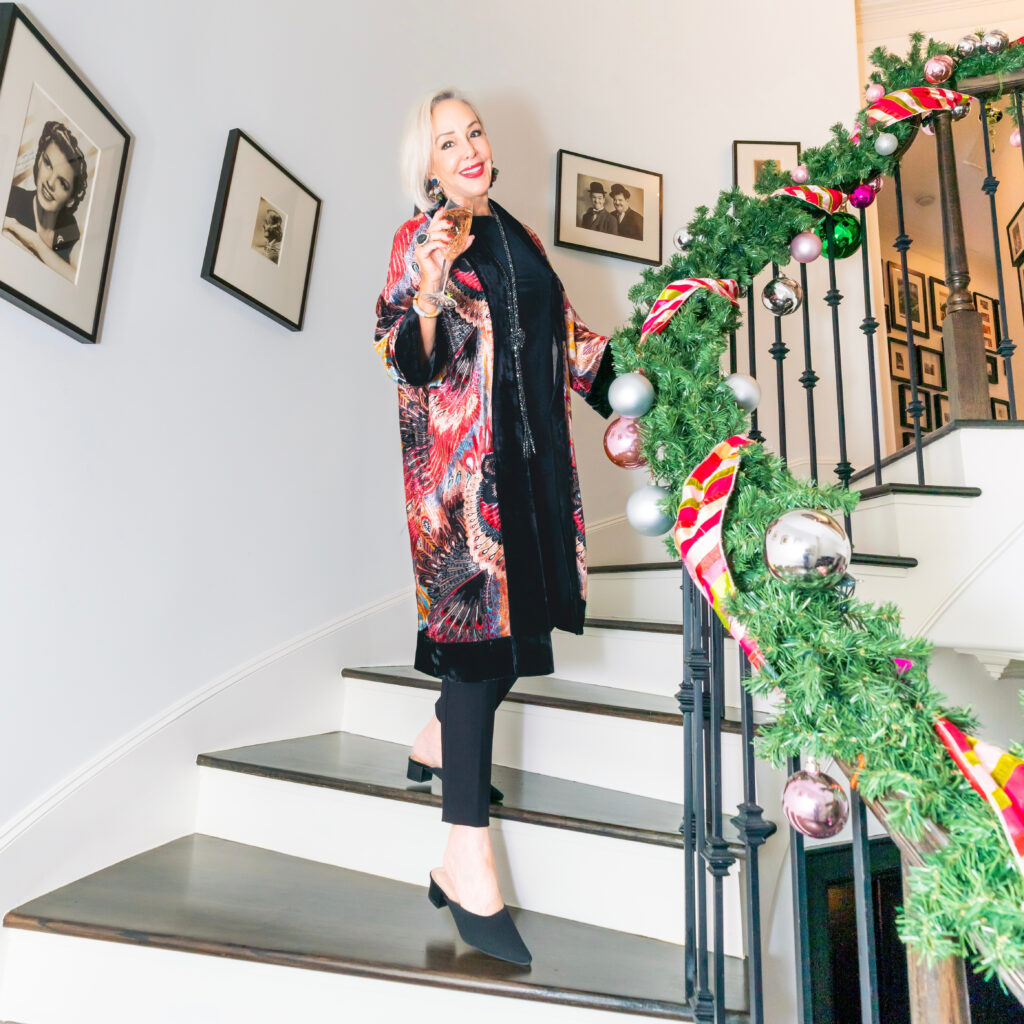 OUTFIT #4
This is my fun side. Sometimes I just let my fashion creative juices flow. I found my bell bottom pants at Anthropology and added this gorgeous plum color faux suede moto jacket from Chico's. Adding this colorful long scarf as a head wrap/turbin gave my look that Peace & Love 70's vibe. It is sold out but this one would also work perfectly. Have some fun with your outfits ladies. It can be so much fun!! Step out of your box!!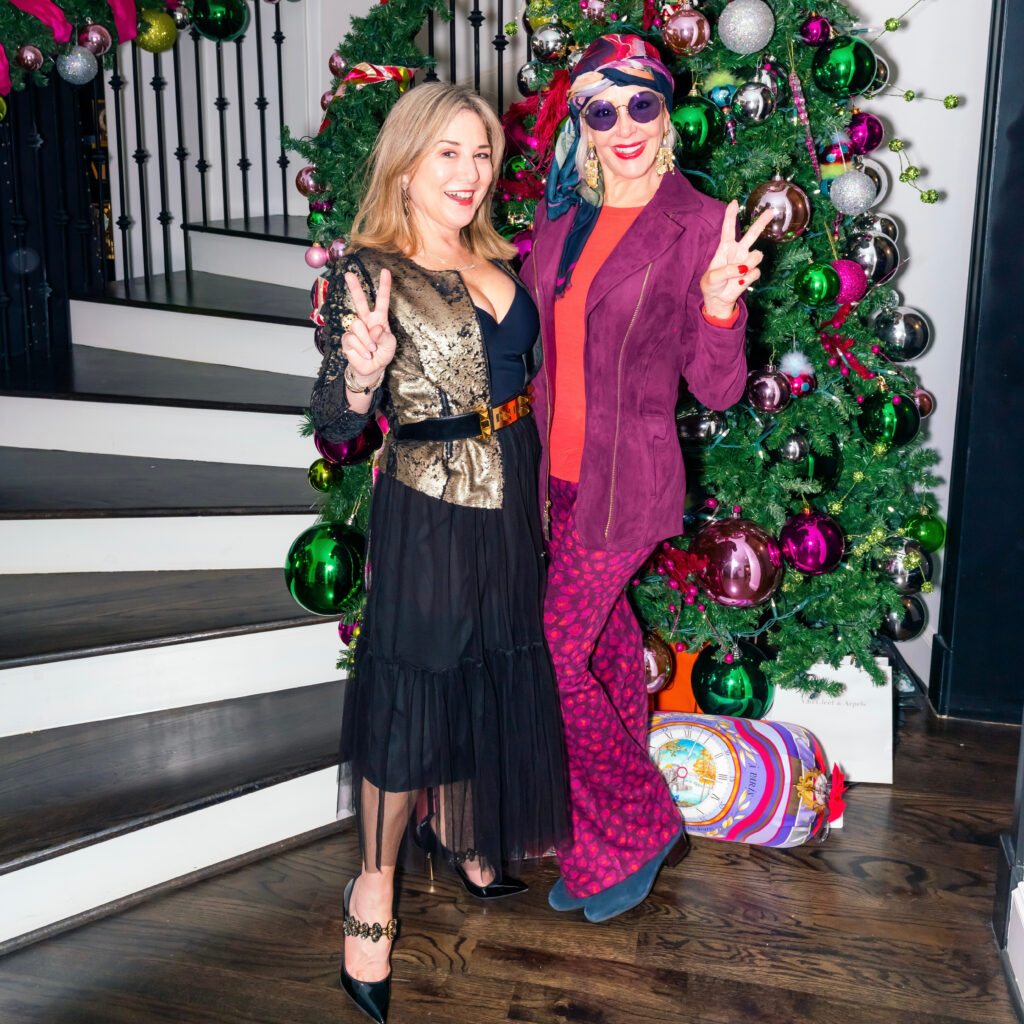 OUTFIT #5
Every girl needs a moto jacket in her closet and navy is the new black. I have worn this navy faux leather jacket over and over with so many different outfits. It looks really great over a dress too. I often take this jacket on my trips because of it's versatility. Right now this jacket is only $59.99 with all sizing.
Can I just say how awesome this tie-neck peacock print blouse is? I get so many compliments when I wear it. Make it casual to dressy. Again, so versatile and a wardrobe staple.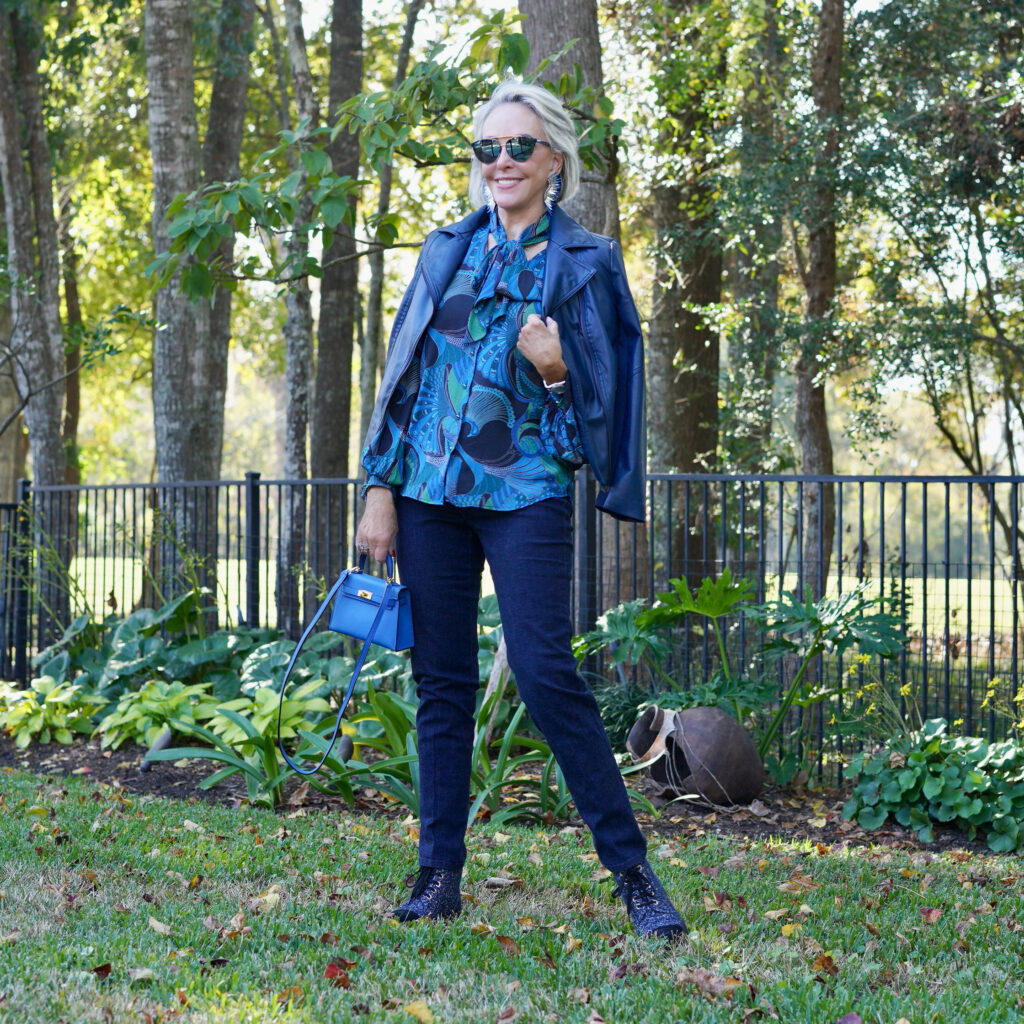 OUTFIT #6
I love taking a clothing item and styling it totally opposite from it's original purpose. Most ladies would wear this light gray camo anorak as athleisure, right? What do you think about this sequin tank underneath and glam it up sparkly bow shoes and with rhinestone earrings and bracelet?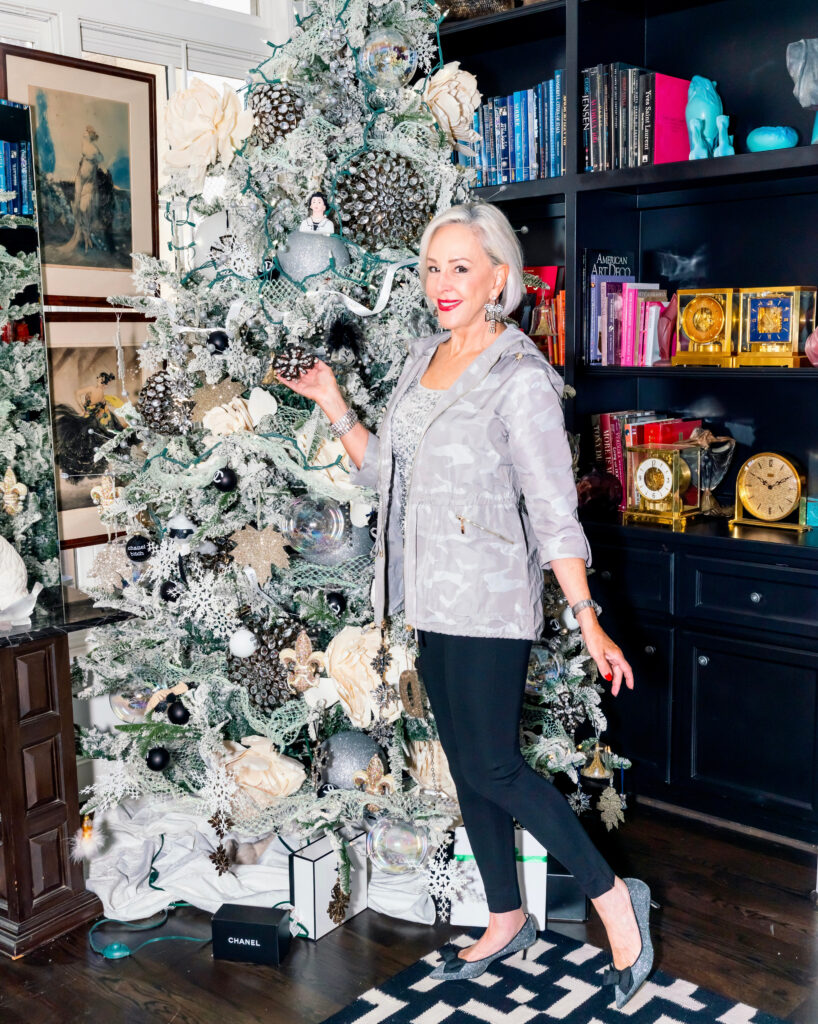 TO SUM IT ALL UP LADIES……SPARKLE ON THIS HOLIDAY SEASON!!
SHESHE'S TIDBITS
As I just about get my suitcases emptied and closet somewhat organized, I am starting today to pack again. This time I am off to Sanibel early Tuesday for a 4-day trip where I will also be co-hosting Chico's Facebook Live on Wednesday. I think it is at 4 PM CT but I will confirm. Also, I am checking on a bathroom remodel project. This will be the last major project at our house there and I am so glad!! Have a great day and week.
ABOUT SHESHE SHOW
WELCOME new readers. We are a fashion/travel/lifestyle blog. We talk about anything and everything, from fashion, travel, health issues, skincare tips, to even an occasional recipe. Let us know if there is a topic that interests you. We will do our best to bring that story to you. Have a great week sweet friends and thank you for following along. Without you, we could not continue on this crazy fun journey.
Be sure to check out the Shop SheShe tab at the top of the menu bar. Hover over and choose the category in the dropdown. We try to keep it up to date with the latest and greatest for all budgets. Subscribe here and then you won't miss a post. Simply enter your email in the pop-up box or below. Also, download the LiketoKnow.It App, follow @shesheshow to shop all of our daily outfits, home, beauty, and more. Go here for our LiketoKnow.It tutorial.