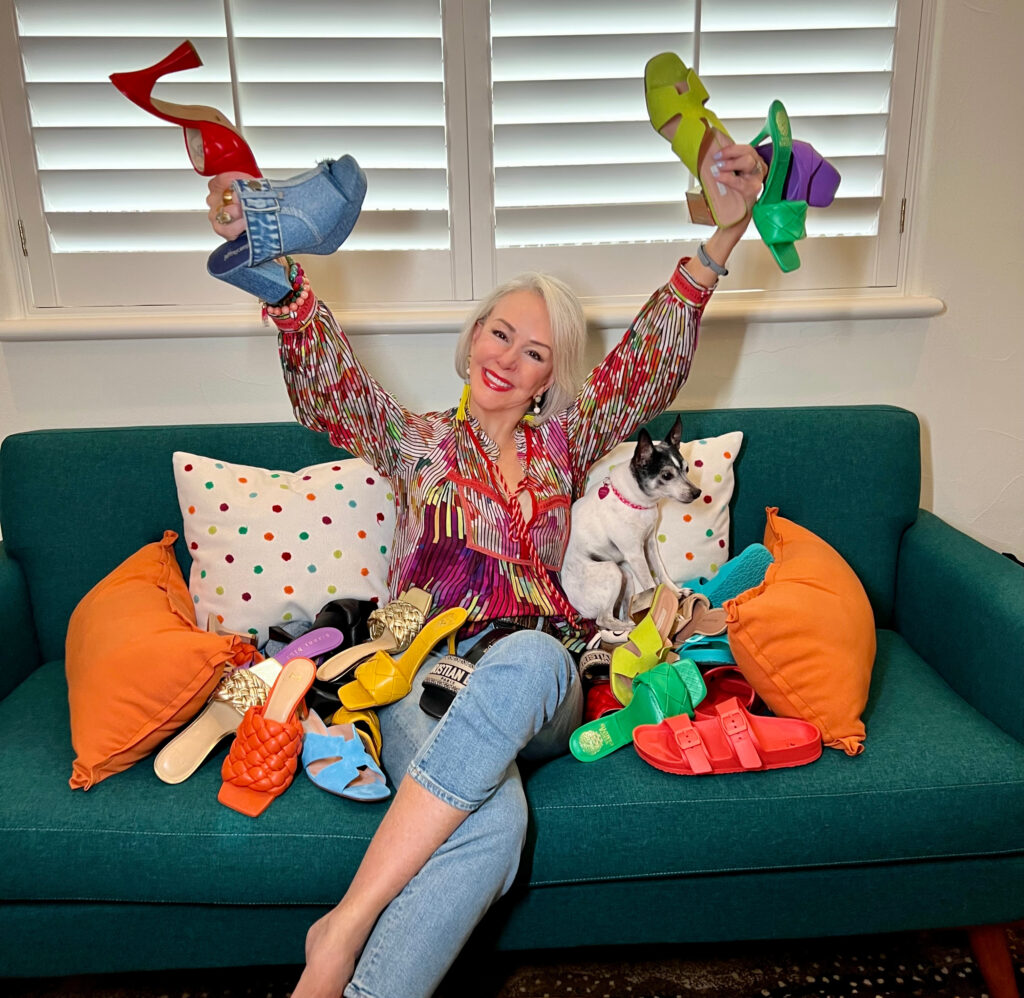 We are feeling spring with the warmer temps here in Texas! That means it is sandal season! We Texans can get by wearing sandals for about eight months out of the year…so crazy. Anyway, for most of the US, this is about the time for everyone to pull out their sandals! Below I have my favorite of the trendiest sandals.
Wedges


I LOVE a cute wedge! Wedges have always been a popular style during the warmer months and can elevate any look! These designer wedges are precious and we have found a close dupe from Target – UNDER $40!
Flats


While I cannot wear flats because I have Plantar Fasciitis, I do adore them. Many of you do and they are perfect for on the go and to stay chic yet comfortable. A classic like this is always a must in every wardrobe and I am about to pick these cuties up. Yes, they are "flats" but this style, in particular, is great because of the support and arches!
Colorful


Yes, yes, YES! Is my answer to ALLLLL of the color! This year I will say we are seeing some of the finest and wildest prints and colors for shoes. Farm Rio is really knocking it out of the park this spring with their shoes and sandals! They are right on trend with the beading and crotcheting! We are also loving the beautiful Italian made sandals from the brand Tara Grinna. Great quality, comfortable, and so chic.
TARA GRINNA SANDALS

Date Night

These sandals are perfect for date night! I love that strappy heels have been trending for a few years now, they are sexy and the smaller heel keeps it classy and much easier than a stiletto!
Chunky Monkeys


Chunky and platform have made their comeback! LOTS of the 90's nostalgia is back! While a platform may seem SO TALL, it really is not because you've got the chunky platform in the front! So if you have a 4-inch heel and a 1-inch platform, you really have 3 inches! I'm loving that heels are getting chunkier because the chunkier the heel, the easier it is to walk and comfort lasts much longer.
The Sandals Shop

SHESHE'S TIDBITS
Team SheShe did start our new Facebook group page called SheShe's Shopping Network. We would love for you to join the group and join us every Tuesday night for our Live segment all about shopping trends style tips and more. It is so much fun!!
We hope to see you there!! Here is the link to join
https://www.facebook.com/groups/shesshesshoppingnetwork
Have a wonderful day sweet friends!
ABOUT SHESHE SHOW
WELCOME new readers. We are a fashion/travel/lifestyle blog. We talk about anything and everything, from fashion, travel, health issues, skincare tips, to even an occasional recipe. Let us know if there is a topic that interests you. We will do our best to bring that story to you. Have a great week sweet friends and thank you for following along. Without you, we could not continue on this crazy fun journey.
Be sure to check out the Shop SheShe tab at the top of the menu bar. Hover over and choose the category in the dropdown. We try to keep it up to date with the latest and greatest for all budgets. Subscribe here and then you won't miss a post. Simply enter your email in the pop-up box or below. Also, download the LiketoKnow.It App, follow @shesheshow to shop all of our daily outfits, home, beauty, and more. Go here for our LiketoKnow.It tutorial.