And just like that…the Fourth of July is already here! Soon, the nation will be celebrating all things America–typically with sun, food, friends & family.
If you're like me, this holiday has really snuck up on you. And again if you're like me, you'll somehow end up hosting the party for your loved ones. So we thought today we'd give you some tips on how to celebrate the Fourth of July and throw the best last-minute party. Keep reading for info on cocktails, drinks, games, and of course….clothes.
Quick Cocktails
Cocktails can be quite complicated to whip up, especially when they require tons of ingredients. These two ideas both use Sparkling Ice beverages and involve 5 ingredients or less.
The Bee's Knees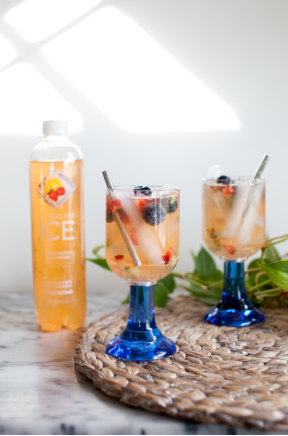 INGREDIENTS
Touch of Raw Honey
Cut strawberries, blueberries, kiwi, lime
Dash of Orgeat Syrup
DIRECTIONS
Crush fruit with ice and add Sparkling Ice Strawberry Lemonade, honey, and Orgeat. Stir and add a straw.
Soaked Watermelon Slice Popsicles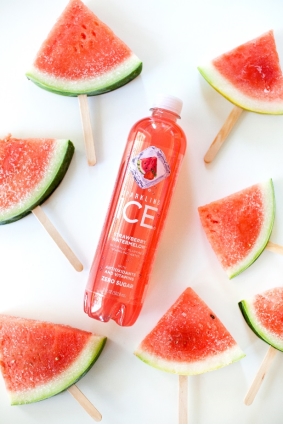 INGREDIENTS
¾ cup tequila
½ cup Sparkling Ice
Strawberry Watermelon
¼ cup lime juice
1lb watermelon
DIRECTIONS
Stir together tequila, Strawberry Watermelon Sparkling Ice, and lime juice in a large bowl. Cut watermelon into wedges and soak in Sparkling Ice mixture for 15 minutes. Insert popsicle sticks into wedges then freeze on a rack-lined baking sheet for 1 hour.
Grilling Essentials


Here we have 9 great grilling essentials! I'm loving this wooden paddle. I am switching to wooden like Woody Shovel by Great Scrape! One extremely useful and unique feature of the Woody Shovel is that you customize the wooden grill scraper to fit your grill perfectly. No messy, burnt food will remain after you clean your BBQ grill with Woody bbq tools. Simply heat the grill to high heat and use slow, firm pressure to glide the paddle front to back on grates, keeping the grooves in the same place each time. Since this customizes itself, I think this makes for a perfect gift for the one who enjoys grilling!
Decor


I love great theme inpired decor! I think it elevates a party or gathering very much! This Patriotic Wooden Bead Garland set is perfect to wrap aroud flower vases or add to your table decor. I am also LOVING these Patriotic American Flag Flameless LED Battery Operated Pillar Candles. These 4th of July Star Shaped Rattan Balls are great to fill a vase with and set in the center of the table, you can even scatter them on the table as well!
Entertaining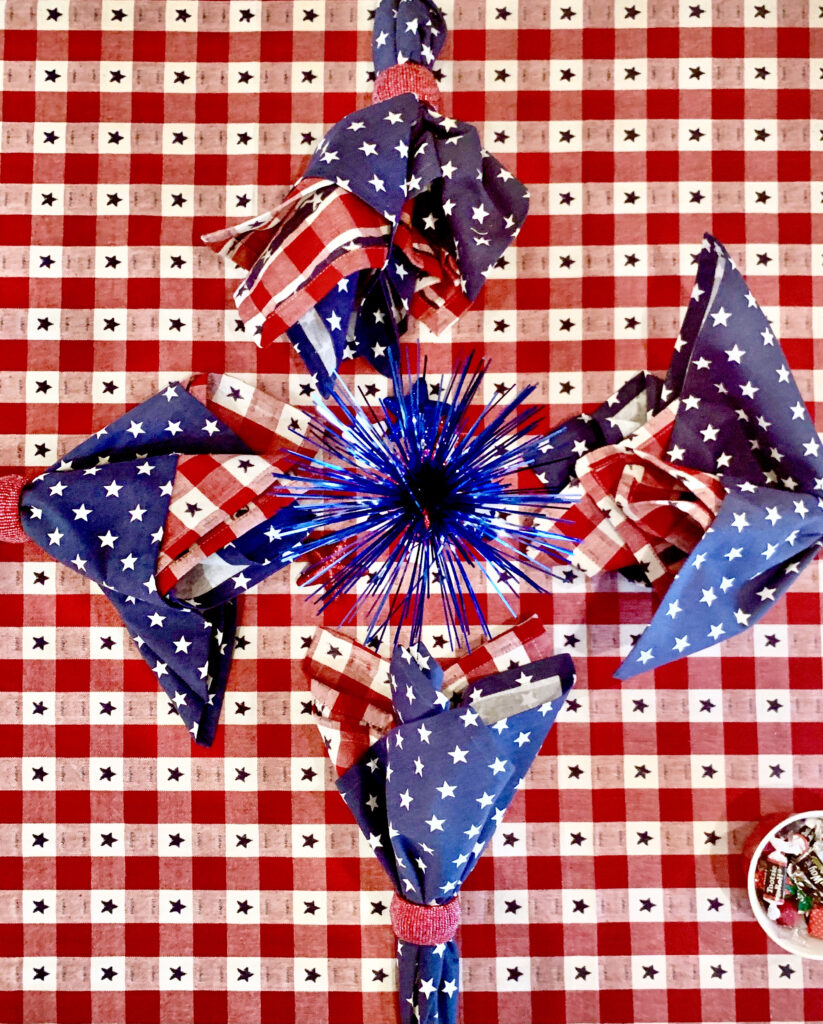 A great tablescape is a must to me when hosting an gathering! A cute throw like this Patriotic Throw Blanket with Decorative Tassles is a nice way to add the spirit to your home subtly but chic! I must say this C&F Home Set of (4) 4th Of July Dessert Plates has my heart and making me feel all sorts of patriotic! It's got the 4th vibes but so elevated with it's luxurious print.
Around The House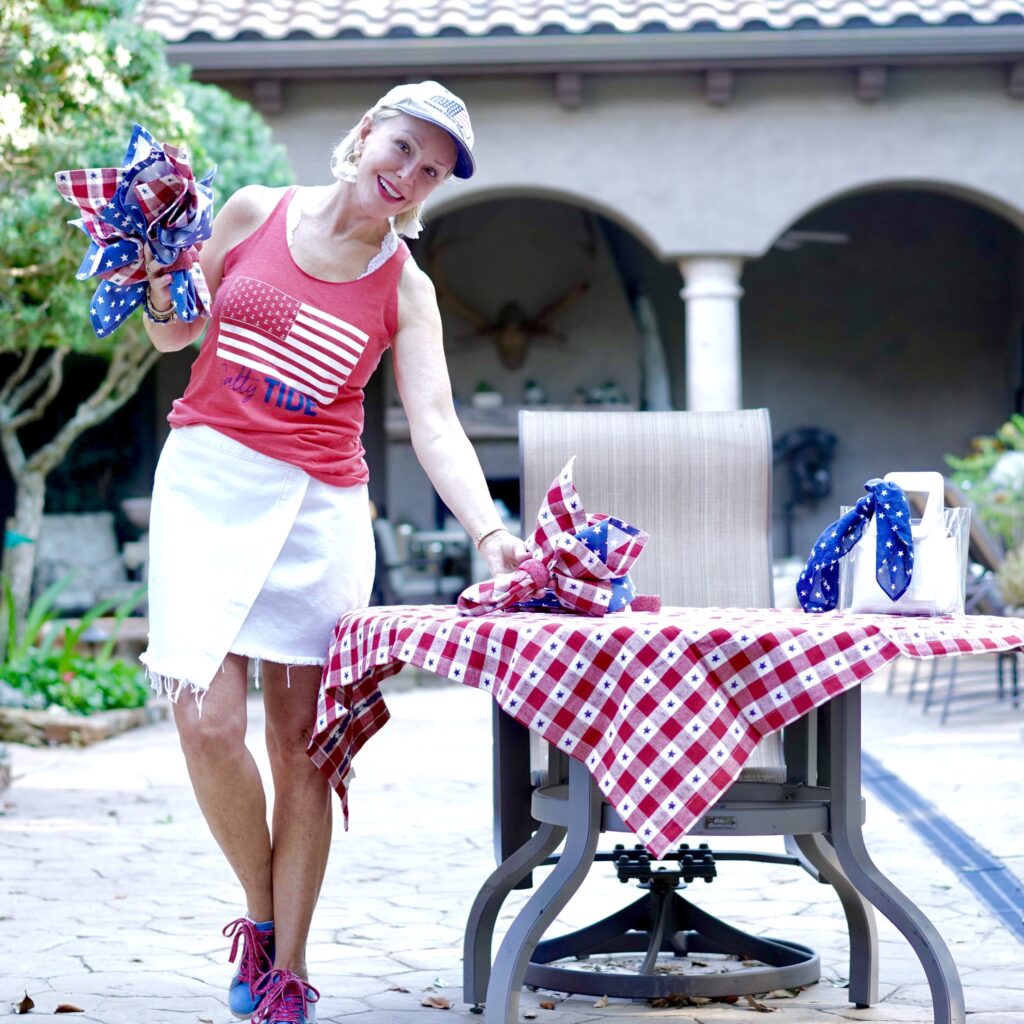 If you're not wanting to go all out patriotic, a nice way to add to your home is with throws (LOVE this one), pillows (here's a precious 3pk), and a cute doormat (on SALE, UNDER $10)!
Fourth of July Entertaining Shop

SHESHE'S TIDBITS
Team SheShe did start our new Facebook group page called SheShe's Shopping Network. We would love for you to join the group and join us every Tuesday night for our Live segment all about shopping trends style tips and more. It is so much fun!!
We hope to see you there!! Here is the link to join
https://www.facebook.com/groups/shesshesshoppingnetwork
Have a wonderful day sweet friends!
ABOUT SHESHE SHOW
WELCOME new readers. We are a fashion/travel/lifestyle blog. We talk about anything and everything, from fashion, travel, health issues, skincare tips, to even an occasional recipe. Let us know if there is a topic that interests you. We will do our best to bring that story to you. Have a great week sweet friends and thank you for following along. Without you, we could not continue on this crazy fun journey.
Be sure to check out the Shop SheShe tab at the top of the menu bar. Hover over and choose the category in the dropdown. We try to keep it up to date with the latest and greatest for all budgets. Subscribe here and then you won't miss a post. Simply enter your email in the pop-up box or below. Also, download the LiketoKnow.It App, follow @shesheshow to shop all of our daily outfits, home, beauty, and more. Go here for our LiketoKnow.It tutorial.