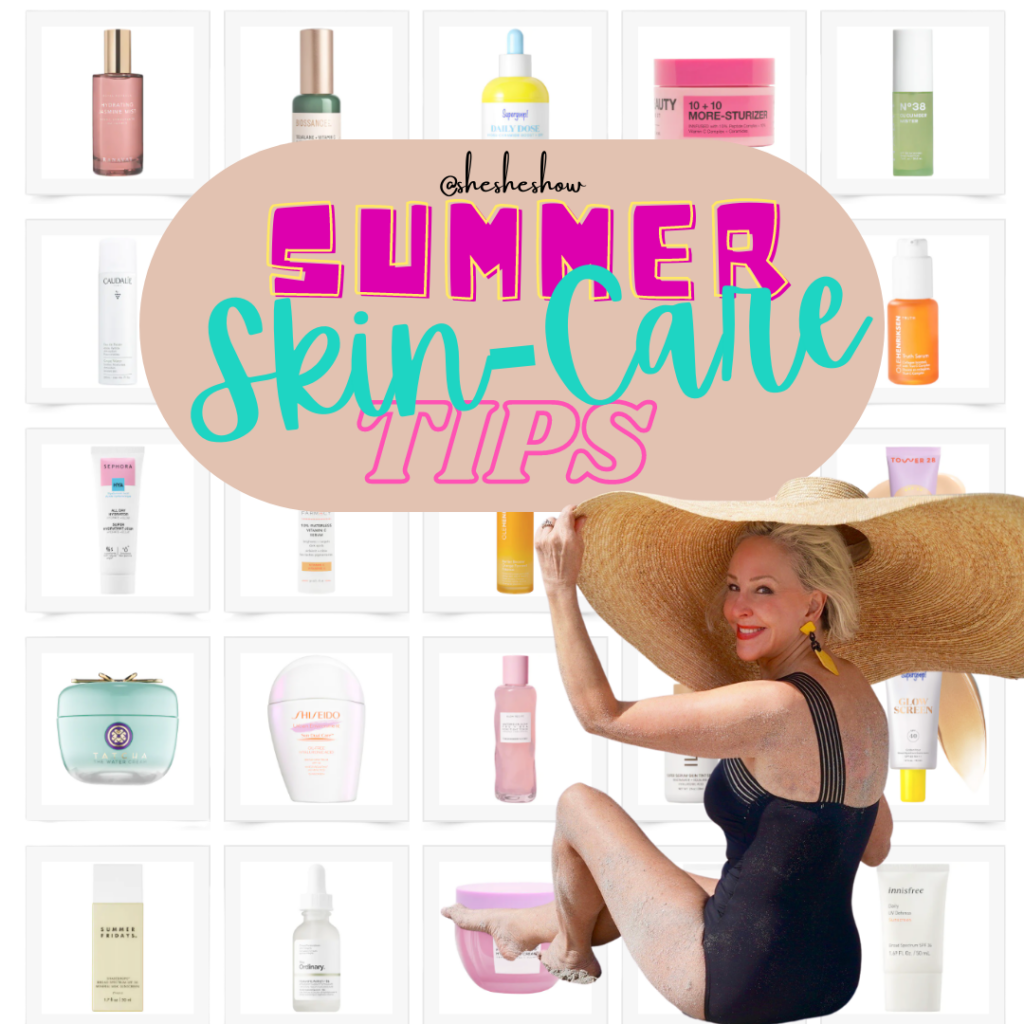 Summer is here… and it seems like it will stay for a while! This summer we have had record-breaking highs and staying hydrated has been #1 for me! While I am staying hydrated, caring for my skin is right up there on my priority list and today I am sharing with you a few tips on how to care for your skin best during these hot months! Summer skin-care is a MUST!
SPF, SPF, and more, SPF Skin-Care!


Many of you know that I am an AVID SPF user. You can never go wrong with it and to me, it is the #1 way to prevent early signs of aging. Under the sun is my favorite place to be and with that being said, protecting my skin from the damage of UVs is important. A great moisturizer with SPF in it like this one is a great way to start your beauty/ skin-care routine!
When we think of skincare we often think of just our faces but our entire body needs to be taken care of, I like to put the same moisturizer that I use on my face, my neck, the décolletage, and on top of my hands. These areas are prone to lots of exposure to the sun and as women, we tend to show our age through these easily forgotten areas.
Vitamin C Serums


Vitamin C is great for your skin year-round, but even more important during summer. Vitamin C helps prevent hyperpigmentation, improves the appearance of fine lines, and can help with collagen production. Paula's Choice Super Antioxidant Concentrate Serum is my biggest recommendation because it is well known for the stability of Vitamin C. Layer a few drops on your skin between cleansing and moisturizer.
Choose Lightweight + Noncomedogenic


Look closely at your makeup and keep the ones that say "non-comedogenic" – which is a fancier word for a product formulated without pore-clogging ingredients!
Moisturize!


Just because it is hot and humid outside, does not mean you should skip moisturizing your precious skin!! The sun is very drying on the skin, you sweat more, and the humidity is higher, but that does not mean your skin can skip the moisturizer. I recommend switching the heavier moisturizers for something lightweight like hyaluronic acid-based moisturizers. Also, a face mist is a great way to stay moisturized throughout the day – pick one that can minimize pores and keep your skin from looking greasy!
Summer Skin-Care Shop

SHESHE'S TIDBITS
Team SheShe did start our new Facebook group page called SheShe's Shopping Network. We would love for you to join the group and join us every Tuesday night for our Live segment all about shopping trends style tips and more. It is so much fun!!
We hope to see you there!! Here is the link to join
https://www.facebook.com/groups/shesshesshoppingnetwork
Have a wonderful day sweet friends!
ABOUT SHESHE SHOW
WELCOME new readers. We are a fashion/travel/lifestyle blog. We talk about anything and everything, from fashion, travel, health issues, and skincare tips, to even an occasional recipe. Let us know if there is a topic that interests you. We will do our best to bring that story to you. Have a great week sweet friends and thank you for following along. Without you, we could not continue on this crazy fun journey.
Be sure to check out the Shop SheShe tab at the top of the menu bar. Hover over and choose the category in the dropdown. We try to keep it up to date with the latest and greatest for all budgets. Subscribe here and then you won't miss a post. Simply enter your email in the pop-up box or below. Also, download the LiketoKnow.It App, follow @shesheshow to shop all of our daily outfits, home, beauty, and more. Go here for our LiketoKnow.It tutorial.