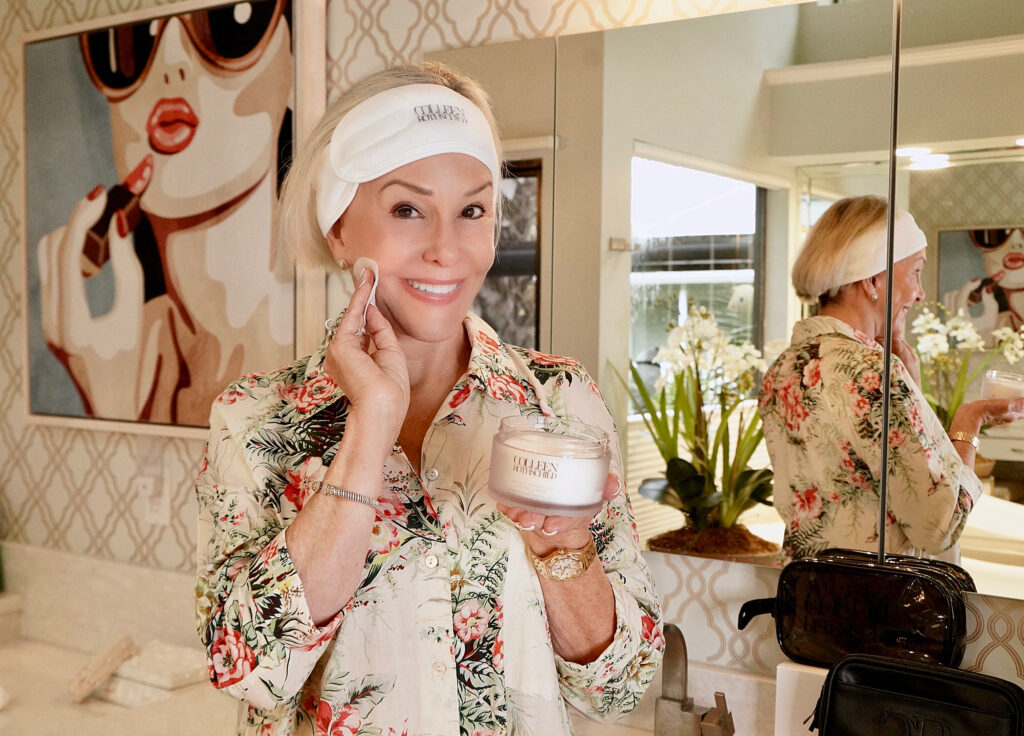 Colleen Rothschild has always been a brand that my skincare routine cannot live without! This month they are having some MAJOR sales! We wanted to share them with you and give you all of the details on my favorite products!
This post is sponsored by Colleen Rothschild. All of my opinions are my own.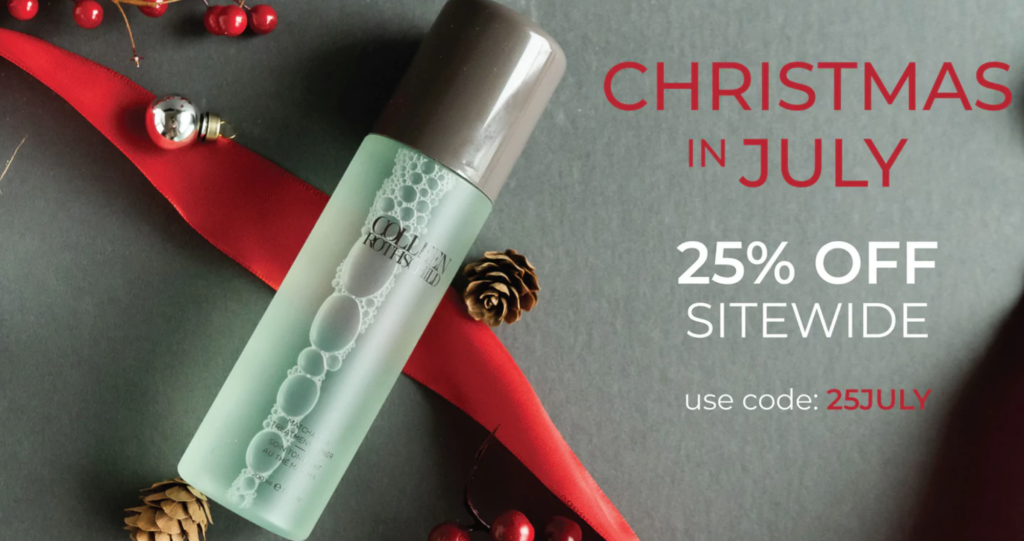 The Sale
This is so good my friends…….
Christmas In July is NOW! Shop the Colleen Rothschild Christmas In July SALE. Get 25% OFF your purchase with code 25JULY. This sale includes ALL products site-wide!
About Colleen Rothschild
One of my favorite things about Colleen Rothschild was that like myself, she was a flight attendant and she lives in Texas too! How fun! Below we have more information that makes this brand stand out more for us here at SheShe Show.
EXPERT-BASED – With over 20 years of experience in the beauty industry and an unwavering entrepreneurial passion, Colleen has a vast knowledge of the complexity of skin and hair and a clear understanding of what they truly need. This upscale collection of beauty and lifestyle products is powerful AND did I mention LUXURIOUS!
SCIENCE-BACKED – Each product seamlessly blends the best time-tested ingredients, the newest cutting-edge technology, and the brand's proprietary LEVEL E3 delivery system, resulting in healthy, beautiful skin and hair for all ages.
HIGH PERFORMANCE – Thanks to a deep understanding of the manufacturing fundamentals needed to develop multi-tasking products, Colleen knows what components are essential to provide both immediate and long-term effects. Each formula is designed to give maximum results with minimal effort. This woman truly studied skincare and what we women and men need for our skin.
CAREFULLY CURATED – Like a capsule wardrobe, every product in the Colleen Rothschild collection is meant to be mixed and matched to suit your ever-changing beauty needs. Each one was created with a specific purpose and has transformative and comprehensive results. I have quite the collection and I have my favorites and necessities below! I even have a travel bag of all things, Colleen Rothschild.
SENSORY-RICH – The combination of exquisite aromatics, rich textures, and beautiful packaging truly indulges all the senses. These luxe products allow you to create your own unique rituals for an unforgettable journey.

My Must-Have Colleen Rothschild Products
While I love all things Colleen Rothschild, I do have a few products that I favor. I have them below and WHY they are my go-to's.
Radiant Cleansing Balm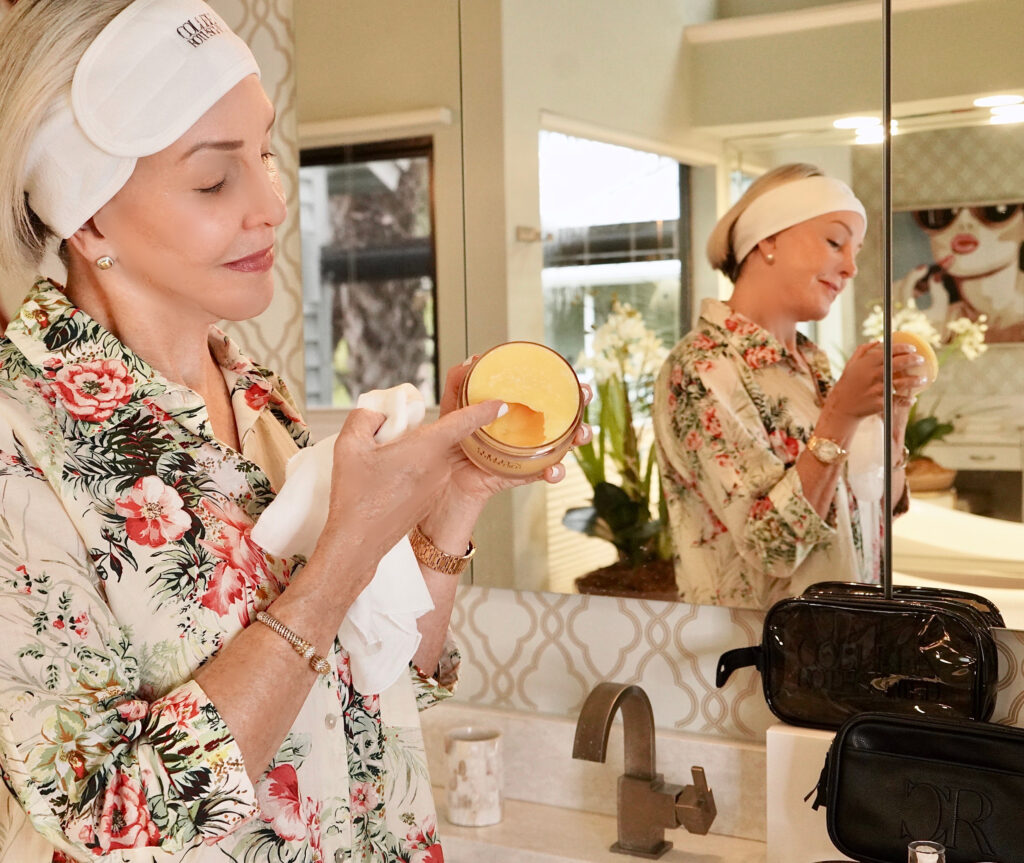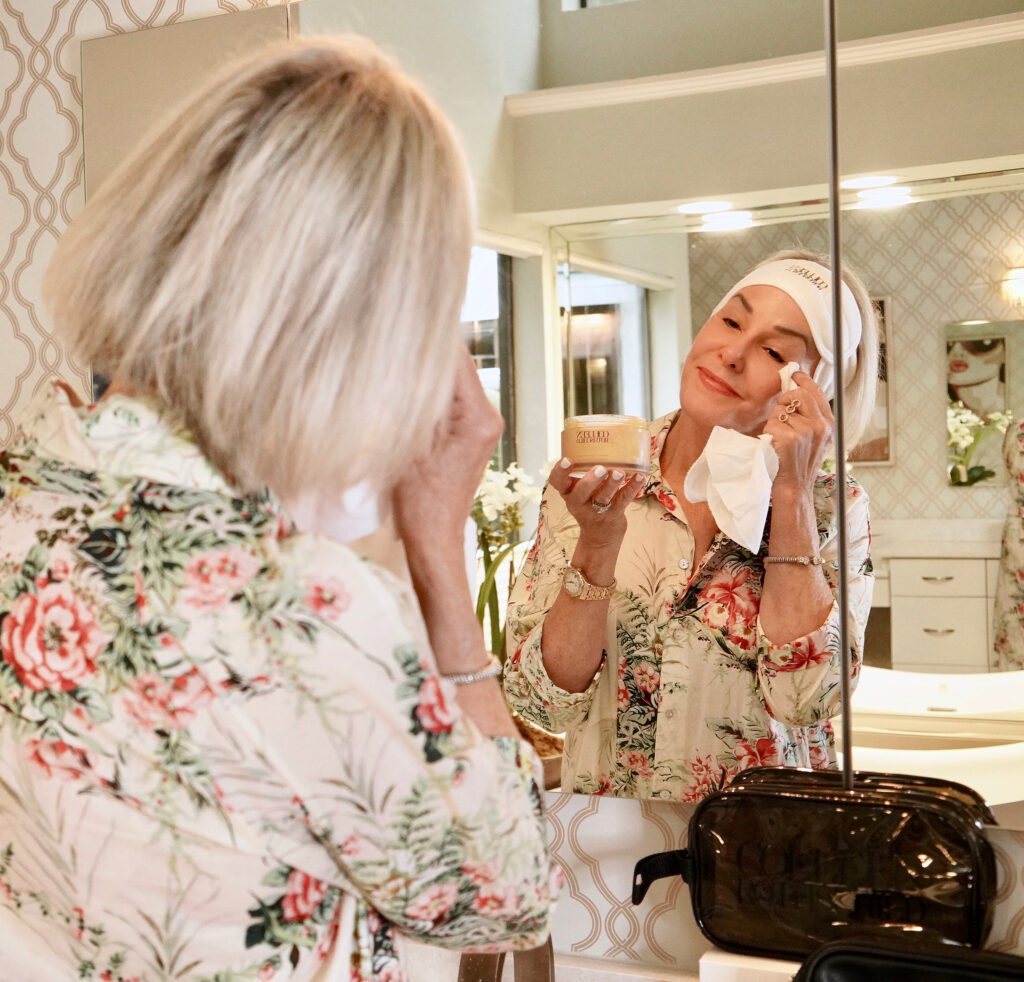 The Radiant Cleansing Balm was what really got me started with Colleen Rothschild and has made its way into my daily skincare routine. This Cleansing Balm clears congested pores and removes impurities while dissolving all traces of makeup. My skin feels hydrated, soft, and radiant. The best part is how quick and efficient this cleanser is with removing makeup! It is gentle and non-greasy – this cleanser even removes my mascara! Let's call it a 2-for!!
Glycolic Acid Peel Pads with Blue Agave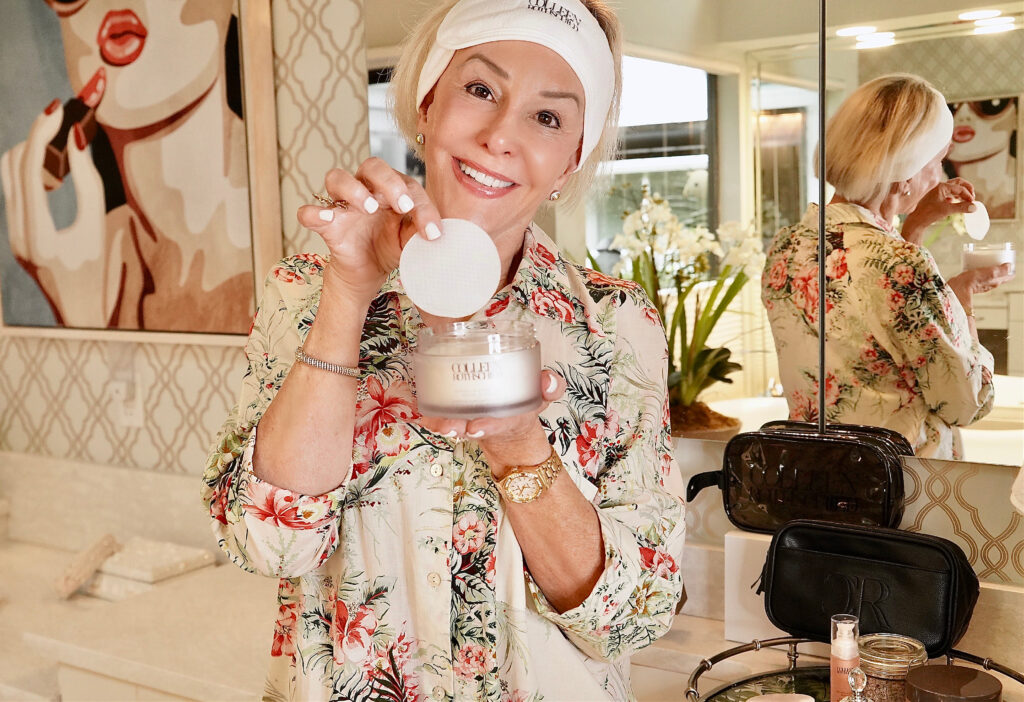 These pads are a MUST-HAVE and sell out fast, so when they are available I always stock up! This daily spa-strength treatment is formulated to help dissolve skin-clogging dirt, debris, and sebum. The skin's natural renewal process is enhanced with a 10 percent blend of Glycolic and Lactic Acids, targeting fine lines (important for me), hyperpigmentation, and imperfections to reveal a fresher, brighter, more even complexion.

The mix of Blue Agave, Sea Water, and Comfrey Extracts help soothe and calm, while Hyaluronic Acid and Niacinamide hydrate and protect your skin's natural moisture barrier.
Discovery Collection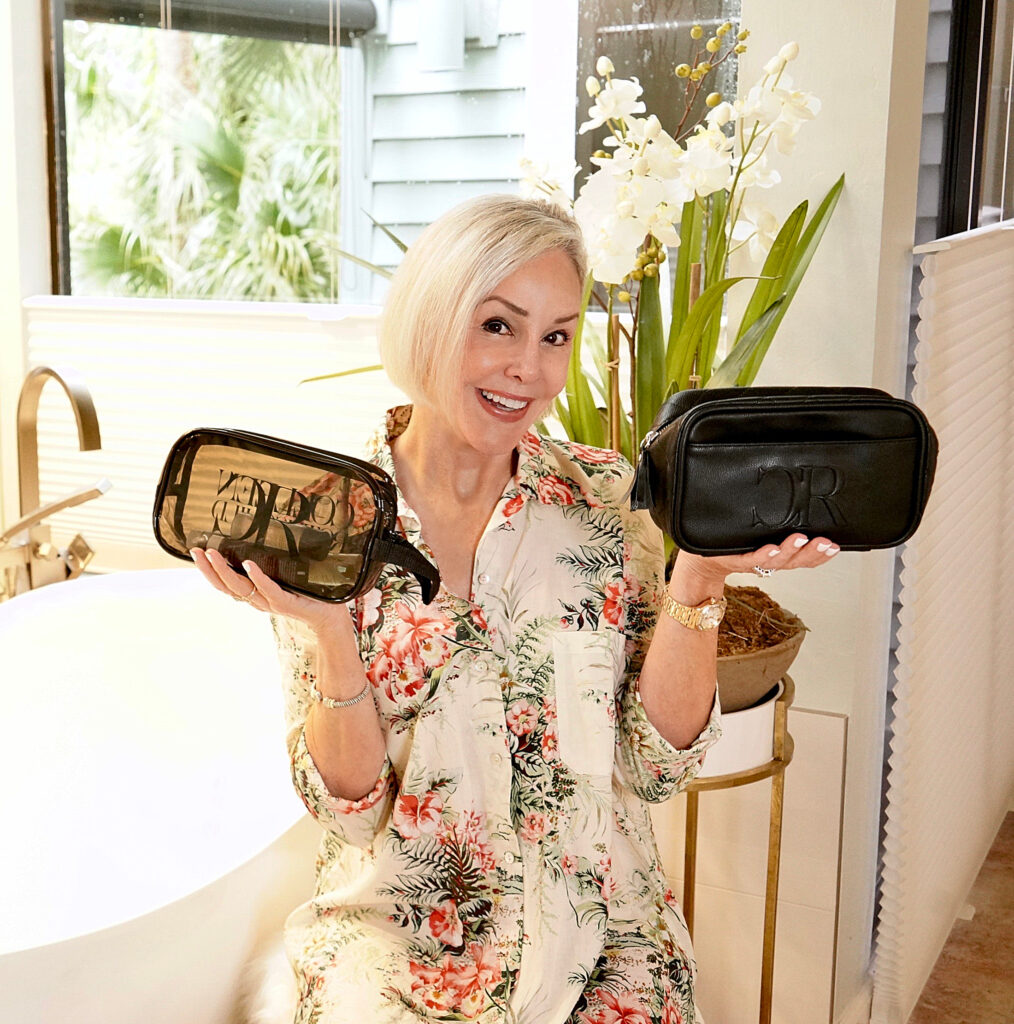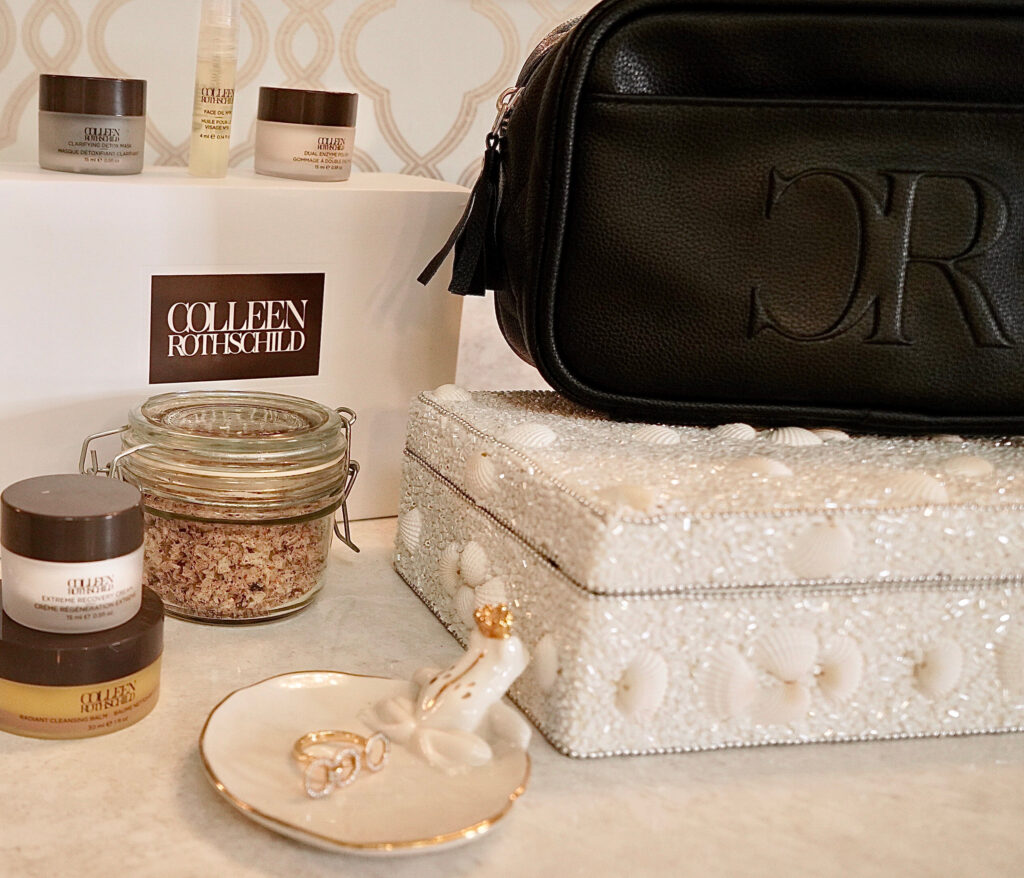 All of my traveling ladies this is for you! Being constantly on the go and in the airport, I NEED travel-friendly products. With that being said this Discovery Collection by Colleen Rothschild features ALL of my necessities for skin care. If you are not a frequent traveler then this kit is a great way to get acquainted with all of Colleen Rothschild's best sellers.
The 7-pc kit contains…
Radiant Cleansing Balm, 30 ml (1 fl oz)
Dual Enzyme Polish, 15 ml (0.5 fl oz)
Clarifying Detox Mask, 15 ml (0.5 fl oz)
Sheer Renewal Cream, 30 ml (1 fl oz)
Extreme Recovery Cream, 15 ml (0.5 fl oz)
Face Oil N°9, 4 ml (0.14 fl oz)
Muslin Cleansing Cloth
And a newly redesigned exclusive CR Travel Bag
Exploration Collection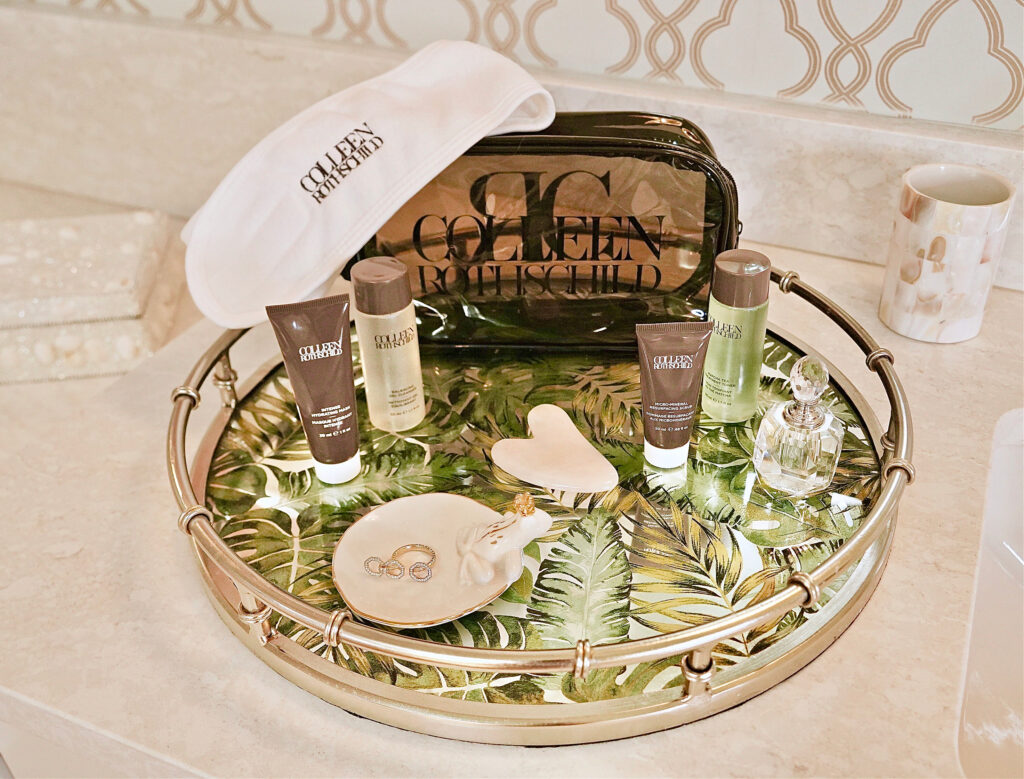 Another Option for the girl or guy on the go is the EXPLORATION COLLECTION. It includes TSA-approved sizes of Colleen's must-have skincare goodies, conveniently tucked in a chic, see-thru bag to hold all of your beauty essentials.
The 6-pc kit contains…
Balancing Gel Cleanser, 50 ml (1.7 fl oz)
Matcha Tea Treatment Toner, 50 ml (1.7 fl oz)
Intense Hydrating Mask, 30 ml (1 fl oz)
Micro-Mineral Resurfacing Scrub, 20 ml (.68 fl oz)
CR Ultra-Soft Headwrap
Retinol Supreme Night Oil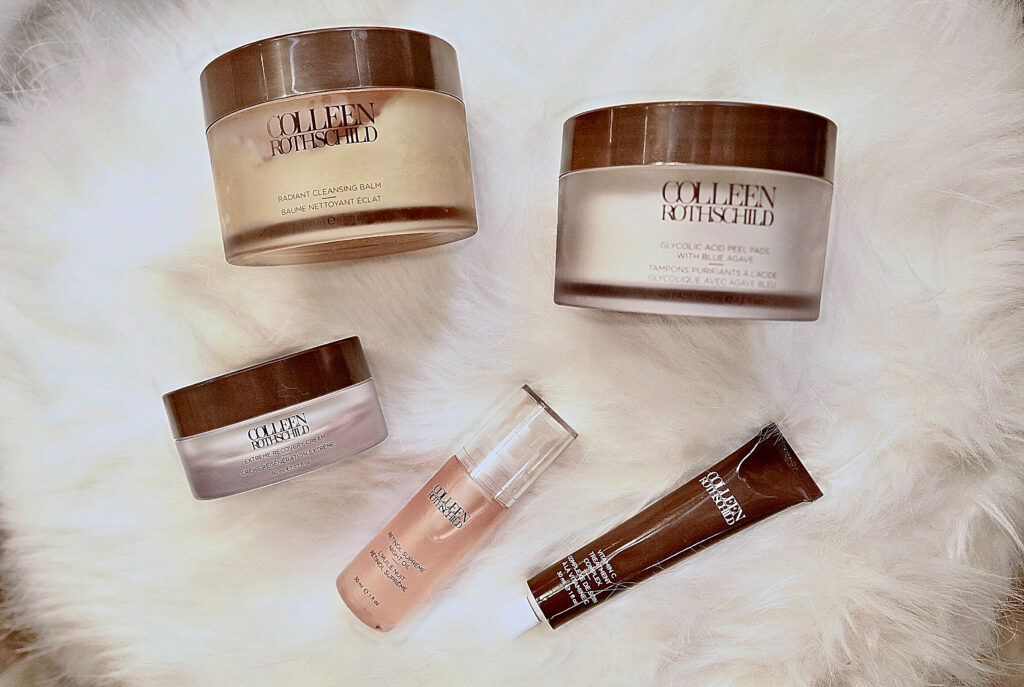 Many of you know I preach how important Retinols are for combating aging! So the Retinol Supreme Night Oil has been in my regiment for years. While most skincare-containing retinol makes the skin flake, become sensitive, and irritated this is gentle on my skin thanks to the oils in it! This Retinol Supreme Night Oil is definitely in my top three favorites! Don't forget ladies, always sunscreen!
The sleeping elixir uniquely combines…
The regenerative benefits of the highest concentration of stabilized retinol, which encourages healthy skin renewal.
Highly potent Vitamin C to counteract the havoc brought upon by free radicals and environmental toxins.
Nine plant-based oils replenish moisture and help prevent irritation and flaking.
Extreme Recovery Cream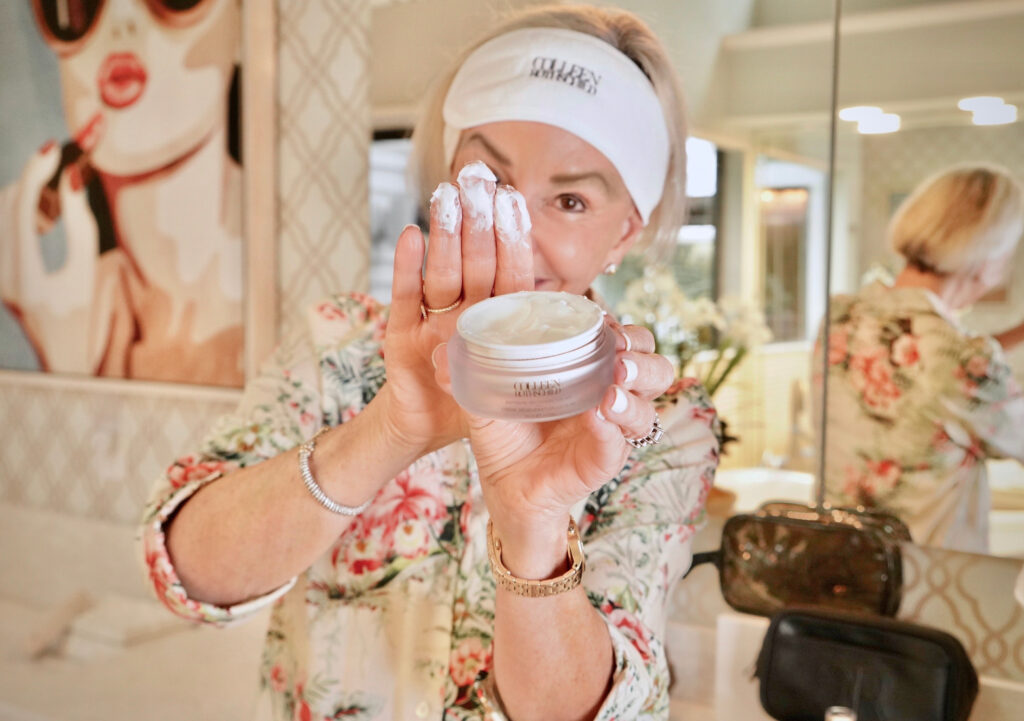 I just started using the Extreme Recovery Cream. It is so creamy yet not greasy. The consistency is so good. I will say that it too has quickly become part of my daily skincare routine.
SHOP COLLEEN ROTHSCHILD SALE

SHESHE'S TIDBITS
Team SheShe did start our new Facebook group page called SheShe's Shopping Network. We would love for you to join the group and join us every Tuesday night for our Live segment all about shopping trends style tips and more. It is so much fun!!
We hope to see you there!! Here is the link to join
https://www.facebook.com/groups/shesshesshoppingnetwork
Have a wonderful day sweet friends!
ABOUT SHESHE SHOW
WELCOME new readers. We are a fashion/travel/lifestyle blog. We talk about anything and everything, from fashion, travel, health issues, and skincare tips, to even an occasional recipe. Let us know if there is a topic that interests you. We will do our best to bring that story to you. Have a great week sweet friends and thank you for following along. Without you, we could not continue on this crazy fun journey.
Be sure to check out the Shop SheShe tab at the top of the menu bar. Hover over and choose the category in the dropdown. We try to keep it up to date with the latest and greatest for all budgets. Subscribe here and then you won't miss a post. Simply enter your email in the pop-up box or below. Also, download the LiketoKnow.It App, follow @shesheshow to shop all of our daily outfits, home, beauty, and more. Go here for our LiketoKnow.It tutorial.