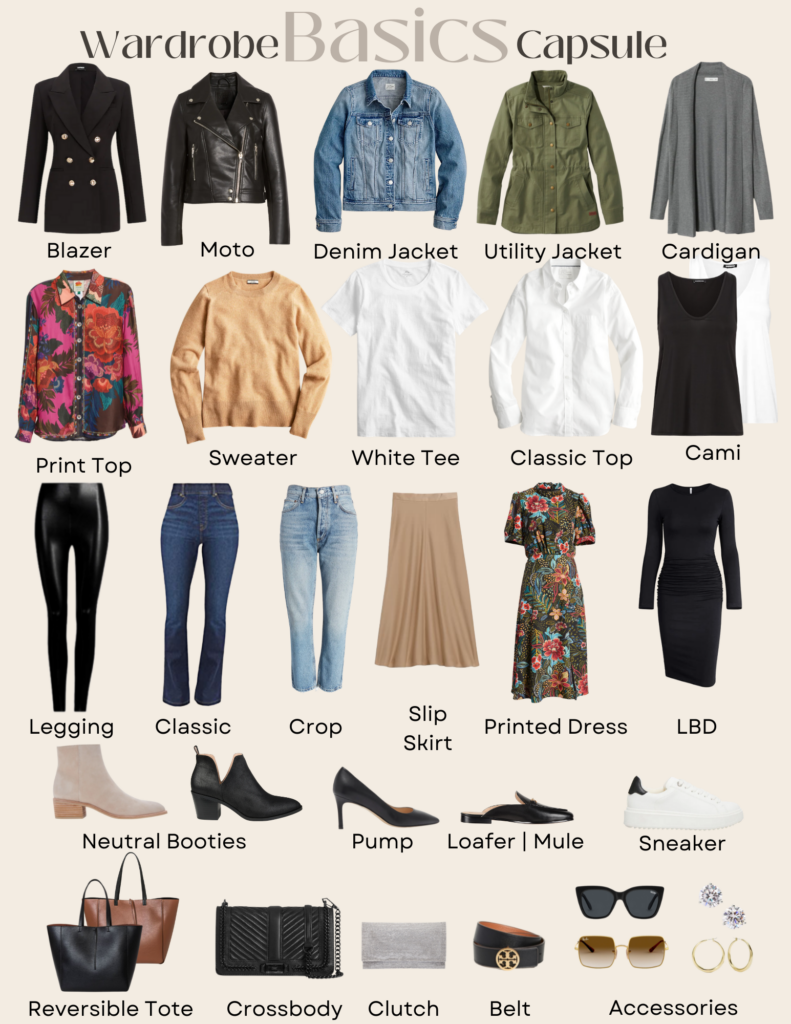 Wardrobe basics and essentials are so important when building a great wardrobe. These are pieces that are good for year-round any occasion and can be mixed and matched in countless ways! Below we have the wardrobe essentials every woman needs!
Dresses
LBD


A mid-length black dress will be your best friend. This black dress from Chico's is my favorite. I have traveled in this dress with sneakers, gone on several date nights, events, meetings, etc., in this dress! A simple black dress is so easy to wear from occasion to occasion depending on how you add to it. A denim jacket can make it casual and a nice pump with a cute bag will keep it classy and CHIC!
Printed Dresses
A printed dress that is versatile can be considered a basic. I love wearing a blazer, long cardigan or denim jacket to my printed dresses in the fall. They also look great with booties, knee boots, and even a sneaker. Stay tuned for more on boots and booties.


Jackets
Blazer + Motos


Blazers are no longer a piece we see in the office, we're seeing them dolled up to dressed down and casual. I am a firm believer in investing in some of my wardrobe-building pieces and the blazer is definitely one of them. I have several Veronica Beard blazers that I have collected over the last few years. They are timeless and worthy of the investment. A great black blazer and a neutral one is a good way to start building your blazer collection. You can toss a blazer over almost any look from jeans to dresses and instantly bring that inner city street chic out!
Denim Jacket


A denim jacket is a must and a year-round jacket! This J. Crew Denim jacket is always a best seller and never goes out of style. Kut From The Cloth has this FANTASTIC jacket that is on MAJOR sale and has a great range of sizes!
Casual


Your casual jackets are going to be your cozies and on-the-go jackets like this classic utility jacket! A cardigan like this one will be your best friend as it goes well with just about anything and everything. I love this cardigan.
Pants
Denim


Straight-leg jeans have never really gone out of style and are particularly on trend this year. The straight-leg jean is the most versatile jean in my eyes – super cute with a loose top or sweater with sneakers and to dress it up – pair them with a silky blouse and a heel like this one. I want to point out how this jean has the 90s look that's also trending so this jean is a no-brainer for your closet. A classic and a trend, yes, please!
Trousers


A great trouser is a must and I am so excited to see them trending this year! We will see more and more of the trouser come fall/winter. These dressy pants can be dressed down and so chic paired with a cool band tee and sneakers! We are used to seeing the trouser done in a professional manner and now you can take it from a meeting, lunch, to a dinner date depending on what you pair with them! These trousers from Spanx are my go-to and are quite slimming!
Leggings
Leggings are still just one of the best basics. You should have a faux leather legging for your more dialed-up looks and a Ponte legging for your athleisure outfits and fitness routines. I am a big fan of the Commando faux leather legging. Spanx, of course, does a good one as well. My favorite athleisure legging is by Zella which is a Nordstrom brand.
Basic Tees + Tanks + Tops
Button-Up


A white button-down shirt offers endless outfit possibilities. Team it with a pair of jeans, a blazer, and ballet flats for a classic look, or if you want to cover your arms and add some character, wear it under a sweater or a dress. During the cooler months when we are wearing more tank tops and camis, I like to pair my white button-down shirt open, over my top for a little extra coverage. This No-Iron White Button-Up shirt from Chico's is a favorite and did I mention that it's an iron-free shirt?!? I am also a big fan of Ann Taylor's Perfect Shirt. Both shirts have great sizing options.
Basics Tops


You will always need white and black tees, tanks, and camis. I recommend not spending a fortune on these as they are not investment pieces. White gets faded, stained, etc., very easily, so buy whites that are easily replaceable but have nice quality fabric. J. Crew makes a great basic tee – find it here.
As far as camisoles and tank tops, you will want layering camis that are more basic and then definitely have a beautiful silky camisole to wear under your blazers. The drape neck camisole has been trending yet so classic. I like this one, this one, and this one. I have found that this lace camisole/bralette is so nice to wear under a jacket or even undergarments that have v-necks. The lace will give a nice peek-a-boo effect.
Shoes


Shoes for your wardrobe capsule are always going to be very simple and they go with any look. I am a huge lover of a beautiful pump, I love this Ann Taylor pump – a classic beauty. For sneakers, a white or black sneaker is always a necessity – this Steve Madden sneaker has not only been trending for a while now, but it is affordable, chic, and very similar to a designer sneaker.
Accessories + Handbags


As far as accessories go, it is very simple – hoops and studs are a yes and stray from obnoxious pieces that you know are not for daily wear! The same rules apply to handbags, an evening clutch, a small handbag (this Rebecca Minkoff is a classic), and a tote are your basics. This tote is my favorite because it is reversible so you can have brown or black in one bag and is so affordable.
Shapewear + Intimates
I am a big believer in investing in proper undergarments. Invest in a nice strapless bra that also converts to crisscross and one shoulder like this Soma strapless. I also love their bralettes and wireless bra. My favorite everyday bra is this one by Natori. It is a little more expensive but if you will wash it in a mesh bag and lay it flat to dry, it will last for years.


Shop the Capsule

SHESHE'S TIDBITS
Team SheShe started our new Facebook group page called SheShe's Shopping Network. We would love for you to join the group so you can join us every Tuesday night for our Live segment all about shopping trends, style tips, beauty, travel, and more to help women look and feel confident and be in the know. It is so much fun!!
We hope to see you there!! Here is the link to join
https://www.facebook.com/groups/shesshes
*CHECK OUT MY INSTAGRAM SHOP TO SHOP ALL OF MY INSTAGRAM LOOKS
*YOU CAN ALSO DOWNLOAD THE LIKETOKNOW.IT APP AND FOLLOW ME ON IT BY CLICKING HERE. Go here for our LiketoKnow.It tutorial.
* STAY IN THE KNOW: SUBSCRIBE HERE to receive exclusive sale alerts, helpful style tips, and fabulous giveaways, AND GET ACCESS TO MY VIP ONLY FOR SUBSCRIBERS!
*Be sure to check out the Shop SheShe tab at the top of the menu bar. Hover over and choose the category in the dropdown. We try to keep it up to date with the latest and greatest for all budgets.
Have a great week sweet friends and thank you for following along. Without you, we could not continue on this crazy fun journey.
XOXO, SheShe
ABOUT SHESHE SHOW
WELCOME new readers. We are a fashion/travel/lifestyle blog that focuses on the midlife woman. We talk about anything and everything, from fashion, travel, health issues, and skincare tips, to even an occasional recipe. Let us know if there is a topic that interests you. We will do our best to bring that story to you.
Be sure to check out the Shop SheShe tab at the top of the menu bar. Hover over and choose the category in the dropdown. We try to keep it up to date with the latest and greatest for all budgets.