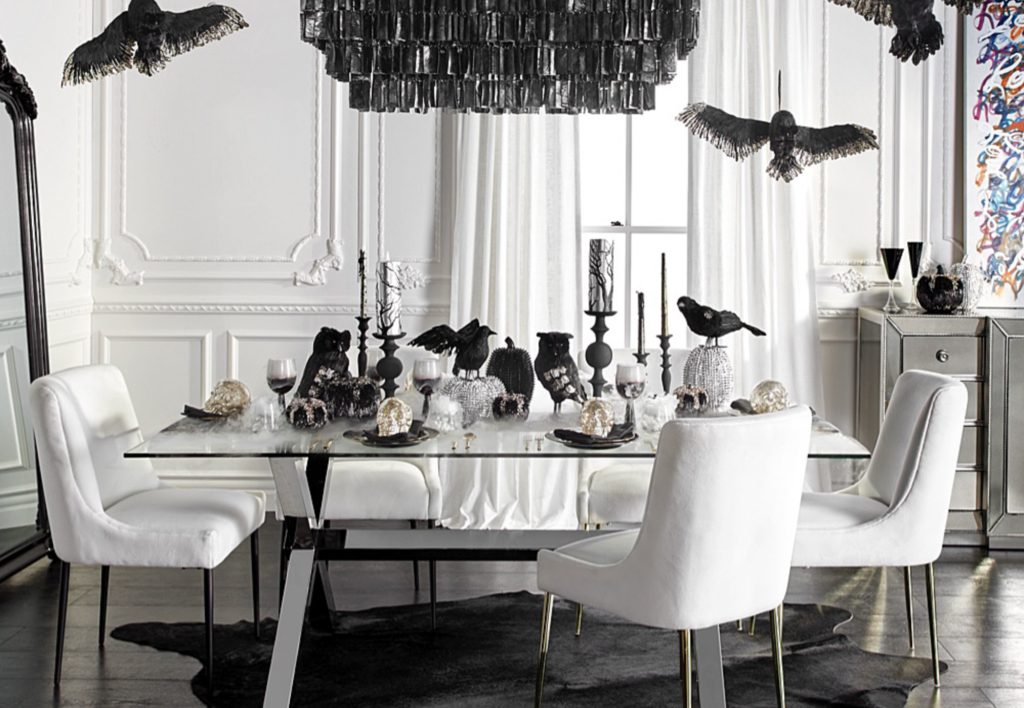 Halloween is always a fun time of year, from the trick-or-treaters to the decor – I love it all. Usually, when people think of Halloween decor they think of window stickers, fog machines, and obnoxious inflatables. While those are fun, there are so many other ways to decorate the inside and outside of your home and stay creepy, eerie, and sophisticated.
Kitchen + Dining


I do not do much entertaining during Halloween, but I do LOVE a Halloween-themed dining table and kitchen. These cutting boards are perfect for the kitchen and to set up for a charcuterie board! I also love this dining set, these adorable towels, and these napkin rings!
Living Room


There are so many ways to add the Halloween spirit to your living room without it getting cheesy and obnoxious. I like to toss on my sofa some Halloween-themed pillows, switch out my throws, and add some candles and accent decor like this golden faux book stack.
Outdoor


I love a great porch setup. One thing I notice is the wreath! This beautiful wreath has my eyes! If it is not in your budget, here is a VERY similar one that is under $40! I also love this cute and modern Spooky Ghost Doormat (under $15). Add some witchy brooms and a few pumpkins and you are ready for the trick-or-treaters!
Halloween Shop

SHESHE'S TIDBITS
Team SheShe started our new Facebook group page called SheShe's Shopping Network. We would love for you to join the group so you can join us every Tuesday night for our Live segment all about shopping trends, style tips, beauty, travel, and more to help women look and feel confident and be in the know. It is so much fun!!
We hope to see you there!! Here is the link to join
https://www.facebook.com/groups/shesshes
*CHECK OUT MY INSTAGRAM SHOP TO SHOP ALL OF MY INSTAGRAM LOOKS
*YOU CAN ALSO DOWNLOAD THE LIKETOKNOW.IT APP AND FOLLOW ME ON IT BY CLICKING HERE. Go here for our LiketoKnow.It tutorial.
* STAY IN THE KNOW: SUBSCRIBE HERE to receive exclusive sale alerts, helpful style tips, and fabulous giveaways, AND GET ACCESS TO MY VIP ONLY FOR SUBSCRIBERS!
*Be sure to check out the Shop SheShe tab at the top of the menu bar. Hover over and choose the category in the dropdown. We try to keep it up to date with the latest and greatest for all budgets.
Have a great week sweet friends and thank you for following along. Without you, we could not continue on this crazy fun journey.
XOXO, SheShe