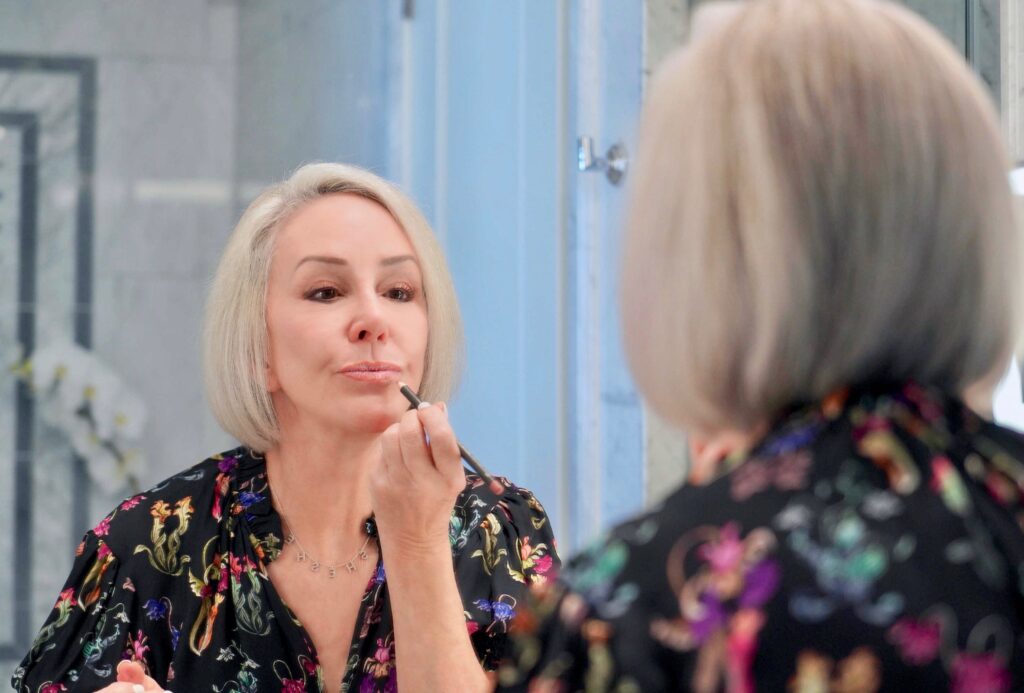 With the cooler temps welcoming the changing of seasons, this also means it is time to change up your hair care routine. Today we are giving our tips on keeping your lovely locks fresh, shiny, silky, and brilliant during winter!
Protection


There are so many ways to protect your locks that we do not even think of! Avoid ties (opt for a clip or claw), stray from tight hairstyles, use less product, etc., are just a few. We also believe in silk cases, letting your hair air dry before using heat, and of course, avoiding harsh chemicals.
Supplements

Taking supplements as an ever-evolving woman is so important and even more important as we age. Supplements work wonders. I suggest Nutrafol for Women. Those pesky thin patches at your hairline will thicken over time. Remember, with supplements the most important part is… consistency! So stay consistent and watch the new growth appear with patience.
Cut Back The Heat


This time of the year our hair dries out an awful amount, and we do not sweat as much, which means our scalp is not as oily so your mane is lacking those beneficial oils to stay shiny and protected. You want to lay off of the heat. This means air drying, using soft rollers instead of curling irons, and avoiding hot tools as much as possible.
Good Shampoo Habits


Good shampoo habits do not mean washing daily. You know your hair type and your scalp needs. I do not wash every day and like to let my locks absorb my natural oils for longer! Washing every few days is great and helps your hair to get a break! Shampoos do not have to cost a fortune but checking the ingredients for harsh chemicals and perfumes is a great idea.
Hydrate


Hydration is key to most things involving your health, whether it be your skin, nails, digestive, or even your hair! During the cooler months with less sweating and exposure to high temps, we tend to carry on about our days as if we do not need to consume as much water. This is completely false. Your body still needs just as much water as at any other time. Stay hydrated.
Watch The Hot Water
When I mention cutting back on the heat, this applies to scorching hot showers. While it may seem much needed during the colder months, super hot showers and baths can be damaging to your hair and skin. Opt for a warm shower and even run your hair through cool water before stepping out of the shower. Rinsing in cool water helps to seal the follicles that open during your hot/warm showers so your follicles can be more protected.
Deep Condition


Deep conditioning your hair is such a treat! Let your locks get some life back by sleeping in your deep conditioning treatment!
Winter Hair Shop

SHESHE'S TIDBITS
Team SheShe started our new Facebook page called SheShe's Shopping Network. We would love for you to like our page so you can join us every Tuesday night for our Live segment all about shopping trends, style tips, beauty, travel, and more to help women look and feel confident and be in the know. It is so much fun!!
We hope to see you there!! Here is the link to like our page
https://www.facebook.com/sheshesshoppingnetwork
*CHECK OUT MY INSTAGRAM SHOP TO SHOP ALL OF MY INSTAGRAM LOOKS
*YOU CAN ALSO DOWNLOAD THE LIKETOKNOW.IT APP AND FOLLOW ME ON IT BY CLICKING HERE. Go here for our LiketoKnow.It tutorial.
* STAY IN THE KNOW: SUBSCRIBE HERE to receive exclusive sale alerts, helpful style tips, and fabulous giveaways, AND GET ACCESS TO MY VIP ONLY FOR SUBSCRIBERS!
*Be sure to check out the Shop SheShe tab at the top of the menu bar. Hover over and choose the category in the dropdown. We try to keep it up to date with the latest and greatest for all budgets.
Have a great week sweet friends and thank you for following along. Without you, we could not continue on this crazy fun journey.
XOXO, SheShe