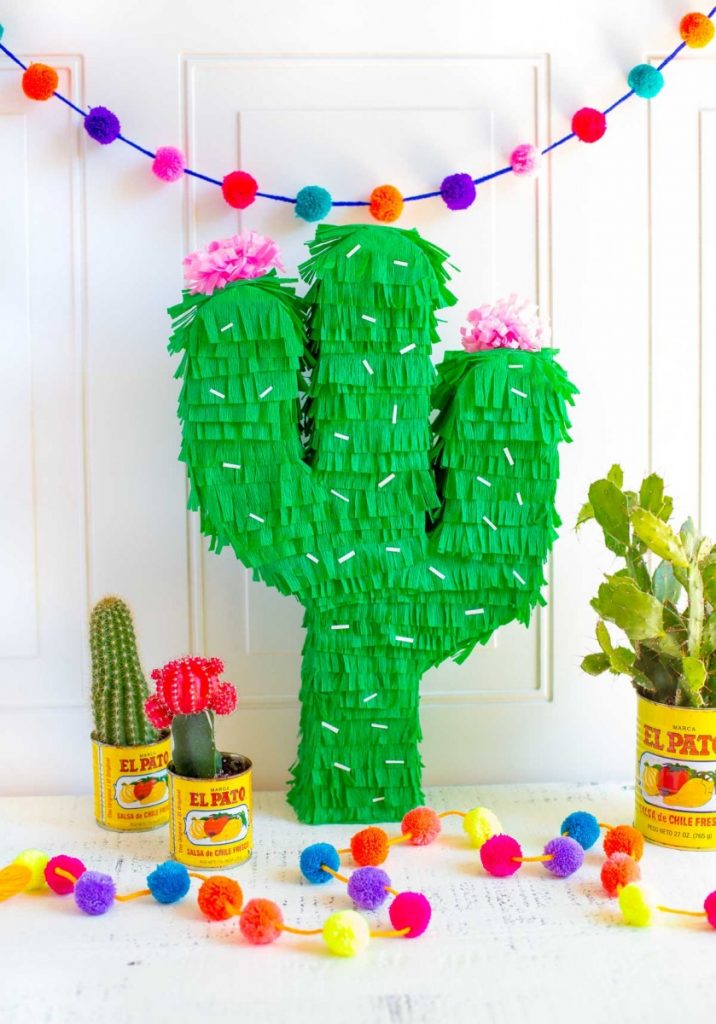 ¡Hola, May!
Can you believe it is already MAY?! Well, if you've been following me for a while now, then you know that Cinco de Mayo has been a long-loved holiday of mine… Who doesn't love a day of gorgeous weather, festive cocktails, and delicious cuisine?! It's such a fun summer holiday and a great reason to get your friends and family together.
Today we're talking Cinco de Mayo recipes and some last-minute Amazon Prime purchases that are sure to make a SPLASH this 5th of May! Be sure to check out my past Cinco de Mayo recipes here and here, but more importantly, do not miss my FAMOUS guacamole recipe I posted last fall. I've always been told my guac is the BEST, but you'll have to try it out for yourself and let me know!
Table of Contents
Before we jump into the cocktails and tacos, we always like to share some history about this holiday because it's always important to remember WHY we are partying!
HISTORY
According to Time Magazine, "Cinco de Mayo honors the anniversary of the May 5, 1862 Battle of Puebla. The clash, which took place during the French-Mexican war, featured a vastly outnumbered Mexican army and their unlikely victory over Napoleon III's troops." Many people mistake this day to be Mexican Independence Day, which actually occurs in September, but Cinco de Mayo is celebrated here in the US as a general day of appreciation for Mexican-American culture and history.
Now let's talk about things to SIP, EAT, SAVOR, and SHOP…
Something to SIP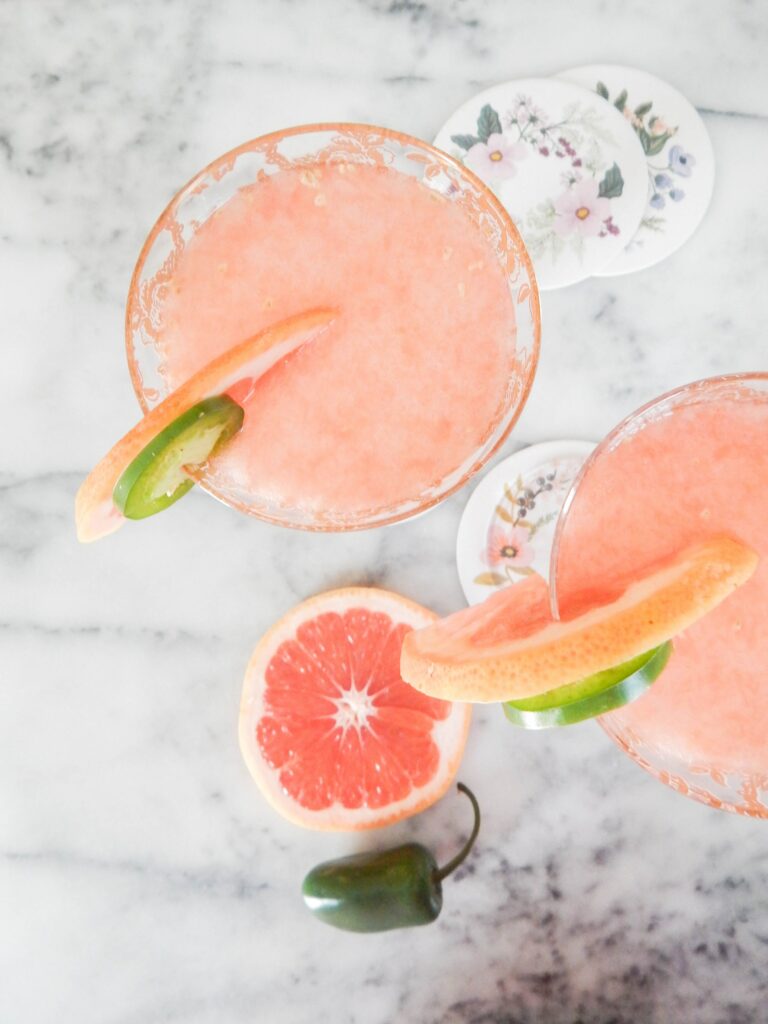 Frozen Spicy Paloma – Serves 2 – (adapted from Tipps in The Kitch)
Ingredients:
1/2 cup freshly squeezed (or store bought grapefruit juice)
1/2 cup silver tequila (I love
Juice of 2 limes, more or less to taste
2 Tablespoons of agave nectar or honey
1 jalapeño (use just 1/2 and/or remove the seeds for less heat! Or no jalapeño at all!)
3 cups of ice
Lime or grapefruit wedges, as garnish, optional
Sugar, Salt or Tajin for a festive rim
Steps:
To your blender, add tequila, grapefruit juice, lime juice, agave or honey, jalapeño, and ice.
Blend until smooth and slushy!
Take a lime wedge and run it around the rim of your glass until the rim is wet. Put some sugar (or salt or Tajin) on a plate and dip the wet rim into the sugar until the rim is coated.
Pour slushies into each cup, garnish with a lime/grapefruit wedge and a slice of jalapeño.
Enjoy!
Something to EAT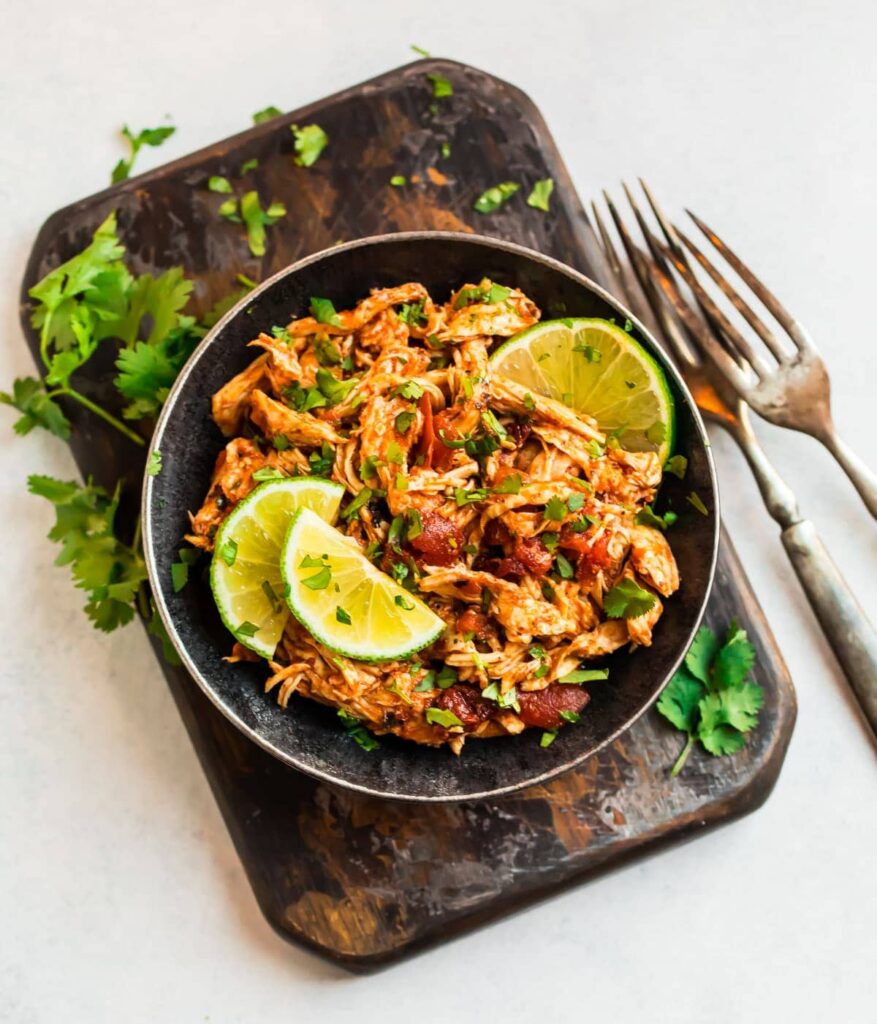 Slow Cooker Mexican Chicken – Serves 4 – (adapted from 40 Aprons)
Ingredients:
3 boneless, skinless chicken breasts
1 cup of salsa
2 Table spoons of Taco Seasoning
* optional* Additional Seasonings (Chili powder, garlic powder, onion powder, cumin, paprika)
Salt and freshly ground black pepper
Limes (for garnish)
Cilantro (for garnish)
Steps:
In a slow cooker, combine all ingredients and stir. Do NOT add water. Add a few pinches of salt if your taco seasoning does not contain it. Add a dash or so of the optional additional seasonings based on your preference of flavor level!
Cover and cook on LOW for 5 hours or on HIGH for 3 hours.
Shred the chicken with 2 forks.
Stir and cook uncovered for 30 minutes on HIGH or 60 minutes on LOW.
Serve in tacos, enchiladas, burritos, salads or burrito bowls.
Garnish with a fresh lime and cilantro.
Enjoy!
Something to SAVOR
Nothing ends a proper Cinco de Mayo party quite like Churros! What are churros you ask? Love Food Feed describes them best: "Churros are a Spanish or Mexican pastry, a bit like a donut or cruller, and are made from deep-fried unsweetened dough and then sprinkled with cinnamon sugar."
Our recipe is a fun, easy, bite-sized twist on the traditional churro, but just a mouth-wateringly delightful!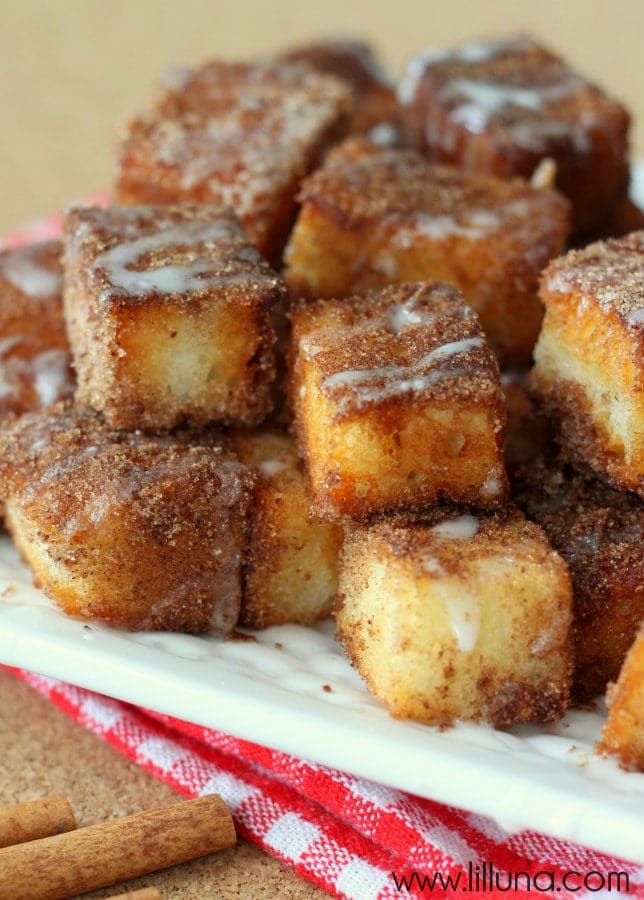 AIR FRYER Angel Food Cake Churro Bites – Serves 6 – (by Kristyn Merkley)
Ingredients:
1 Sara Lee Angel Food Cake
1 cup of sugar
1/4 cup of cinnamon
Spray vegetable oil
Steps:
Preheat the air fryer for 10 minutes at 375 degrees.
Let your Angel Food Cake thaw. Once thawed, cube the cake. (I recommend about 1.5 inches x 1.5 inches)
Place the cubes in a single layer and spray with cooking oil.
Air Fry for 8-10 minutes, or until they're golden brown.
Once golden brown, immediately put them in the bowl with cinnamon and sugar and toss!
Repeat with the remaining cubes.
For added indulgence, mix 1 cup powdered sugar with a tablespoon of milk, mix and drizzle over the bites.
ENJOY!
Something to SHOP
From taco stands and ceramic serving dishes to margarita salts and embroidered maxi dresses, we've got you covered for Cinco de Mayo! Click on the photos below to shop our AmazonPrime last-minute Cinco de Mayo favorites for all your festive needs!

SHESHE'S TIDBITS:
Hi darlings, how are you? Last week was a whirlwind for me, but I am LOVING all of the spring sales going on!! Stay tuned on my Instagram Story and LTK feed for my favorite sales you can cash-in on for Mother's Day!
This week I am looking forward to going back to Sugar Creek Country Club where I once produced shows and made great memories with close friends that I have unfortunately lost touch with. I have the honor of speaking and sharing my greatest tips on How to Pack for Summer Travel! I am so excited because the Sugar Creek Country Club is near and dear to my heart! On par with my speech subject matter, I get to have my own "trip" down memory lane! If you try any of our recipes, please comment and let us know your thoughts!! XO, SheShe
*CHECK OUT MY INSTAGRAM SHOP TO SHOP ALL OF MY INSTAGRAM LOOKS
*YOU CAN ALSO DOWNLOAD THE LIKETOKNOW.IT APP AND FOLLOW ME ON IT BY CLICKING HERE. Go here for our LiketoKnow.It tutorial.
* STAY IN THE KNOW: SUBSCRIBE HERE to receive exclusive sale alerts, helpful style tips, and fabulous giveaways, AND GET ACCESS TO MY VIP ONLY FOR SUBSCRIBERS!
* Follow us on PINTEREST BY CLICKING HERE.