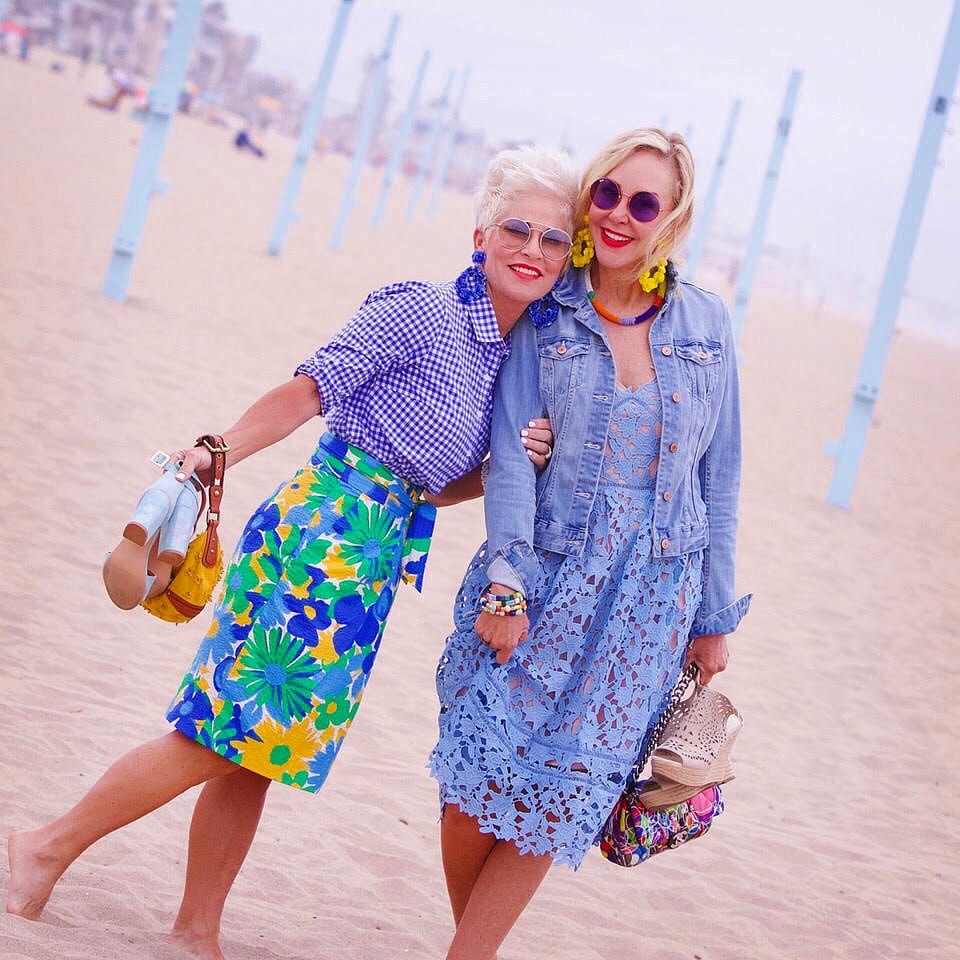 Welcome friends and meet my new blogger|friend |sidekick Shauna @chicover50 and the launch of ROCKIN THE AGES. Shauna is the coolest girl from Salt Lake City, Utah that I tripped across about a year and a half ago on Instagram. I call her a girl because she has such a youthful outlook on life. I was fascinated with her unique look and ability to connect with her readers, so I reached out to her and we became INSTA Instagram friends. After getting to know Shauna, I found that she is a great photographer, hence her gorgeous photos, an accomplished tennis player, mother of 3 grown boys and grandmother to 4 grandchildren. Follow her blog
CHIC OVER 50
Last month when about 30 women from all over the country met up in Los Angeles for a weekend of parties, brunches and dinners sponsored by brands that want a relationship with women over 50. Shauna and I planned to meet in person for the first time, stay at the same hotel and do a photoshoot while in LA. Just check out how we coordinated our outfits. Shauna sent me a photo of her skirt and I put together an out fit that I was hoping would work with hers. What we found was that our style is so similar, because when we showed up to shoot, we had on the same earrings, but in different colors. It was as if a stylist had put our looks together.
I can't tell you how much fun we had that day. We were like Lucy and Ethyl, Isn't it great when you meet someone and it just clicks. ( read on for rest of story)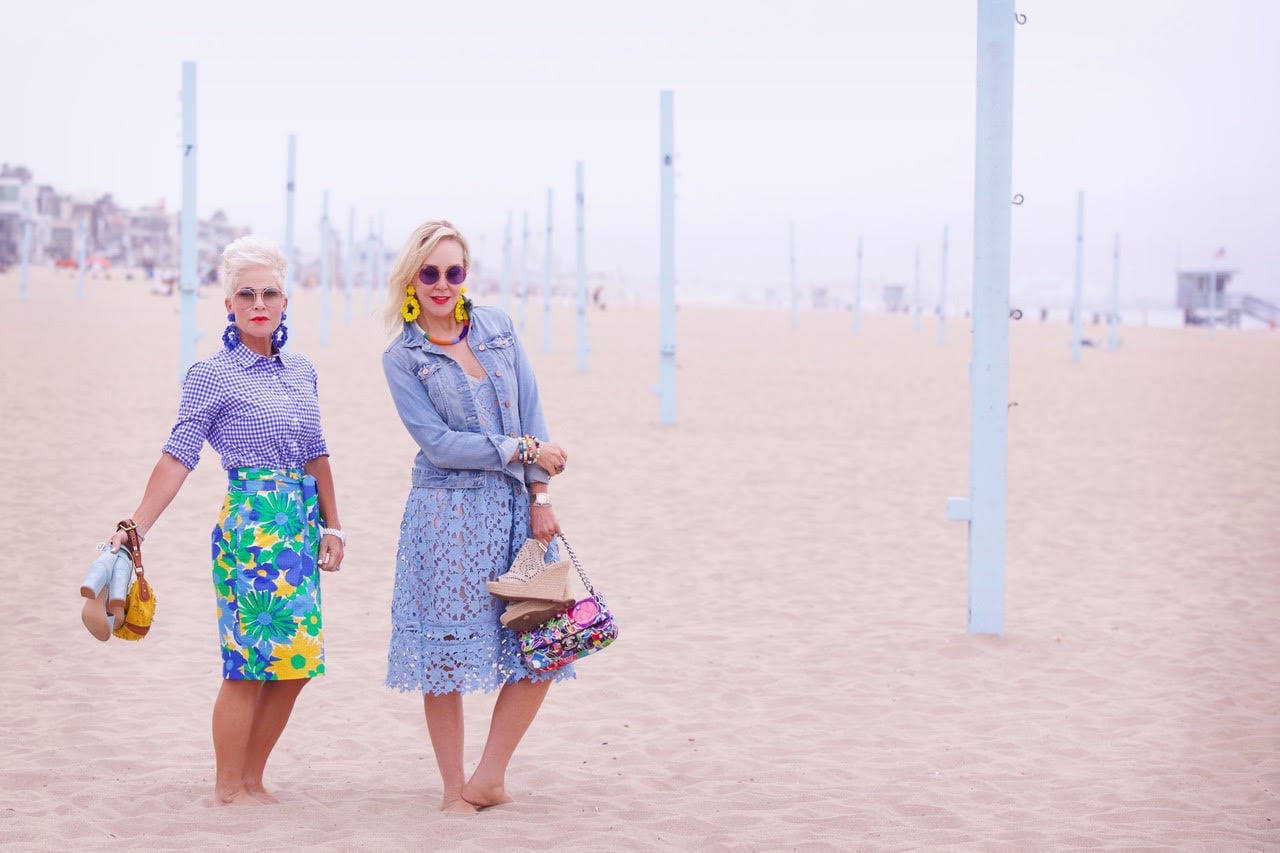 For a couple of years I have been wanting to do a "Rockin The Ages" concept with other bloggers that were in my age group, however I only knew of much young bloggers in the Houston area. I kept my eyes and ears open and tossed some ideas around to some younger girls, but it just didn't feel right and I couldn't put my hands around how to make it work. Then that weekend in LA, the light bulb came on and it was like a huge spot light. I called Shauna and before I could even get my whole idea across, she said YES!!!! OMG, our little heads were full of ideas and all the possibilities. I am so glad I didn't start something else before we met, because then I might have missed this window of opportunity with this precious soul. I really do think it was a God thing.
So, here we are…...ROCKIN THE AGES.….CHIC & SHESHE……bringing you Fashion | Travel | Lifestyle while celebrating our ages and setting examples for the younger generations. Expect to meet other like women as well as a few millennials , learn about new products, enjoy great photography of fashion and some exciting travel destinations.
Coming up soon Shauna in Spain, September for New York Fashion Week, and late September in Moab, Utah. We have so many ideas and hope you will FOLLOW our Instagram @rockintheages.
XO,
CHIC & SHESHE
ROCKIN THE AGES
 Our Outfit Details
Shauna's Look
SheShe's Look
SHESHE'S TIDBITS
The Nordstrom sale is on and hot styles are flying out the door. If you are a card holder, you can shop now. If you aren't a card holder and would like to then go here for the link. It's easy and doesn't cost and thing and you should be able to get approved immediately. If you missed the last post all about deals & steals, then be sure to check out all of our favorites in many categories at www.shesheshow.com.
Gala's, weddings, graduations, or just everyday wear…..we have fashion suggestions for you, so stay tuned. Be sure to check out ShopSheShe at the top in the menu bar. Hover over and choose the category in the drop down. We try to keep it up to date with the latest and greatest for all budgets. Subscribe and then you won't miss a post. Simply enter your email in the pop up box when you come to this site or at the top of this page in the subscribe box.
Welcome new readers. We are a fashion/travel/lifestyle blog. We talk about anything and everything, from fashion, travel, health issues to even an occasional recipe. If there is a topic that you are interested in, then let us know. We will do our best to bring that story to you. Have a great great week sweet friends and thank you for following along. Without you, we could not continue on this crazy fun journey!