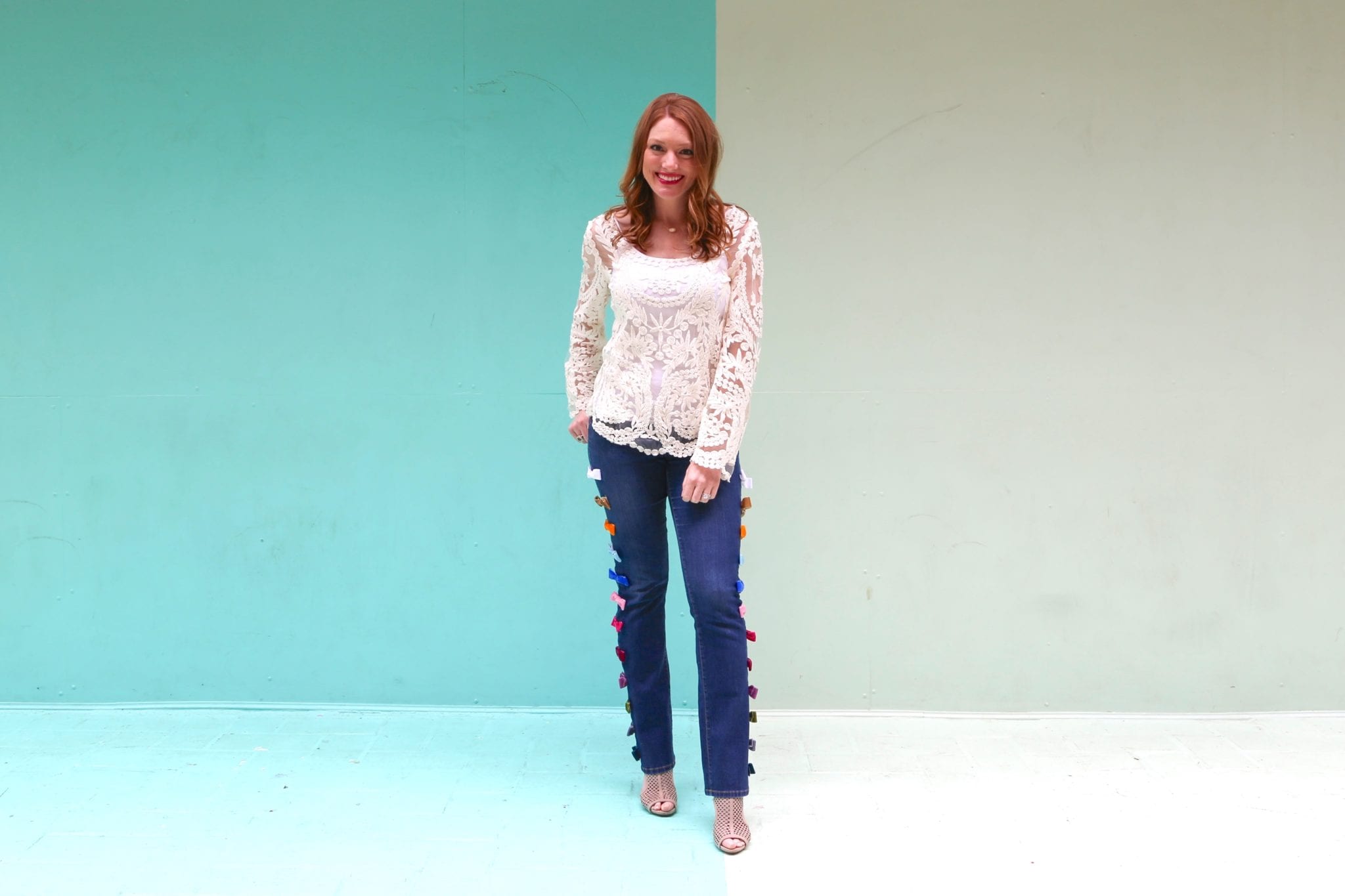 Hello everyone! I'm excited to be back on the SheShe Show with this exciting DIY project. Sheree and I share a love of COLOR, so when she had the idea of duplicating a designer pair of
jeans
 with velvet bows that she owns, I was up for the challenge. You need very few supplies to pull this off, and the result is so cute for spring! Oh by the way…..velvet and suede is a year-round fabric!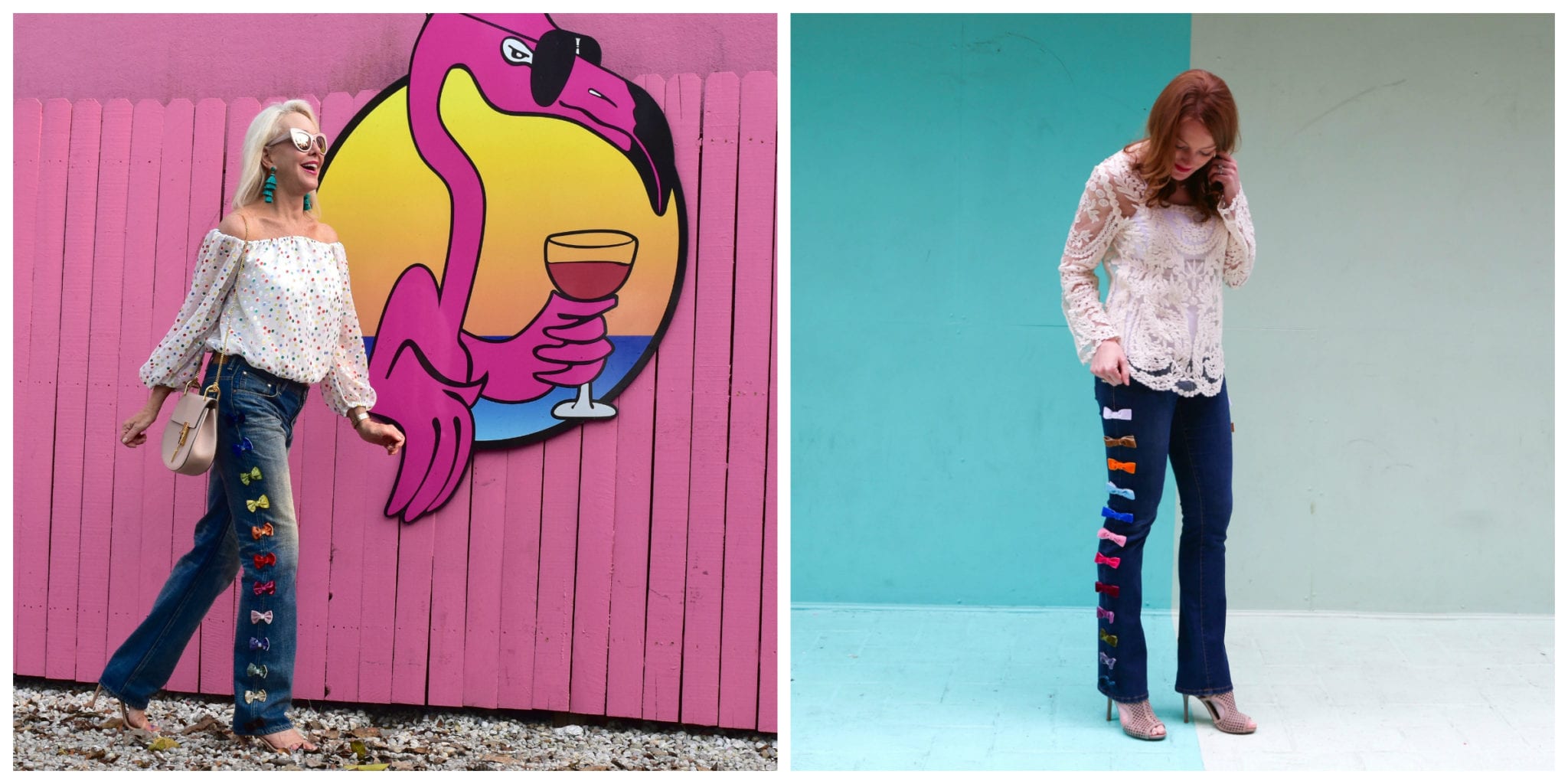 Supplies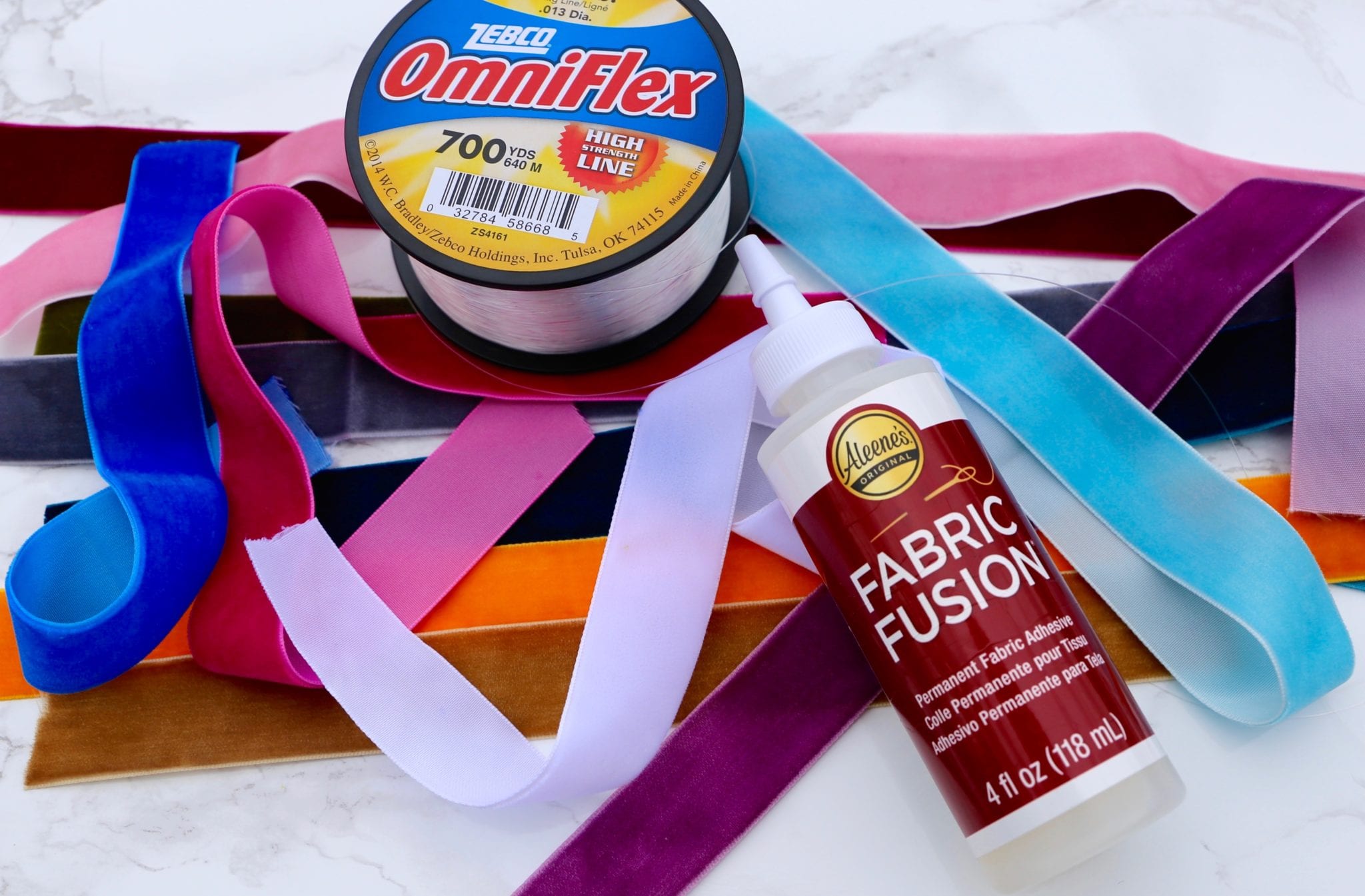 To start, you are going to make 24 velvet bows (12 for each leg) using whatever colors suit your taste. I chose to use an assortment with two of each color to mirror down each leg. The steps to create each bow are a little difficult to put into words, so please reference the photos for additional assistance! :)
 First, cut a piece of ribbon to approximately 9″ long. Fold one side of the ribbon to the middle, then fold the other side on top of your first fold.

 Next, take a piece of string or twine, and tie a tight knot in the center of your folded ribbon. This will cause your ribbon to fluff up in the form of a bow. Trim the excess pieces of string.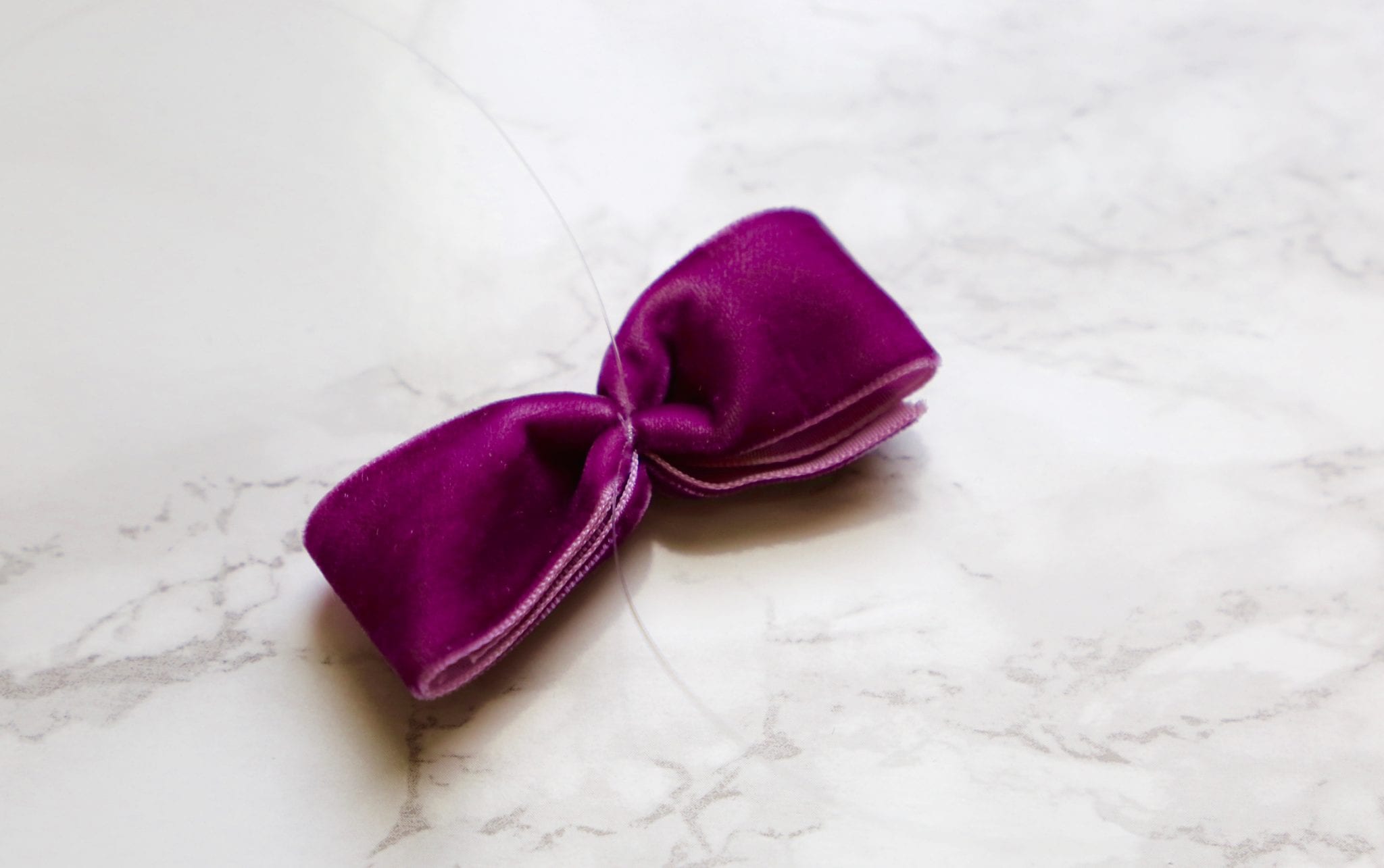 Cut a piece of ribbon (same color as your velvet bow) to cover the string you just tied. Fold that ribbon in half, long ways. Dab a piece of fabric glue to the back of your bow in the center and apply the folded ribbon. Continue to dab fabric glue, and wrap the folded ribbon around the center of your bow until you have made it all the way around.
Place a clothespin in the center to hold the fabric in place until the glue dries. I would suggest leaving the clothespin for about two hours to ensure it has fully dried.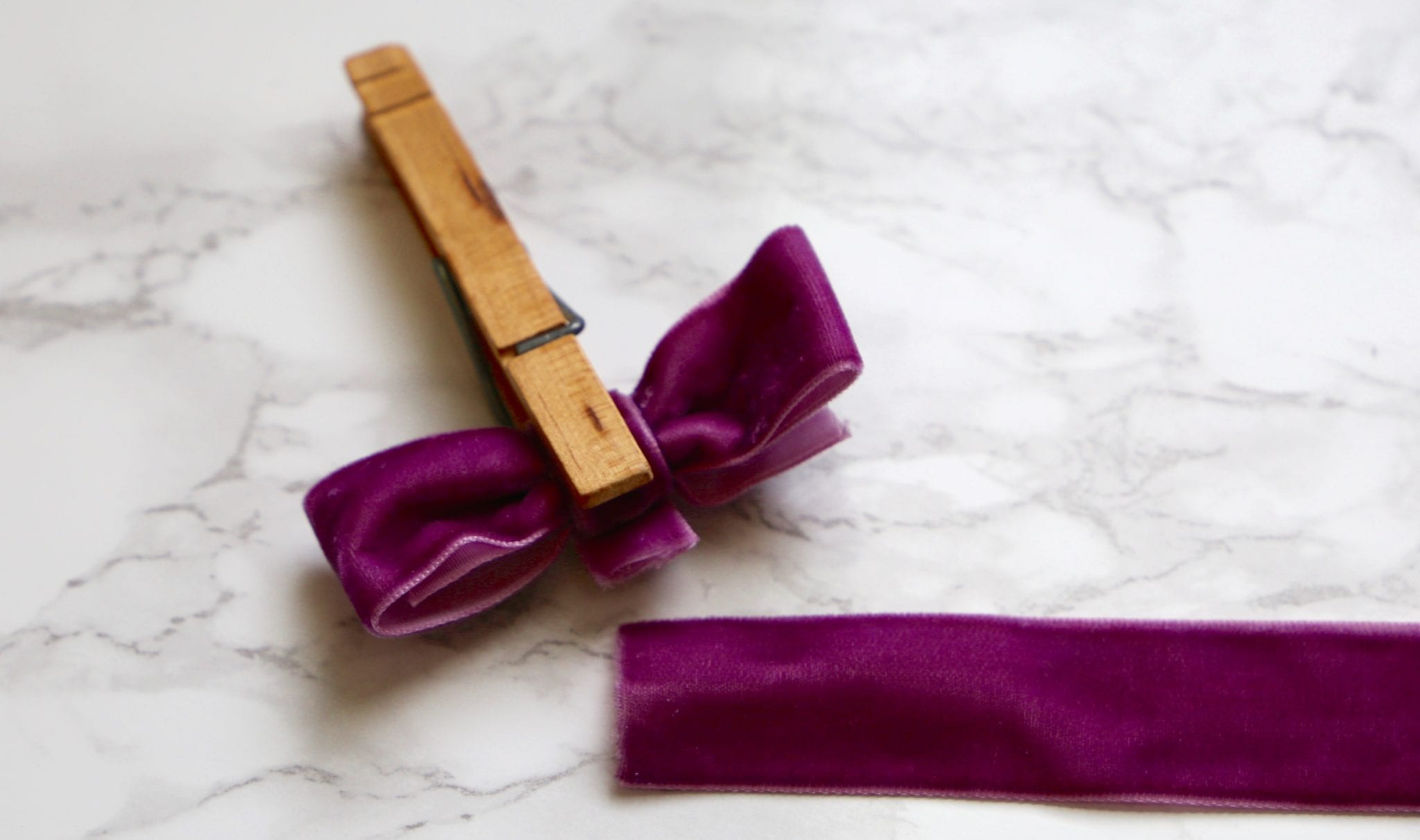 Repeat this process until all the bows are made.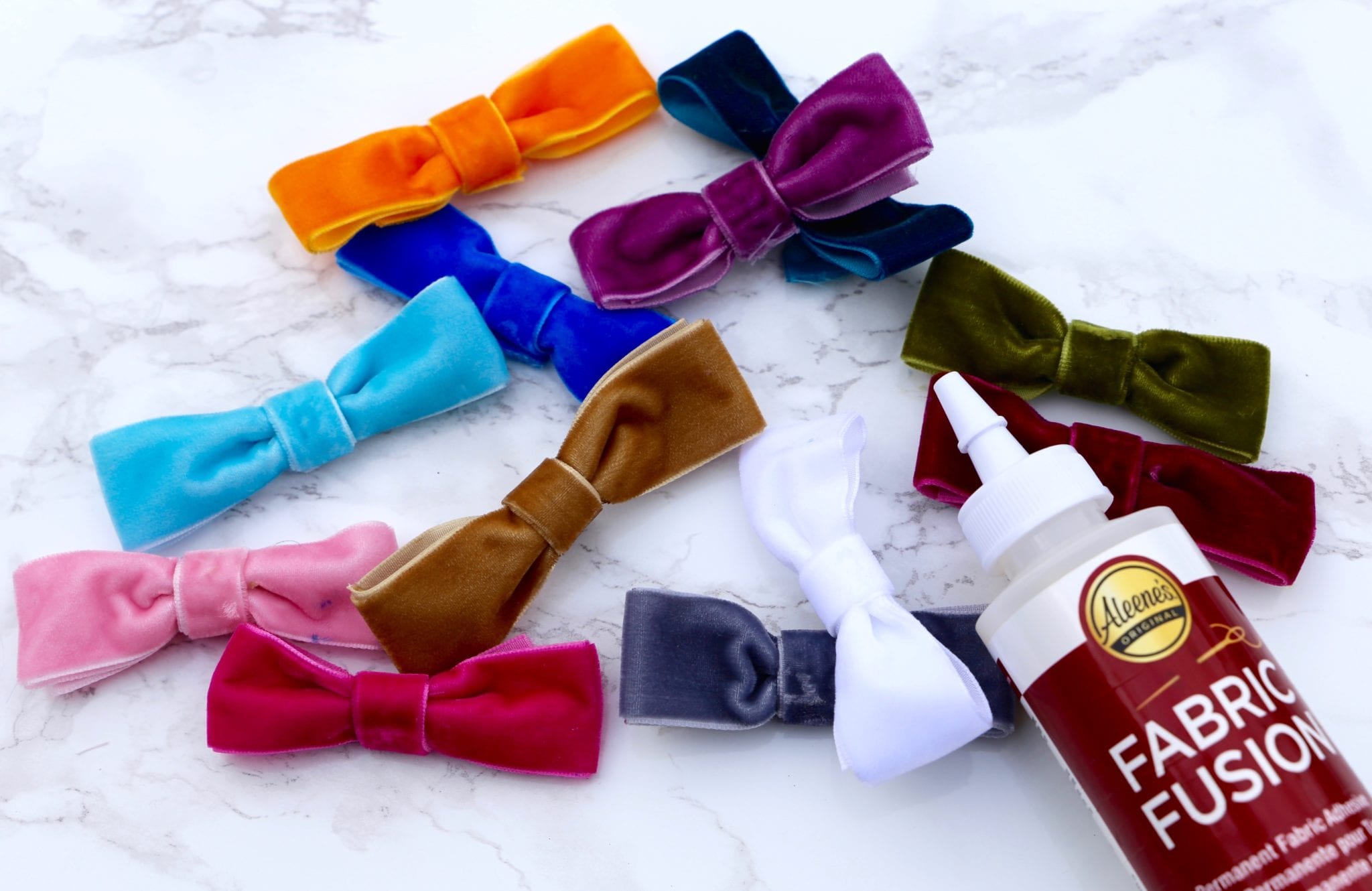 Once your bows have dried, arrange them down the outside seam of the jeans spacing about 1.5″ apart. Apply each bow with a dab of fabric glue, and wait to dry. I actually laid a heavy book on top of the bows to keep them in place until they dried.
Once the glue has dried for all bows down one side, flip the jeans and repeat the process down the opposite leg. Finally, use your fingers to straighten and make the bows full again as some may have flattened in the process.

For about $20 you can have your own designer dupe! Style them any way you like for a playful look. I think these would be great for a beach trip, or even a music festival.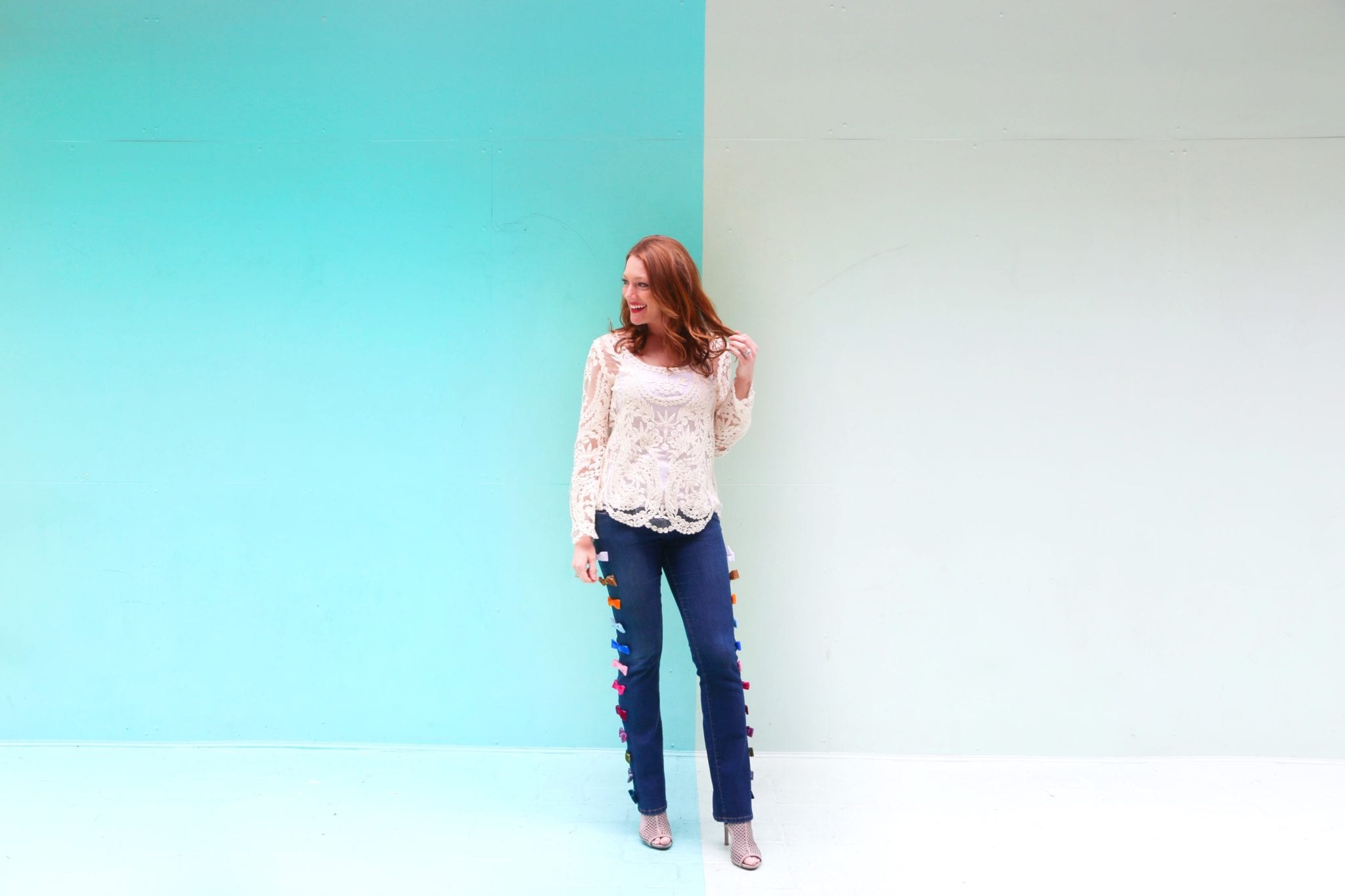 Thank you for joining me today on SheShe Show!
 SALE ALERTS!
Shopbop Sale – 20% off orders under $100, 25% orders $500 or more ( ends midnight 4/14) Use code: EVENT18
Sephora
– Rouge member get first dibs 15% off now until the 16th, Use code:
YAYROUGE
, April 16th thru the 20th sale opens to all other customers. This sale only happens twice a year, so get on it ladies.
DSW
– 20% off everything Use code: springmood
SHESHE'S TIDBITS
We are now back home in Houston. We got a lot done on our new digs, but so much more to do. I guess it can wait…..  We have first round of company joining us May 16 for their beach week, so regardless of whether everything is perfect or not, we are going to have a whole lot of fun!
This week is full of events for me personally and SheShe Show, so stay tuned. More good deals coming down the pike!!
 Gala's, weddings, graduations, holidays or just everyday wear…..we have fashion suggestions for you, so stay tuned. Be sure to check out ShopSheShe tab at the top of the menu bar. Hover over and choose the category in the drop down. We try to keep it up to date with the latest and greatest for all budgets. Subscribe here and then you won't miss a post. Simply enter your email in the pop-up box when you come to this site or at the top of this page in the subscribe box.
WELCOME new readers. We are a fashion/travel/lifestyle blog. We talk about anything and everything, from fashion, travel, health issues to even an occasional recipe. If there is a topic that you are interested in, then let us know. We will do our best to bring that story to you. Have a great week sweet friends and thank you for following along. Without you, we could not continue on this crazy journey!