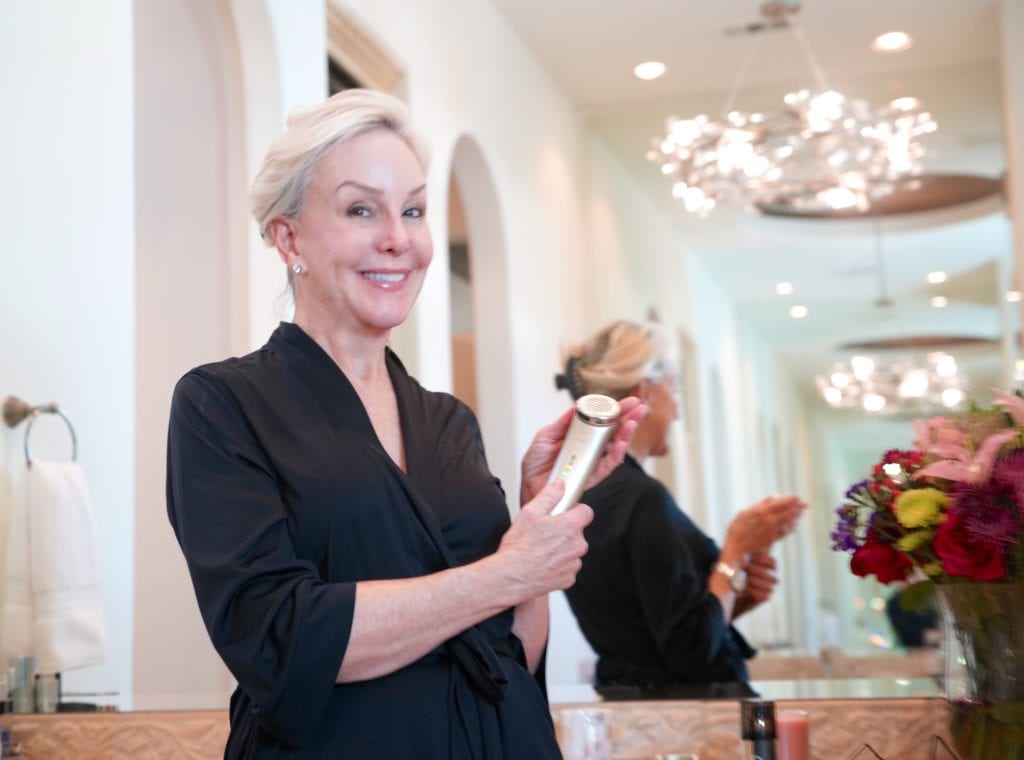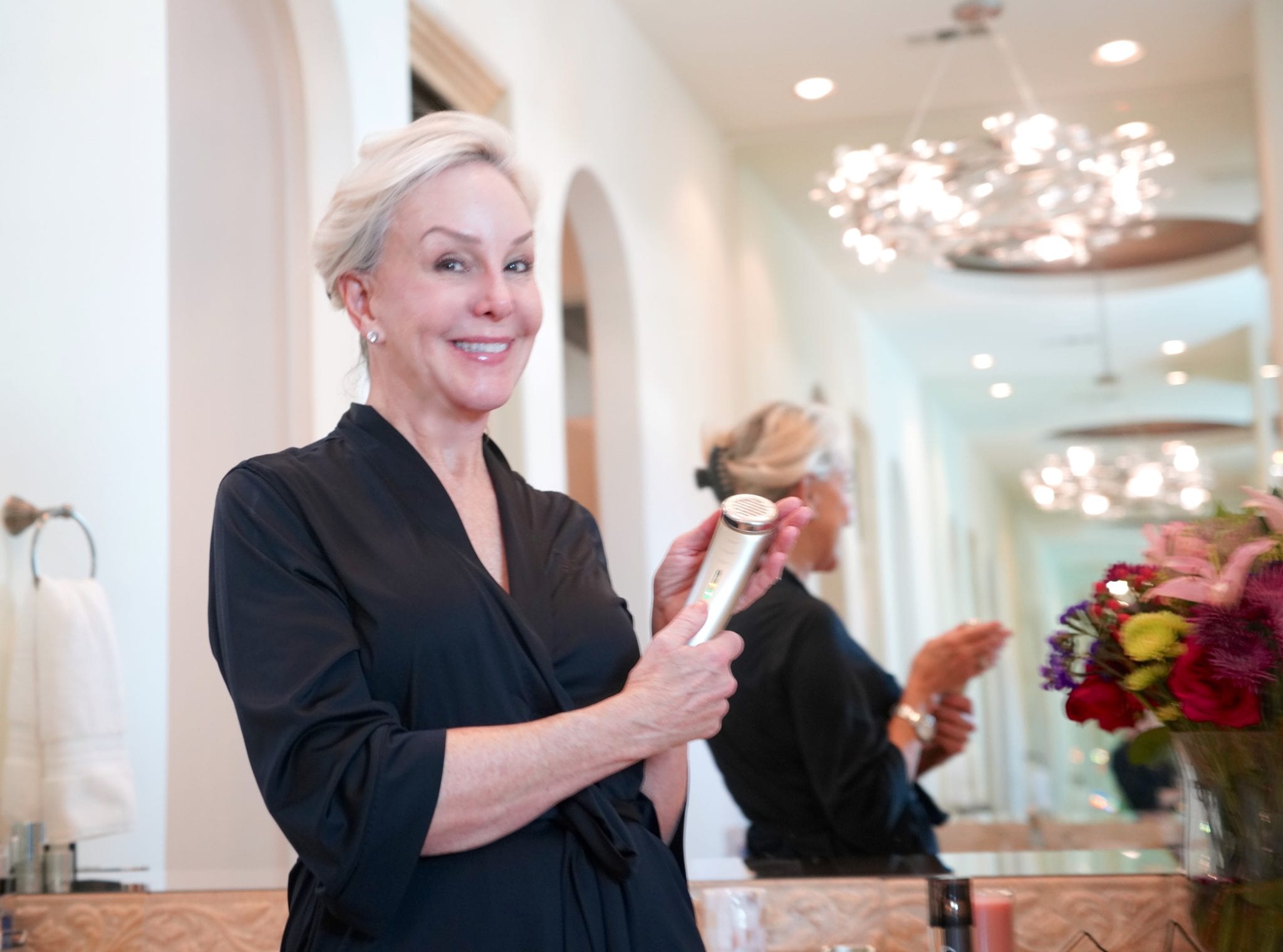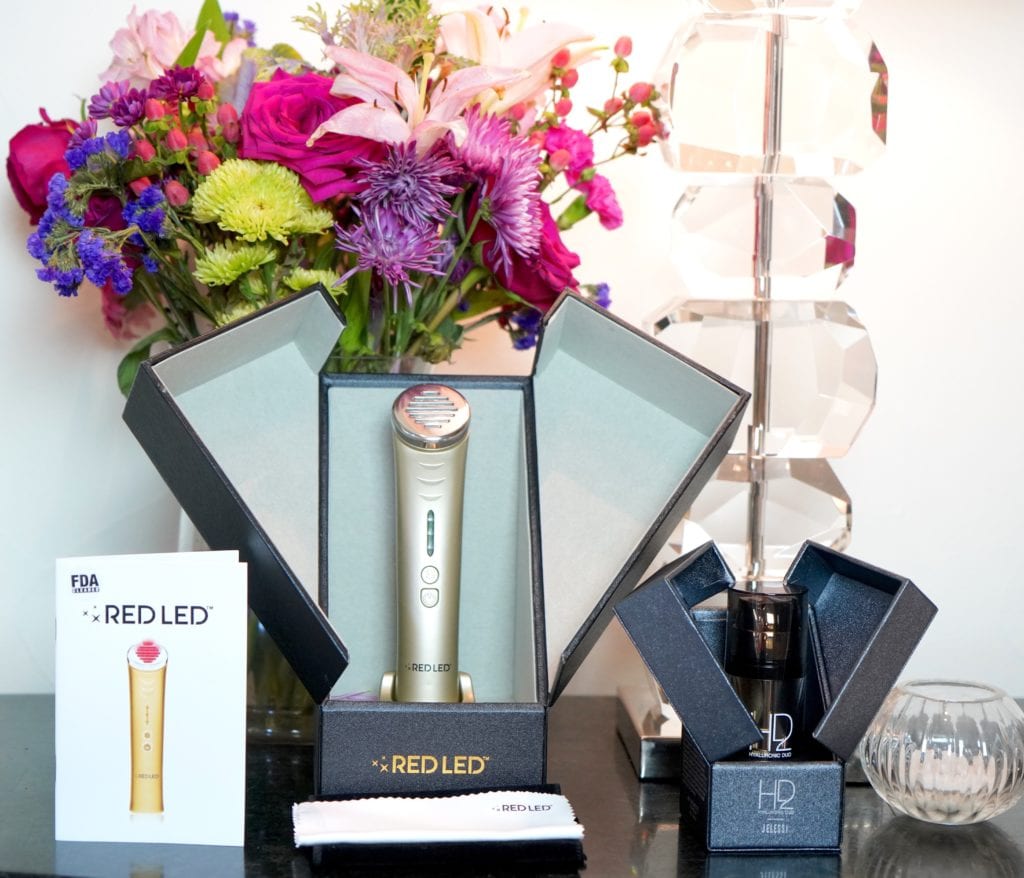 This post sponsored by Jelessi. I was paid for this post and received the included product as compensation.
Aging is an inevitable process of life. The fashion and beauty industry does a great job of making us aware of our skin, hair and body appearance by using young beautiful models to be the front people of their brands. Hence, we are all on the hunt for the latest and the greatest hair tools, hair growth products, slimming clothes, and anti-aging products and devices.  Today we are going to share an exciting new anti-aging device for the face from Jelessi and a companion day and night cream that can be used right in your own home med spa.
We start aging as soon as we are born, so kudos to the young people who are using all the latest serums. Just be careful not to go too far and get addicted, especially to invasive procedures. There is a teetering point where too much can make you look worse. Being consistent with your daily skin care routine is the most important.
Ways To Slow Down Aging
Stay out of the sun and drink a lot of water every day.
Moderate exercise. This will increase blood flow for circulation.
Sleep on your back.
Eat healthily. Fruits and vegetables with a lot of vitamin C & E.
Cleanse, tone and moisturize your face daily.
Exfoliate regularly. This will depend on how sensitive your skin is.
Use at least one or more of industry tested and proven serums.
Do the REDLED light treatment 3 days a week.
Go to a licensed med spa for light treatments like IPL's (photo facials) This can be very expensive
Invest in your own at home med spa. This will save time and money and get great results.
Ingredients to Look for in Your Moisturizers and Serums
Hyaluronate (Hyaluronic acid)
Sodium Citrate
Resveratrol
Retinol
Niacinamide,  kojic acid and/or hydroquinone.
Vitamin E & C
Organic Camille, Soy Bean fiber,
Rosehip & Carrot Seed
Coconut Extract
 Alpha hydroxy acids (e.g., glycolic acid) to exfoliate and brighten skin and minimize spots and the appearance of pores.
Each and every one of these ingredients has been proven to help with all kinds of anti-aging.  Every day, labs are finding more and more natural ingredients to combat all of the stress that our skin goes through on a daily basis.
About Jelessi
Now that we have given you a rundown of really great ingredients to look for now I want to share a product and device that would be perfect for your at home med spa. We are introducing you to REDLED device and the H2 Hyaluronic Due serum by Jelessi. This company is all about technology because they have seen the results of the LED technology used by professionals in the industry for years so they figured why not at home too. If spa-based treatments have shown amazing results then daily exposure to the LED light would certainly maximize the benefit.
Every device that Jelessi has made is effective and uses the latest technology. These non-invasive treatments are a great alternative to med spa treatments. These devices stimulate changes deep within your skin as opposed to treating skin issues at the surface.
Jelessi and many leading board-certified dermatologists around the world truly believe the LED skin care therapy is the future of skin care. These products are suitable for any age, skin tone, or skin type and are backed by medical science. Rigorously tested meeting the highest standards of safety Jelessi products provide effective treatment while providing comfort.
JELESSI DEVICE & PRODUCT THAT I AM USING
As we know, NASA is always using technology to invent and create. Well, Jelessi used the NASA approved red light technology for their REDLED light device. The red light and infrared wavelengths penetrate deep below the dermal layer helping to reverse current signs of aging as well as preventing future signs from creeping back in. How does this work? It promotes collagen production and cell renewal as well as stimulates the skin on a cellular level to tighten, firm and perk up that tired skin. With recommended use, these wrinkles and fine lines will soften and diminish. Go to www.Jelessi.com to see the video.
Warranty

HOW TO USE
First
I always recommend reading this instruction booklet first. My husband never does that and usually throws that kind of stuff away. It irritates me to death. Anyway ……
Plug in the device and begin charging. It could take up to 6 hours. (do not use while charging)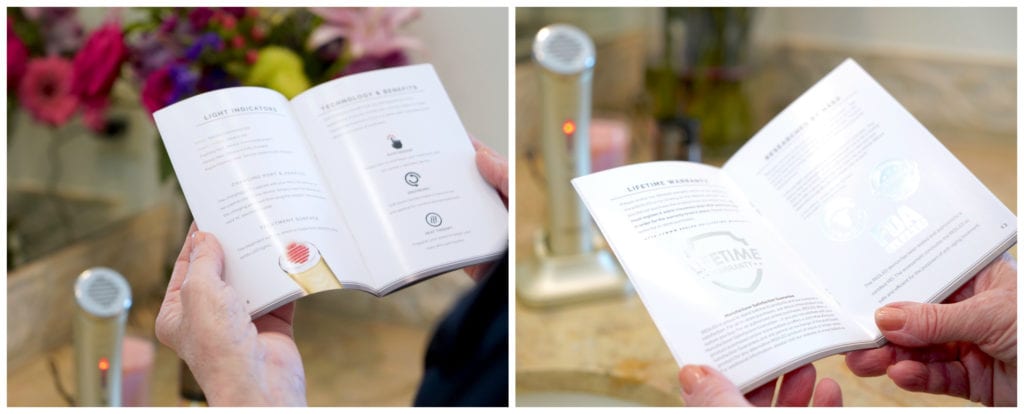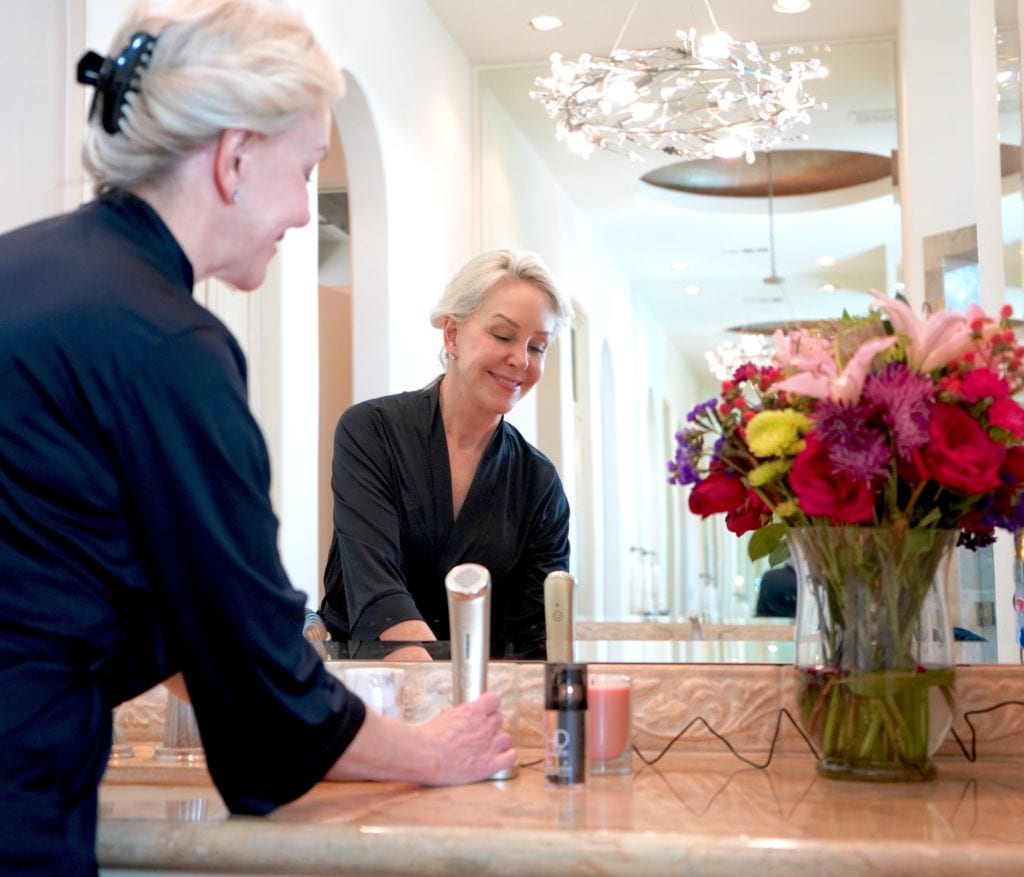 The green light on-Device is powered on, Green+yellow-Heat is on, Flashing red-device is in charging port, Steady red-device is fully charged, rapid flashing red-device needs to be charged.
Treatment surface (right photo below) is where the red light emits.
The design has a contour shape for an easy grip and the treatment surface is smooth making it easy to glide across the surface of the skin.
Wash and dry your face. Do not use when wearing makeup, creams or gels.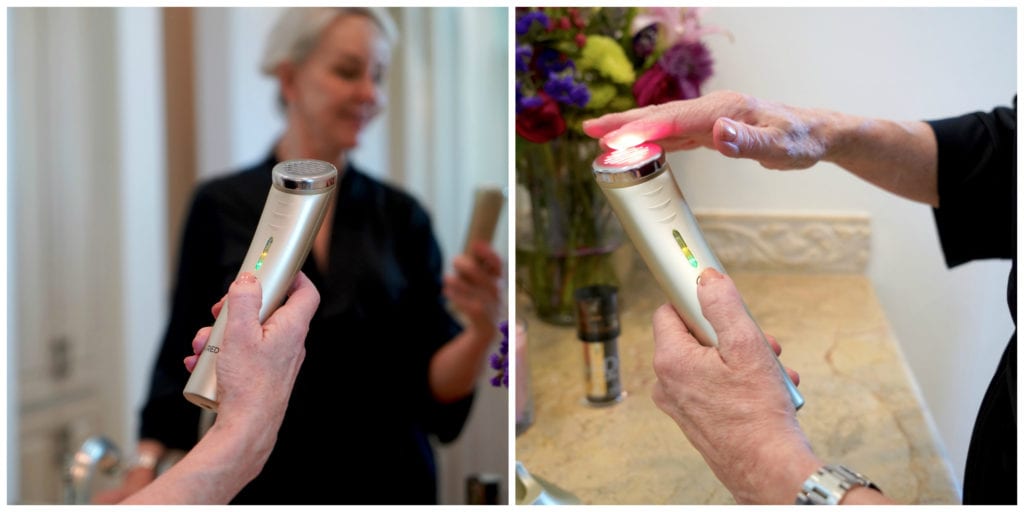 NEXT
Lift from charging port when fully charged and turn on the power button. The light should go green when ready to use.
Heat promotes blood circulation and prepares your pores for your treatment so to add heat simply push the heat button then you will have a green and yellow light and it will then heat up to about 105 degrees F.  FYI the device has a sensor and will shut off if it doesn't come in contact with the skin within 3 minutes.
Apply the surface head to the area you want to treat and move lightly against the skin in a small circular motion. You will feel the heat during your treatment as you glide over your face. Treatment areas are the face (cheek ), forehead, and around eyes.
TIP
So, for maximum results use 2-3 times a week for 15-20 minutes each time and for 5-7 minutes on each area. The results are different from one person to another, so to enhance your treatment and get expected results you must remember to be consistent!!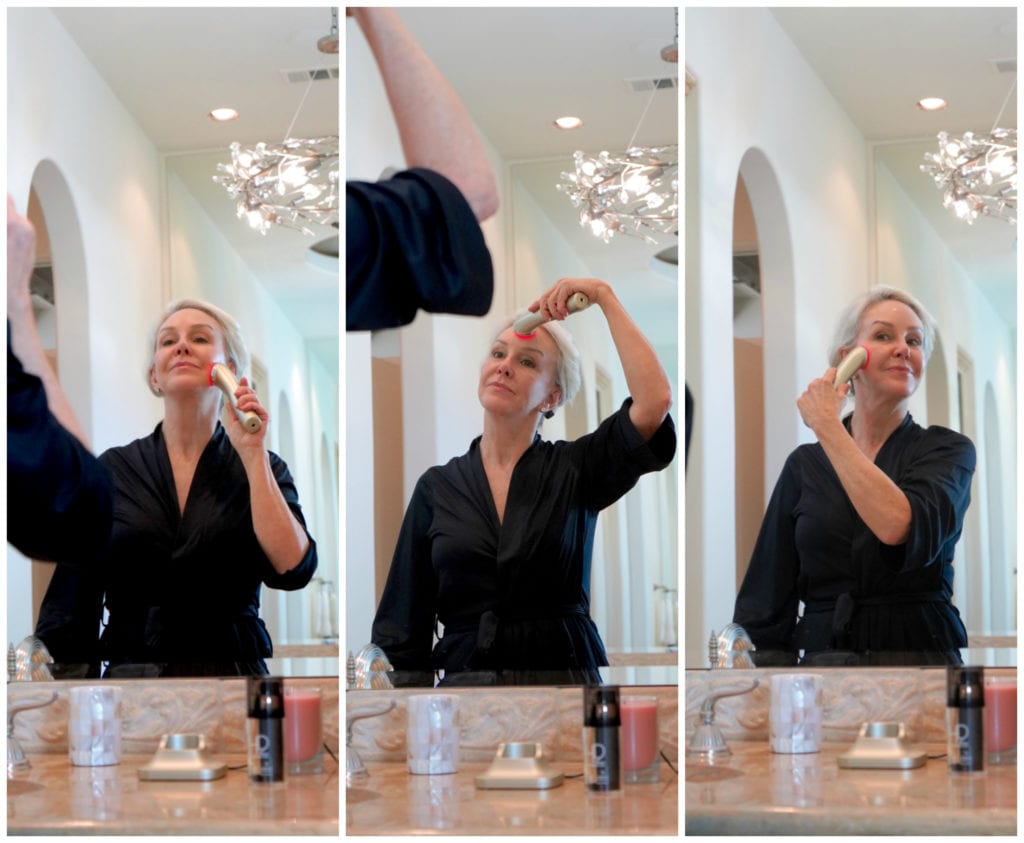 DON'T FORGET
After treatment turn off the device.
Like anything that I invest in I always want to take care of it whether it is an expensive handbag, a piece of fine jewelry, a new sofa or a deluxe beauty device like the REDLED light device by Jelessi. That being said make sure to clean your device before returning the REDLED light device to the charging port. To clean the surface head simply use the soft cloth provided.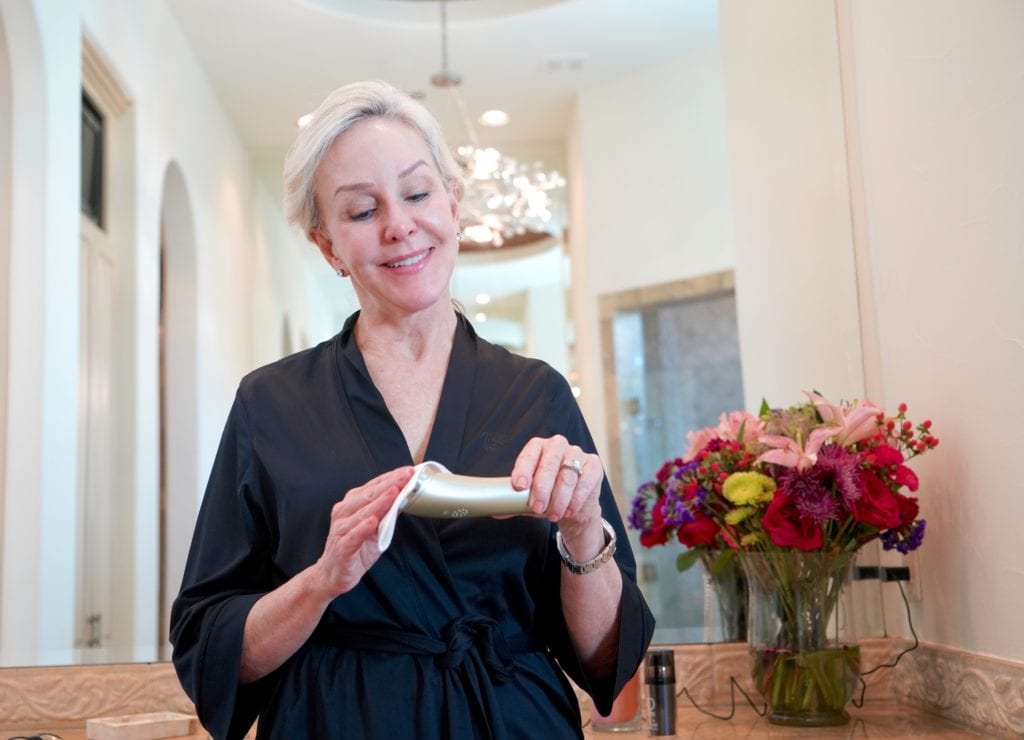 NEXT STEP ~ Moisturize
The final step to completing each treatment is to moisturize. Jelessi with the help of lab scientist has created a unique day and night formula that will enhance the REDLED light treatment. Talking about a bloggers dream is this serum because it helps smooth those fine lines and wrinkles while reducing the appearance of shine. Do you know what that means? It makes my weekly photo shoots easier on the eyes.
Formulated with 2 breakthrough formulas, one for the day and one for night fights 3 types of aging: Expression lines, Gravity lines, and skin texture. The key ingredients that fight the daily stresses of daily life that our skin endures are Hyaluronate, Resveratrol, and Vitamin E.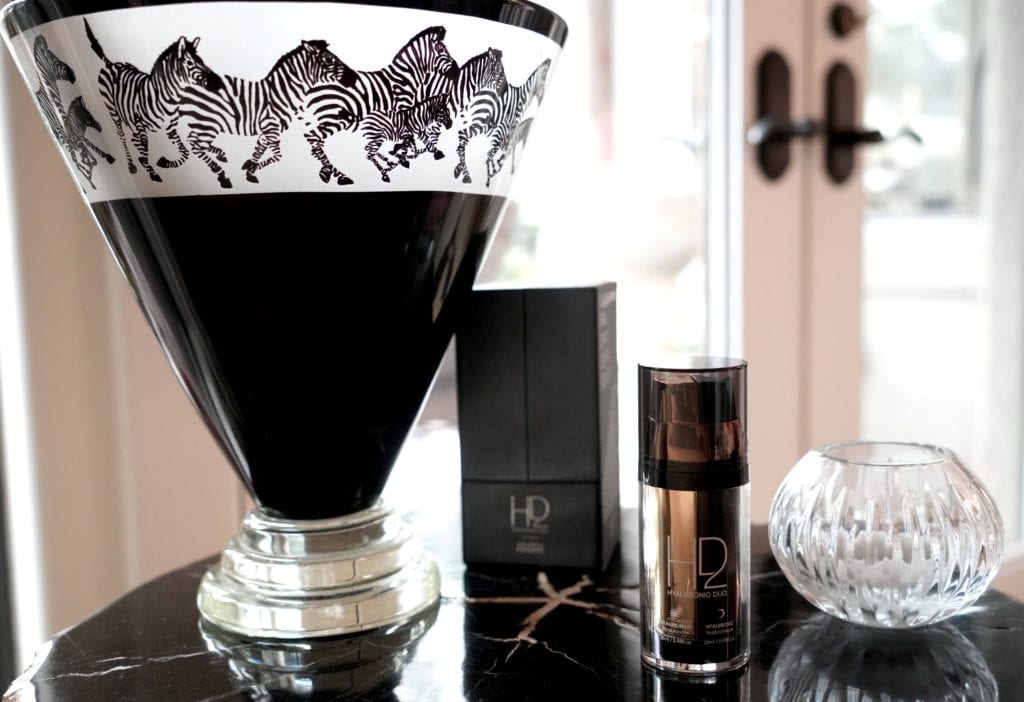 DAY FORMULA
The day formula HD2 key ingredients Hyaluronate and Sodium Citrate help to lock in moisture and blur out those imperfections that we all have and make this a fabulous choice for your daily skin care regimen.
Use 1-2 pumps on freshly cleansed skin messaging the face, neck, and décolleté. Ingredients sodium hyaluronate, Resveratrol, and coconut extract help the formula to penetrate the skin leaving it with a silky mattified look.

NIGHT FORMULA
The night formula is designed to nourish the skin while you are sleeping. Its key ingredients are Hyaluronic Acid, Organic Chamomile, and Soy Bean Fiber. These ingredients help with the production of collagen and elastin during the night playing a big part in rejuvenating and soothing your skin.
Also, message 1-2 pumps of the night formula on a cleansed face. The ingredients work together to give repair to skin holding in moisture and providing antioxidants.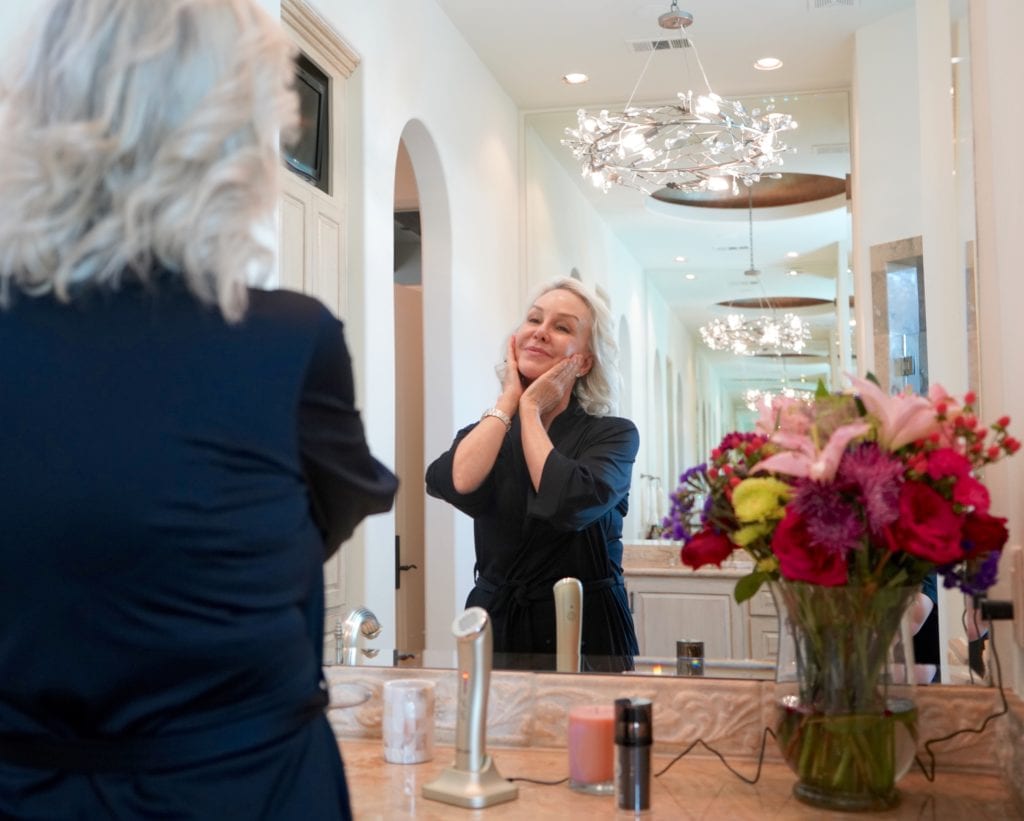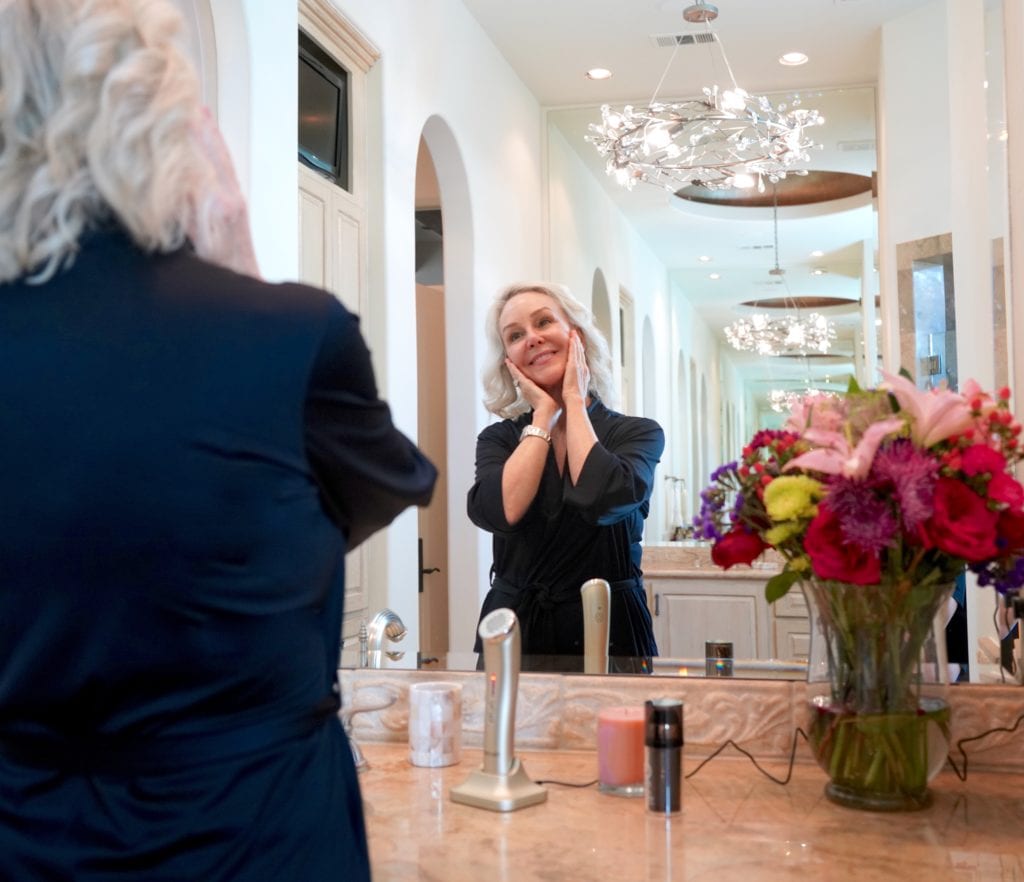 MY EXPERIENCE
Getting the opportunity to use the REDLED light therapy by Jelessi was so exciting. After 3 weeks of using my device as recommended, I saw a visible improvement in the little lines around my eyes and in the labial fold on my face. I love the ease of using this device with no downtime and no pain. Doing photo facials at my local med spa takes up so much time, so now I can give my skin this dose of light that it loves on a more regular basis without it being a time sucker. I didn't miss a treatment during my review time because I was able to take it with me on my December trips. It comes with a nice little travel pouch making it easy to pack.
IN CONCLUSION
If I weigh out the cost of getting my red light treatments at a med spa to having one available to me any time of the day, therefore, using more regularly then hands down the Jelessi REDLED light device is the better investment. Oh, and the little time it takes out of my day makes this decision to create my own little home med spa a NO BRAINER!!
SHESHE'S TIDBITS
This week we will share our favorite furry coats and Part III of our October Baja trip. You will not want to miss this one.
Gala's, weddings, graduations, holidays or just everyday wear…..we have fashion suggestions for you, so stay tuned. Be sure to check out ShopSheShe tab at the top of the menu bar. Hover over and choose the category in the drop down. We try to keep it up to date with the latest and greatest for all budgets. Subscribe here and then you won't miss a post. Simply enter your email in the pop-up box when you come to this site or at the top of this page in the subscribe box.
WELCOME new readers. We are a fashion/travel/lifestyle blog. We talk about anything and everything, from fashion, travel, health issues to even an occasional recipe. If there is a topic that you are interested in, then let us know. We will do our best to bring that story to you. Have a great week sweet friends and thank you for following along. Without you, we could not continue on this crazy