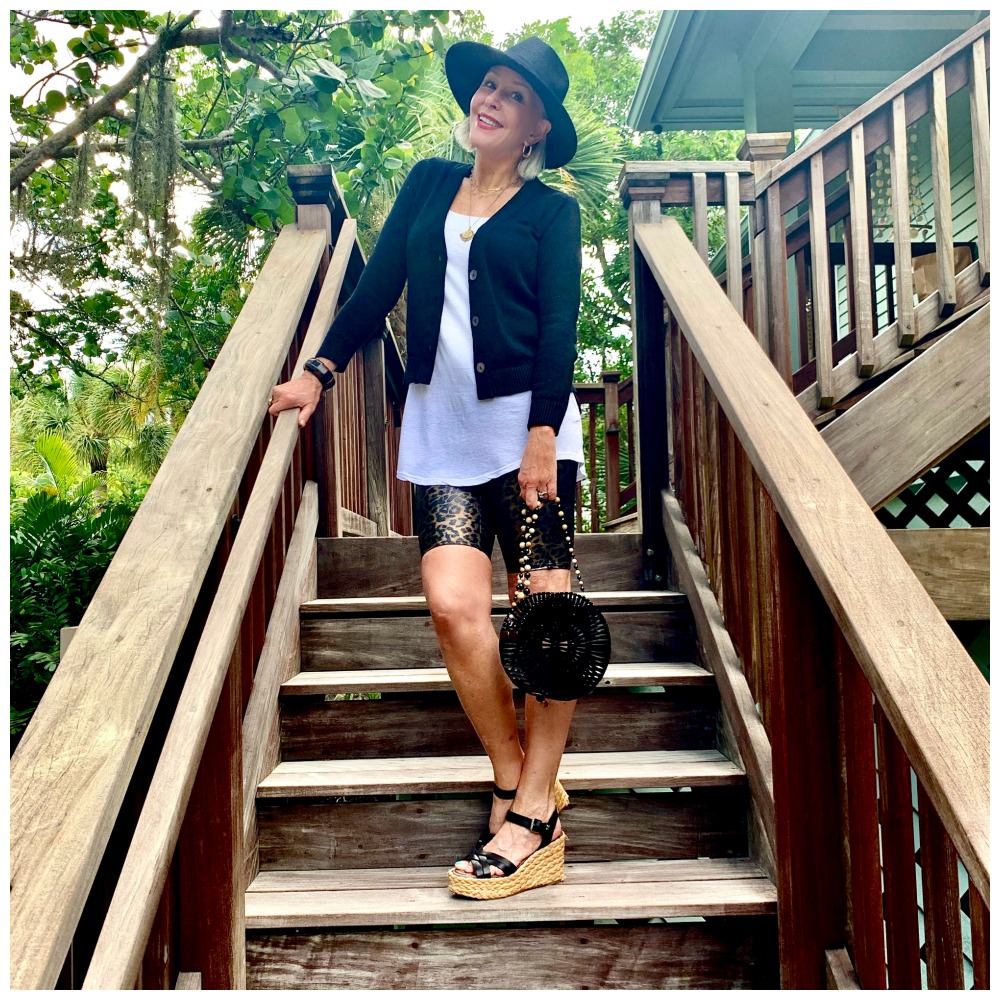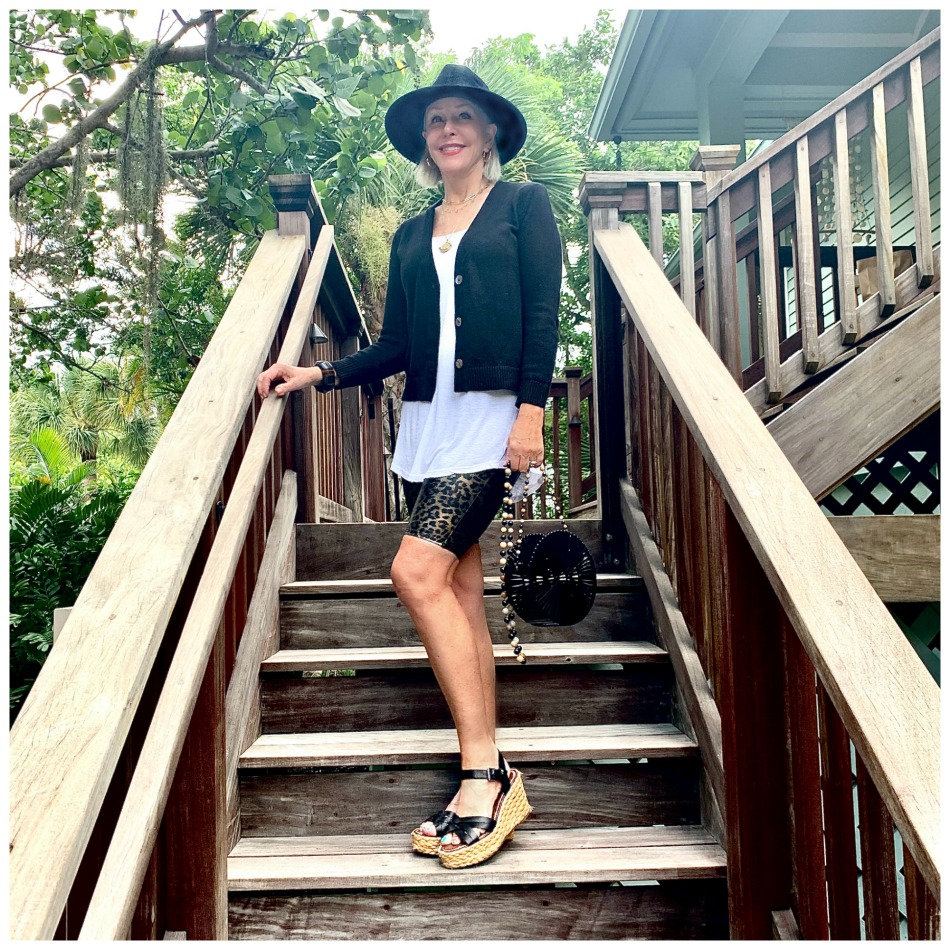 Biker shorts are on the top of the trend list and perfect for being at home or on the go! One of my favorite things about biker shorts is how versatile they are! Whether going out for a romantic dinner or hanging around the house, biker shorts are perfect for every woman. We have styled below several ways to wear biker shorts for the mature woman!
Glam/Date Night
One of the great things about biker shorts is the length. Biker shorts have an appropriate length and proper bottom coverage so there's no need to worry about that!
Below we have two ways to style for going out on the town or a romantic dinner with the hubs! Dressing up your biker shorts is so simple! Add a blazer, some modest heels, and glam accessories and you have a very vogue look. I even like belting my blazers when pairing with biker shorts.
Romantic + Chic

This look is so romantic and chic! Black is always going to be in style and can be so versatile. Whether you want to add pops of color or stick to a classic look this blazer/biker short combo is irresistable!

Polished + Classy

This look is so polished and feminine! You will feel like an empowered woman and straight out of the magazines with this look. We have it paired booties and an initial necklace!

At Home
The two looks below are perfect for those stay at home days and running simple errands!
Trendy Tie Dye

Tie dye has been top on the trend list and I am loving it! This sweater is cozy and casual! Just like this look. The Nike Sneakers are on MAJOR SALE at Nordstrom Rack! You will see these pretties on sale at the Nordstrom Sale as well!

Simple + Classic

This look has a classic flare to it with the striped button up top and slimming biker shorts. With a cute animal print sneaker and sunglasses you can go from the couch to the grocery store and carry an effortless trendy look!

Casual + Cool
Here are our COOL looks! You can easily be trendy and over 40, 50, 60+ years and rock the biker short trend! Us mature ladies just add fun jackets and accessories. Stay modest and hip with these looks!
Rockin' Flare

Here is a perfect look for lazy days while still looking cool! One great thing about this look is that it is VERY transitional. You can add some booties to give it even more of a kick!

Smart + Classy

This is the look pictured! I had just had a lunch meeting and felt trendy and fabulous! I paired a simple cardigan over a white tee with my biker shorts! With some heeled espadrilles, a cute acrylic handbag and hat, my look is complete and so fashionable!

Sales! Everything minus the accessories are on SALE!! Below are the sales and great deals!
Handbag – Luna acrylic shoulder bag 40% off! Was $421 now $253!
Shorts – Spanx Leopard Biker Shorts was $68 now $48!
BOUTIQUE

SHESHE'S TIDBITS
We are back at our place near Montrose, CO where we will spend a couple of weeks. It is still hot during the day but it was 58 degrees this morning when I woke up. Kind of like desert weather. It was such a nice feeling after leaving extreme high temps with high humidity back home in Houston. I am in complete much needed chill mode. YES!!
Gala's, weddings, graduations, holidays or just everyday wear…..we have fashion suggestions for you, so stay tuned. Be sure to check out ShopSheShe tab at the top in the menu bar. Hover over and choose the category in the drop down. We try to keep it up to date with the latest and greatest for all budgets. Subscribe here and then you won't miss a post. Simply enter your email in the pop-up box or below.
WELCOME new readers. We are a fashion/travel/lifestyle blog. We talk about anything and everything, from fashion, travel, health issues to even an occasional recipe. Let us know if there is a topic that interests you. We will do our best to bring that story to you. Have a great week sweet friends and thank you for following along. Without you, we could not continue on this crazy fun journey.