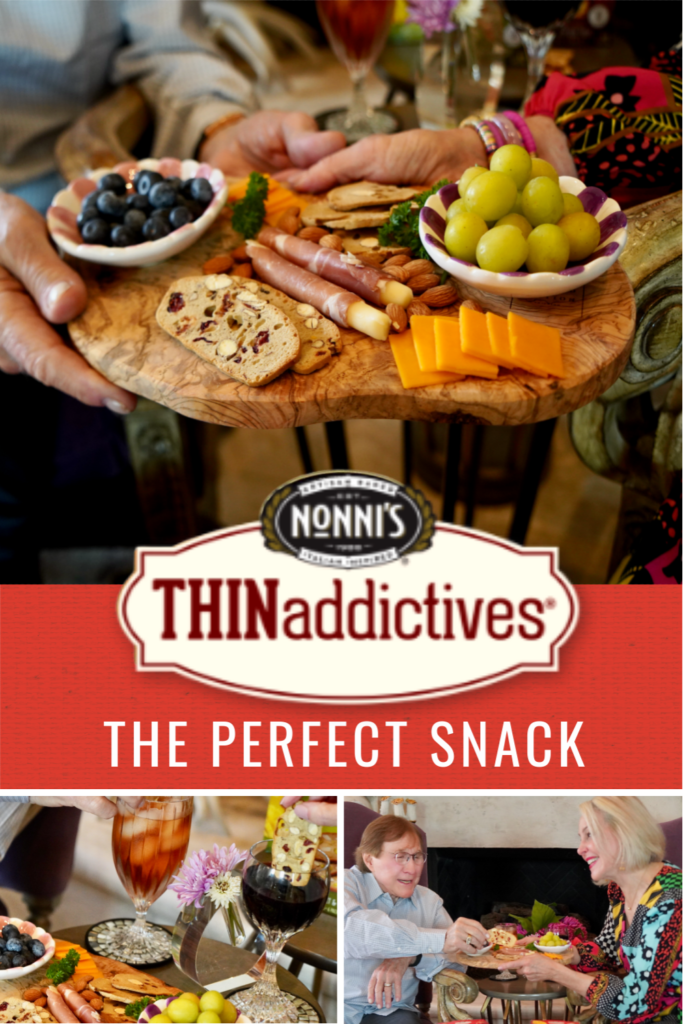 This post has been sponsored by Nonni's. I received product and compensation, but all opinions are my own.
Nonni's THINaddictives have always been a favorite for Mr. Norman and me. We love to snack around here, whether it's chips, fruits, cheeses, or cookies, we just love to snack. Nonni's is our go-to treat no matter the time of day.
About Nonni's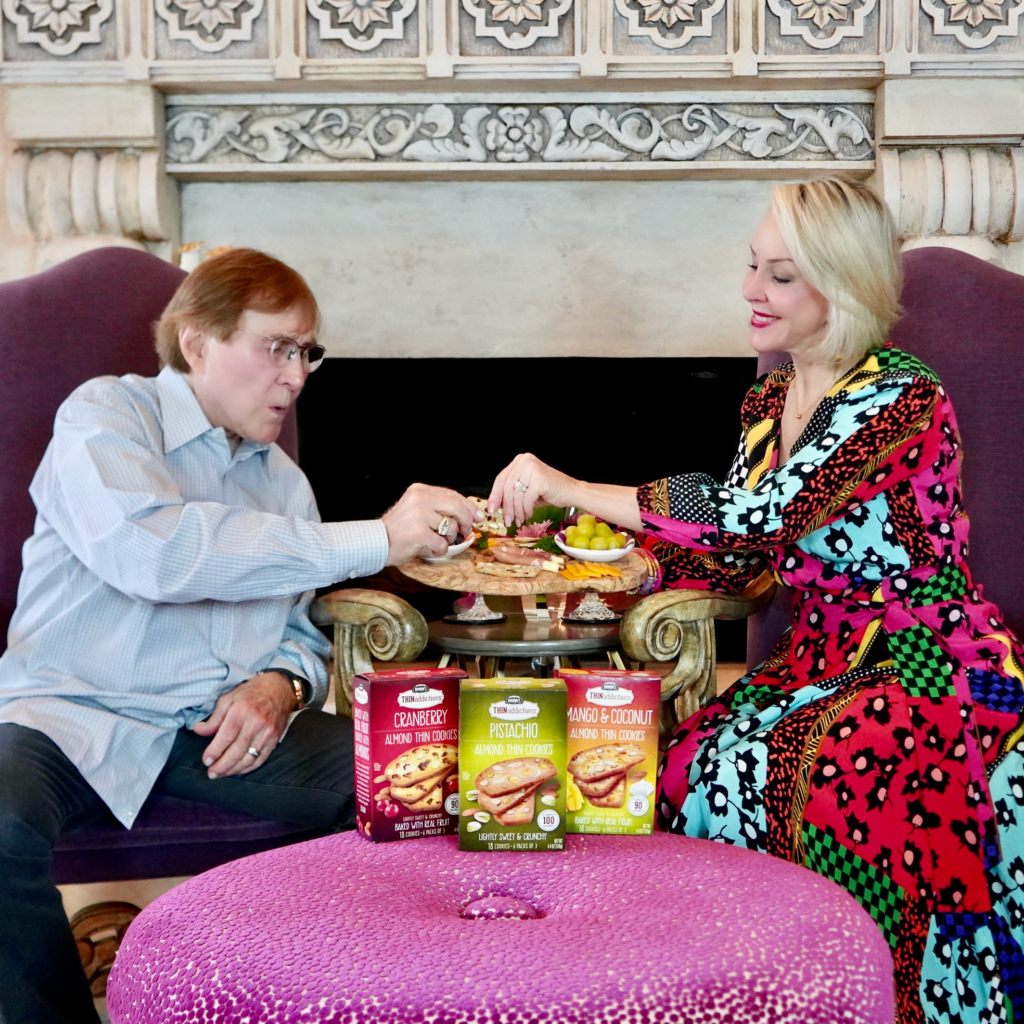 What started in a tiny kitchen in the heart of beautiful Tuscany has grown into a delicious family of products – from scrumptious Biscotti to light and sweet THINaddictives, Nonni's products are baked to perfection every single time. Founded in 1988, Nonni's artisan bakery is devoted to using real, premium quality ingredients without artificial flavors or preservatives. This brand has carried down its recipe from their grandmother (Nonni) and from one of the world's greatest countries to eat in, ITALY! There are high standards to meet.
"The more things change, the more we stay the same." – Nonni's motto. The exceptional taste and quality of all their products start with traditions that go all the way back to the hills of Tuscany. Everything they do is rooted in the simple, tried, and true techniques of the old country. Sweet, twice-baked slices of heaven are the result and I can say this is true.
The Ingredients
Nonni's commits to using simple, real ingredients that people can actually pronounce. Every batch of Nonni's cookies is made with that same principle in mind. They're made in a genuine bakery! From real eggs, butter, and flour to wholesome nuts and fruits, being second best is not an option for Nonni's! Every single cookie is made in a small batch and expertly twice baked. That's why no two cookies look the same. Norman and I constantly comment on how fresh these cookies taste, and how each cookie is different yet consistent.
Nonni's THINaddictives Flavors
My Fave Flavor – Cranberry Almond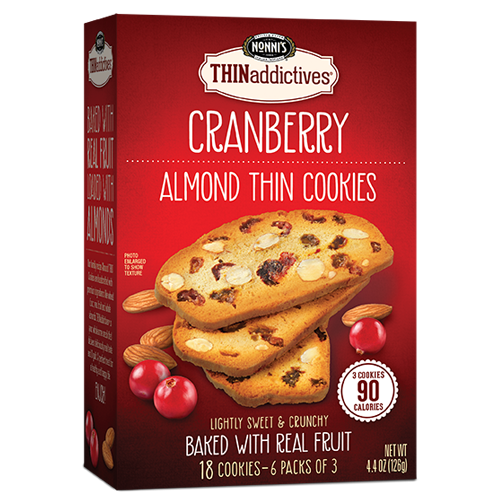 My favorite is the Cranberry Almond Thin Flavor, an antioxidant-rich combination! Crunchy California almonds combined with succulent juicy cranberries twice baked to give you the ultimate crunchy chewy sensation. Two of my favorite combinations! I love to pair it with a glass of red wine. You can even pick up your own THINaddictives and score $10 off your cart through this link: https://bit.ly/3tbvHsc.

There are even 4 more amazing flavors of Nonni's THINaddictives!
Pistachio – A nut lover's delight! The best California almonds mixed with great tasting pistachios twice baked to perfection into a thin crunchy cookie.
Cinnamon Raisin – Sweet, succulent raisins and crunchy almonds intertwined with delicate cinnamon swirls. Familiar flavors that everyone can enjoy.
Mango Coconut – This tropical treat is filled with sweet mangos and coconuts and loaded with almonds. This surprising combination is sure to wake up your taste buds with each crunchy chewy bite.
Lemon Blueberry – A light and refreshing lemon treat filled with blueberries and almonds that goes great with your favorite beverage.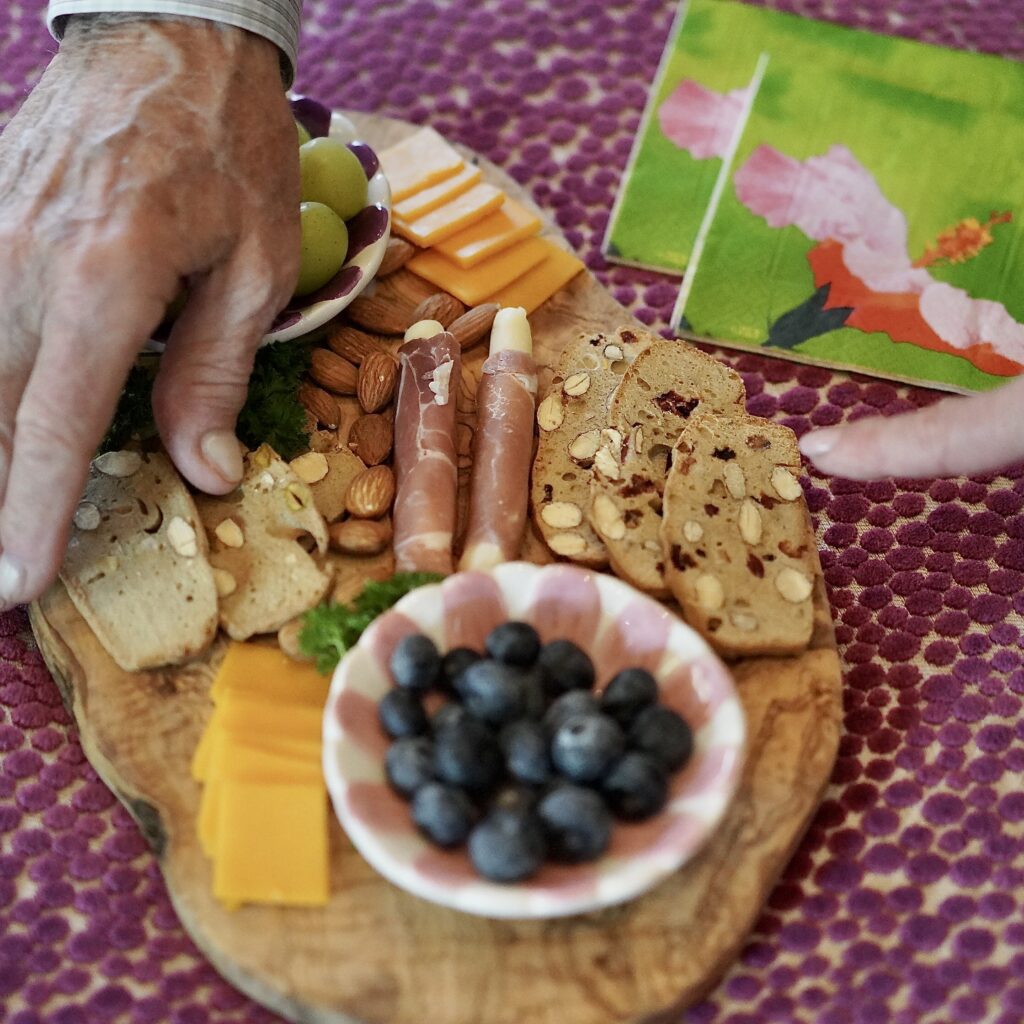 There are so many ways to enjoy Nonni's THINaddictives! No matter the time of day, these tasty cookies are perfect! Below we have our favorite ways to enjoy them.
On-the-go – Norman and I are VERY busy folks. With that being said, we tend to not have much time to stop and eat. So Nonni's THINaddictives pair well with our busy lifestyles and they're even less than 100 calories!
As a dessert – These sweet crunchy cookies are a wonderful treat, so fresh and the perfect portion in their individually-wrapped packs of 3 cookies.
The Little Dippers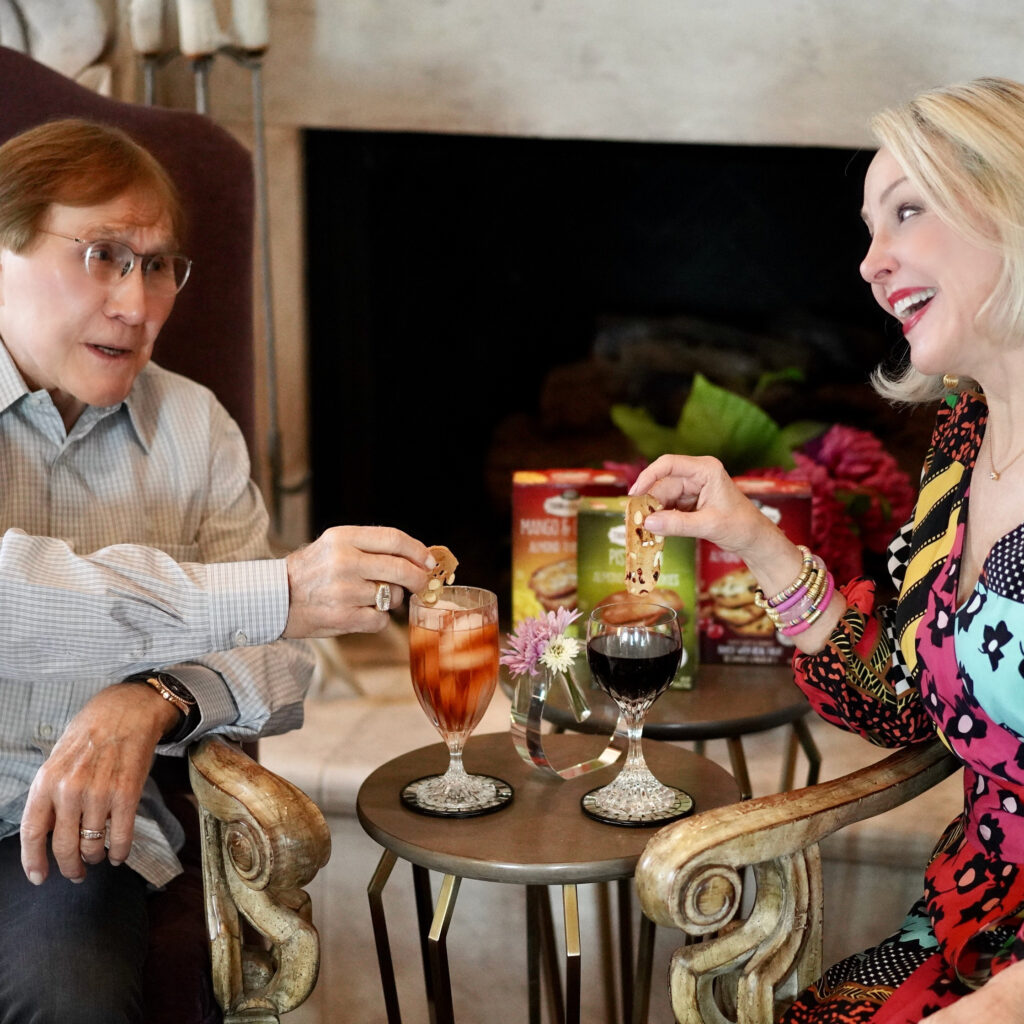 My husband discovered the THINS first and I noticed his love for them when I looked over at him snacking and he was dipping these crunchy cookies in his sweet tea! Norman does not drink alcoholic beverages, but I do. So I took one of these yummy cookies and dipped it into my wine! WOW! The PERFECT combination, so then I dipped one in his tea! I was not disappointed and now we have a little "we time" with our Nonni's THINaddictives. So however you like your cookies and whenever you like to eat them, THINaddictives are always a great choice!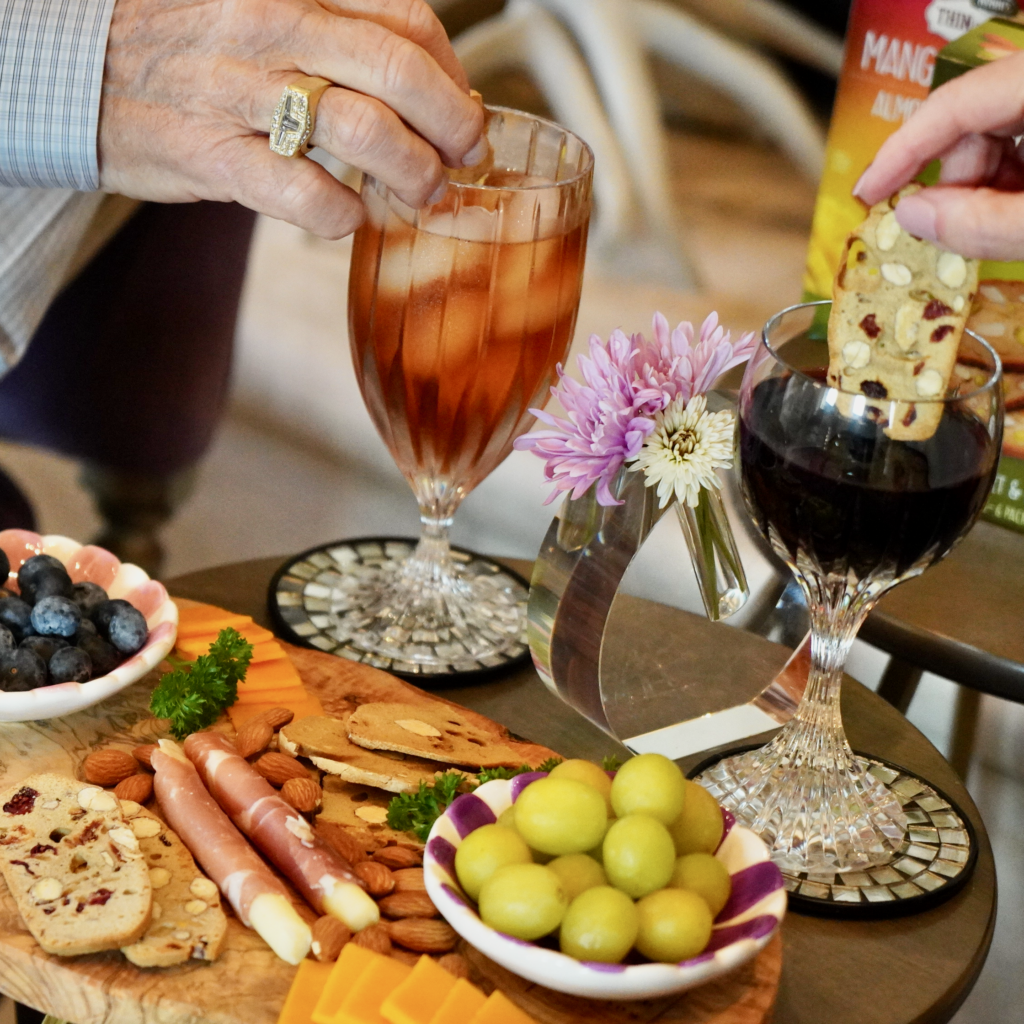 SHESHE'S TIDBITS
Happy Sunday! I hope you are enjoying your weekend!! My husband and my assistant Francesca just left the island headed back to Houston yesterday. I am having a nice quiet weekend which I cherish because we have been just crazy this week. By mid-week, I will be ready for Norman to return to SheShe. Quiet time alone is always good but for just a short time. Right? This week was crazy but super fun and interesting. I was invited to be a guest contributor on Chico's Facebook Live Wednesday and Thursday afternoon. If you missed it you can still view the 2 segments here –– https://www.facebook.com/watch/live/?v=854881231758251&ref=watch_permalink and here — https://www.facebook.com/LoveChicos/videos/755705878419218
ABOUT SHESHE SHOW
WELCOME new readers. We are a fashion/travel/lifestyle blog. We talk about anything and everything, from fashion, travel, health issues, skincare tips, to even an occasional recipe. Let us know if there is a topic that interests you. We will do our best to bring that story to you. Have a great week sweet friends and thank you for following along. Without you, we could not continue on this crazy fun journey.
Be sure to check out the Shop SheShe tab at the top of the menu bar. Hover over and choose the category in the dropdown. We try to keep it up to date with the latest and greatest for all budgets. Subscribe here and then you won't miss a post. Simply enter your email in the pop-up box or below. Also, download the LiketoKnow.It App, follow @shesheshow to shop all of our daily outfits, home, beauty, and more. Go here for our LiketoKnow.It tutorial.