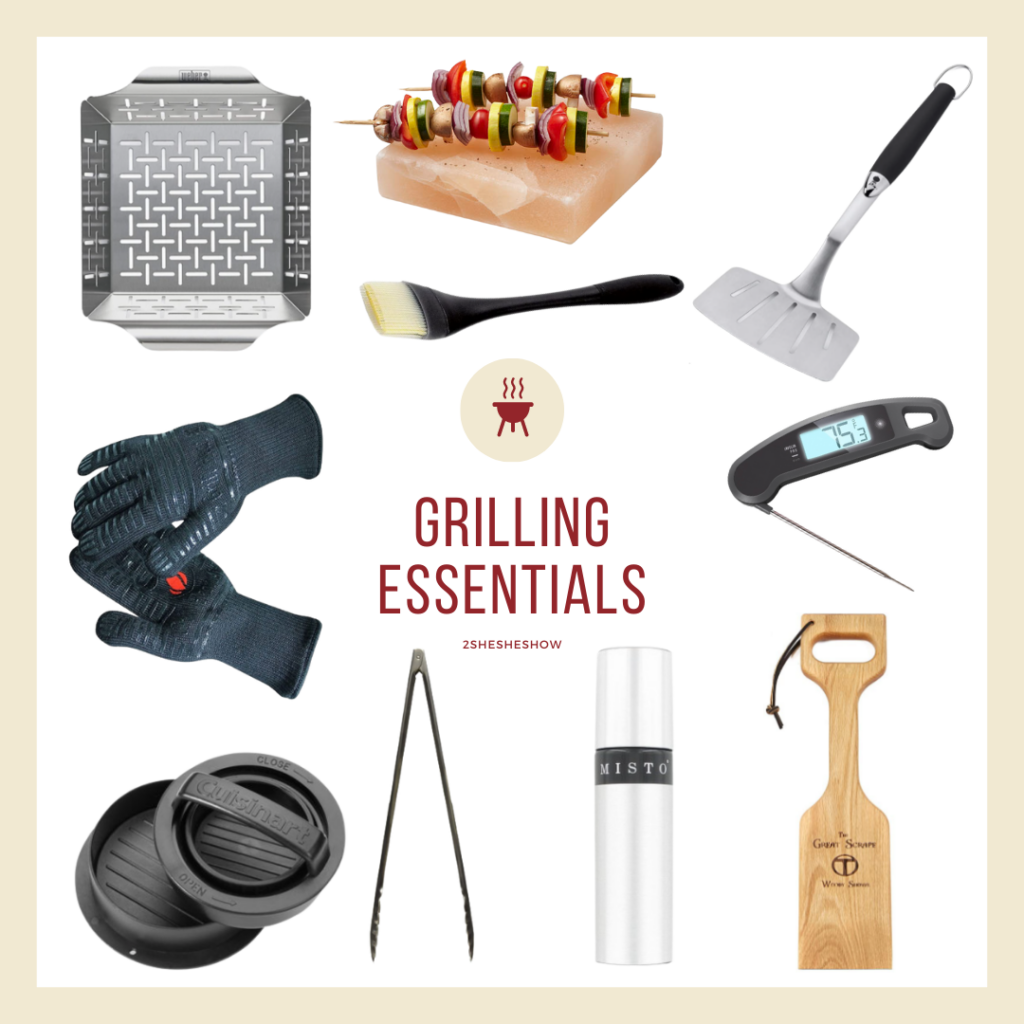 Grilling season is here, Labor Day is near and so is football season! We want to share our top 10 grilling essentials that every griller needs! You will find these necessities below, these grilling essentials also make GREAT gifts.

Grilling Must – Misto Olive Oil Sprayer

This Misto Aluminum Oil Bottle Sprayer is designed with the health-conscious cook in mind. It's perfect for low-fat/high flavor cooking, grilling, sautéing, roasting, and basting. Misto is ideal for spraying olive oil on salads, pasta, veggies, bread, pizza, chicken, beef, and fish. Keeps in moisture for perfect flavoring and even browning every time it's used. Refill and reuse again and again! 7.75″ high and holds 3.2oz.
After each use of MISTO, loosen the screw collar to release any remaining air pressure in the container. This helps ensure an even, steady flow of oil is delivered to the nozzle the next time MISTO is used. Re-tighten the screw collar and store it at room temperature until next use. This is perfect for any type of grilling!
Weber 6673 Original Wide Spatula

This spatula with a comfortable non-slip grip has a variety of uses when grilling. An angled neck reaches over the edge of your grill, keeping your hands and arms away from heat. The wide spatula head is designed for expertly turning fish and other large foods, so no more struggling and dropping your foods! The spatula is also by Weber, need I say more?
Lavatools Digital Instant Thermometer

Proper temp is key to successfully grilling your meats! The Lavatools Javelin PRO Duo has been radically designed with an ultra-large 2″ display with 360° viewing clarity that automatically rotates depending on how the device is held. It's also the first food thermometer that has an intelligent stabilization alert that notifies you and holds the readout when it has settled.
Grilling Heat Resistant Gloves – SALE ALERT

When grilling, we use our hands A LOT, with that being said we want to protect them! I LOVE these gloves. The GRILL HEAT AID gloves are EN4O7 certified which means you can withstand heat up to 1472°F all of this protection while still giving you that all-important dexterity you need for things such as using the fryer, smoker, barbecue, oven, etc. These gloves are also cut-resistant!
Stainless Steel Vegetable Basket

I think a veggie basket is a necessity! It lets you slice your vegetables ahead of time, toss them in a little olive oil, and seasoning, and cook them without having them fall through the grates. Your veggies will cook faster, and there's less mess! If you're cooking for a crowd, try Weber's 14-inch basket ($25).
Under $10 – Heavyweight Stainless Steel Utility Tong

When cooking on the grill I like my tongs to be sturdy, comfortable, and long enough to keep my hands out of the flames. The 16-inch Heavyweight Stainless Steel Utility Tongs are just that! While the price may make you think these aren't the best, they are used by many professional grillers and have great reviews. Also, a lot of tongs are stiff so they wear out your hands FAST! These tongs have a great spring so that is a major plus in my book!
Great Scrape – Shovel

While the traditional grill brush is usually stainless steel with bristles (my FAVE one here), I am straying away from them after the great debate of the bristles potentially ending up in my food! Although rare and I have never experienced this(that I am aware of). Wire brushes also have annoying bristles that get smashed down and can be too harsh for many grills and bbq tools.
Wood?
I am switching to wooden like Woody Shovel by Great Scrape! One extremely useful and unique feature of the Woody Shovel is that you customize the wooden grill scraper to fit your grill perfectly. No messy, burnt food will remain after you clean your BBQ grill with Woody bbq tools. Simply heat the grill to high heat and use slow, firm pressure to glide the paddle front to back on grates, keeping the grooves in the same place each time. Since this customizes itself, I think this makes for a perfect gift for the one who enjoys grilling!
OXO Good Grips Large Silicone Basting Brush

Happy with your Basting Brush but unhappy with how it retains odors and clumps when you clean it? Try the OXO Good Grips Large Silicone Basting Brush, which works like a natural bristle brush but with the added conveniences of heat resistance, odor resistance, and cleanability. Multiple layers of silicone bristles tackle all tasks. Gaps in the center bristles hold liquid as you transfer sauce from the bowl to the grill, and tapered outer bristles let you baste poultry, chops, and steaks with ease.
The silicone bristles are heat resistant to 600°F so you can baste in a hot pan or while grilling, and the angled Brush head keeps bristles off the countertop. This long-handled Brush keeps hands safely away from the grill. Cleanup is easy in the dishwasher, and these bristles won't clump, frizz, or retain odors.
Himalayan Salt BBQ Plank

This is a GAME CHANGER! Himalayan salt has a very stable crystal structure, which allows it to hold a temperature very well. You can chill it to use as a serving platter for sushi, or heat it over a grill or stovetop to cook your veggies. Cooking on salt gives it a greatly enhanced flavor over that of a frying pan. The mineral content in the salt plank gives it a more nuanced flavor than table salt, and the amount of saltiness it imparts varies with the type of food (moist foods absorb more salt, fatty foods repel it, etc.). Himalayan salt is also long-lasting and naturally antibiotic, needing little more than wiping with a damp sponge after most uses.
Cuisinart® 3-in-1 Burger Press

Make any kind of burger you can imagine with the Cuisinart 3-in-1 Burger Press. Perfect for stuffed burgers, sliders, and regular hamburger patties, this press makes forming patties fast and easy.
Grilling Essentials Shop

SHESHE'S TIDBITS
We have had the painters in the house all week and the first phase of our paint project is almost done. We painted the entire laundry room which is a large room, then we painted the outside kitchen bar cabinet and fireplace surround. It is looking so good. Something about fresh paint puts a smile on my face.
So, with any project, if you refresh one thing then it is like a domino effect. Now we decided to paint all 5 exterior doors in the back that are by the loggia and outdoor kitchen. Norman wants to fight it but after it's done, he loves it!! Isn't that the way with most men? Ha Ha! Happy Weekend sweet friends!
Have a wonderful weekend sweet friends!
ABOUT SHESHE SHOW
WELCOME new readers. We are a fashion/travel/lifestyle blog. We talk about anything and everything, from fashion, travel, health issues, skincare tips, to even an occasional recipe. Let us know if there is a topic that interests you. We will do our best to bring that story to you. Have a great week sweet friends and thank you for following along. Without you, we could not continue on this crazy fun journey.
Be sure to check out the Shop SheShe tab at the top of the menu bar. Hover over and choose the category in the dropdown. We try to keep it up to date with the latest and greatest for all budgets. Subscribe here and then you won't miss a post. Simply enter your email in the pop-up box or below. Also, download the LiketoKnow.It App, follow @shesheshow to shop all of our daily outfits, home, beauty, and more. Go here for our LiketoKnow.It tutorial.