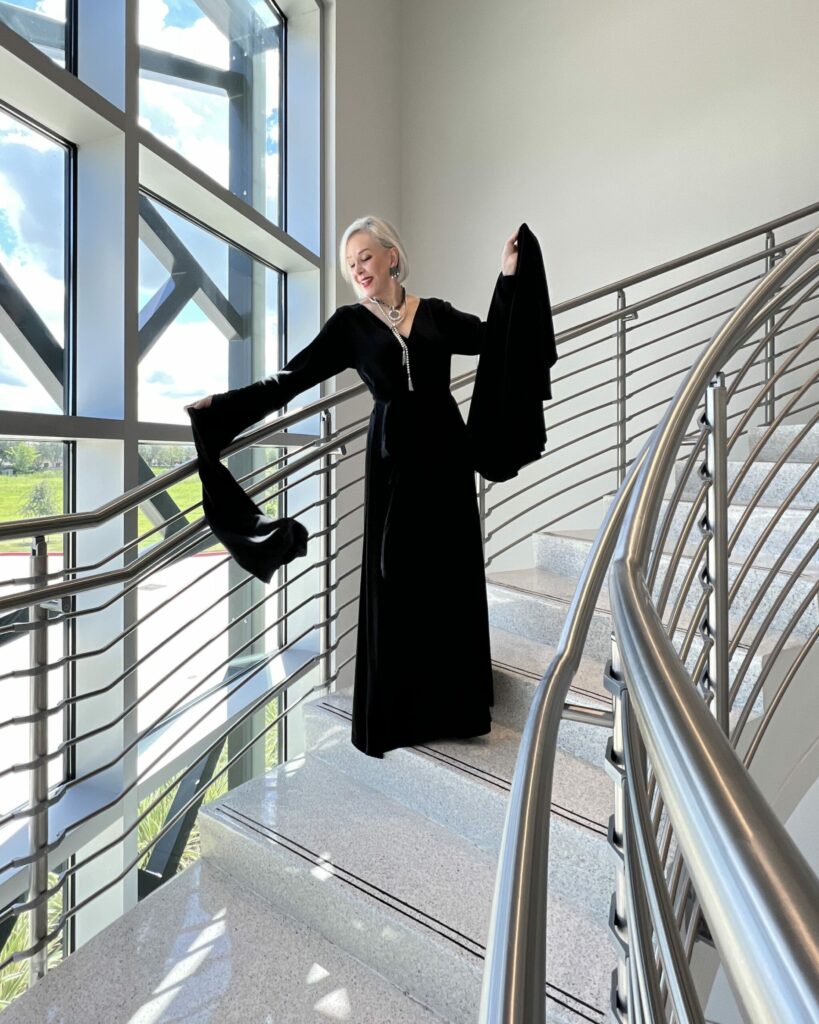 Little Black Dresses have and will always be a classic for women everywhere! No matter the event or occasion, you can never go wrong with a black dress. As we mature, the sexy slinky LBD becomes something we tend to shy away from. No worries, there are still SO MANY hot black dresses for us mature women. Today we are showing you 10 of our FAVORITE black dresses.


There's no denying a classic. This timeless Travelers dress debuted 20 years ago from Chico's. Today, it's as gorgeous as ever, with 3/4 sleeves, a super-flattering silhouette, and wrinkle-resistant fabric. So pack it in a suitcase and wear it without stress! This dress has always been a go-to for me because I can toss on a denim jacket and sneakers and be casual, or I can add some fab accessories and heels for any special event or occasion.

I am headed across the pond soon and needed a dress that was not only chic but a head-turner as well. This black dress is everything a girl could dream of. It is flattering, has a self-tie, and the sleeves are giving me major queen vibes. While most of you are probably thinking this black stunner is very expensive, it in fact is not – being under $300 it's budget-friendly and high quality.

Remember the sisterhood of the traveling pants? The Somerset is for grown-ups, but it has that magic. Insanely flattering, on everyone. Extremely versatile, for every style. The perfect outfit, for everything. This dress is Anthropologie's most sought-after, best-selling, best-reviewed dress…YES PLEASE!

YES, I'm sure you're thinking "for the mature woman?!", and questioning if I've lost my mind! Well, ladies, we mature women can rock the sexy black dresses too. I love this dress but it feels a little revealing on its own. Corsets are trending again and so is lace….love it! To add a "mature" yet sexy flare to this dress, I suggest putting a blazer on top, and if you want to dial it up belt your blazer and let just a bit of the corset show.

From Elie Tahari, this midi-dress is cut with a body-con silhouette and is styled with diagonal seam detail across the bodice. this midi-dress is perfect for date night or for my office babes!

Under $25 this black dress is a steal. Perfect for everyday wear Target has the casual dress lover covered!

The name "Maeve" references a purple flower, a Greek goddess, and a famously beautiful Irish warrior queen. In light of these inspirations, it's no surprise that their collection is structured yet delicate, a representation of beauty and strength at once. Each Maeve design is refined, flattering, and – best of all – exclusive. This dress is perfect for those who love a corset-style dress and prefer more coverage!

We've all seen the one-shoulder Norma Kamali dress…which I ADORE…but I am not a huge fan of showing off my arms. This is that dress, with SLEEVES! From the Diana Collection. Norma Kamali's Diana gown showcases ruching and an asymmetric hem. Crafted of a four-way stretch fluid jersey, this piece is designed with an interior bodysuit that creates a slimmer silhouette. So that means we get to be chic and classy in a dress that flatters our body!
Jewelry By French Kande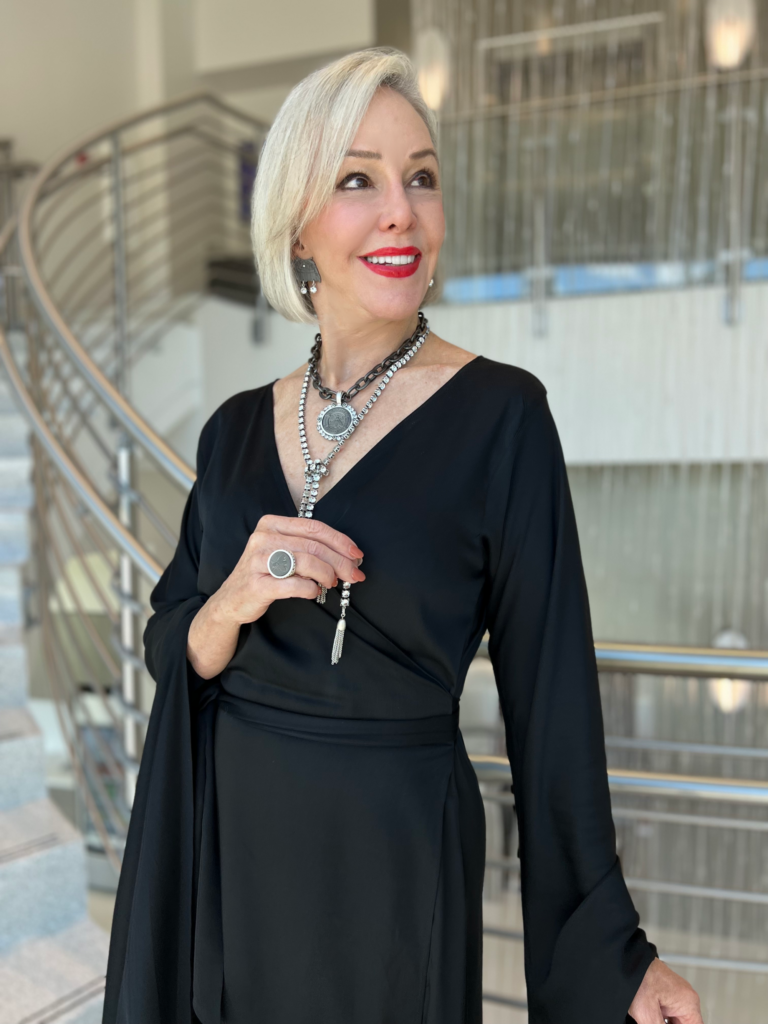 One of my favorite luxury brands of jewelry is by French Kande. This grouping is perfect with a little back dress, don't you think? I love how versatile these pieces are. You will see me styling them in so many ways throughout the fall/winter months. I especially love this crytal lariat with fringe tassel. Mix it up with othe FK necklaces, on it's own or with some other jewelry from your wardrobe. Please be sure to check out their entire collection plus some of my favorite pieces here.
Black Dress Boutique

SHESHE'S TIDBITS
Team SheShe started our new Facebook group page called SheShe's Shopping Network. We would love for you to join the group so you can join us every Tuesday night for our Live segment all about shopping trends, style tips, beauty, travel, and more to help women look and feel confident and be in the know. It is so much fun!!
We hope to see you there!! Here is the link to join
https://www.facebook.com/groups/shesshes
*CHECK OUT MY INSTAGRAM SHOP TO SHOP ALL OF MY INSTAGRAM LOOKS
*YOU CAN ALSO DOWNLOAD THE LIKETOKNOW.IT APP AND FOLLOW ME ON IT BY CLICKING HERE. Go here for our LiketoKnow.It tutorial.
* STAY IN THE KNOW: SUBSCRIBE HERE to receive exclusive sale alerts, helpful style tips, and fabulous giveaways, AND GET ACCESS TO MY VIP ONLY FOR SUBSCRIBERS!
*Be sure to check out the Shop SheShe tab at the top of the menu bar. Hover over and choose the category in the dropdown. We try to keep it up to date with the latest and greatest for all budgets.
Have a great week sweet friends and thank you for following along. Without you, we could not continue on this crazy fun journey.
XOXO, SheShe