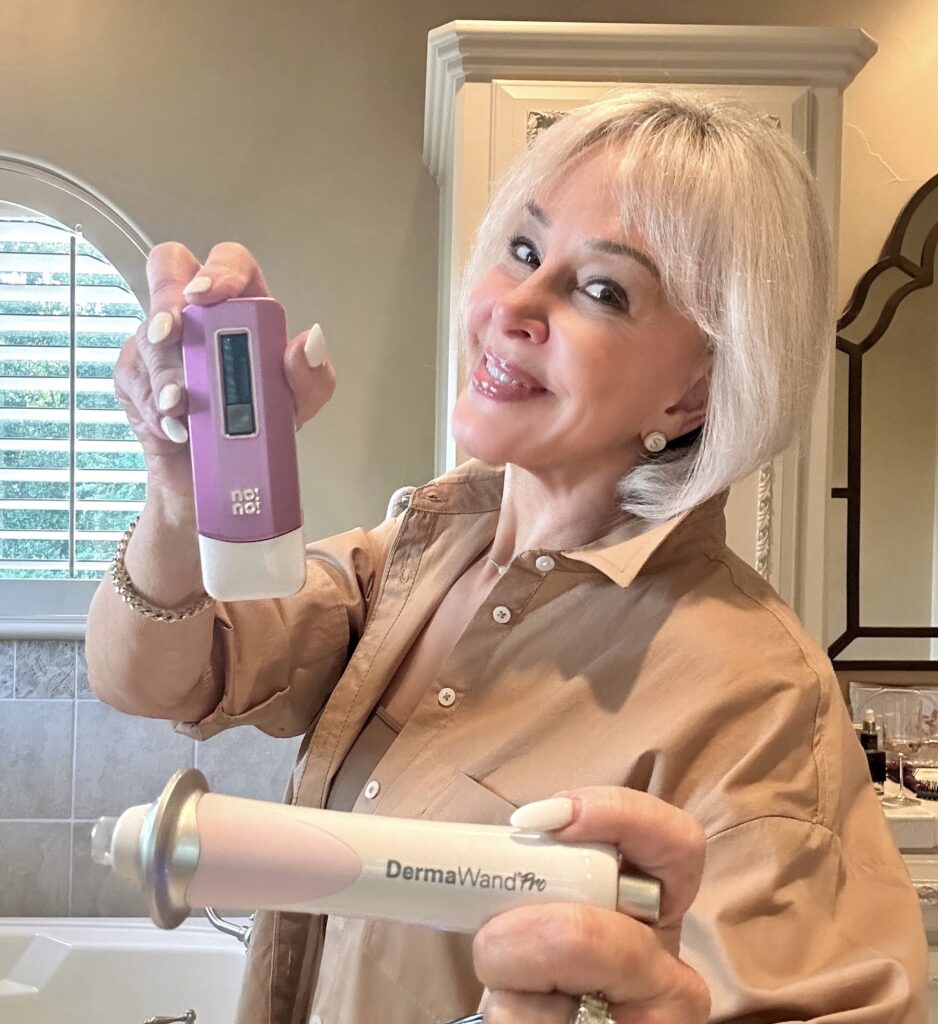 In today's world, we have so much great information on how to be a healthy person looking our best. So,
I am sharing my 4 skincare must-haves because I often get asked about what I use to keep my skin looking as youthful as possible.
This post is in partnership with no!no! Pro and Dermawand. All opinions are my own.
Table of Contents
Skincare must-haves list
no! no! Pro hair removal device.
Dermawand overview
Sunblock
Hydration
Conclusion
SheShe's Tidbits
MY 4 SKINCARE MUST-HAVES
My no!no! Pro
My Dermawand
Sunblock
Hydration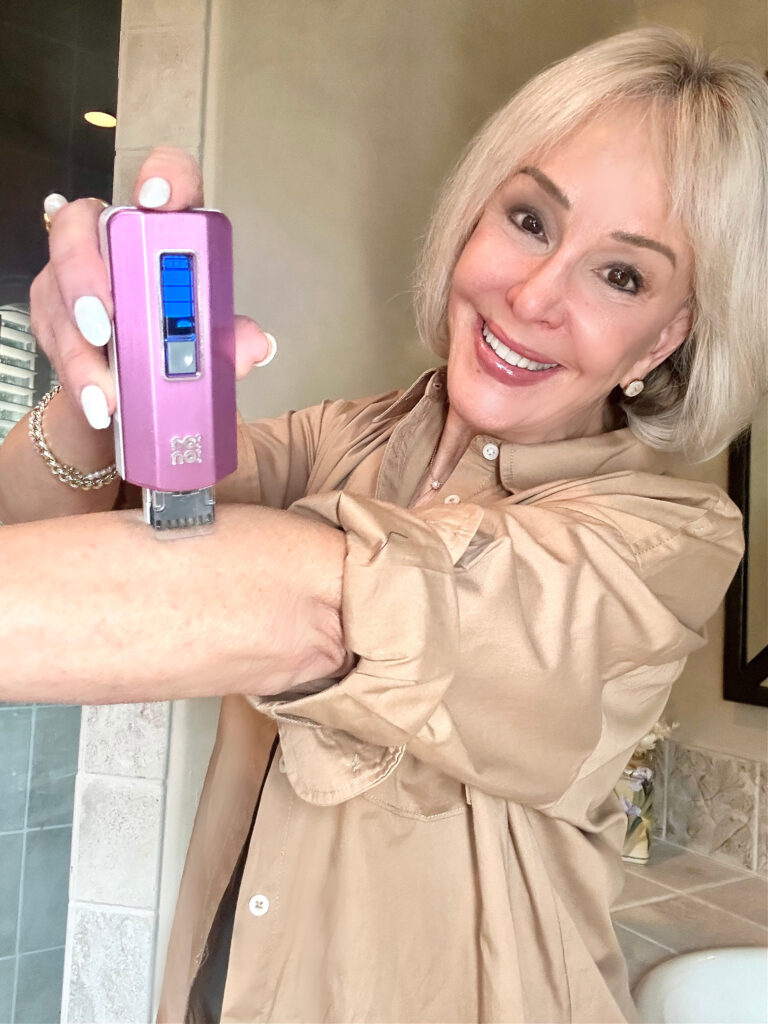 #1 Skincare Must-Haves – MY no!no! Pro
Ok, so let's break it down….. my #1 skincare must-have is my latest device that I am loving is my no!no Pro! What in the heck is a no!no!? no!no! is a hair removal device based on heat technology that crystallizes and temporarily removes hair when used as directed. It was made with the face in mind but can be used on the bikini line, legs, under arm hair, and men can use it on their face as well as unwanted hair on their chest and back.
The no!no! is effective on all hair types and skin colors when used as directed and safe to use over freckles, birthmarks, and tattoos. I love that it is travel-friendly with it's compact design and it is cordless making it so easy to use. It is about the size of a credit card. no!no! makes it easy to perform touch-ups anywhere, anytime while I am on the go.
HOW TO USE THE no!no!
Before you start using, make sure that the no!no! device is fully charged for at least 5 hours.
Remove the cap, and choose your tip for the treatment area. (smaller tip for those smaller hard-to-get areas.
Turn on the device by pressing the button on the top. The screen will turn blue and should stay steady during treatment.
Go against the grain of hair growth, gently glide the no!no! device over the skin ( do not press down hard) at a 90-degree angle making sure it comes in contact with the hair stubble. Make sure the area is flat, the skin is tight, and the device is not hopping.
When finished, use the buffer in your kit to buff the crystallized hair after every treatment. Repeat if any hair remains.
Use as often as you would a razor (2-3 times a week) for 4-6 weeks to begin. Then use as needed.
no!no! NARROW TIP
The no!no! Narrow Tip is designed as a beauty treatment to temporarily remove hair on smaller, more delicate areas like the face, upper lip, and bikini area.
no!no! WIDE TIP
The no!no! Wide Tip is designed as a beauty treatment to temporarily remove hair on larger areas of the body like legs, back, arms, and chest.
To insert the tips, (inserting and removing is the same for both sizes) make sure the device is turned off. Hold your no!no! in one hand and the Tip in the other. Make sure both logos are facing the same direction and line up the post in the socket with the holes in the Tip. Gently push into place.
To remove, grasp the Tip by both sides and gently pull the Tip out of the socket. You will know when to replace the tip when the light turns red, if the device is no longer working efficiently if the wire is damaged in any way, or if the Tip Icon is blinking and more bars appear on the Status Screen.
Use the no!no! Cleaning Brush to dust debris and crystalized hair off the Tips after every use to prolong the life of the Tip.
**Make sure the Tip is placed properly into the socket before treatment. Never use a Tip if the wire is bent or torn. The no!no! has a gentle heat and is very safe if you use it as directed!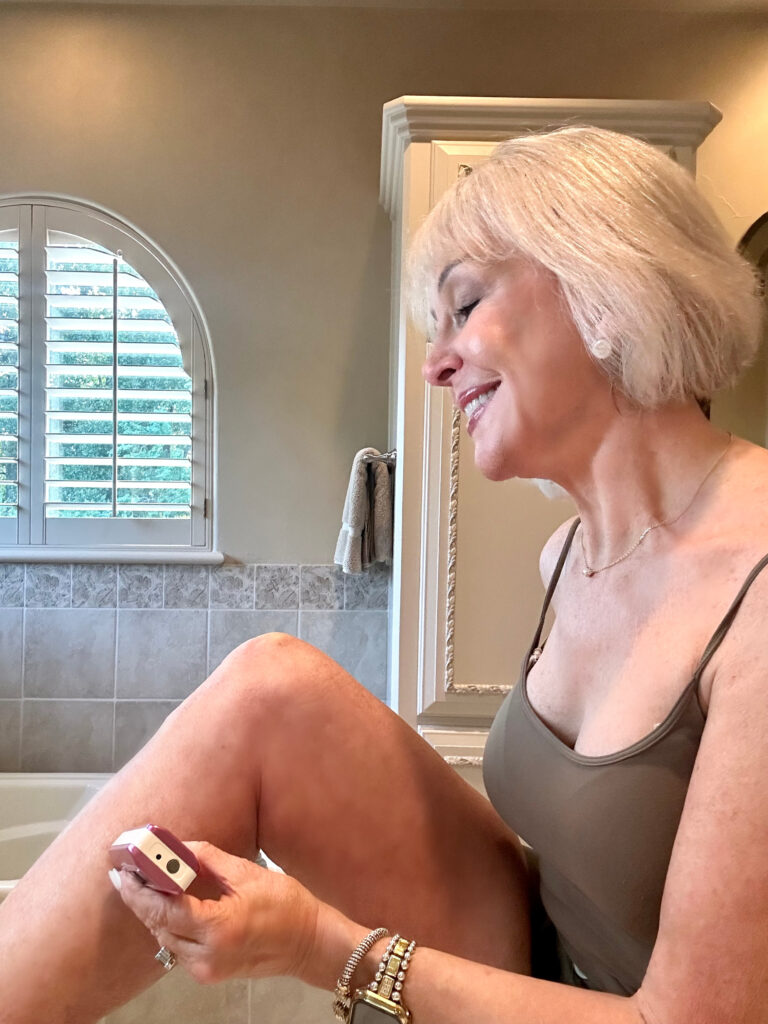 #3 Skincare Must-Haves – My DERMAWAND
I started using my Dermawand late last year and I have been consistent enough to see benefits that I have kept it in my beauty routine. It has especially been good for my neck and brows. The neck is so hard to tighten but I have seen some great results. If you have a drooping brow, then it can also tighten up that skin there as well, giving you an eyelift without surgery, plus so many other benefits.
What is Dermawand and how does it work?
As we get older, our skin starts to break down over time. DermaWand uses Radio Frequency (RF), a clinically proven, patented technology, to produce a gentle and pain-free microcurrent that stimulates the epidermal layers of your skin at a frequency of up to 100,000 cycles/second. This brings fresh blood, vital nutrients, and delivers enriched oxygen to the skin, which helps tone, tighten, and brighten aging skin.
I find it so exciting that the skincare industry is bringing devices like the Dermanwand that we can use at home and can get the same dramatic benefits as in a high-end salon or spa.
With all the benefits of professional radio frequency technology, DermaWand reduces the appearance of wrinkles and pores, it tightens aging skin in as little as 3 minutes a day.
WORKS IN JUST MINUTES A DAY
RESULTS IN AS LITTLE AS 1 WEEK
PROFESSIONAL SKIN-TIGHTENING RESULTS AT HOME
REDUCES PUFFINESS & DECREASES PORE SIZE
NO PAIN, DRUGS, OR SURGERY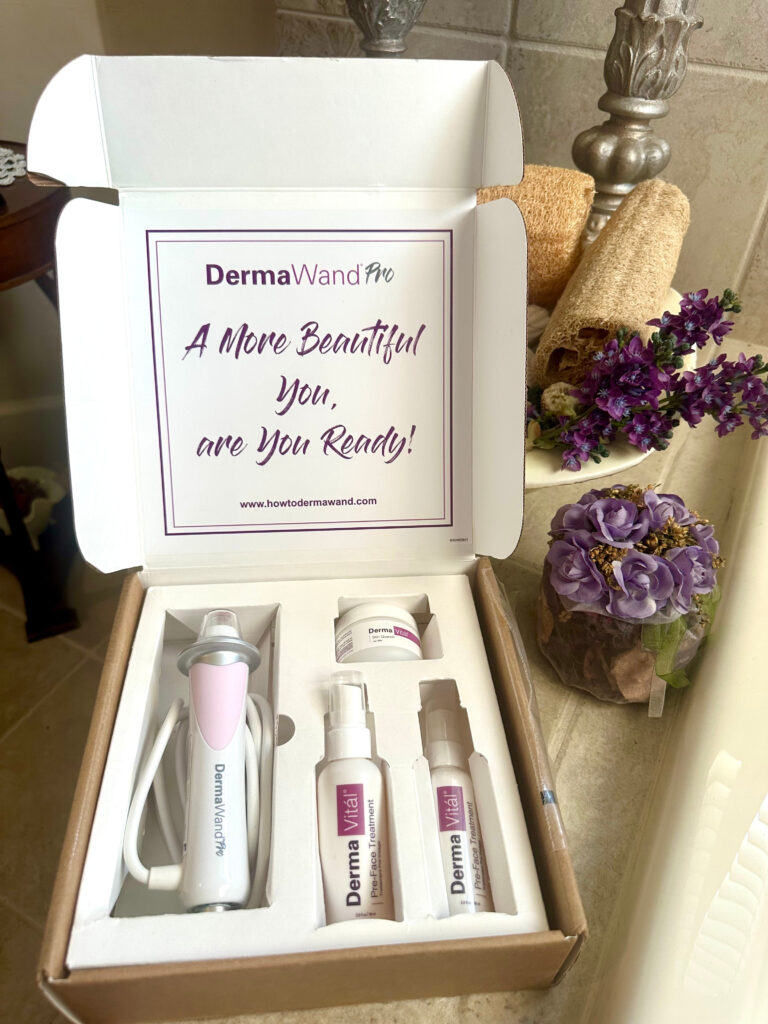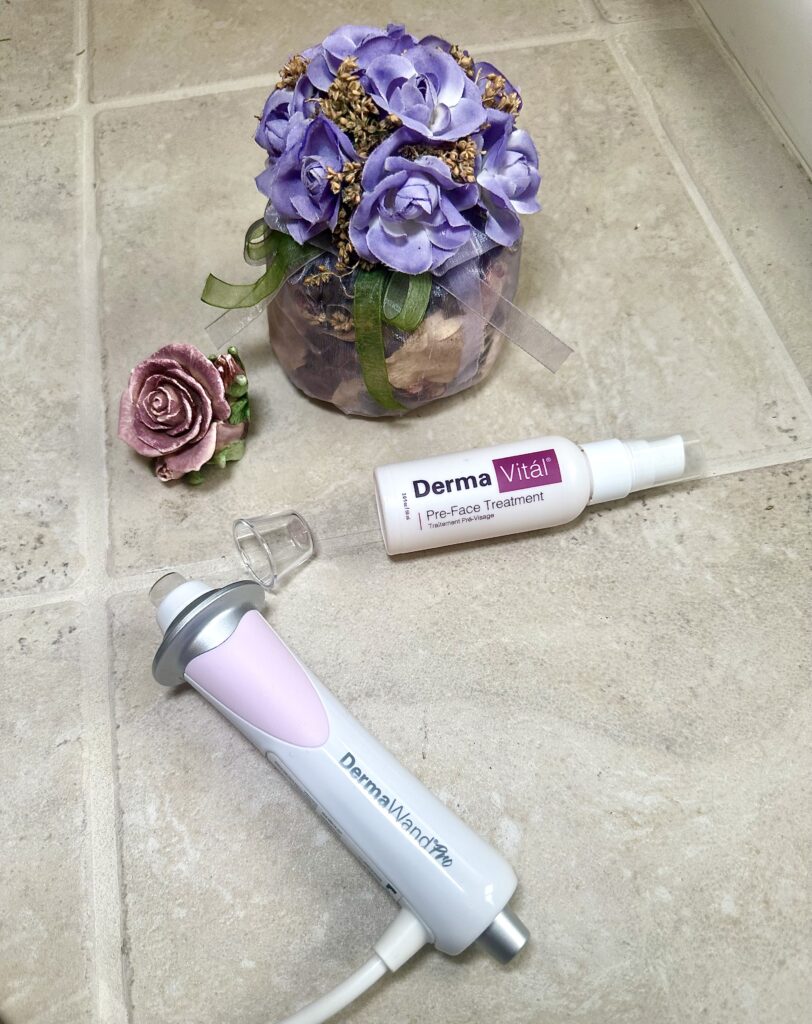 #3 Skincare Must-Haves – SUNBLOCK
Ok, so this is a huge blog all on it's own. Most of our older generations (me) did not have the information back when we were young about the dangers of sun exposure. I have written on this topic every year.
Having just had 2 malignant skin cancers removed this year on my chest and back, I can tell you that I use sunblock on my hands and face every day, even to go to the mailbox. One of my top 4 skincare must-haves for sure. Use at least a 30 SPF which blocks 97% of the sun's UVB rays. Higher-number SPFs block slightly more of the sun's UVB rays, but no sunscreen can block 100% of the sun's UVB rays. Also, reapply every 2 hours when exposed to the sun for an extended time. I also recommend wearing UPF clothing if you are a sports enthusiast, gardener, or dog walker, and wear a big-brimmed hat!! Message me if you need links for a great sunblock, UPF clothing, and a big hat.
#4 Skincare Must-Haves – Hydration
What Does Drinking Enough Water Do for Your Body?
I think drinking the recommended amount of water every day for our body weight is so hard to do but is definitely one of my top skincare must-haves. I will say that I got the coolest water that has helped me drink 64 ounces a day. It is marked by the hour to remind you. When I get behind on my daily water intake, then I chug. Game changer!! Check out my SheShe's picks in the sidebar.
Water is a lifeline to living a healthy life. One of the biggest causes of death of our elderly is dehydration. How much should we drink a day differs for each individual. Read this article study by Harvard University. https://www.health.harvard.edu/staying-healthy/how-much-water-should-you-drink
Enough said!
What Does Drinking Enough Water Do for Your Skin?
Read this article https://www.mdinstituteplasticsurgery.com/10-amazing-skin-benefits-from-drinking-more-water/
Improves Skin Tone. Drinking adequate amounts of water helps the body eliminate toxins while providing you with healthier skin. …
Prevents Premature Aging. …
Promotes Faster Healing. …
Reduces Puffiness. …
Prevents Acne. …
Banishes Itchy Skin. …
Tightens Skin. …
Maintains Your pH Balance.
HAVE I CONVINCED YOU YET?
IN-CONCLUSION
My skincare journey never ends and I love sharing with you my 4 skincare must-haves that include some great habits, products, and devices that address many of your wellness and skincare issues. Please feel free to ask me any questions about the Micro by no!no! or Dermawand that you might have and I will go to the experts for your answers.
GUESS WHAT? Thanks to Dermawand and no!no for offering my readers a 25% discount on either or both of these devices. Just use code SHESHE25 at checkout. Go here to shop–> Dermawand to buy. Go here–> no!no! to purchase your very own no!no!
SHESHE'S TIDBITS
Usually just lifestyle Tidbits on what we are up to here on SheShe Show