SheShe's Showcase!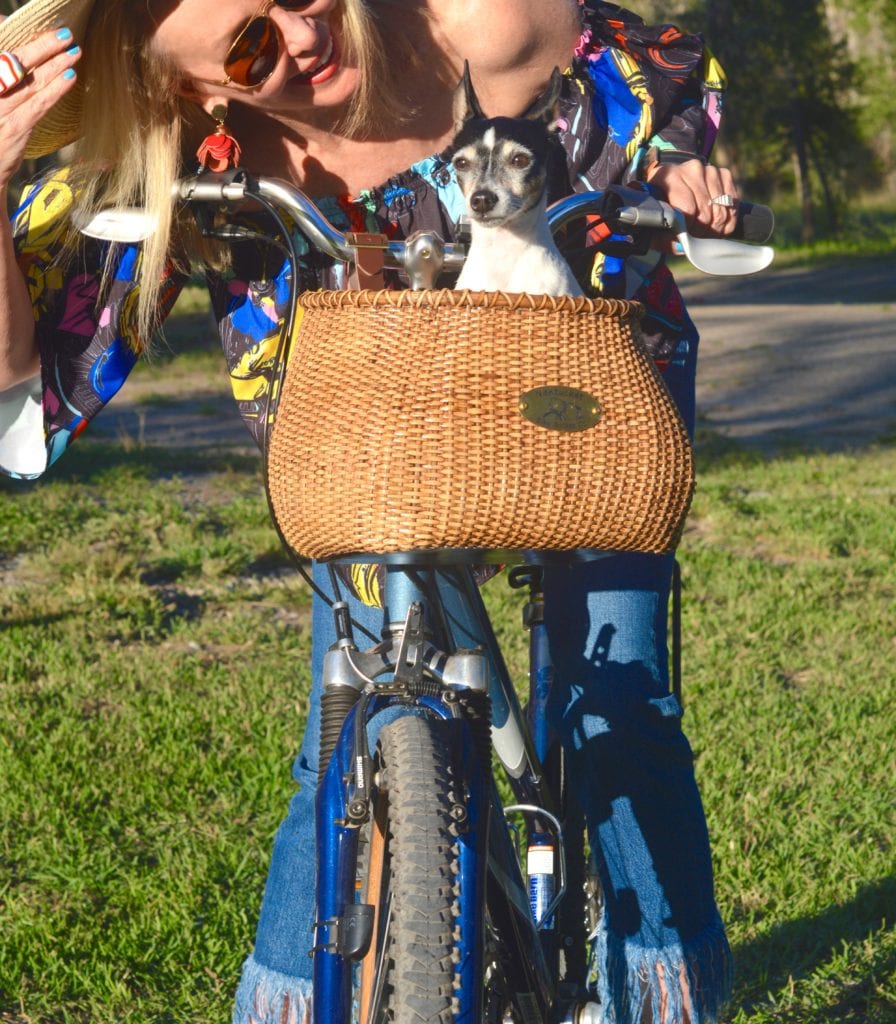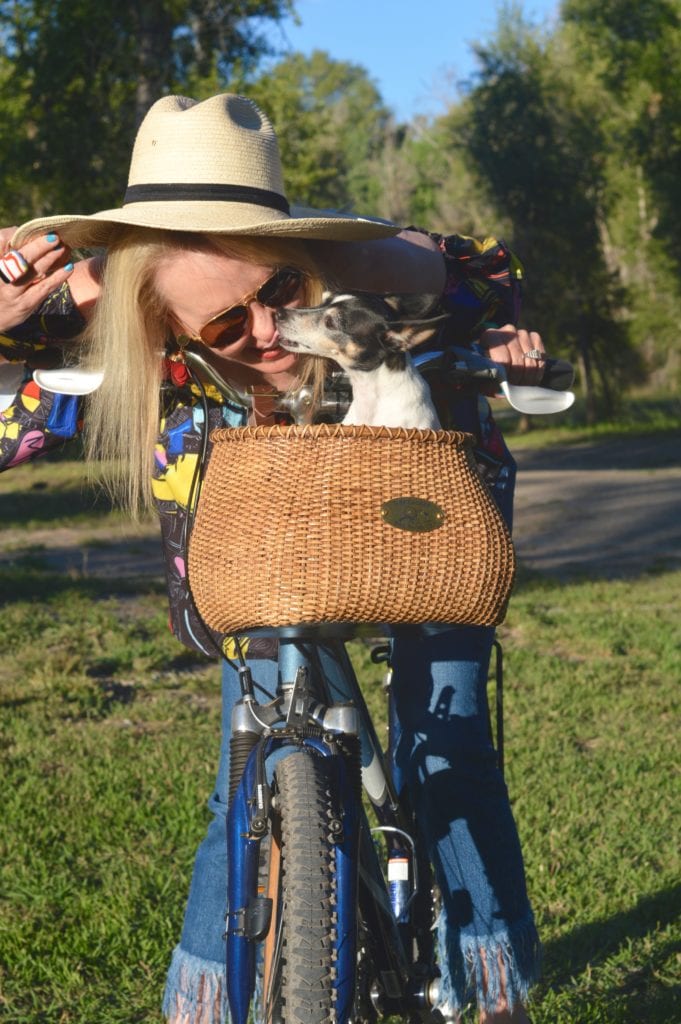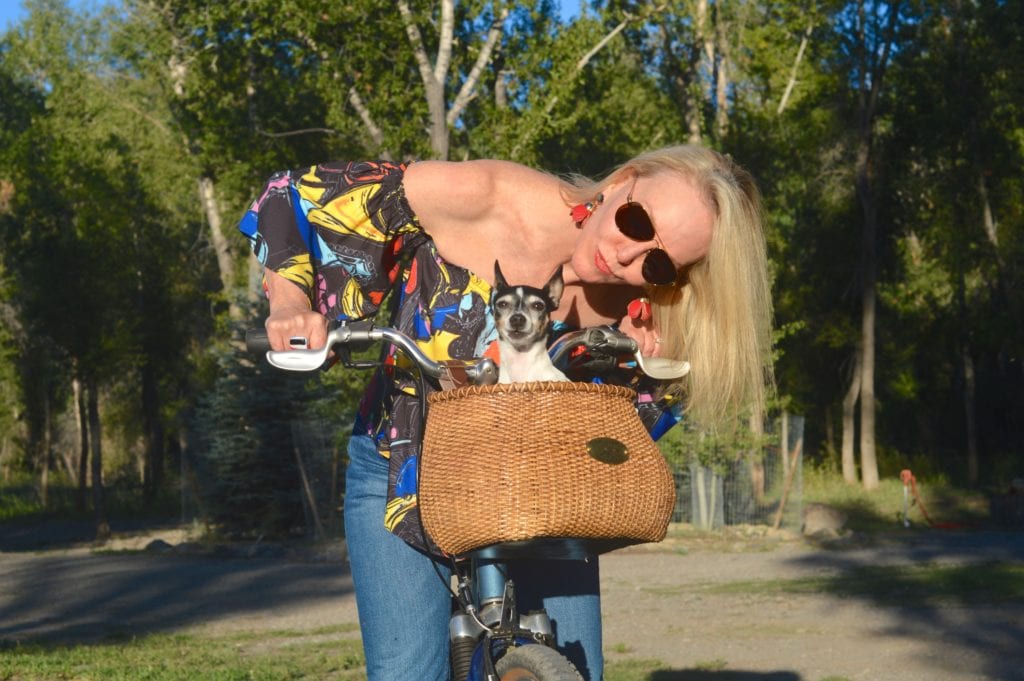 Ok all doggie lover, let's celebrate National Dog Day!!
Do you have a bestie? Not the hubs….. I have always said that it would be hard for me to be close friends with someone who doesn't love dogs. I sort of apologize if I am stepping on your toes, but I do speak from my heart. If you don't like dogs then I would encourage you to take another look at this special animal made for man. Maybe you just had a unusual encounter with a dog. I actually have a friend that didn't like dogs, but she loved my dog Dexter ( God rest his soul ). I believe she softened somewhat after getting to know him.
Today I want to life up my sweet little female Toy For Terrier, Miss 'Pippa'. We waited about a year before getting another dog after Dexter passed to give us time to grieve and decide on a breed that would fit us. We loved the Terrier breed. I think mostly because they are so spunky, smart, cute and much more. As Norman and I age we really didn't want another Jack Russell. They are amazing but they are live wired for sure. We felt we needed a smaller dog for travel purposes and one that had the personality, but wasn't as high voltage as a Jack Russell. I had once seen a Toy Fox Terrier and the breed seemed to be a perfect fit. We also decided to go with a female this time around.
Pippa is so different from Dexter which is a good thing, because I had a hard enough time in the beginning comparing Pippa to Dexter. Over time she made her on impact on us and now has made her own huge space in our hearts. She is up for what ever I have her do, but she challenges me too. Fun and frustrating….. She is a frequent flier, loves to snuggle, will eat anything and I mean anything (yuk), gives face hugs, gives great kisses, sits, stays, shakes, and poses like a pretty girl. I know there is more but I hat to be a bragging mother.
I cannot imagine life without this furry little friend and  I especially love her when she gives me face hugs and kisses. She is always happy to see me and her kisses are perfectly cool and wet. Perfect medicine when I need a little lift. So thank you God for these little creatures. Let's celebrate National Dog Day!!!
Can any of you relate???? I would love to know about your doggie love…….. in the comments box!!
SHOP MY STYLE
Off the shoulder top | Off the shoulder top | Off the shoulder top | Petal leather Earrings | Hat, old, similar here | Sunglasses | Superga Sneakers | Bicycle, old, love this one | Bicycle basket |
SHESHE'S TIDBITS
We are now back in Houston. Totally bitter sweet. I almost cried when we left. I had the most amazing summer ever, but as we flew in to Houston and I could see the grand skyline and feel the humidity seep into the airplane cabin, I started getting excited about all the things we have lined up for this fall.
Stay tuned my friends. Lot's of SheShe Adventures to come!!
As I sit by the river on my last day before we head back to Houston, I can't help but relive my summer in Colorado.
We arrived in mid June and stayed for 3 weeks, went home for a week and a half mid July and went back late July for 5 weeks. There was plenty to do around the house so the first trip I spent a lot of time going through more stuff in the garage, hanging most all of the pictures, organizing and catching up with old friends. The second trip up we had both daughters visit at different times with a few of the grandkids. They are all now out of high school and so fun to hang out with.
Over the next few weeks I will be sharing some of the fun things we did.
Booked 2 nights at the Madeline Hotel in Telluride for the 4th of July and we went to some friends home for some great BBQ
Went to visit South River Farms where they grow vegetables by the aquaponic method. Fascinating!!
Did a raft trip down the Uncompahgre River with Rig's Adventure CO.where we cruised by our house. Norman came out and took pictures of us as we went by. Afterwards we enjoyed a great lunch at the ever popular food truck in Ridgeway, CO. It is only 20 minutes from our house.
Drove about 40 minutes to Ouray, Colorado and did a little hike up to Box Canyon Falls. So beautiful! We ate a delicious lunch at a cute little deli in town after the hike.
I volunteered at the Green Cupboard, a non-profit accessories  boutique that benefits the Sharing Ministries local food bank.
Took a 2 day trip to Lake City, CO where we went on a mountain excursion in all terrain vehicles. We went to Carson City, CO. It is an abandoned mining town from many many years ago. We also went part way up Engineer Pass until we got wet and cold from the rain.
Spent the night in a little cabin in Lake City and we ate good comfort food at Southern Vittles.
Did a 2 day fly fishing trip down the Gunnison River with our long time fishing guide Jason Yaegar with Gunnison River Expeditions and spent the night at Black Canyon Anglers lodge right on the river. It was a great place with great food!!
For the first time in over 10 years I rode my bicycle. The first day I only went about a quarter of a mile, but after a couple of weeks I was up to 5 miles. I will say that it made me realize that I need more cardio in my workout routine. Riding up and down hills at 6,500 ft in elevation is a lot different than riding at sea level with no hills.
I did a lot of cooking. Most of you know that it is not my favorite thing to do, but I didn't want to leave the river to go out to eat.
I also did a lot of walking with Pippa, our Toy Fox Terrier. She has no fear, so we had to keep her on a leash. The river would devour her.
This has been one of the most action packed summers I have ever had. If you like outdoor life then stay tuned as I will be sharing some of these adventures coming soon on the blog. Today, Norman and I with Pippa are on a  plane headed back to Houston where we will resume our life. Next up….dieting (go figure), football season (Hook 'em and Go Vols ), fall fashion and charity events and maybe a trip back to Colorado for the change of the leaves.
I hope you all have had a great summer where ever you were. I would love to hear about your adventures or special events in your lives. Please share in the comments box.
  SHOP MY LOOK
Plaid Shirt | Rag and Bone Jeans, Plaid Shirt | Joie Dakota silver sneakers | Rebecca Minkoff denim shoulder bag | Lapis bracelet | Kelly Anzolotti necklace, similar here | Thierry Lasry sunglasses, c/o Eye Gallery Houston | Lips: Bobby Brown Raspberry Pink|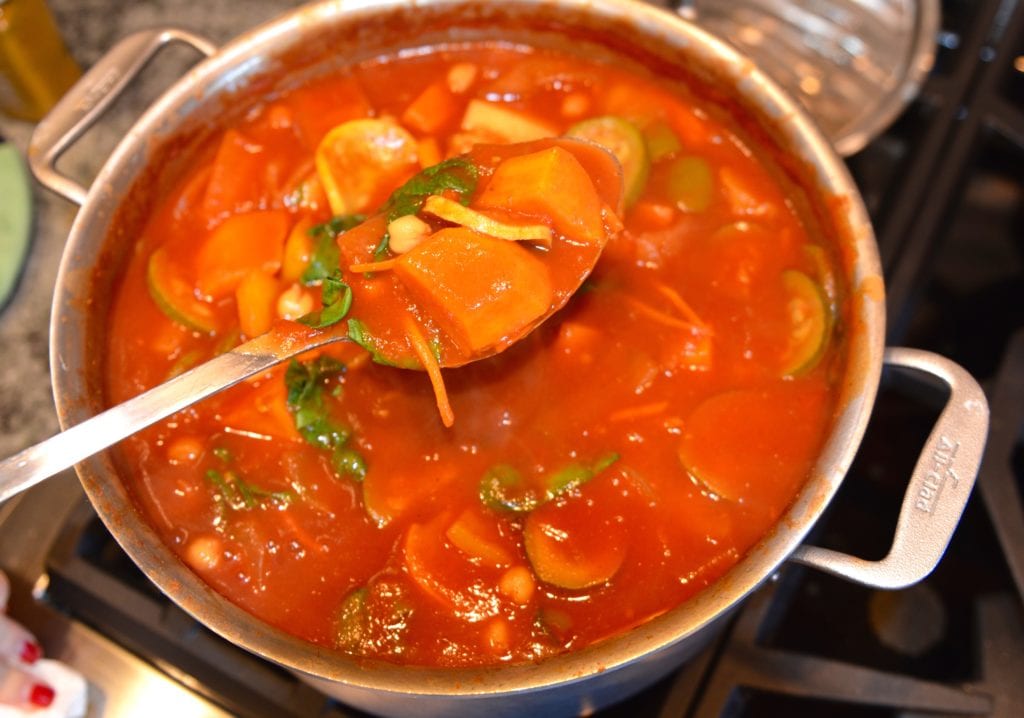 How does a vegan spicy curry meal sound to you? Well, I wasn't sure I would like it, but OMG it was awesome!!!!
No, I did not cook this up. I watched…….Those of you who know me well, then you know that I do not love the kitchen or preparing meals, however I love good food. Today I am sharing for the first time this year a recipe that my 19 year old granddaughter, Louisa, made for us while on her visit to our Colorado river ranch.
I thought Louisa lost her mind when she decided to turn to a vegan diet. I still think that, but I will say that I have now been introduced to a recipe that is delicious without meat, dairy or flour. Just check out all of the variety of vegetables in this recipe.
I was a little miffed when I had to try to figure out how to feed a vegan while she was visiting us, but basically it was pretty easy. Lot's of rice, beans, fruits and vegetables. She asked me if she could cook for all of us one night and of course I said yes! I was thinking that I wouldn't eat a vegan meal but it meant that I wouldn't have to cook. Surprisingly, we all devoured this delicious vegan meal.
This dish is Indian inspired, hence the curry. You can make the flavors as strong as you want, depending on your taste pallet. She used more cumin and chili powder than curry giving it the perfect spicy flavors.
As I will not be able to give up my meats or dairy, I do have a more open mind about eating the vegan way and I would highly recommend you trying this vegan spicy curry recipe!!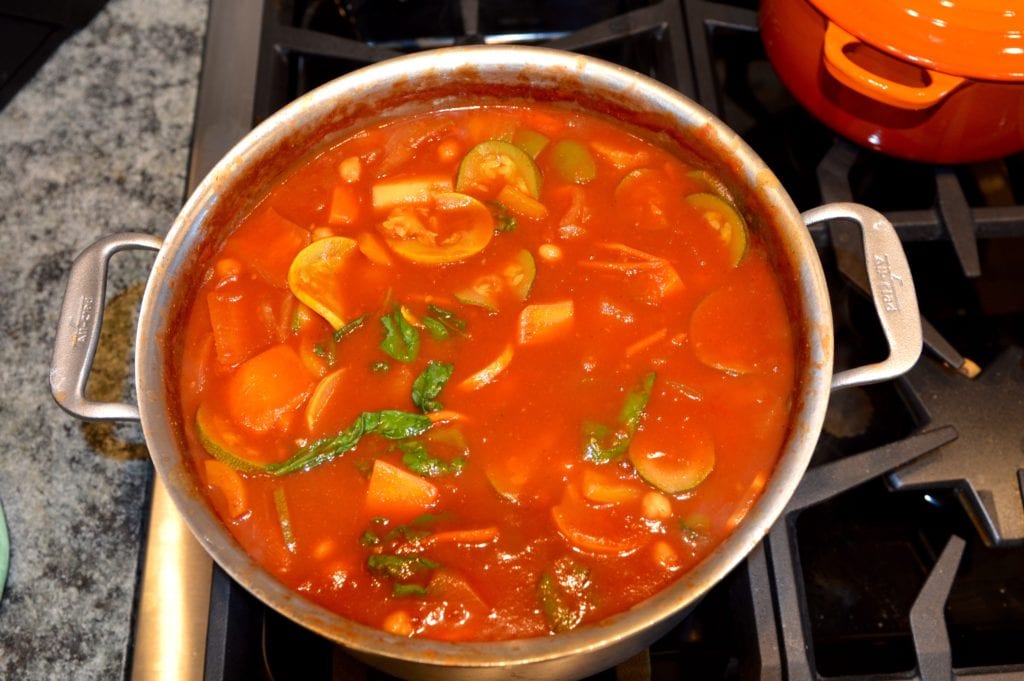 Shop Kitchen
Le Cruset pot | All Clad pot | All Clad stainless steel serving spoon | Stainless steel spoon rest | Central Market Extra Virgin Olive Oil or Venta Del Barron Extra Virgin Olive Oil | Oven mit and pot holders | Classic 10 pc stainless knife set | Stainless still mixing bowls | Prep cutting board synthetic or wood |
INGREDIENTS:
1/2 box spinach (it will cook down a lot)
2 sweet potatoes
2 yellow potatoes
1 white sweet onion
2 squash
2 zucchini
2 red bell peppers
2 green bell peppers
2 cans crushed tomatoes
2 cans 10 oz cans Rotel tomatoes w/green chili
2 cans 15 oz tomato sauce or V8
vegetable stock 1 qt size container
1 16 oz can chickpeas
1 bottle Asian Sweet and Sour Chili Sauce
curry powder, chili powder, cayenne pepper to taste
Combine all potatoes, stock and tomato based ingredients in a large pot. Allow the potatoes to cook in liquid for about 30-40 min until they are almost tender. Then add in the onion, squash, zucchini, and the peppers along with the chili sauce and spices. Cook on medium high heat until peppers are translucent and soft. Take pot off heat and add chickpeas and spinach.
Serve with brown Rice, Quinoa or what ever grain you prefer. Follow directions on the package
Serves approx. 12 ( half the recipe for 6-8 servings)
SHESHE'S TIDBITS
We will be throwing in a few of SheShe's favorite recipes from friends and bloggers from time to time. I think we all love new food inspirations.
It is time for SheShe's Fall Trend Report. Look for it real soon.