SheShe's Showcase!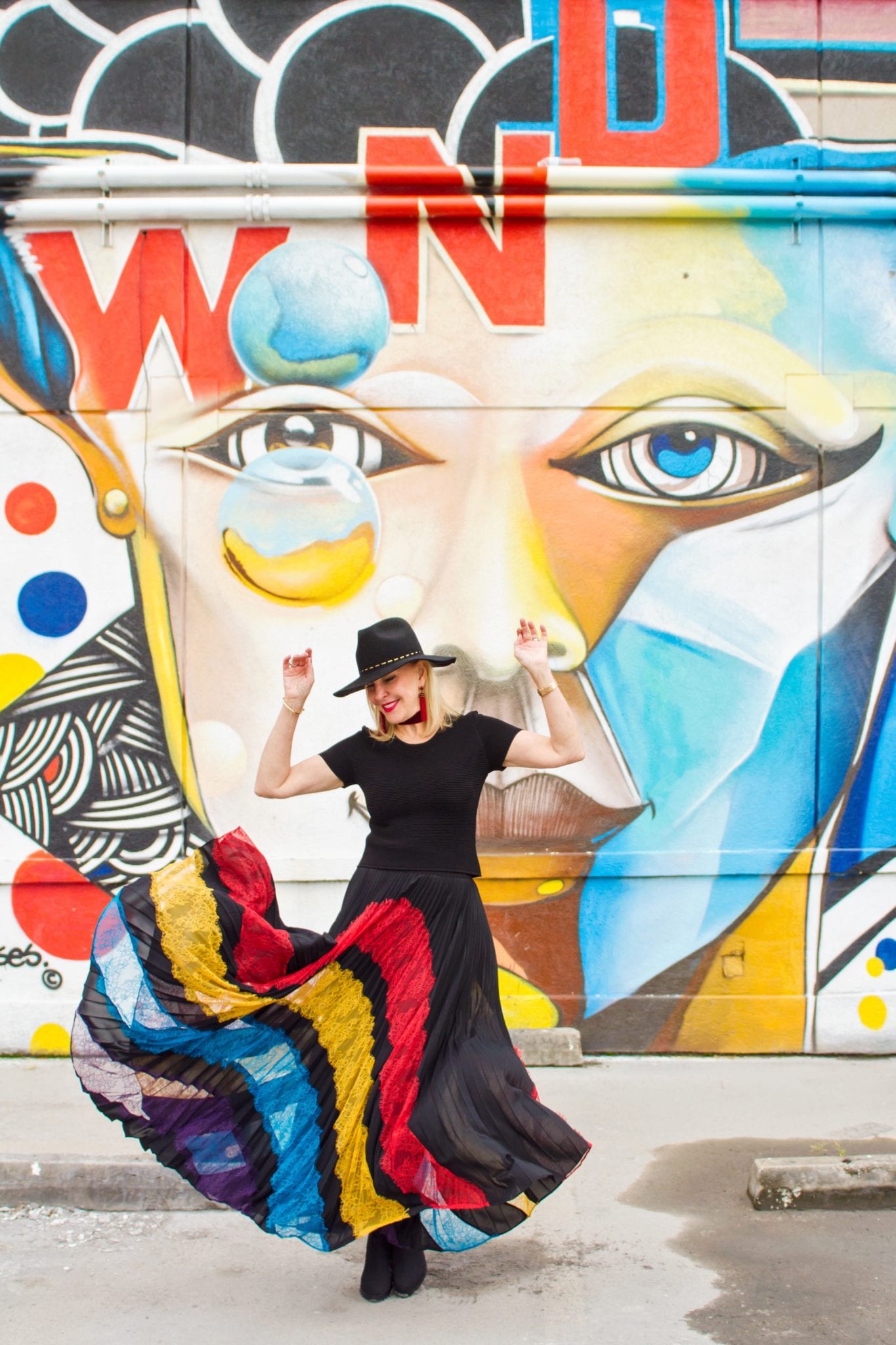 Alicia & Olivia is definitely a brand favorite of mine this season. I am sure by the photos of this beautiful skirt that you know why I am so in love. If you have been following me then you saw the post from the New York Fashion Week Spring/Summer presentation that I posted a few weeks ago. If you haven't seen it then be sure to check out what is coming up for the brand this next spring.
Alice & Olivia is the brain child of designer Stacey Bendet and a classmate at the University of Pennsylvania. They named the brand after Stacey's mother Olivia and her classmate's mother Alice. Coming from a family business in textiles and loving fashion, this avenue was a beautiful fit for Stacey. It all started with the desire to create "a trouser sexy" and the focus of an outfit". She was actually spring boarded into recognition when she was spotted on the street where she got her first order, then on to Barney's and then getting financing from Andrew Rosen who developed the fashion line Theory.
I guess the reason I love this brand so much is because Stacey designs with inspiration from everything that SheShe loves. Art, culture, music and vintage fashion, not to forget the other women she meets and their styles make up her design profile. When you think about this, every season she has multitudes of exciting ideas to draw from. Her designs are flamboyant without being gaudy. She uses so many textures and COLORS and I love her use of whimsical. You will often see her own face appliquéd on her garments. We just have to lighten up and have some fun!! Fashion is an extension of our personalities. Hmmmm… I guess I am colorful and whimsical. I don't mind…..I will take that label proudly. If you feel a little like granola, try to venture out of your box and add in some texture and color.
We are so excited to welcome the new Alice & Olivia Boutique located in the swanky River Oaks District here in Houston, TX. A southern city of multicultural influences is the best place to further spread the reach of the brand. We southern girls love COLOR and TEXTURE. Not only is the line carried in over 800 department and specialty stores, but now there over 30 free standing boutiques located in major cities and worldwide. This is a very successful up and coming brand making an impact in fashion.
Let's talk fit…    
 This is a contemporary brand, meaning it has a smaller scale fit. I actually wear between a 6 and 8 depending on the style with this brand. Many missy brands I would never wear and 8. I know for a fact that contemporary brands are cut smaller in the chest. I don't know why that is?????  Many of the styles are too short or too sexy for me, but there are also some great styles perfect for my life where I am today at over 60. I will wear what I want, but I am not comfortable with too short or too sexy. These are choices you must make about your own personal style. I think many women over 60 can wear this skirt that I am wearing in the photos plus many other styles in the line. I have linked many of my favorite items this season below, some of which are already on sale. Even this skirt!!!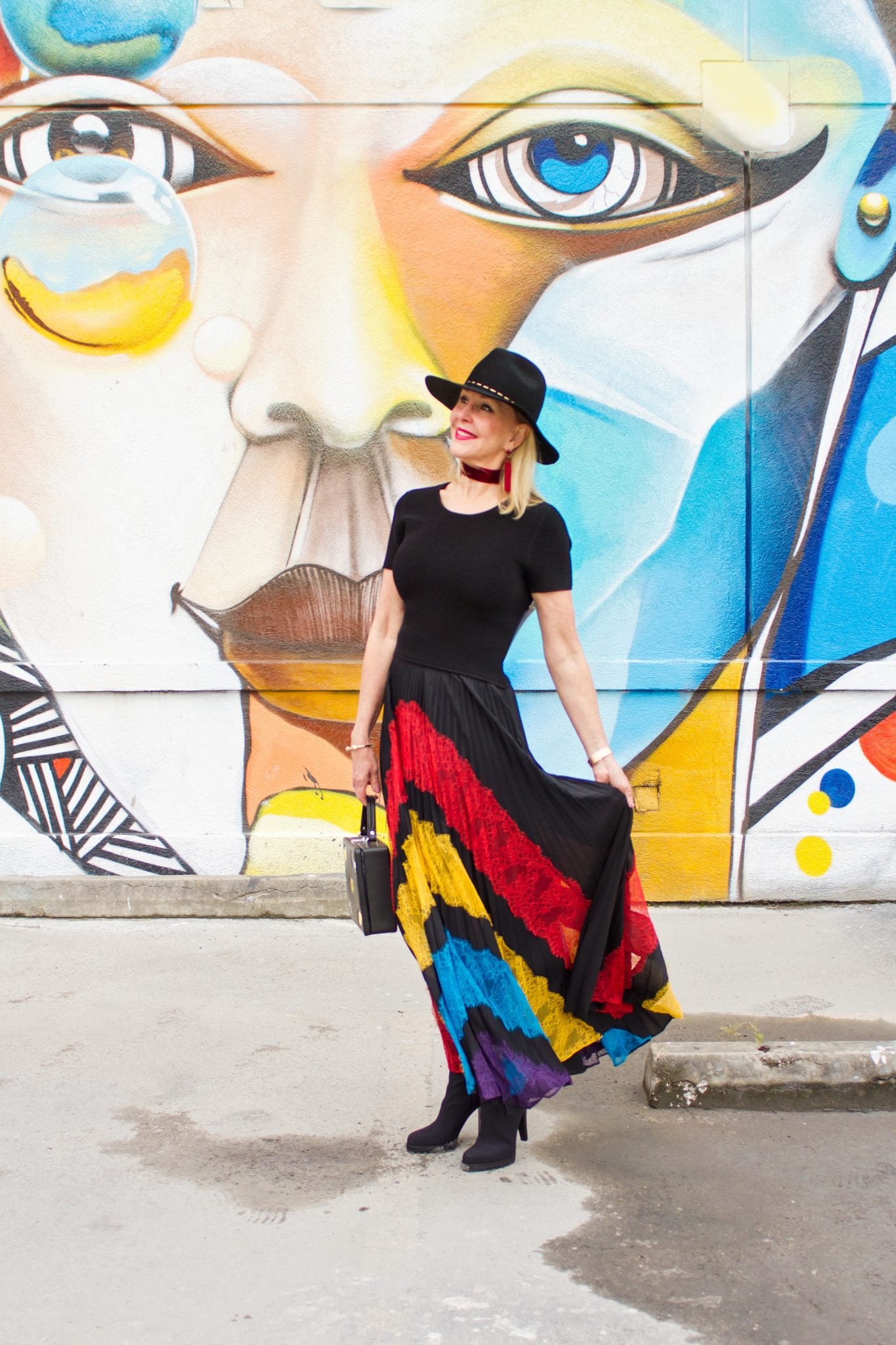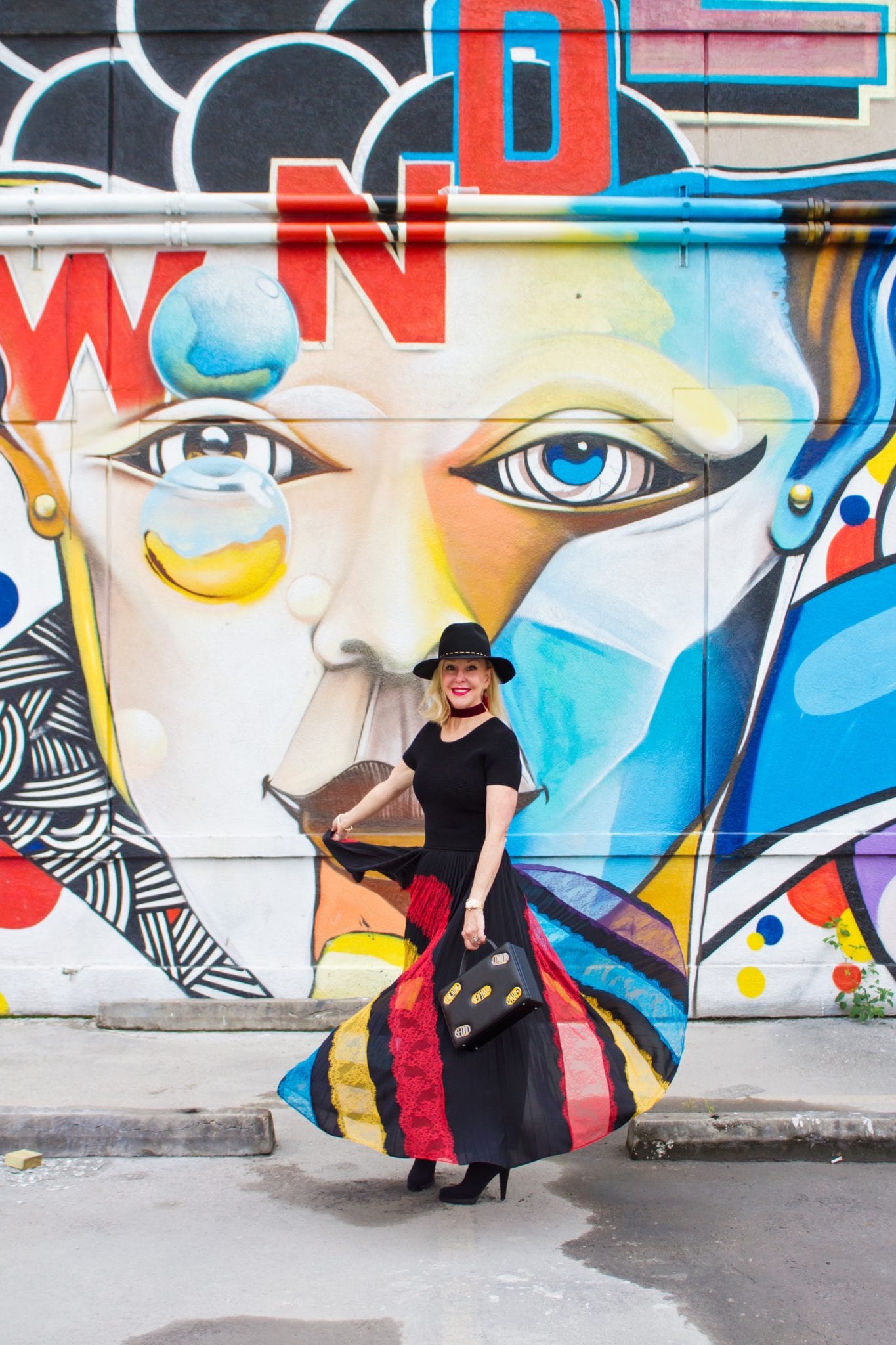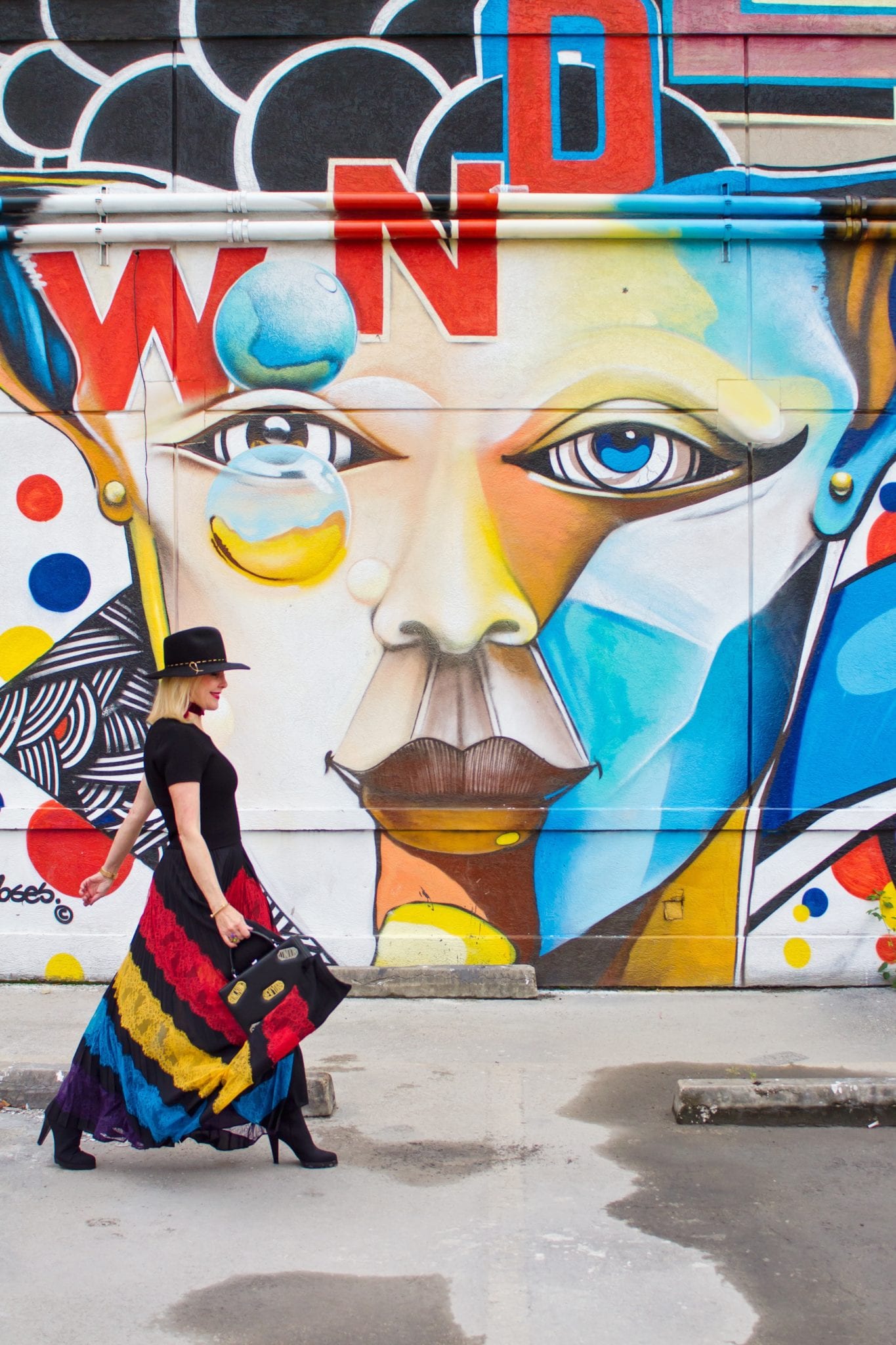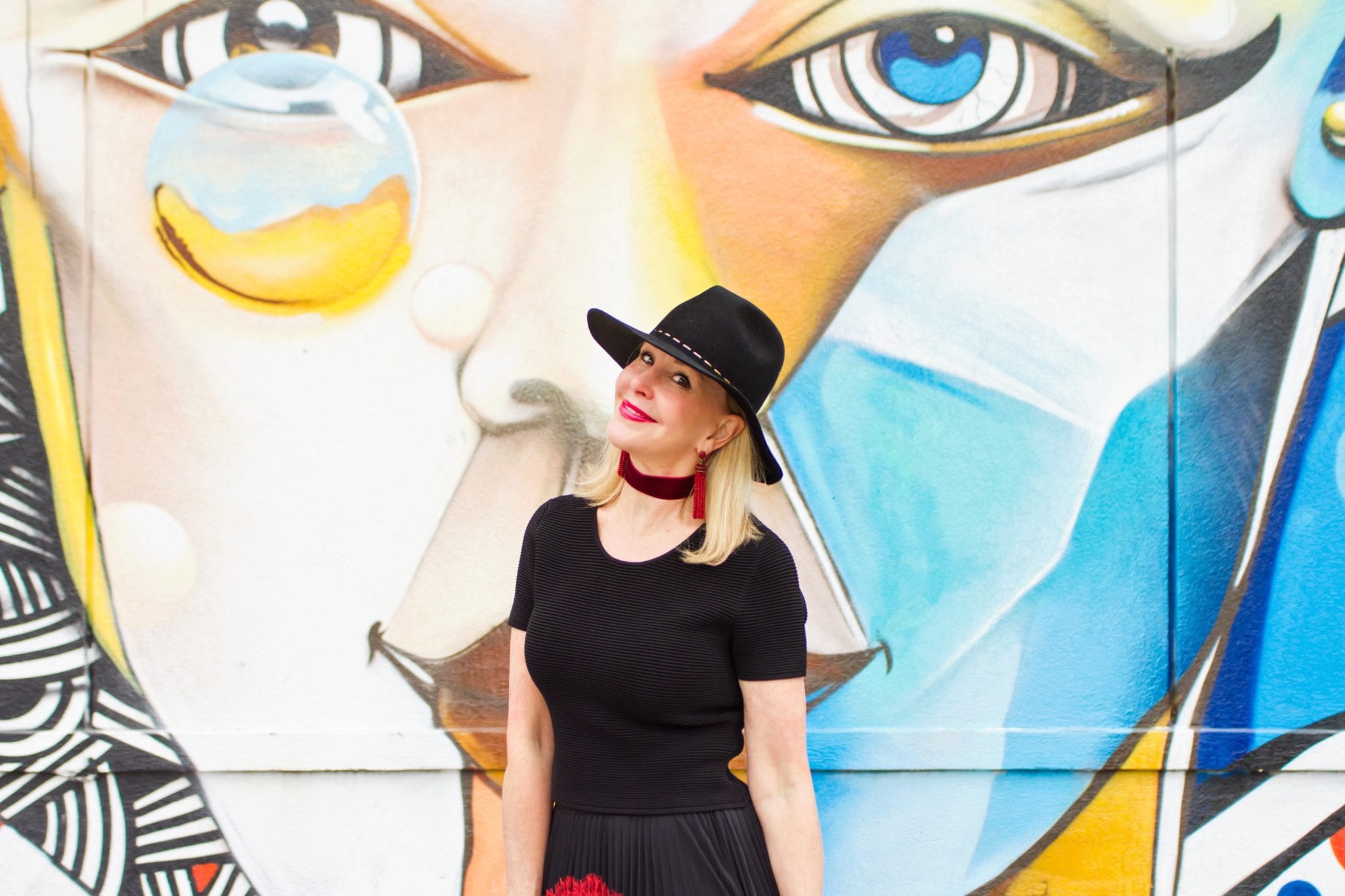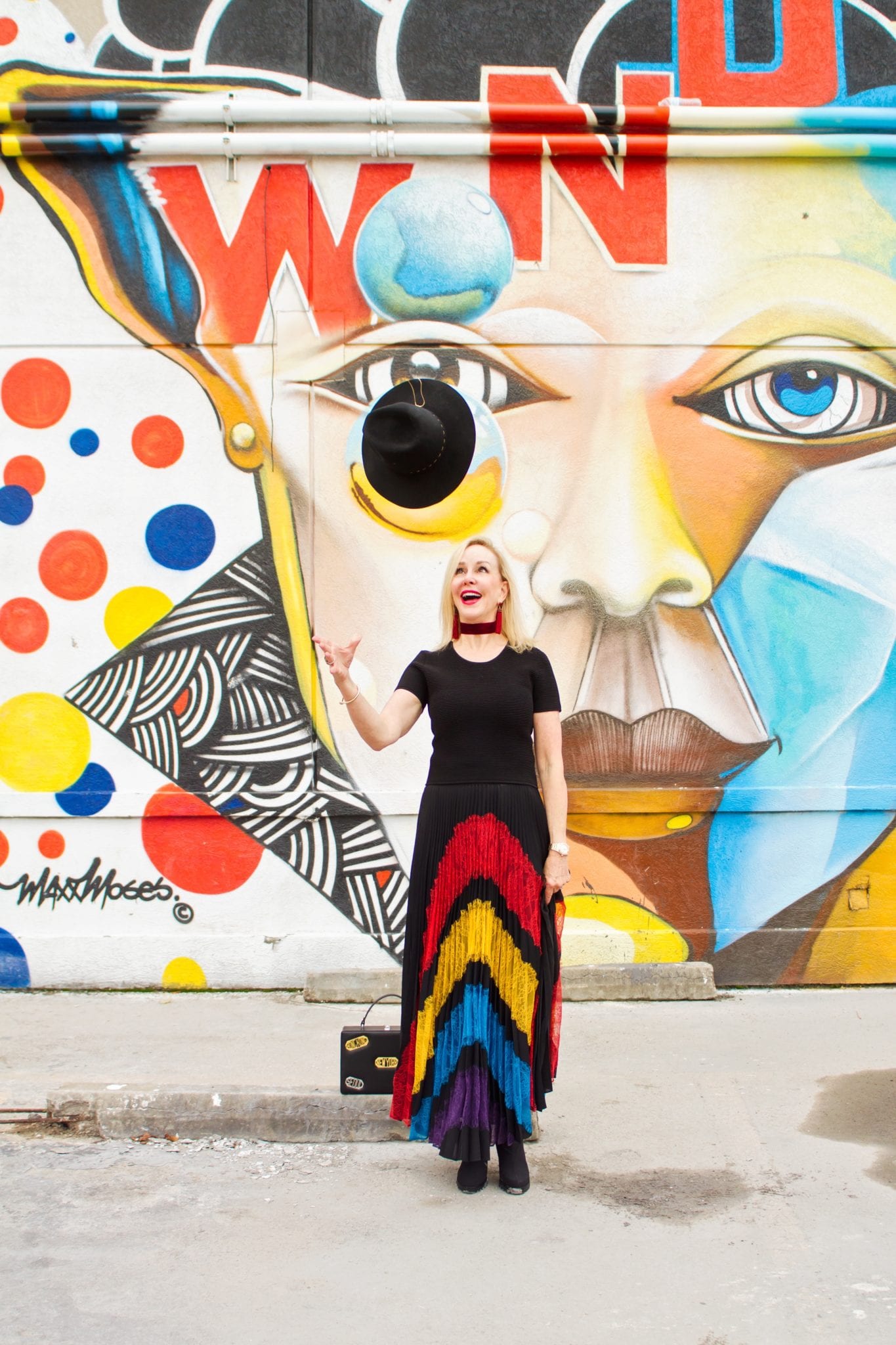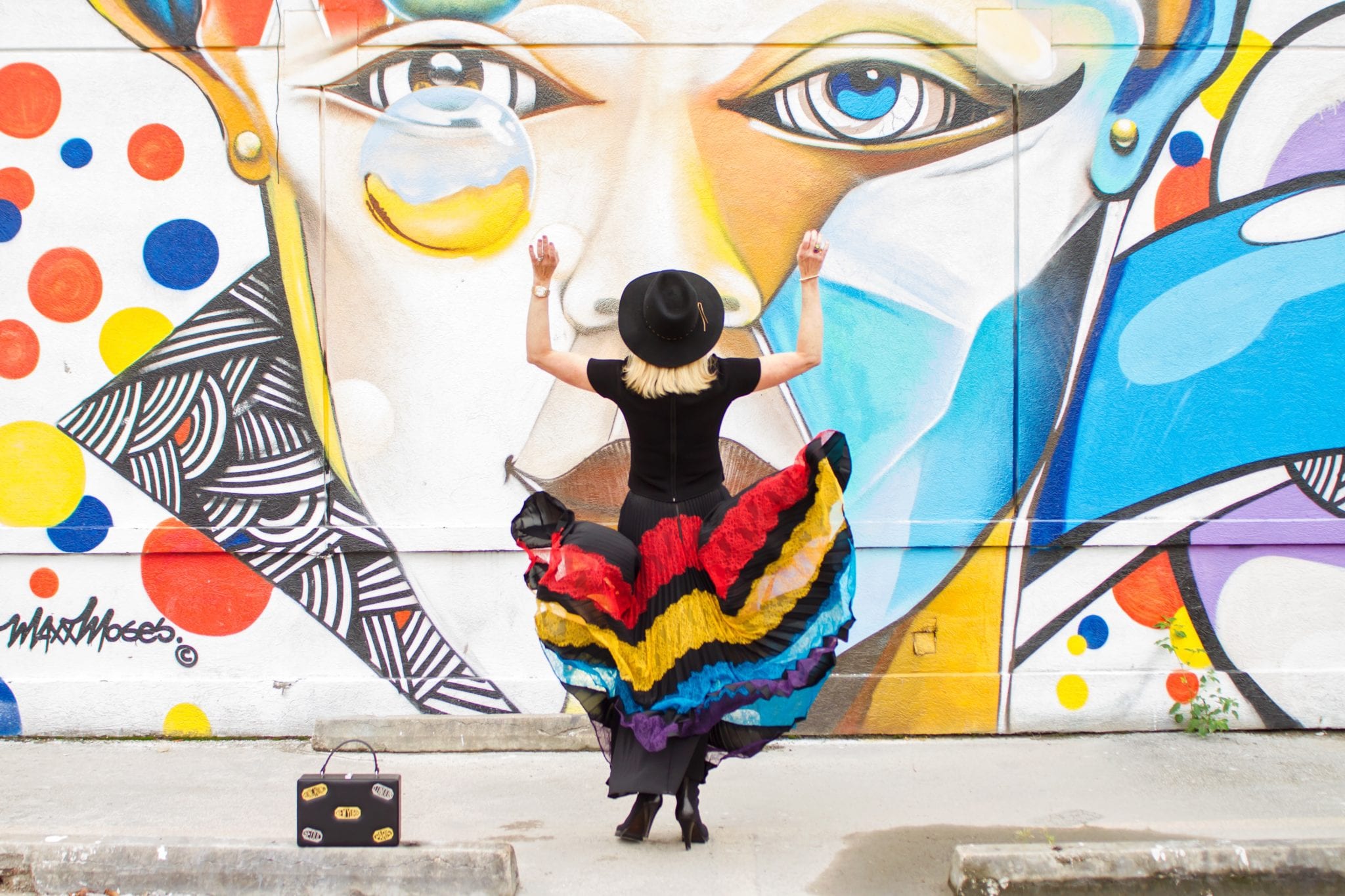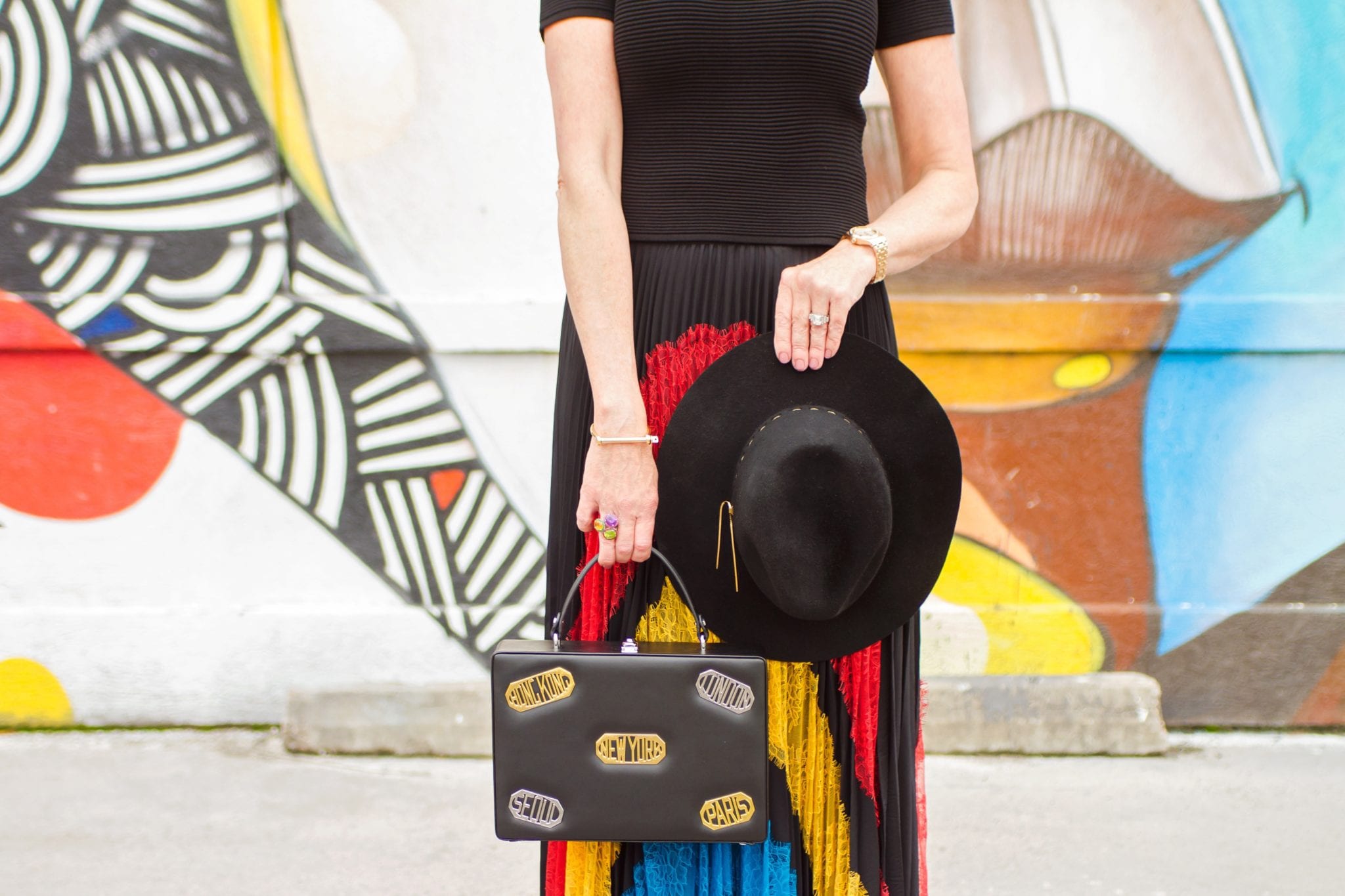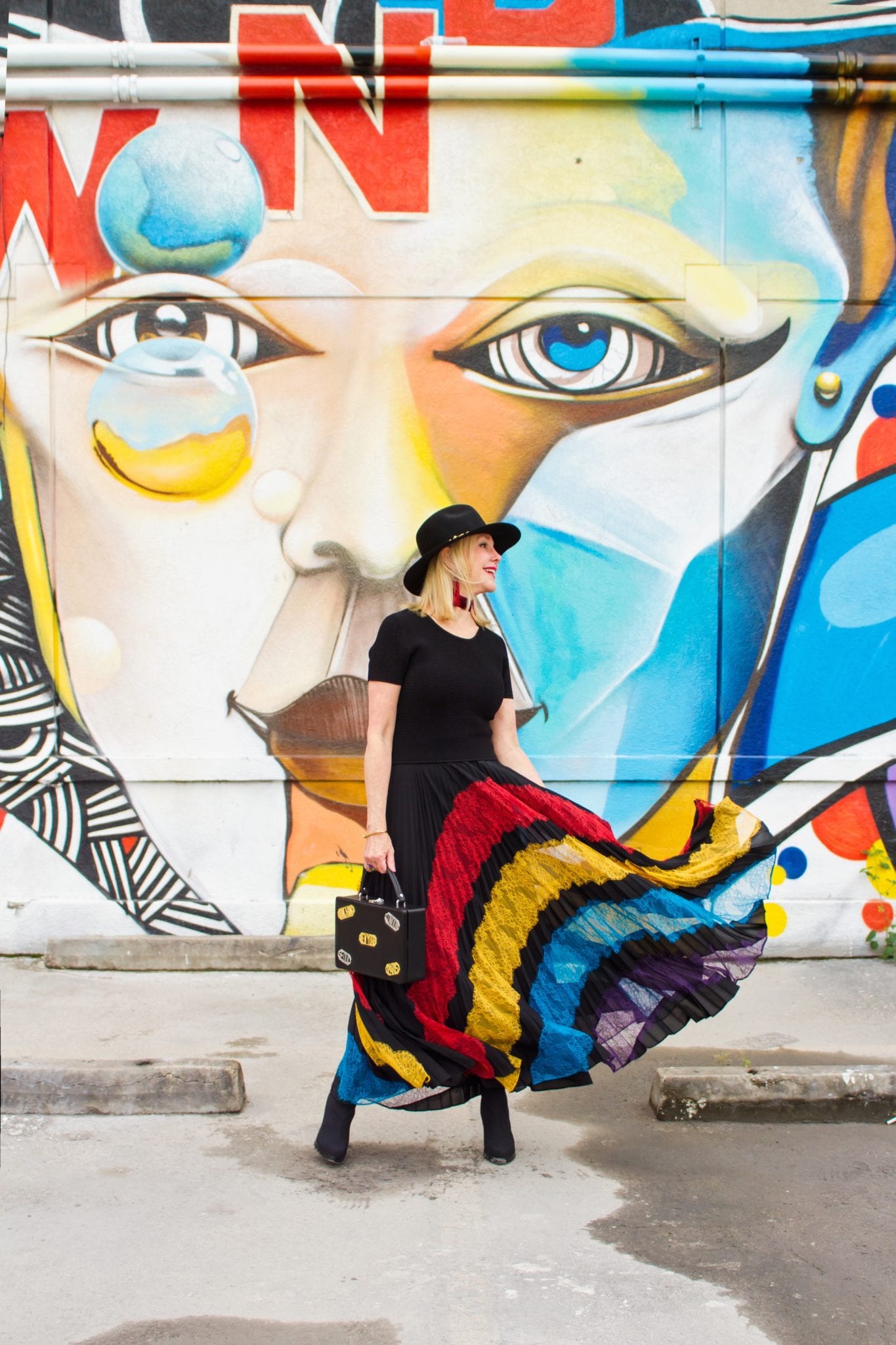 SHOP MY OUTFIT
Lace skirt | Short sleeve top or I like this top or this one| booties are from last season, similar here and here | Rebecca Minkoff handbag | Eugenia Kim hat | Burgundy velvet choker | Gold tone bracelet | Lips |
SHOP MY ALICE & OLIVIA FAVORITES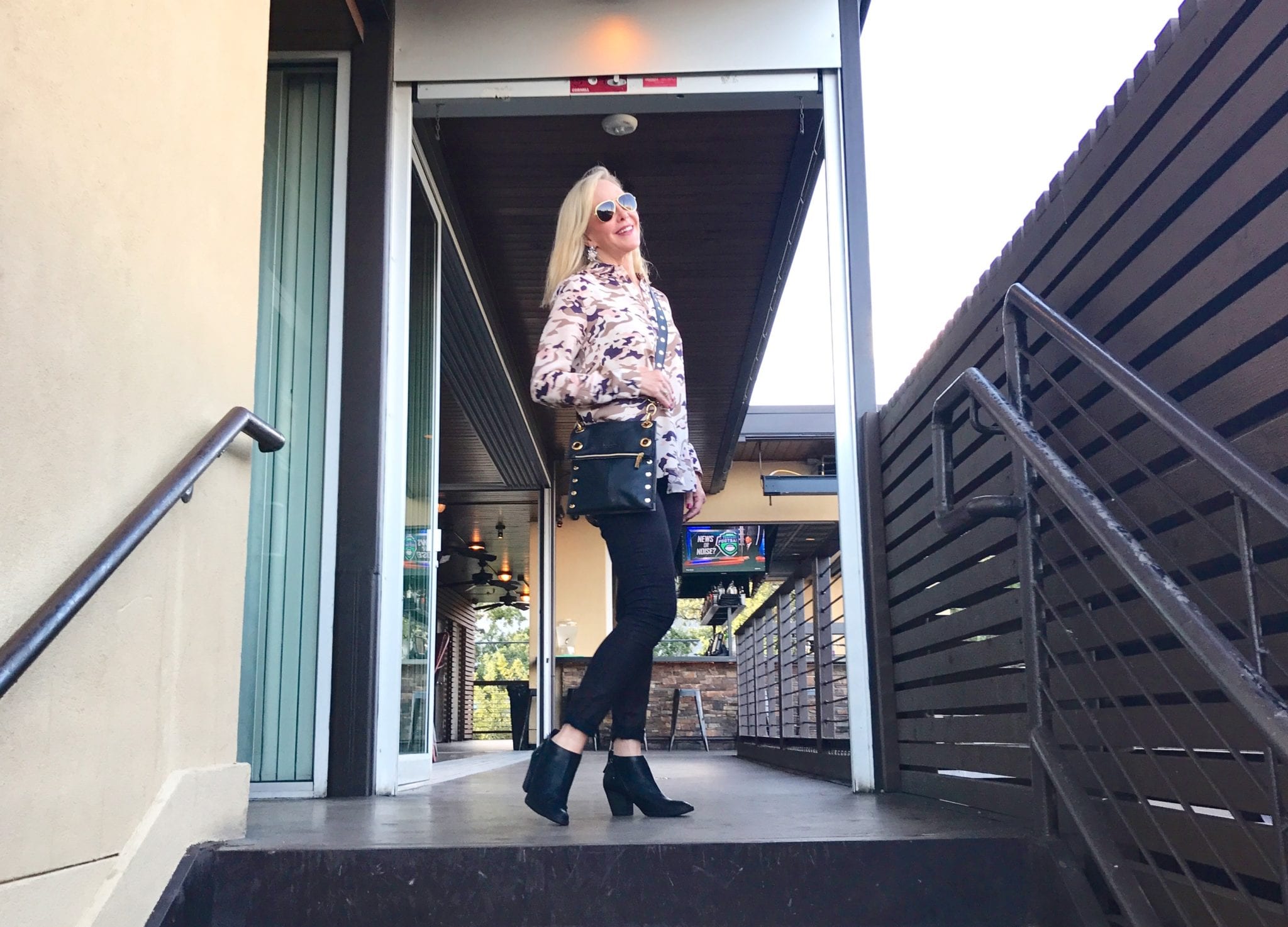 It's no secret that SheShe luvvvvs accessories. Today I am introducing accessory brands Hammitt and Jord to you.
Let's first talk about my new bag crush Hammitt, a Los Angeles based accessories company. And let me tell you how impressed I am with my new Hammitt bag!! This brand hits my soul because they not only design for style and superb craftsmanship, but they also think about our lifestyles and how their bags can be useful, versatile as well as very hip and stylish.
I am always looking for a bag that looks good and serves the purpose, mine being travel friendly. I love the latest and hottest cross body styles so that is why I chose the Little Santa Monica reversible cross body. It can actually be worn in 4 ways. It has a very long strap with several snaps that can make the shoulder straps short to fit any of us. This season trends are showing the cross body very short where it falls underneath the arm.
The other brilliant feature of this bag is that it is reversible and they offer several color combinations of leathers and hardware. I did the black leather that reverses into pewter leather with the gold grommets and hardware. It has 2 inside pockets, 2 outside zipper pockets and a cell phone pocket. I can really take this bag anywhere and it will go with almost everything that I wear.
These timeless made-to-order bags are sold nationwide to high end boutiques. Each bag becomes a personal reflection of its individual collector. To see more of what Executive Director & CEO Tony Drockton is creating, then just head on over to www.hammitt.com and then I know you will want to join the cult. I truly in love my Hammitt!! More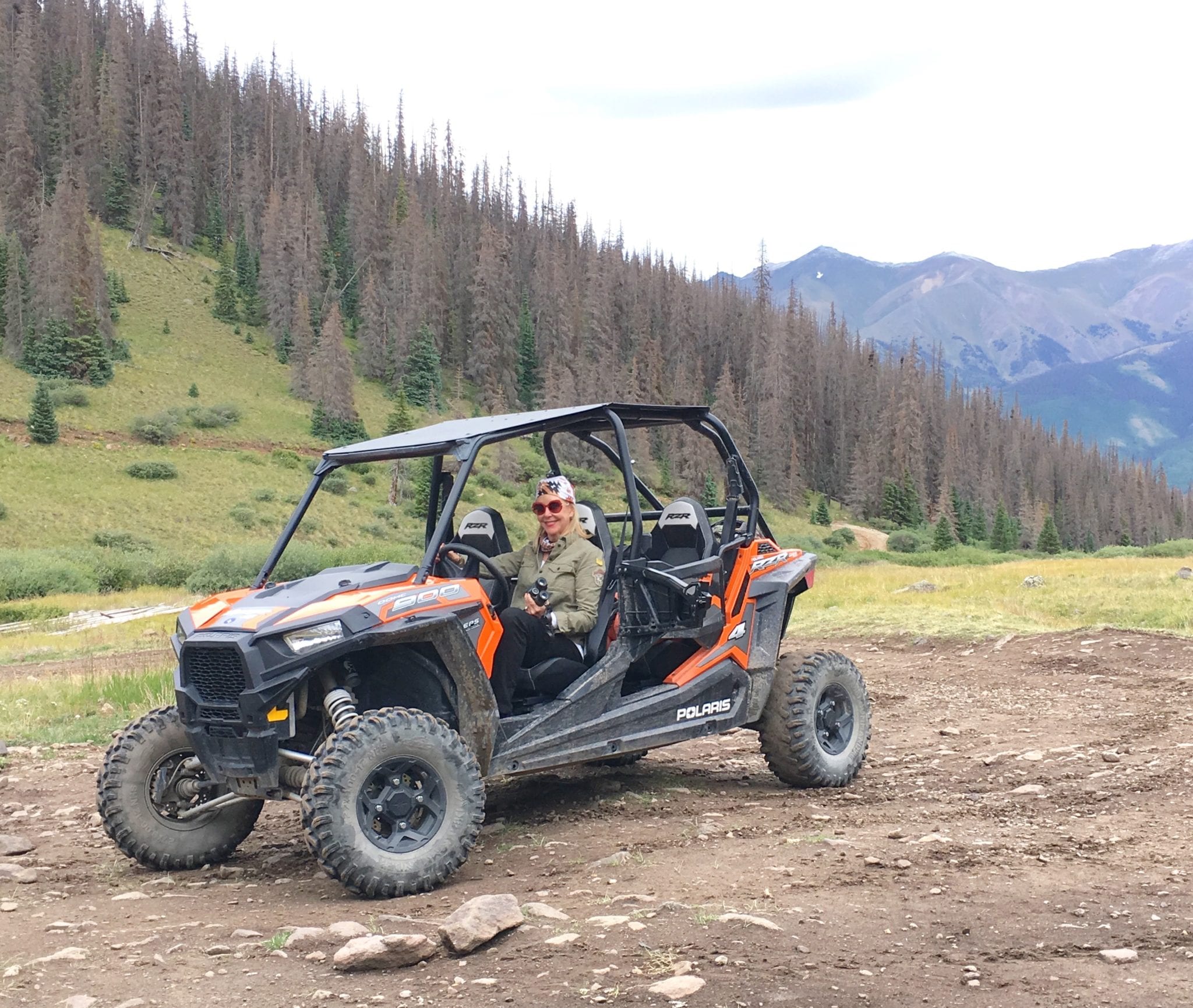 Have you ever done a trek up a mountain side in an off road-4 wheel drive? If you love the great outdoors and love God's creations then you really should put it on your bucket list. I am here to help you plan a trip to Lake City, Colorado.
This is the cutest and quaintest little mountain town that is so lovely to just stroll around. Just outside of town is the Alpine Loop National Scenic Back Country Byway and Old Carson Ghost Town, an abandoned old mining town among some other areas worth visiting. Both are not too far and I would recommend to do them on different days. If you are really adventuresome, then you can go on over Engineer Pass and dump out just outside of Ouray, Colorado. I have done that trip and it is awesome! If you are afraid of heights and drop offs, then I would do the Old Carson Ghost Town trip.
So you don't own a Polaris RZR? No problem because there is a rental place as you enter into Lake City. You will need to pre book your vehicle, especially during peak season July and August. We own one and we rented the other one from www.lakecityauto.com. It was a family weekend with my husband, stepdaughter and her 2 sons Carson and Clayton. We had the best time!!! Something about fresh air an no makeup!!!
I will say you better be prepared for cold weather. In August when we made this trip it rained the first day and it was freezing cold. We had layers and layers of clothing on. Burrrrr….. The next day was cold early in the morning but warmed up some later in the day. You never know about the weather in the mountains, so be prepared! Layer up!! More