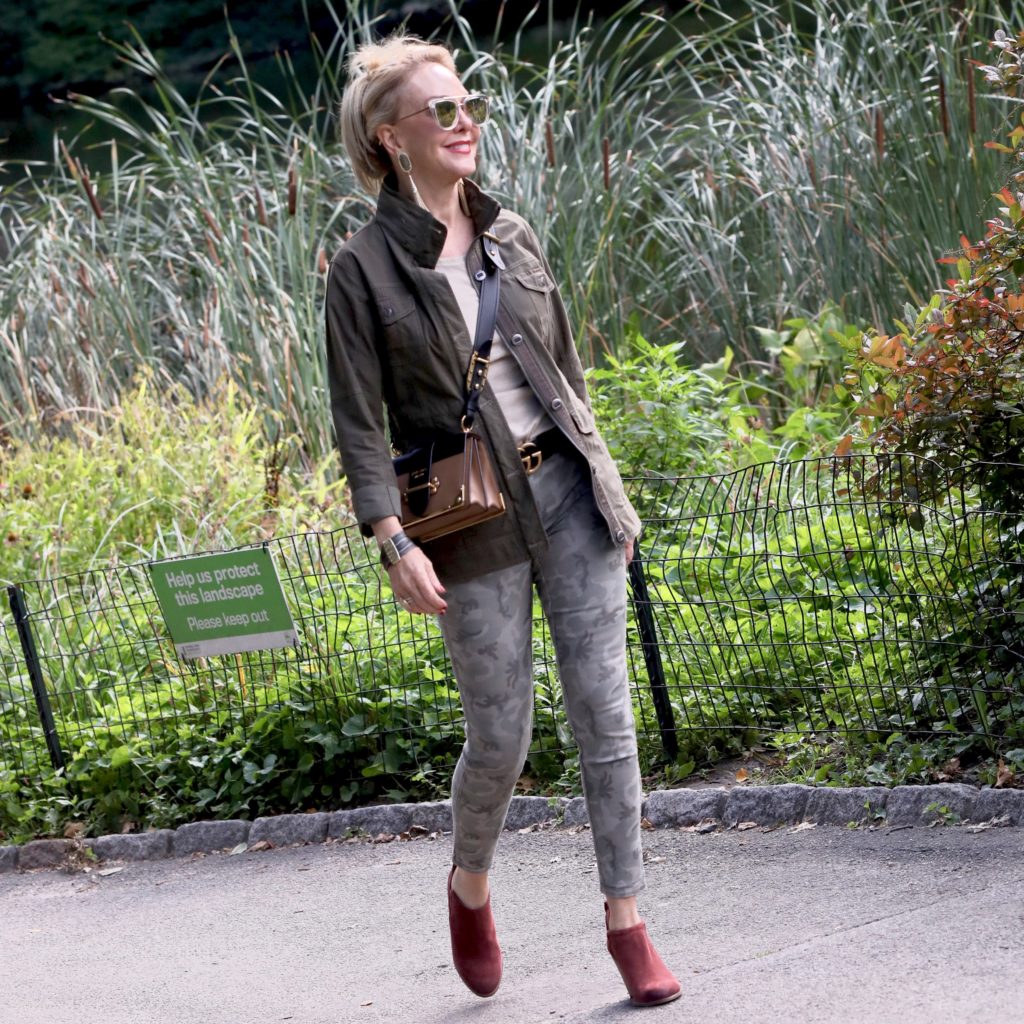 Do you remember the first time you ever saw a camo print? I don't remember the first time, but I do remember that my dad was a weekend warrior with the Tennessee Air National Guard and over many years of part time service he had a few issued uniform items in a camo print. I was able to keep a few of these treasures for myself. Well, today we all talking how to style the camo trend into our current fall 2017 looks.
I am not sure why most of us love camo, but just maybe it is because camo symbols our service men and women and their fight to keep our country free, or it could be to represent our love for the great outdoors. What ever it is, it finds it's way into mainstream fashion about every other year it seems. I have collected several camo prints over the years that just keep on going.
Ways to Style Camo Prints
Outfit #1 Details
Outfit #2 Details
SHESHE'S TIDBITS
For many many years Sept thru the end of the year are so very social for me. I belong to several charitable organizations as well as a couple of girlfriend lunch groups. Balancing all of this with running a household and a full time blog get really hard. I know….you are not feeling sorry for me and I get it. I guess what I am saying is that I love to be social, but the older I get, the more I am becoming a home body and a stick in the mud. Can any one of you relate?
Coming up in the next couple of weeks are some new brands and fashion websites that I will be sharing with you, so stay tuned because I think you will like their styles and pricing.
If you are thinking about trying out Instagram, but don't know where to start, then go to our recent post for the video tutorial. It will explain step by step in an easy understandable way.
Gala's, weddings, graduations, holidays or just everyday wear…..we have fashion suggestions for you, so stay tuned. Be sure to check out ShopSheShe  tab at the top in the menu bar. Hover over and choose the category in the drop down. We try to keep it up to date with the latest and greatest for all budgets. Subscribe here and then you won't miss a post. Simply enter your email in the pop up box when you come to this site or at the top of this page in the subscribe box.
WELCOME new readers. We are a fashion/travel/lifestyle blog. We talk about anything and everything, from fashion, travel, health issues to even an occasional recipe. If there is a topic that you are interested in, then let us know. We will do our best to bring that story to you. Have a great great week sweet friends and thank you for following along. Without you, we could not continue on this crazy fun journey!