SheShe's Showcase!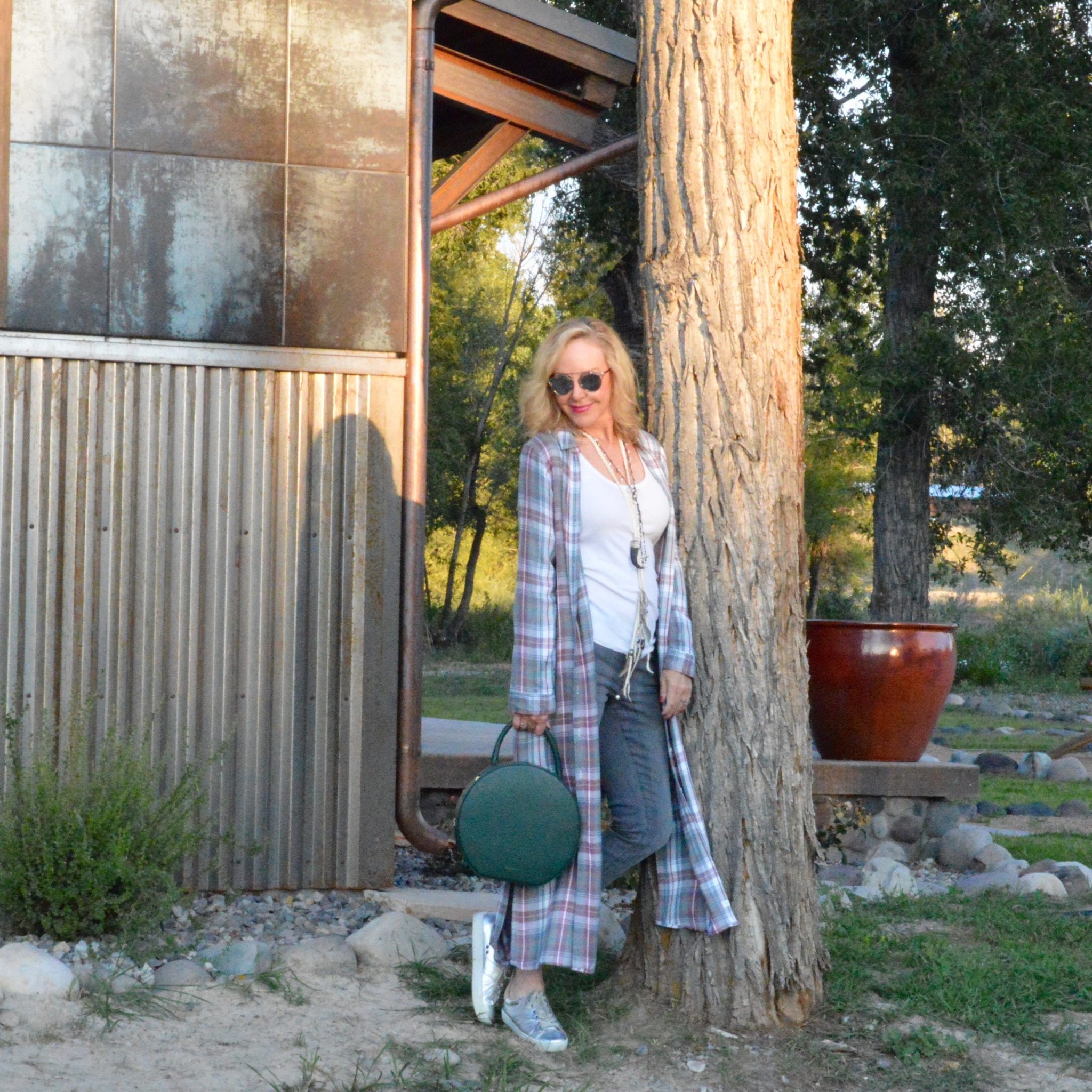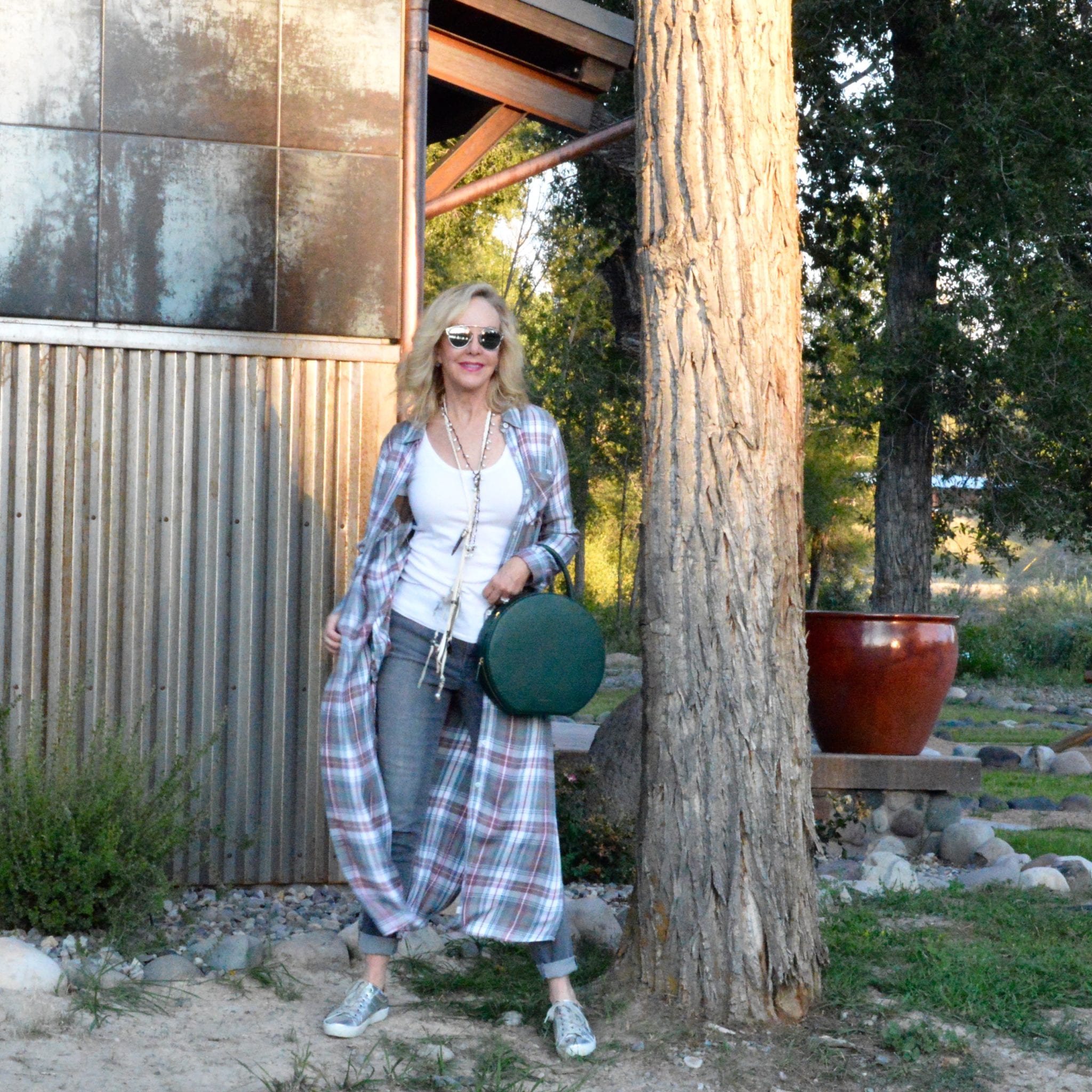 Fall is officially here and I am laying out SheShe's 2016 Fall Trends for you today!
Even though it is still way over 90 degrees here in Houston, we all still want to change it up and start incorporating new colors and styles into our wardrobes. Today I have gathered up fall trends from several sources including my own insight, that  you need to know about. I will link some examples with each trend.
First of all I think it is important to know what colors are trending. The Pantone Color Institute has released their top 10 colors for Fall/Winter 2016. So, what is Pantone?????? Wikipedia says "Pantone Inc. is a corporation headquartered in Carlstadt, New Jersey.[1] The company is best known for its Pantone Matching System (PMS), aproprietary color space used in a variety of industries, primarily printing, though sometimes in the manufacture of colored paint, fabric, and plastics."
So here are the Pantone Fall 2016 colors: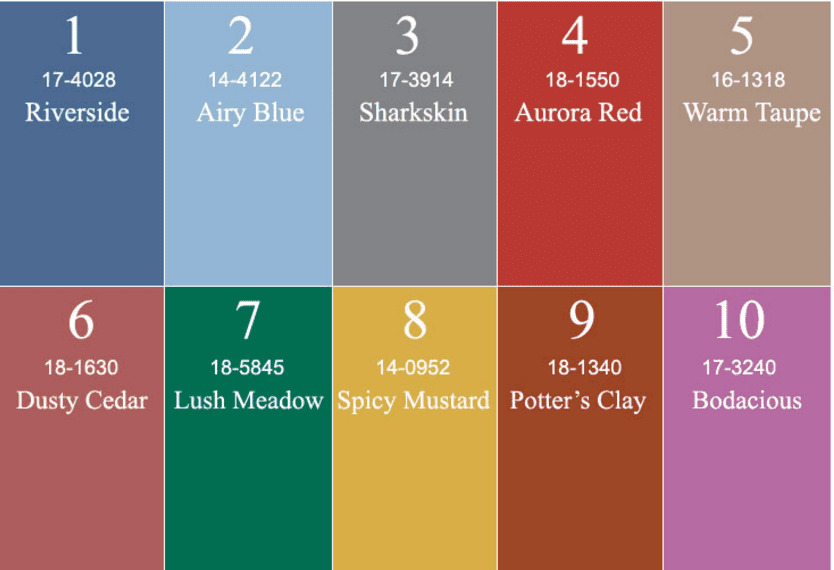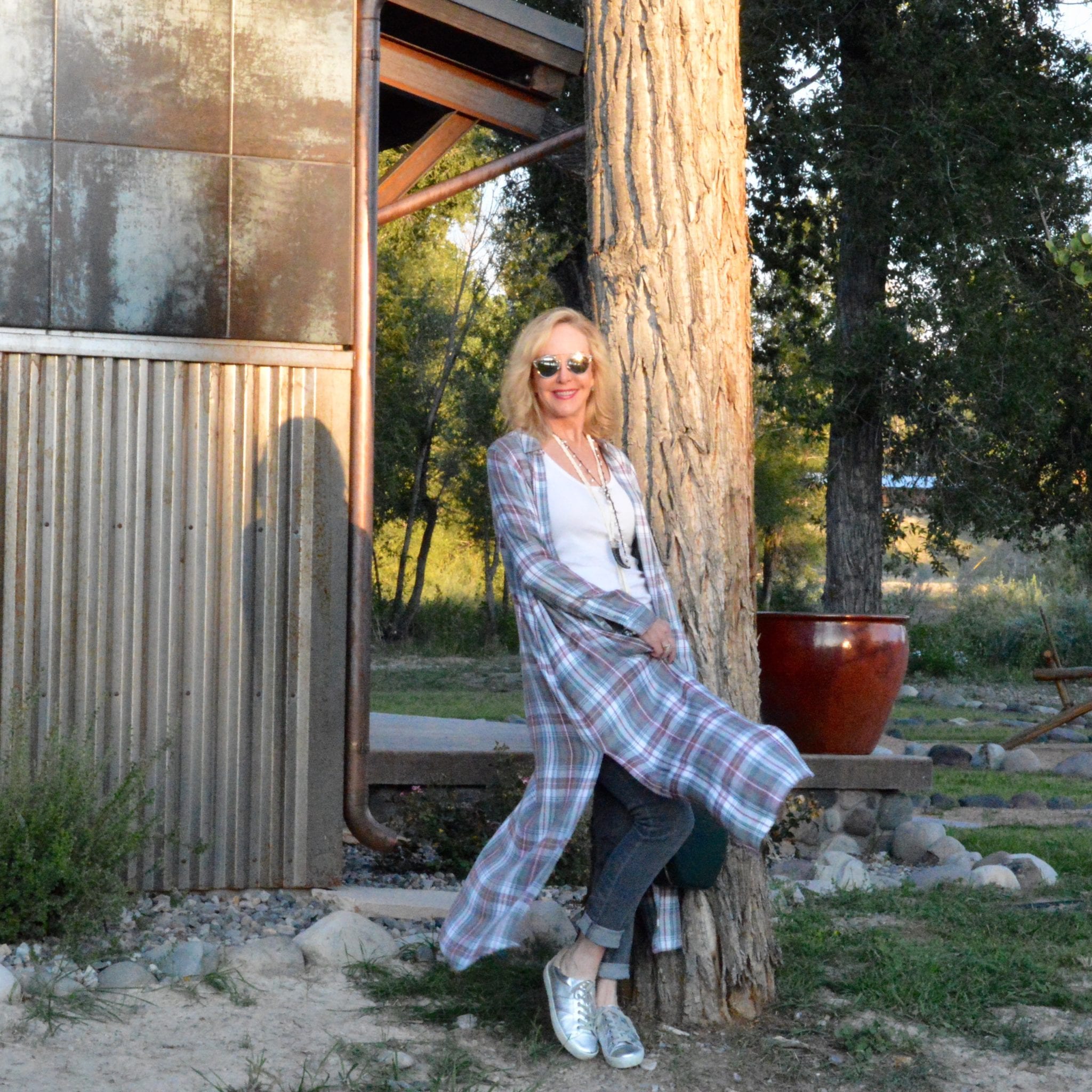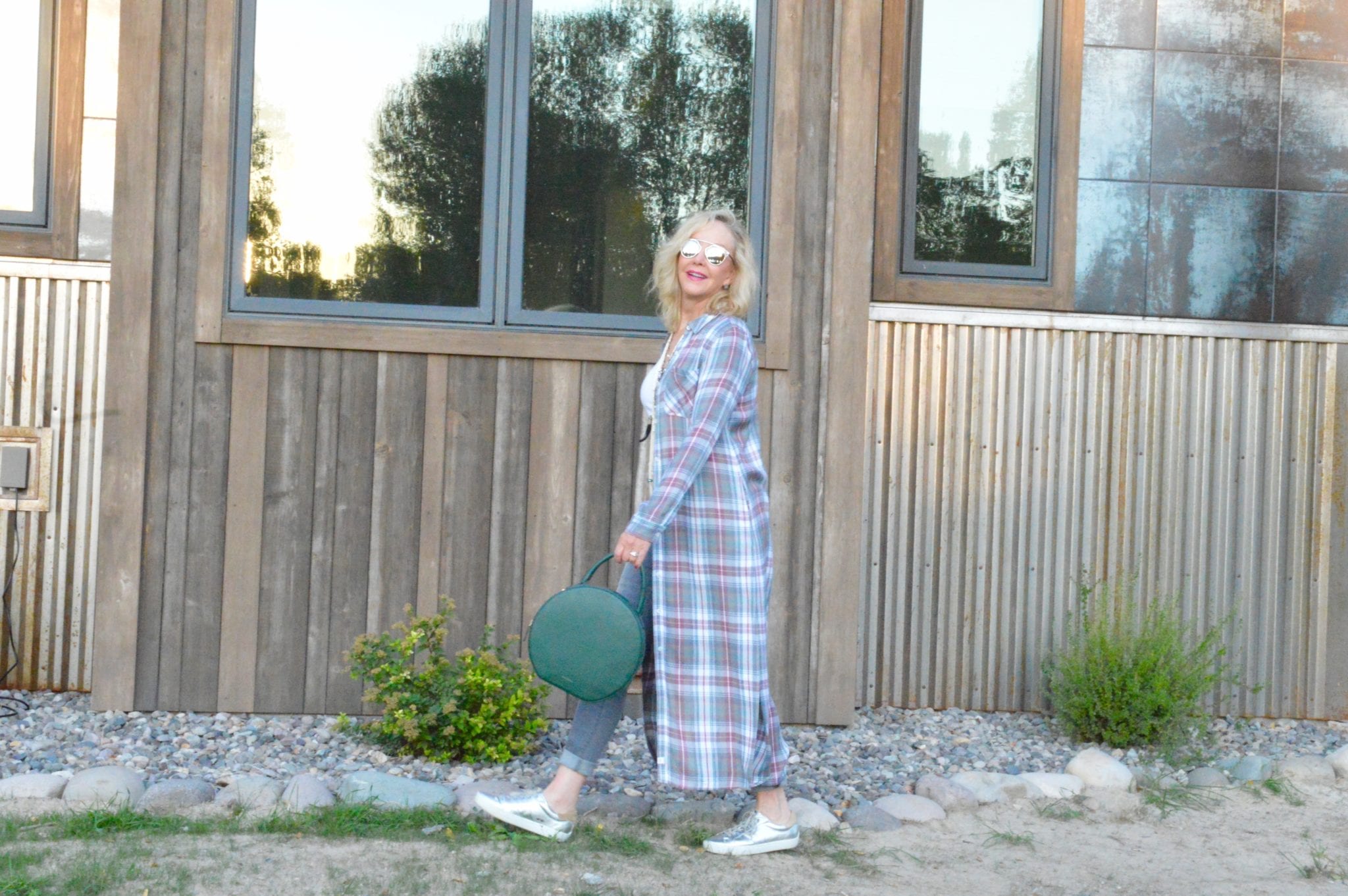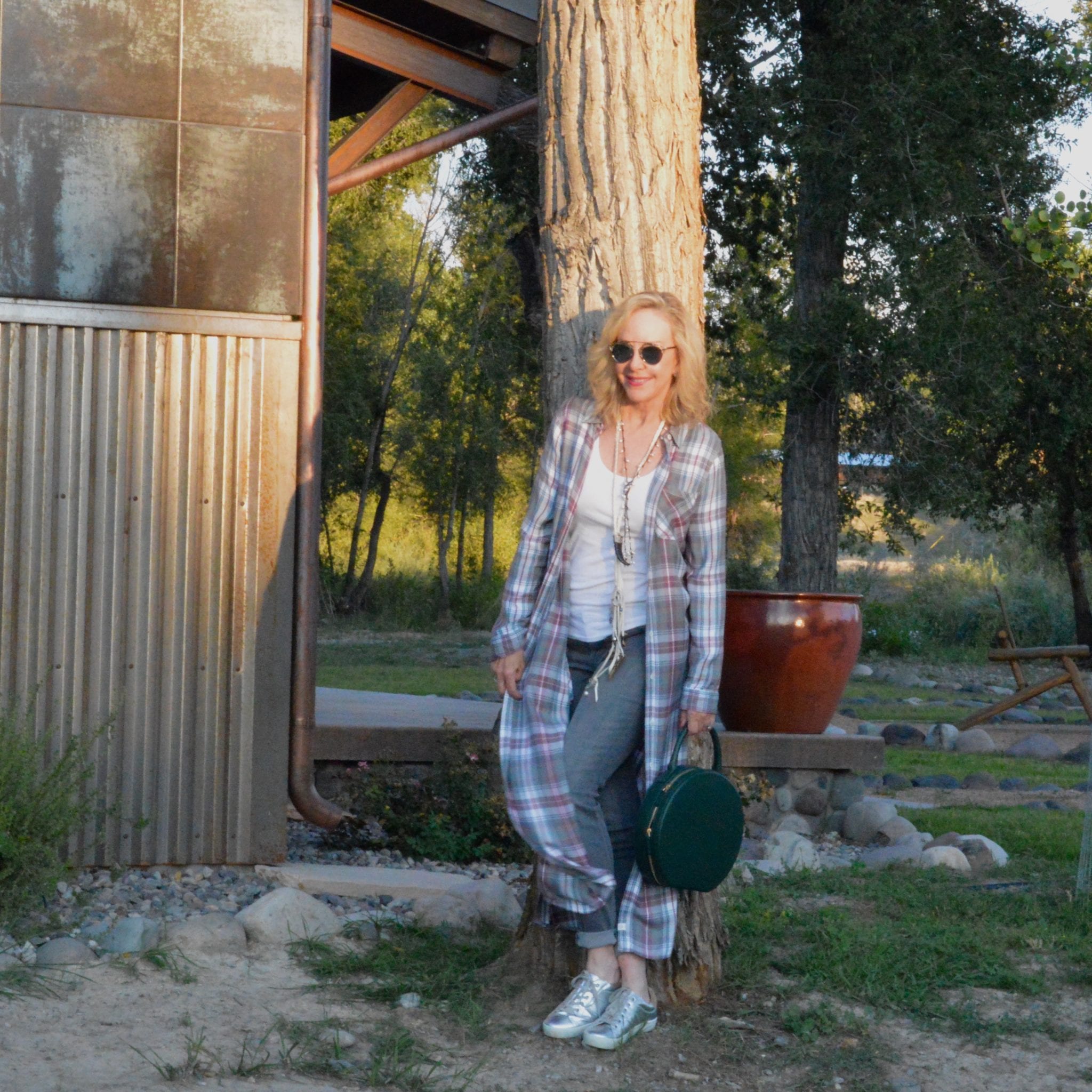 Now that we know the trending colors, we can now see how they play forward with styles.
Here are SheShe's Interpretation of 20 top Trends for Fall. (click on each trend for inspo)
Fall Florals…..Toppers/Dusters…..Boho…..Classic Shirts…..Metallics…..Ruffles…..
Block heels…..cross body bag…..wrap skirts and skirts that move…..Chokers
The new bomber jacket…..Laced up details…..Bell sleeves…..Embellished jeans.….
Off the shoulder…..Menswear inspired…..Statement furs…..Bags with cult appeal, graphics…..
Velvet everything: Booties….sneakers.….jackets….Embellished guitar straps (for handbags)….Caplet furs, also here ….
SHOP MY LOOK
If you look at the colors in my look today, you will see 3 of the Pantone colors played out in the topper, jeans, handbag and sneakers. I have always had this uncanny way of choosing the trending colors before they are even laid out to the fashion community. I purchased the jeans and topper at the end of July during the Nordstrom Anniversary sale. I can't explain that at all other than fashion is in my DNA. Also, even though Pantone gives us this color guideline, there are many colors that are still trending. The color that I see the most but is not on the list is in the burgundy/wine family. Unfortunately this tunic just sold out, but I have linked a similar one for you.
Plaid maxi tunic  | Grey jeans, also here | Joie silver sneakers | Mansur Gavriel circle bag, this color sold out but other colors here, here and here | White T Shirt, also here | Dior So Real sunglasses | Leather braided necklace by Kelly Kathleen, similar here and here |

SHESHE'S TIDBITS
I think we might get some much loved 80 degree weather this week. We will be soooo happy!!! Here come the booties!!
I am going to start a series of blog posts once a month called Wednesday Woman Crush. I have met some amazing women in recent months that are over 50 years old and I can't wait to introduce them to you!!! With over 50 years under their belt, they are sure to share some great stories with us.
I need your help……I have recently been informed that it is hard to leave a comment on the blog. Please try to leave me a comment. If you are unable to I would so appreciate it if you would shoot me a quick email at shereefrede@gmail.com and explain to me what happens when you attempt to leave the comment. Some of you have no problem but some of you cannot make it work. I am frustrated because we really don't know what or how to fix it when it is only happening to a select few. Thank you!!
Tennessee plays Florida at Neyland stadium in Knoxville tomorrow. Vol Nation is very nervous. I would love to know what teams you follow. I LOVE college football. I guess that is because my dad was a football coach during my young life. I was raised on a football field. Norman loves that I can talk football!!!
As always, thank you for stopping by for the visit and have a GREAT WEEKEND!!
I have been going to Telluride, CO. for about 25 years and have stayed at several different places, but this time we stayed at the Madeline Hotel & Residences in the heart of Mountain Village which is a short drive out of town or a scenic gondola ride from the town of Telluride. Are you shopping for a place to stay this winter or next summer for your ski or summer vacation?
Only a very few years old, we heard about Madeline through a good friend who was the manager there for a few years. He is no longer there but we wanted to try it out. After all it is one of 2 hotels in the area with a full service spa and 24 hour room service!! Yes!!!!!
From the moment we drive under the porter cache and checked in and until we checked out at the end of our stay, we were treated like a family member. Even though it is not considered a boutique hotel, it still has that bed and breakfast feel but with the amenities of a 5 Star hotel.
In the heart of mountain village this location is perfect. Walking distance to the gondola, ski in and ski out with slope side ski valet service, several restaurants, ice cream shop, a Starbucks as well as the Telluride Coffee Co, Telluride Sports, outdoor adventure companies, boutiques and more only steps from the hotel.
Our very spacious room over looked the commons area that is the town center for Mountain Village. Check out the luxury accommodations. They have festivals, events and activities happening here all summer. There is another play area where all kinds of recreational activities are available for children and adult play as well as a fun hill where kids can have a blast rolling down. This is definitely the best place for a family vacation, equally as fun in the summer as in the winter. Even though I am an accomplished skier, I actually love summers in Colorado the best!!! Hiking, biking, rafting and fly fishing are my favorite outdoor summer recreations.
If you are looking to invest in a mountain retreat and love the luxury of a multi service home then Madeline's M CLUB is "most sought after multi-million-dollar, family-friendly, mountain-side living room…yours to enjoy year-round."  Recently released fully furnished residences in February 2015 are located across from the hotel, therefore having access to all of the Madeline luxury amenities. I will say owning a free standing second home is a lot of responsibility….we know….but owning a property at Madeline Residences gives you 5 star service and that lock and leave freedom leaving the maintenance to someone else!!! A princess kind of lifestyle!! YESSS!!!!
MOUNTAIN VILLAGE founded in 1995 was inspired by the European mountain villages with their architectural accents and sits at 9500 ft in elevation. Now with around 1,300 residents owning condominiums, residential homes, and mansions and lots of opportunity to develop your own little piece of mountain heaven.
Some special sports and services offered for residents of MOUNTAIN VILLAGE are: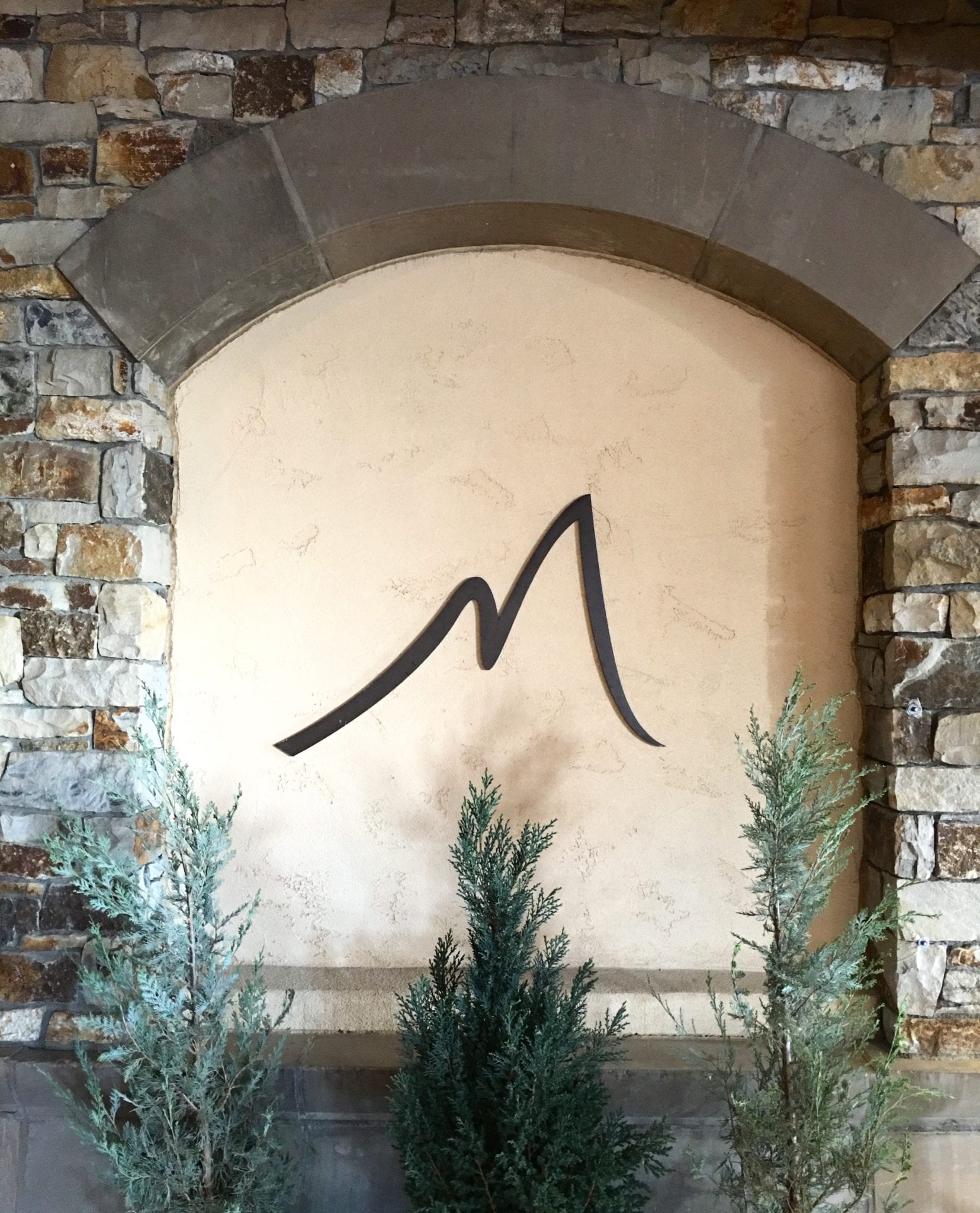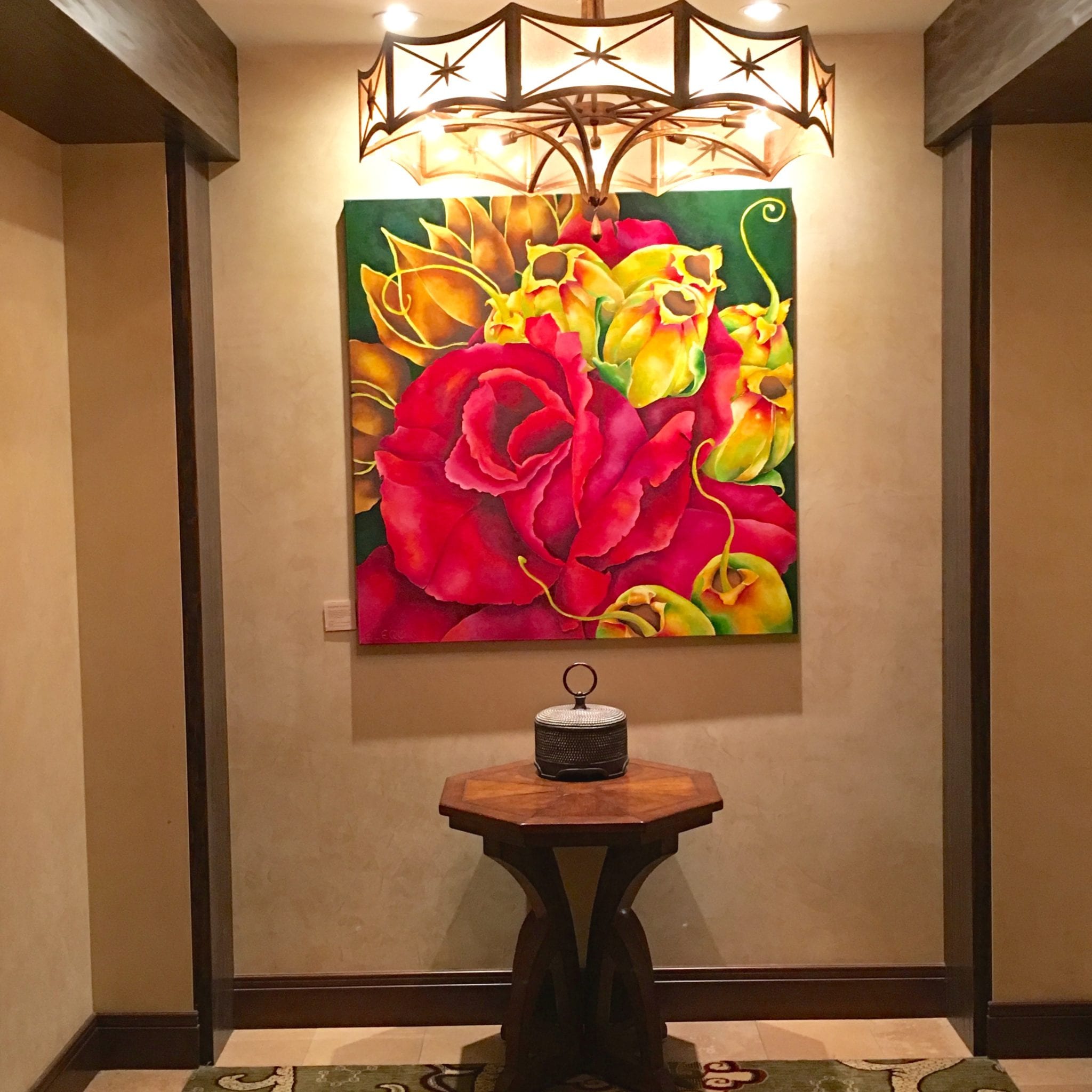 The Madeline Salon, Spa and Fitness Center in the next 5 photos. One of the only 2 full service spas in Telluride make this stay very convenient to relax and pamper. I love a great hike or a day of snow skiing and then off to the spa for a world class treatment. Also, if I need a mani/pedi or a fresh make over, then voila. Done!!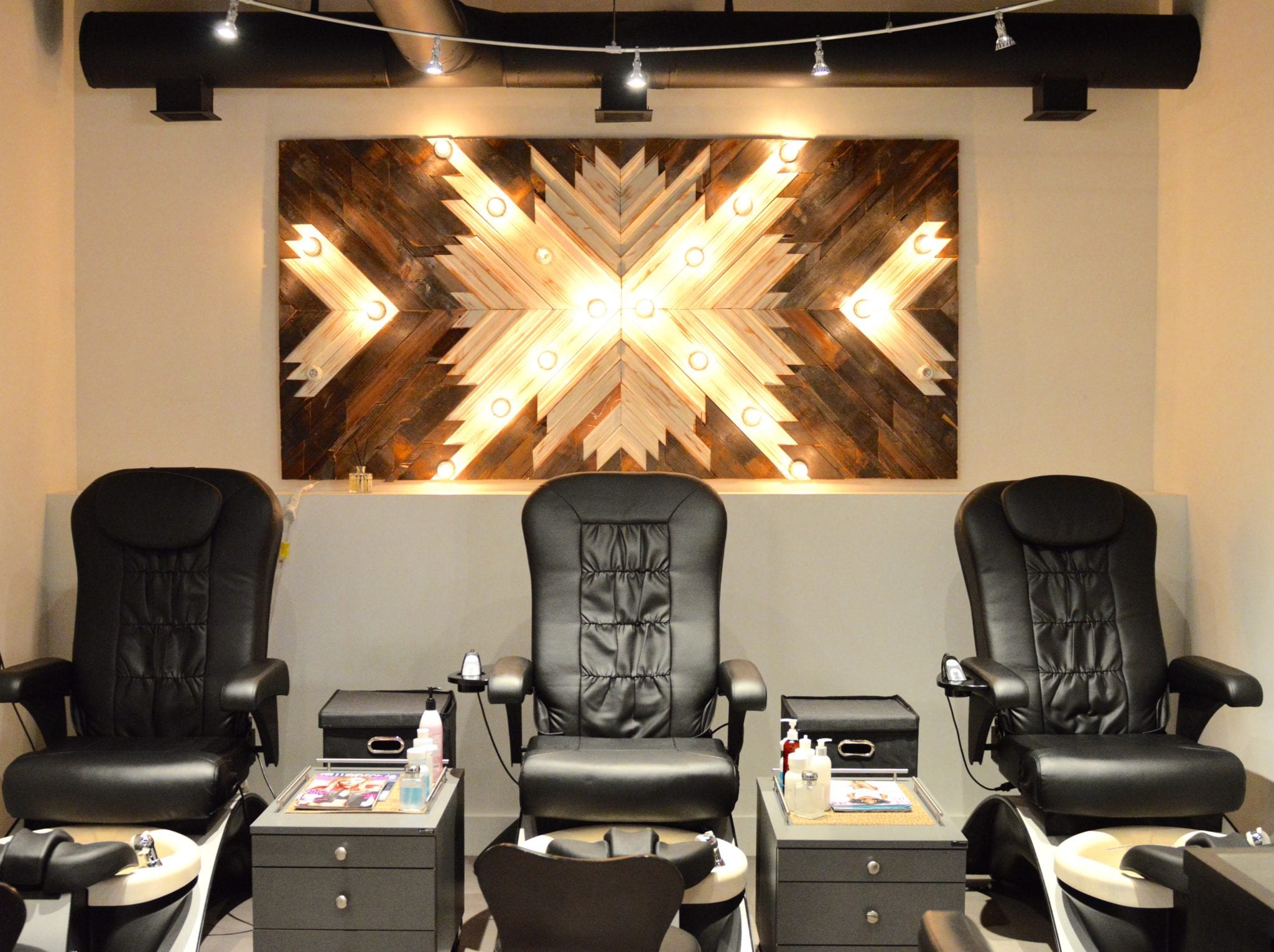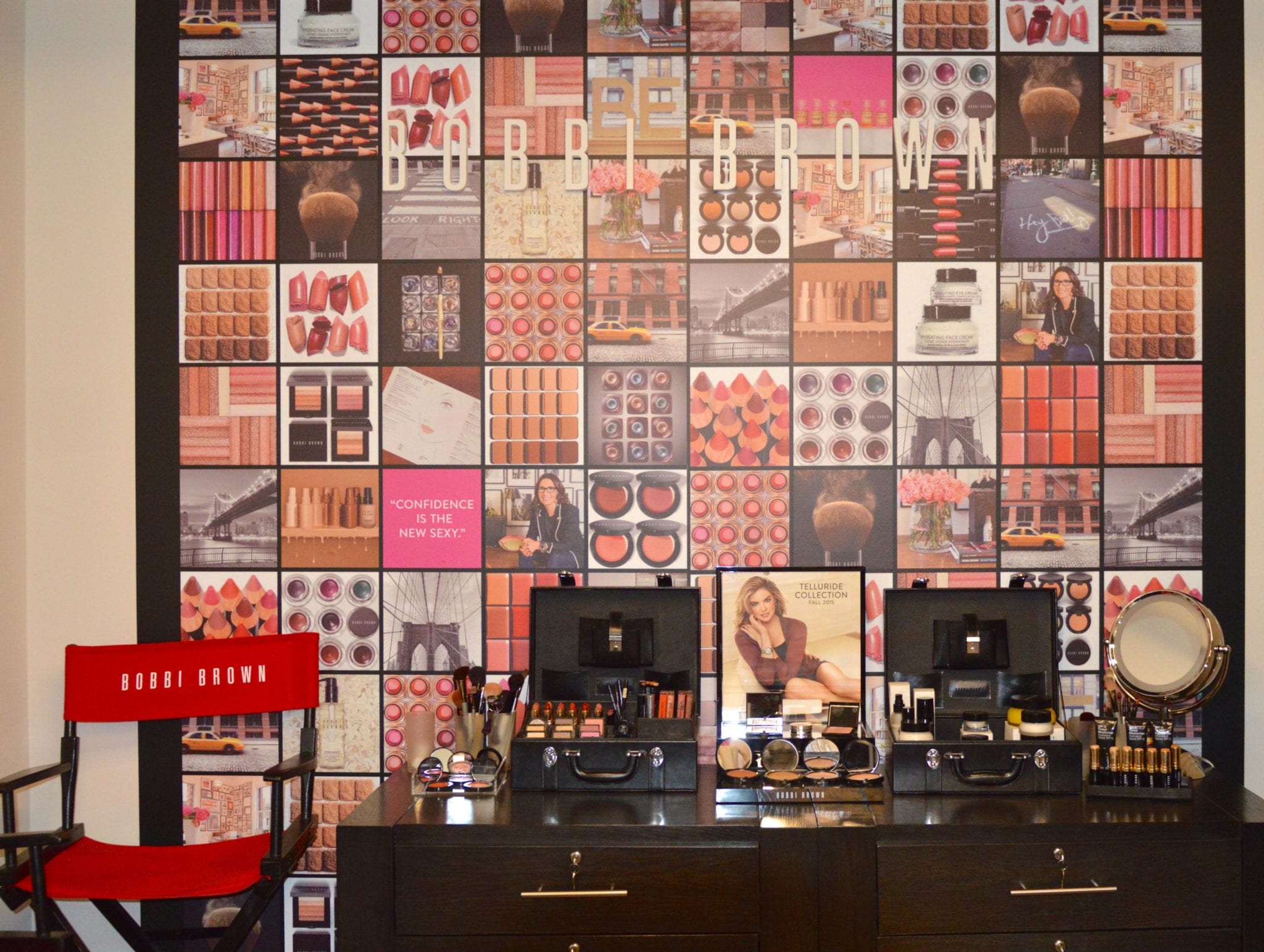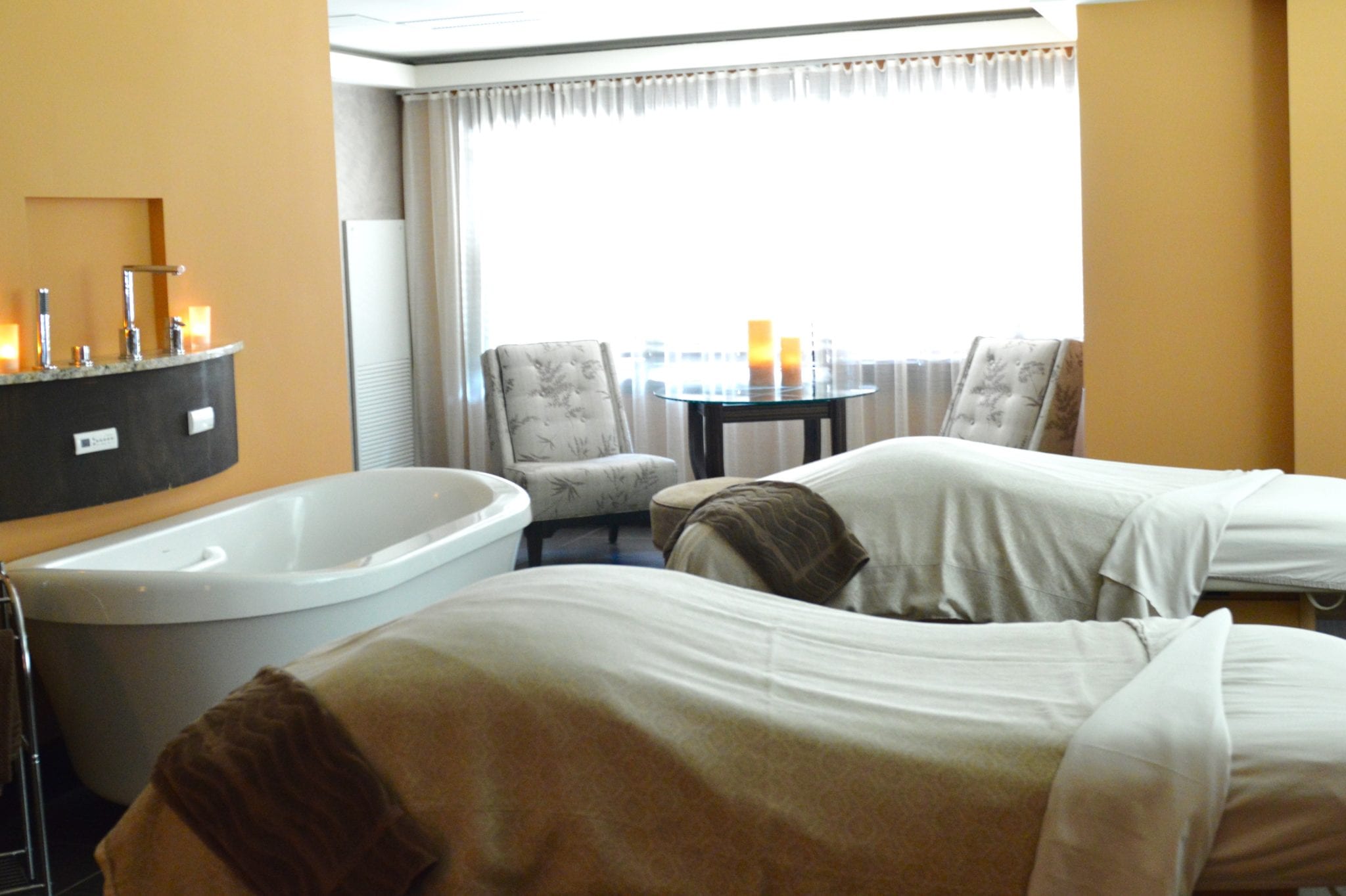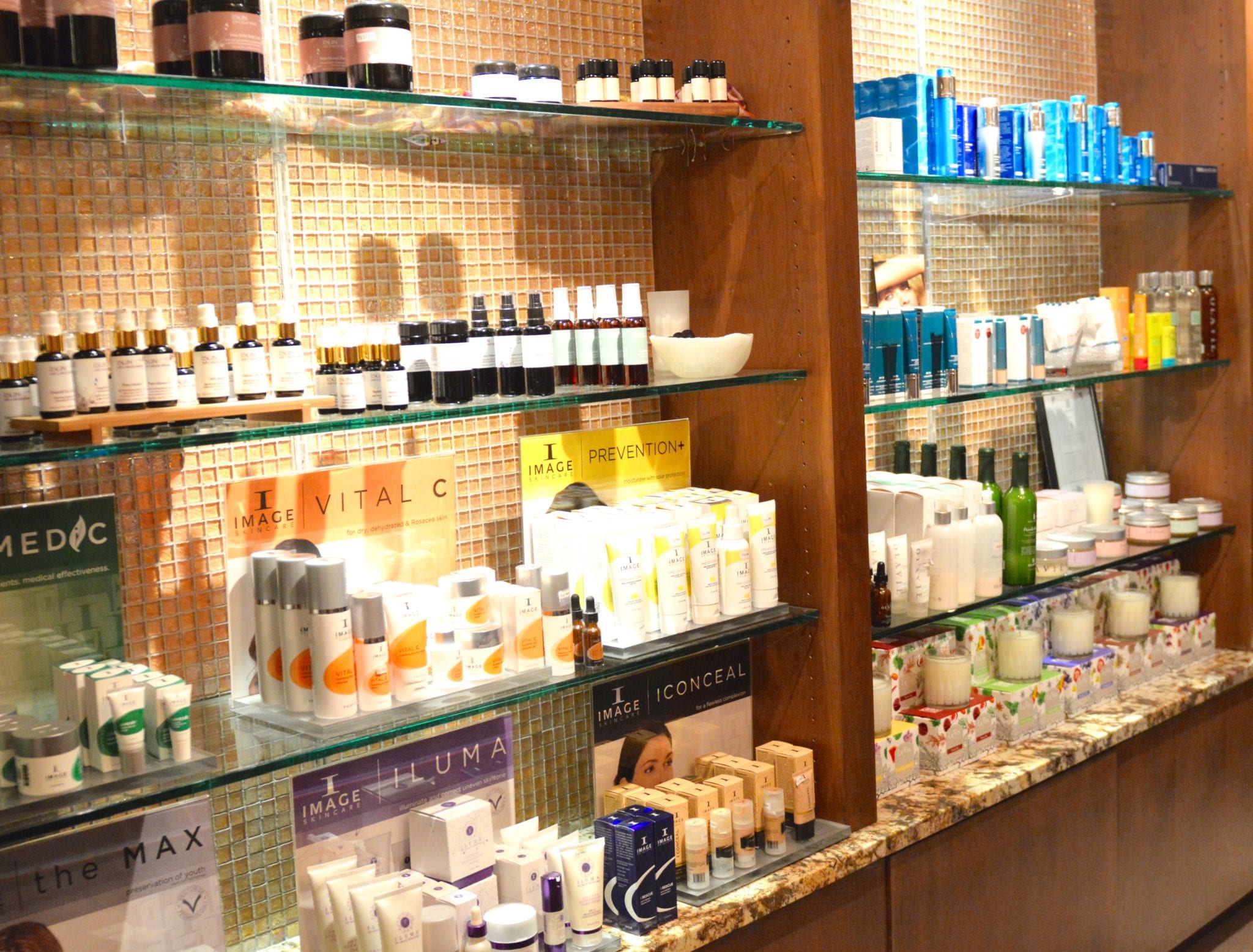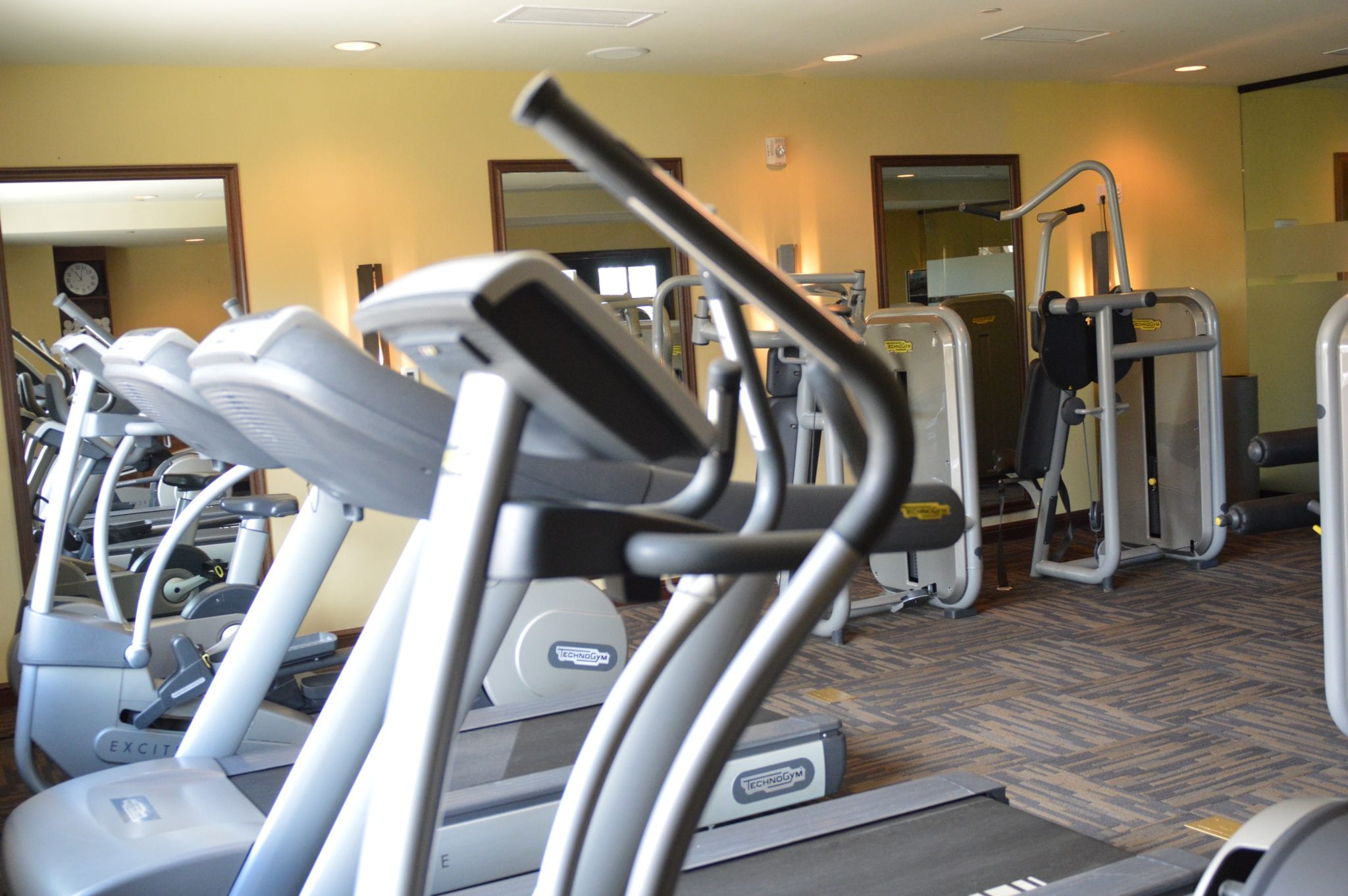 The new addition last year of the Sky Terrace (below) is my favorite spot on the property. You can surely guess why it is so special. The sunsets here are the best on the mountain. In the first photo you can see the fire pits located here. They make for a great meet and greet with the other hotel and residence guest and enjoy the cool summer mountain evenings. This why so many people come here from Texas in the summer. To escape the heat!!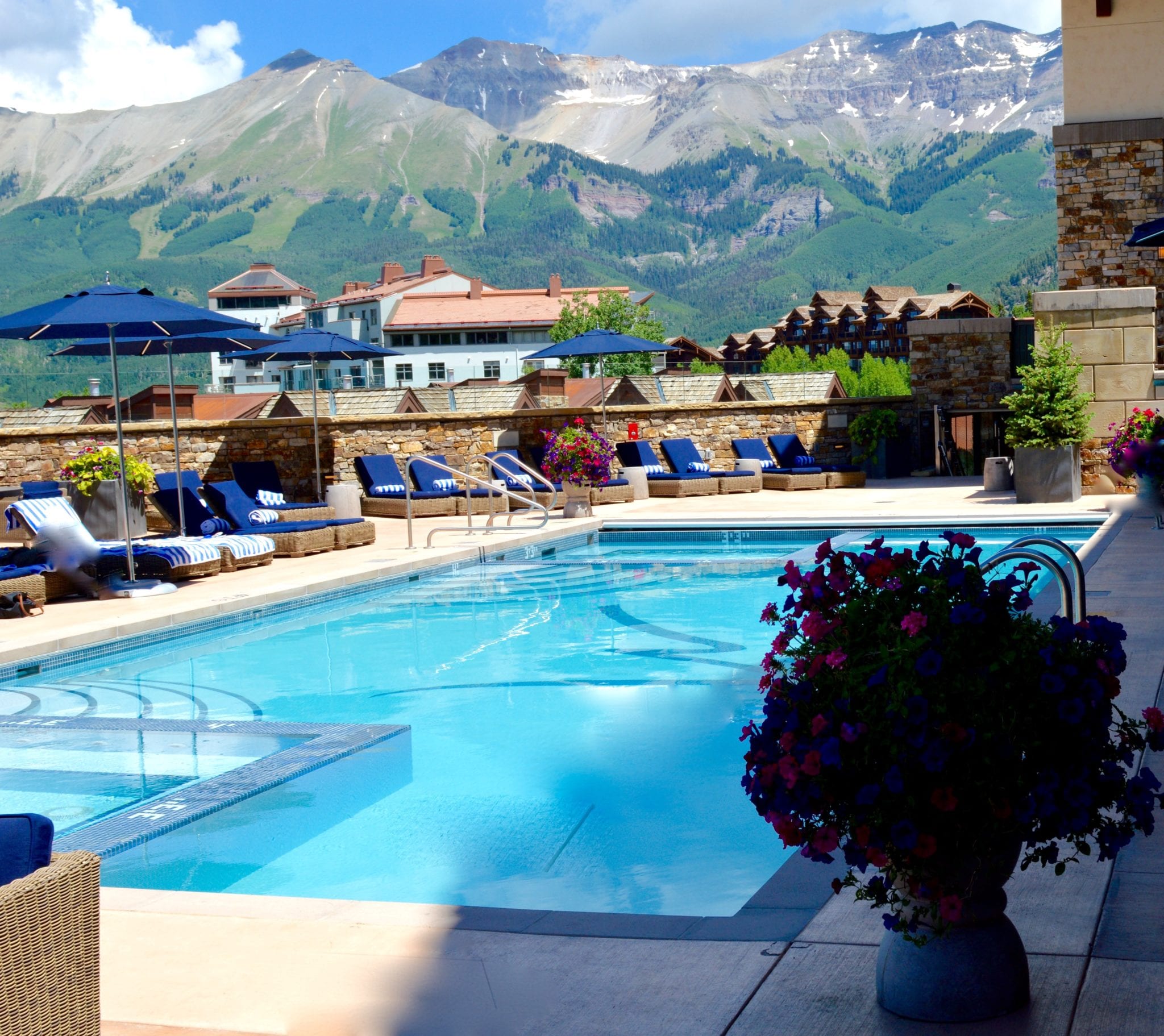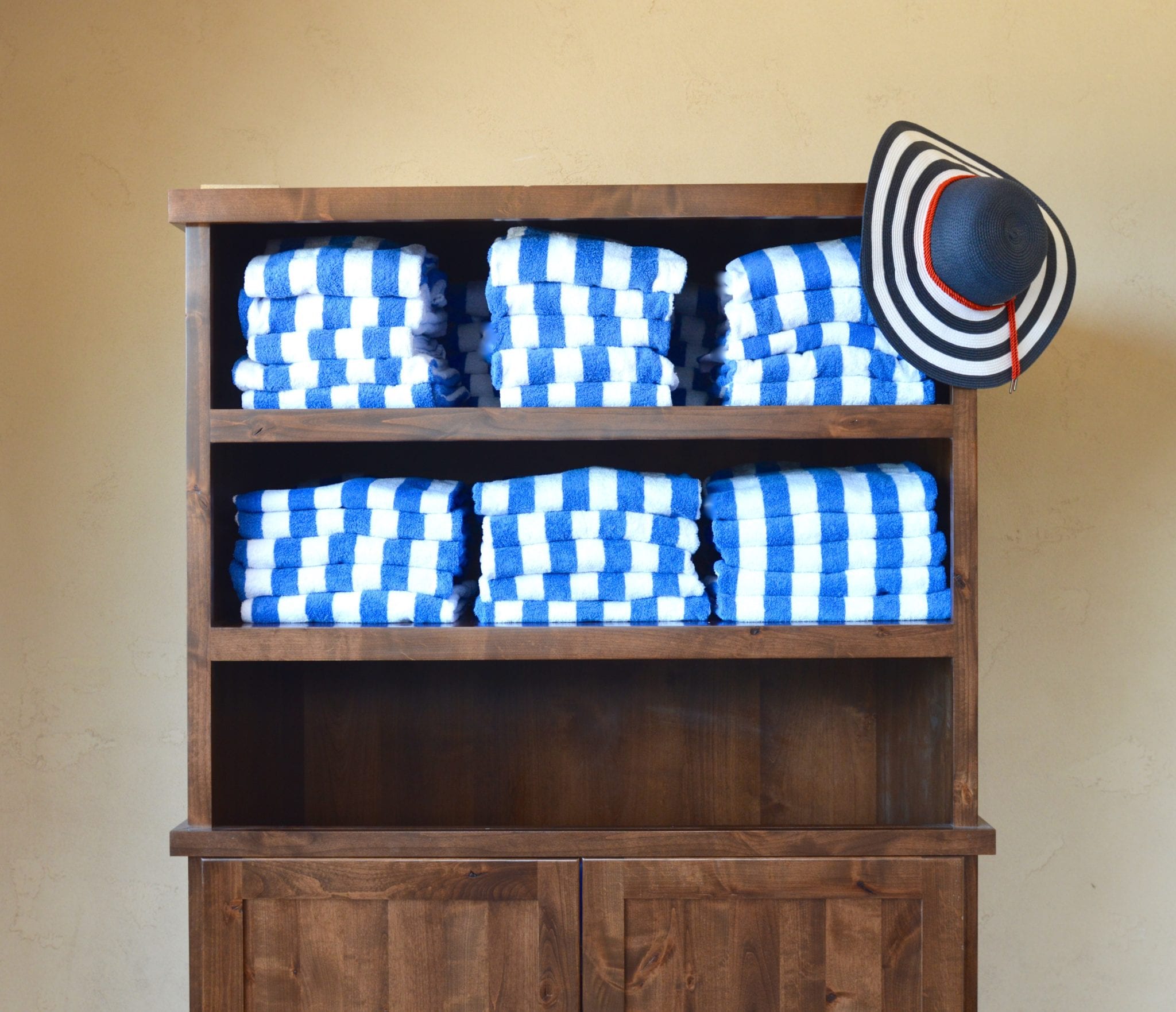 The Black Kitchen and Bar (below) is an inside outside restaurant that is part of the hotel and I might add has the best food. It overlooks the commons area making the ambiance second to none!!! We ate there on a couple of occasions where we had sliders, burgers and salads that were delicious!! Wish I could order up a little Black Iron Kitchen and Bar right now!!!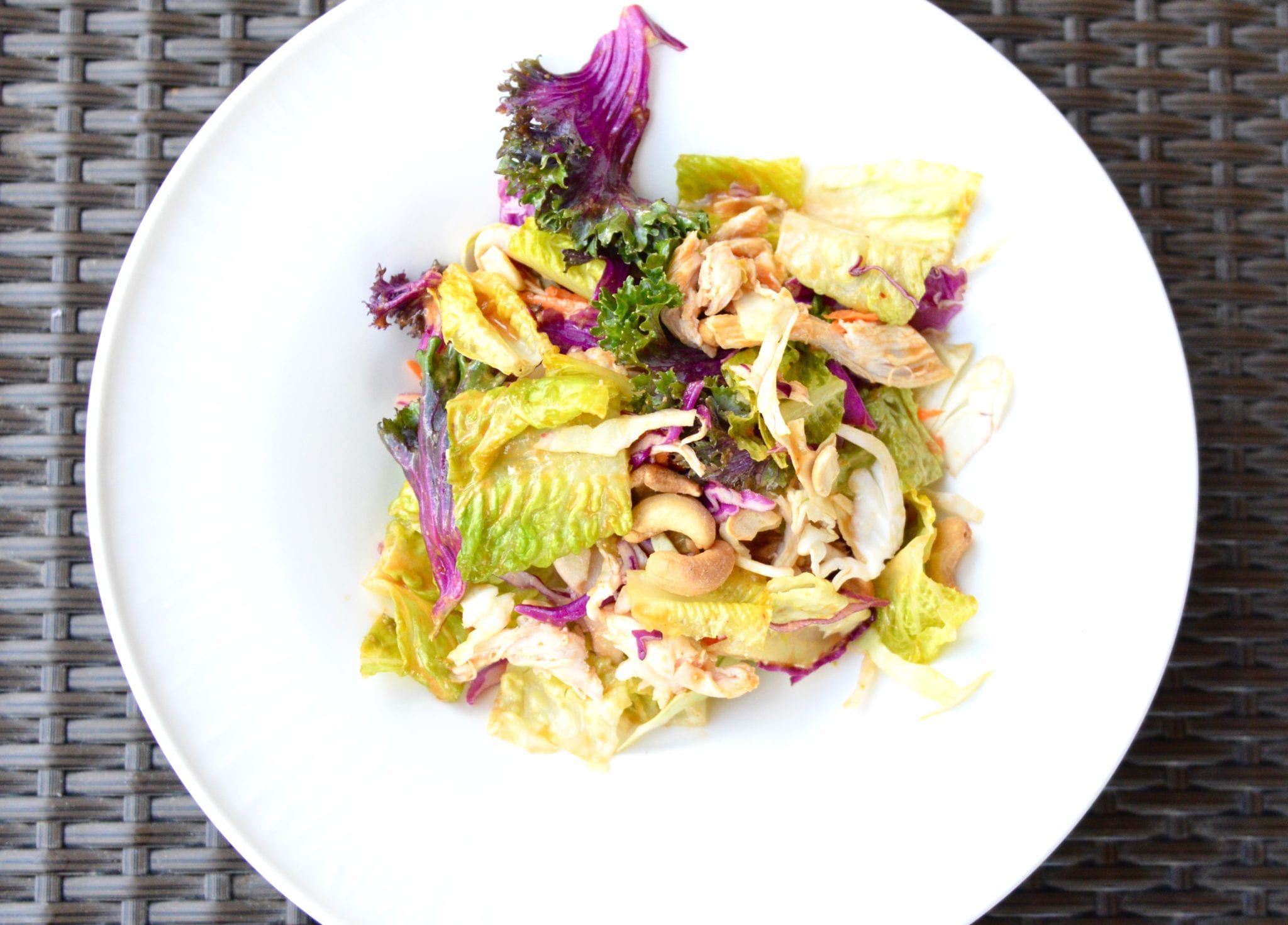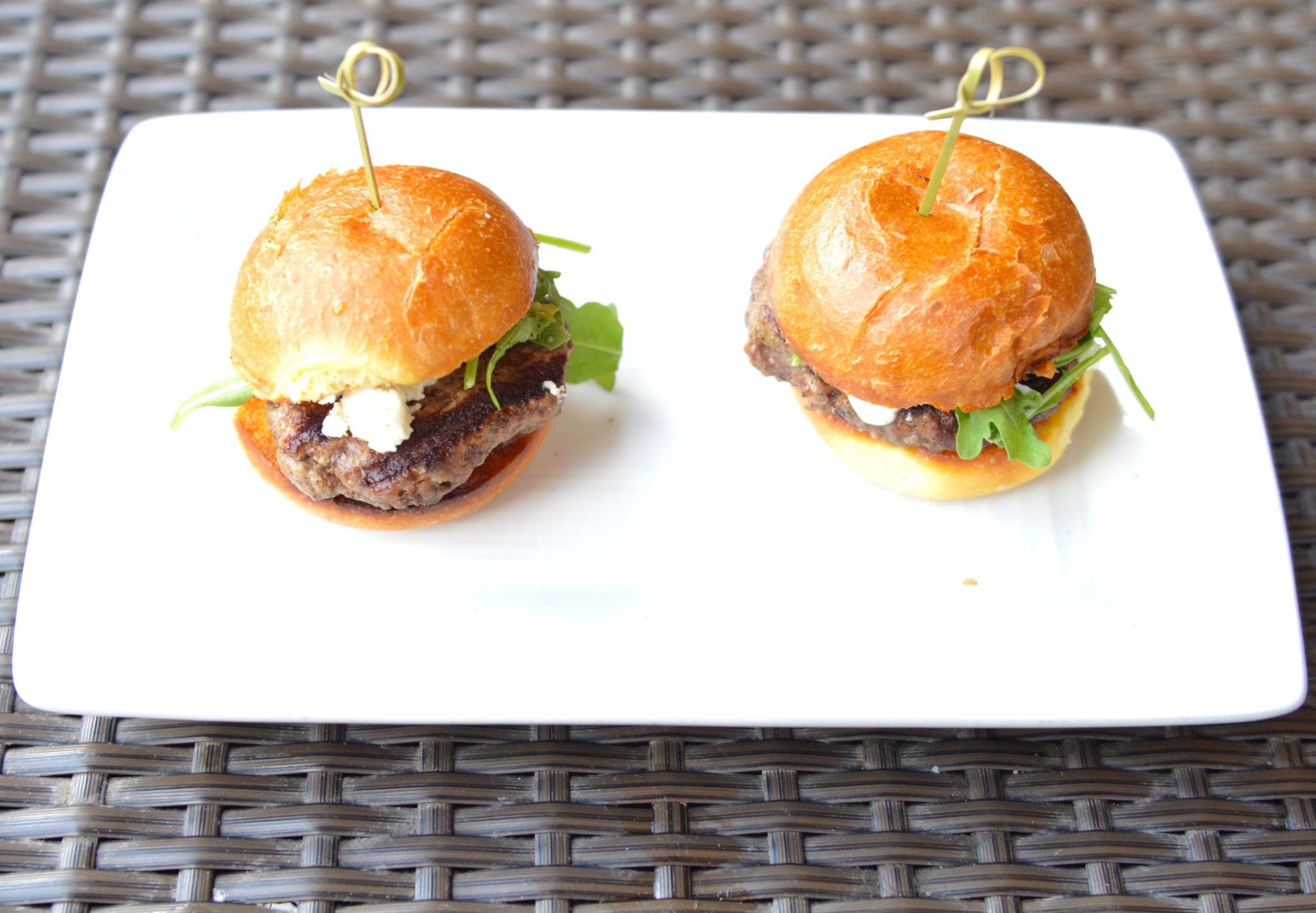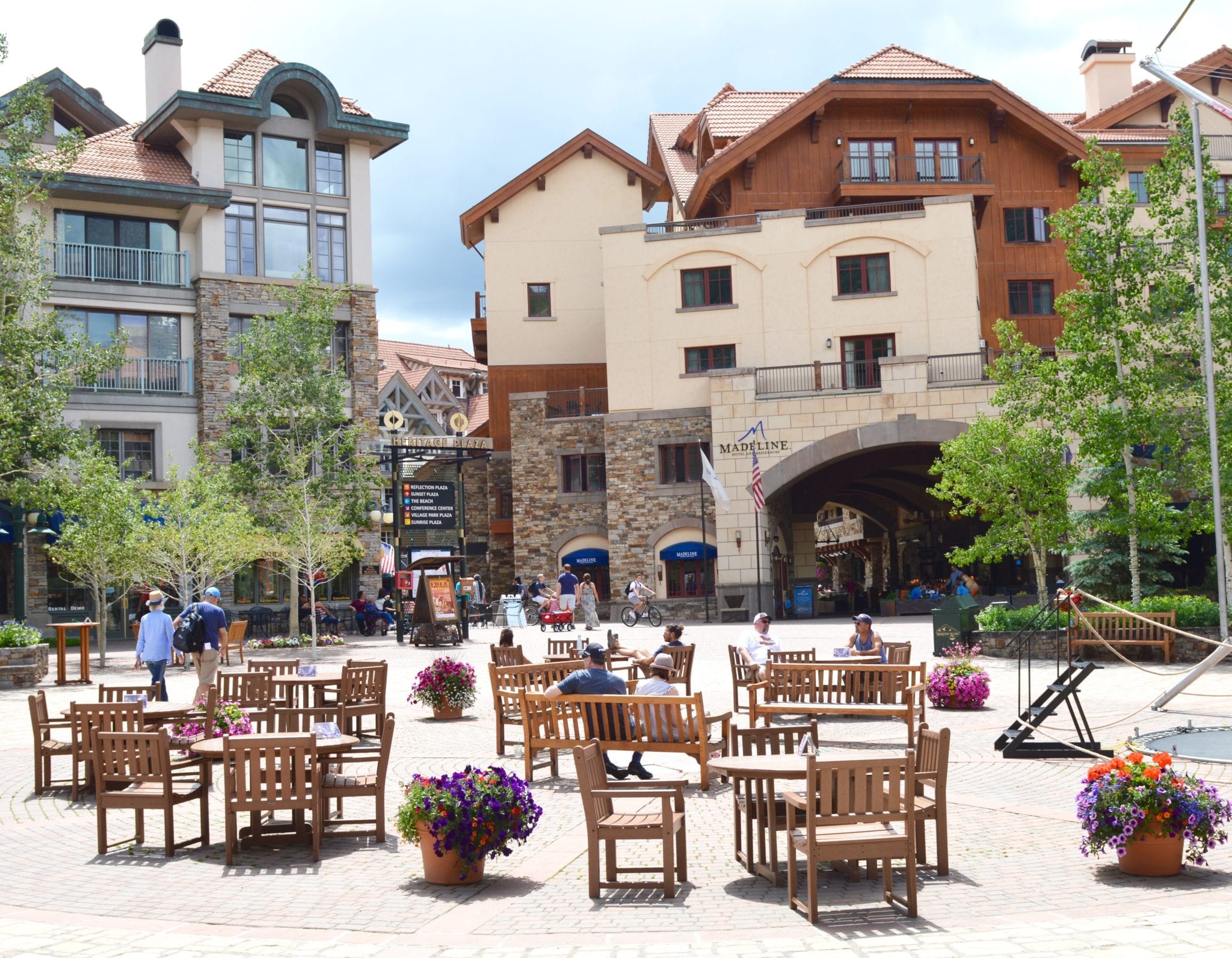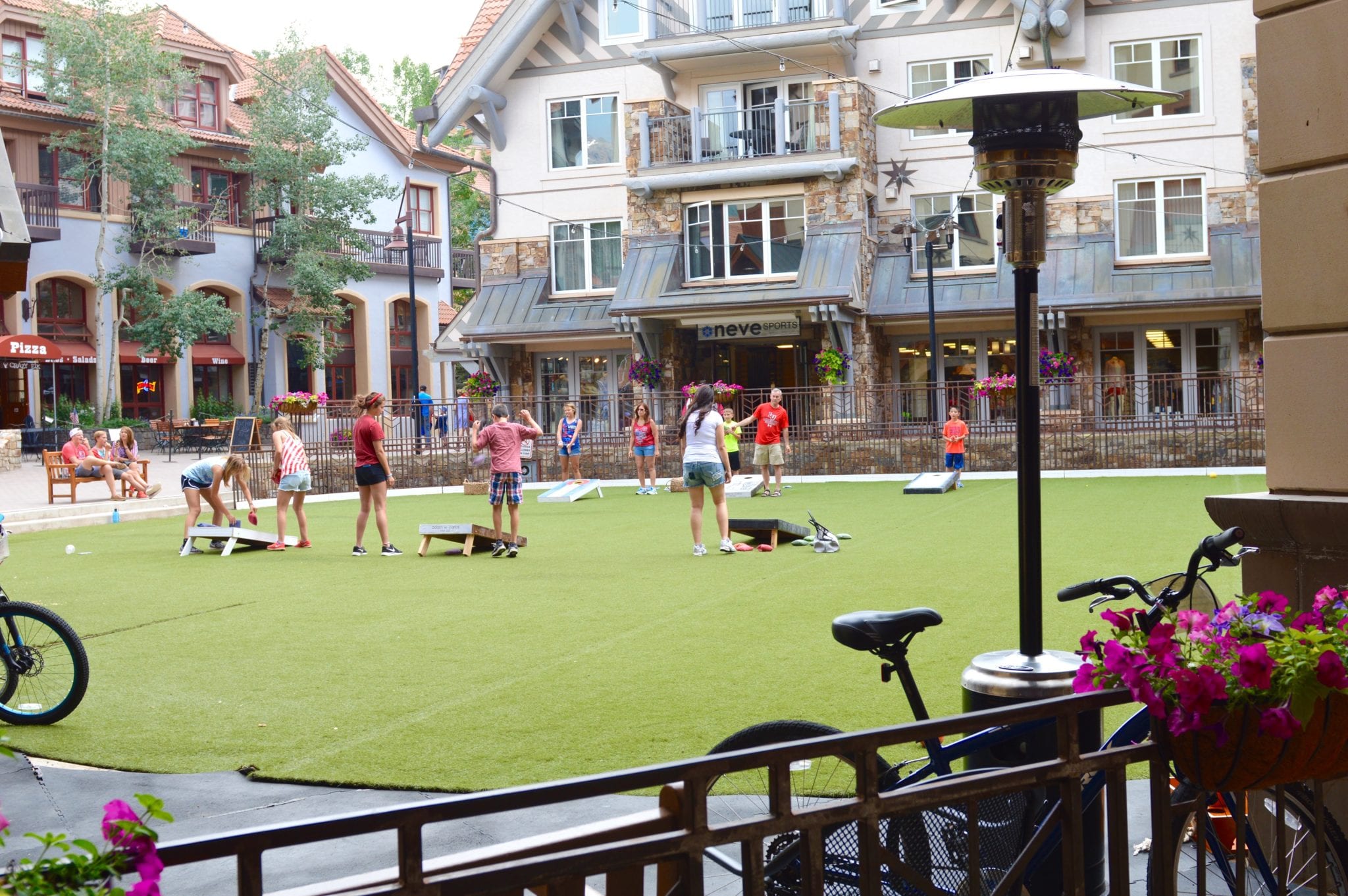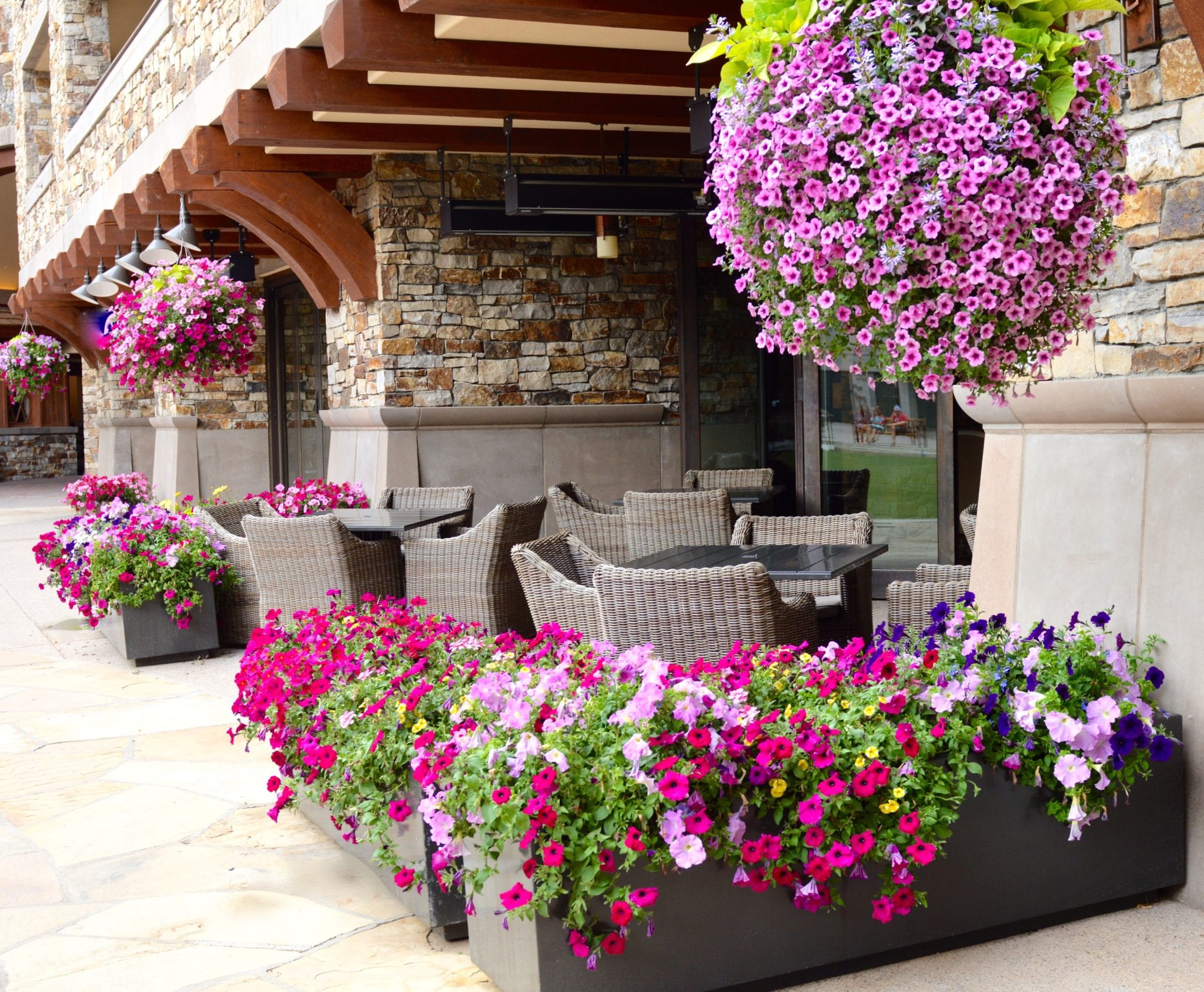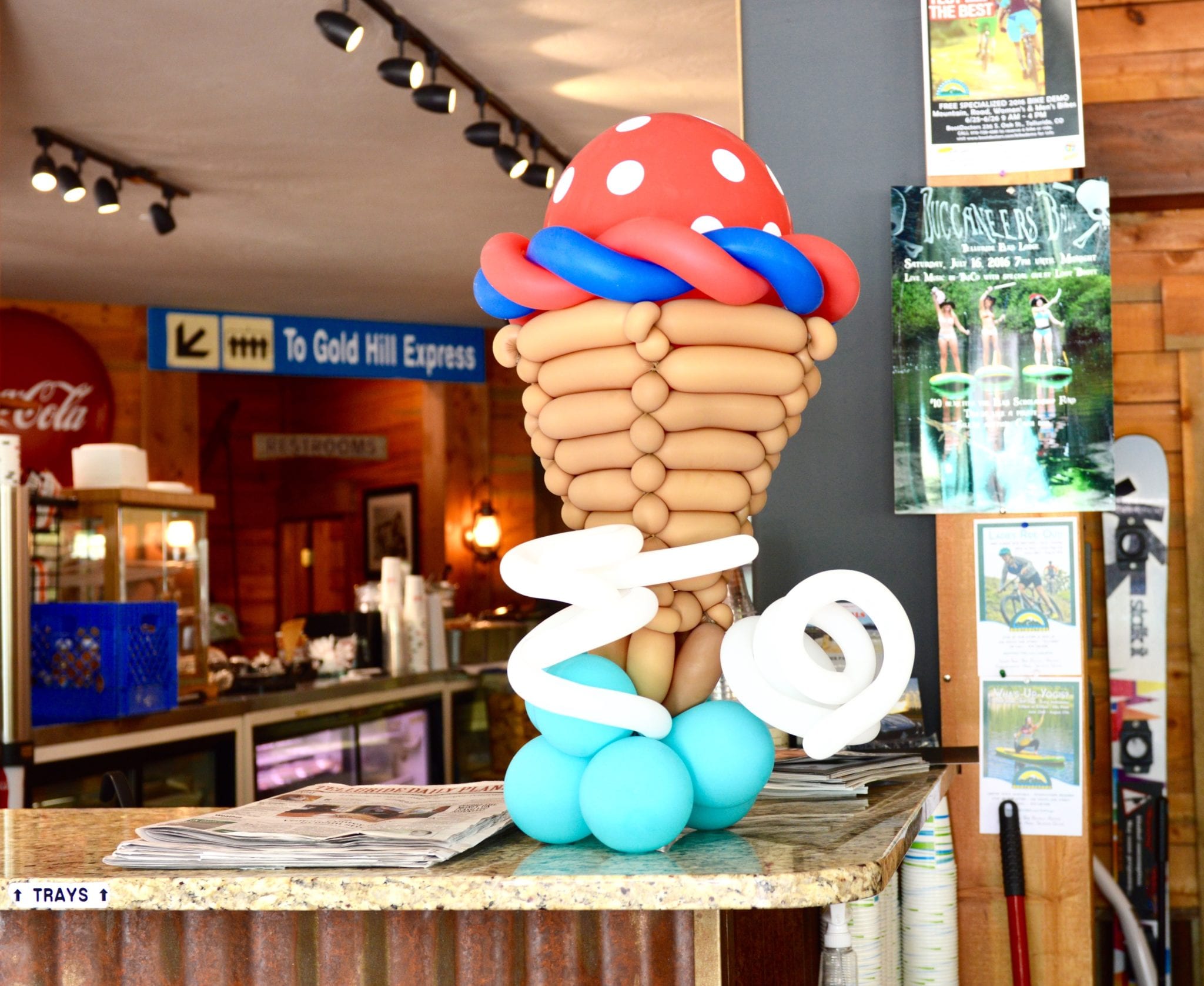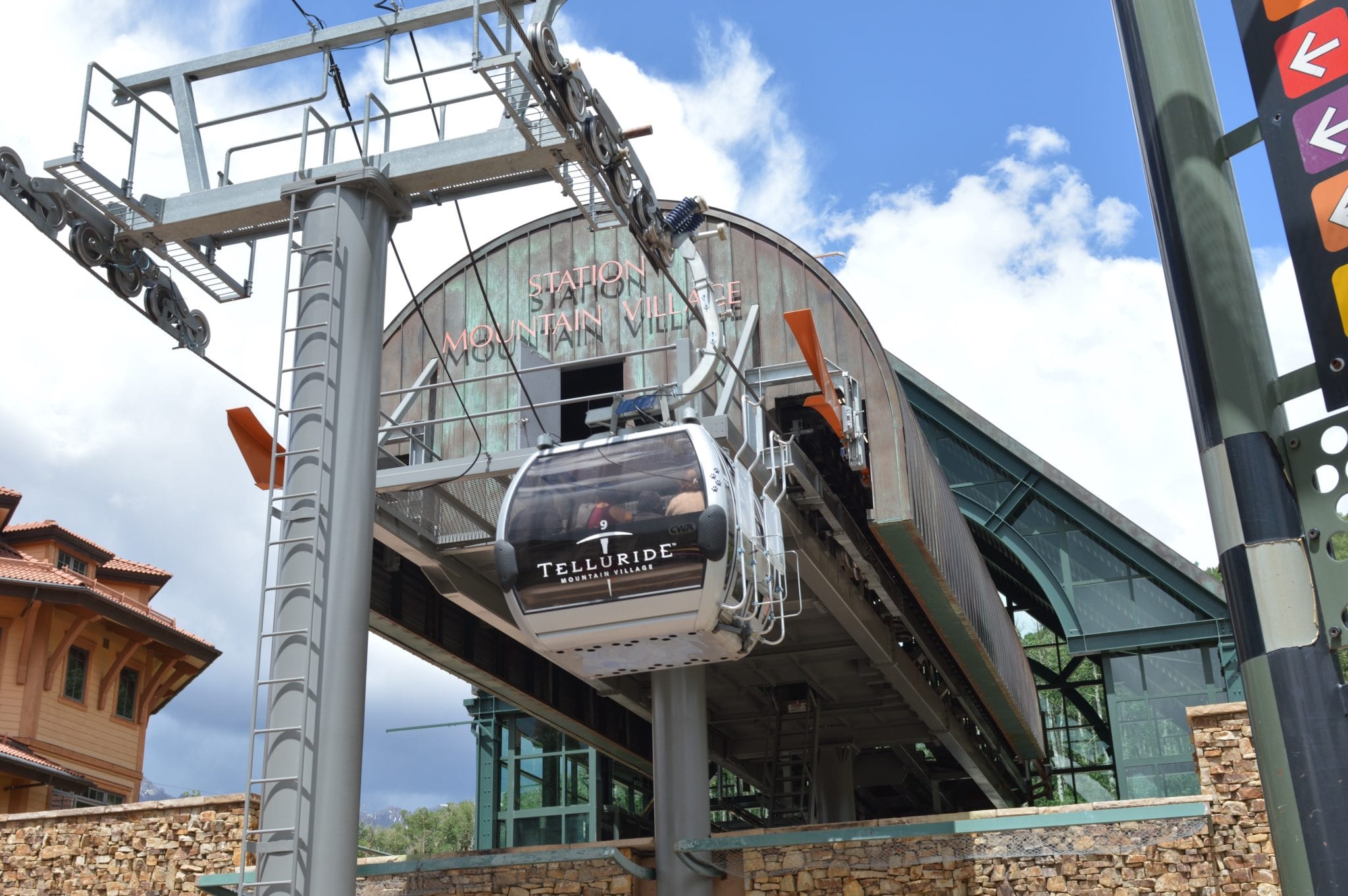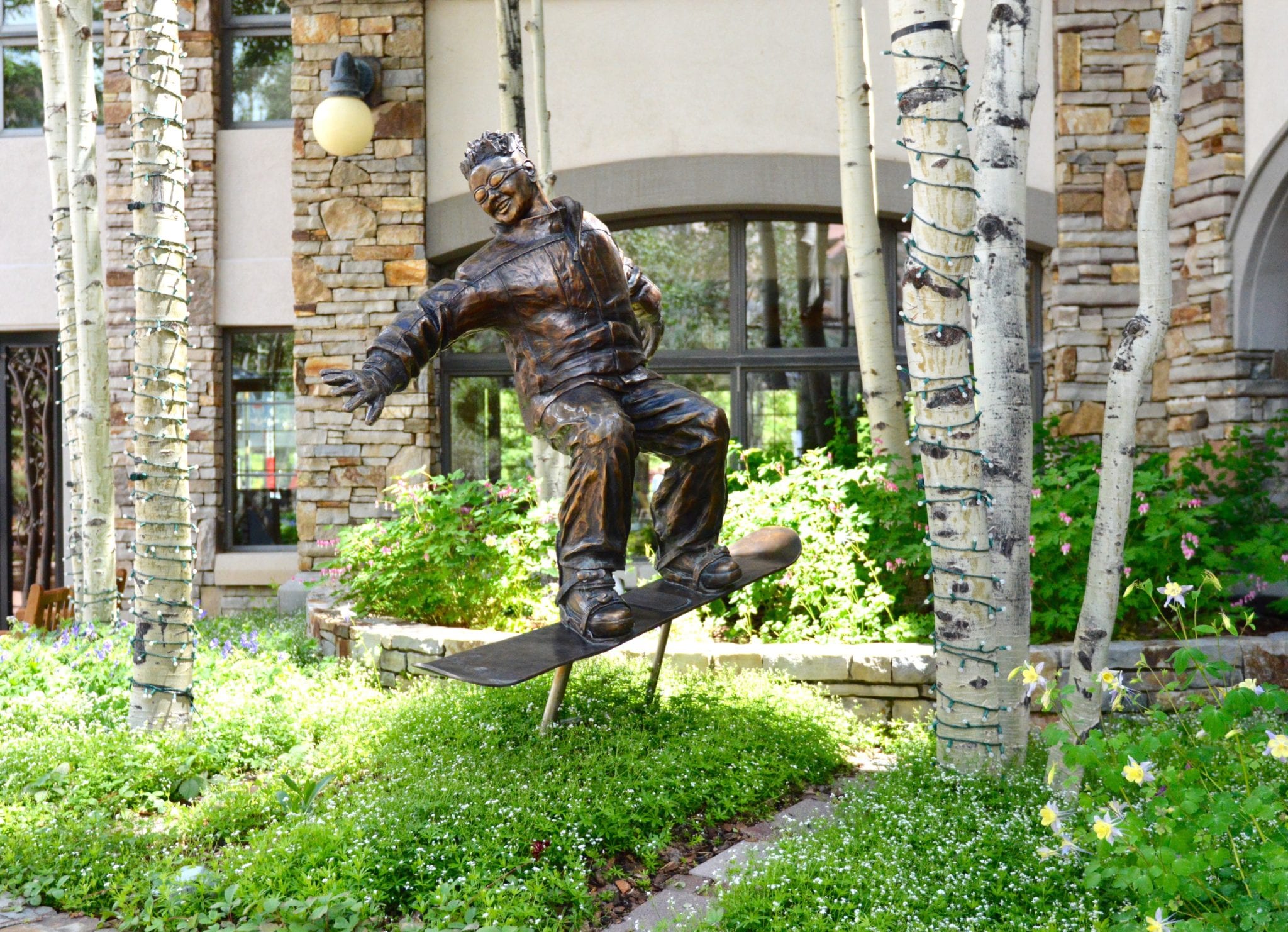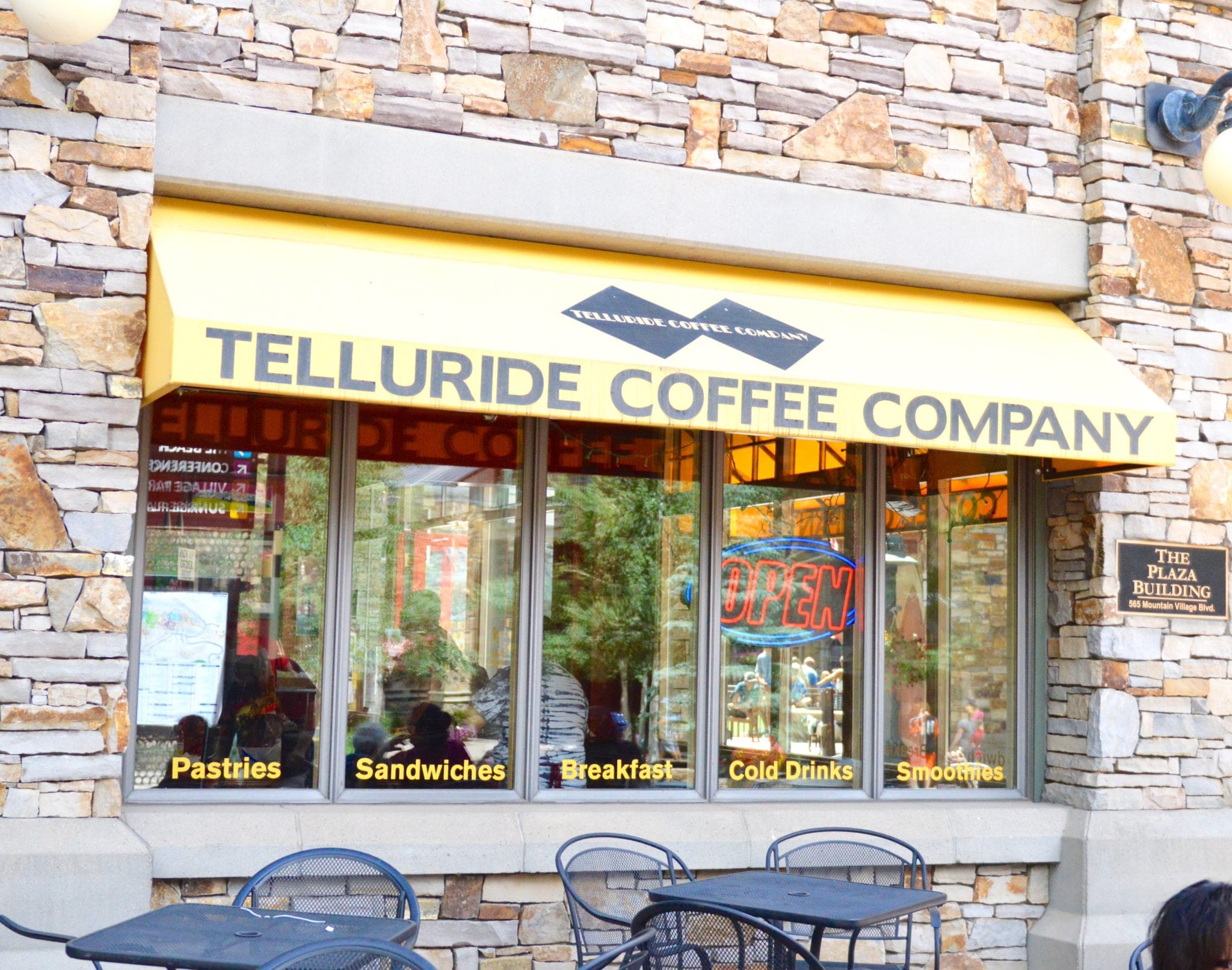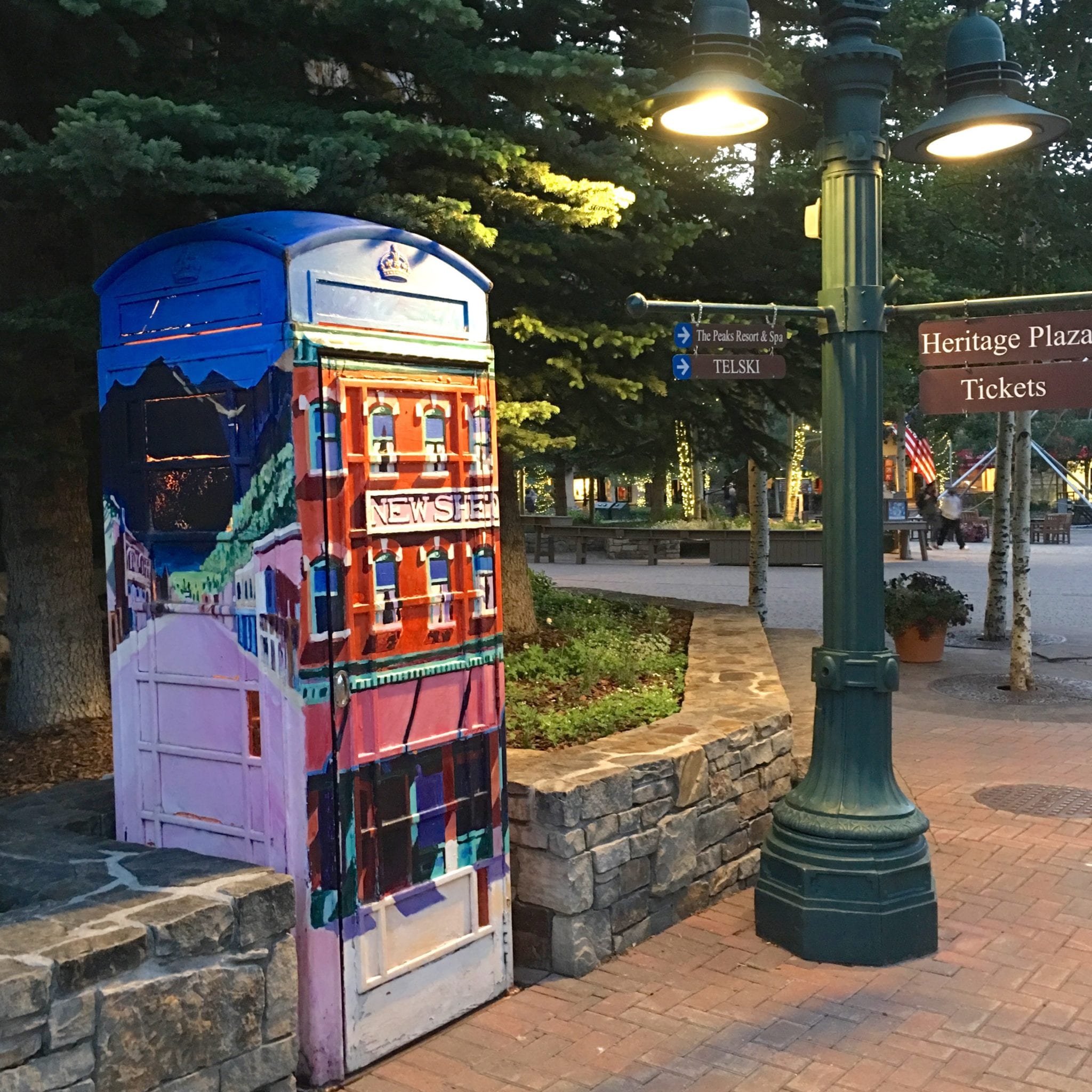 AIRLINES SERVICE: Unless you are flying to Telluride in a private plan, you will be best to book your travel in to Montrose, CO. It is a great airport with commercial non-stop flights from Houston, Dallas, Phoenix, Chicago Los Angeles (LAX), Denver, New York/Newark (EWR), New York/LaGuardia (LGA), and Atlanta (ATL) during vacation seasons provided by United Airlines, American/US Airways Airlines, Allegiant and Delta . It is about 1 hr and 20 minutes from Telluride with a beautiful drive as the bonus. Refer to our below.
AIRPORT TRANSFER to Telluride: Tellride Express, Mountain Limo, Tellurides.com, and RidethePowder.com.
RECREATION:  Visit these links here: Summer recreation,  Winter recreation
MY TRAVEL STYLE
Dress c/o Cabana Life | Rebecca Minkoff denim shoulder bag |Tibi white leather mules now 60% off | Fringe earrings, similar here and here | Thierry Lasry sunglasses c/o Eye Gallery Houston |
SHESHE'S TIDBITS
Again WELCOME new subscribers. We hope you will enjoy!! SheSheShe Show is mix of fashion, travel and lifestyle stories. Please let us know if there is a subject matter that you would love for me to cover. If I am not the expert, I have many that I can consult with to bring you the information.
Coming up soon is the Bunk Room reveal at our river ranch in Colorado. Eagle Dawn.
Thanks again for joining the adventures of our show!!!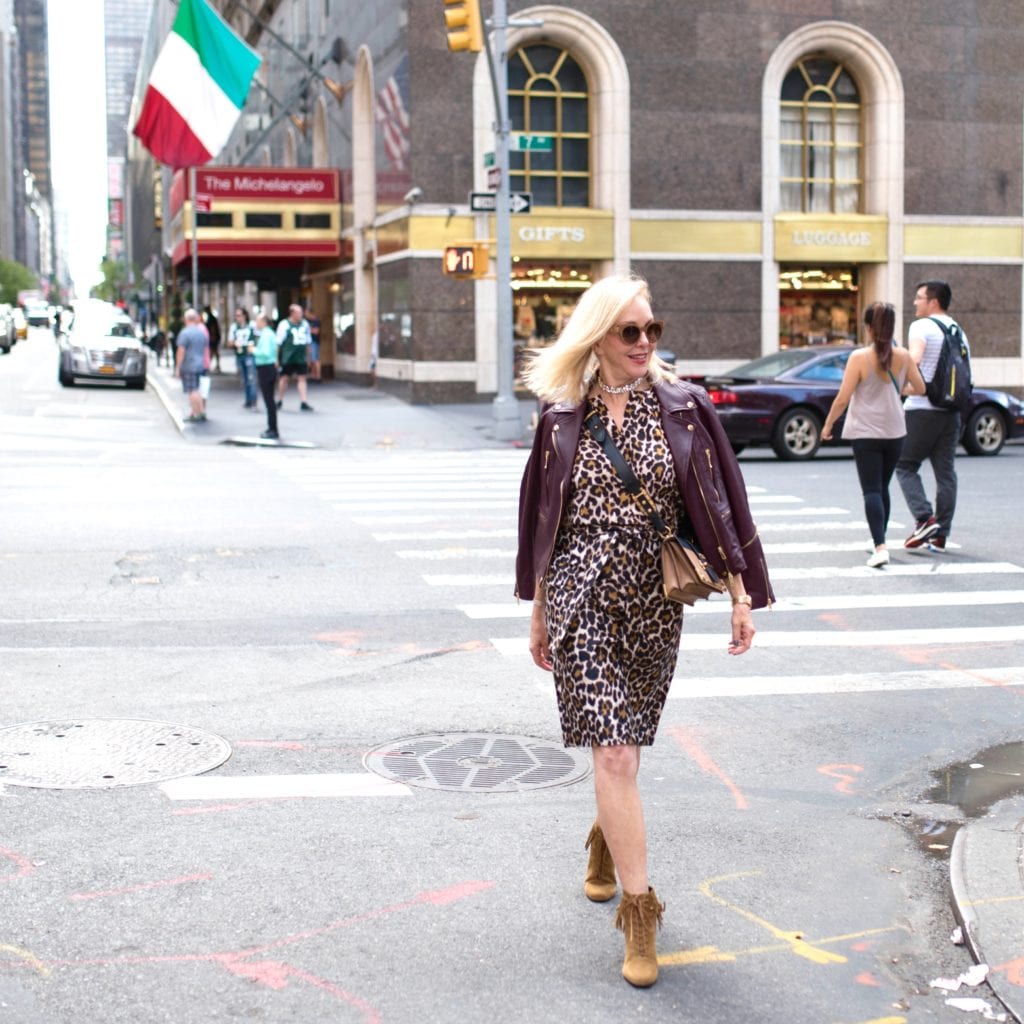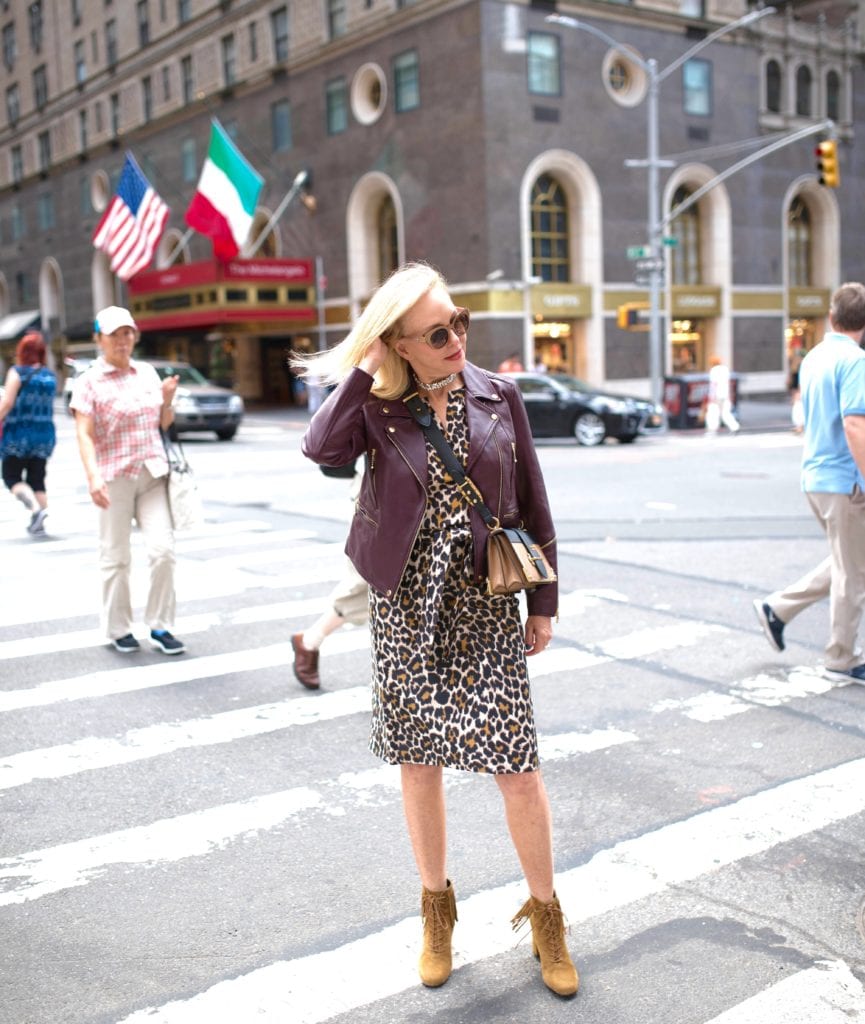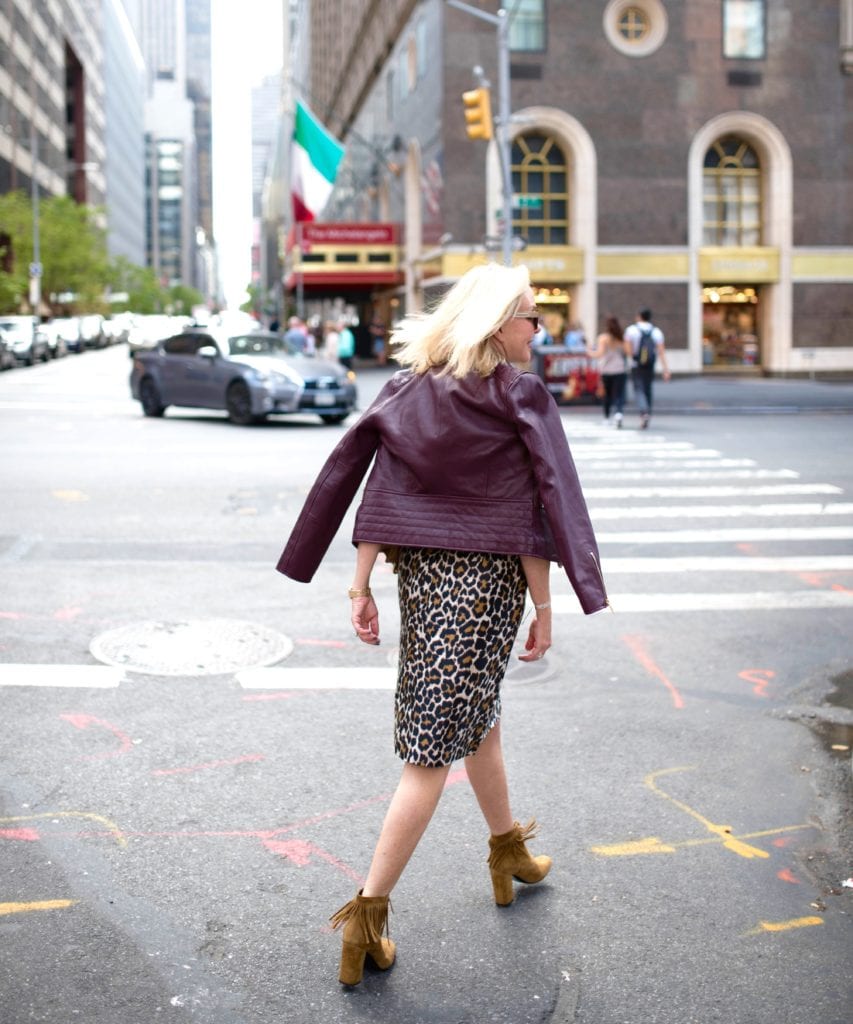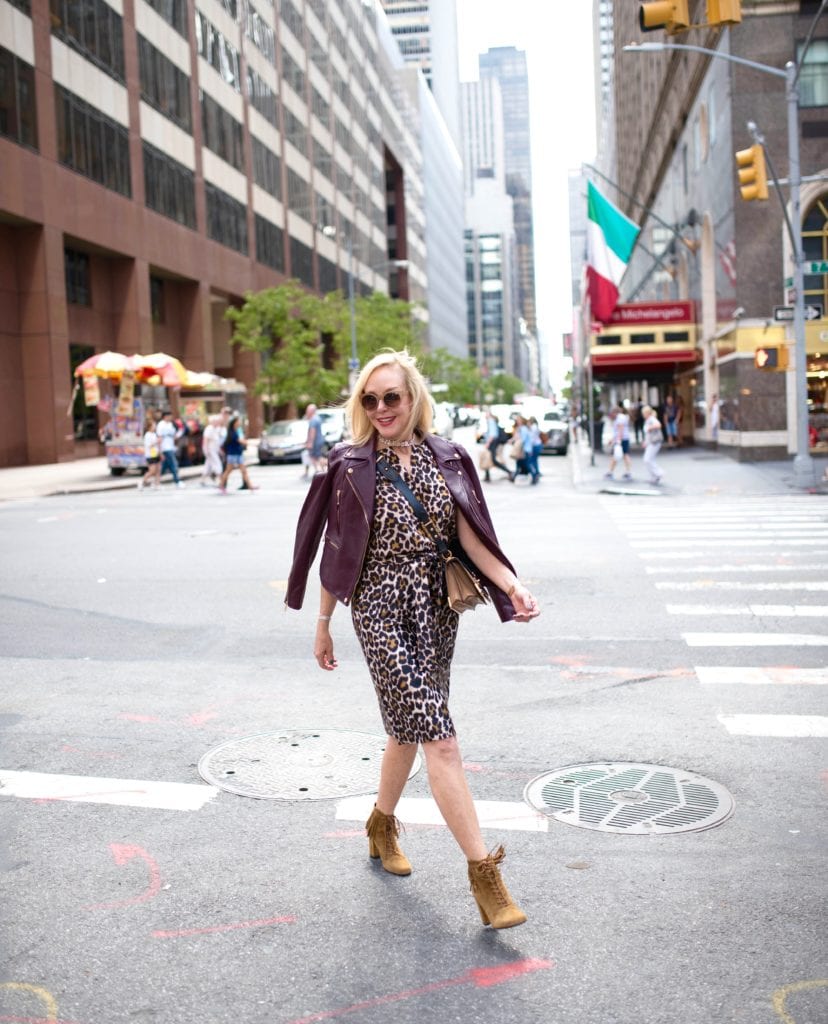 Every September buyers, bloggers, customers and editors arrive in New York city to see what the fashion designers have prepared to present on the runways and their presentations. Today I am sharing what I wore for New York Fashion Week Outfit Day 2.
Before I left for New York I was freaked out that I had packed clothes that I would be miserable in due to the hot weather forecast. I had just  purchased great fall inspired outfits to wear and that would be great for photoshoots but what to do about the hot temps?
At the last minute I ran by one of my favorite go to stores, J Crew, and found this cute leopard skirt and top that looks fall but would keep me cool while running around NY from shows to brand meetings. I love it so much that I styled it for you today. The best part about separates is that I can wear this top with jeans, black pants or a black, brown, or tan skirt. Layer the look with a leather coat as I have done here or maybe a black blazer. Everyone needs something leopard, leather and a black blazer for their fall closet basics.
Speaking of leather coats, the moto jacket is still everywhere. In additon to black we are now seeing this new trending burgundy color.
Of course I was looking for comfortable shoes to wear and I really didn't like the idea of sneakers with this outfit, so I pulled out some fringe suede booties that I purchased in early spring. They were the right choice because they gave me the comfort that I was looking for and yet elevated the look to another level. There are so many shoe or boot choices that would work with this outfit and don't be afraid to use a pop of color such as a red pump. I love red with leopard!!.
The cross body handbag is getting a new look this season. Prada showed their bags on the runway for fall a little shorter where it rests on the top of the hip.
The choker necklace is a must if: You have a good neck or If you don't like your neck then get a choker that is a little wider. Don't wear a choker if you have short full neck. It will only make your neck look shorter and bigger. If you fall into those categories then don't fret, there are a lot of options to accessorize. I need to do an accessory blog I think?????
Large Huge sunglasses everywhere. They almost make us look like Atom Ant. Do any of you remember Atom Ant? I have been wearing them, but it has taken a little getting used to. Now I love them!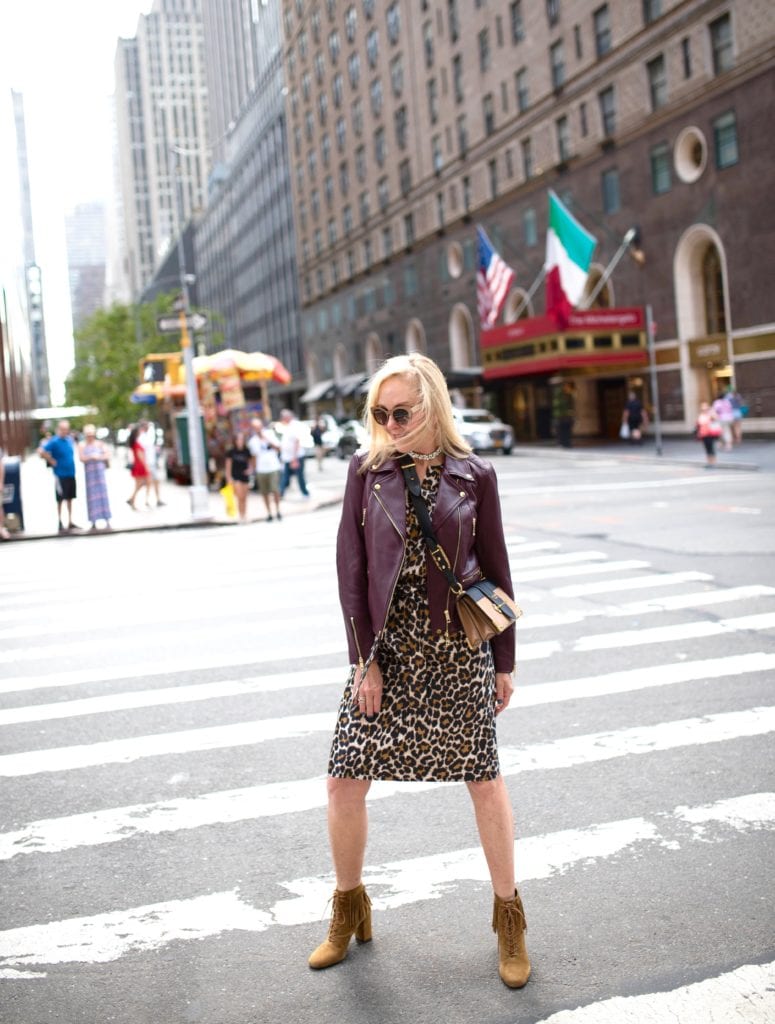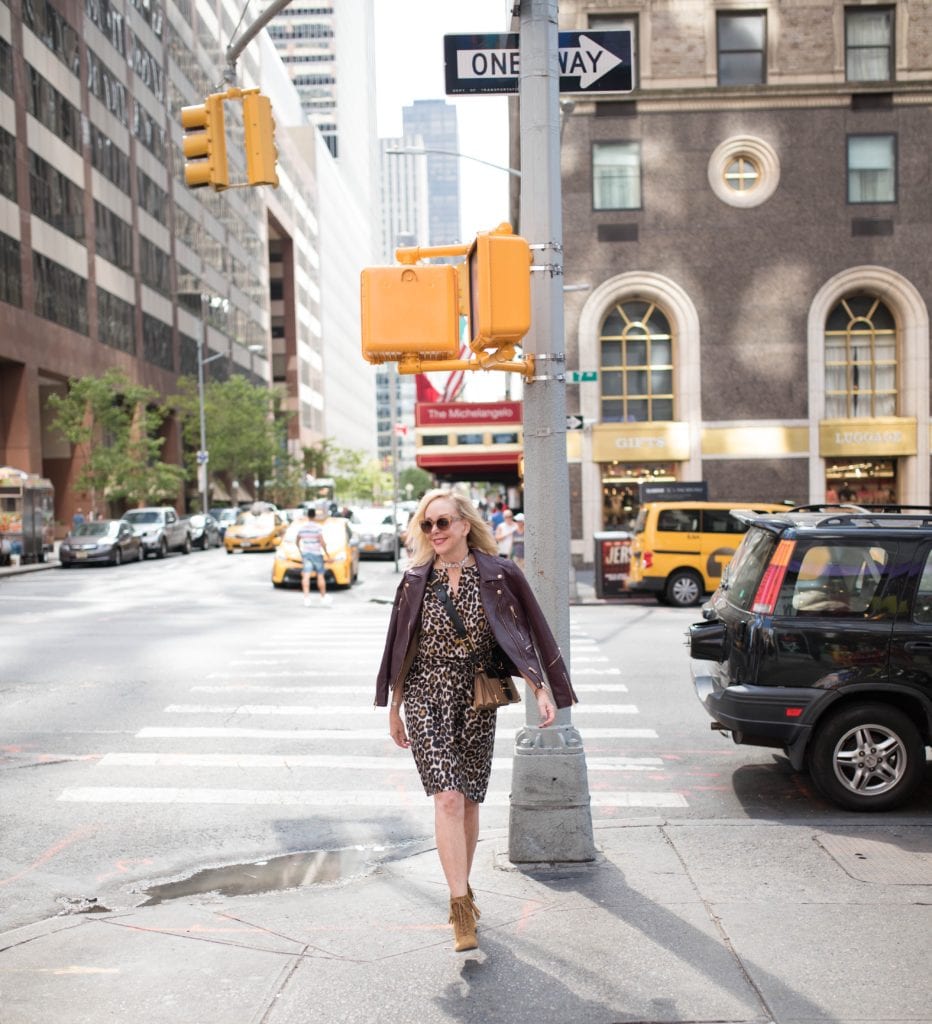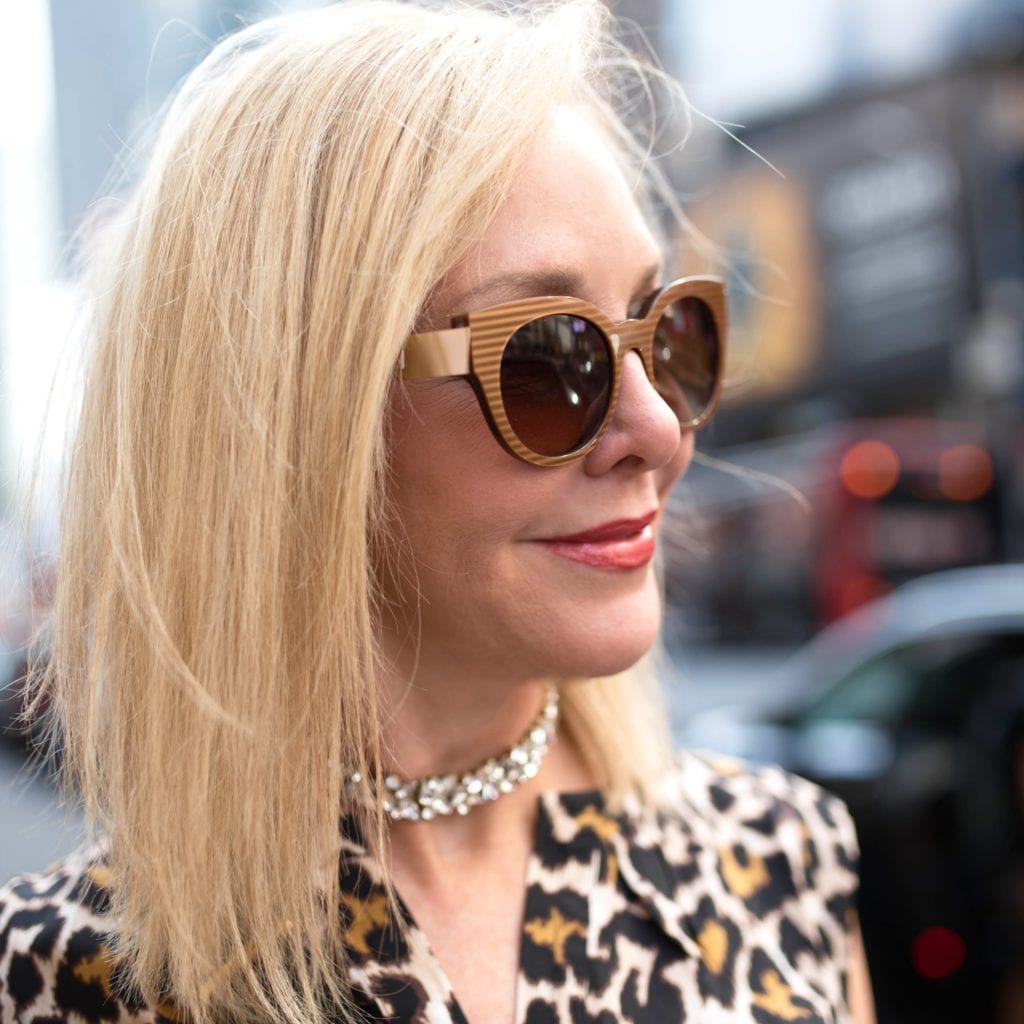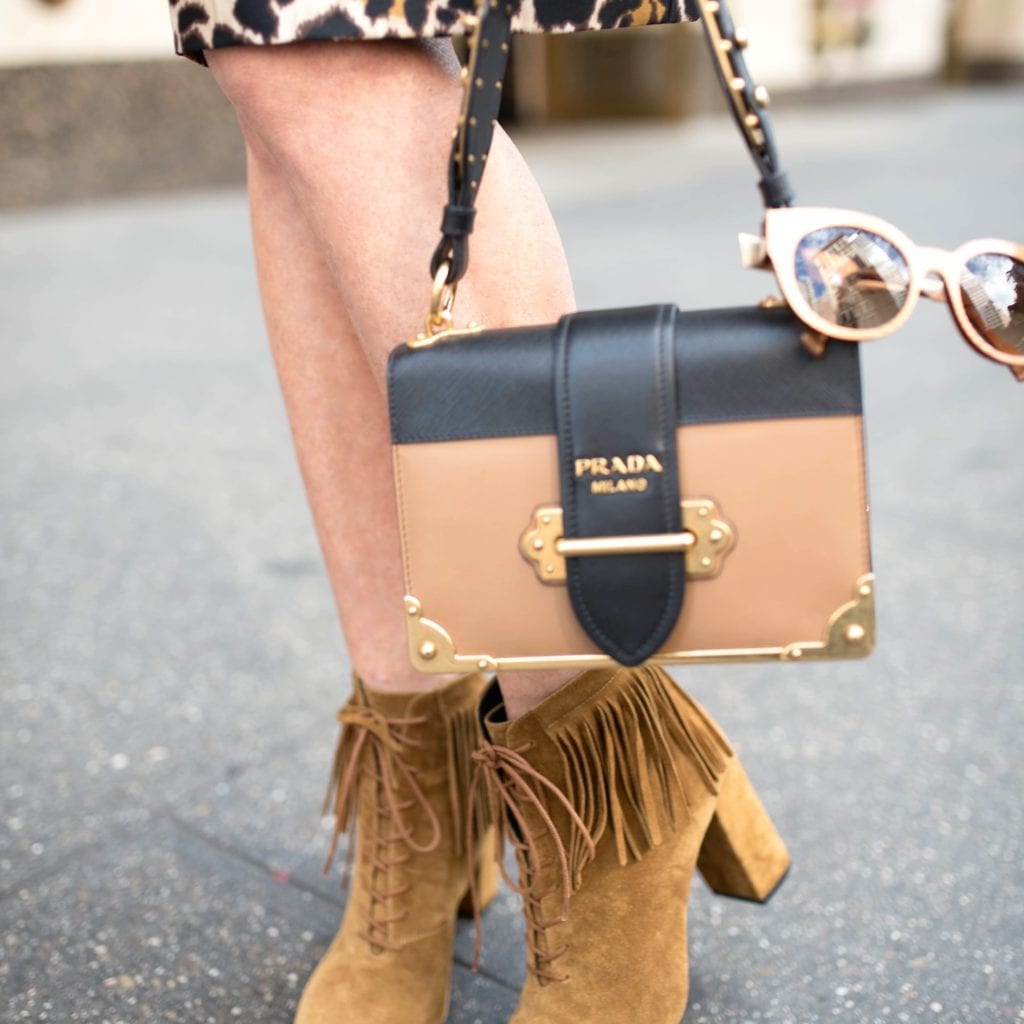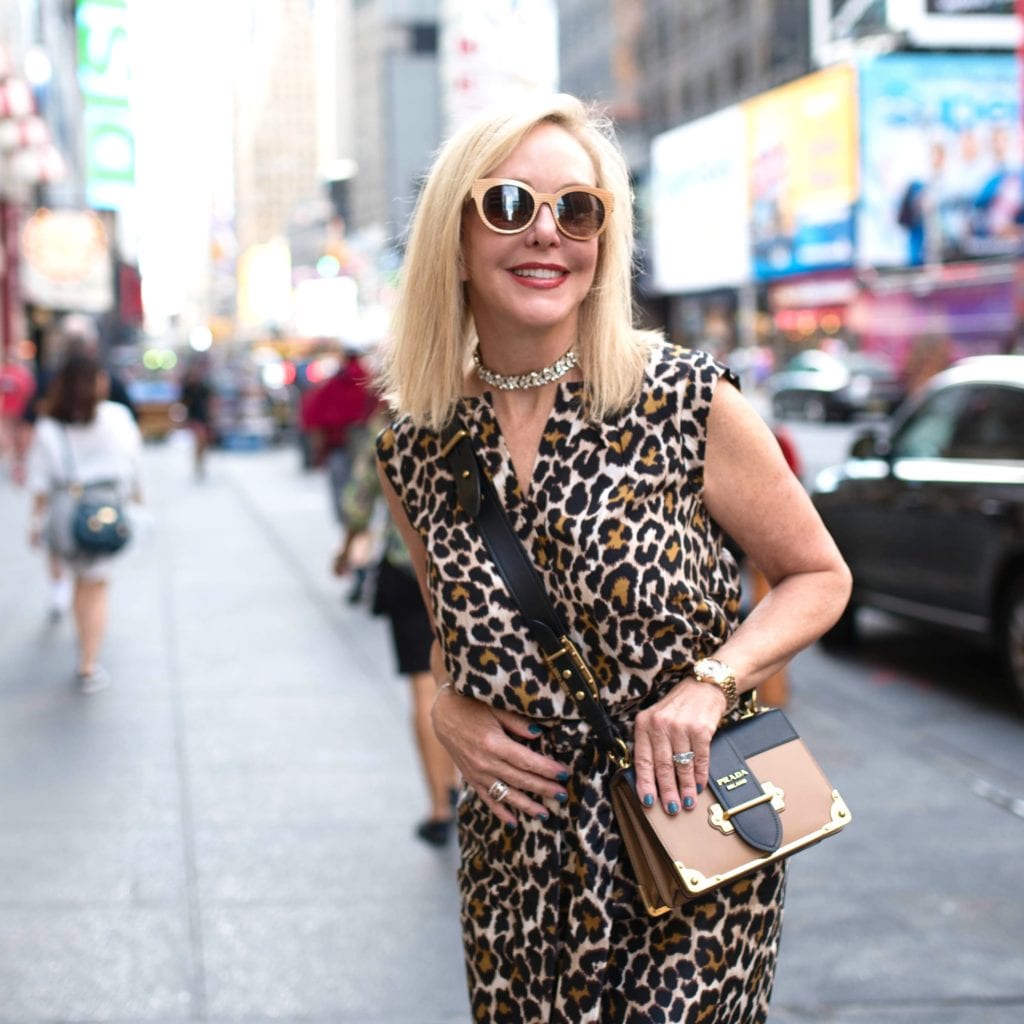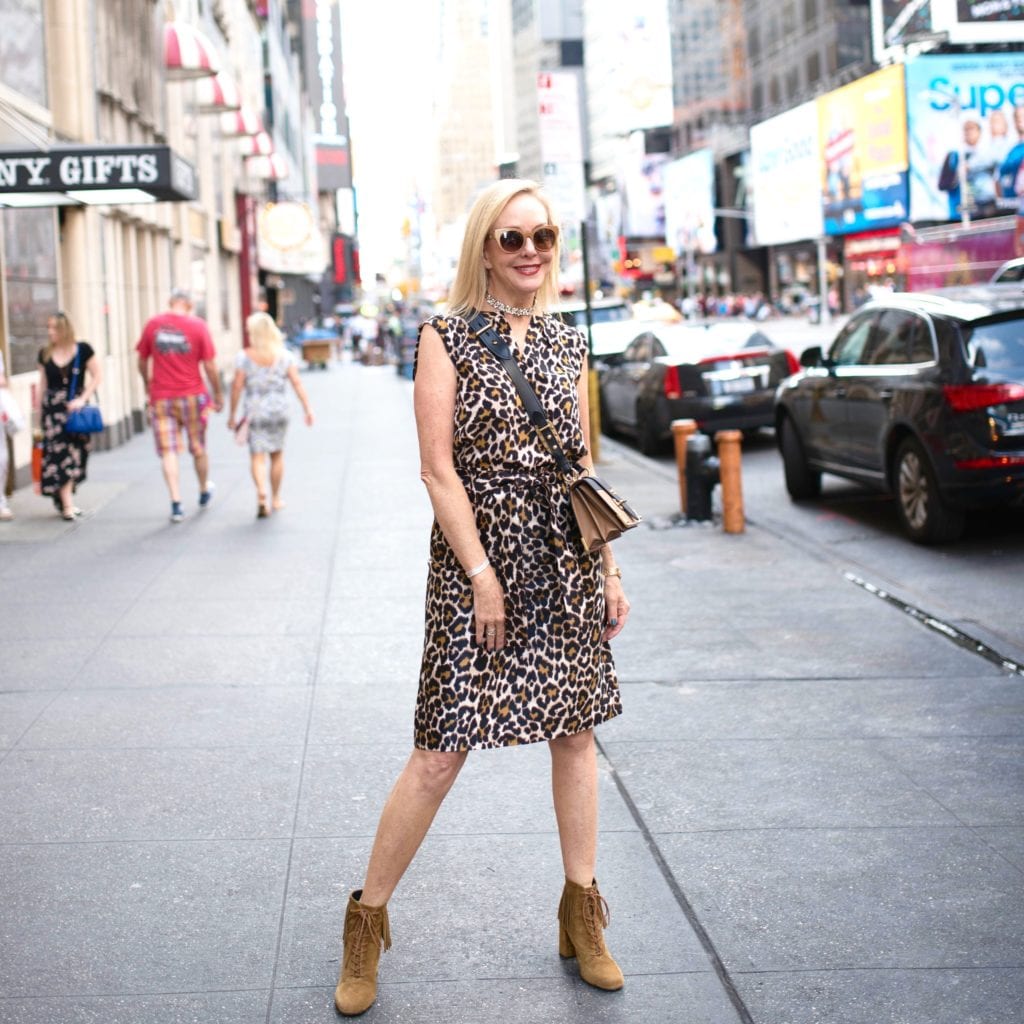 Photos by Paige Sovic http://www.paigenicollephoto.com/
Here are some other fall closet basics to incorporate into your wardrobe:
White button down blouse
Moto jacket
Black pumps
Booties
Denim jacket
Velvet anything
Silk camisole
Black, silver, gold strappy sandal
White T-Shirt
Skinny and flared jeans
Black Leggings
Structured handbag preferably in black, greay or off white.
Black blazer
Now let me remind you, these are not trends, they are basics to build your wardrobe around.
SHOP THE POST
SHESHE'S TIDBITS
WELCOME NEW SUBSCRIBERS!!!!! Most of you found me through my dear sweet friend Cathy Williamson of www.themiddlepageblog.com. She is the best!!! I hope you enjoy our show and I promise not to disappoint. If there is any topic that you would like for me to share with you then I am all ears!!! I welcome your comments as it helps me to get to know you better!! You can read my ABOUT page to get to know me a little better. I also have a blog that I wrote when I first starting blogging about My Aviation Journey. You will at least know a little of my background.
Where I Stayed While in NYC. I stayed at the beautiful 4 Star Grand Master Michelangelo Hotel located at 152 W. 51st New York, New York. ( see the red awning in the first few photos) This hotel is part of the Star Hotels Collexione and is among the best 4 star hotels in New York City. It was not cheap however it wasn't $1,000 a night either. There were 6 of us girls from Texas going together so it worked out that we each had a roommate. The rooms were great because it was large with 2 king beds, a separate vanity and walk in closet. My roommate Cathy and I never got under one another's feet. At our age, that is VERY important!!! Location was in mid town on the corner of 7th, walking distance to the best shopping in NYC and the service was awesome. We had our valet guys wrapped around our little fingers. Ha Ha! They took pictures of us and flagged down our cabs to mention a few things above and beyond.  I give them SheSheShow's best rating!!
Thanks again for stopping by!