Every year for the last 5 or 6 years I bring in a haul of goods during the Nordstrom Anniversary Sale, but I also get better at how to shop the this Sale with every year that goes by. That being said, even though I might find some trendy fashion pieces, the most important things for me to spend my money on are the basics.
This year I loaded up on denim in black, blue, grey and a merlot color. Retail on these jeans will be at least 30% more after August 6th. I also added t-shirts, cardigans and light weight jackets to the haul.
I kind of got carried away with the cardigan category, but I will say that I will get a ton of wear out of them all. Earlier this year I bought the cardi on the far left and now it is on sale as well as the midi one and the black mid length hooded sweater on the far right. The kimono in crushed velvet sold out in this color, but is still available in black. All of these styles are perfect for our fall/winter weather in Houston. I also love to take them with me year around on the airplane. They act as a blanket on many occasions.
LONG CARDIGANS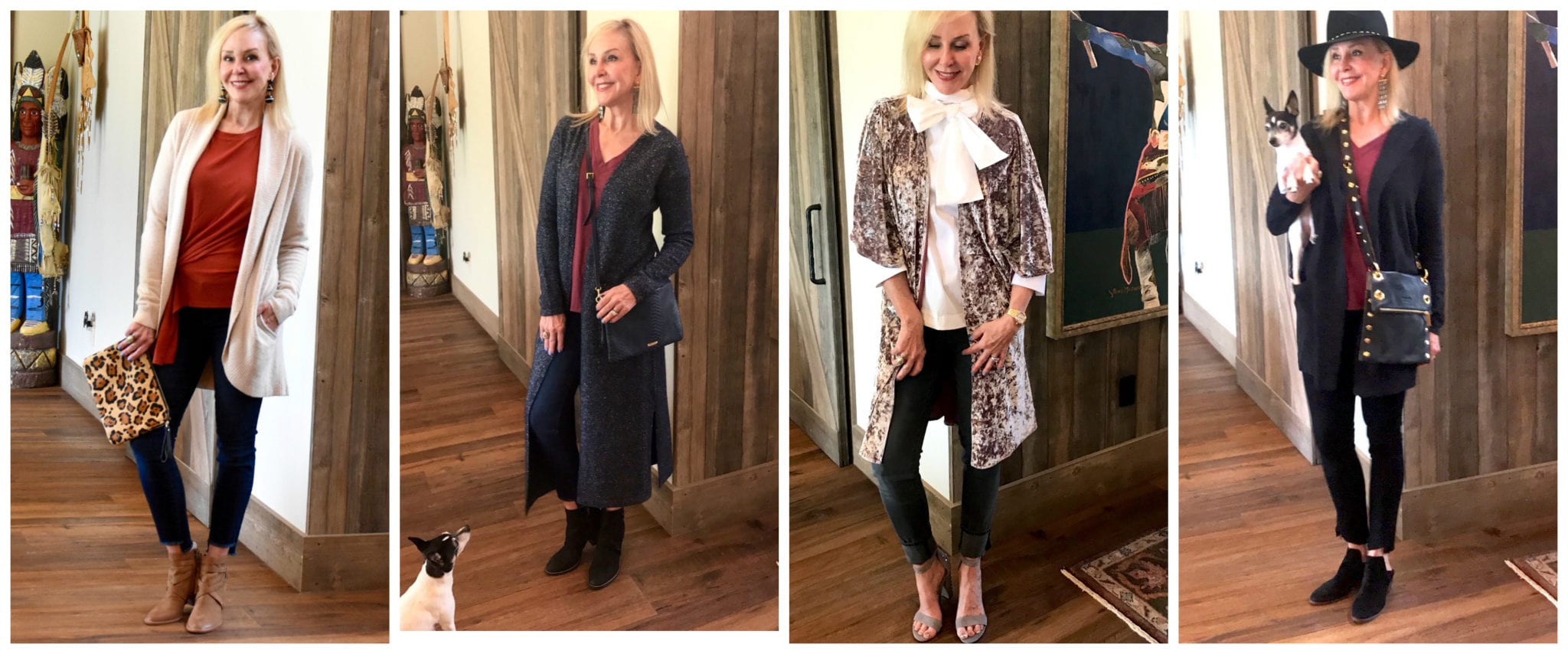 Outfit Details (above)
JACKETS

If I buy a jacket, it must be on the lighter side. I will wear leather jackets, but the best choices for me are investment blazers, faux suedes and kimonos. I absolutely love the quilted velvet bomber jacket on the far left, but I had to send it back because it was just too heavy. If I am lucky, I might get to wear it once or twice during the winter. It also came in a silver quilted velvet.
The faux suede jacket in the middle sold out in this color, but there is a grey color available not on sale. It is still only $88. I did snag the faux leather jacket on the far right. For under $70, it was a no brainer.
 Outfit Details (above)
SWEATERS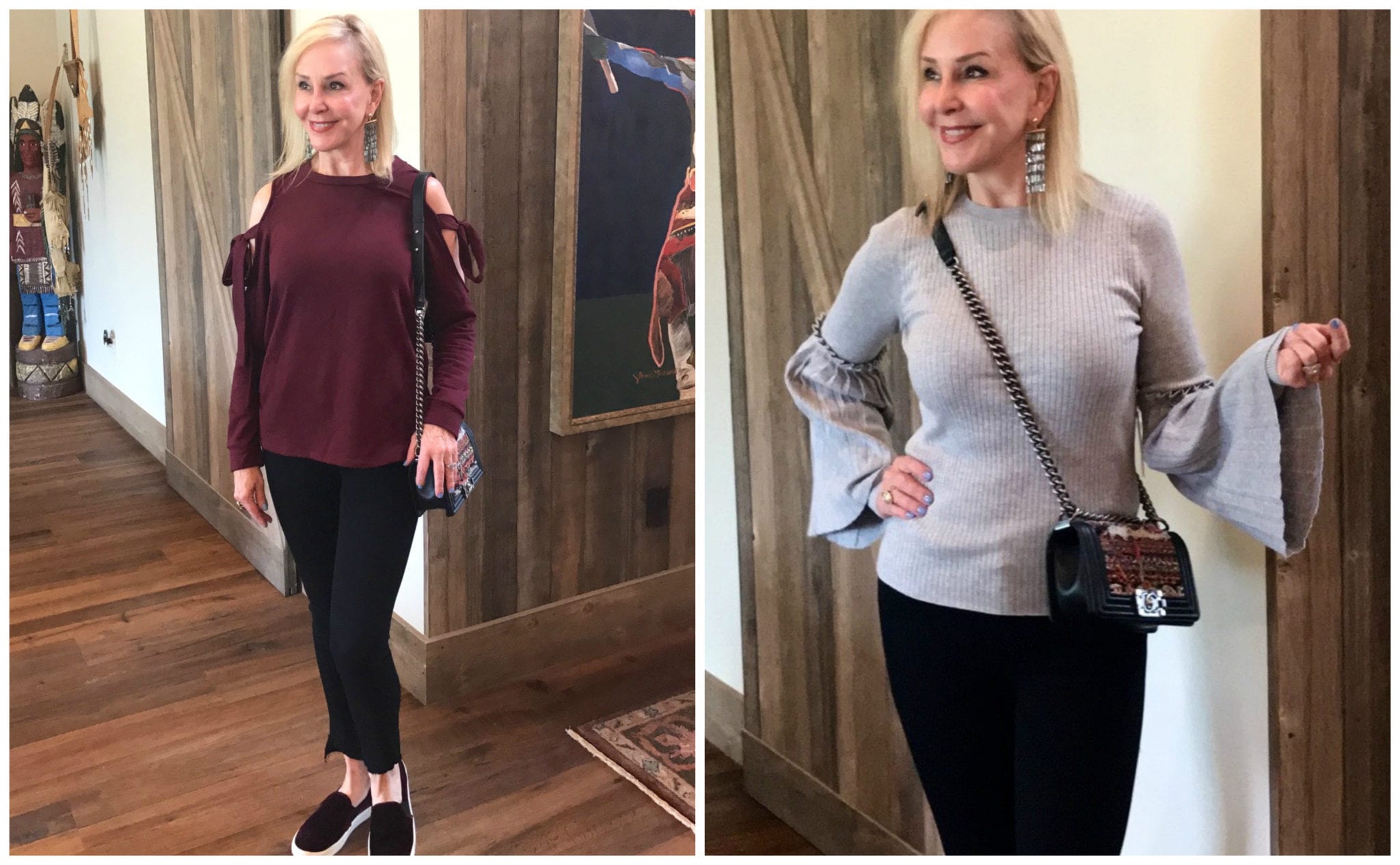 Like jackets, I don't buy too many sweaters and sweatshirt because of the weight. That is why I sent this cute cold shoulder top on the left back. It is made of a fleece sweatshirt material, so I knew that it would not work for me. It also came in a heather grey. If I lived just a little further north, then this sweatshirt would be perfect.  The bell sleeve sweater on the right was my favorite hands down, so I kept it in the navy. Yes, it is a little heavy but I just had to have it.
Outfit Details (above)
TOPS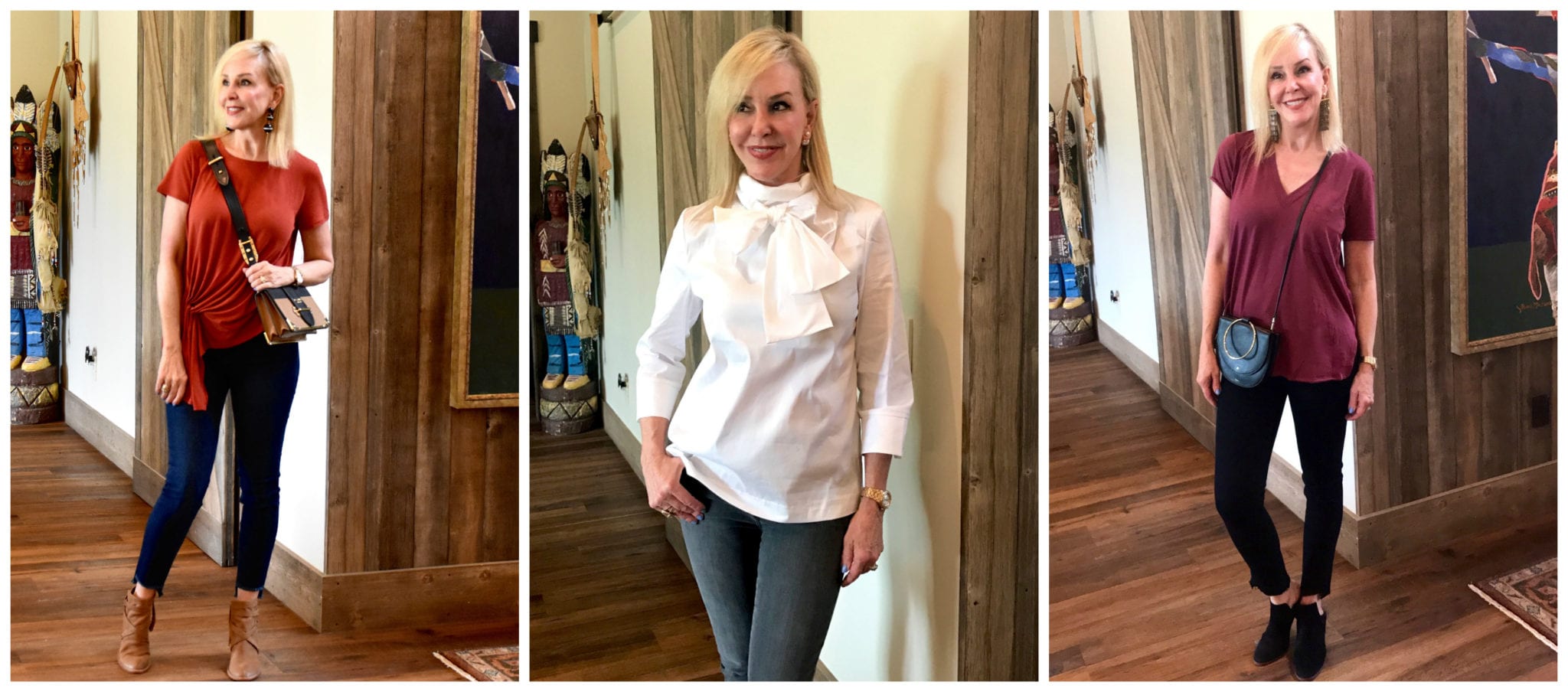 Now here is where I got my money's worth. I bought the pleated sienna colored t shirt in 2 colors as well as the super soft one on the right. I should have bought them in all the colors. Hmmm maybe another order is brewing. Take a look at the army green top under the jackets. It is another favorite and great basic for under $30 that I own in a couple of colors. I will probably pick up one more color because I wear them all of the time.
Who doesn't love a pretty bow blouse. This one works because it has a 3/4 sleeve and the fabric is stretchy, which makes it so comfortable. It looks great worn alone or under a sweater or jacket like in the photos above.
Outfit Details (above)
NOVELTY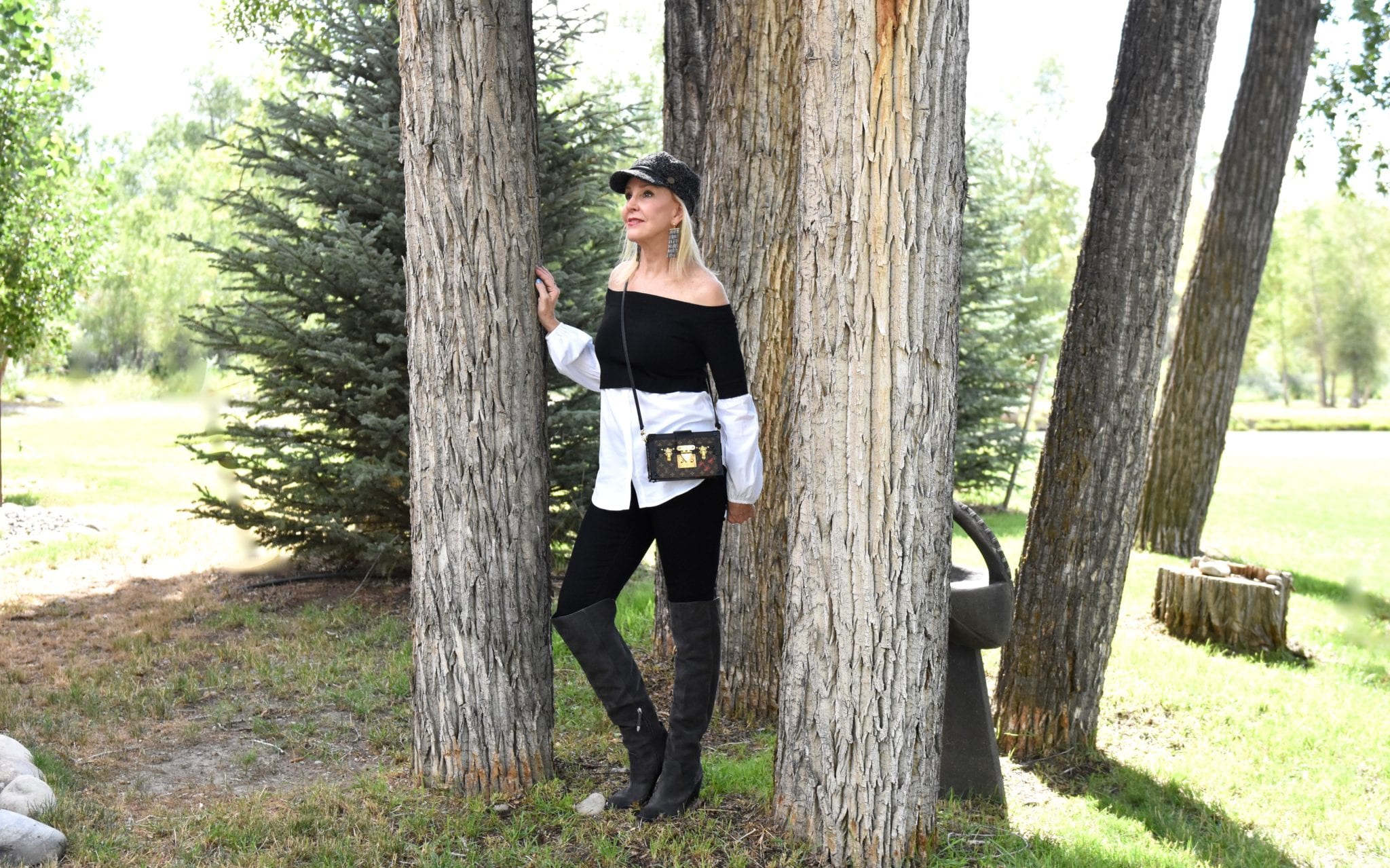 I did find a couple of novelty items to add to the haul. In the first photo, is a leather bustier that can be worn alone or layered over a classic shirt styled in the photo. This is where a younger girl could buy this and wear it as a bustier or an over 50 girl like myself can wear the trend, but layer it over a classic shirt.
The top in the last photo is another favorite of mine and any age can wear this as well. It is a twofer and comes in 2 other color ways as well. That means it is 2 tops in one.
Outfit Details (above)
Booties & Boots
I have purchased the over the knee boots in past years so this year I decided to do more booties. I will wear them a whole lot more than boots. There are so many cute booties this year, but unfortunately I am a slave to what fits my funky feet. Does anyone else have weird hard to fit feet? I did good though because I was able to find several pair that work. I will definitely have to purge my shoes when I get back to Houston for the fall, so I will have room for all of these booties.
  SHESHE'S TIDBITS
Stay tuned for more SheShe's picks.  We have home, men's, plus size, beauty and more of our sale favorites coming your way. Please refer to the Nordstrom Shop in the menu bar on the far right. We will do our best to keep those items up to date. Thing are selling out faster than I have ever seen them this year!!
Gala's, weddings, graduations, or just everyday wear…..we have fashion suggestions for you, so stay tuned. Be sure to check out ShopSheShe and the Nordstrom Sale tabs at the top in the menu bar. Hover over and choose the category in the drop down. We try to keep it up to date with the latest and greatest for all budgets. Subscribe here and then you won't miss a post. Simply enter your email in the pop up box when you come to this site or at the top of this page in the subscribe box.
Welcome new readers. We are a fashion/travel/lifestyle blog. We talk about anything and everything, from fashion, travel, health issues to even an occasional recipe. If there is a topic that you are interested in, then let us know. We will do our best to bring that story to you. Have a great great week sweet friends and thank you for following along. Without you, we could not continue on this crazy fun journey!