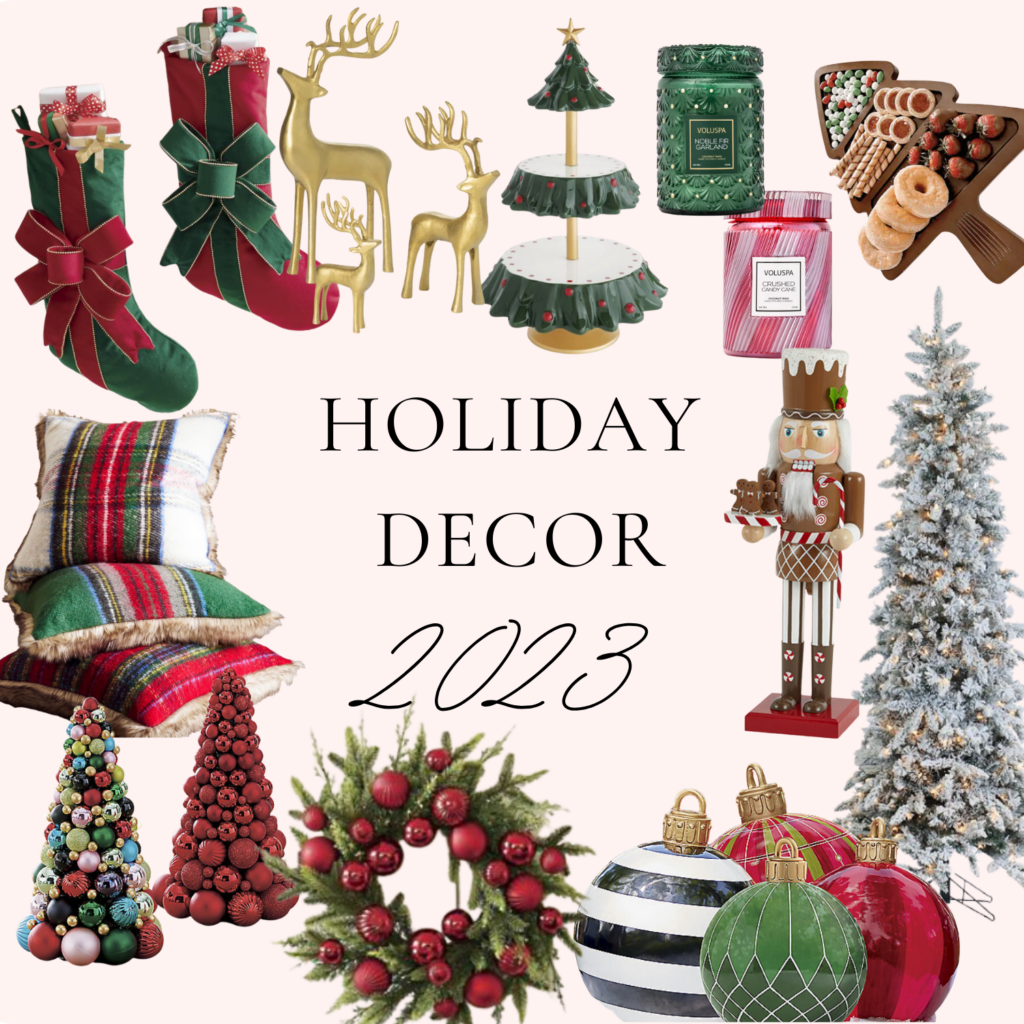 Christmas is right around the corner! Where did October go and how is the first week of November over already?! That means it's time to pull out your holiday decor and prepare for Christmas! My crew is coming in next week to put up my tree and other decorations. Yes, we go all out here in Texas and my tree is that big! I am so excited to share with you all everything to get the spirit going and your holiday decor ready!
---
As always, if you'd like to support our holiday decor and blog content, we'd be honored if you shared this post or re-pin our photos to your Pinterest boards!! If you decide to buy any of the listed items, we kindly ask you to consider using the links in this post to help support our blog. Your support means the world!!
Happy shopping, ladies!!
Table of Contents
Holiday Decor
Here are our top picks for decorating your home this season! We have it all, from trees to napkin rings, wreaths, bedding and more! Your holiday decor needs are all covered here!
Bedding

I like to change up my bedding according to season and holiday. I may not switch up my bedding and decor in my master bedroom, but I definitely do for my guest rooms. I like quilts and duvet cover sets with festive pillows. If I have a solid duvet on a bed, I love using festive sheets and folding the bedding back so they show and adding some themed pillows like this cozy plaid snowman!! How sweet are these gingerbread village sheets and coordinating gingerbread cookie and house pillows for the grandkids?!?!

Stockings

Stockings are essential for holiday decor! How cute are these stockings that you can personalize with names?! Perfect for the kids, grandkids or how about your fur babies. I'm loving these faux fur stockings that add a soft texture to your Christmas decor or these rich velvet bow stockings.

Dining + Entertainment


Artificial Trees

***Click on any tree to shop!
Who doesn't have a tree!? I do not know a single person without one by choice! There are lots of pros to artificial trees such as, you can reuse them year after year, the mess is very minimal, it will not dry up and catch on fire, and you do not have to find a proper dumping spot for it or specific trash day for it! I love my artificial tree and have used them for years. You can always burn a balsam or fir candle to get that greenery smell in your home.
I love this slim tree. The skinnier trees are trending more and more. Now this tree is a little on the pricier side, but it is pure quality. The tiny fairy lights really give a North Pole vibe! Looking for a non-traditional tree? This 7′ Pre-lit Ruby Red Tree is strikingly beautiful and is a fun twist to spice up your holiday decor!

Wreaths + Garlands

***Click on any wreath or garland to shop!

This "All is Bright" cordless lit wreath adds gorgeous, bold pops of color!! I also like this wreath, very "Christmassy"! For garlands, I love this pre-lit cascading garland to drape and weave into my mantle. Also, I put garland on almost everything, from the stairs, banisters, tables, islands and more so that my holiday decor spreads throughout my whole home!
Candles

It's beginning to..SMELL LIKE CHRISTMAS! Holiday decor isn't just about visual items; it includes SCENTS, too!! These candles will fill your home with classice holiday scents like peppermint candies and fresh balsam trees. The comforting scents will make you want to sit by the fire with the family.

Christmas Decor

I love to add little pops of Christmas spirit around my home. For your side tables or coffee tables, I love placing a beautiful scented candle next to proportionately sized figurine like this candle and these gold reindeer figurines. How elegant are these murcury glass trees? I also think these white reindeer figurines would be perfect to mix in EVERYWHERE!

Pillows + Throws

The good thing about switching up your pillows and throws is that it can change the whole rooms feel with just a few pieces. I love to toss in luxurious faux fur blankets and mix in colors with pillows.

SHOP THE HOLIDAY DECOR BOUTIQUE

SHESHE'S TIDBITS
Happy November, sweet friends! These weeks are flying by and now Christmas is staring us right in the face. WOW!!
If you missed it, check out our Top Denim Trends 2023 blog HERE and All Things Pumpkin Spice + Everything Nice and our Best Fall Wedding Guest Dresses of 2023 blog HERE.
Did you read My 4 Skincare Must Haves? Check it out HERE if so to learn about the NO!NO!, Dermawand and more! I have a discount code for you to save!
Did you check out The Ultimate FALL CAPSULE 2023 by SheShe ?! Don't miss out on my favorite picks and outfit combos for this fall season!! Read HERE!!
Be sure to check out our most recent blog posts on All Things Pumpkin Spice + Everything Nice, The Best Fall Gardening Tip + Tools 2023, 3 Spooky Stylish Halloween Decor Themes, The Best of Fall Decor 2023, 4 Ways to Style a Denim Jacket, 5 Styles of Transitional Dresses for an Effortless Seasonal Change, The Classic Button Front Shirt, 4 Ways to Dial-Up Denim, Luxury Luggage for Every Budget, 
*CHECK OUT MY LTK INSTAGRAM SHOP TO SHOP ALL OF MY INSTAGRAM LOOKS
*YOU CAN ALSO DOWNLOAD THE LIKETOKNOW.IT APP AND FOLLOW ME ON IT BY CLICKING HERE. Go here for our LiketoKnow.It tutorial.
* STAY IN THE KNOW: SUBSCRIBE HERE to receive exclusive sale alerts, helpful style tips, and fabulous giveaways, AND GET ACCESS TO MY VIP ONLY FOR SUBSCRIBERS!
* Follow us on PINTEREST BY CLICKING HERE.