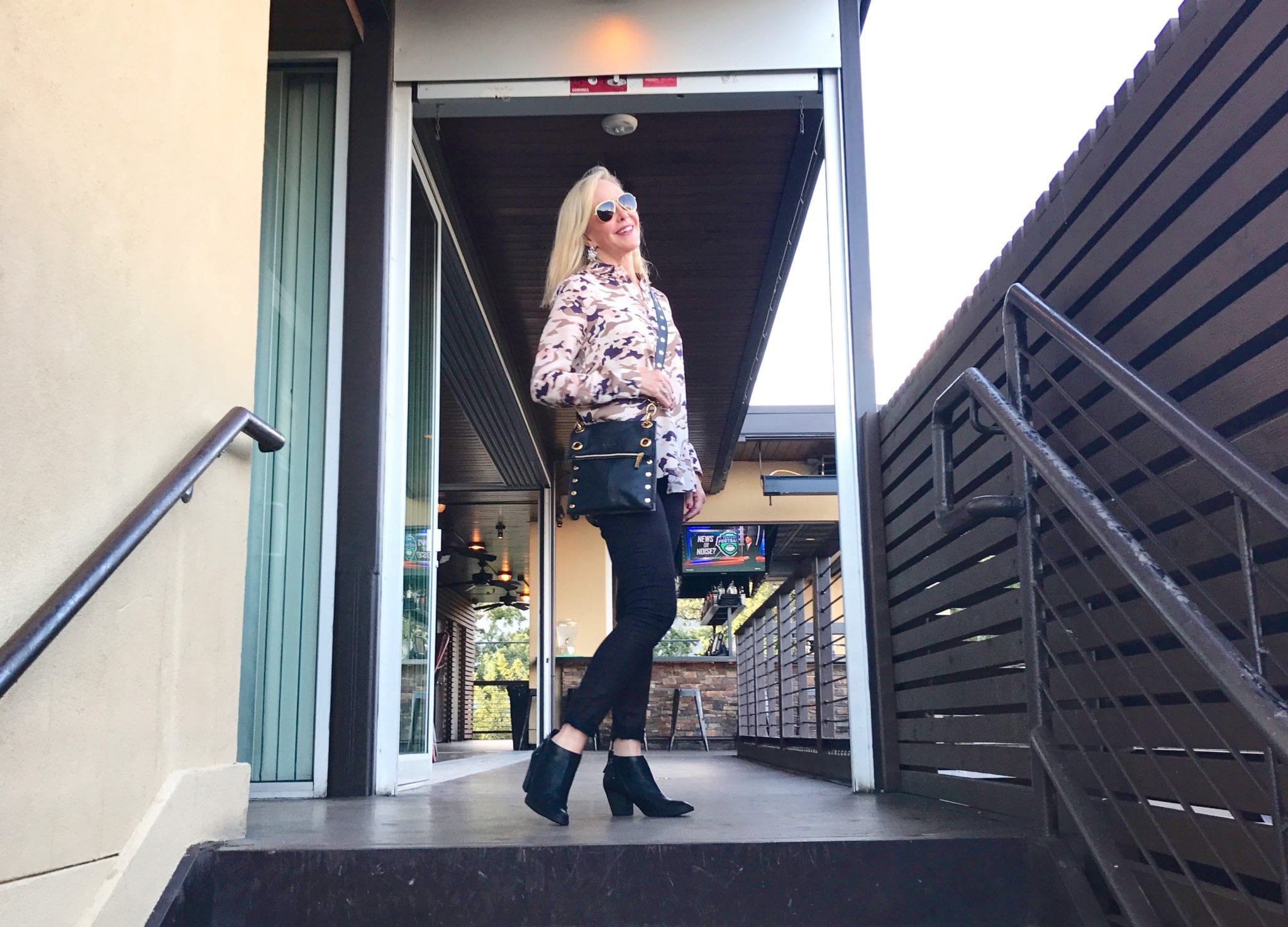 It's no secret that SheShe luvvvvs accessories. Today I am introducing accessory brands Hammitt and Jord to you.
Let's first talk about my new bag crush Hammitt, a Los Angeles based accessories company. And let me tell you how impressed I am with my new Hammitt bag!! This brand hits my soul because they not only design for style and superb craftsmanship, but they also think about our lifestyles and how their bags can be useful, versatile as well as very hip and stylish.
I am always looking for a bag that looks good and serves the purpose, mine being travel friendly. I love the latest and hottest cross body styles so that is why I chose the Little Santa Monica reversible cross body. It can actually be worn in 4 ways. It has a very long strap with several snaps that can make the shoulder straps short to fit any of us. This season trends are showing the cross body very short where it falls underneath the arm.
The other brilliant feature of this bag is that it is reversible and they offer several color combinations of leathers and hardware. I did the black leather that reverses into pewter leather with the gold grommets and hardware. It has 2 inside pockets, 2 outside zipper pockets and a cell phone pocket. I can really take this bag anywhere and it will go with almost everything that I wear.
These timeless made-to-order bags are sold nationwide to high end boutiques. Each bag becomes a personal reflection of its individual collector. To see more of what Executive Director & CEO Tony Drockton is creating, then just head on over to www.hammitt.com and then I know you will want to join the cult. I truly in love my Hammitt!!
JORD
Have you ever seen a watch made of wood? Well, now you can say you have. This is such a cool watch company!!
Made from many varieties of wood such as sandalwood, ebony, maple, bamboo, koa and rosewood to mention a few, most of these unique women's watches have a self-winding automatic mechanical and displays hours-minutes-seconds. They have 21 jewels and keeps impeccable time with only 3 +/- seconds per day. Crazy….right?
Having just been to Africa this summer, I was especially intrigued by the Fieldcrest series ( watch that I am wearing in photos ) made of zebrawood and maple. This women's watch in particular has a Citizen 2035 movement and is battery operated with a =/- 20 seconds per month accuracy. Like any exotic or fine natural wood, it is finished by hand and pretreated with tung oils to increase the life of the wood. Just like our skin, wood needs moisturized in order to preserve the beauty. The Fieldcrest is splash-proof but don't go swimming in it or submerge it in water. Should your natural wood watch need cleaning after extended wear then the best remedy is lemon or orange oil extract.
Don't worry fellows…..Jord has an awesome men's watch just for you too. Ladies, these make great gifts for the man in your life and they are affordable enough that a high school or collage age student would love. They have such great bold designs but are so light weight on your wrist. With a very masculine aesthetic, these men's designs are great for that adventuresome guy.
ENTER TO WIN:
Well, I am excited to partner with Jord wood watches to bring you the opportunity to win a $75 e-voucher, and everyone who enters will get a $20.00 e-gift card excluding the winner. Just go to www.woodwatches.com to enter. This would make the perfect holiday gift so be sure to enter to get that $20 off or you just might win. The $75 voucher and $20 E-gift card will expire on 11/27/2016.
To get inspired check out the Instagram page . So many great photos so you can see several other styles worn by their fans. I have linked you to the Jord website throughout, this post, but to make it easier for you I have added the direct links below.
Thank you Hammitt, Jord  wood watches and Lilla P for sponsoring this post. All opinions are my own.
LILLA P
If you have been hanging around SheShe Show for a while then you have been introduced to Lilla P. Go to Lilla P A Casual Lifestyle Brand for the entire blog post. I told the story of my history with this brand. I am thrilled to make a second appearance representing them with a little different look from their fall line.
You all know how much I love camo, but this camo print shirt has a little more femininity to it. By using the pale blush pinks, grays and aubergine colors it takes a camo shirt to whole new level. I really love the relaxed fit of this blouse and it is available in xs through xl. I am normally a size 6 so I ordered the medium and there is plenty of room. I have it over a pair of skinny aubergine jeans that I have had in my closet for a while. I linked a similar pair below. It is long enough that it covers most of the booty. I like that it is just easy. You could easily wear it with a black, blue, off white, blush pink, gray, charcoal pant or jean. It has a slight over sized fit but you could still tuck it in and add a belt. Oh and by the way, we haven't seen belts very much for a few years but they are popping up more and more lately. I hope you didn't give your belts away.
So with all of the elements of my look today, I could go to just about any casual gathering. This would in fact be cute to wear for Thanksgiving dinner. I don't know about you, but my family is casual.
SHESHE'S TIDBITS
We are starting to work on all kinds of gift guides to help you with your Christmas shopping. If there is a category that you would like for us to do then just let us know. In this busy world we live in sometimes it is nice to have some convenient options right at our finger tips.
SHOP MY LOOK