Today I am excited to introduce you to a brand favorite of mine called Lisette L. They make the best fitting, must have, pull on pant ever. I am also excited to tell you that you can buy them from a website that I recently discovered called Purple Poppy.
Purple Poppy is a contemporary ladies boutique located in Cape Cod, MA at Mashpee Commons. For over 25 years they have been dressing women in their very curated, colorful, stylish fashions hand picked by owner Connie Goggin. So you can't physically go to Cape Cod to shop at Purple Poppy?  Then browse through the Purple Poppy  website and call their team at the store (508-477-1402) to help you with sizing and any questions or concerns that you may have.
This store reminds me so much of the boutique that I used to own in Colorado because they carry so many of the brands that I used to carry. Most of the lines fit real women which I love. So many of the very contemporary brands that I gravitate to do not fit real women. They are usually cut too small in the bust and I will typically will have to size up and then alter. Most of Purple Poppy brands are sized 0-16 and some run large so you can size down. Yeah!!!! If you are not familiar with the brand's sizing then be sure to call the store for sizing information before ordering.
Most small independent boutiques/websites cannot or will not offer free shipping, but I am here to tell you that if you spend $100 or more at Purple Poppy, then shipping is FREE!!! And ladies, it is not hard to spend $100. Also, they are offering SheShe Show readers 10% off with CODE: POPPY at checkout.

Now let me talk about my Lisette Limoges pants that Purple Poppy sent to me. This company is out of Montreal, Canada and they have been designing the perfect pant for over 10 years. I remember when I owned my store, I got a call from Lisette when they were just launching. They wanted to send me a couple of pair of pants to try. When I received them I was pleasantly surprised. They really do create that perfect fit for all women and body types. Their goal was to leave no body behind!
Since then, they captured the attention of Kathie Lee on the Today Show where this pant has been featured more than once. What makes this pant so great? It has a wide flat waistband that has tummy control and it is made from the same famous Prada fabric that stretches with you and will not stretch out. Are you sold yet?????
Now check out the cool, colorful, metallic, cosmic confetti colors applied to the fabric.(below) This detail opens up all kind of styling options. I am sure that it is no surprise that I went for the buffalo pink plaid top. There is a rainbow of color that you can explore when thinking about a top or if you are going to stay in your comfort zone and be boring, then wear a black top. (for give me, I am just giving you safe girls a hard time). Don't be afraid to mix prints such as this cute strip shoulder/clutch box bag. Adding in the lace block heel booties also gives interest by using texture. I am so loving the block heels and so are my feet! If it is still cool in your neck of the woods, then throw on a leather moto jacket or a long cardigan would work as well.
I have another item from Purple Poppy that I will be styling for you next week. If you have any questions about any of the brands that they carry then let me know. I am familiar with most of them.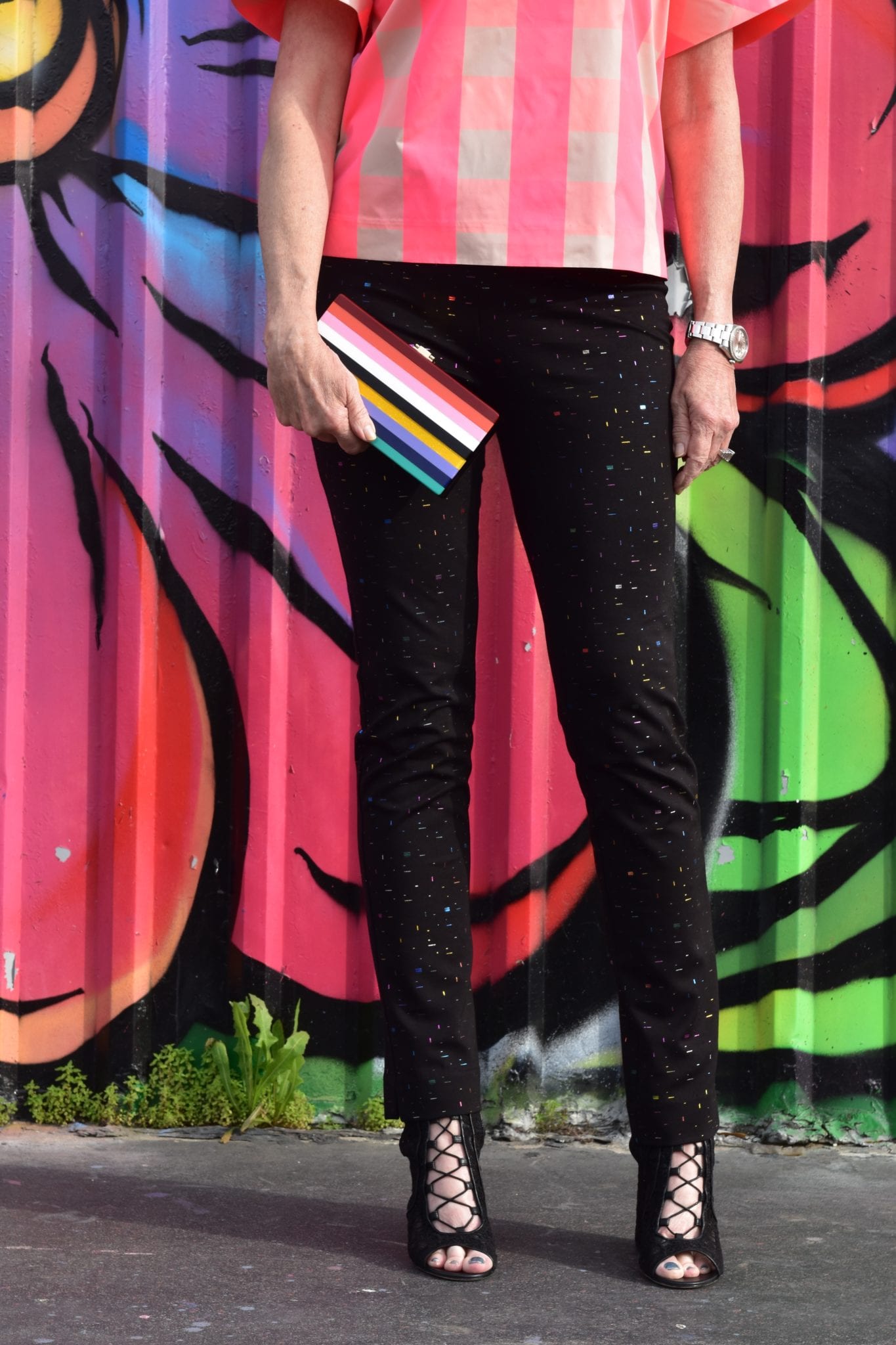 **Thank you Purple Poppy for sponsoring this post!!**
OUTFIT DETAILS

SHESHE'S TIDBITS
Guess what……Valentine's Day is in 2 weeks. Stay tune for a collage of great ideas and inspiration that will get you in the Valentine's spirit. You might even find something that you can just give to your self. Does anybody do that???
Do you know what's happening this week here in Houston, TX? It's Super Bowl 50. Yes that's right and this town is getting ready to be taken over with sponsors, corporations, celebrities, and of course Atlanta Falcon Fans and New England fans. By mid week the parties and events will begin. I am not sure if I will step out in all of the hoop a la or not. I will of course let you know if I do.
Don't forget your discount code for today POPPY
As always, we love to welcome new readers. We are a fashion/travel and lifestyle brand with all kinds of content that we think you will enjoy. Please subscribe at the top of the page if you haven't done so already, then you will not miss a post. It makes following so easy.
Have a great week!!