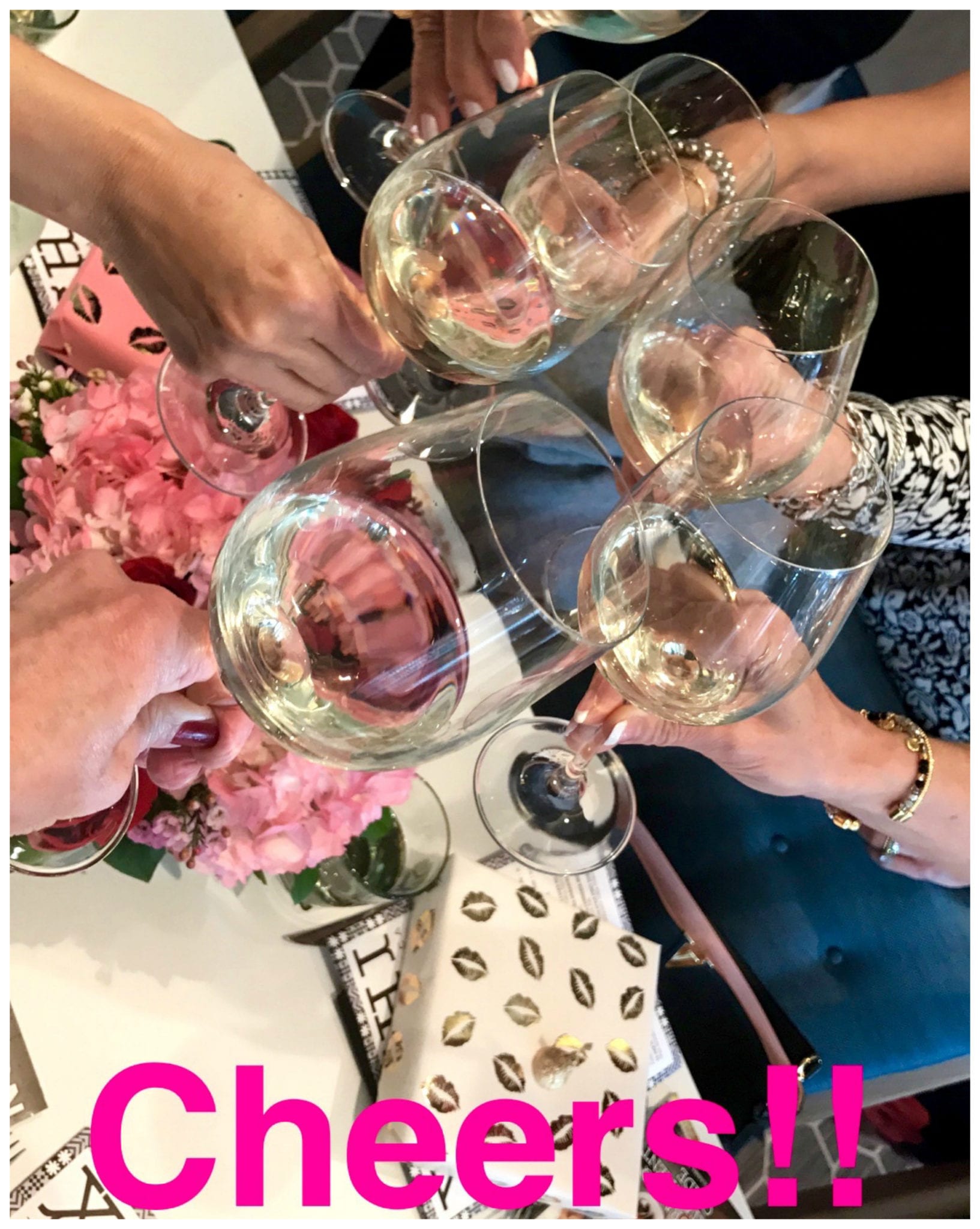 Dining Divas out and about again lunching and this time experiencing Xochi, a wonderful new restaurant located at the Downtown Houston Marriott Marquis Hotel.
The Dining Divas continue to wine, dine, and have a fun time together at the most awesome restaurants in Houston, TX!!  Beautiful divas Angie and Connie selected a most anticipated restaurant,
Xochi
located in Downtown's Discovery Green  for February's dining experience!! Lovely diva Connie was instrumental in securing the location and date and the special glass wall dining room.. Angie provided a beautiful red roses and hydrangeas arrangement on the table. The" kisses" wrapped paper and a gold wrapped kiss for each diva added a tremendous "love, love" LOVEly touch  to the table. Two neat books,
51 Things to Do in Houston
and
Modern Luxury Restaurant & Entertainment Guide"
were great additions given to each Diva, too..
The "outside" entrance to
Xochi
was magnificant with its very high ceiling, marble floors and beautiful architectural features The divas loved Chef Huge Ortega and his wife restaurateur Tracy Vaught's vision to bring Xochi, an upscale Oaxacan (a state in southern Mexico) cuisine to Houston. The "outside entrance was the beautiful new mega
Marriott Marquis Houston Hotel
(29 floors) opened in January in time for dignitaries and Super Bowl L1 guests and patrons.
The Divas had the pleasure to meet lovely manager Rosie ( Rosibel Hernandez).who gave a great presentation. The creativity of Hugo Ortego's team was amazing and included his brother and pastry chef Ruben Ortega and sommelier Sean Beck. Award winning Chef Hugh Ortega has been nominated 5 times for James Beard Award for Best Chef Southwest with his name associated with his other Houston restaurants – Hugo's,. Caracol, Backstreet Cafe, Third Coast and Prego.
The Divas did not take long to enjoy the "bottles" of wine served!! Yes, bottles!! Everyone was having a fun time toasting with her glass filled
Apolloni Pinot Gris
wine!! The wine coaster used was pretty and creative with
Xochi
on one side and information on the other side.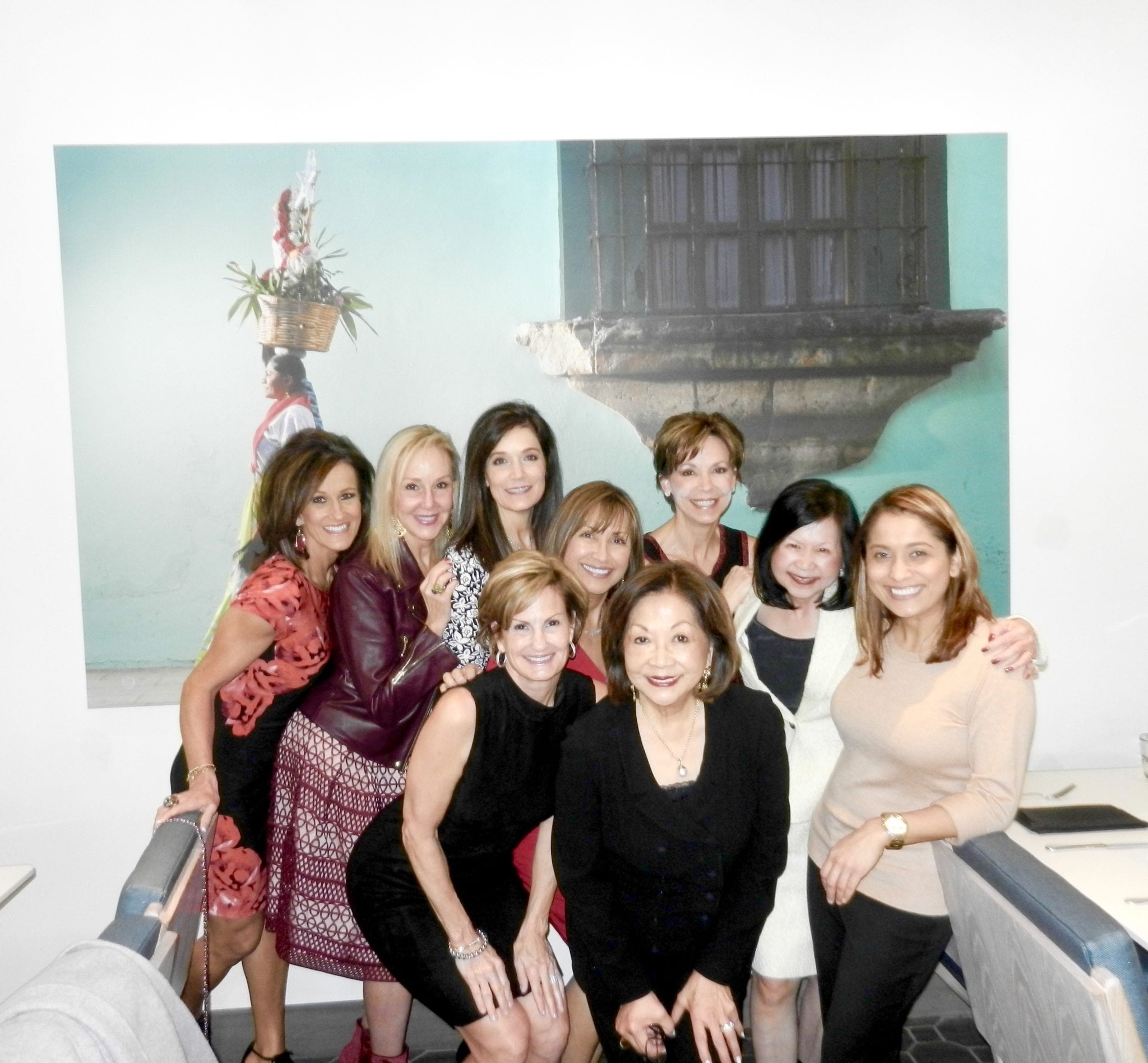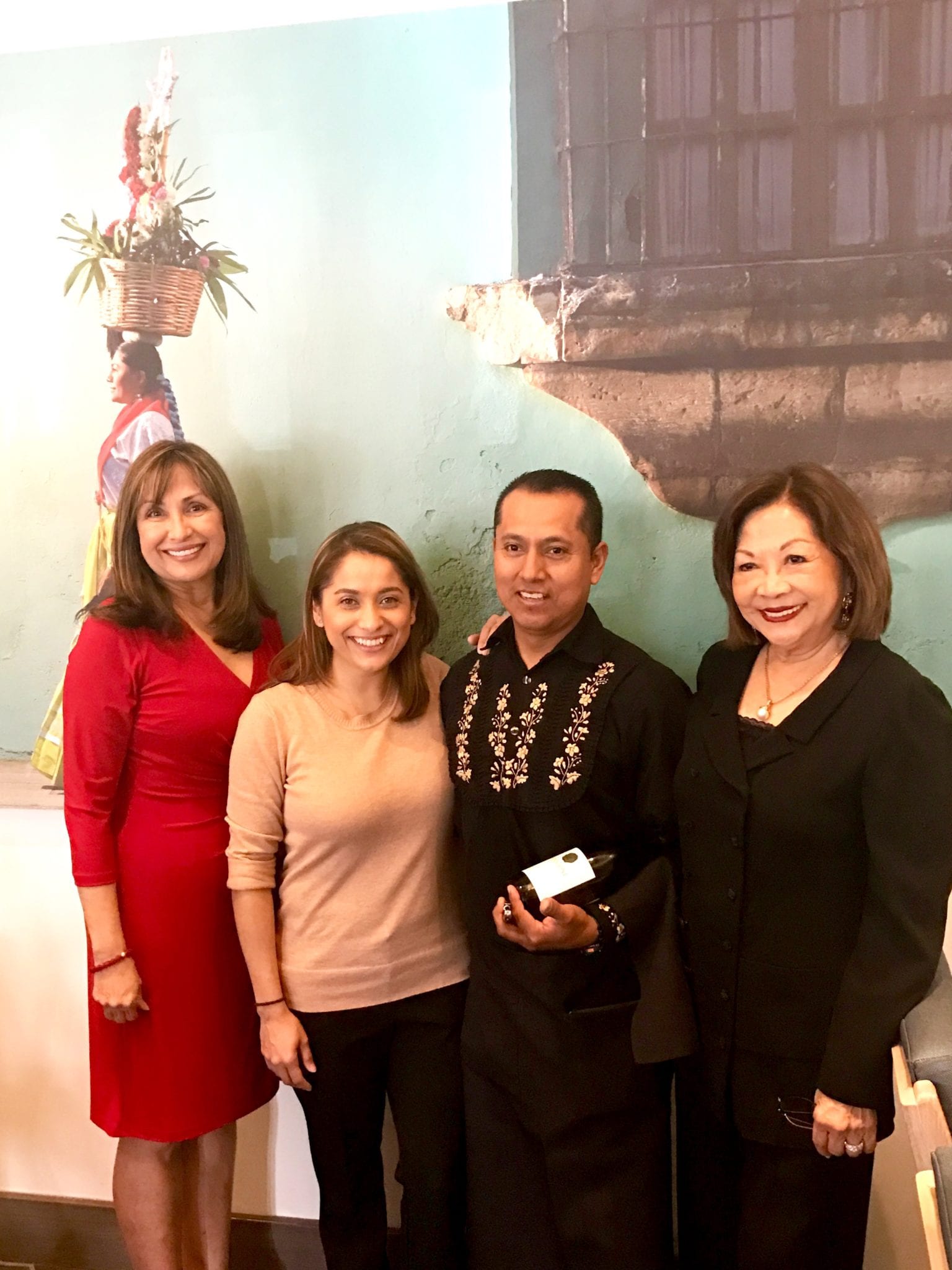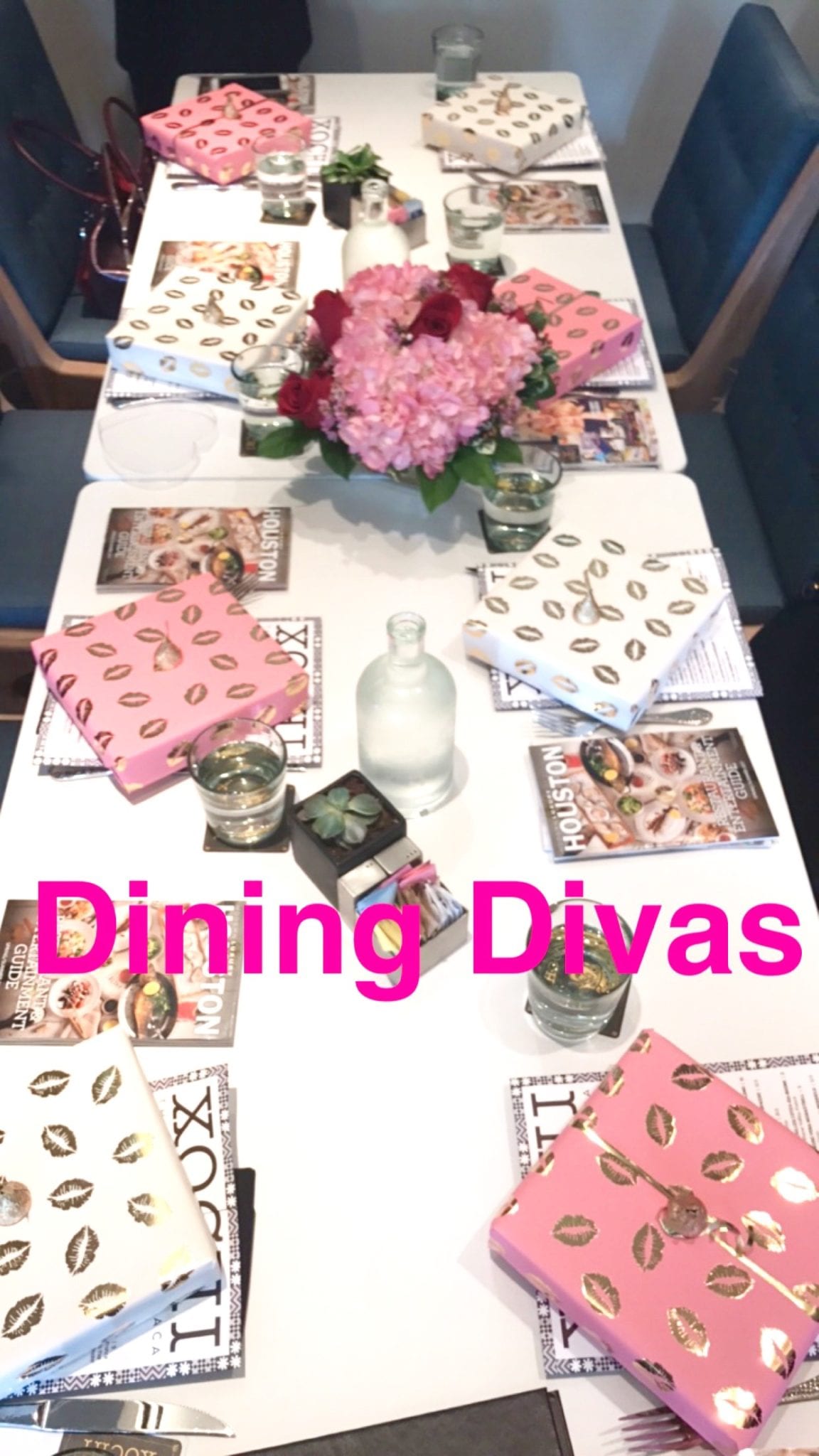 Waiter Manual was delightful and served the following yummy appetizers:
ATUN-flash-seared tuna, cucumber, Jicama, mangosteen, mole vinaigrette, lime caviar
MEMELA-toasted masa pancake, roasted pork rib, refreitos, crema, queso fresco, salsa de albanil
TAQUITOS DORADOS – chicken picaldillo, mole coloradito, crema, queso fresco, parsley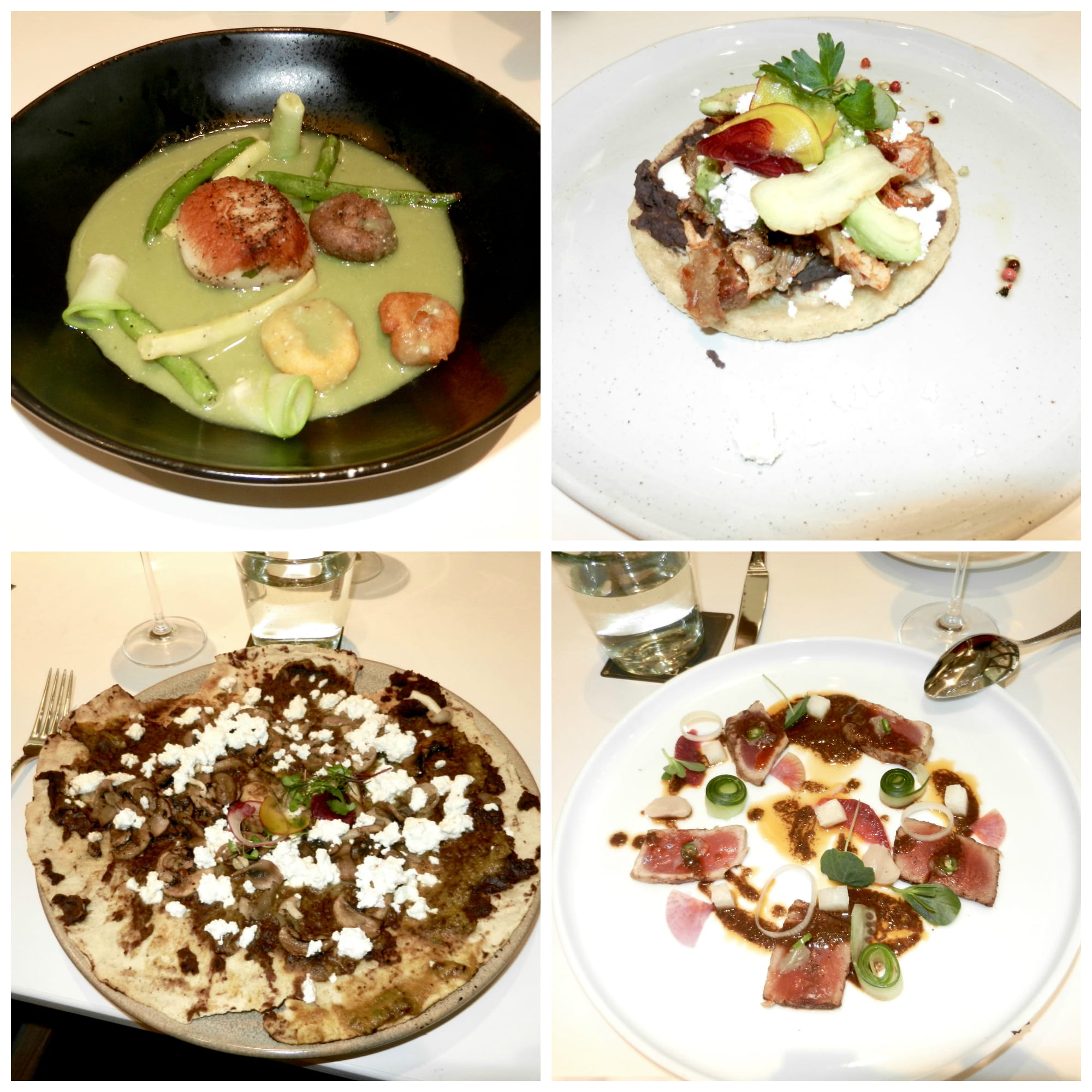 Favorite and unique entrees selected by the divas were:
TLAYUDAS- Iconic street food dish of Oaxaca – very large, thin Oaxacan tortillas with various toppings cooked over wood
RES – skirt steak, chichilo mole, quesillo, Oaxacan black beans
HONGOS – roasted mushrooms, Pure Luck Texas goat cheese, vegetarian beans, hoja santa, mole verde
PESCADO EN MOSE VERDE – grouper, chorizo broth, hoja santa-wrapped black bean cake
ATUN – toasted pepper ash-rubbed tuna, mole amarillo, mushrooms, potatoes
TOSTADAS DE CAMARON – sautéed shrimp with chile de ajo, refried beans, crunchy garnishes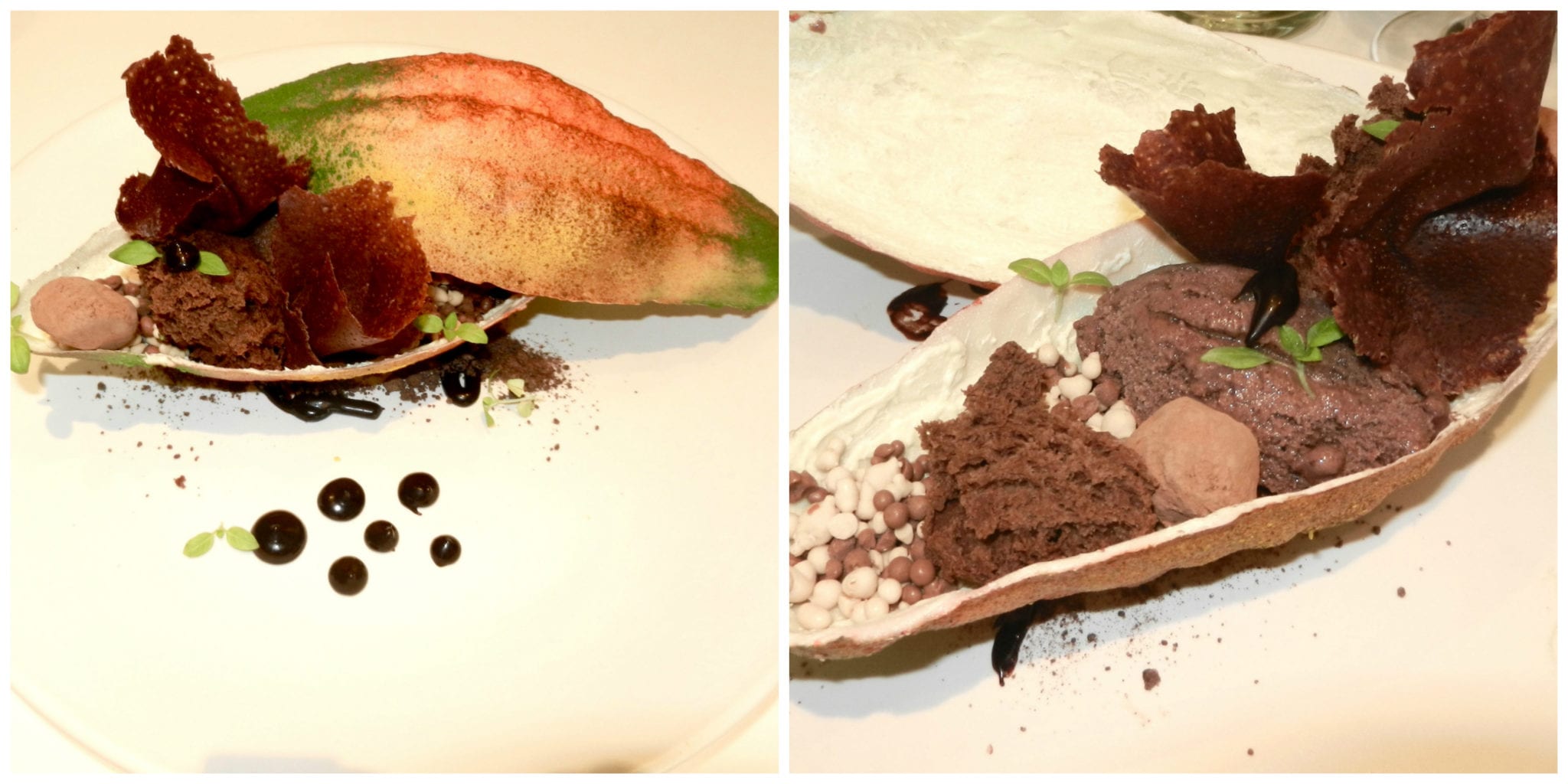 CACAO and POLVORON DE ELOTE desserts were fabulous!! (above photos) Angie enjoyed tasting the colorful CACAO outer shell! Mmmm, delicious!!
CACAO – chocolate cocoa pod, chocolate textures – tejate foam, milk chocolate cloud, chocolate crioillo soil
POLVORON DE ELOTE – crisp corn cake, nanche ice cream, prickly pear gelee, candied beet chips, cocunut-mezcal sauce
After a 3 hour lunch, beautiful  Connie took the divas  on a  wonderful tour of the beautiful hotel which included seeing the State of Texas pool, the magnificent Super Bowl L1 trophy reflected on the hotel glass and
Biggio's Sports Bar
.
The divas were happy to see Congressman Pete Olson at the Marquis and were excited to get a photo taken with him.
Thanks sooo much to Angie for hosting at
Xochi
and the wonderful wine, appetizers, desserts, books,and Kate Spade "AFTER my OWN and ALL my LOVE message tray and kiss!! Thanks so much to Connie, too! for securing
Xochi
and the awesome tour!! Lovely diva Connie was a well-known patron at the new Xochi and is a great resource to the divas for new and upcoming upscale restaurants!!
Xochi
(so-chee) comes from Xochitl meaning flower, to catch fire, to bloom or blossom, from the Aztec language Nahuatl.
The divas will be returning to this awesome restaurant soon – so many choices to try!! Diva Gloria dined here the very next evening and has included a great night photo of the State of Texas pool.
I loved it so much that I booked a reservation for the hubs and I for a special Valentine Dinner. Again,
Xochi
did not disappoint!
I will have to say this is one of my new favorite restaurants in Houston, TX. SheShe gives it FIVE STARS *****
As always thanks to Diva Gloria Wong for the great photos and the descriptive write up!!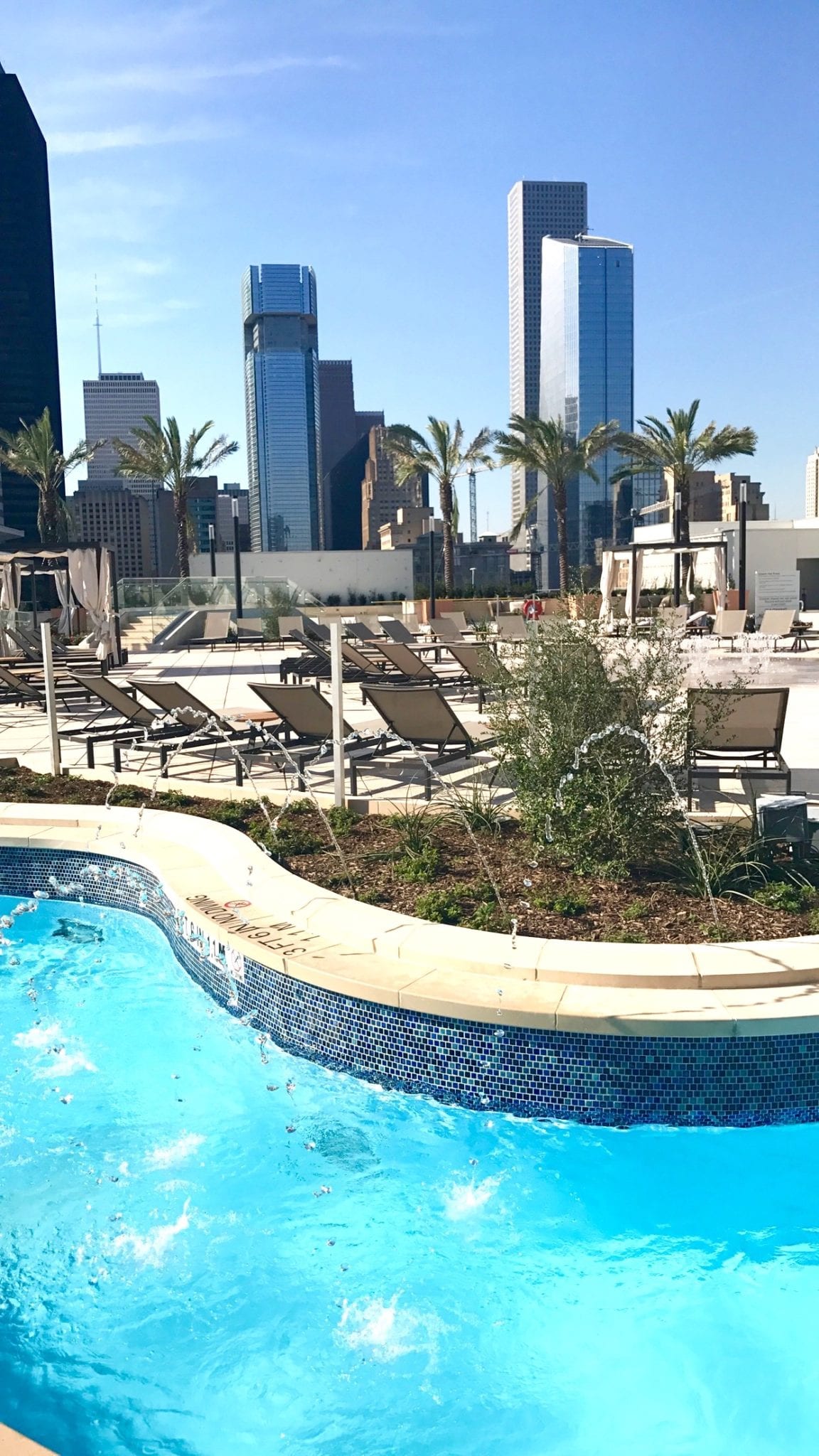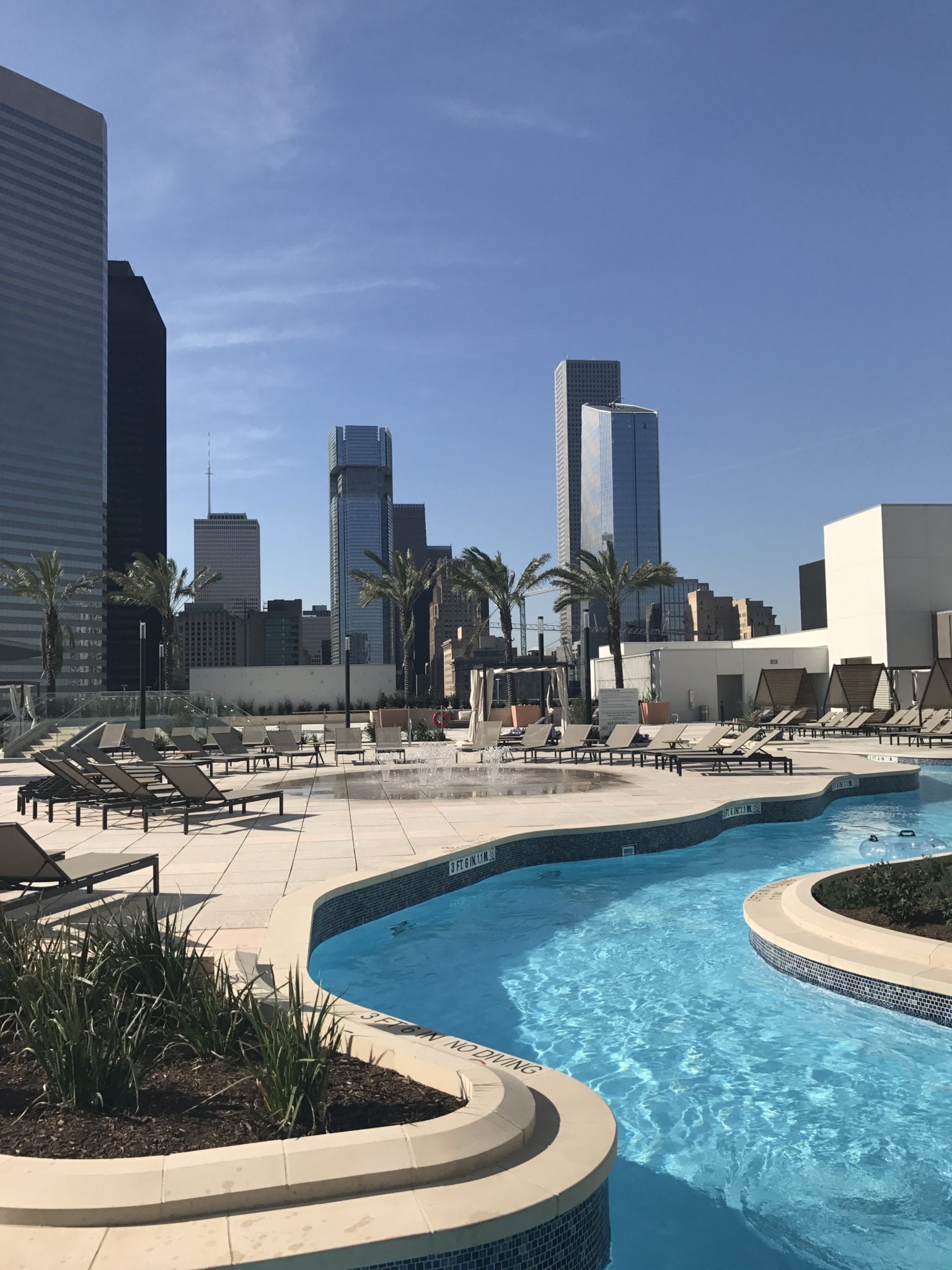 MY OUTFIT DETAILS
SHESHE'S TIDBITS
Well I guess you have been wondering where I have been? It was not intentional that I didn't get a post out this week. I was depending on my assistant to upload a couple of videos for you but he dropped the ball on me. From now own I am not going to depend on someone else. That means I have to learn some new technology. Not a bad thing, I just wasn't prepared this week. I APPOLIGIZE!!
I just got back from Austin for a whirlwind 3 days attending the Texas Medal of Arts Awards & events sponsored by the www.txculturaltrust.org. What an amazing time meeting new friends and rubbing elbows with the likes of Larry Gatlin & the Gatlin brothers, Kenny Rodger and my favorite Kris Kristofferson. You can see a couple of photos on my Instagram.
Coming up is a lot of spring fashion as well as Rodeo Season starts here in Houston soon. My family has 4 birthdays the first week of March, including my own. I will be doing a special post on my birthday, March the 8th. That day also happens to be International Women's Day celebrated around the world. This years theme is #BeBoldForChange.  Stay tuned because I am not only #thefierce50, I am a #fierce woman and proud of it!!! You will be enlightened that I am still fairly conservative and not a fanatical feminist, but I do believe strongly in women's rights. Yes, I want my cake and eat it too!!!