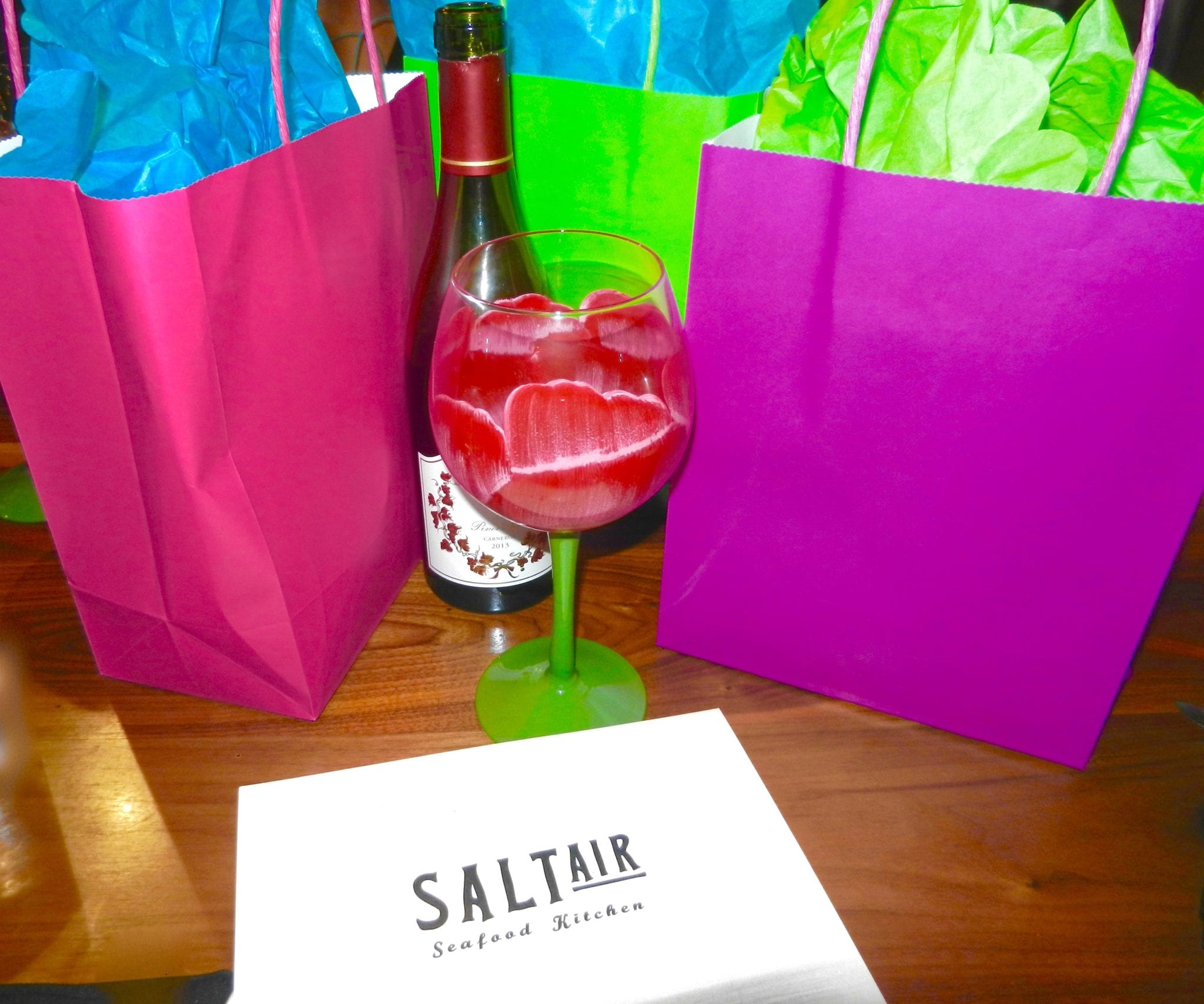 Hello my foodie friends! We had a great day with the "Dining Divas" at SALTAir Seafood Kitchen in Houston, TX last month. I am a little behind, but I could not pass on this one.
For my new readers, the Dining Divas are a group of friends that have been dining around town (Houston) for over 3 years. We each have a month where we get to select the restaurant. I would never get to experience all of the wonderful restaurants if I wasn't part of this group, because it is so hard to get Norman to try new restaurants. He likes to go to the same place every time. So boring…..
Most every time, we are privileged to have our photos made with the owners/chefs. They get a kick out of it as much as we do and love talking about their restaurants, the food/wine and how it was founded. With the ever changing food trends, we always have a list of new and old restaurants to choose from. We have yet to eat at the same place twice. Houston is one of the top 3 cities in the country for amazing food in my opinion.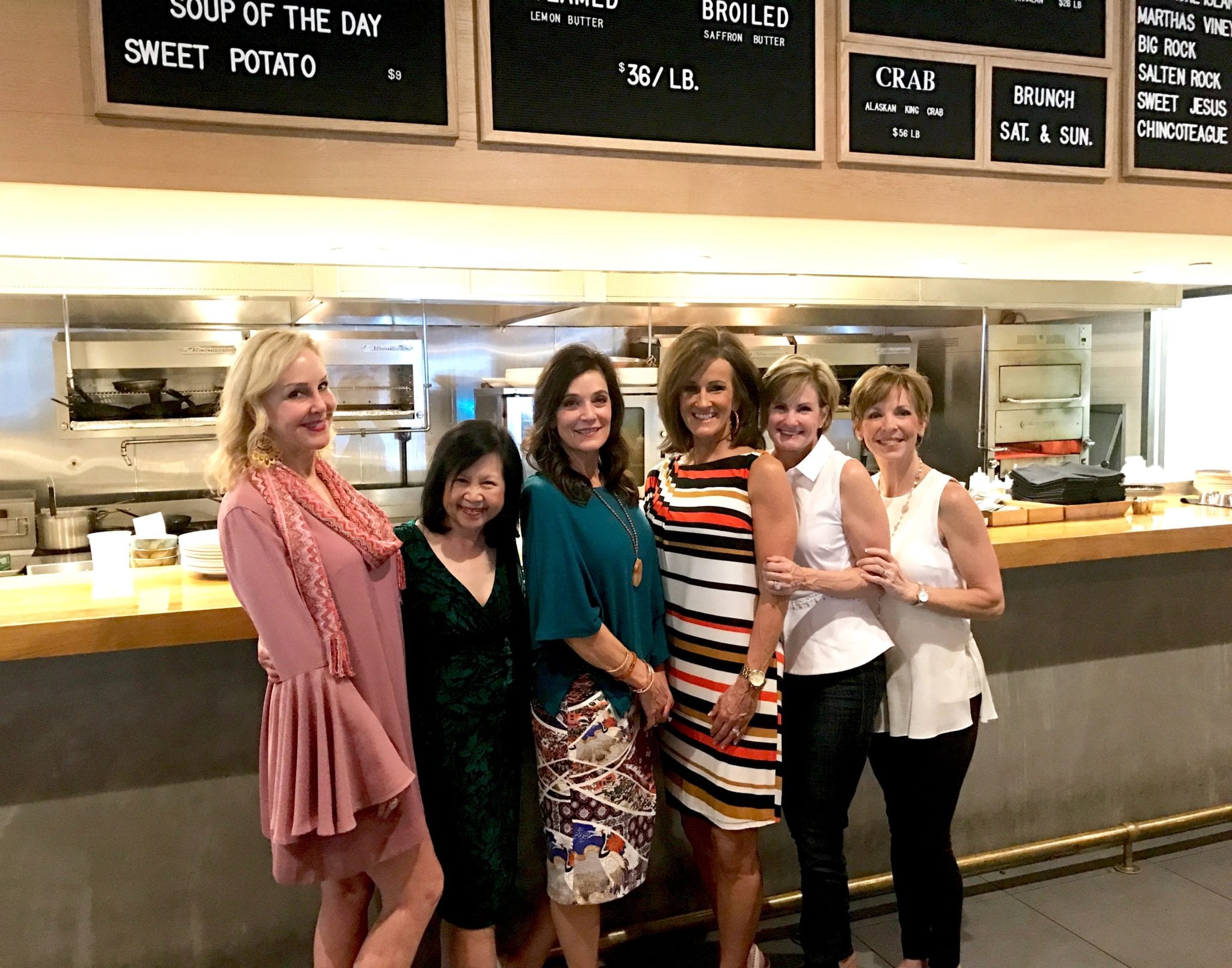 So, today our lovely Diva Anne selected an upscale beach environment restaurant located in Upper Kirby for March's dining experience –SALTAir  Seafood Kitchen !! What a fabulous modern interpretation of a seafood restaurant in Houston! .The main entrance was quite eye-catching with the extraordinary huge main bar. Seating was available in the glass patio area, however Anne selected the perfect table with wonderful curved booth seating with a view of the beautiful bar! Diners can also feast on seafood from the raw bar on the side of bar opening to the dining room.
Diva Anne decorated the table with colorful gift bags that the divas couldn't wait to open.  All the ladies loved their gift bags and and the unique items inside that included a wine glass with beautiful red flowers painted on it, Jelly Belly BUBBLY Champagne Flavor Jelly Beans and Wine Glass Writer.
The divas enjoyed sipping on the 2 wines that were served – Pinot Noir Carneros and Jordan Chardonnay.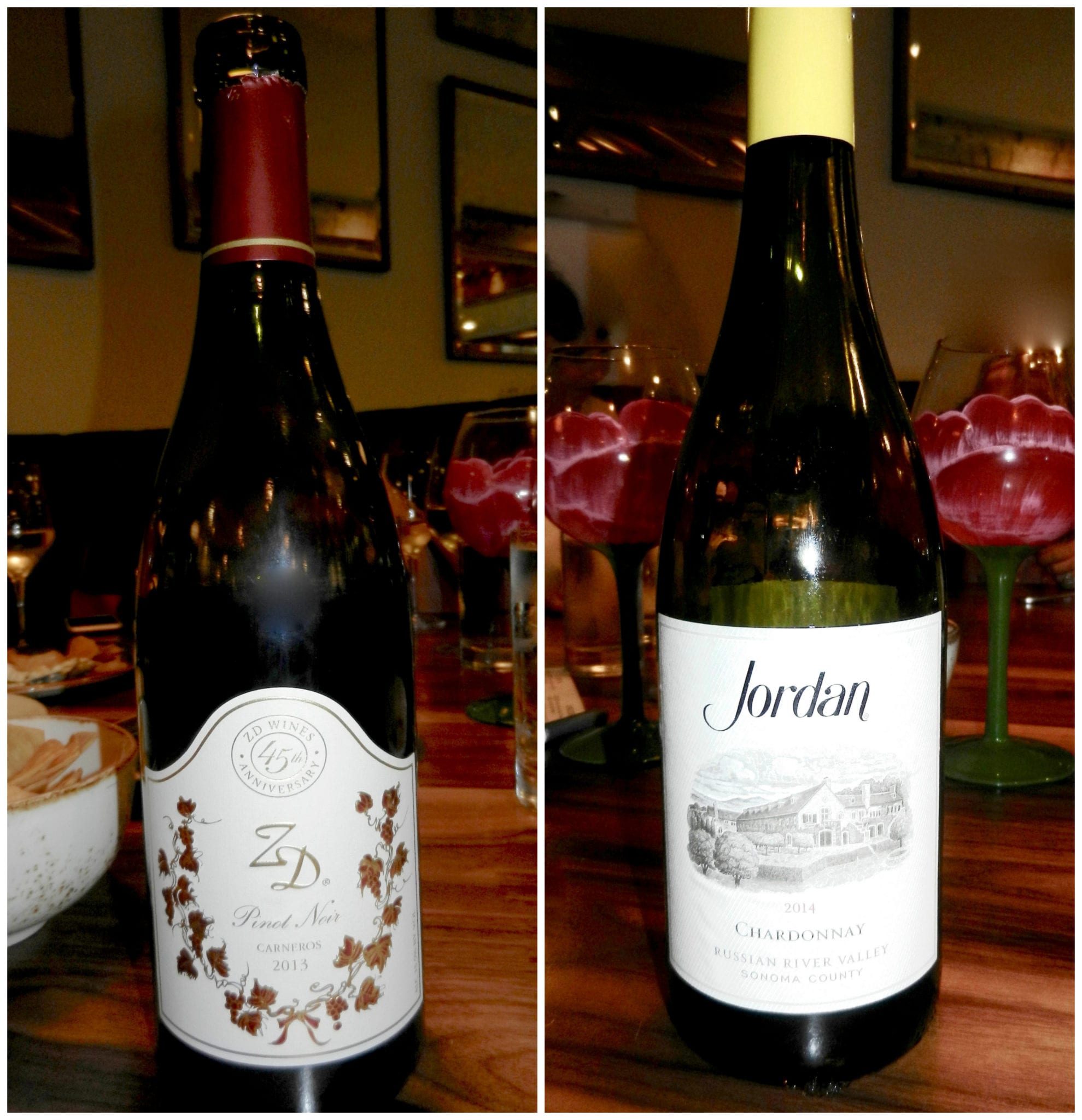 Everyone loved tasting 3 delicious appetizers.
          Seafood Campechana – shrimp and crab with spicy tomato sauce, avocado and tortilla chips (not pictured)
          French Onion Dip with caviar & potato chips
          Calamari – salt & pepper fried, with nuoc cham
OMG….I could have eaten all of this without sharing. I am the salty dawg!
 Fresh Seafood (redfish, snapper and salmon) and Shrimp and Lobster Salad were the popular choices chosen by the Divas.
         Snapper Fillet pan seared snapper of the day with lemon butter, served with rice pilaf
         Redfish 1/2 shell oven baked with moroccan spices and chermoula, served with tabbouleah
        Shrimp & Lobster Salad with shredded lettuce, tomato, corn and avocado, with citrus alioli
        Salmon Fillet  simply grilled salmon of the day with olive oil, maldon salt, and fresh cracked pepper,
                                       served with tabbouleah
Anne ordered 2 fabulous desserts – Peanut Butter Jelly and Butterscotch Pot De Creme for the Divas to taste. Soooo good!!
Peanut Butter Jelly- peanut butter chocolate brownie, vanilla cheesecake, dulce de leche, grape get, toasted rice and peanut butter crunch
Butterscotch Pot De Creme-butterscotch custard, chantilly, dulce de leche
Chef Will Ducante and Chef Brandon Soverall prepared all the wonderful dishes using local, seasonal ingredients at
SaltAir  Seafood Kitchen
. .Clark Cooper Concepts (owners Grant Cooper and Charles Clark) own several other restaurants in Houston – ibiza, Coppa Osteria, Brasserie 19 (Divas dined at this restaurant in February 2015), Punk's Simple Southern Food, and The Dunlavy & The Kitchen at the Dunlavy.
Thanks so much to beautiful Anne for hosting at
SALTAir Seafood Kitchen,
another fun and great dining experience and for the wine, appetizers, desserts and pretty wine glass, champagne jelly beans, and wine glass writer.
The divas look forward to dining at a restaurant selected by beautiful diva Sheree for April.
Also, as always, thank you Gloria for doing this write up.
*****I give
SaltAi
r
Seafood Kitchen
, Five Stars.
Trending || pink dresses

Outfit Details

 SHESHE'S TIDBITS
Big sale right now at Sephora.com Beauty Insiders 10% off, VIB & VIB ROUGE 15% off with code BIGSPRING  ends April 23 so get to it now!! Time to pick up those beauty products that are running low . Also, www.toryburch.com up to 30% Use code: SPRINGEVENT  ends Monday April 24th and www.jcrew.com 25% off code: HOPTOIT ends April 23.
I don't know about you guys, but I am running on empty! I have been way too social lately and staying up too late, so you know what that means…..I have a short fuse….not good…..and we are not done yet. Monday is Norman's birthday so some of the family is with us this weekend to celebrate. More food-drink-no sleep.
Last week I attended a beautiful fundraiser for Recipe for Success at one of the most beautiful and interesting homes I have been to in a while. If you follow me on Snapchat or Instastories then you got a sneak peak! I also had Bunco and another Dining Divas. OMG
This coming week, I will be attending another fundraiser benefitting children. I am on the host committee for that luncheon. It should be wonderful as well.
Lot's of fashion coming up as well as a couple of city guides and tutorials, so stay tuned! Working on another SheShe's favorites for YouTube and the blog. That is always a hit!
Gala's, weddings, graduations…..we have fashion suggestions for you, so stay tuned. Be sure to check out ShopSheShe at the top in the menu bar. Hover over and choose the category in the drop down. We try to keep it up to date with the latest and greatest for all budgets. Subscribe and then you won't miss a post. Simply enter your email in the pop up box when you come to this site or at the the top of this page in the subscribe box.
Welcome new readers. We are a fashion/travel/lifestyle blog. We talk about anything and everything, from health issues to even an occasional recipe. If there is a topic that you are interested in, then let us know. We will do our best to bring that story to you. Have a great great week sweet friends and thank you for following along. Without you, we could not continue on this crazy fun journey!!