Have you caught on to the summer handbag trend yet?  There are at least 4 distinctive categories we are going to talk about today.
The straw embellished totes
The cage bag
The basket bags
The return of the wicker bags.
The Straw Embellished Bags
These bags are so fun. You can find a bag that has a saying on the side or decorated in colorful pom poms and tassels. I personally invested in the one in the first photo. I really liked it because it has a pretty colorful lining that sticks out of the top of the bag. Plus the tassel bag charm comes with this bag and I also liked the size. It is a tote but you could use it for an everyday purse or it would be a great bag for the pool or the beach.
The next bag (photo below), is a bag that I have personally owned for about 10 years and every time I carry it I get so many compliments. The problem is that it is not available to purchase, however, this bag and this bag are very similar in style. The bag charm did not come with the bag. I found a few sold separately and can be purchased here.
Even if you just find a plain straw bag, then think about adding a silky scarf of bag charm to jazz it up. These bags are all about the statement and FUN!!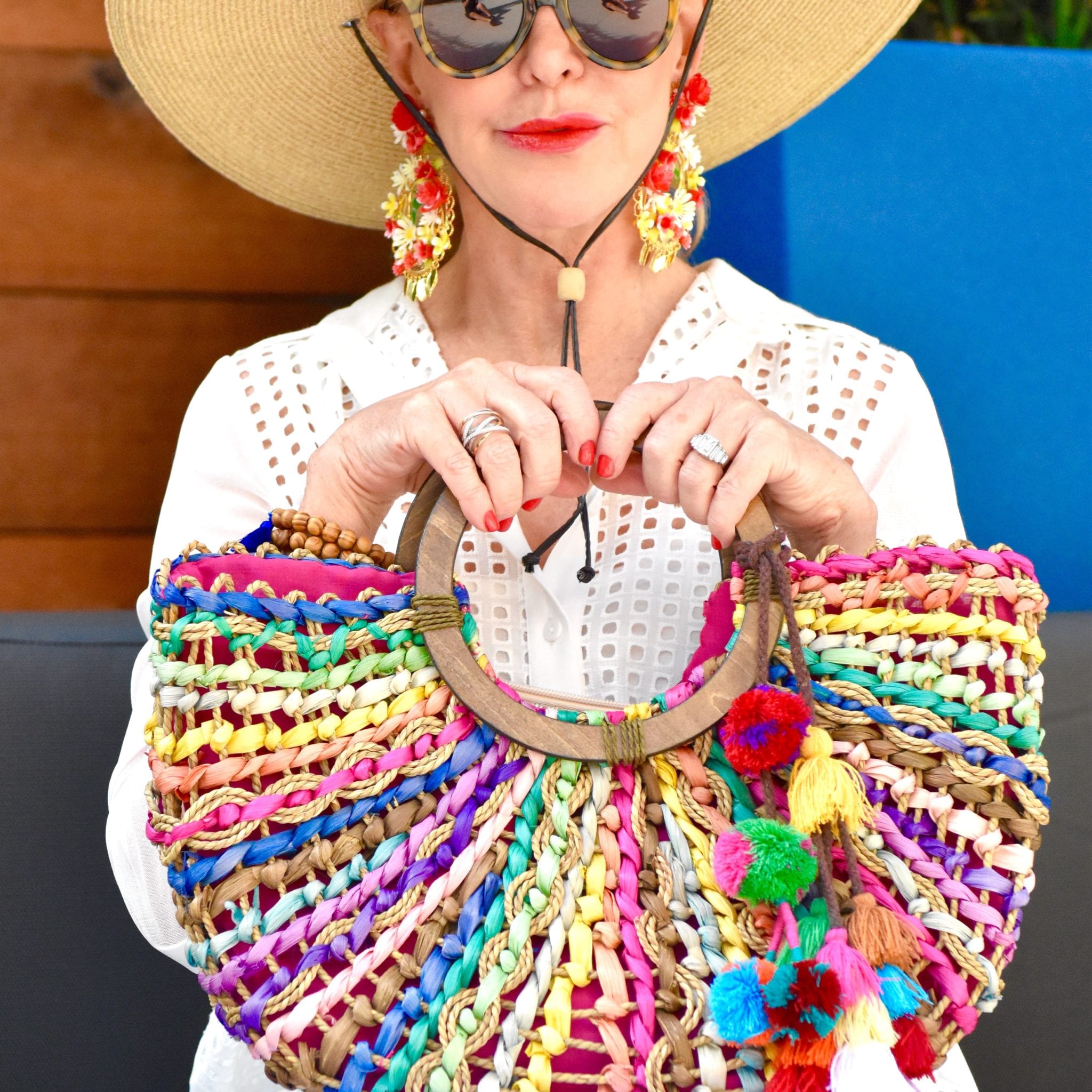 The Cage Bag
Below is an example of the cage bag and this particular bag is THE CULT BAG of the summer season. What is ironic, is the name of the bag is named "Ark"  by Cult Gaia. This bag has been around for 2 or 3 years, but is just now going bonkers. I ordered mine last fall and didn't get it until November. It had been sold out all summer, but I was willing to store it for a while once it came in. It is said that this is the hottest "IT" bag in a long time and with a price like this then it is a no brainer for many of us to snag this cute and unique bag.
If you want to be a part of the cult then put your name on a wait list if it sells out agin. It comes in 2 sizes and you can get it in a few colors now. White, black, and neutral seem to be the favorites. There is a green color that is beautiful.
However, a little more expensive than the Cult Gaia bag, I also love this cage bag and this one.
The Basket Bag 
Not pictured today, the basket bag and the wicker bag, are other standouts for this summer season's trending fun handbags. I remember having a basket bag bag in the 60's. I wish that I had kept it, because I remember that it had colorful embroidery and other embellishments on it. The designers are really coming out with some cute basket bags. I especially love this camel basket bag by Kate Spade that is part of her Moroccan Collection this spring. If you aren't familiar with Kate Spade, then just know that she does the most fun whimsy bags every season and most are all theme bags. I have been collecting a few of her bags for years. Another one of my favorite bags is this cute little mini basket bag and this bag.
The Wicker Bag
Last but certainly not least is the return of the wicker bag. I have a photo of my mom carrying a wicker bag. This photo is so streetstyle and I will post it if I can find it. It is on Instagram, but it was over 2 years ago. It is the coolest photo of her. Anyway, this bag is back in a big way!! I just ordered this circle bag and I can't wait to get it. This bag is adorable and is under $30!! Yess!!!
So there ya go ladies….Check out this seasons hottest cult bags. Most will not break the bank. Have some nostalgic summer fun!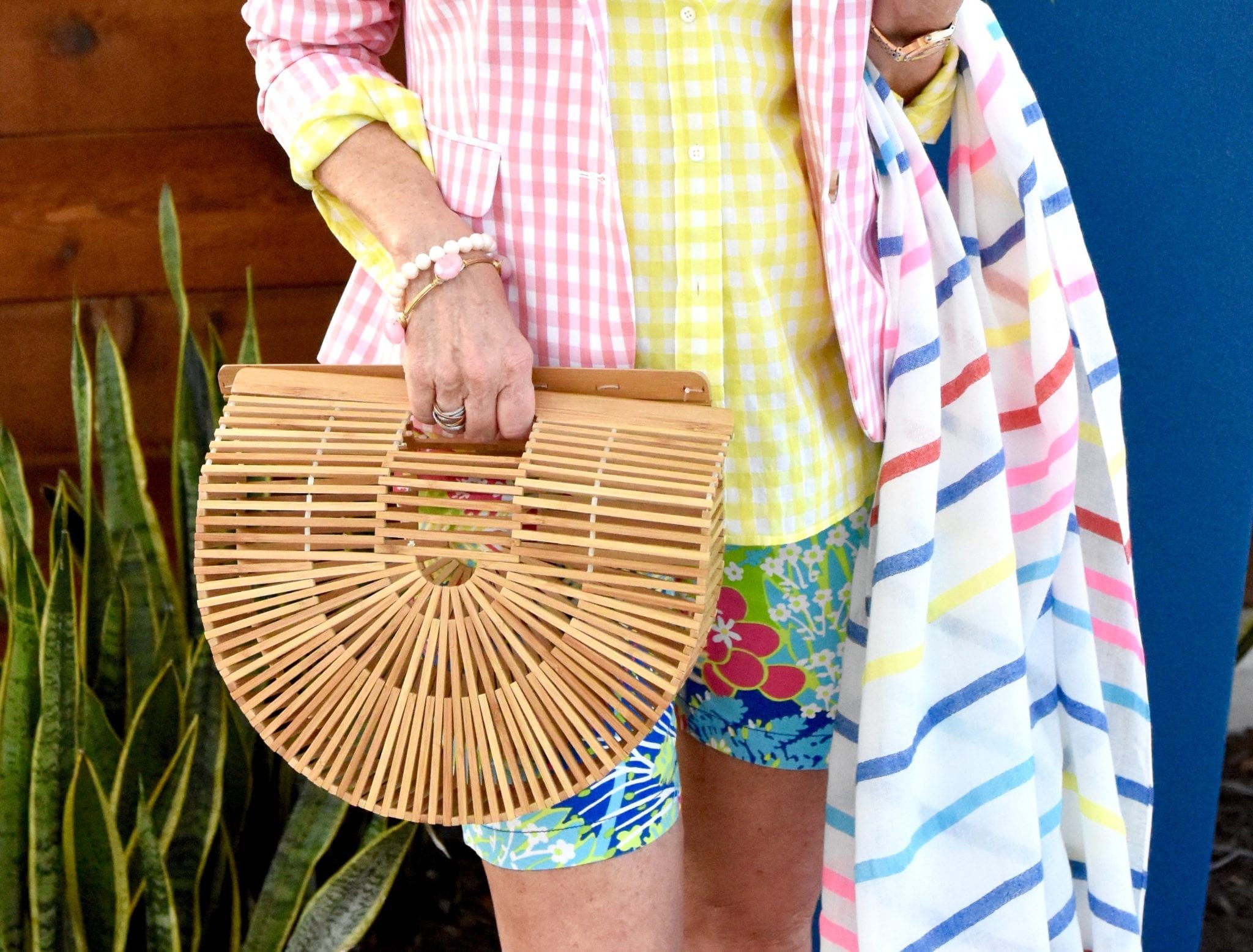 Outfit Details
SHESHE'S TIDBITS
Macy's Friends & Family Sale, Take an Extra 30% off with some exclusions. Use Code: FRIEND  I love their shoe department. Check out these cute mules that I just snagged. They come in 3 colors.
Just a reminder about the $500 Target Gift Card Giveaway. It ends in a few days, so enter to win. It just might be your lucky day.
Gala's, weddings, graduations, or just everyday wear…..we have fashion suggestions for you, so stay tuned. Be sure to check out ShopSheShe at the top in the menu bar. Hover over and choose the category in the drop down. We try to keep it up to date with the latest and greatest for all budgets. Subscribe and then you won't miss a post. Simply enter your email in the pop up box when you come to this site or at the the top of this page in the subscribe box.
Welcome new readers. We are a fashion/travel/lifestyle blog. We talk about anything and everything, from fashion, travel, health issues to even an occasional recipe. If there is a topic that you are interested in, then let us know. We will do our best to bring that story to you. Have a great great week sweet friends and thank you for following along. Without you, we could not continue on this crazy fun journey!!