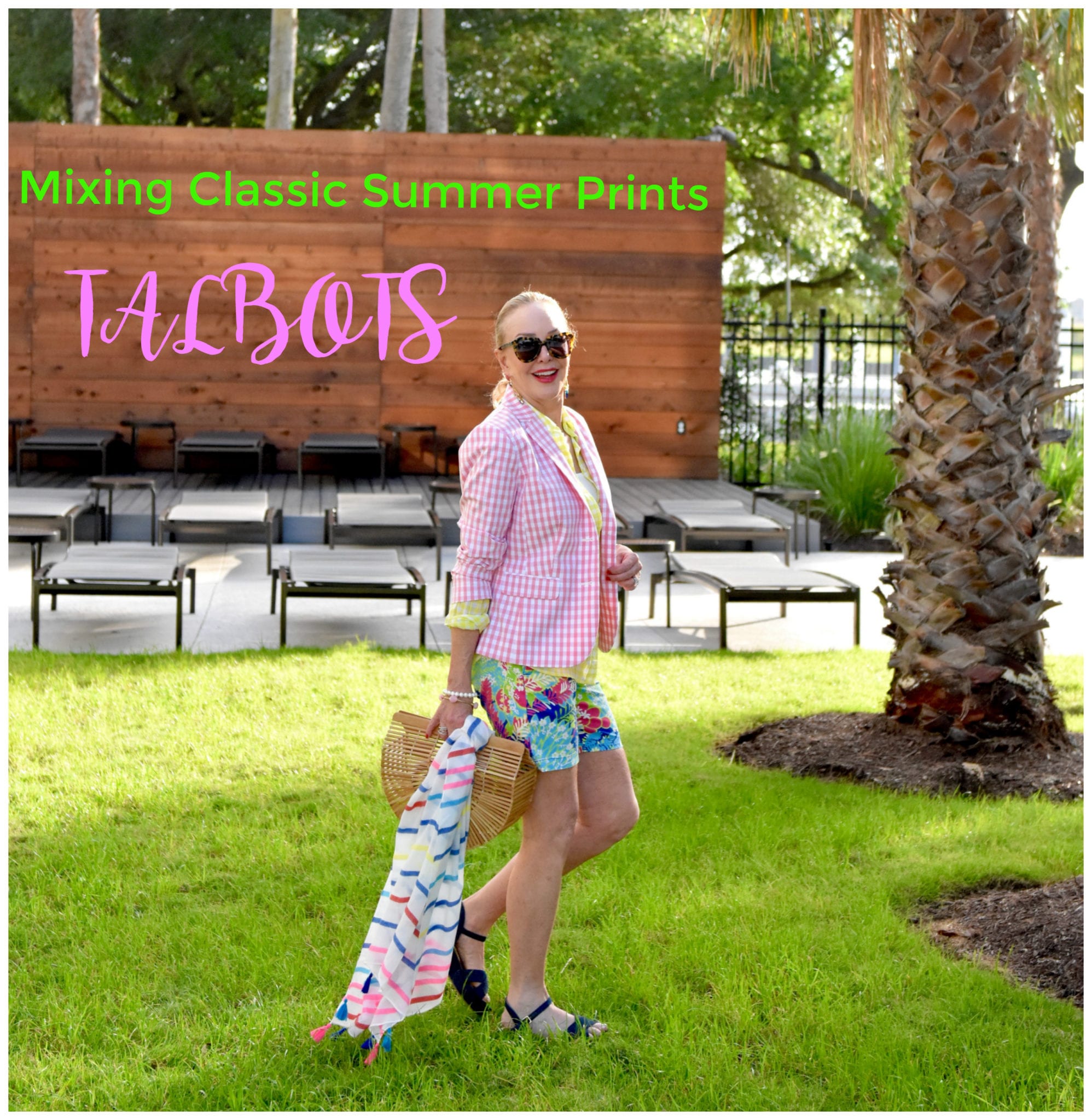 This post is brought to you in partnership with Talbots. All of my opinions are my own.
I am sooo very excited to partner for the very first time with Talbots and today's look is mixing classic summer prints. Talbots does classic, leaving room for expression with all of their collections. I was thrilled that they let me have the freedom to style some of their April collection pieces in ways that fit my style. This post is just in time for Talbot big Friends & Family Spring sale, so your entire purchase is 30% off, but it ends tonight. Be sure to use code FRIENDS30 at checkout. Get a move on and snag some cute fun prints and classics at a great price right now. You can click here to start the hunt.
You must know by now that I love the classics, but I have to add my own spin. Here I stepped out of the the box to mix 2 checked prints over a tropical print. I don't think that there is some kind of rule book as to how to do this. It is just a gut feeling that happens when you put the look on. It either feels right or it doesn't and when it doesn't, it screams at me……take it off……not working…..try something else. Many times I have a try on session in my closet to make sure my ideas work. It might work in my head, but when I get it on, then something goes wrong. Never plan an outfit without making sure that the look works. You might not have time to change it up, especially if you are always running behind the clock like I do.
So let's take the 3 main pieces that makes up this outfit.
Pink & white checked blazer– this is the most versatile jacket that can be worn with a white t and jeans, over a print shirt like I have don here or slip it over a shift dress or pencil skirt for a more polished look. I did show this jacket over a white t shirt. Just scroll on down to see that look. I also love this madras blazer and this madras dress that are also nostalgic staples that brings back so many memories.
Bright yellow checked shirt– I actually find that these shirts work for great wardrobe staples. I have 3 in different colors and add a new color every year. They just never ever go out of style. This shirt and this one also work into my every day life very well.
 These cute garden botanical print shorts. I love these shorts for several reasons. First and foremost they are the pretty summer colors that I love so much. Next is the cotton fabric which has just enough spandex that also makes for a great fit and the mid rise waist fits most body types the best. When I look to buy a new pair of shorts, I always look at the length of the inseam. For me, the sweet spot is about a 7″ inseam. It varies according to our own body types and comfort zone. I have definitely given up the short shorts because I just don't feel it, but I also don't like the way the knee length shorts look on me either. Don't get caught up in the age thing, but rather on how you feel in them. I think a rise between 6″ and 8″ is the most flattering on most body types, but let your gut tell you.
Accessories
I love accessories and even though these classic prints don't need to be garnished, I decided to add a few accessories to make this outfit my own. I am not going to conform to status quo and you shouldn't either, so there ya go….like it or not. Let's have some fun with our fashions.
Be sure to check out Talbots sandal line up this season. I love the wedge heels and block heels for many reasons, mostly for comfort and stability. My blue denim sandal is a great basic investment that goes with just about everything. The blue is sold out, but still available in black. I also like this blue denim sandal as well as this one. Their shoes run true to size.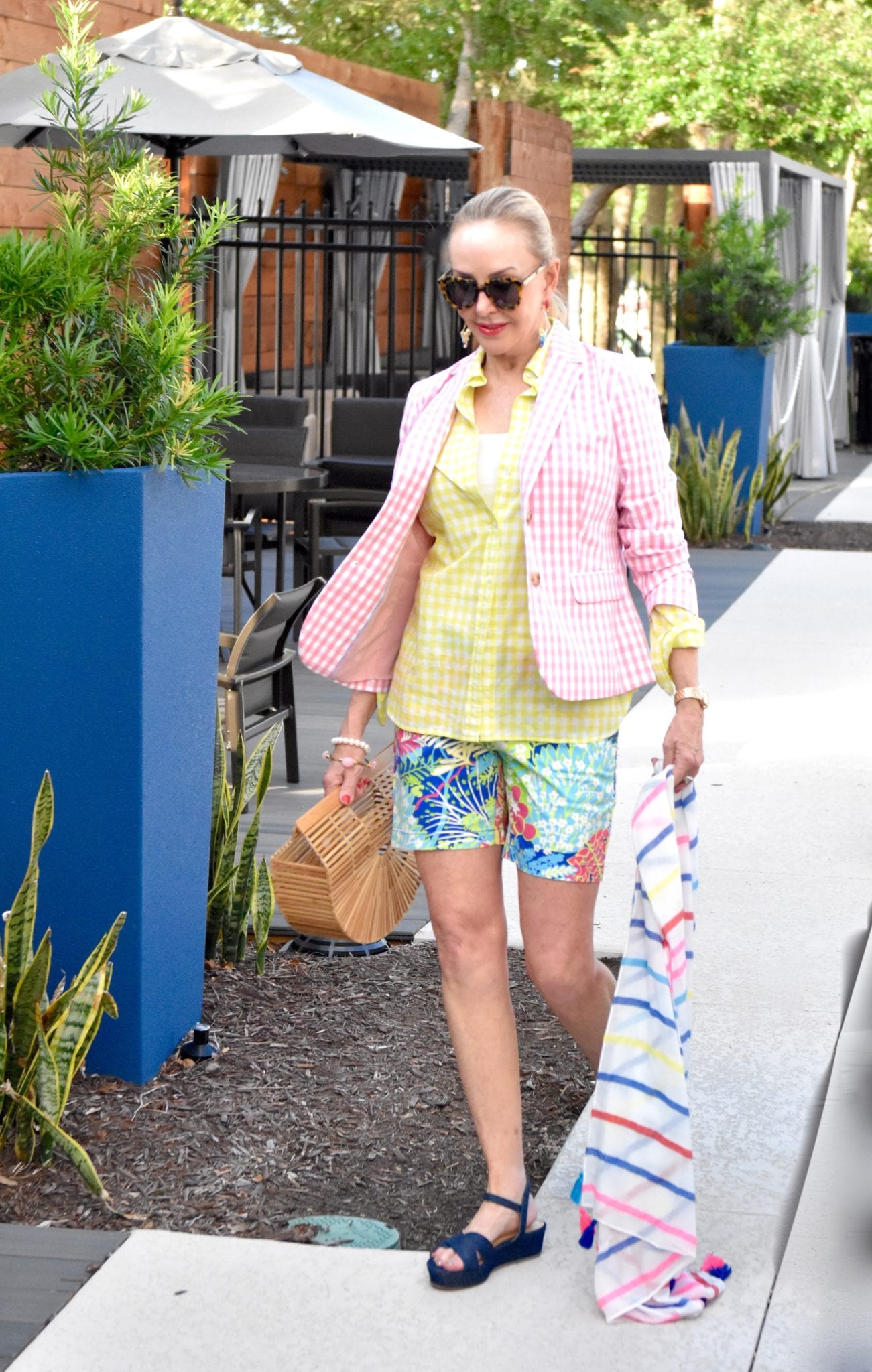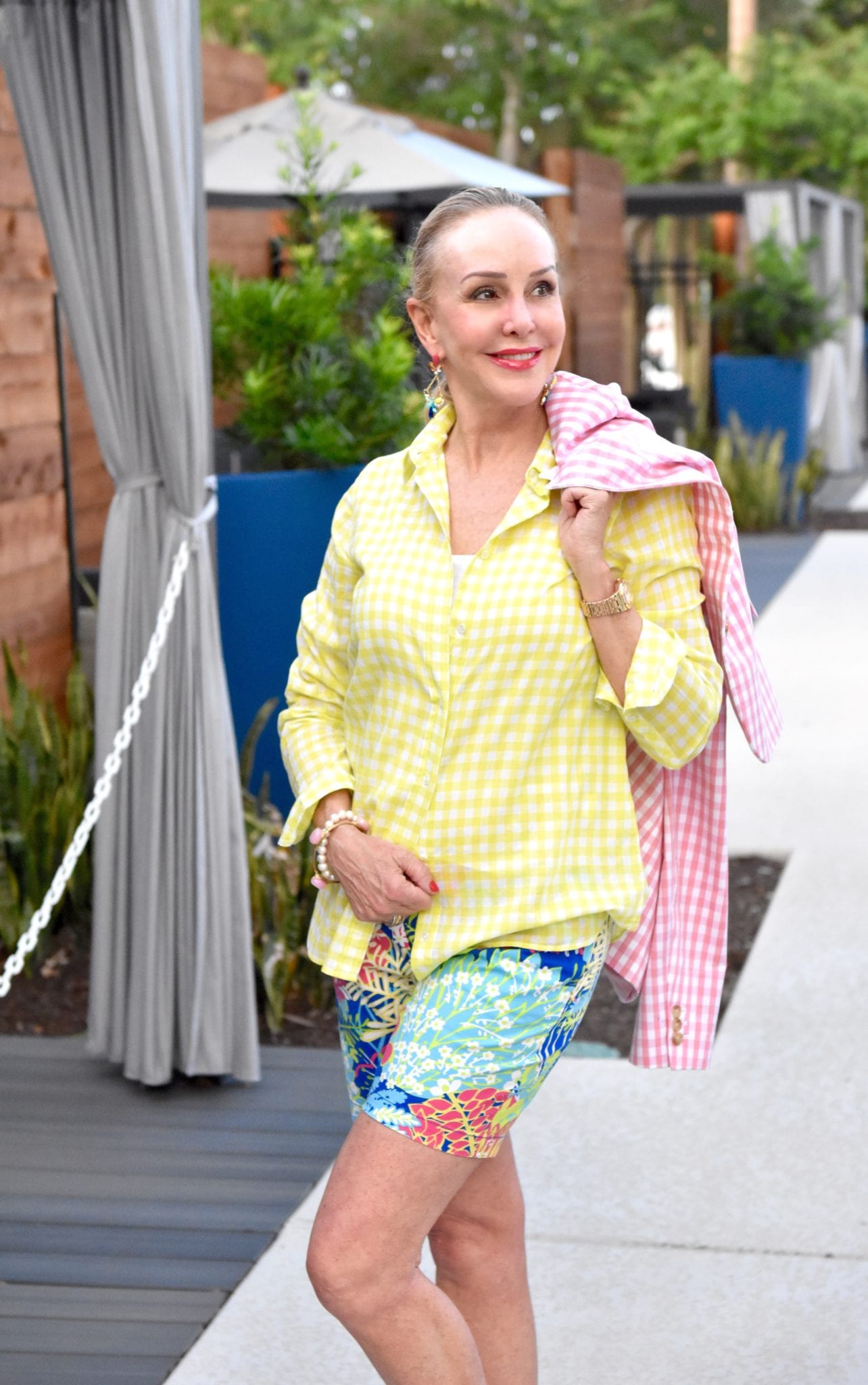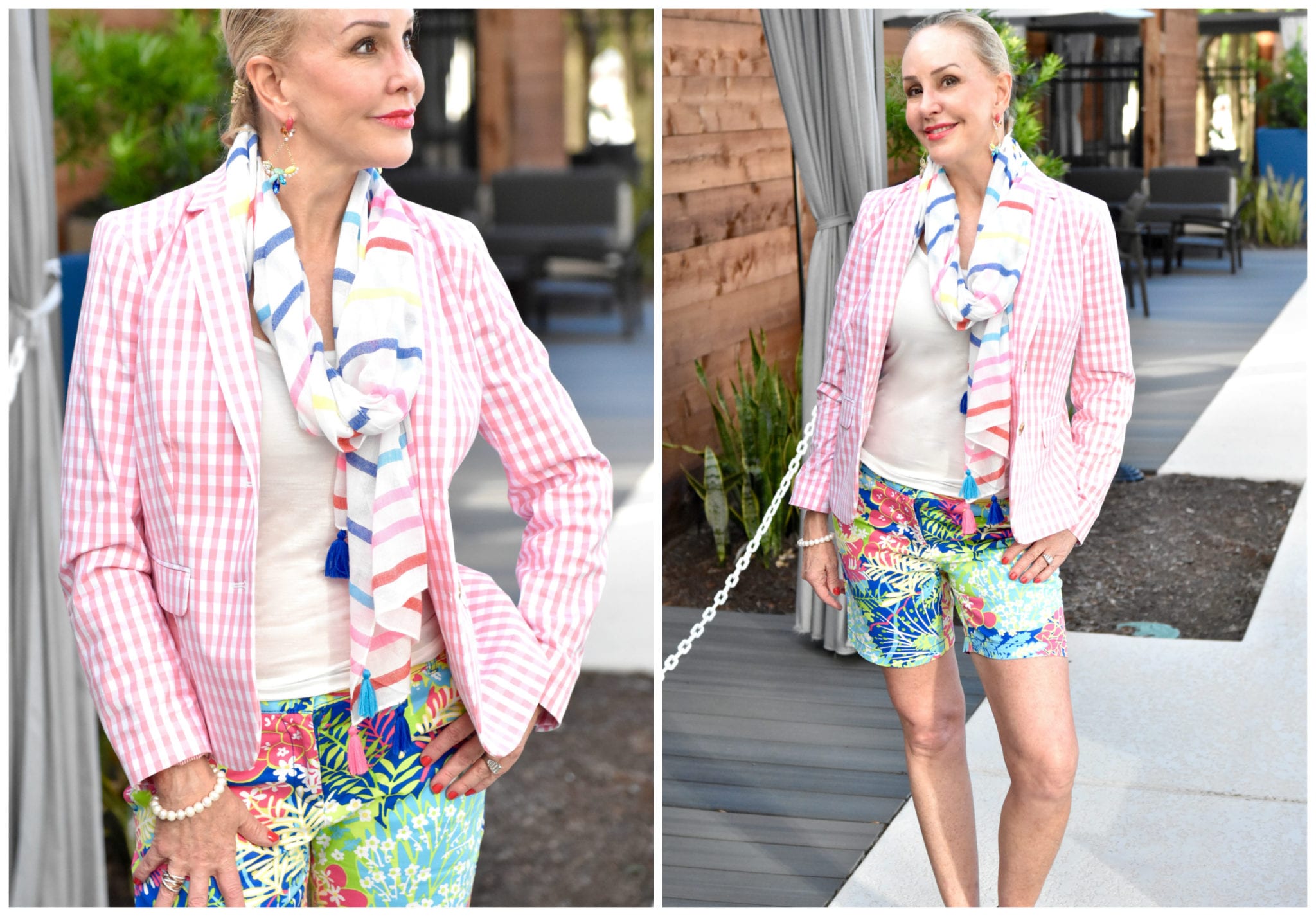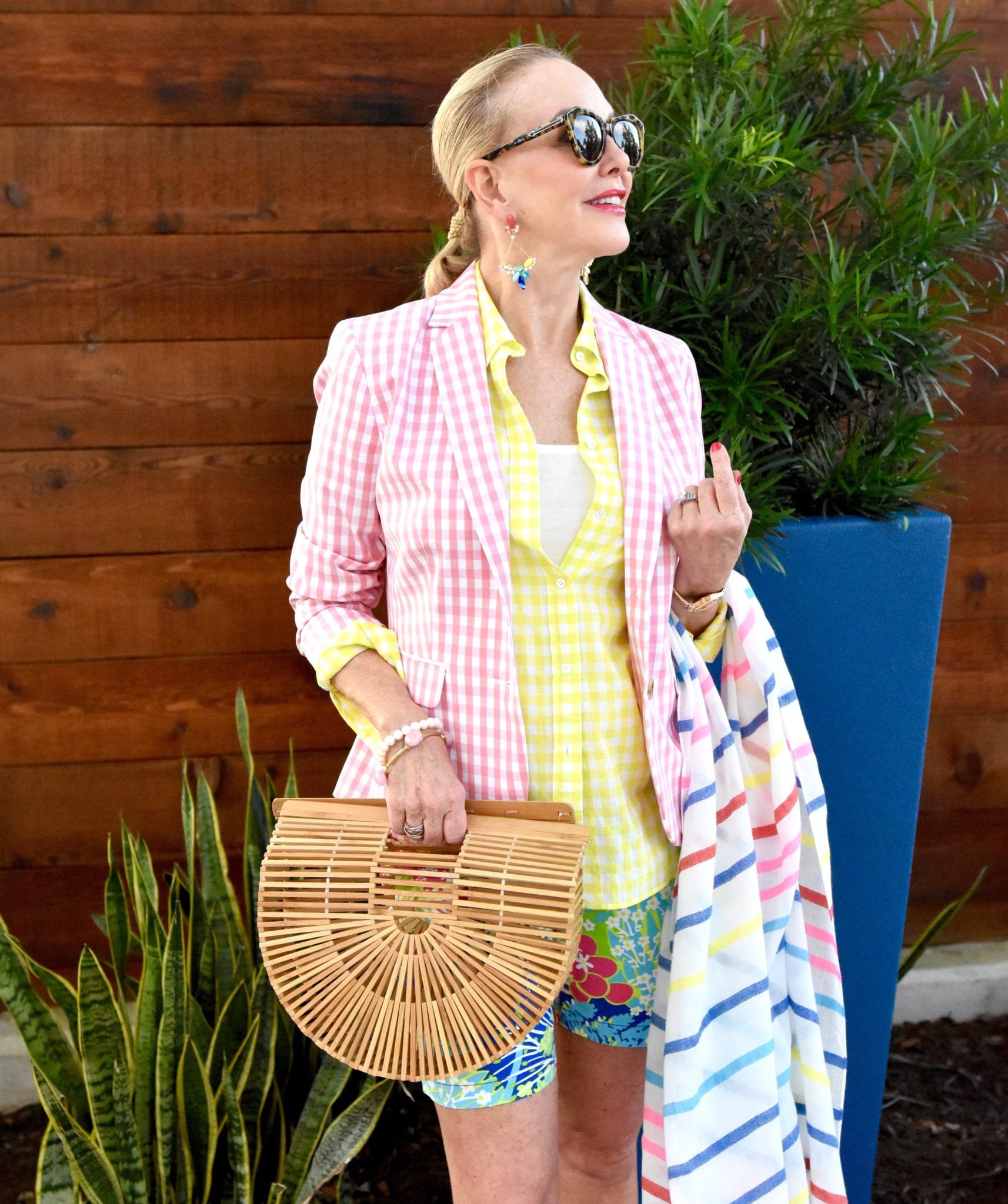 Thanks to our friends at South Shore Harbour Resort Hotel in League City, TX for the beautiful setting for our photos
So lovelies, we are off to another week. The weather was terrible on Saturday here in Houston and then a cool front came late Saturday night and yesterday was amazing….cool with no humidity. Summer is upon us though very soon.
OUTFIT DETAILS
SHESHE'S TIDBITS
If you missed our 60 Trending Summer Fun Handbags, then you must read all about the "IT" bag of the summer season…the caged Cult Gaia bag and it won't break the bank. It is photographed above with the shoes,
Macy's Friends & Family Sale, Take an Extra 30% off with some exclusions. Use Code: FRIEND  I love their shoe department. Check out these cute mules that I just snagged. They come in 3 colors.
Gala's, weddings, graduations, or just everyday wear…..we have fashion suggestions for you, so stay tuned. Be sure to check out ShopSheShe at the top in the menu bar. Hover over and choose the category in the drop down. We try to keep it up to date with the latest and greatest for all budgets. Subscribe and then you won't miss a post. Simply enter your email in the pop up box when you come to this site or at the the top of this page in the subscribe box.
Welcome new readers. We are a fashion/travel/lifestyle blog. We talk about anything and everything, from fashion, travel, health issues to even an occasional recipe. If there is a topic that you are interested in, then let us know. We will do our best to bring that story to you. Have a great great week sweet friends and thank you for following along. Without you, we could not continue on this crazy fun journey!