This post was in partnership with The St Anthony Hotel in San Antonio Texas
I assume you all know the beautiful fabric called eyelet, originally called broderie anglaise which means English embroidery. Because of its popularity in fashion this season, we are bringing you our top 25 eyelet dresses and tops. This beautiful durable lace fabric can be worn at all ages from a christening gown to a beautiful tunic, dress, top, lingerie and pants for the teenager all the way up to grandma. Eyelet has been seen over the centuries as wedding dresses and even in home furnishings for curtains, bedding and wedding gowns. Due to popularity of eyelet over many years, it now can be purchased in a wide range of colors and textures.
When I saw this bright canary yellow eyelet dress, it just sang to me. It didn't take too long before it was on its way to my front door. Every time I wear it, I get so many compliments and it is a style I can change up by wearing it with the self belt or loose and flowy. I wore it to a luncheon recently as well as to a bridal shower. It would also be great for a destination wedding on a beach and because t is so light and comfortable, it would feel great in any warm climate. This is typical of most all eyelet dresses.
EYELET FABRIC
This whitework needlework technique called eyelet originated in the 16th Century in Eastern Europe in what now we call Czech Republic. Now it is better known being from England and Brussels due to its popularity in the 19th century. Eyelet is really a type of lace made by creating holes and binding the holes with thread using the buttonhole stitch. Floral or abstract geometric designs are made by precisely sizing the holes and situating them, creating a pattern. Eyelet fabric is beautiful and more durable than other laces.
MATERIALS
Eyelet fabrics were made of white or ivory cotton for hundreds of years, but now you will see eyelet made from silk, satin, polyester, and even wool in many colors.
PATTERNS
Patterns can range from small intricate holes to make pretty feminine patterns or large holes for big bold designs. A dress like I am wearing in theses photos, the color mixed with the eyelet make for a pretty more modern look.
USES
Eyelet with small holes giving it a more delicate feel is likely to be for something special occasion, whereas bolder stronger eyelet fabrics can be used on a more day to day wear. The same applies when using eyelet in the home.
LOCATION
I recently had a wedding to attend in San Antonio where many of the guest stayed. I was so excited that the St Anthony Hotel wanted to work with me on a project. I will say that this hotel made for the most amazing fashion photoshoots. Here we are on the rooftop where they have a bar and music in the evening and they host many special events here as well. I will be trickling photos and fashion posts on Instagram followed by the entire story over the next 2 weeks, so if you are looking to San Antonio for a vacation then look not further than right here on SheShe Show. Also coming soon is the long awaited post How to Do Paris in 3 Days.
DRESSES
TOPS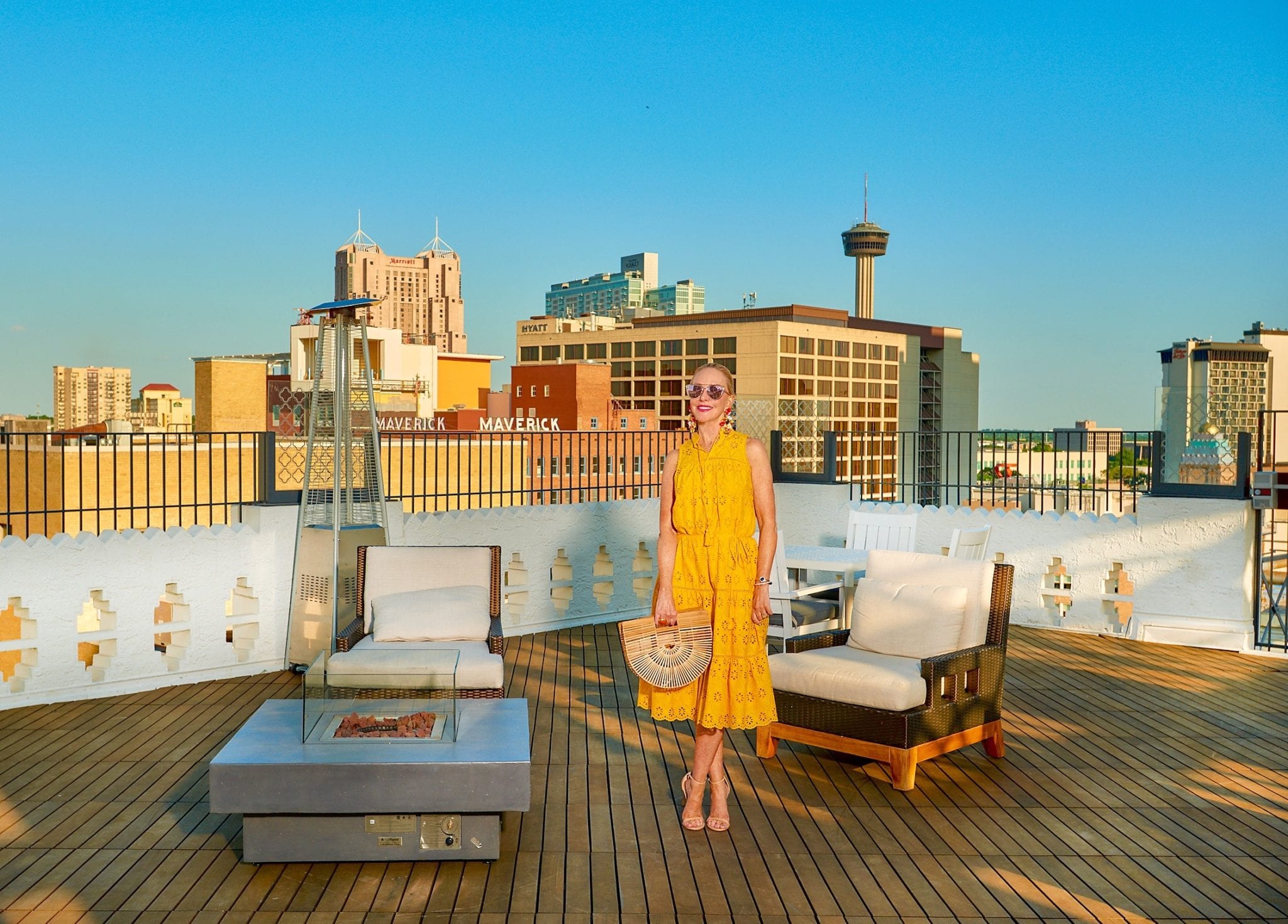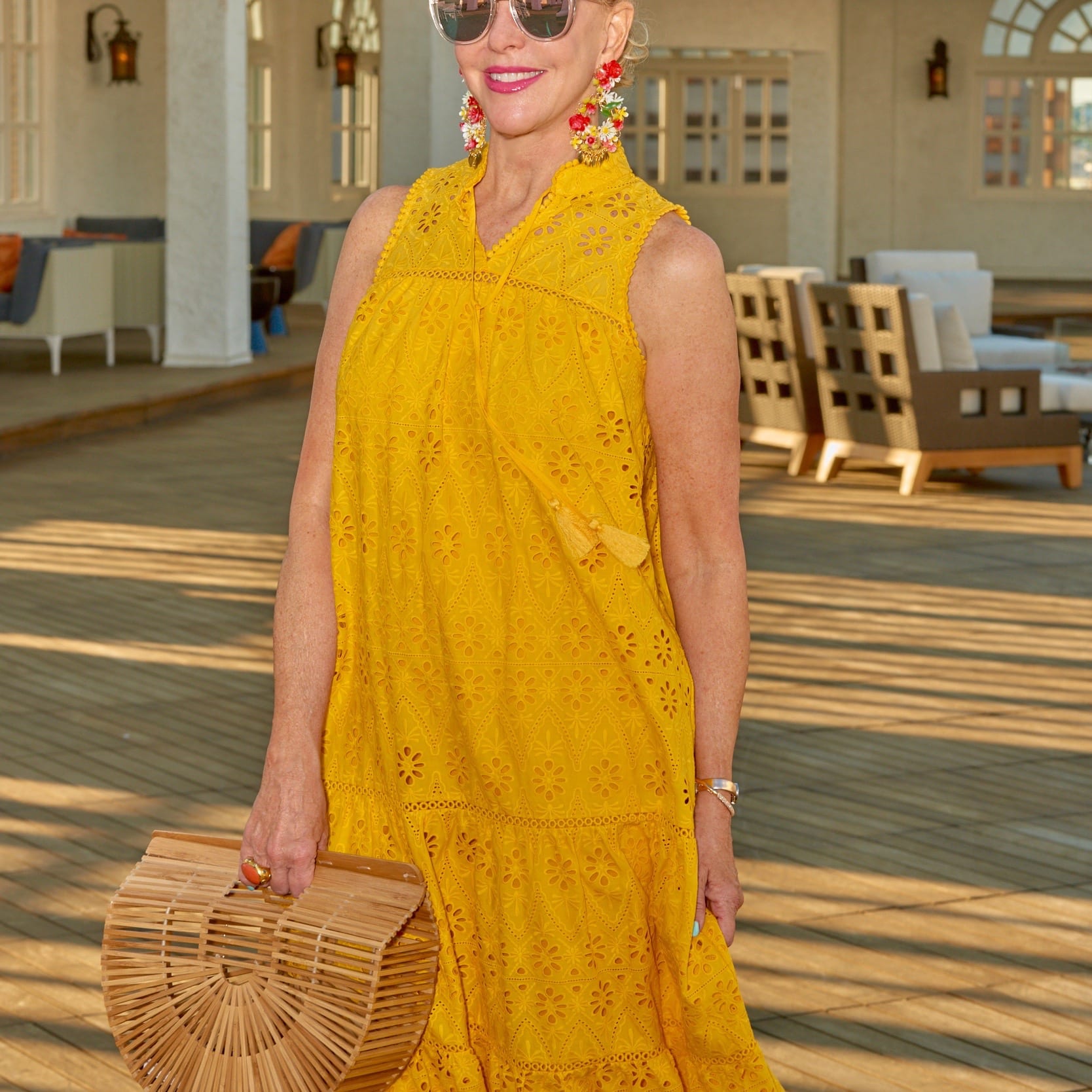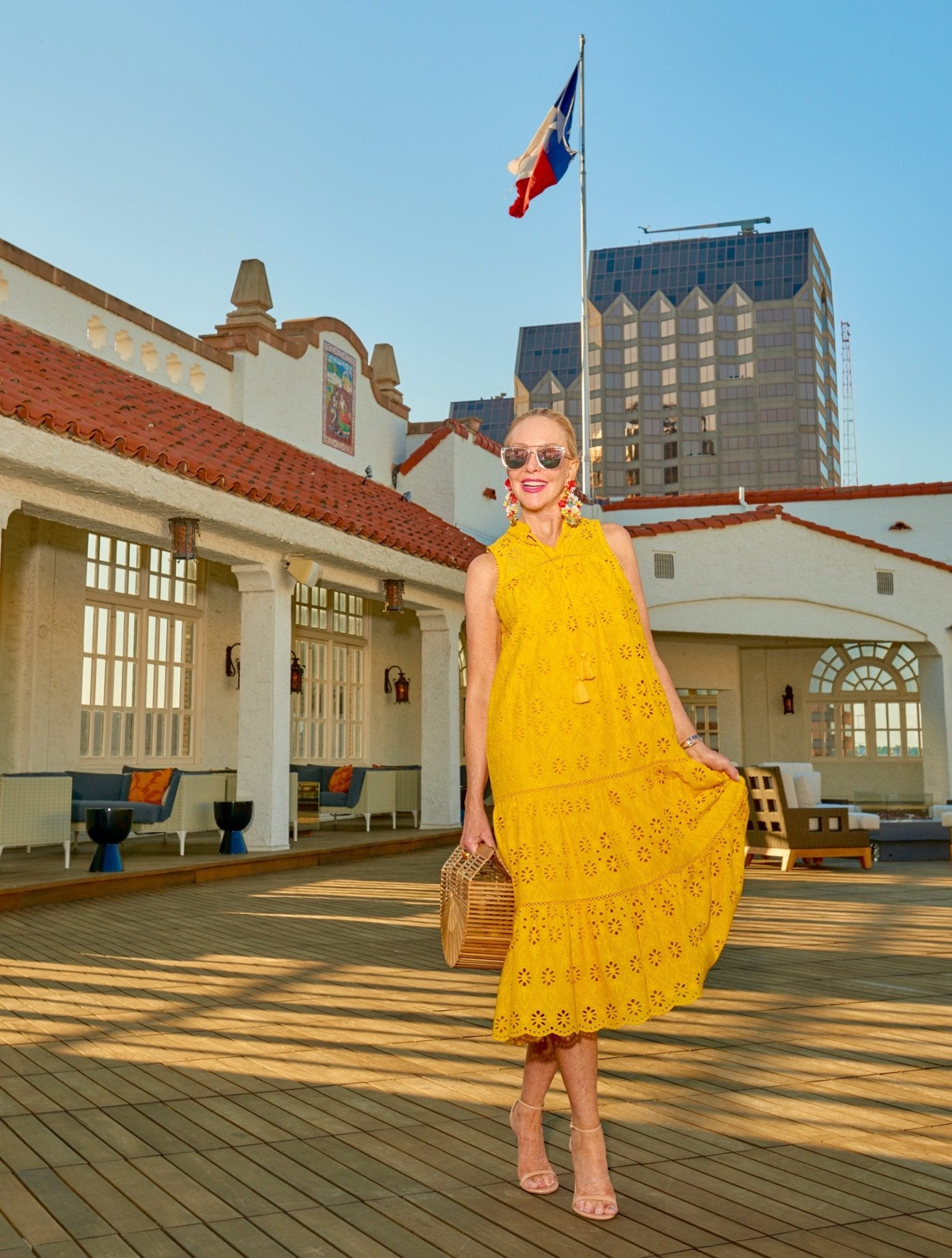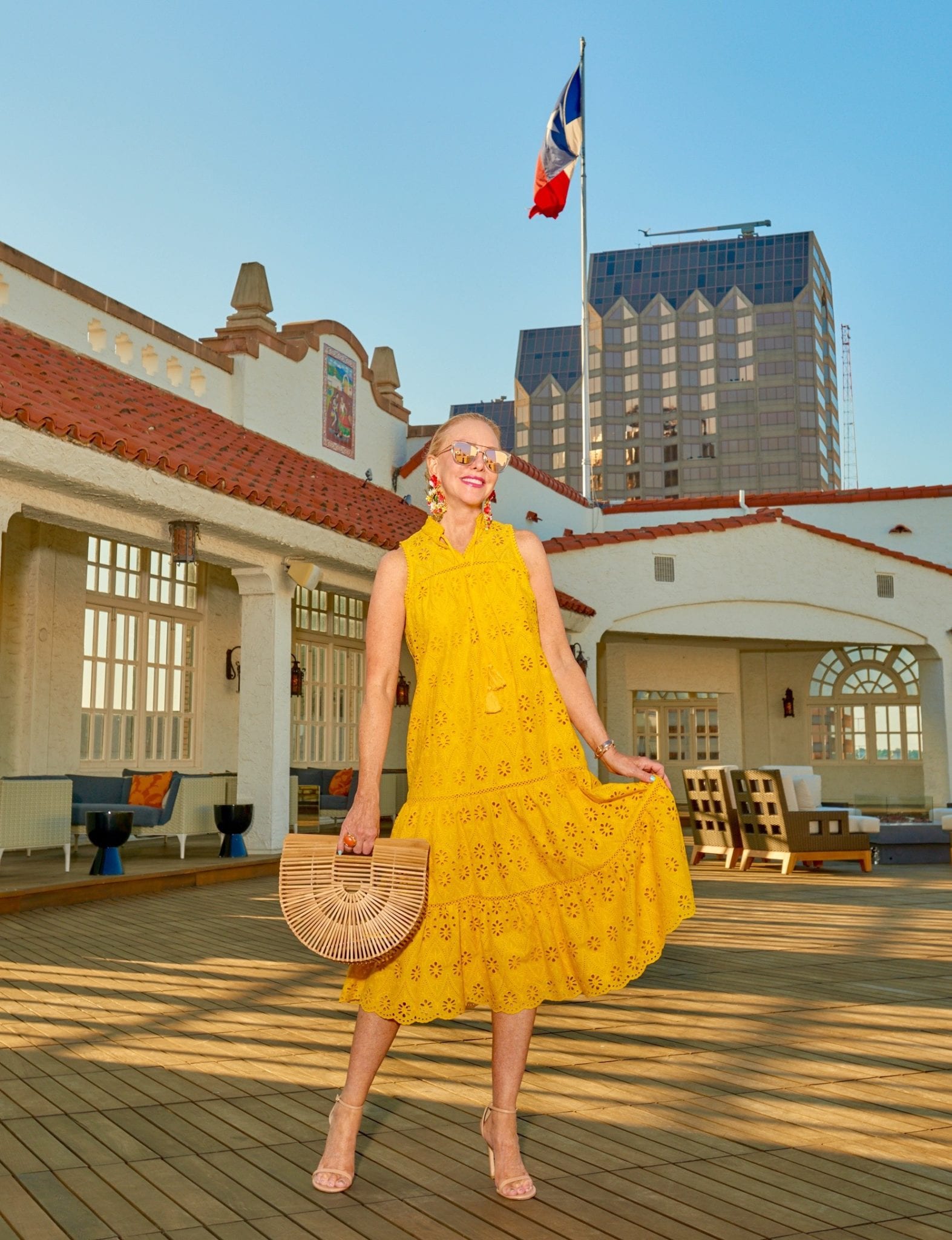 photos by Jon Tiffin Photography
OUTFITDETAILS
SHESHE'S TIDBITS
Did everyone have a nice Memorial Day weekend? I made it to Tennessee and it was such a great trip for me. I spent the first 2 days helping my mother get settled in to her new retirement digs. I stayed in the guest room which was really nice and just down the hall from mom's apartment. On Saturday, I went to my sister's new cabin on Tellico Lake. The weather wasn't great, but that didn't dampen our good time. We did have a day on the water where we all took turns on the big flat tube. I am still a little sore from my ride. I enjoyed traditional East Tennessee BBQ, potato salad and baked beans. I also added a bunch of chips to my belly making my carb count over it's limit for the whole summer. Sometimes we just have to throw all our cares away and ENJOY! And I did just that! I even had to unplug because my internet was pretty much nothing. I was stressed at first, but then just let it go. That is one reason SheShe Show has been quiet this week.
The Half Yearly Sale is still going on at Nordstrom. Did you see our post with some of our favorite picks from the sale? If not click here to see that post. If you just want to head on over to the Nordstrom site, then click the banner below. Remember, it ends Sunday. Order multiple sizes if you are not sure what size you will be, because they do free returns. I love that I can order, try on in my dressing area that has much better lighting than the store. It is perfect for the gal on the go!
Next up is a trip to Princeton, NJ for one of our grandsons graduation from Princeton. As grandparents would be, we couldn't be more proud. I am looking forward to checking out this beautiful little town. You can follow along on Instastories.