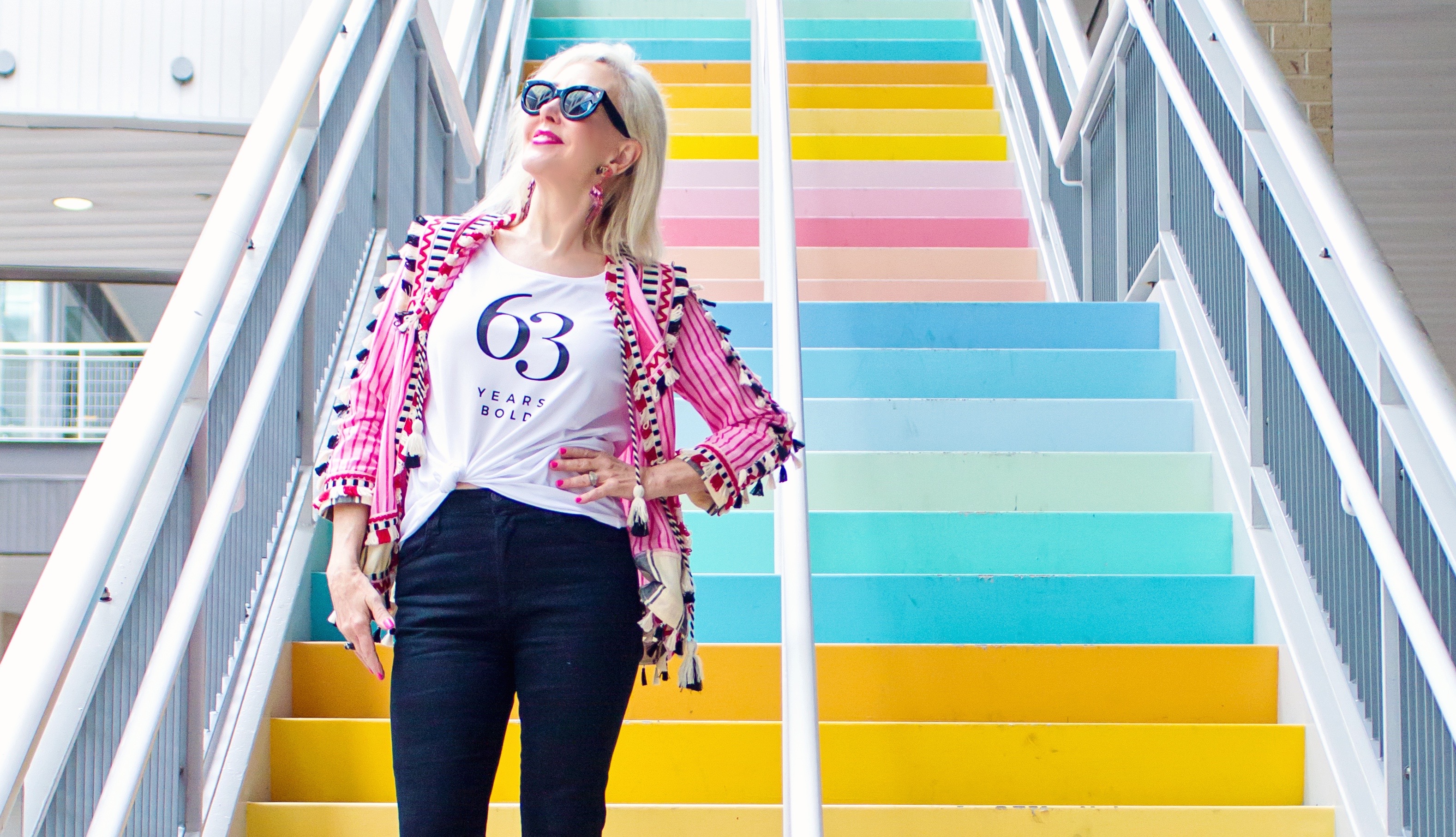 Another year to celebrate and by God's grace…..still here, still healthy, happy and fiercely BOLD. Happy Birthday to ME!! Is that obnoxious? Well, at my age, I really don't care if it is or not. I am so thankful that I can……  celebrate my 63 years once again.
As I look back, the memories are wonderful in the most part, but sort of overwhelming. I am still putting my arms around the fact that I am 63, because I really feel like I am not older than 35 or 40. Can any of you relate? I do embrace this time of my life and strive to use my experiences to be a better person and to offer sound advice to my younger friends and family.
This timing of my birthday comes at a time this year that coincides with a Chico's campaign called #HowBoldAreYou. They sent a lot of midlife bloggers a t-shirt with our ages on the front like I am wearing today. Chico's has always celebrated women, but this year they are going to new heights in encouraging us to GROW BOLDER. Now, on their website, you too can get your own numbered t-shirt representing your age. Just click here to get started. What we all want to do is encourage you to embrace your own personal style no matter what your age….45, 65, 75 +. How Bold Are You? Have some fun with this and we would love to know how you are growing bolder.
For some of you, this will be a real challenge, but once you jump in, then it will be so easy and you will be so proud of yourself. For me, I have always been bold. At 24 years old, I decided that I wanted to learn to fly airplanes and make it a career. There were not that many women in the industry at that time. The guys I worked with, just didn't know what to think about me, but they all helped me as I needed and they always respected me as a pilot.
At 48 years old, I decided to open my own fashion boutique. It was definitely a big learning experience handling employees, book keeping, buying, merchandising and building relationships with my customers. Glad I sold out after 8 years, but I am so glad I took the plunge and did it.
As I have done so many other bold things, I never thought that I could learn all the techie stuff that has come with my new found blog career. For where I am now and coming from a place 4 years ago where I didn't know what a hashtag was, I would say that I took another bold move. Now, being bold doesn't necessarily mean starting a new career. It could come as setting new fitness goals, changing eating habits, quitting drinking or smoking, jumping out of a plane, learning how to play the guitar…the list just goes on and on. The point is just do something….keep your mind sharp and your body strong….just be bolder about where you are in your life, then give yourself a big hug!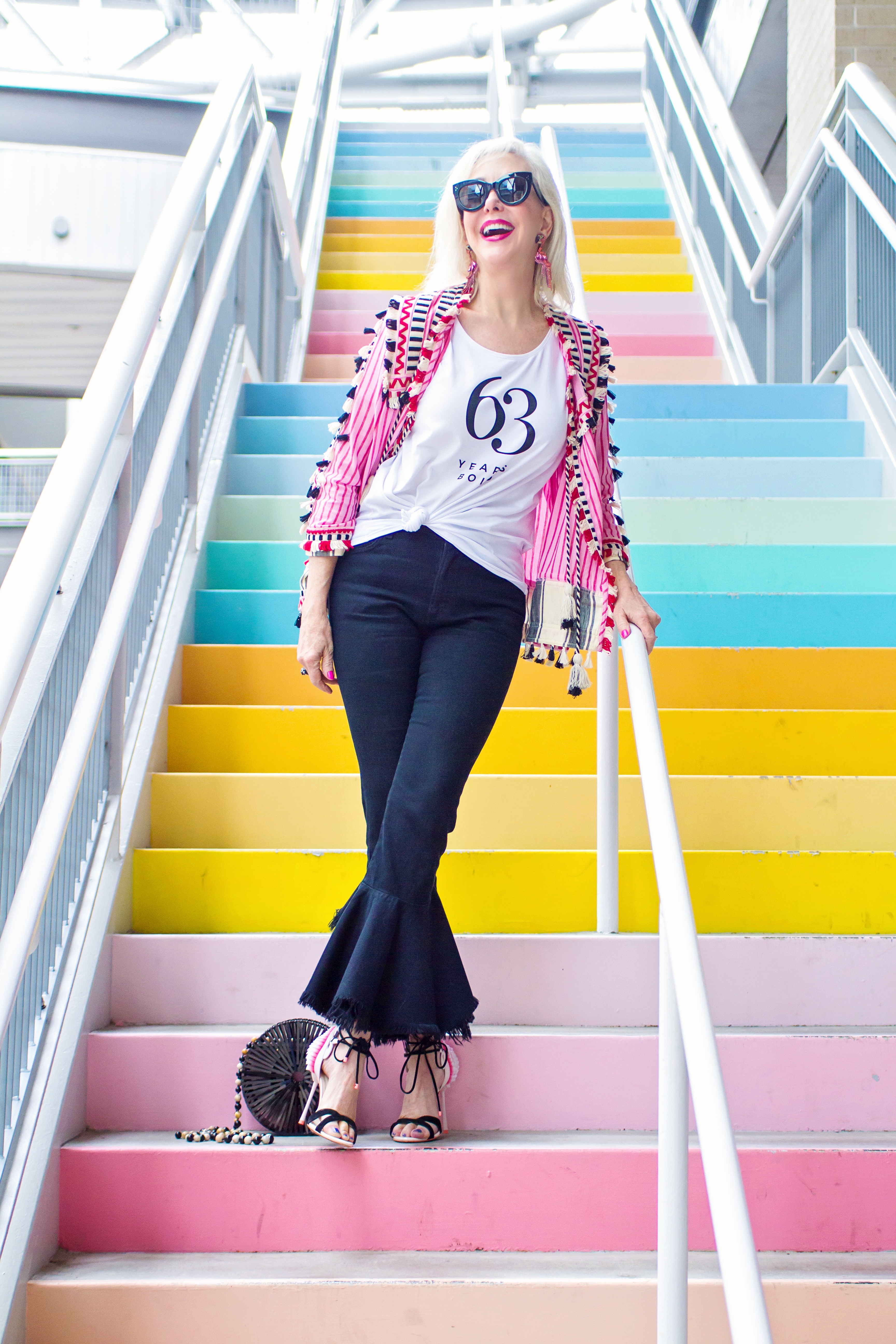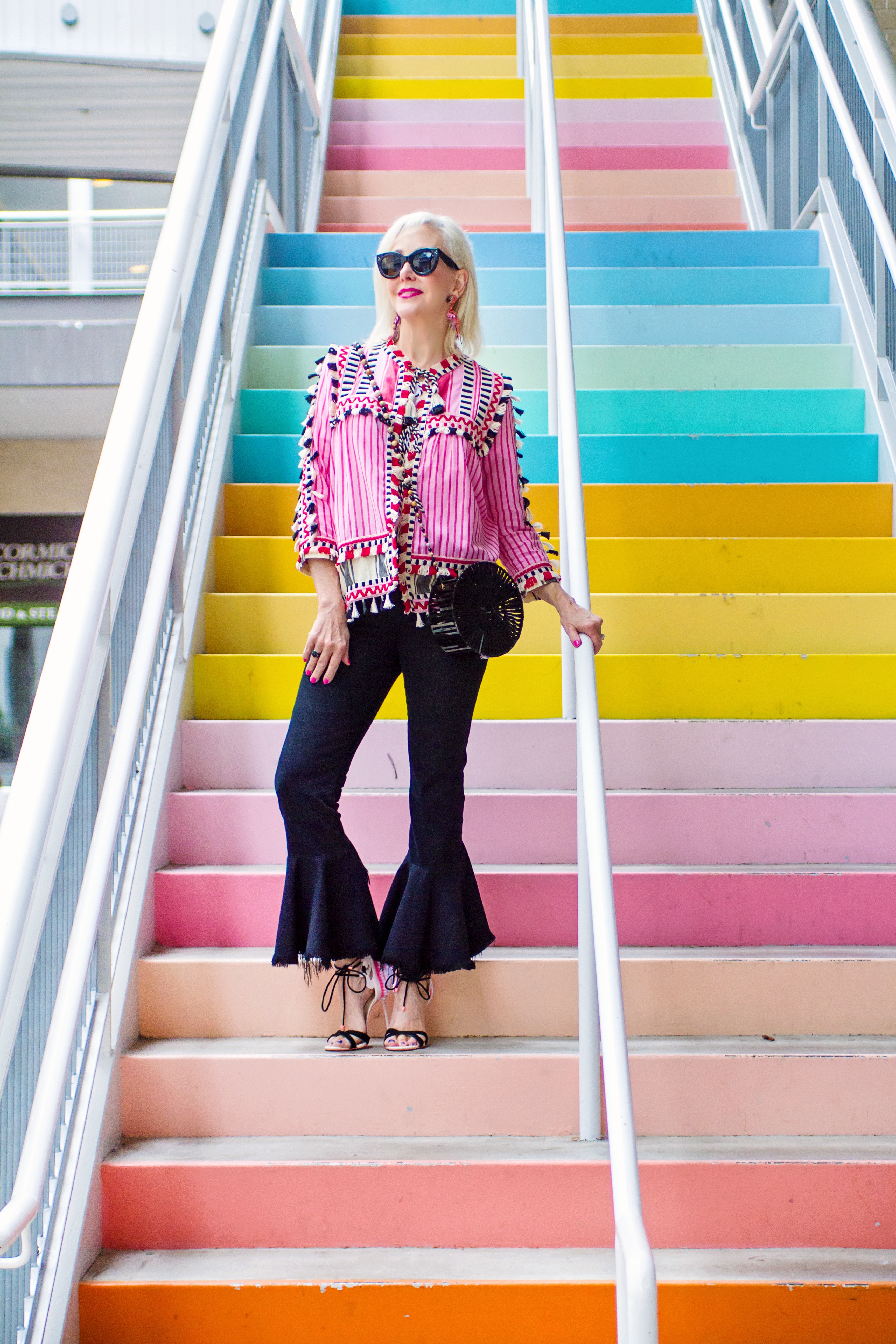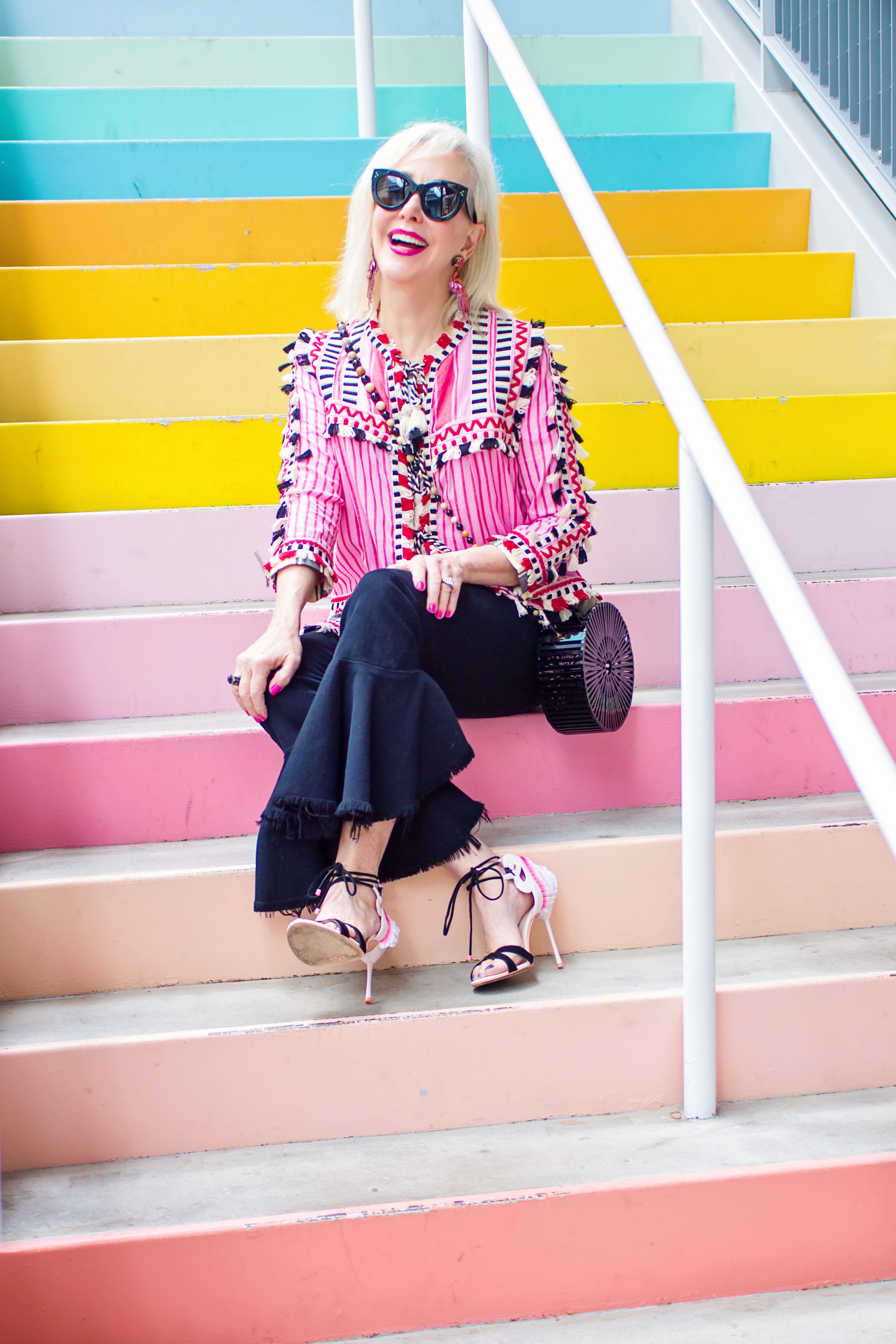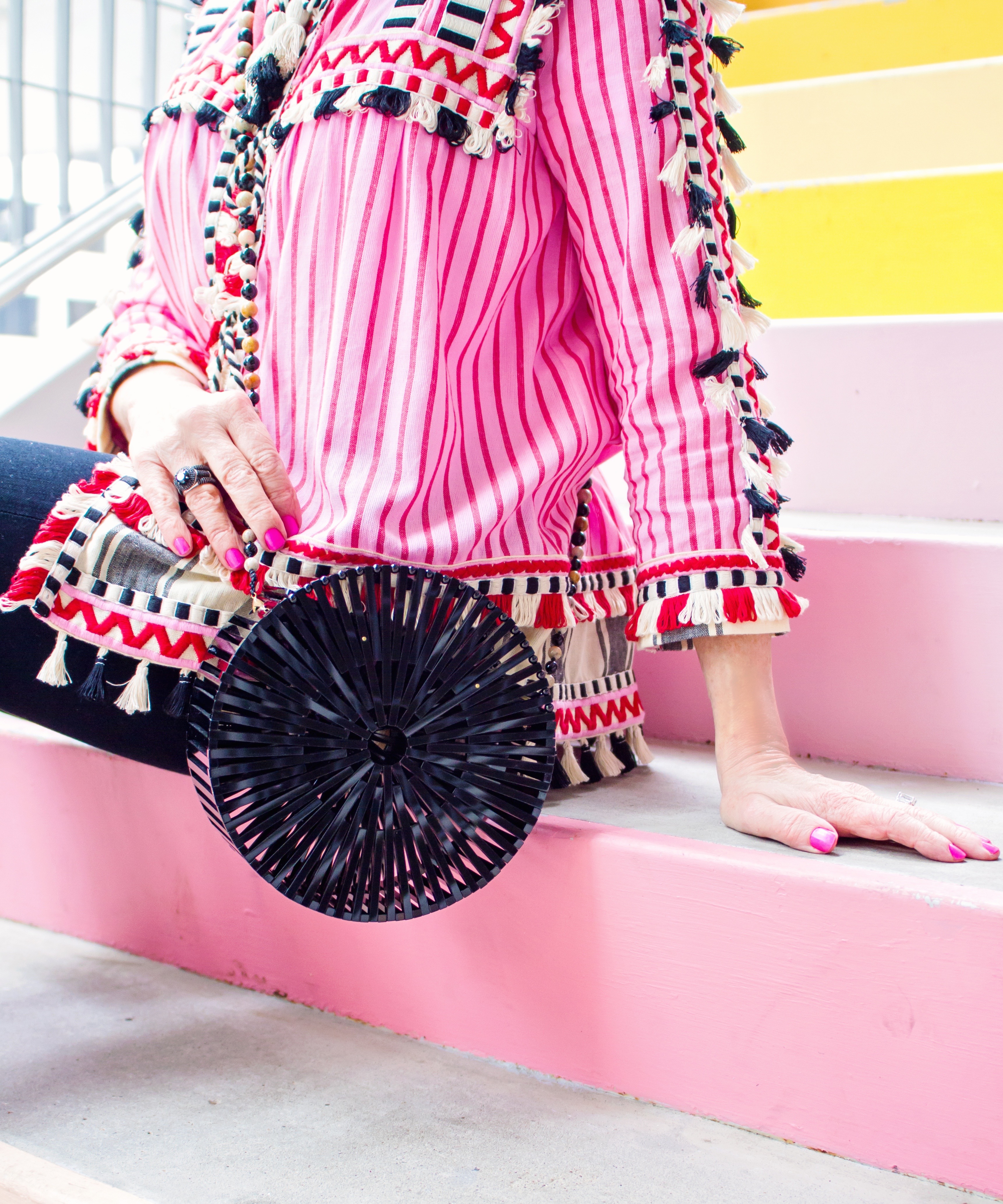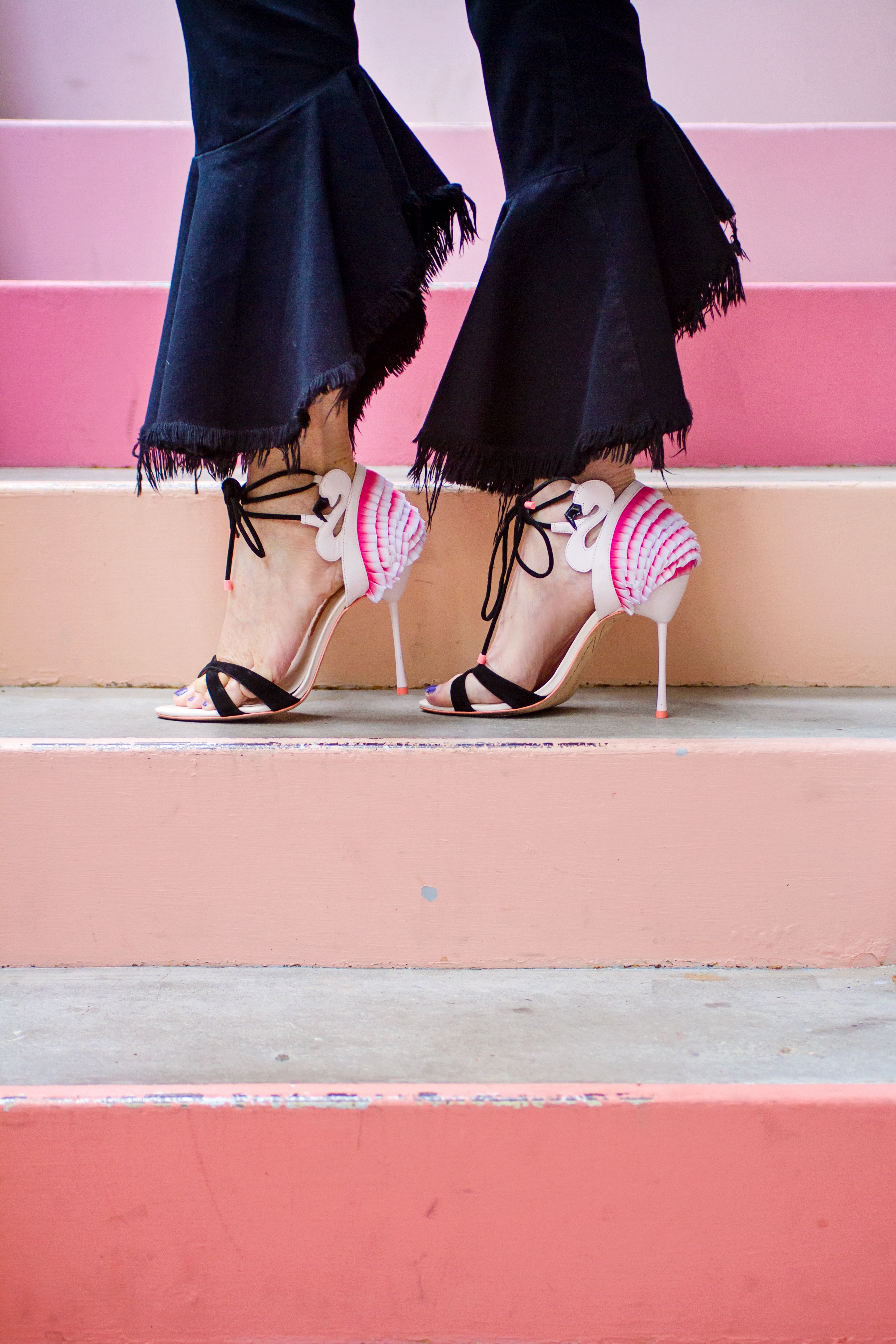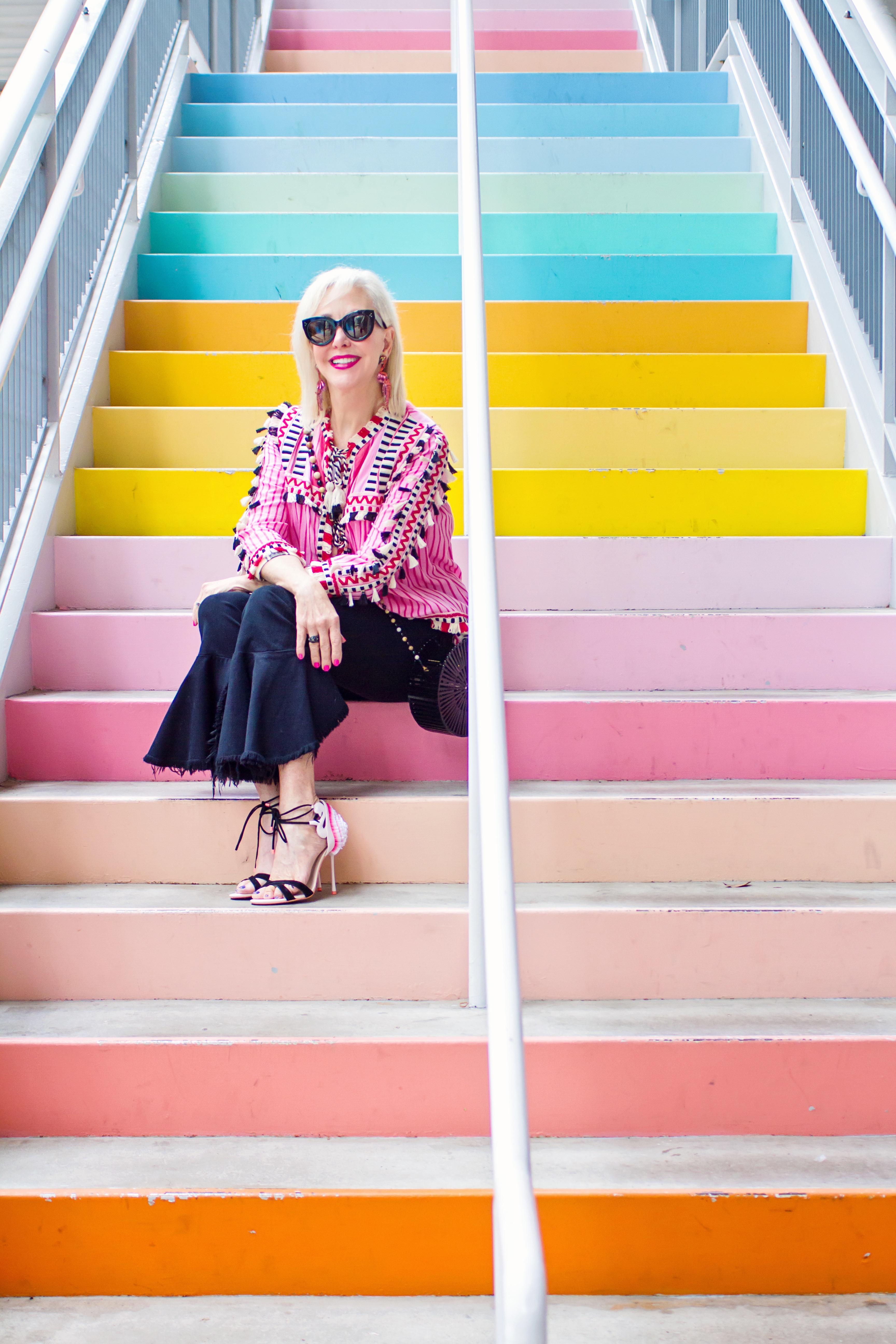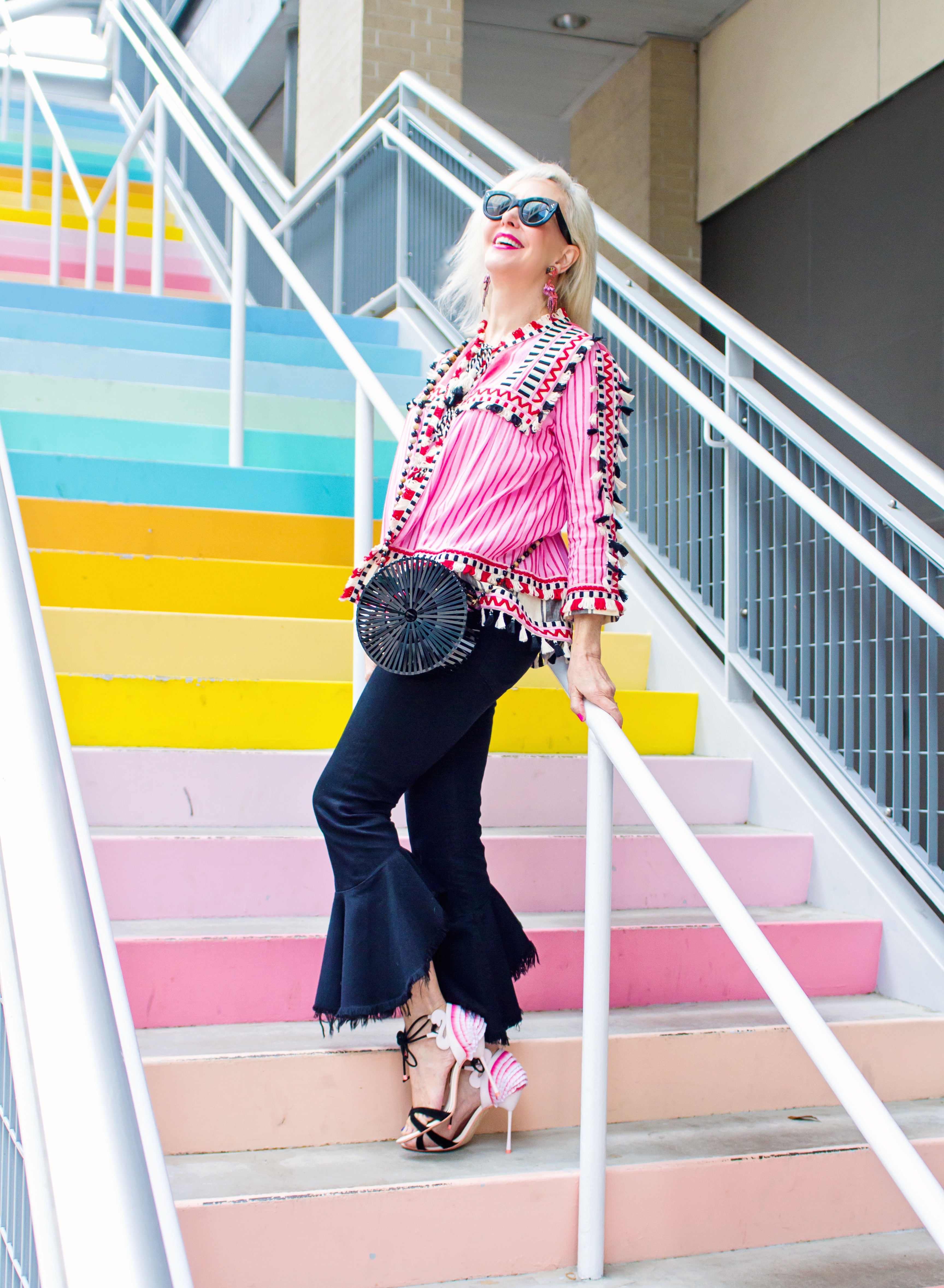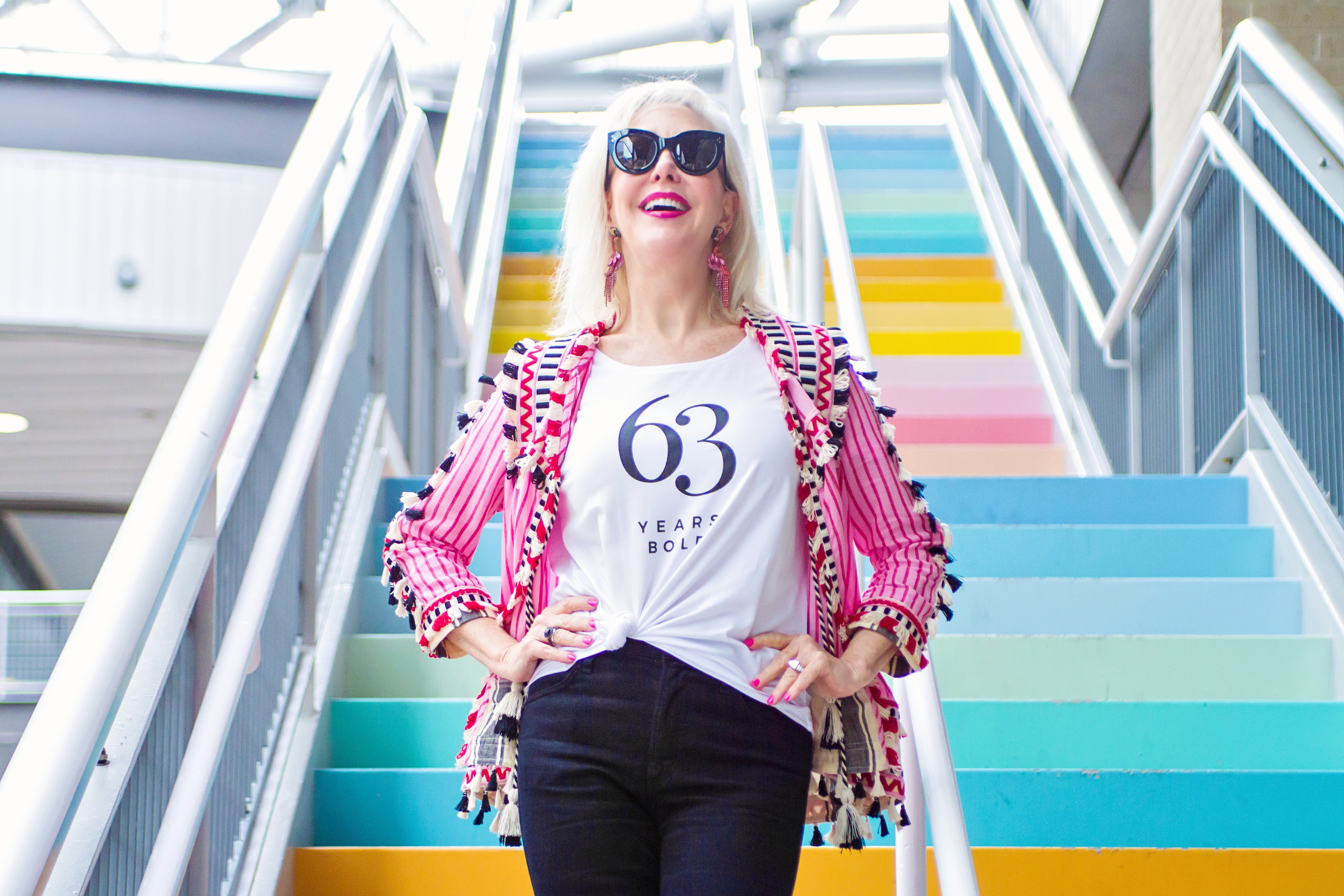 photos by www.mariterecrphotograpy.com
location-Green St Houston, TX
Outfit Details
Today I am wearing a brand that I fell in love with last summer called DoDo Bar Or. It is a bridge priced line that was first launched in Paris in 2014. I saw this line last spring where I was first drawn to it's ethnic, novelty and colorful style and fabrics. This top had the same appeal, so no wonder I pounced on it. I am wearing it as a jacket over my BOLD t-shirt.  Coming soon I will show it layered over a dress. Yes, it is an investment, but it can be worn is so many different ways.
My bag is by the latest craze in summer bags…Cult Gaia. I bought a the Ark last year at $129 and since it's popularity they have introduced many new styles. This year the Lilleth Tote is on a lot of wish list.If you love to collect unique bags, then this is a good brand to start. Go here, here and here for a good selection. I will cover summer bags more later in the spring.
DODO BAR OR
SHESHE'S TIDBITS
 Coming up, DIY, St Patrick's Day recipes, Intimates sale, beach week stuff and more.
Gala's, weddings, graduations, holidays or just everyday wear…..we have fashion suggestions for you, so stay tuned. Be sure to check out  ShopSheShe  tab at the top in the menu bar. Hover over and choose the category in the drop down. We try to keep it up to date with the latest and greatest for all budgets. Subscribe here and then you won't miss a post. Simply enter your email in the pop up box when you come to this site or at the top of this page in the subscribe box.
WELCOME new readers. We are a fashion/travel/lifestyle blog. We talk about anything and everything, from fashion, travel, health issues to even an occasional recipe. If there is a topic that you are interested in, then let us know. We will do our best to bring that story to you. Have a great great week sweet friends and thank you for following along. Without you, we could not continue on this crazy fun journey!