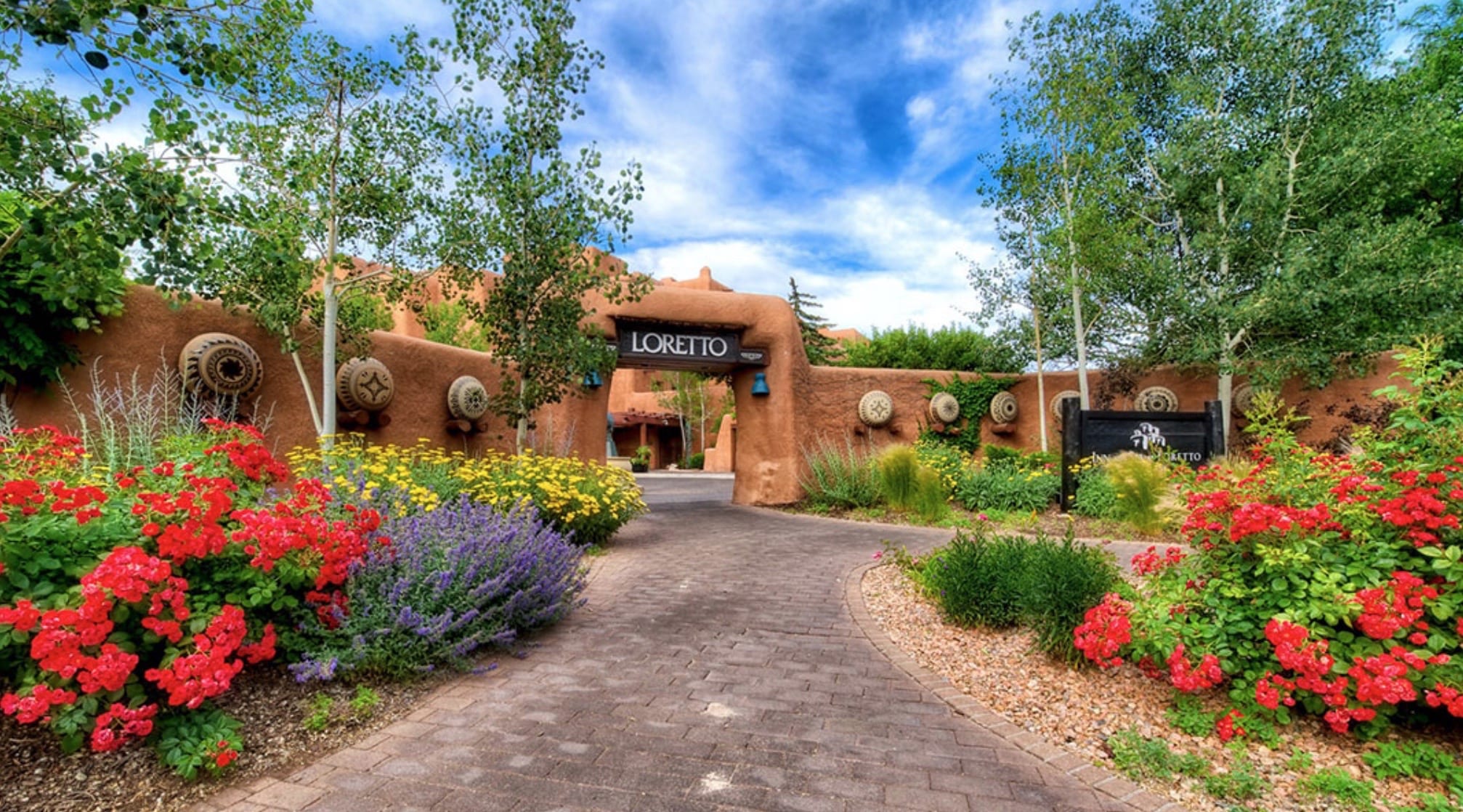 Have you ever been to Santa Fe, New Mexico? If not then you need to put it on your bucket list and if you have been then I just bet you didn't see it the way we got to see it. Today, I am sharing my 3 days of touring, hiking, eating and of course……shopping. Welcome to our guide on how to best see Santa Fe sponsored by Heritage Hotels & Resorts of New Mexico.
DAY 1
I just recently returned from this glorious trip with 2 other amazing blogger friends Shauna of Chicover50.com and Jamie of MorethanTurquoise.com. By the way, you should go to their websites and subscribe to these over 50 babes. Jamie reached out to Shauna and me months ago about coming to Santa Fe and shoot a promotional video for Heritage Hotels & Resorts of New Mexico. Shauna and I were on board from the get-go. Settling on a mid-June date the plans for our video began. The following itinerary can be duplicated for your adventure by Heritage Hotels and Heritage Inspirations or design it for what fits you.
We chose to fly into Albuquerque because the flight choices are better than the Santa Fe Airport. I flew Southwest from Houston and Shauna flew Delta from Salt Lake City. There are several shuttles that leave the airport every half hour and will deliver you right to your hotel in Santa Fe. You can go here to choose your service.
Our first evening was spent at the hotel getting settled and having a lovely dinner in the courtyard while going over our schedules for the next 3 days.
DAY 2
Up and early headed out for the Historical Tour. We were lead by Alyssa of Taos Chic & Tonia, the most beautiful tour guide ever. She led us through the streets of old Santa Fe. We stopped by the oldest house in Santa Fe to check out the feel of the walls, then to the home and gardens of where we stopped for a few cute photos. We ended up at Tonia's home where she served a special local tea made from local flowers. We enjoyed milling around her lovely historical home full of unique vintage collections.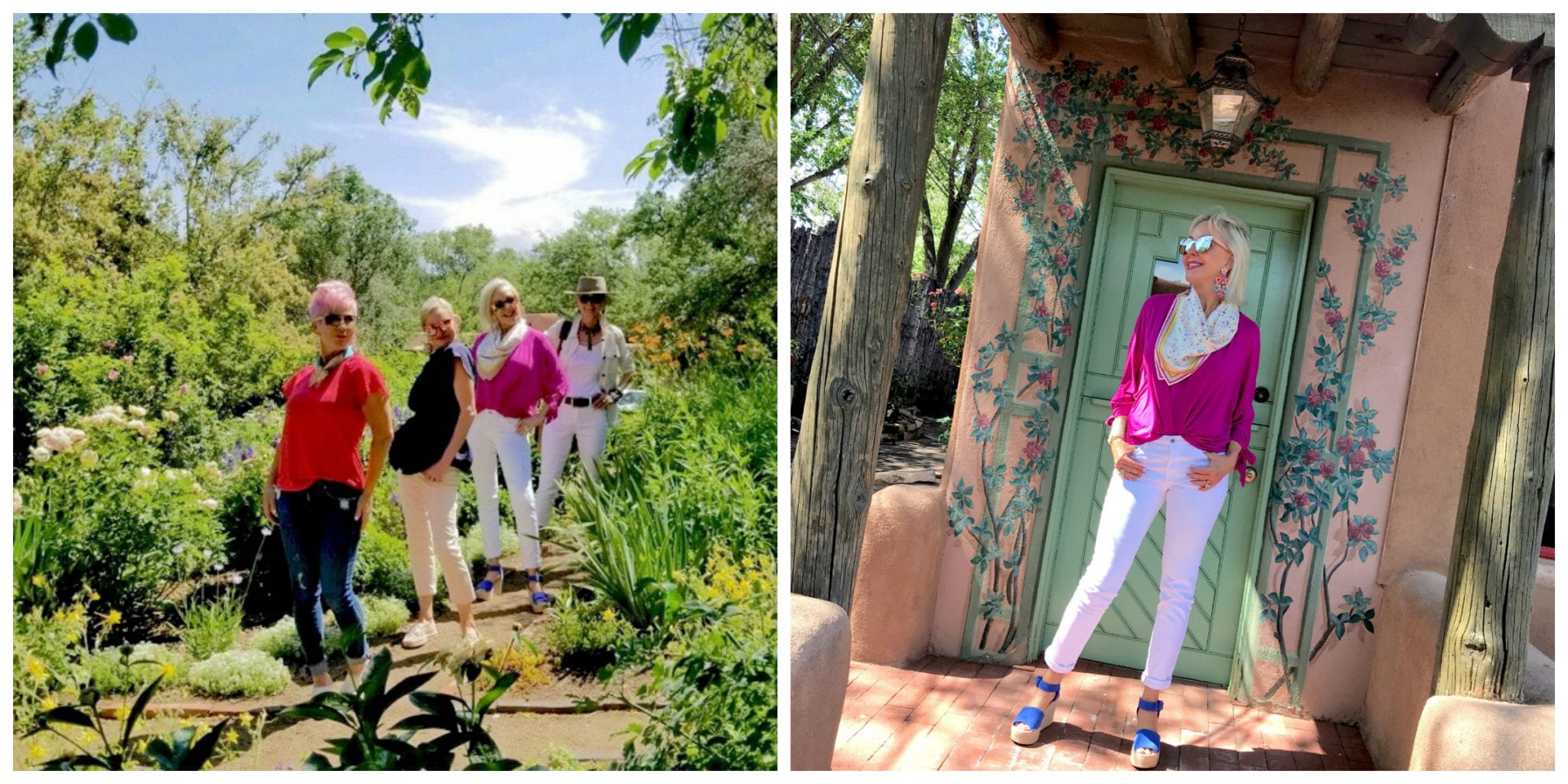 OUTFIT DETAILS (above)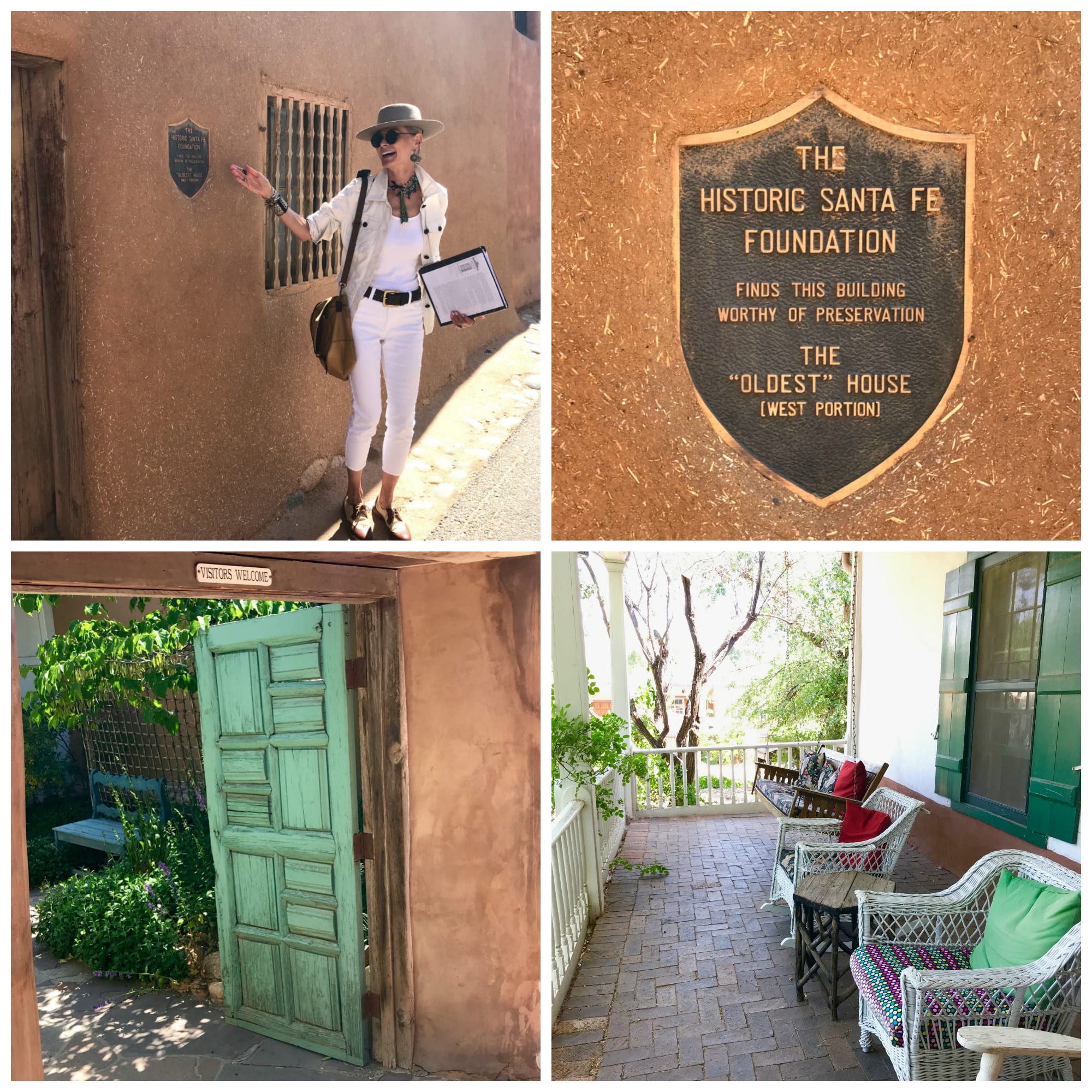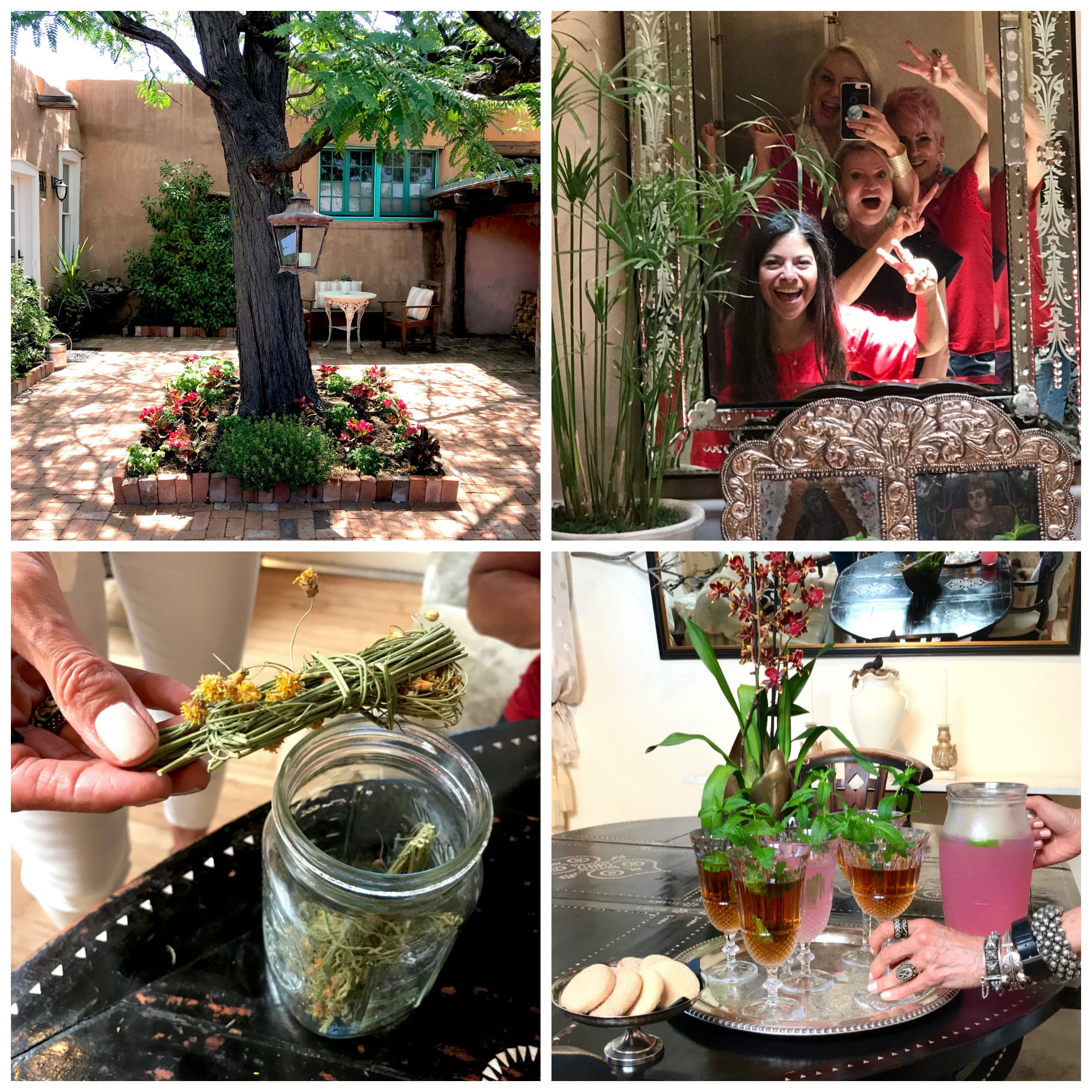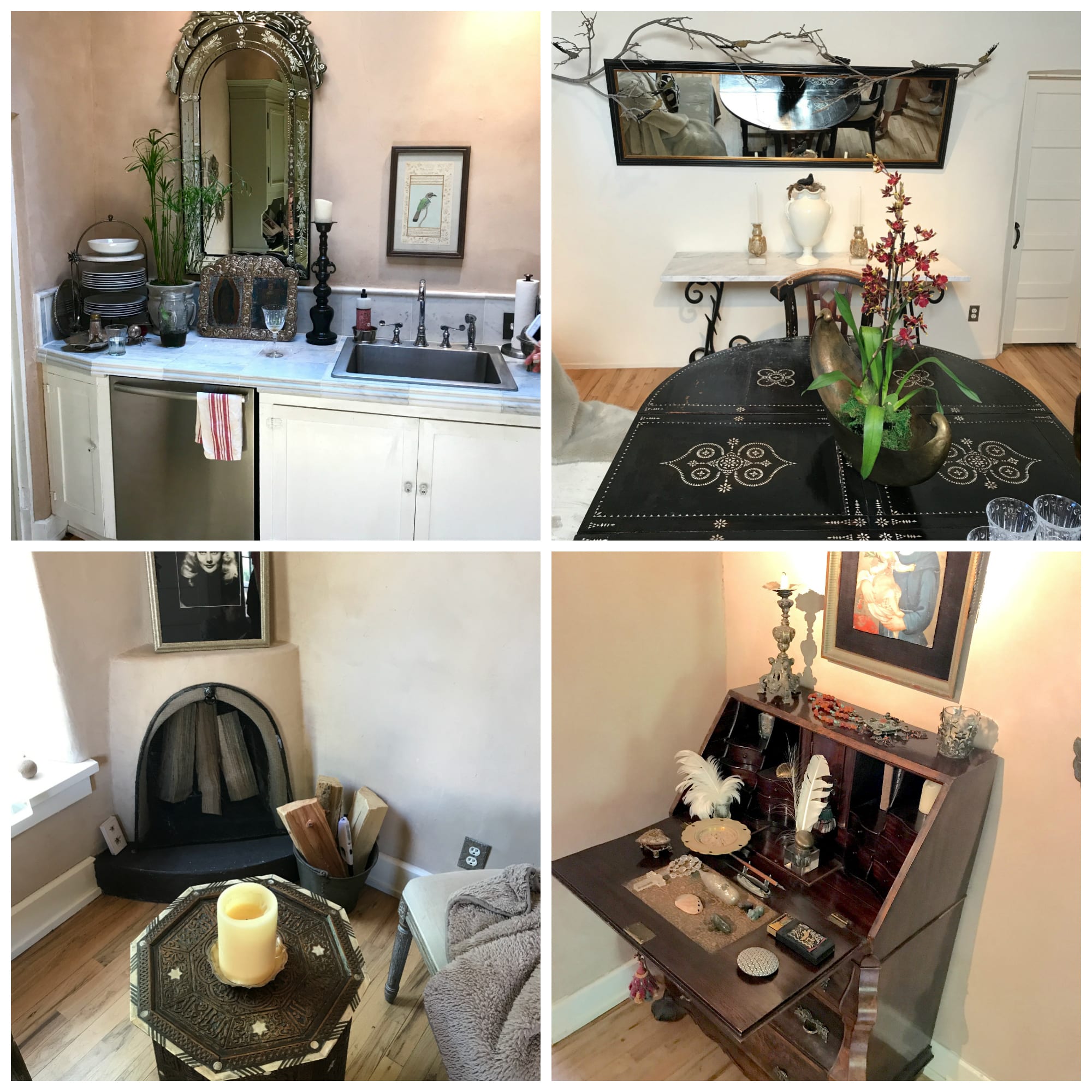 DAY 2 (continued)
Before heading to dinner we had time to relax in our beautiful rooms at The Inn and Spa at the Loretto. Tonight was our night dining at the hotel's gorgeous patio called the Luminaria. The food was divine and the company of my friends SPECTACULAR. Check out our fabulous floral dresses sponsored by Eliza J Dresses. I linked our dresses for you and you can also shop other styles here, here & here.
After a full day and a full tummy, nothing like hanging out in your jammies with your girlfriends. A good pillow fight just might break out!!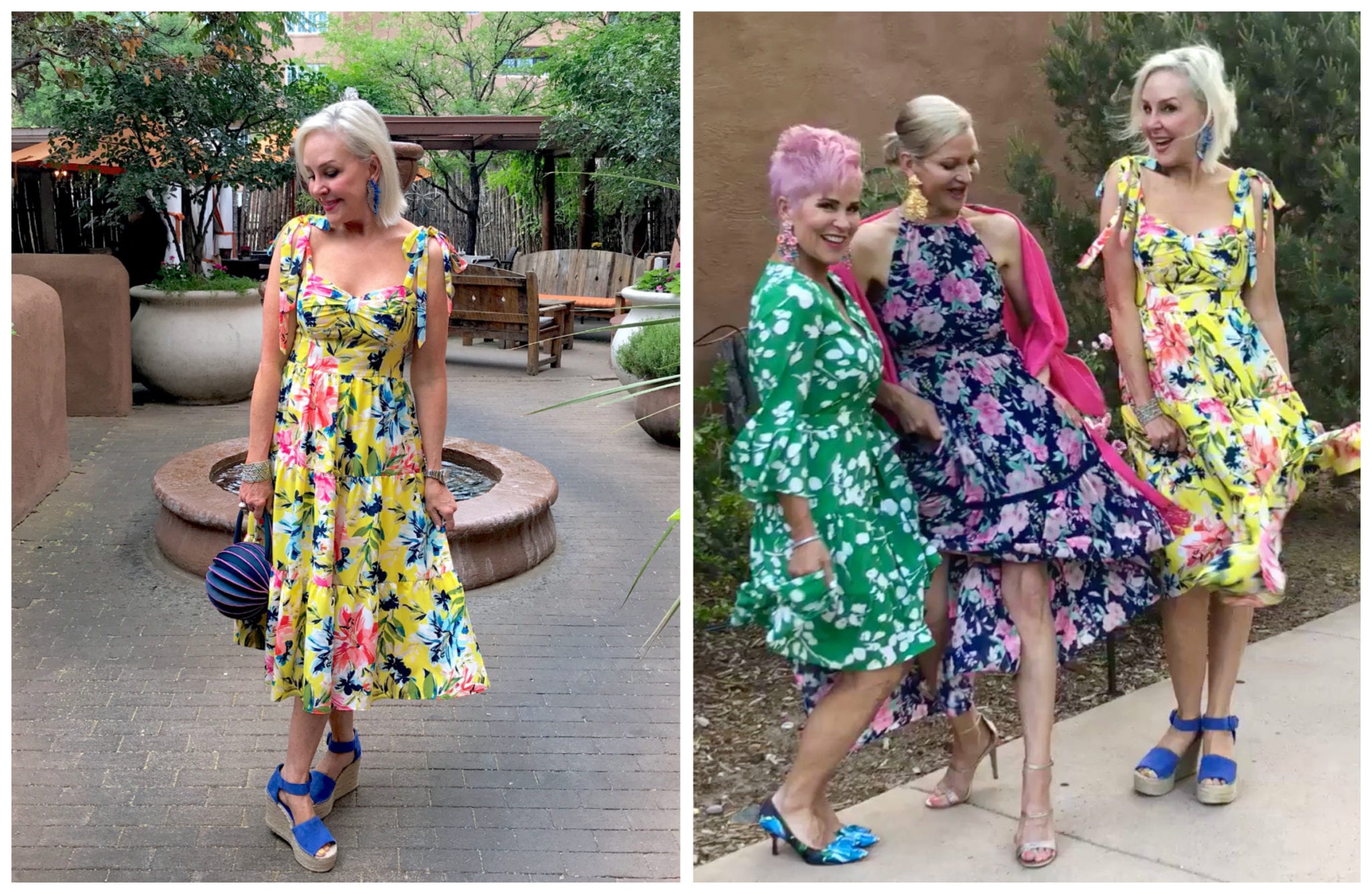 OUTFIT DETAILS (above)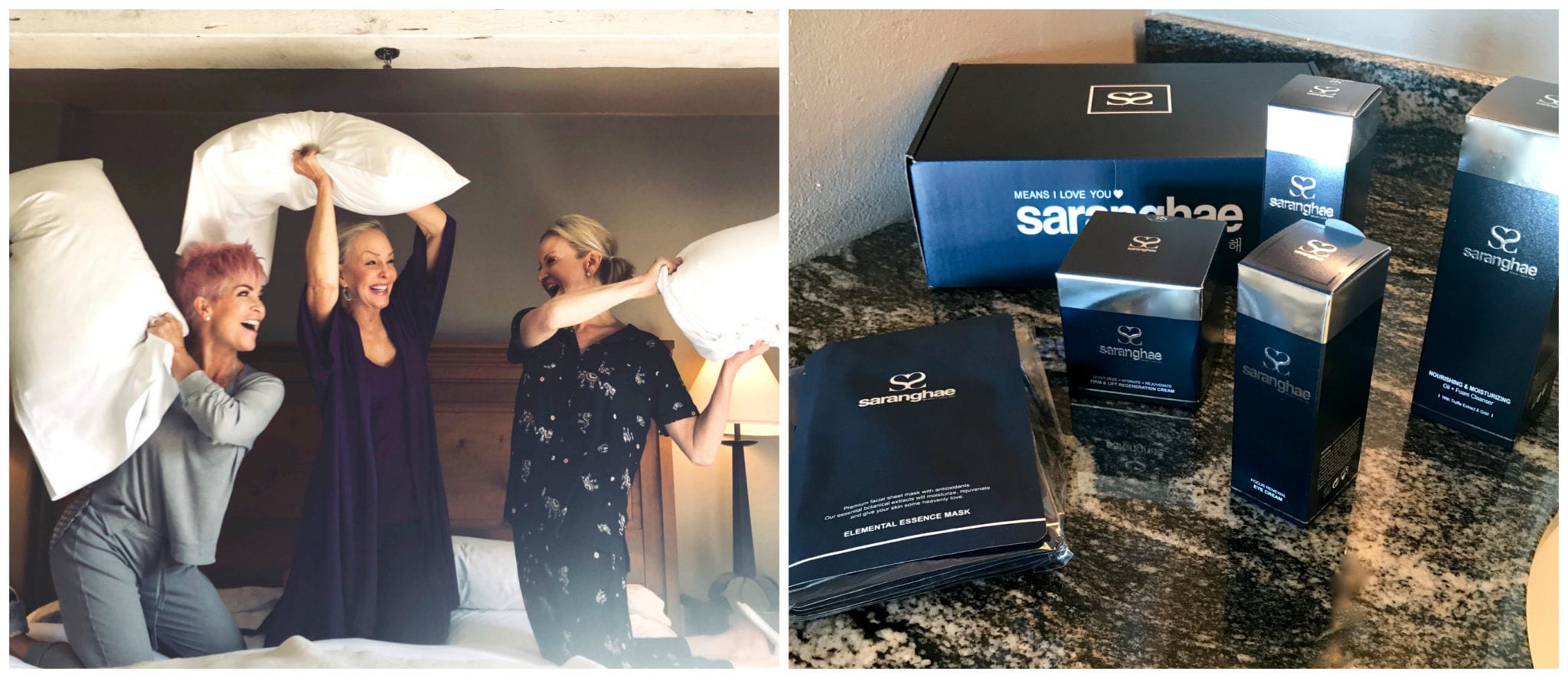 Unfortunately, our Soma pajamas (above) are mostly sold out in these styles, however, go to Soma.com for their latest styles and sales. They have so many cute jammies!! Our beauty products gifted by Saranghae can be purchased here. I have been using them for a couple of weeks now and I am already experiencing softer and brighter skin. The value is definitely in line with most budgets.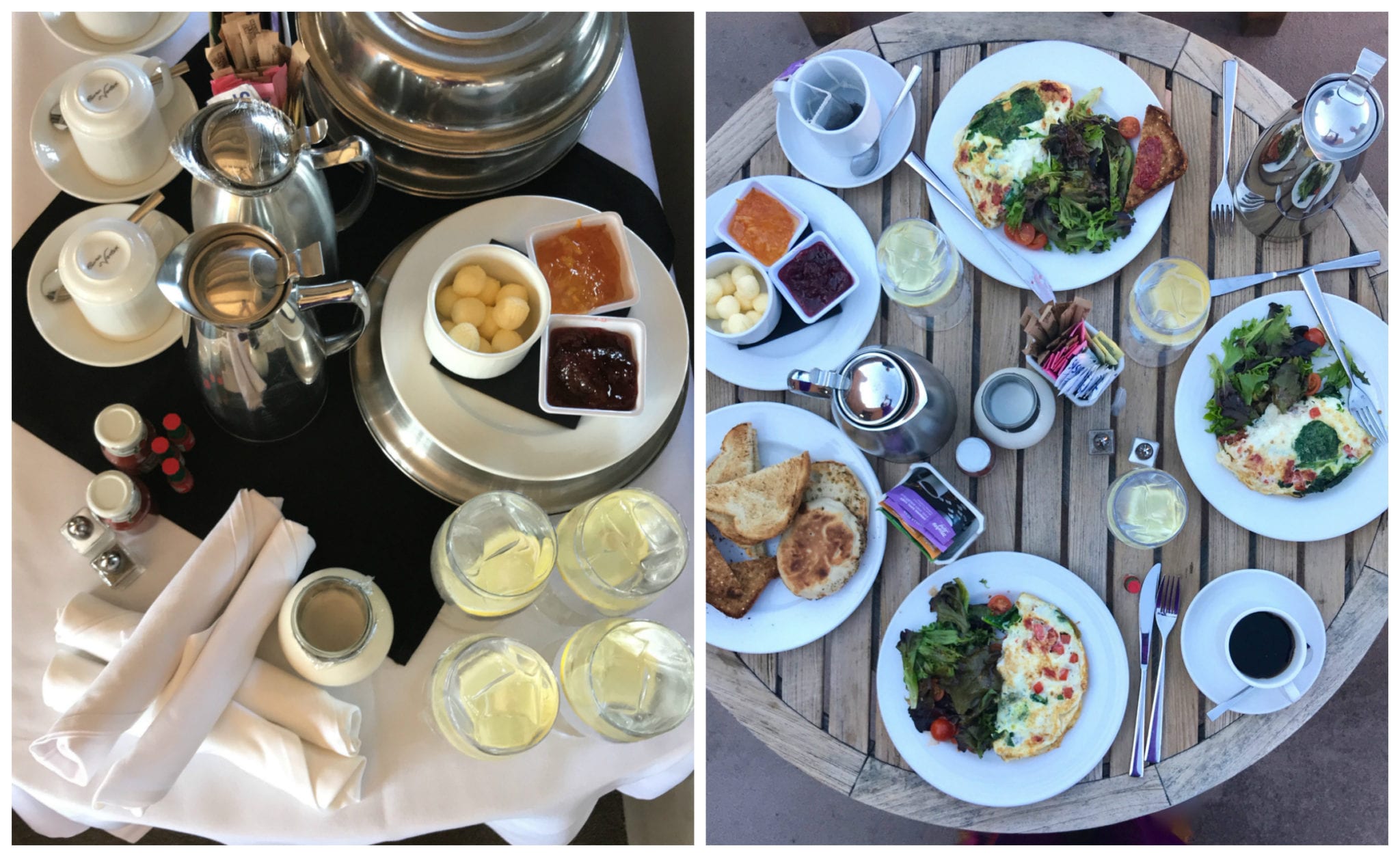 DAY 3
Here we go….how about breakfast in the Presidential Suite to start our day. Fit for "the Queens" for sure!
Headed to "the rocks" what the locals call them, for a morning hike. We entered Nation L Conservation Lands (an Indian reservation) where we took a relatively easy hike to get a closer look at the Tent Rocks or some call them Cap Rocks because of the way the rocks sit on top of the tent-shaped rock formations. This crew can adapt to just about anything!!
Our guide Angelisa of HeritageInspirations.com was not only knowledgeable about this area but so very passionate about what she does. It made our day so much more interesting listening to all of her facts & stories. Angelisa and her husband also offer high-end glamping experiences in New Mexico. Check out this barely 5′ cutie in the photo below with her leg over her head. Don't let her size fool you….she is packed with a punch for sure!! We all loved our day in the rocks and can't wait to send my friends there with Angelisa!
For more information about the Tent Rocks, you can read more here.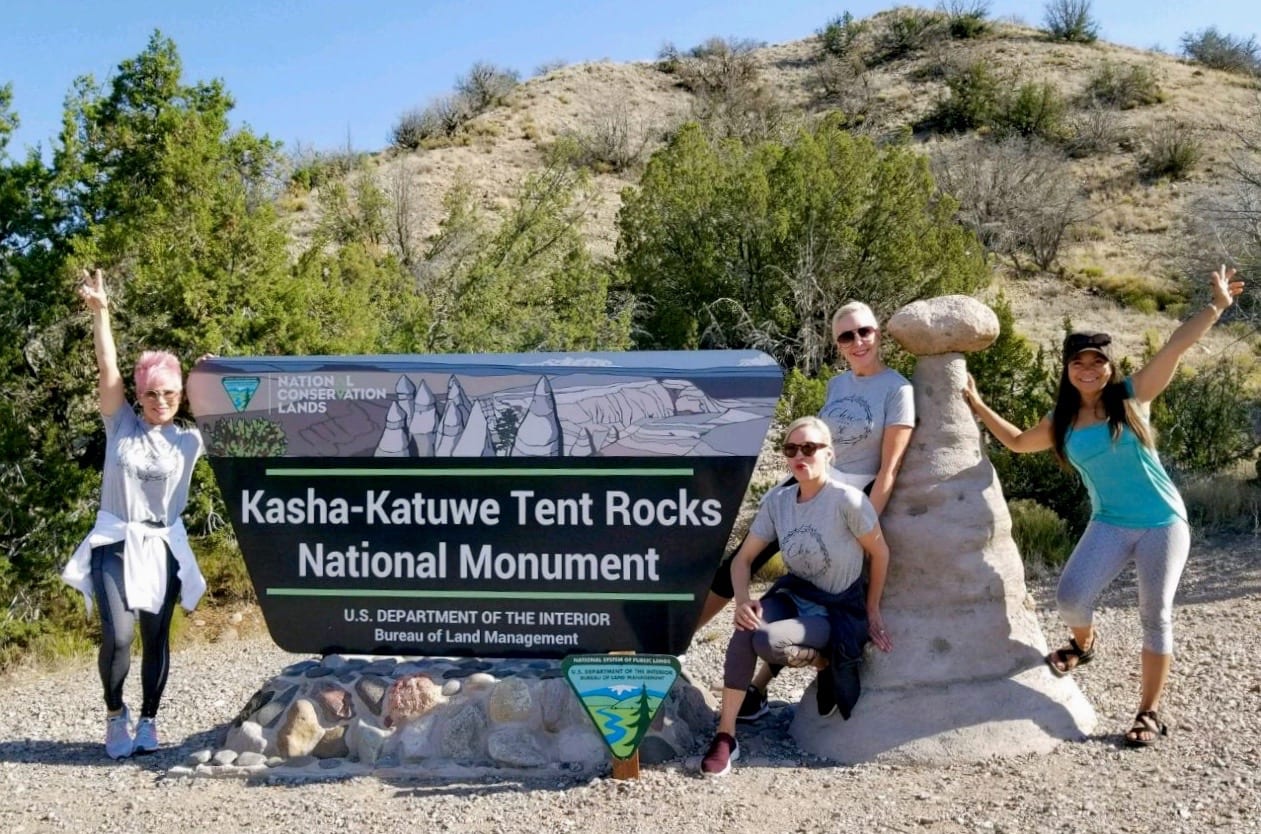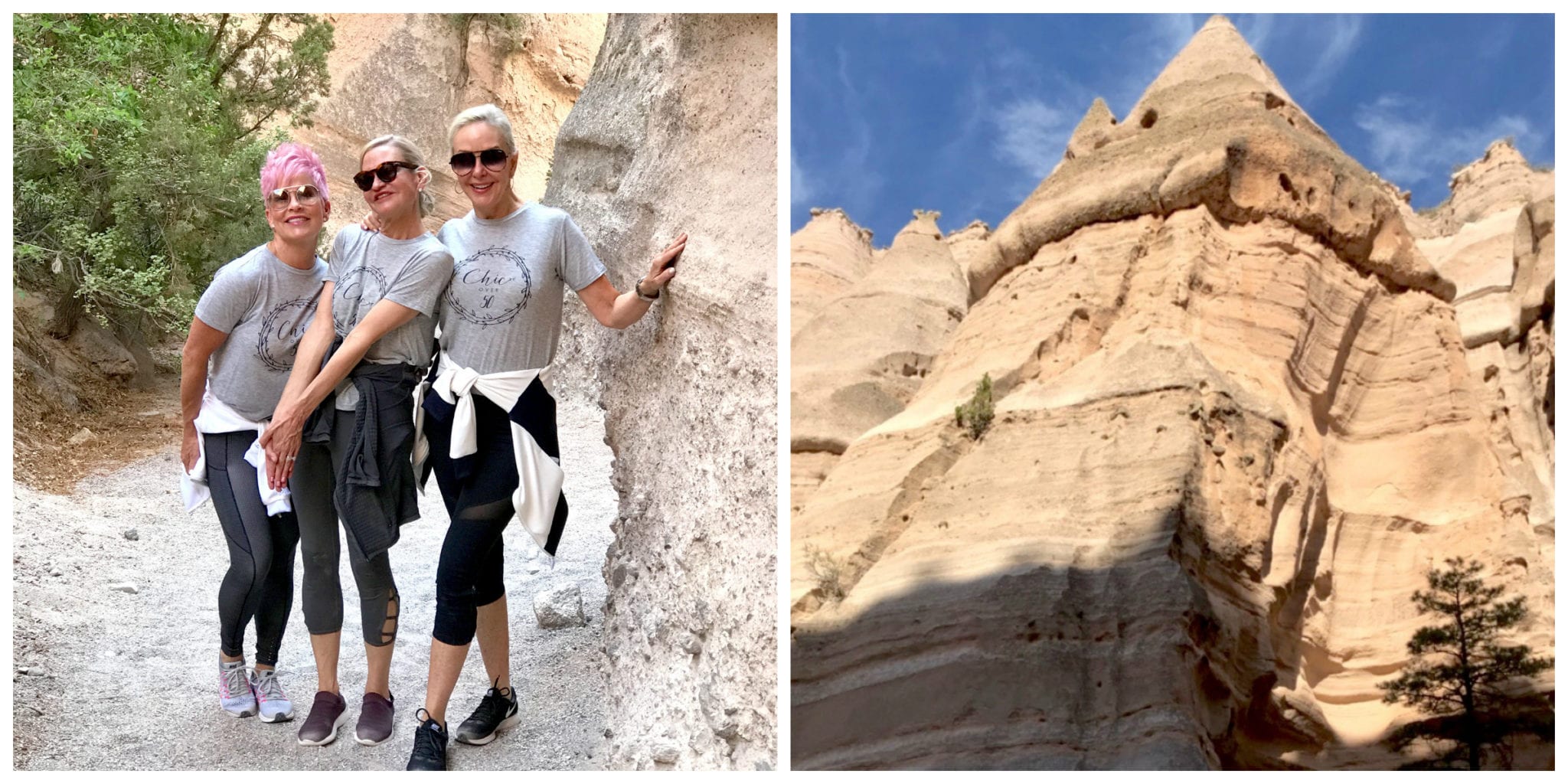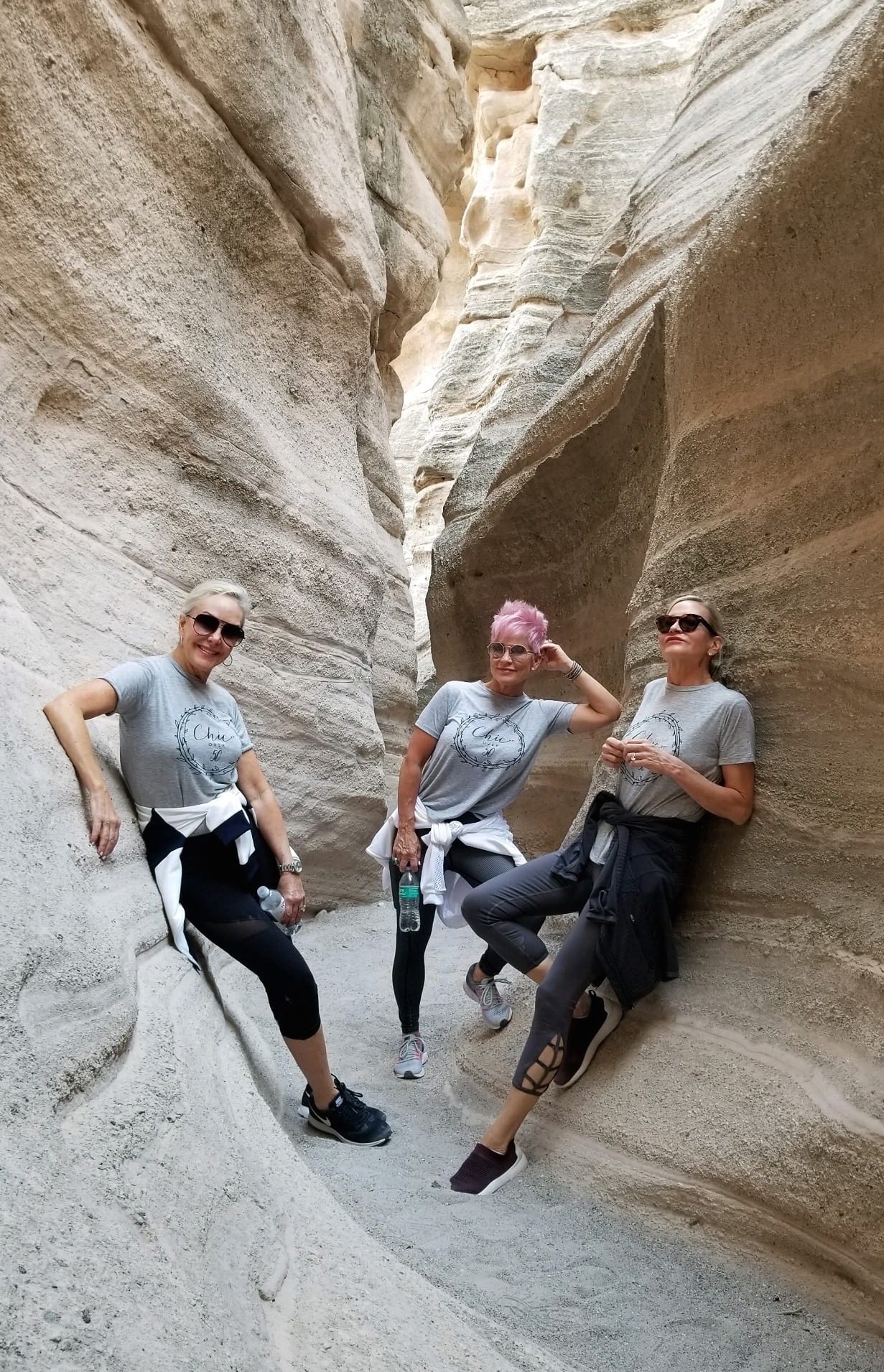 Get Your "ChicOver5o" T-Shirt like ours HERE!
DAY 3 (continued)
Nothing better after being on the dusty trail than a beautiful glass of Gruet Brut Rose from the local winery Gruet. They have a lovely tasting room connected to the Hotel St Francis right in town. Charming and thirst quenching. Our day was off to a great start!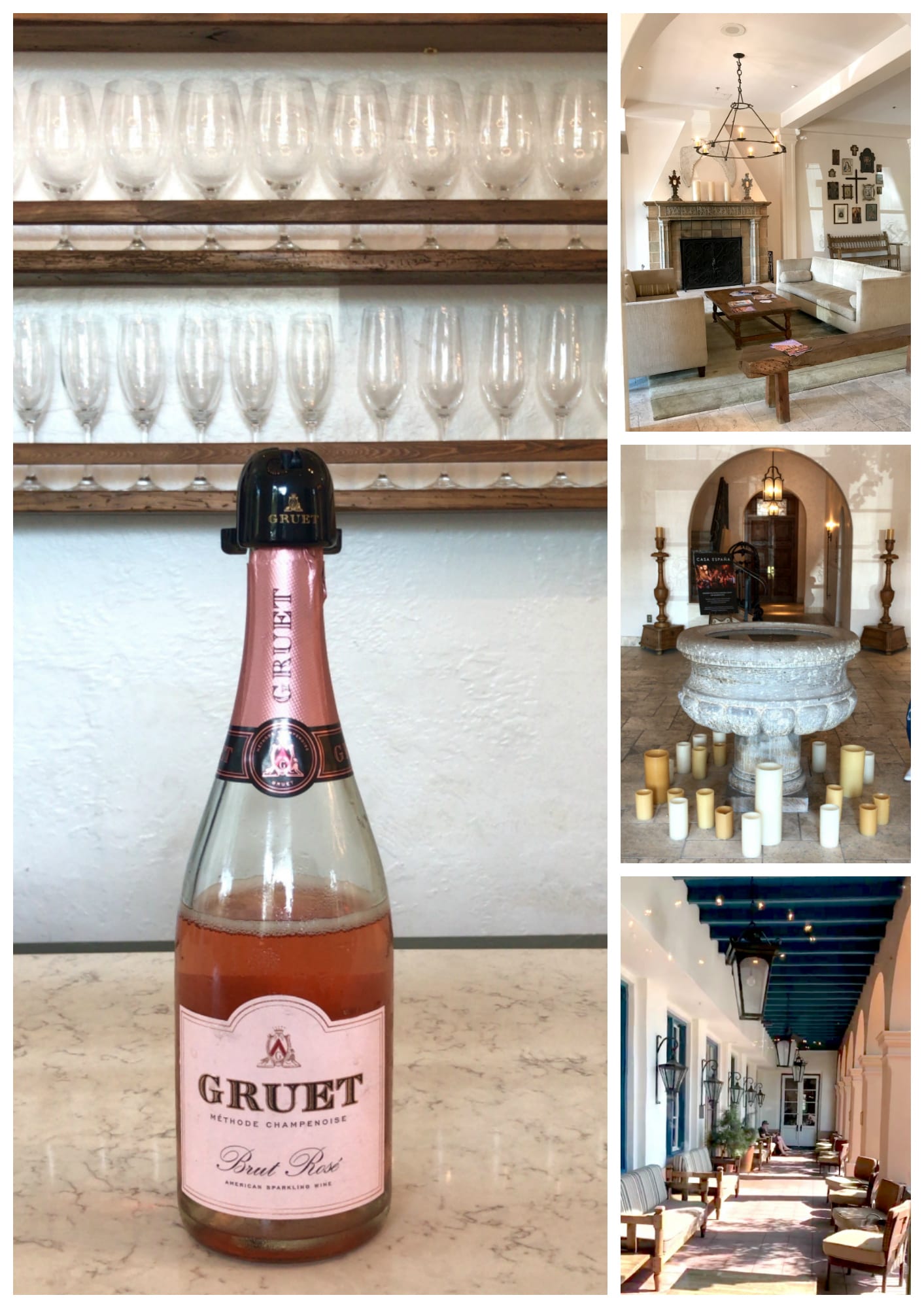 DAY 3 (continued)
After a light lunch on the Plaza, we headed back to freshen up for guess what???? YES, SHOPPING!! THE FASHIONISTA TOUR presented by our ever so lovely guide Tonia with HeritageInspirations. We hit several places but we had the most fun at Ship Rock, a unique store full of jewelry rugs, bags and more Also, the Cos Bar proved to be a big hit! What girl doesn't love to indulge in some new beauty and fragrance products. The ladies at the Cos Bar let us play in the makeup and Tonia did a headscarf demo for us all. I can't wait to do my very own take on this Sante Fe look.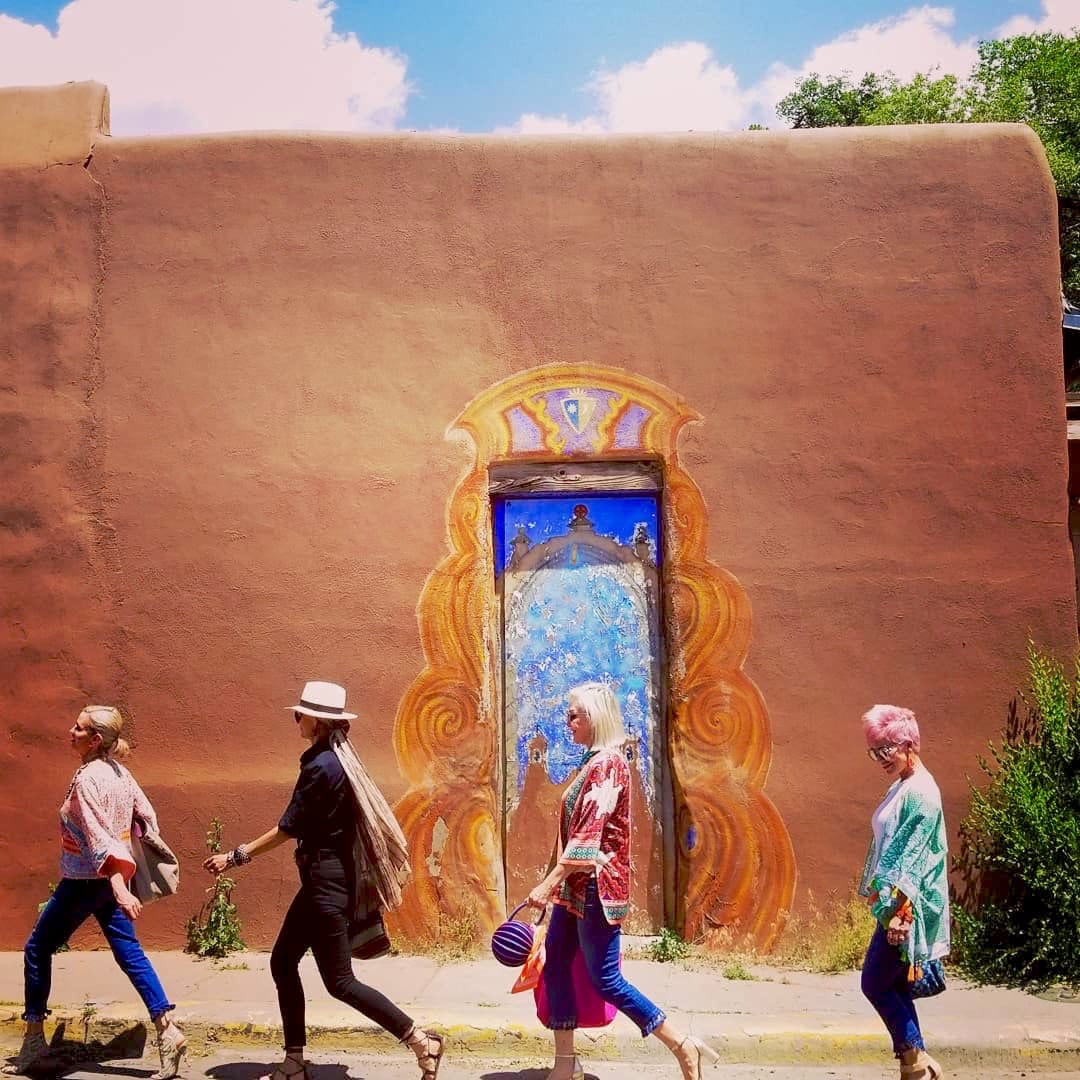 SHOP OUR OUTFITS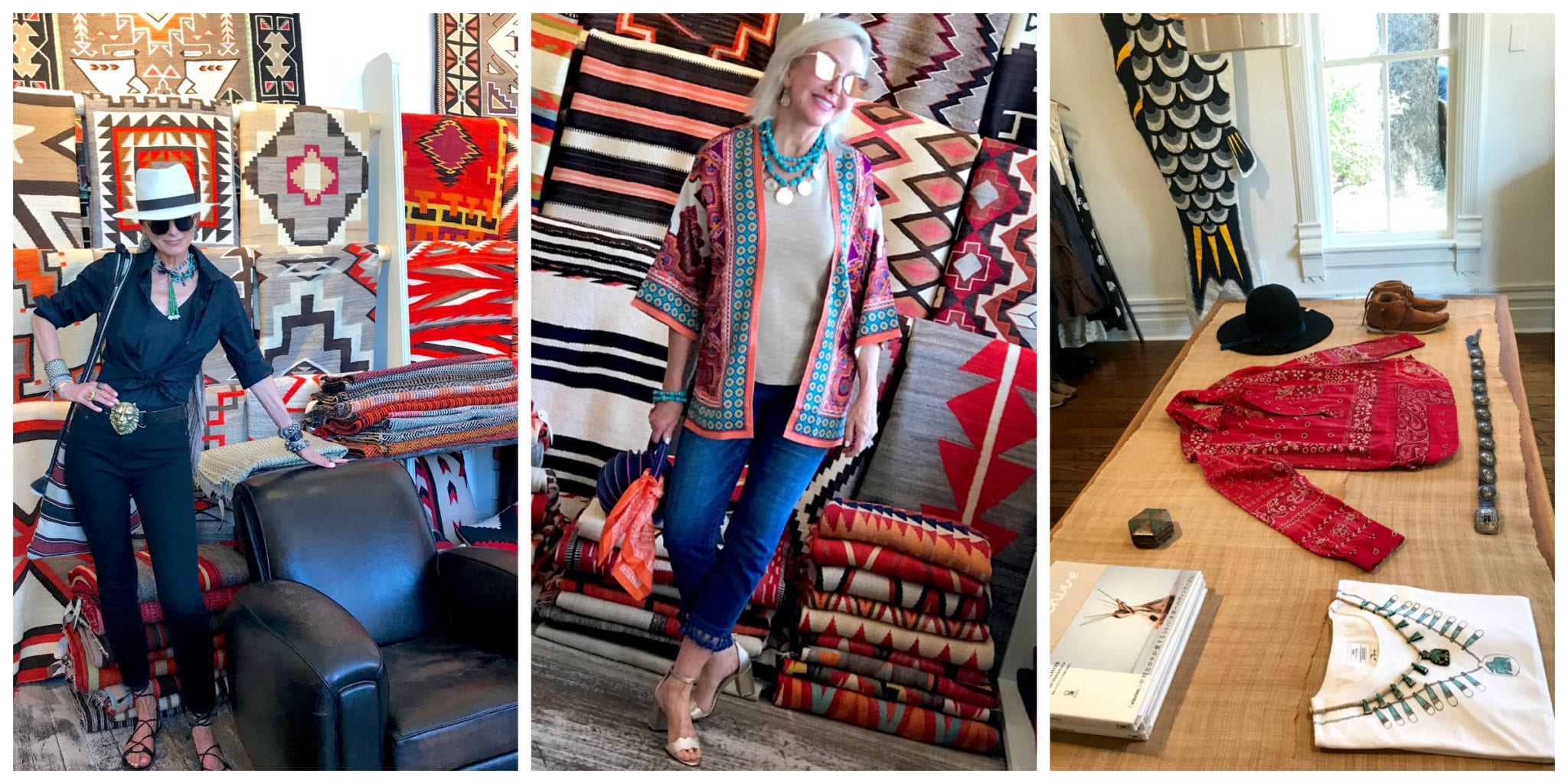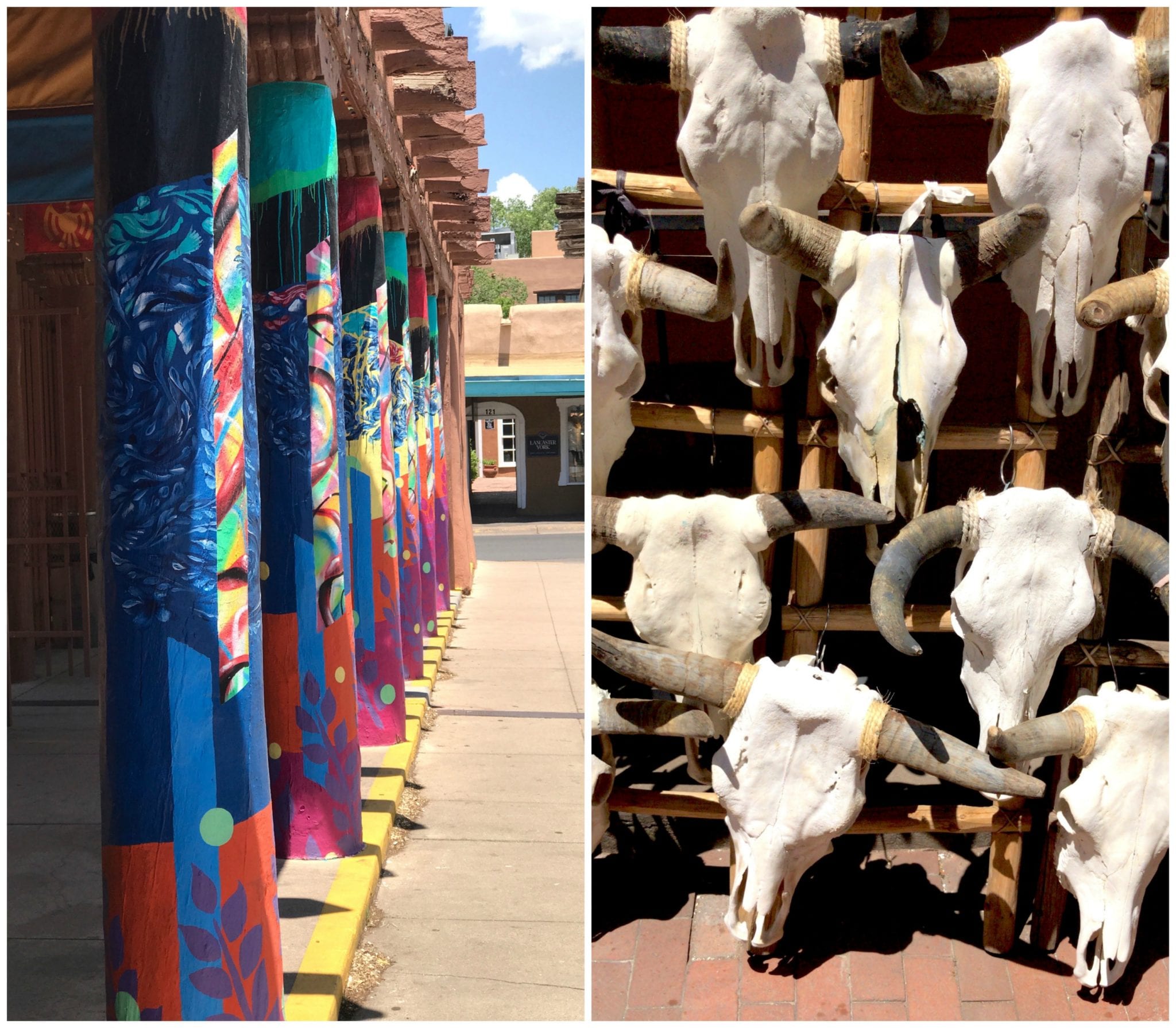 DAY 3 (continued)
Last, but not least, an evening to remember at Casa Espana. Dinner at this exclusive private club sponsored by Alexana Winery served up the very best wines and foods prepared by Executive Chef- Arturo Urreola. We had the opportunity to dress up in our sparkles. We made a big splash in Santa Fe and evidently, sparkles are not the norm. We caused quite a stir on our walk back to the hotel. It was definitely an ego booster for us all.
Casa Espana is one of the most beautiful private venues I have ever seen. They had at least 4 different intimate rooms decorated to perfection. There is also a nice long bar and a beautiful dining room that can seat a very large group. Check out this club. It is a must see. I can say that I was over-served in more than one way. It is a good thing that we walked back to our hotel and that I was with friends. It was the altitude…..right?
On behalf of SheShe Show, we would like to thank our host and hostesses for an amazing 3 days in Santa Fe, New Mexico. I can say that if you book with Heritage Hotel Groups and their partner Heritage Inspiration, that you will have the best experience designed for you.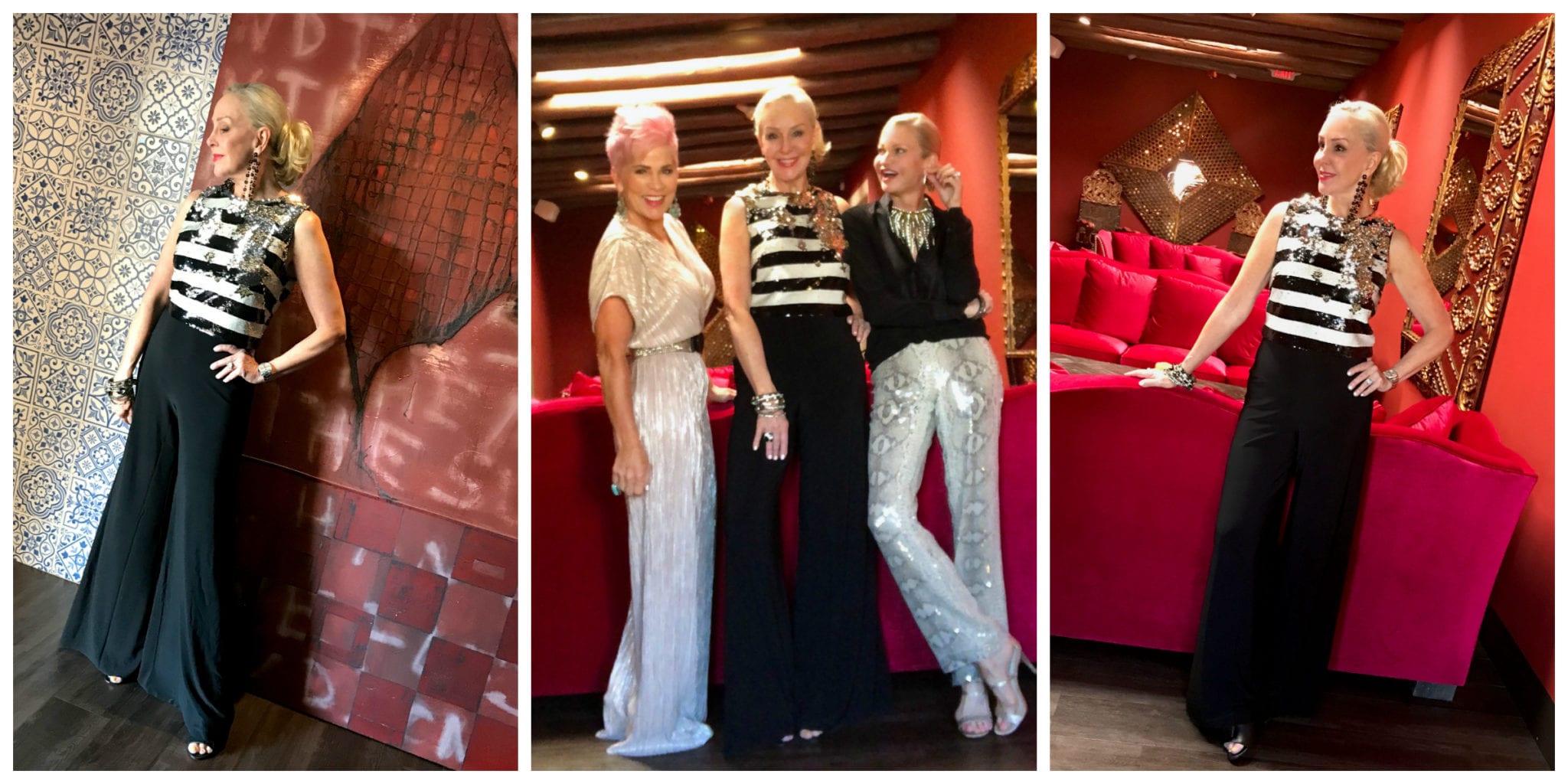 SHOP OUR OUTFITS (above)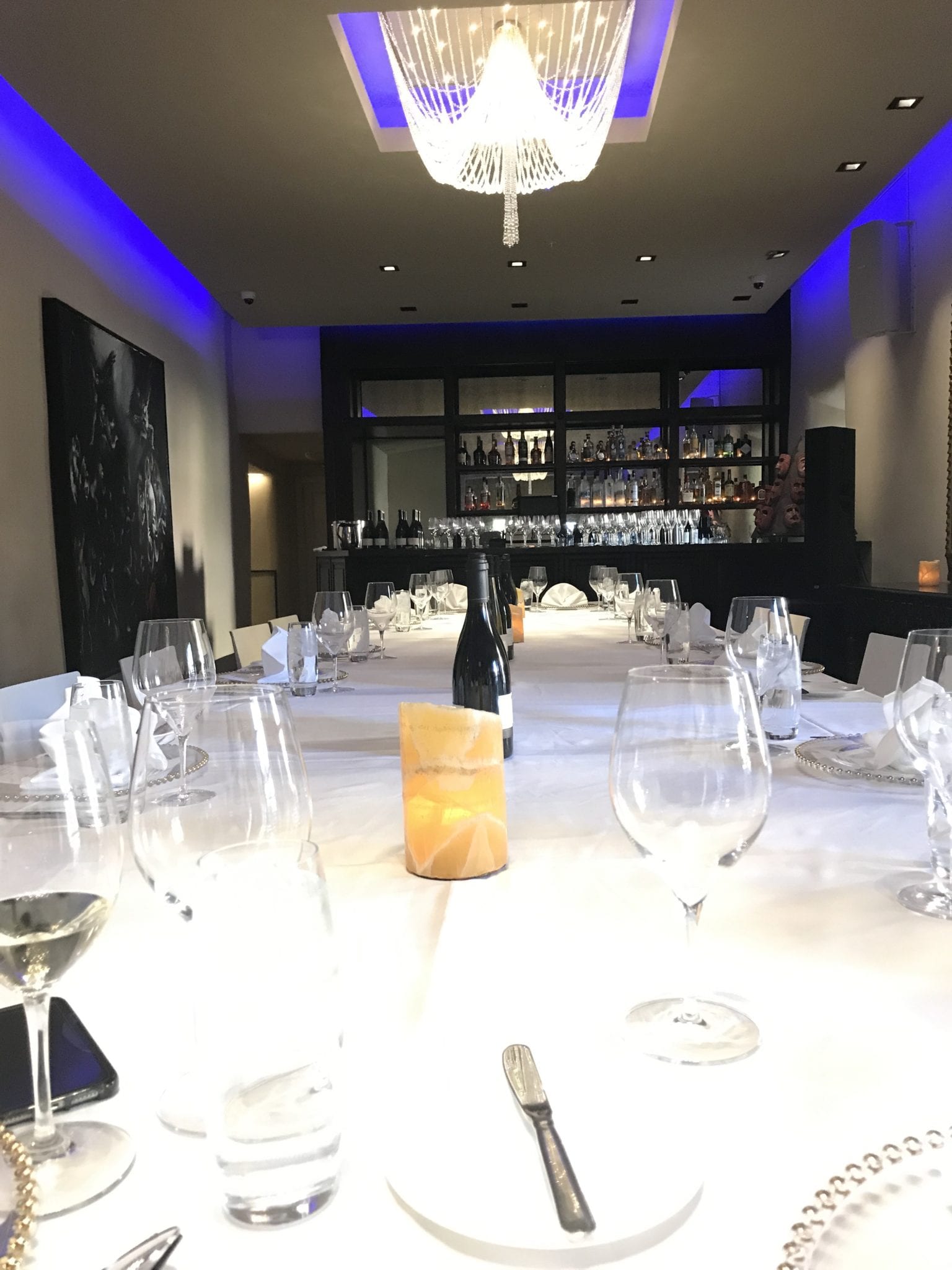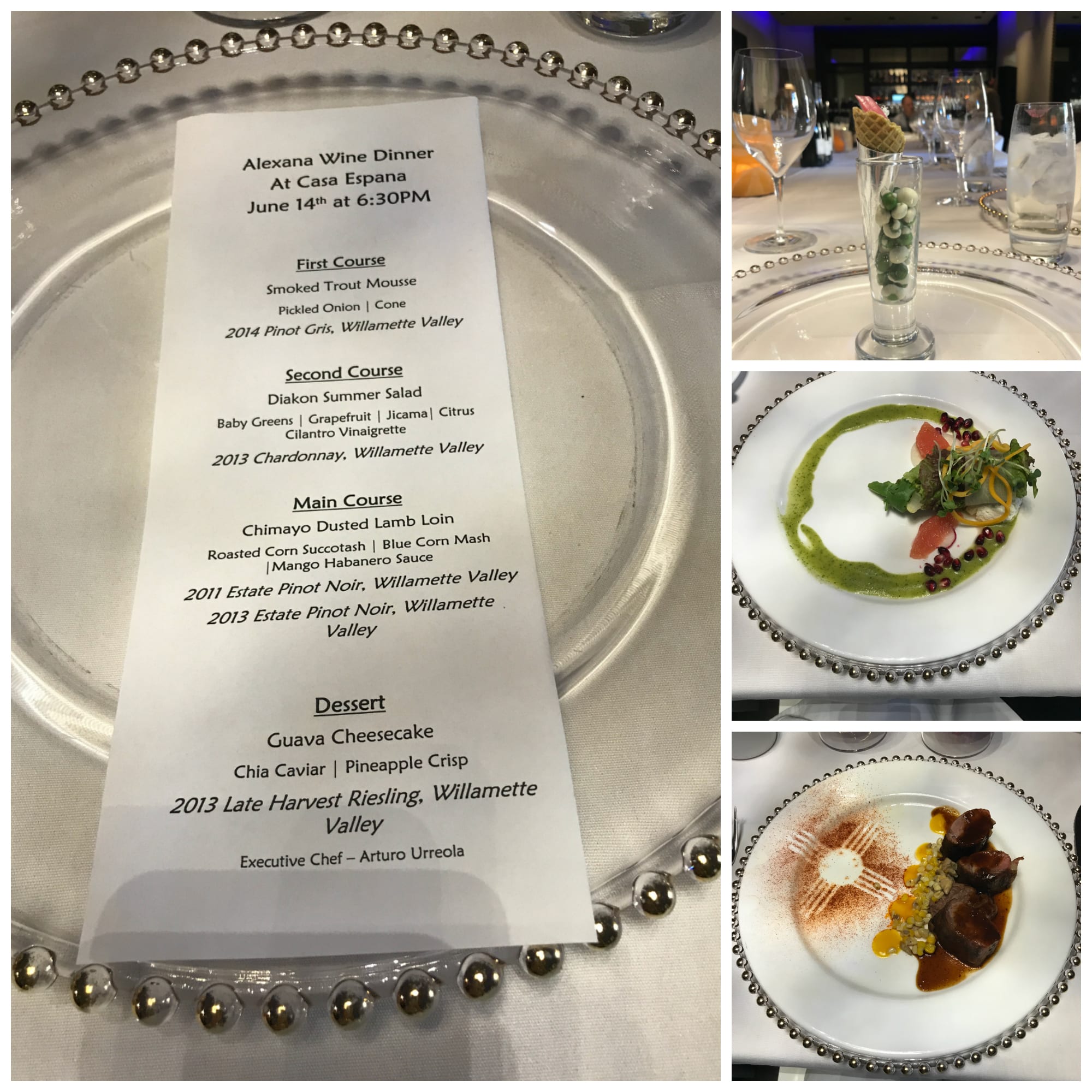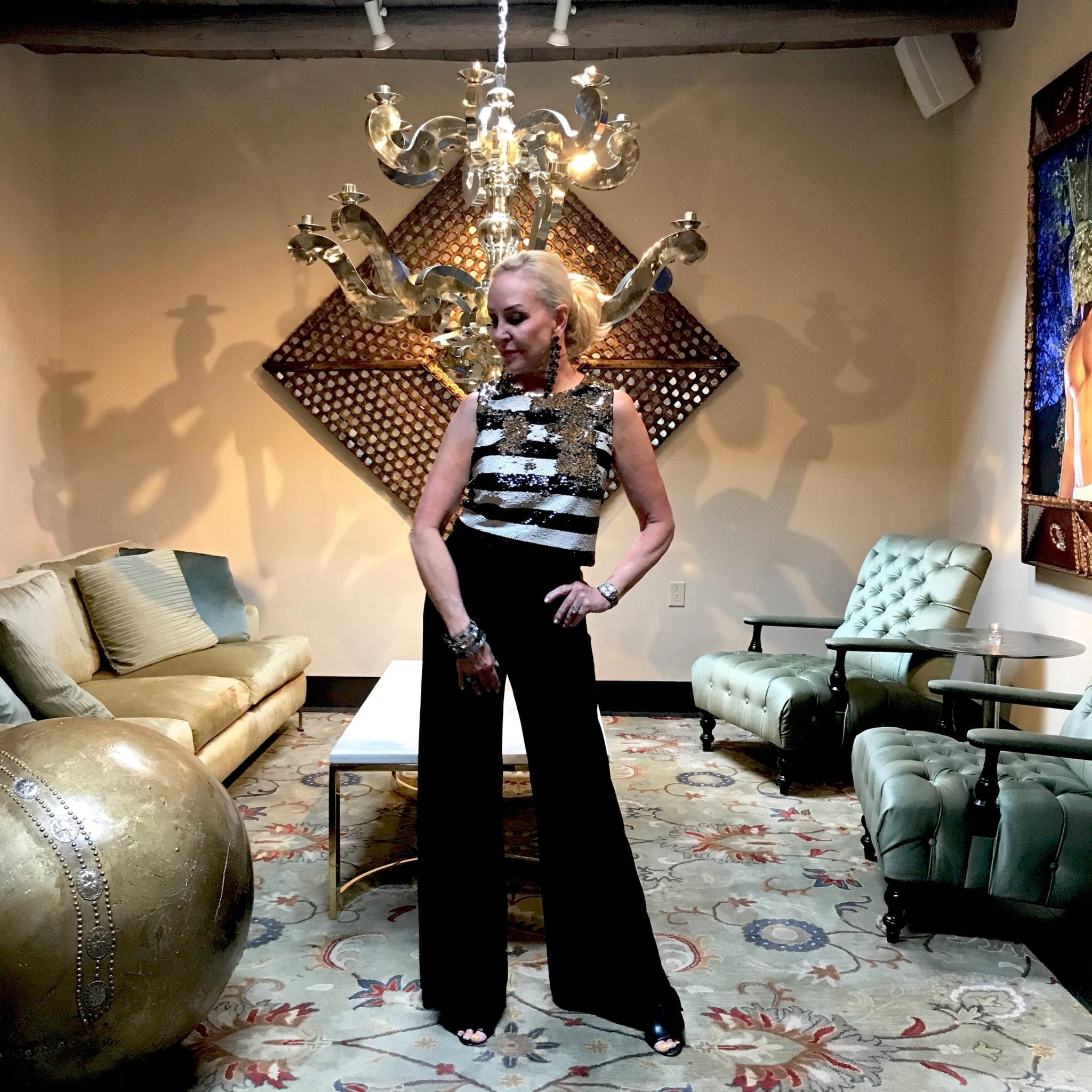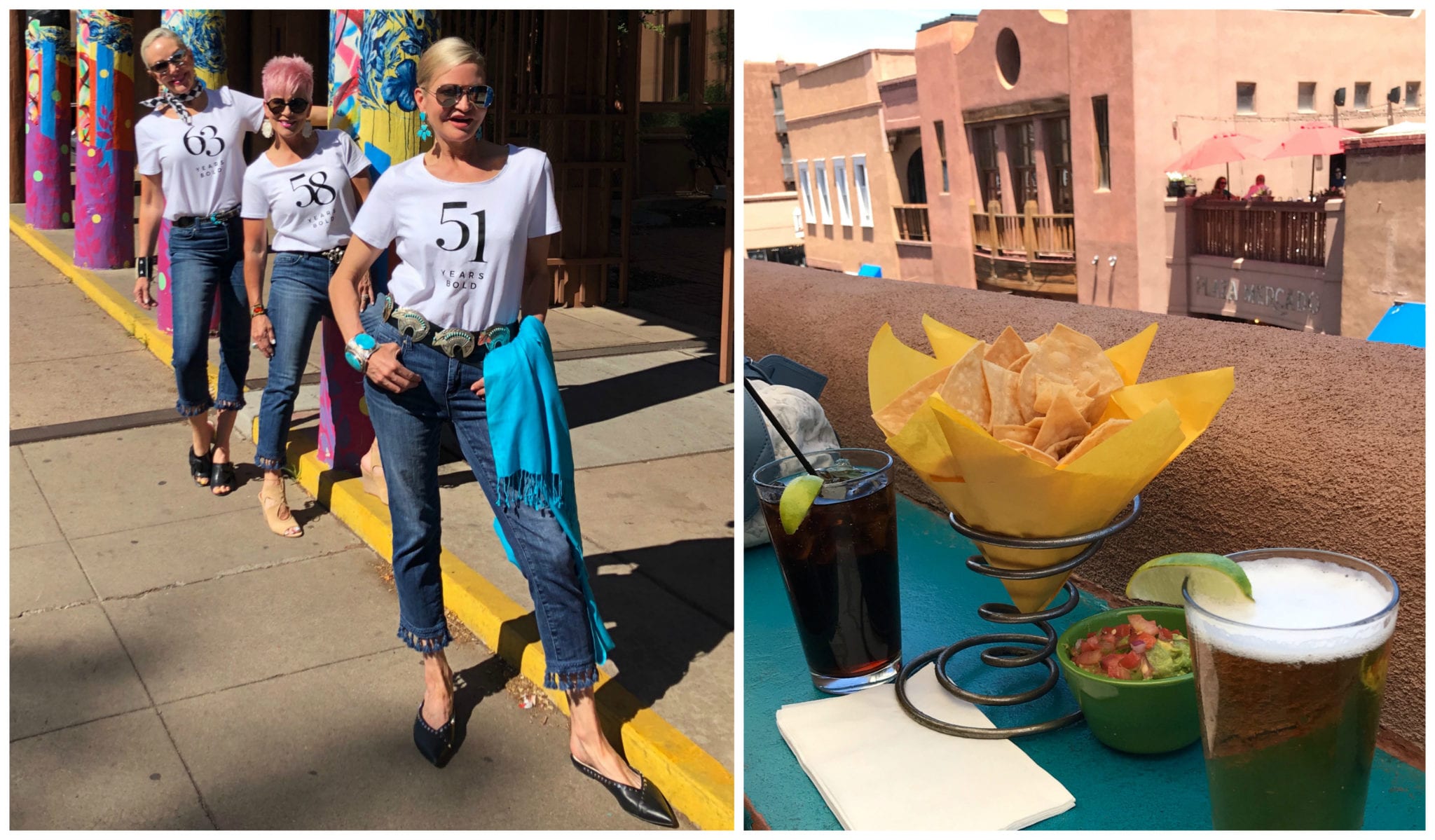 SHOP OUR AGES T-SHIRTS AND FRINGE JEANS
IN CONCLUSION
Hopefully, now that you have read my fabulous 3-day experience in Santa Fe, you will add this trip to your bucket list. You must take a look at our final video. We worked so hard but had so much fun! This video will totally seal the deal! ENJOY!
Thanks, Heritage Hotels and Heritage Inspirations for having us work with you on this project. I will come back any time!
Oh, and one last thing….You can't go to Santa Fe without having guacamole and chips. I always love this appetizer on the rooftop terrace at the Coyote Cafe.
SHESHE'S TIDBITS
It's almost the 4th of July….mid summer….what???…what are you guys doing? We are expecting one of my step-daughters with her husband and college-age boys on the 3rd. If the weather cooperates, we have a fun 4th planned. Meanwhile, it is hot and humid in Florida.
Gala's, weddings, graduations, holidays or just everyday wear…..we have fashion suggestions for you, so stay tuned. Be sure to check out ShopSheShe tab at the top of the menu bar. Hover over and choose the category in the drop down. We try to keep it up to date with the latest and greatest for all budgets. Subscribe here and then you won't miss a post. Simply enter your email in the pop-up box when you come to this site or at the top of this page in the subscribe box.
WELCOME new readers. We are a fashion/travel/lifestyle blog. We talk about anything and everything, from fashion, travel, health issues to even an occasional recipe. If there is a topic that you are interested in, then let us know. We will do our best to bring that story to you. Have a great week sweet friends and thank you for following along. Without you, we could not continue on this crazy journey!