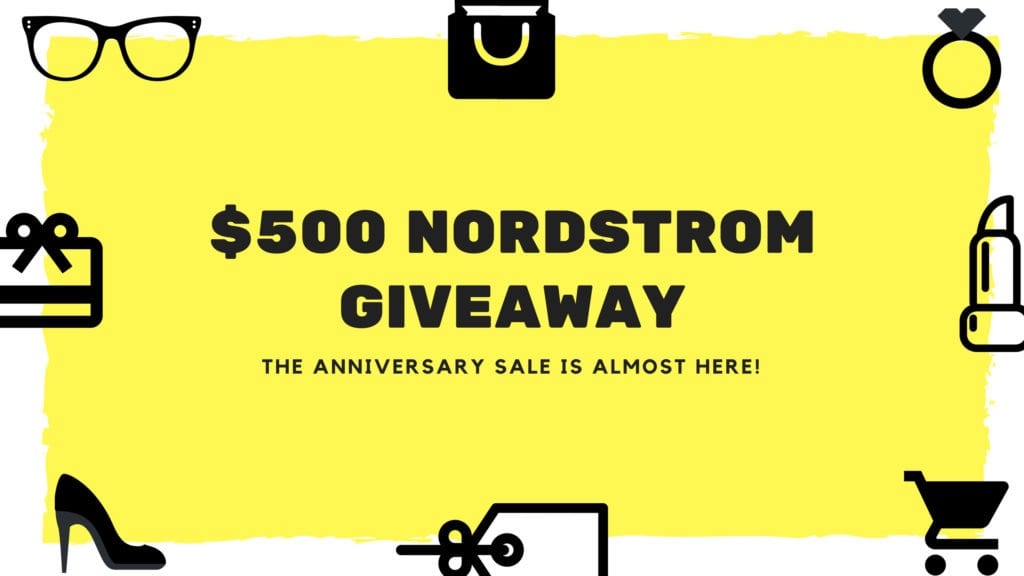 What a great time for this giveaway! Do you know why? Early Access for the Nordstrom Anniversary Sale starts tomorrow, July 12th and we are giving you a chance to win $500 that will kick-start your spending spree. We have a few tips to prepare you for the sale as well as this awesome opportunity to win a $500 gift card.
IMPORTANT DATES
July 12th – July 19th | EARLY ACCESS BEGINS (Nordstrom Card Holders)
How do I get early access? We have links for you that will help! There are 2 ways to shop EARLY ACCESS.
You must be a Nordstrom card holder. You have still have time to sign up for a CREDIT CARD  or DEBIT CARD. I have been a debit card holder for 3 years now. I love the points I earn for shopping that convert to notes that = dollars to spend on merchandise.
Join the REWARDS PROGRAM  You can sign up for "REWARDS" here.
July 19th | LAST DAY EARLY ACCESS
July 20th | SALE OPENS TO THE PUBLIC
August 5th | Last Day of Sale   (prices go up August 6th)
THINGS TO KNOW
July 21st    Nordstrom will re-stock many of their sold out items
July 21st    Nordstrom will add new sale styles so EARLY ACCESS shoppers need to keep checking back.
Blog posts on www.shesheshow.com will go up throughout the sale with all of our favorites in so many categories.
Menu Bar  on the blog will have a tab named NORDSTROM SALE at the far right-hand corner. Click on and you will see a drop down of many categories. I will be adding my sale picks in this easy access place. I will try hard to keep it updated as items sell through and new items added.
Instagram Stories I haven't started the try on sessions on my stories, but during the sale, I assure you that I will share my haul with you as they come in. It will help you know how it looks on the body.
Remember you can order more than once. Free Shipping & Free Returns. Last year, I ordered 5 times before the end of the sale.
Subscribe If you have not subscribed to www.shesheshow.com, then in order not to miss anything about this sale, you can subscribe right now HERE.
Also, we are into SUMMER SALE season. Click here if you want to get in on some great deals on summer merchandise.
Thursday We will have our first round of our favorite items here on the blog.
With the Free Shipping and Free Returns, we recommend shopping online. You can pick up your purchases at the store or have them shipped. You will get better selections with more sizing online and you will avoid the crowds.
Catalog– is just a preview. There will be sooooo much more on www.nordstrom.com.
Strategy Make a list of items you need/want for your wardrobe. If you didn't get a catalog, you can go to the online catalog here.
Key Things To Shop For
Jeans
Underwear
Beauty
Boots & Booties
Outerwear
HAPPY SHOPPING & GOOD LUCK BELOW. YOU JUST MIGHT BE LUCK TO GET THAT ADDED BONUS TO THIS SALE!
Woo hoo, it's almost Nordstrom Anniversary Sale time! We love shopping the sale and since we are so grateful for all of the support you give us, we wanted to bring our readers (that means YOU) a giveaway; so that one of you will get to shop the sale this year with a $500 Nordstrom Gift Card from us! (See below for how to enter…)
*The Anniversary sale runs from July 20-August 5 2018; if you have a Nordstrom card then you can shop the sale early starting on July 12th!
Hearts of Gold Blog • Street Style Squad • Streets Beats & Eats
Partial to Pink • The Daiquiri Diaries • Briana Anderson • jasmine elias
Straight A Style • The Trendy Tomboy • Fashionomics
The Middle Page • Lifestyles by Lauren • South Coast Style • Alicia Tenise
Chic Talk • Sincerely Katerina • Livelycraze
Ash 'n' Fashn • Hello Darling Blog • Sylvia Jade
It's Our Fab Fash Life • From the Family • Glamorous Versatility
Loving Londyn • On The DL Lifestyle • SheShe Show
One lucky winner will get a $500 Nordstrom E-Gift Card. This giveaway is brought to you by the amazing influencers above, be sure to check out their websites for their top Nordstrom sale picks this year. Enter by performing the actions listed in the Rafflecopter below for a chance to win!
Make sure to do the actions in the Rafflecopter before marking they are done! Marking done doesn't automatically perform the action. Good luck! Winner will be announced in the Rafflecopter on this blog post.
One winner, giveaway runs from July 10, 2018 to July 24, 2018 (concludes at 11:59 PM on the last day). Open to the U.S. and Canada only. Void where prohibited. By entering you are agreeing that you are performing the actions in the Rafflecopter that you have marked as done. By entering you acknowledge that you are agreeing to the newsletter subscriptions and all other terms & conditions of the giveaway. More giveaway details can be read in the terms & conditions here. Winner will be announced within 14 days of the conclusion of the giveaway and entries will be verified by the hosts. Thanks for participating, I can't wait for you to check out these incredible bloggers!