This trip was sponsored by Vintners Inn & Ferrari Carano Vineyards and Winery.
Earlier this month I had an opportunity to fly out to Santa Rosa, California in the heart of the Sonoma wine country, and visit the new 17 million dollar renovation of Vinters Inn and Spa, a AAA Four-Star resort. I wasn't not only excited about experiencing this fabulous resort but I was going to get to hang out with my 2 best travel babes Shauna (Chicover50) and Jamie (@moreturquoise) If you are looking for a great getaway for you and the hubs or with a group of your favorite gal pals then you will see after you read this post that is spot is the perfect destination for you.
DAY 1 AT VINTNERS INN
Up early I was off to Santa Rosa via American Airlines with a connection in Pheonix. I had a short connection and barely made the flight but the funniest thing happened when we were about to land in Santa Rosa. I saw this cute little gal walk by and I had to do a double take and yes….it was Shauna. We had no idea we were going to be on the same flight. I was so surprised that I about knocked her down in the aisle and we both squealed so loud that we woke up the entire airplane. Reunions are so so fun.
LUNCH & CHECK IN
When we got to California Jamie was waiting for us in the baggage claim. Another reunion that put all eyes on us!!. After hugs and love, we loaded up in the car service provided and drove maybe 8 minutes to arrive and the beautiful Venters Inn! It was too early to check in so we went straight to the restaurant and joined the rest of our group for a delicious patio lunch at the River Vine Cafe. Our meal was scrumptious so these starving girls were fed and off to a great start!!
One of the beautiful benefits of travel blogging is not just experiencing the destination but meeting new friends. Our host and PR Firm curated the best group of girls ever to meet up for this glorious weekend. The 7 other babes were from all over the country and mostly under 35 years of age. I think Jamie, Shauna and I threw them a curve ball when we showed up. We proved that age is really just a number!!
After lunch, we checked into our beautiful room located in one of the new additions looking out to one of the vineyards…..so very comfortable and charming. Waiting for each of us was a swag bag full of goodies including spa products and not to forget a bottle of wine from the Ferrari Carano Winery. This winery is a sister property 20 minutes up the road. We had less than 2 hours to get settled in and get dressed for our evening event.
FACTS TO KNOW
The Inn is a California Green Lodging-certified resort north of San Francisco and sits on 92 acres of lush vineyards and fabulous landscaped ground. It offers 78 rooms in five two-story villas. 1 Courtyard Suite; 5 Courtyard Junior Suites, 7 Vineyard View Junior Suite, 3 Vineyard View Suite, and 2 VineyardView Terrace Suites. Rates vary ~ Courtyard Rooms and Suites: $250-585 & Vineyard View Rooms and Suites: $350-1475
Every room is either part of the new additions or has been renovated and as a guest you can enjoy a complimentary bottle of wine, new state of the art spa, workout room, vineyard jogging path, bocce ball, in-room spa services, room service and bell service, in-room refrigerator; morning newspapers, same-day dry cleaning and laundry, and in-room Internet access.
Rhonda Carano is a second-generation Italian-American and a native of Reno, Nevada. In 1979, when Rhonda and her late husband Don were searching for wines to enhance the wine lists at their Eldorado Hotel Casino in Reno, they were introduced to the beauty of Sonoma County's wine country, which led them to purchase a 60-acre ranch in the Alexander Valley. Realizing the area's potential, the Caranos acquired additional vineyard land and then founded Ferrari-Carano Vineyards and Winery in 1981, with the first wines bearing the Ferrari-Carano label released in 1986. In 2000, they acquired Vintners Inn and the adjacent John Ash & Co. restaurant. With their latest expansion, Vintners Inn has evolved into an all-inclusive resort.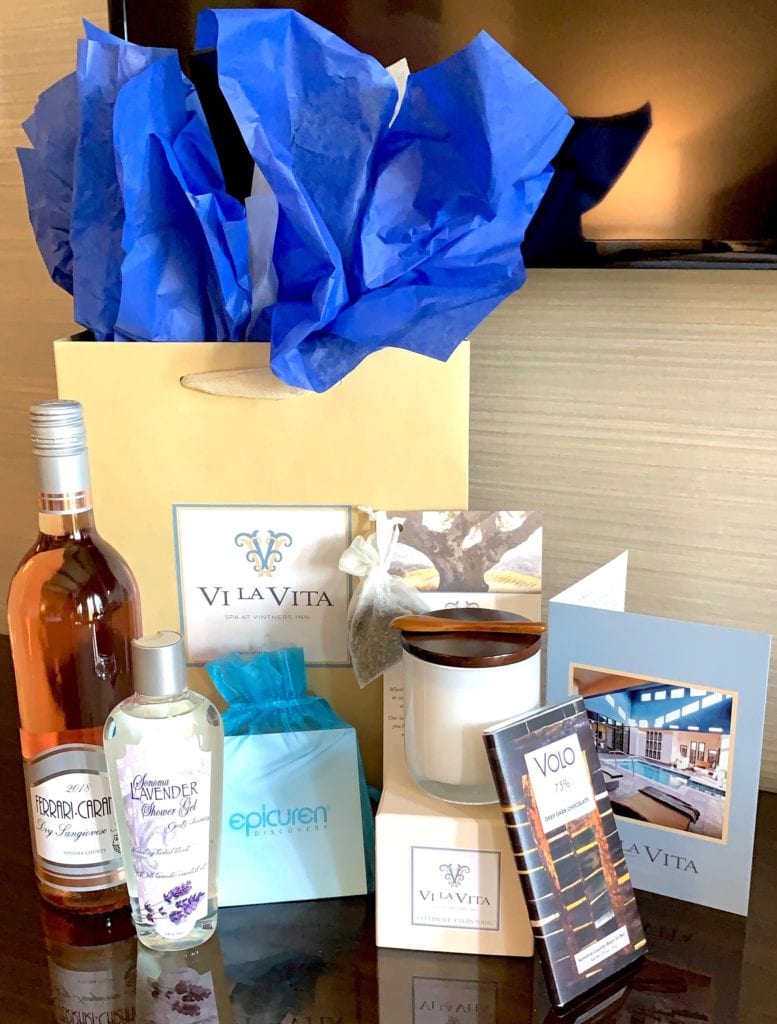 GARDEN DINNER
On our way to dinner, we took a tour of the grounds stopping at a couple of spots so we could snap a few photos. I loved this evening so much because we had dinner right in the middle of their organic garden that provides most of the vegetables for the Famous John Ash restaurant.
While we waited on dinner to be served we got to meet the gardener and some of the other local farmers that provide delicious goat cheese and fresh eggs to the restaurant. They sourced most everything locally rounding out all of the wonderful ingredients that make up their famous cuisine.
All of the Inn's employees were so great to interact with but I especially loved General Manager, Percy Brandon. He has been with the Inn for many many years and is so welcoming and passionate about his position. He joined us in the garden for the farm to table dinner that was prepared by Chef Tom Schmidt. We all got to taste many courses as well as sip on fine wines from Ferrari Carano Winery.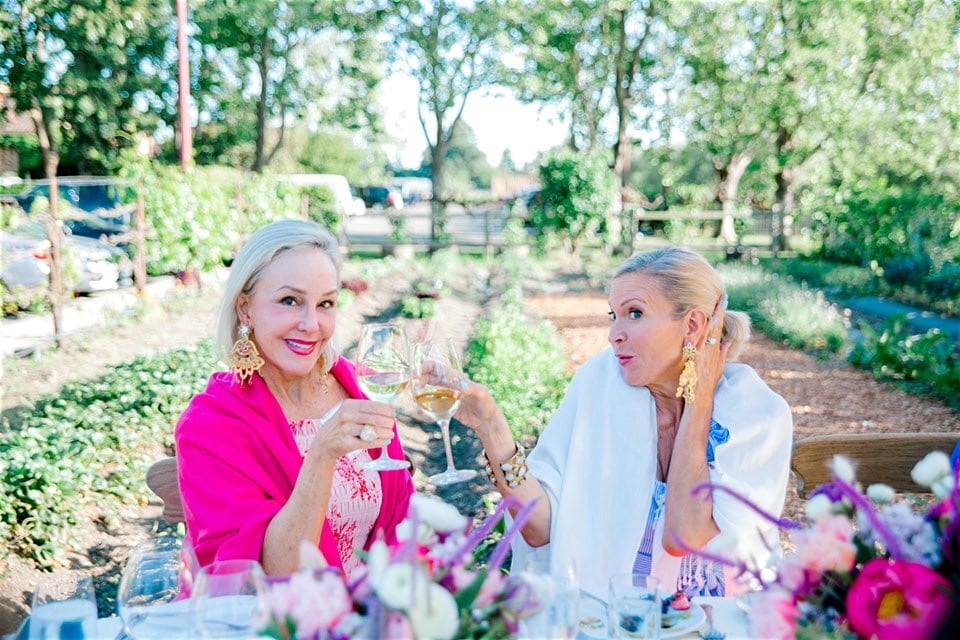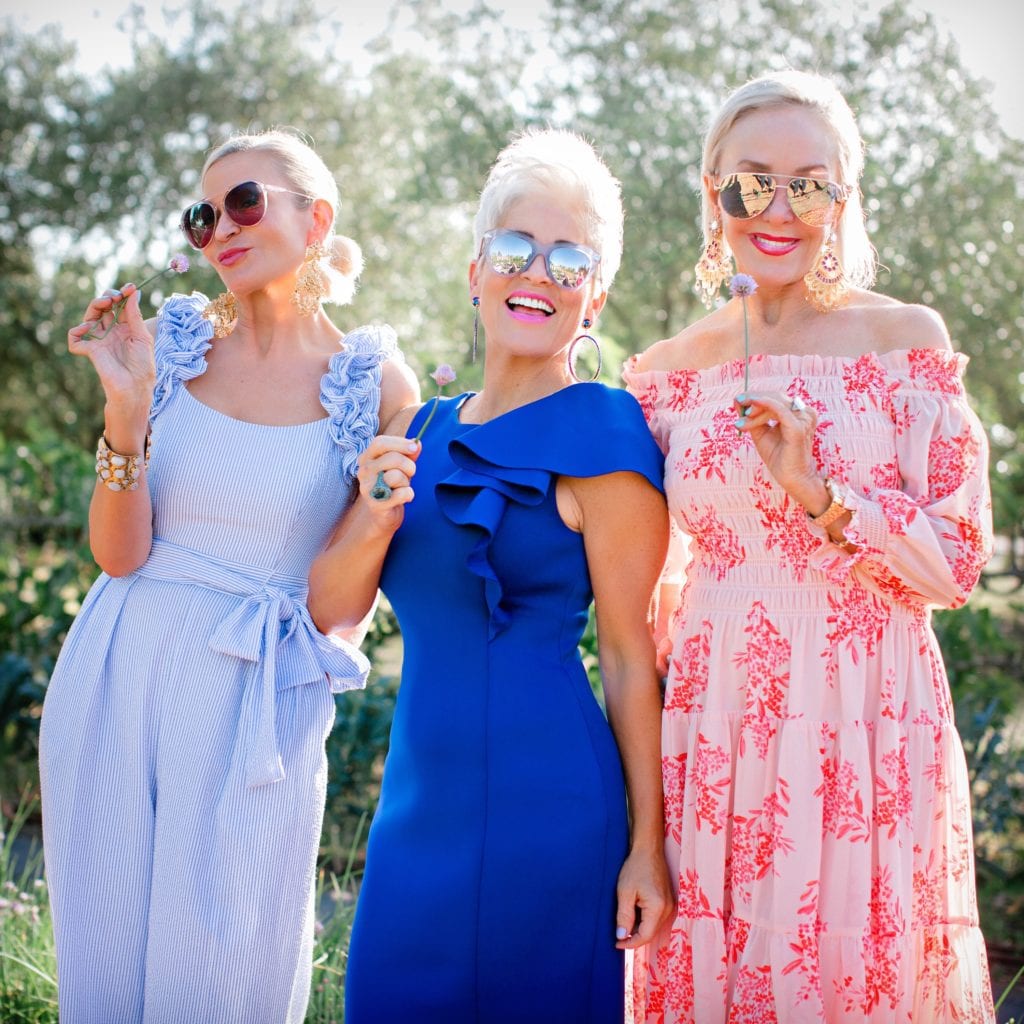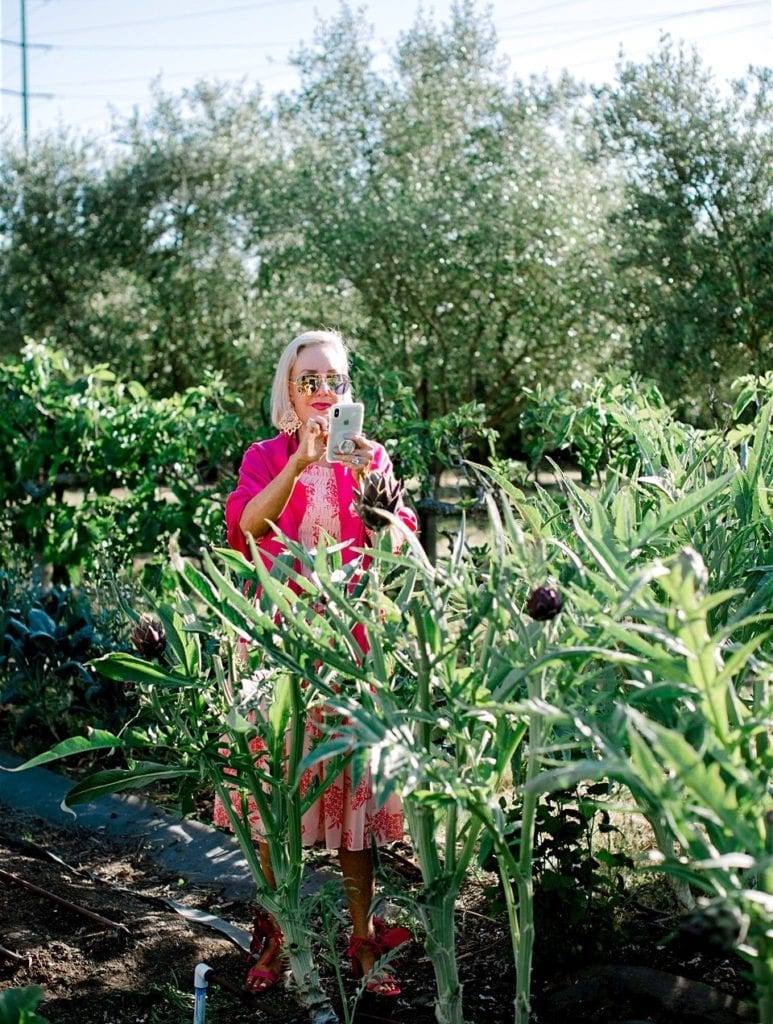 [ left to right: Jamie from MoreThanTurquoise , me at the top & Shauna from ChicOver50 ]
DAY 2 AT VINTNERS INN
YOGA
Up and at it starting our day with Sound Healing Yoga. This was a totally unique experience that really got to me emotionally. It was a beautiful way to start the day.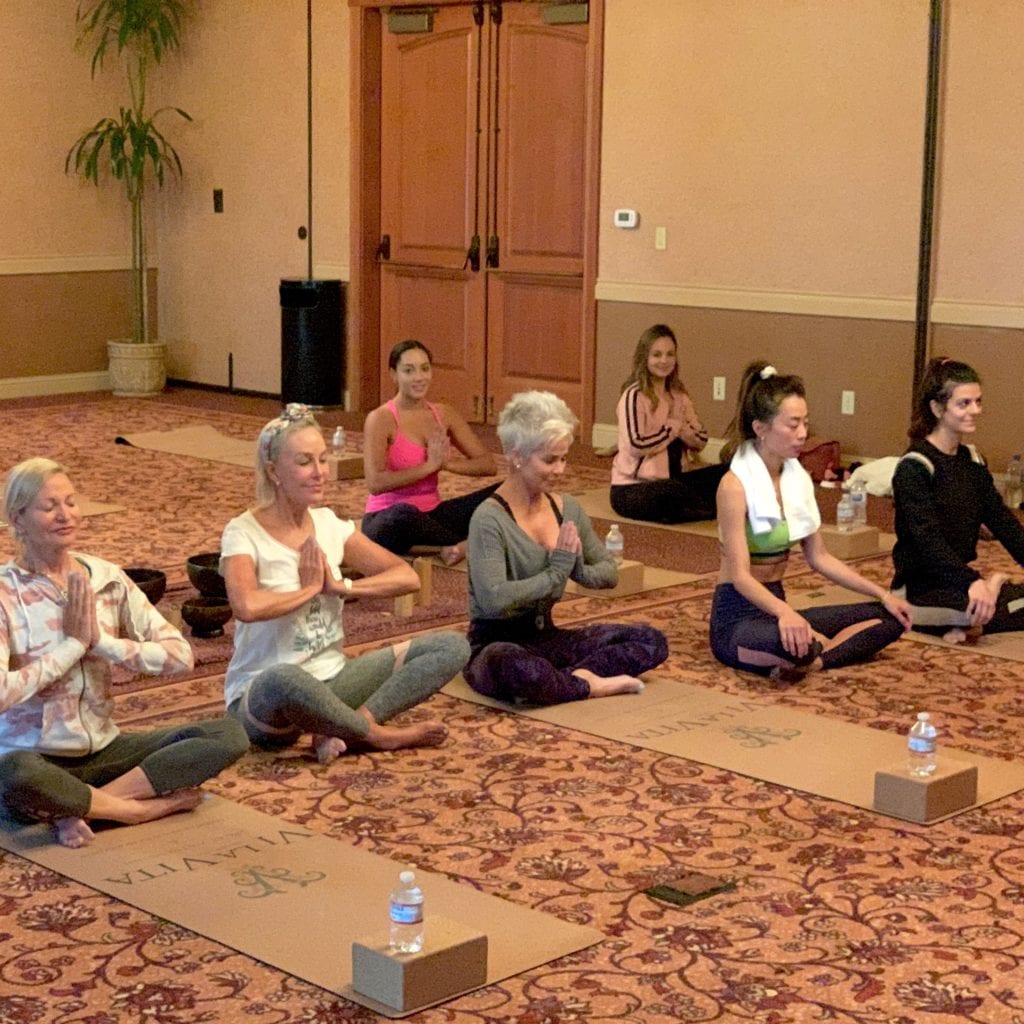 SPA AT VINTNERS INN
After yoga, we had another delicious breakfast and I got hooked on their fab avocado toast and fresh eggs. Our next stop we headed guess where………the SPA!!!! For the next few hours, we had what I call a real spa experience. The spa manager Alison Abbott and employees curated a day to remember experiencing a relaxing massage, eating another healthy lunch and making our own aromatherapy potion.
Wandering around in our luxurious robes and sandals we checked out the outdoor pool, steam sauna, fitness room, and a beautiful spa boutique. We also had such a nice time relaxing in the Caldarium Lounge with Warm Plunge Bath getting to know all of the other girls a little better. A perfect day to say the least!
Read more about all of the wonderful services offered at Vi La Vita Spa here.
What a beautiful spot to have a wedding……
After our fabulous spa experience and right before dinner, Jamie, Shauna and I changed into an outfit to shoot our gorgeous southwest jewelry collection from Chaco Canyon Trading Company. We decided to wear our no-stain shirts from Chico's and our Cecelia New York booties with the jeans of our own choice. I loved the button details on my J Brand jeans and even though they are very pricey, they are worth every penny because I luuuvvvv the fit!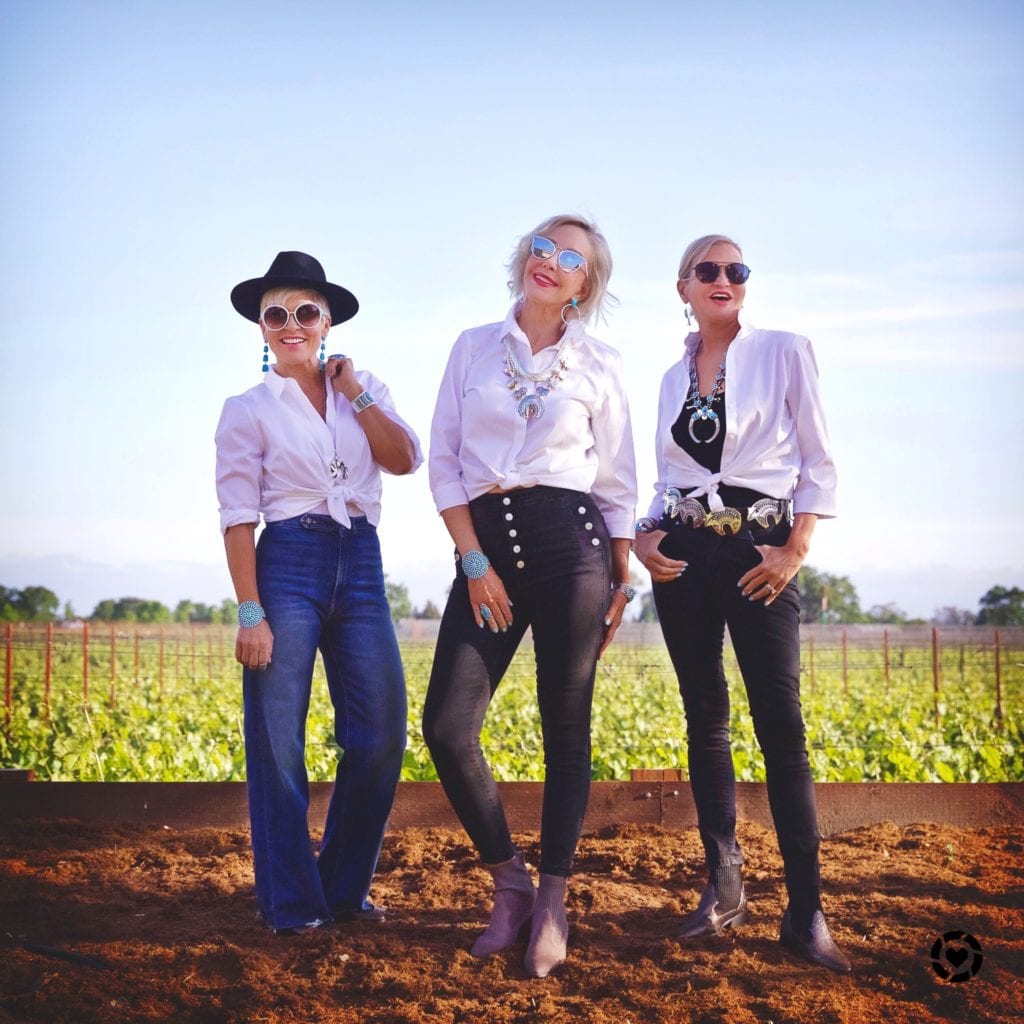 VINTNERS IN FAREWELL DINNER
Meeting up with these girls is always so fun because we all have so much in common. We are fashionistas through and through and even though our styles are similar we still pull off our own unique ways to wear our looks. The outfit below was totally not planned but somehow we always coordinate that makes for another great photo.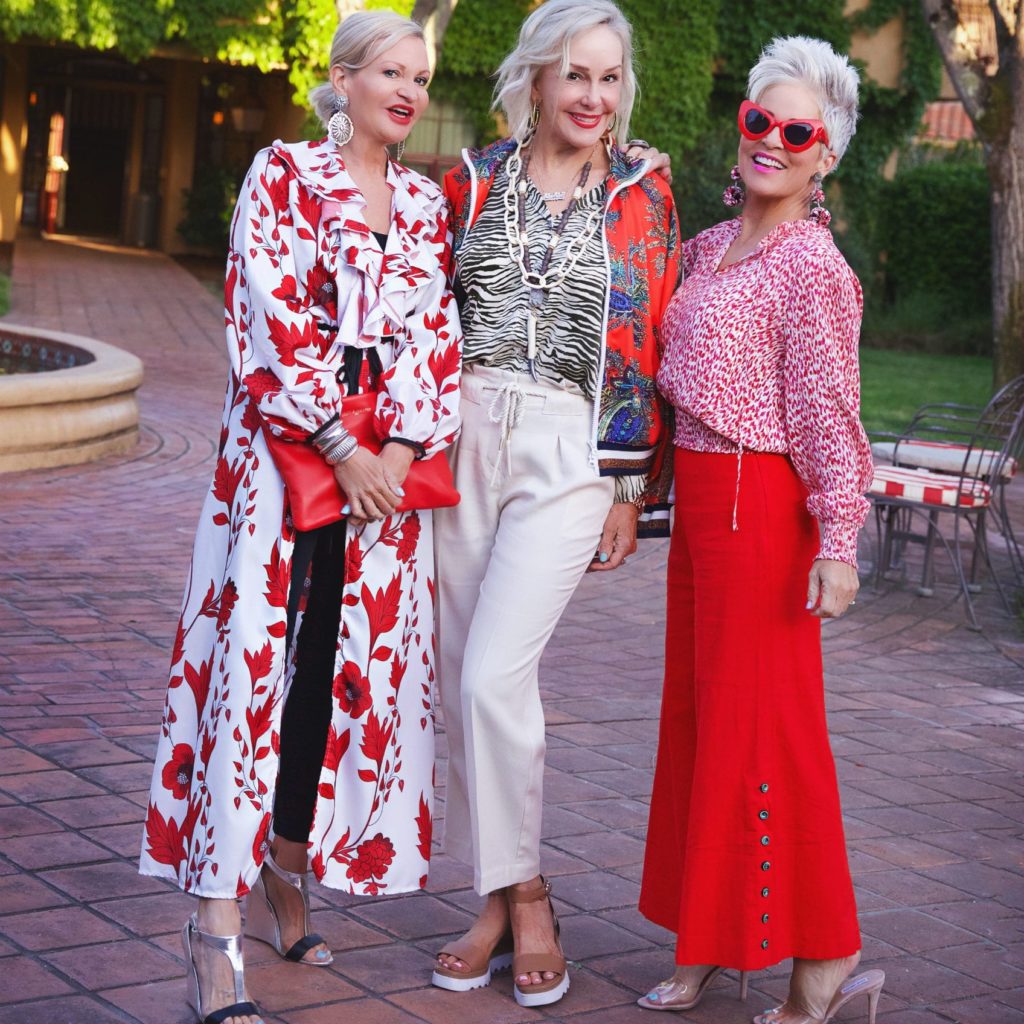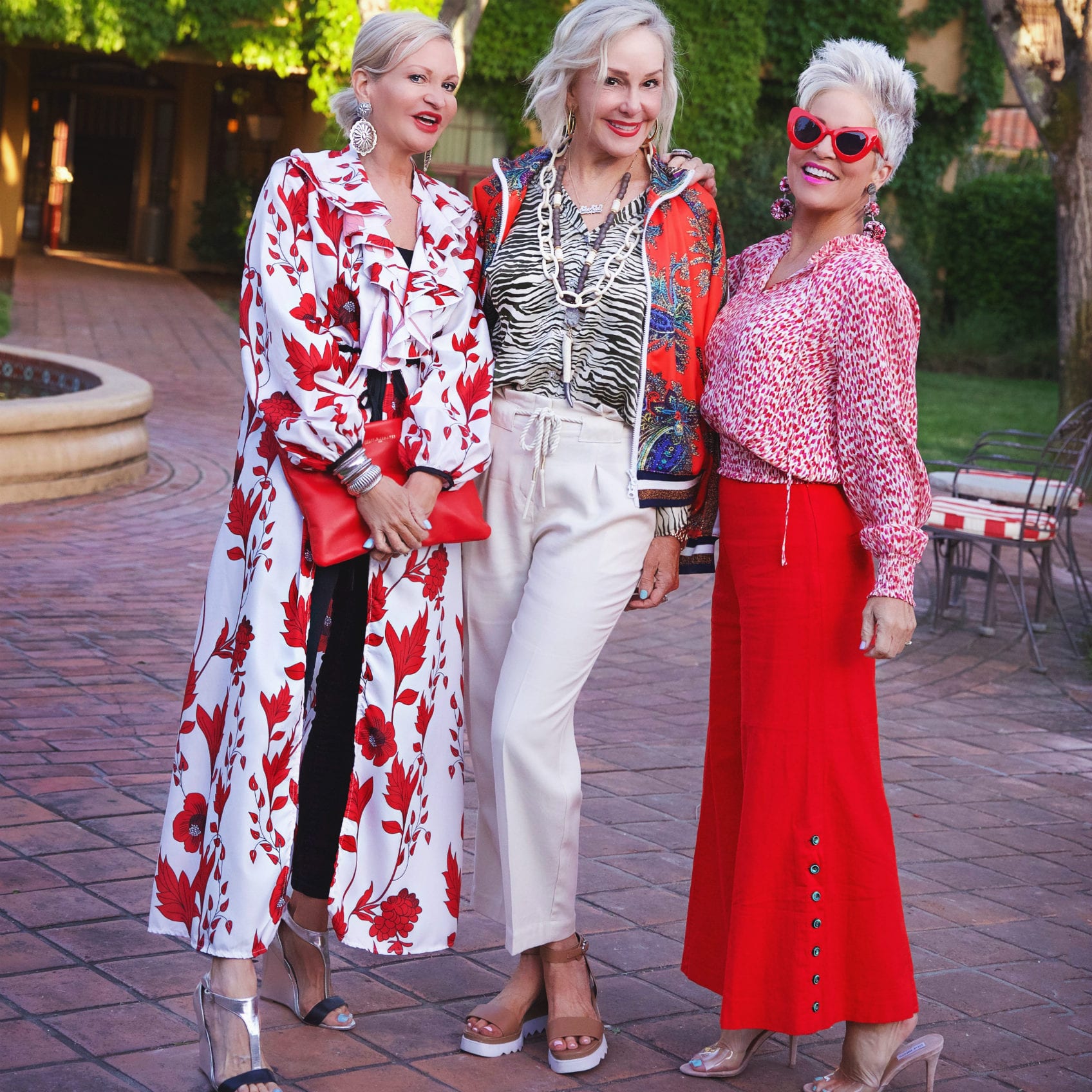 Our last night together was in the renown John Ash Restaurant. We were again served up with exceptional service and delicious food. John Ash was the first Sonoma restaurant to introduce the concept of cooking with seasonal, locally sourced foods and produce while pairing exceptional recipes with wines from the region. Again our dinner was served with award winning wines from Ferrari Carano Winery.
FINAL NOTE: After dinner, I returned to my room to find the best chocolate cookies EVER!
DAY 3 | VINTNERS INN
Jamie, Shauna and I packed to return home from our #WineCountryWellness weekend but before we left, we took a lovely stroll through the sustainable vineyard on the grounds at Vintners Inn. It was a little chilly outside so the wraps that were gifted to us came in so handy. Our guide was most informative giving us lots of insight of how a vineyard operates.
We had to pack up and leave before the other influencers and journalists because of flight scheduling so we missed the trip to Ferrari Carano Vineyards and Winery.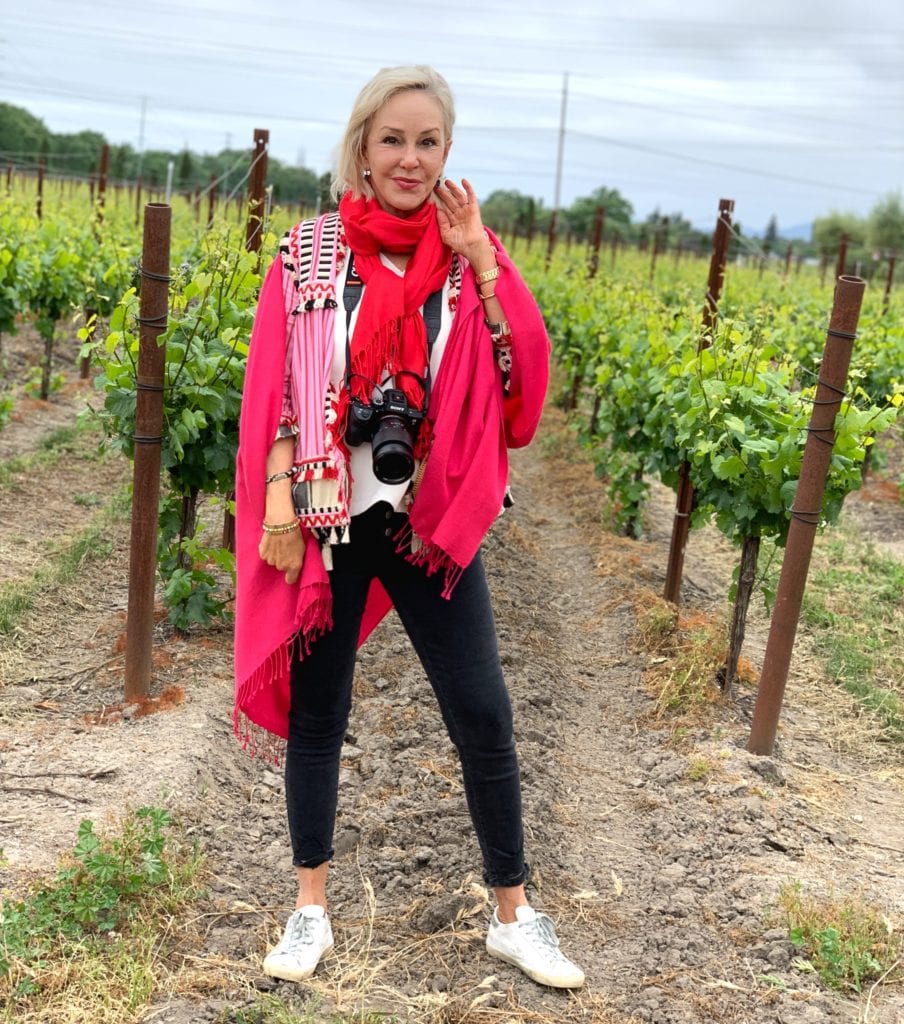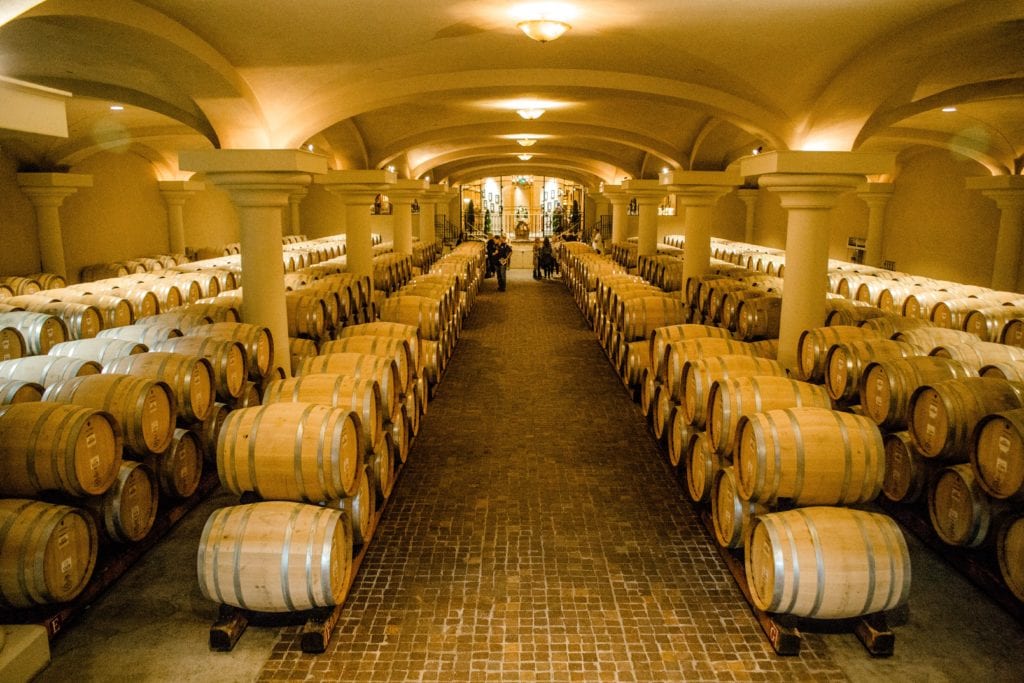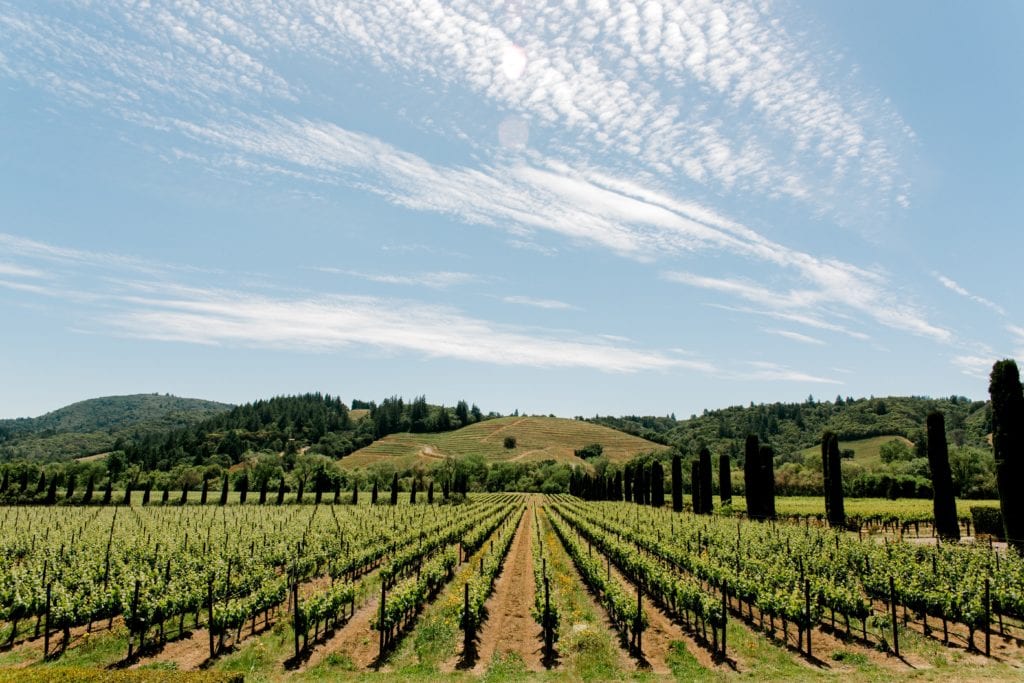 ONE LAST THING ABOUT VINTNERS INN AND WINERY
I would definitely recommend the Wine Country Wellness trip to anyone who loves gardens, good food, great wine, and a spa pamper experience. Every detail was thoughtfully designed and it was evident how much passion the Caranos' have in everything they have done. They nailed it when they created the hashtag #CelebrateEverything
Thank you Vintners Inn for letting us experience your slice of heaven on earth. It was everything and more than I expected. Cheers!
SALE ALERT
TUESDAY, 5/14 – SUNDAY, 5/19 – FRIENDS & FAMILY SALE
At Colleen Rothschild Beauty, we like to think of our customers as family, so we're offering our biggest site-wide sale of the season! (Seriously, it's the biggest sale until Black Friday!) Receive 25% OFF site-wide with CODE: FAMILY25
Banana Republic Up to 40% OFF Extra 40% off sale. No code needed.
Chico's Take 40% off Tee's, Crops, Shorts & Dresses, prices marked
J Crew Take 35% off wear now styles Use Code: HISUMMER
Macy's All kinds of great deals…..Gift With Purchase Lancome

SHESHE'S TIDBITS
We just witnessed the marriage of our first of six grandchildren last night. It was so beautiful and sweet. It brought back so many great memories on that special day when I married Norman many years ago. Headed home and will unpack and repack for my next trip leaving on Tuesday. Coastal Mississippi!!
Gala's, weddings, graduations, holidays or just everyday wear…..we have fashion suggestions for you, so stay tuned. Be sure to check out ShopSheShe tab at the top in the menu bar. Hover over and choose the category in the drop down. We try to keep it up to date with the latest and greatest for all budgets. Subscribe here and then you won't miss a post. Simply enter your email in the pop-up box or below.
WELCOME new readers. We are a fashion/travel/lifestyle blog. We talk about anything and everything, from fashion, travel, health issues to even an occasional recipe. Let us know if there is a topic that interests you. We will do our best to bring that story to you. Have a great week sweet friends and thank you for following along. Without you, we could not continue on this crazy fun journey.