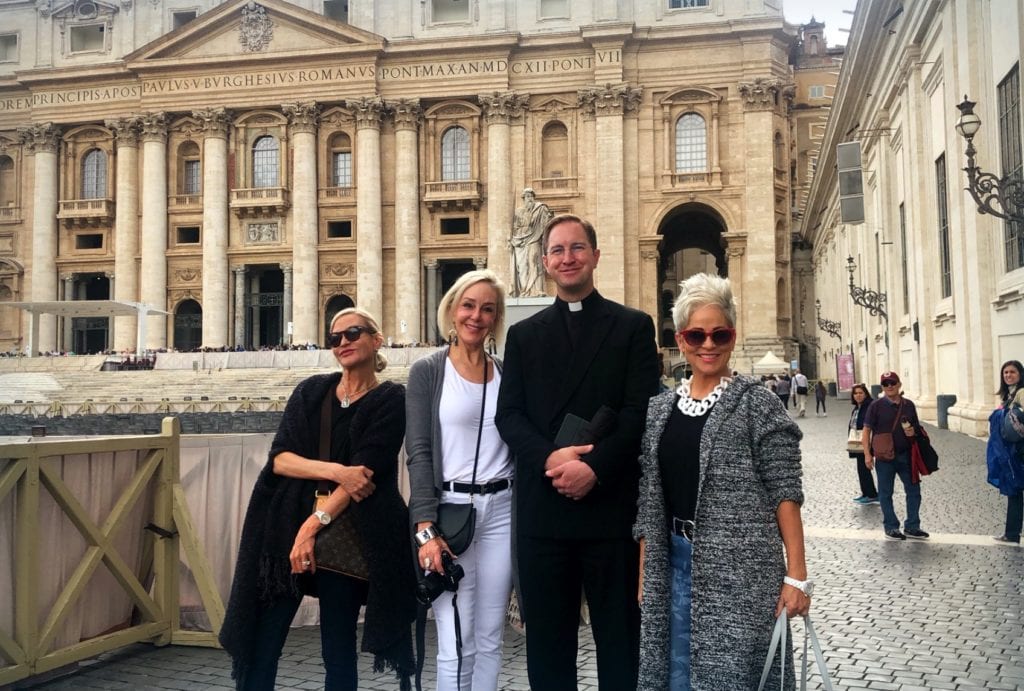 This post was sponsored by Chico's and Soma Intimates. We were gifted our outfits and received compensation for our work.
Happy Summer sweet readers!! I have just returned from Italy on a great trip with my travel BFF's Shauna ( Chic Over 50 ) and Jamie ( More Than Turquoise ) I have been to Italy many years ago but I never had been to Florence and the wine country so we are taking you there but first we want to share all about our 24 hours in Rome, Italy before we head to Florence.

DAY 1
The Flight Over
We left on May 28th on my old alma mater American Airlines from Dallas Fort Worth Airport. If you don't know I was a flight attendant with them for many years. American doesn't have a good schedule for us in Houston so I rarely get the opportunity to fly them. Would you believe that a couple of the flight attendants on the flight were hired 2 weeks before me back in 1978? Flight attendants always take care of their own so even though we weren't in first class we got the royal treatment.

We wanted to fly over together so we all met in Dallas for the flight over. Shauna came from Salt Lake City, Jamie flew in from Albuquerque and I hopped up from Houston. My goodness, it was 11 hours over to Rome. That being said I never leave home on a long trip without my neck Ostrich pillow, my head Ostrich pillow, socks, eye mask, earphones, snacks, hand sanitizer, something to read, Melatonin, and a large cozy cashmere scarf. Jamie travels just like I do and Shauna was stuck in the middle. She is the one that slept the most so it didn't bother her though one bit. I never can sleep very long on these long flights. I think I must have watched 4 movies.
ROME
Upon our arrival at the Rome airport, we got all of our bags and took a minivan to our 5-star boutique hotel called Harry's Bar Trevi Hotel & Restaurant centrally located just steps from the beautiful Trevi Fountain. We dropped off our bags until it was time to check in. It was about 10 am in Italy 7 hours ahead of Houston CST so without sleep on this day we lost a day of sleep.
First stop was breakfast and we found this cute little place right by the hotel. We were sooo tired and hungry and the meal was delicious.
After we refueled our bodies we decided to shoot our travel outfits all from the Chico's Zenergy Collection. No time for the weary because we had a lot to do and get accomplished every day.
About a month before we departed on this great trip, the 3 of us got on a call and picked out all of our outfits coordinating the collections that our brands wanted us to share with you. Zenergy was created for the woman on the go, also called athleisure style. Lot's of knits that are easy to wear and to pack!! I dress like this often, especially for travel!!

I mentioned that the Trevi Fountain was right by our hotel. It is definitely the most beautiful fountain I have ever seen. People throw their coins in the fountain and make a wish and there are so many that there is a crew to clean them out on a regular basis. Best to visit in the early morning if you don't want to get in the middle of the masses of visitors all taking selfies and photos of their friends and loved oned.
HARRY'S BAR TREVI HOTEL & RESTAURANT IN ROME
Through a search of Rome hotel's Jamie's husband landed on this hotel Harry's Bar Trevi Hotel & Restaurant. Because we booked back in March we were able to get really good rates, especially for star hotel. The rooms run between $300 and $450 at night depending on the time of year. Located about 40 minutes from the Rome (FCO) Airport and a 3-minute walk to the city center this was the perfect place for us to crash for one night. there's even an archeological site located in the basement of the hotel! If I get back to Rome, I would definitely stay in this boutique-sized hotel again. You can book here
After our photos, we were able to get into our rooms around 11 am which was great. It gave us a chance to undo our bags, take a quick nap, ( I might have slept for an hour or so….argh…. ) shower and change into something fresh before we headed for our tour at The Vatican.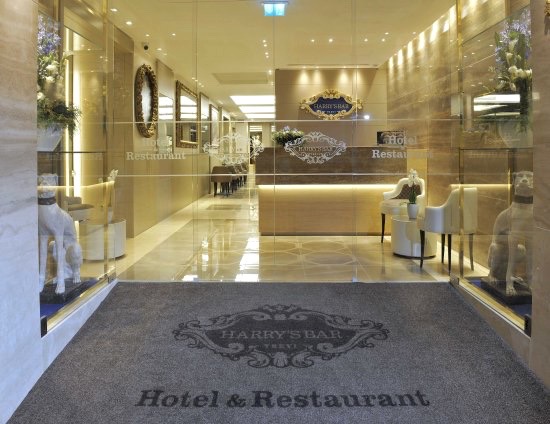 THE VATICAN
As we were planning our trip I reached out to a couple of friends for insights on our adventure and my friend Donae introduced me to a priest located in Rome. He is from the N.E. part of the United States so he spoke our language. Yeah….as none of us spoke Italian. He has lived in Rome for a few years and sometimes will do a special private tour. We connected and worked around both of our schedules to meet at 5 pm on our arrival day where we were in for a tour of a lifetime.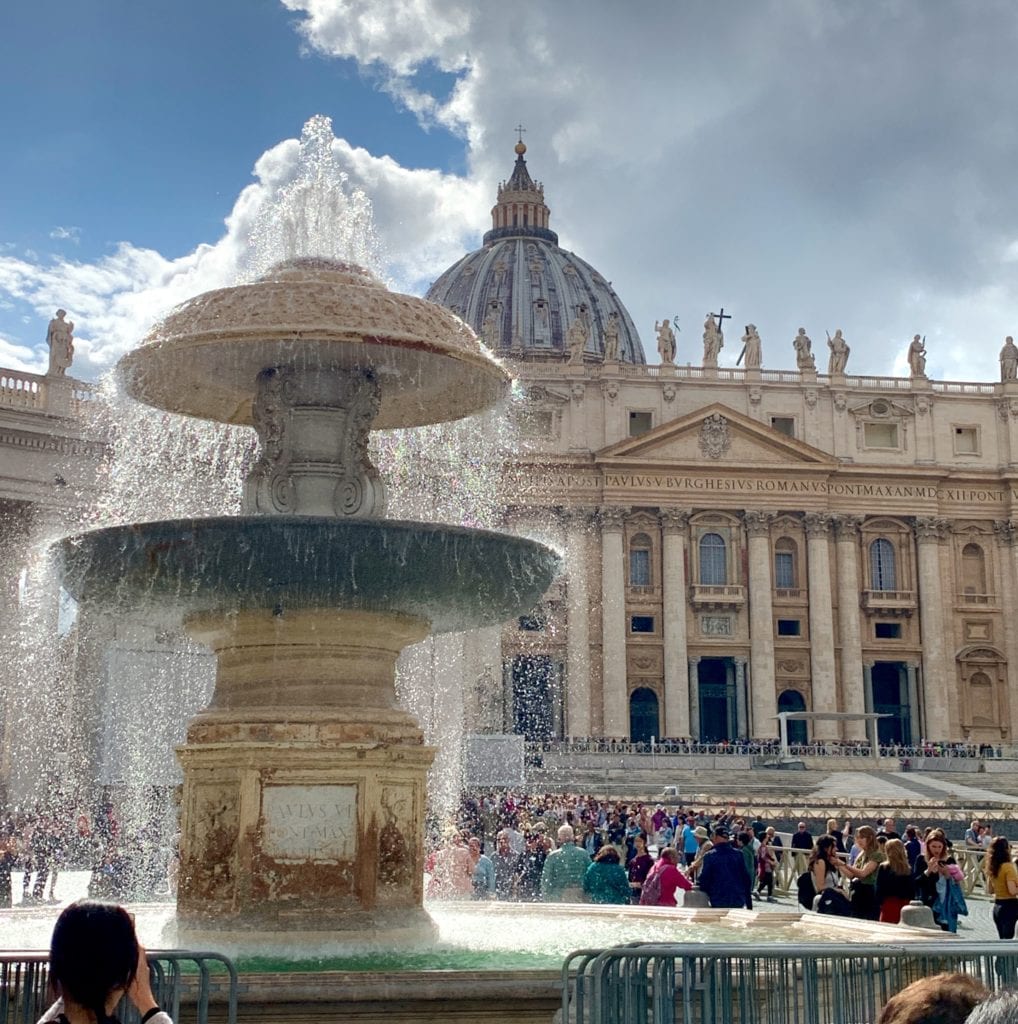 Fountains ~ Architecture
First of all, I had been to The Vatican but just a view of the outside. Our cruise years ago didn't allow enough time to explore inside. Saint Peter's Basilica was our tour de jour (tour of the day) located within the walls of The Vatican City. I will say that our time with Father Thomas was the most informative plus spiritual experience for all 3 of us. I actually got goosies and teared up a couple of times. Feeling so blessed to have this experience. Even though that Shauna, Jamie and I are all believers we come from different denominations and none of us are Catholic. Just sayin'……that Christianity is not about denominations but about Jesus the Son of God as I believe!!
Above is the fountain in the main square ( I guess that is what it is ) There are many tours available so you should go here and experience this wonderful place right here on earth.
Above is the port – a – cachet or loggia to The Vatican. All of the columns have meaning.
SAINT PETER'S BASILICA
Below is a sculpture by the genius Michael Angelo of Mary mother of Jesus holding him after his crucifixion. There is so much to know about this sculpture.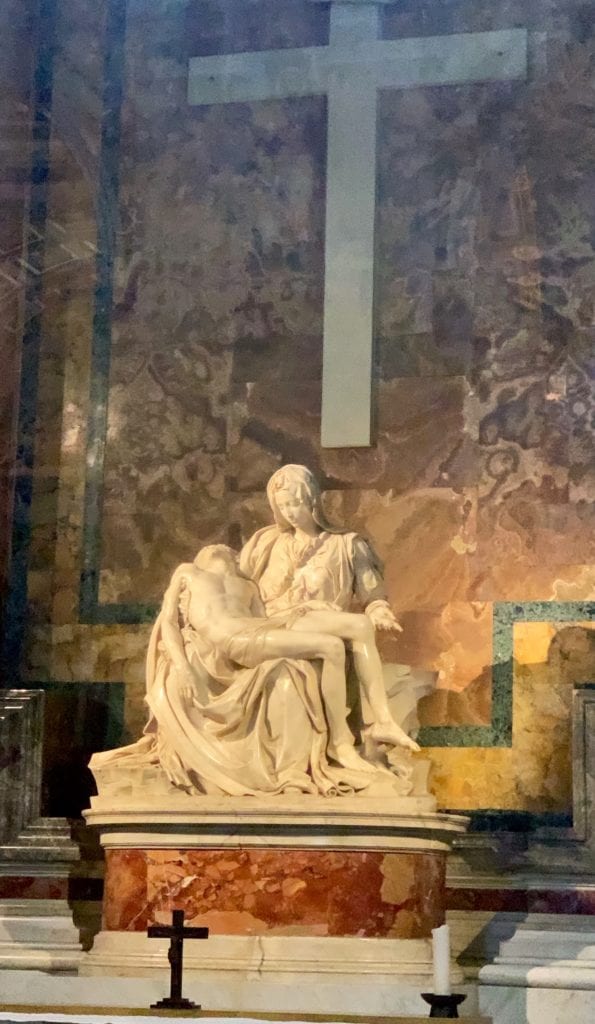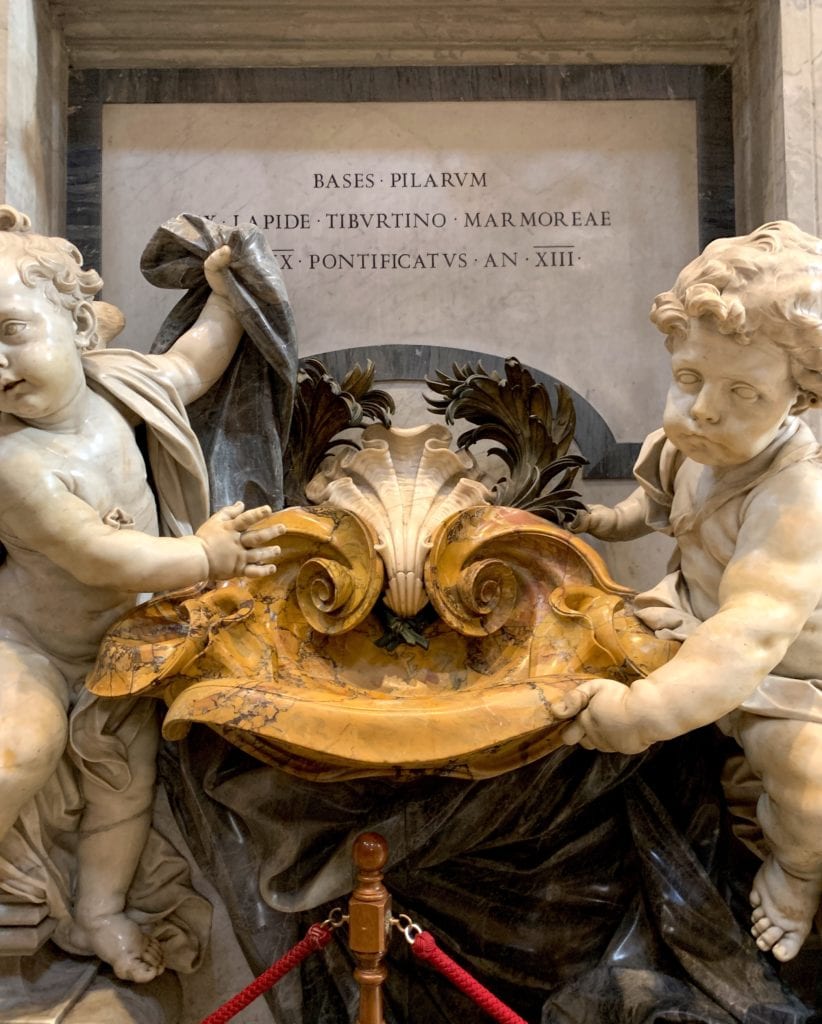 Above in the photo to the left is inside Saint Peter's Basilica. Built upon the tomb of St Peter, St Peter's Basilica is one of the world's holiest Catholic shrines and is visited by thousands of pilgrims and tourists every month. We were there just in time for Mass and got to hear the chants and songs of the priests. So so moving!!!
FATHER THOMAS (our guide)
Below is our beloved Fr. Thomas. He was moved by the holy spirit back in his 20's to enter the priesthood giving up so so much to devote his life to our Lord and Savior!. It was definitely a calling that he could not ignore. You can follow Father Thomas on Instagram @fr.tm.lc
Upon our departure Fr. Thomas gave us each a Miraculous Medal, also known as the Medal of the Immaculate Conception, that had been blessed by the Holy Father that very morning. Mine will be on a necklace chain so that I can wear it regularly. This time with our new friend Fr. Thomas was definitely a highlight of my trip.
DAY 2
Up early to catch the good light we shot our Soma Intimates jammies on the rooftop of the Harry's Bar Trevi Hotel & Restaurant. This spot was magnifico!! Look behind us….the Trevi Fountain in all its glory. As I said, we were only steps away. Shauna is a professional photographer so we did this and other great shots all from a tripod and remote control. To shop our cute pj's click the widget below this photo.
If you aren't familiar with this brand then just know that their Cool Nights Collection is made from special fabrics that allow it to breath. Real important for us that are going through or have gone through menopause because the jammies help keep us cool!!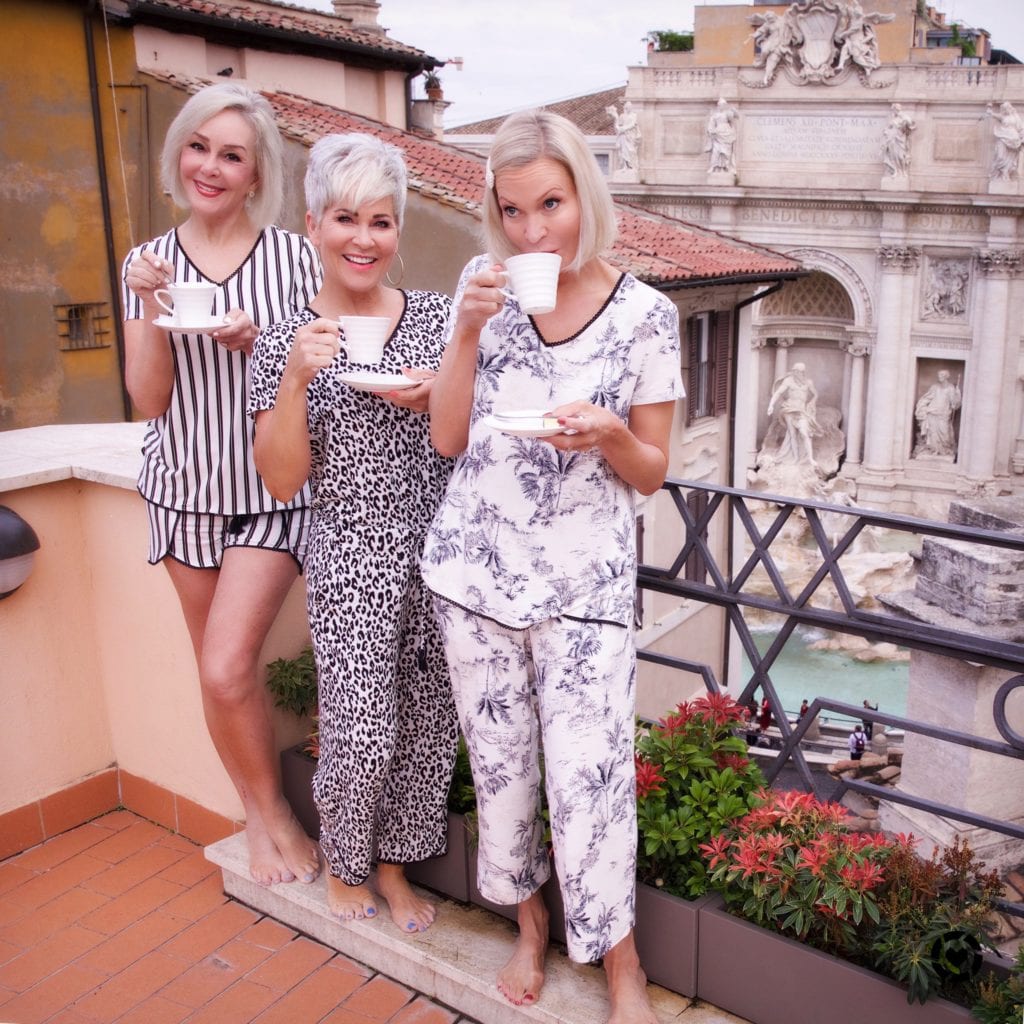 Before we left Rome we scoured the area for a set of Roman steps to shoot our ultra chic Black Label Collection by Chico's. Just look at how different our looks are but still shows how glam they are and how they all came together for a wonderful photo. Everything here is now 40% off and sizes are going fast!! Click to shop below this next photo.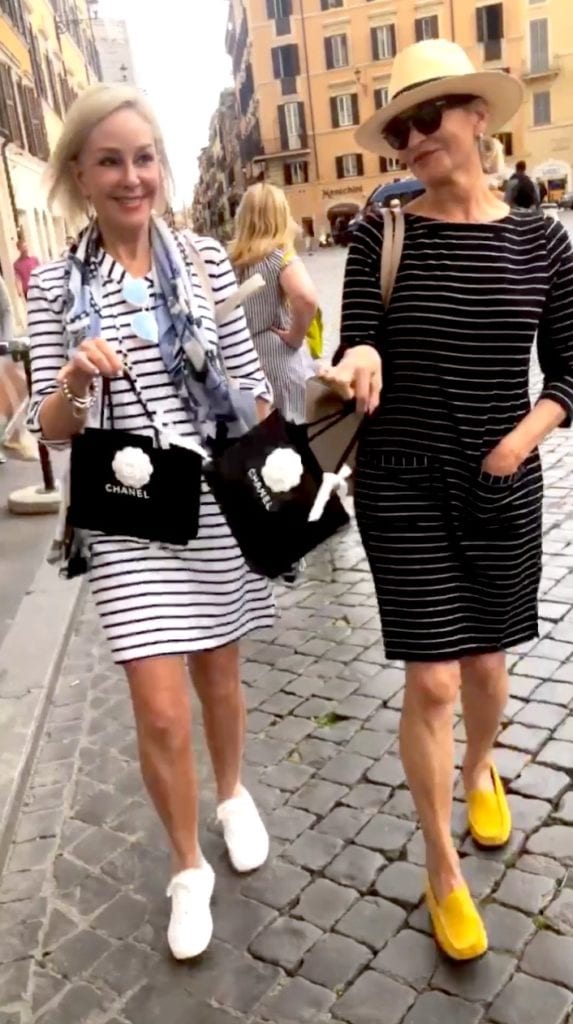 Ok so we had an hour to spare before our driver to Florence showed up. We whipped into the Rome Chanel store located by the Spanish Steps and I immediately honed in on a fab acrylic, pearl, and CZ cuff bracelet. They happened to have only 2 and guess who strolled out with them in a bag. eek?? That is called peer pressure!!

IN CONCLUSION
We had a driver lined up to take us to Florence for an almost 3-hour wild drive. They are crazy drivers….. Thank goodness our driver knew of a good pit stop along the way….. Stay tuned for part 2 – Florence.
SALE ALERT – Mark Your Calendar
WHAT:
The Nordstrom Anniversary Sale is the biggest sale of the year because it's the only sale where FALL clothes, shoes, and accessories go on sale BEFORE the season even starts!
WHEN:
EARLY ACCESS for the Nordstrom Anniversary Sale starts for Nordstrom card holders on July 12th.
Level 4 card members get access on July 10th and 11th!
PUBLIC ACCESS starts on July 19th. That's when the sale opens to EVERYONE.
The sale formally begins at 12 AM PST. Yes, in the middle of the night.
I strongly suggest you wake up early to shop your favorite picks from the catalog.

SHESHE'S TIDBITS
Well, I am packing again for a trip to Boston on Wednesday. There I will meet up with my travel BFF's Shauna and Jamie once again where we will be attending a travel conference. We have been branding as a travel team for a year now so we are going to this conference to learn more about travel blogging and meet potential travel-related companies.
Gala's, weddings, graduations, holidays or just everyday wear…..we have fashion suggestions for you, so stay tuned. Be sure to check out ShopSheShe tab at the top in the menu bar. Hover over and choose the category in the drop down. We try to keep it up to date with the latest and greatest for all budgets. Subscribe here and then you won't miss a post. Simply enter your email in the pop-up box or below.
WELCOME new readers. We are a fashion/travel/lifestyle blog. We talk about anything and everything, from fashion, travel, health issues to even an occasional recipe. Let us know if there is a topic that interests you. We will do our best to bring that story to you. Have a great week sweet friends and thank you for following along. Without you, we could not continue on this crazy fun journey.