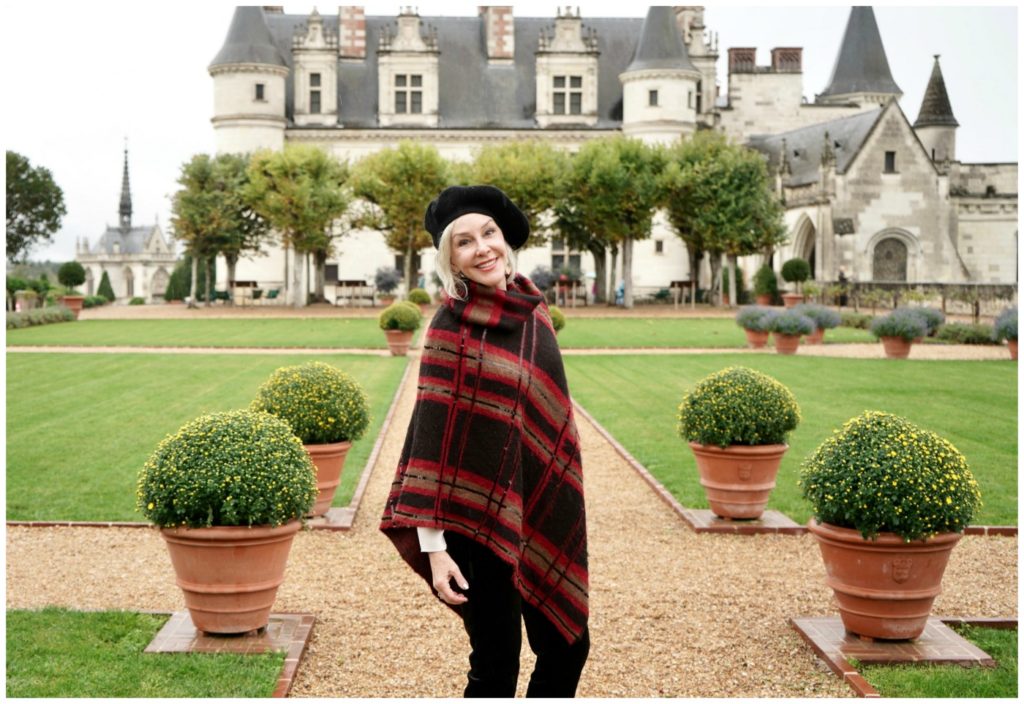 SHESHE'S STYLE WATCH
Hi sweet readers, can you believe that next week is Thanksgiving? You know what happens after that….yep, Black Friday. Before we get into all the deals and steals here on SheShe Show we wanted to share the SheShe Style Watch in Paris. These outfits would be great for any of your upcoming holiday activities and events.

TOURING THE CASTLES
TOP PHOTO
This beautiful plaid knit poncho and velvet pants and satin top from Chico's was perfect for touring the beautiful castles in the Loire Valley just outside of Paris, France. It was a rainy gloomy day but it didn't stop this fashionista to shine in the awesome look!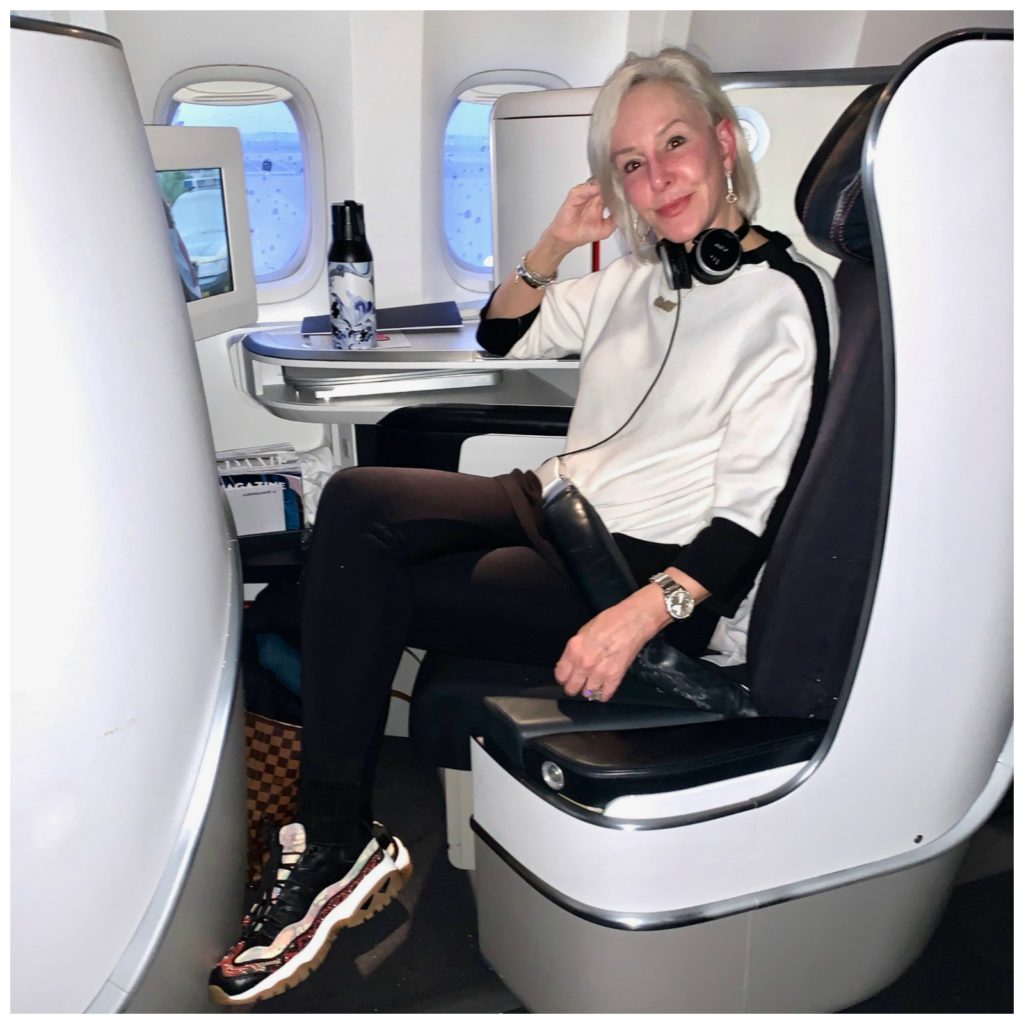 TRAVEL STYLE WATCH
My flight was 10 hours over to Paris from Houston. When I travel I always look for comfortable but yet stylish pieces to wear in flight. It never fails that I can find the best options for my inflight style look from the Travelers Collection from Chico's.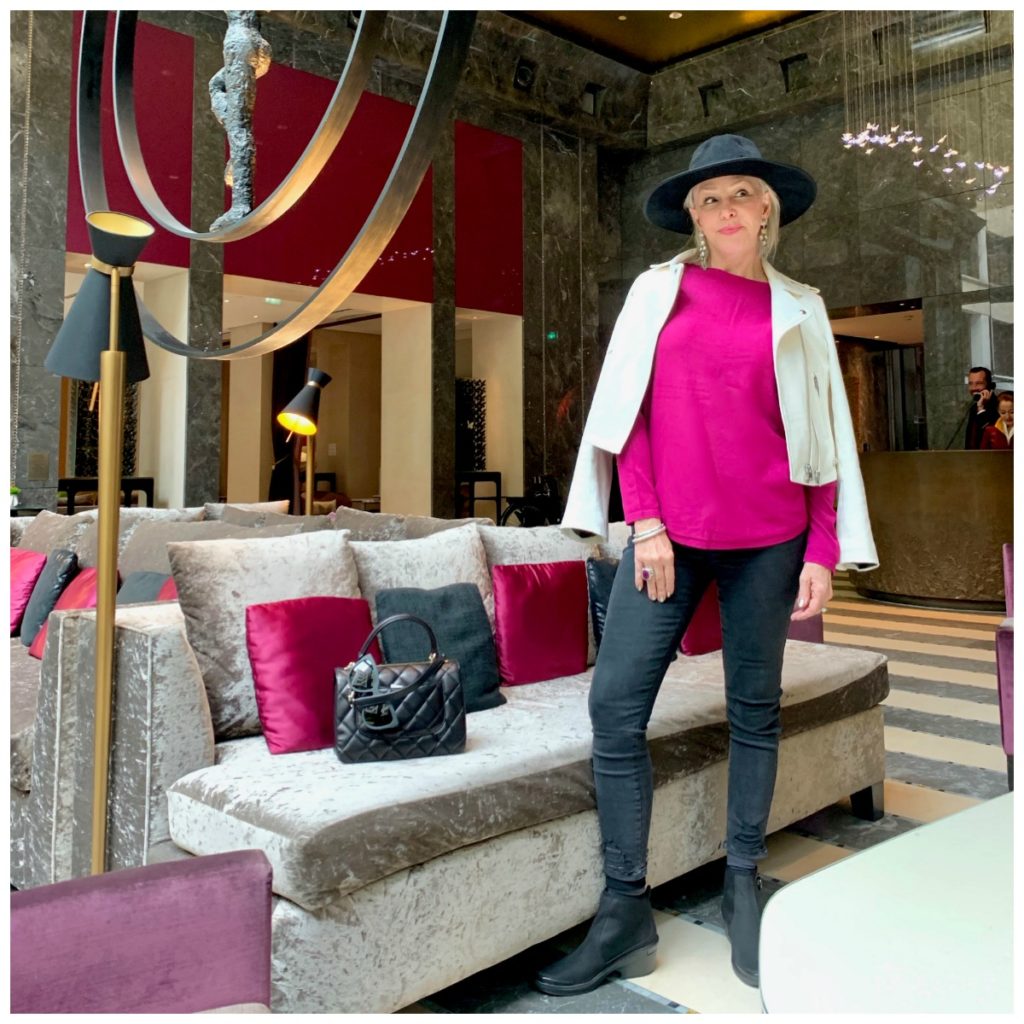 FIRST DAY STYLE WATCH
I was still very jet-lagged the first day but we headed out to explore the village of Montmartre and Sacre Coeure. My outfit was perfect for loitering and eating at a cute cafe. People watching was so much fun! J

This bright and colorful beauty is by Alice + Olivia! I wore it out the first night where we dined at the oh so chic Hotel Costes restaurant where the who's who hang out. I couldn't get enough of the people watchin'. My white leather moto jacket over this dress added the edge so that I fit right into this very fashionable crowd. I was definitely on a style watch in Paris!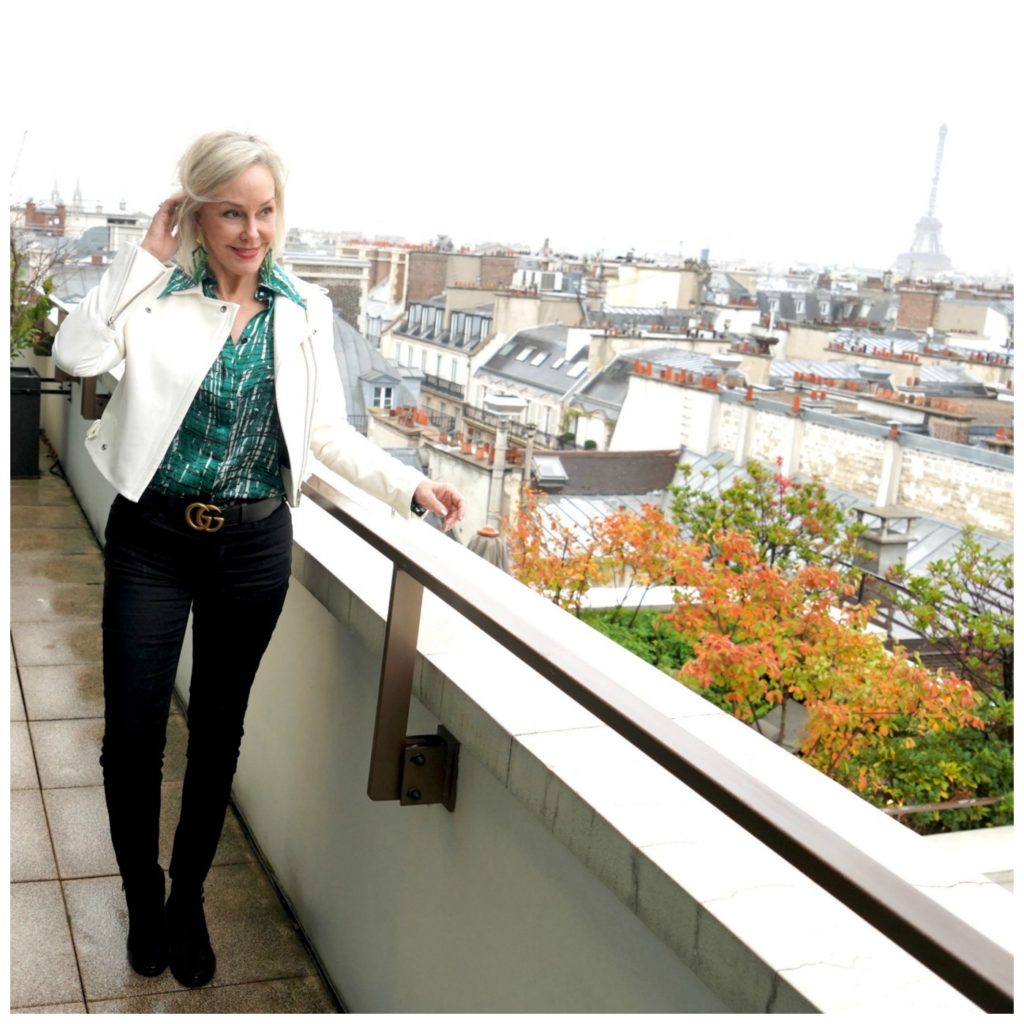 This outfit was photographed on the rooftop of the Mandarin Oriental Hotel in Paris. You can see the Eiffel Tower in the far back right. I found myself wearing my white leather jacket on several occasions. It was the perfect layering for 50-60 degree weather. If you haven't added a moto jacket to your wardrobe then it is time. I have several and wear them often.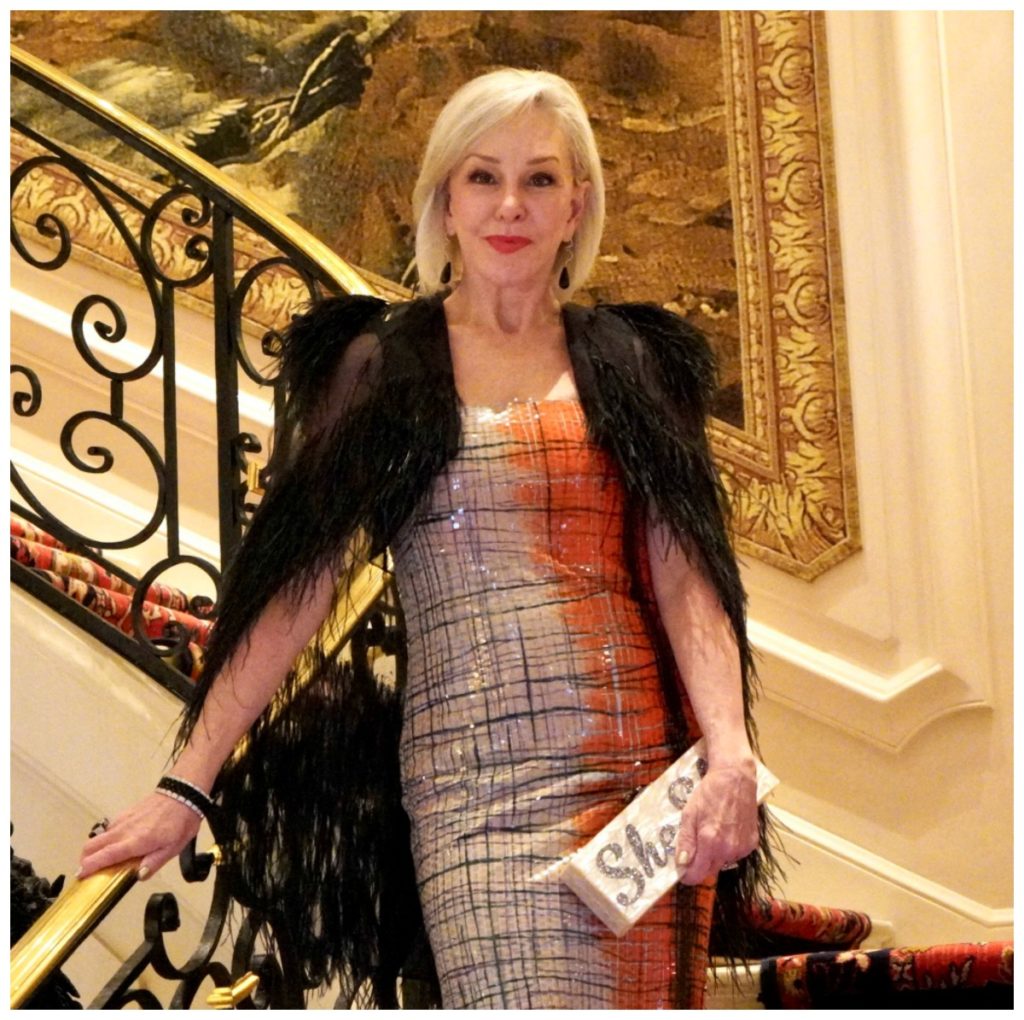 VAN CLEEF AND ARPELS GALA GOWN
One of my favorite thing about living in Houston is all of the amazing local designers. I'm sure you all have heard me mention lots about one of Houston's finest local designers, Chloe Dao, and this fabulous dress is from her collection. It isn't couture but my gown and caplet was the envy of every woman at this gala! Thank you, Chloe, for making me feel so special!! SheShe's style watch was on display for sure.
FINE DINING STYLE WATCH
On our third night in Paris, we headed over to the Hotel Bristol where we ate at Epicure. This 3 star Michelin rated restaurant is the most top-rated restaurant by most restaurant critics. SheShe's Style watch was bright in front.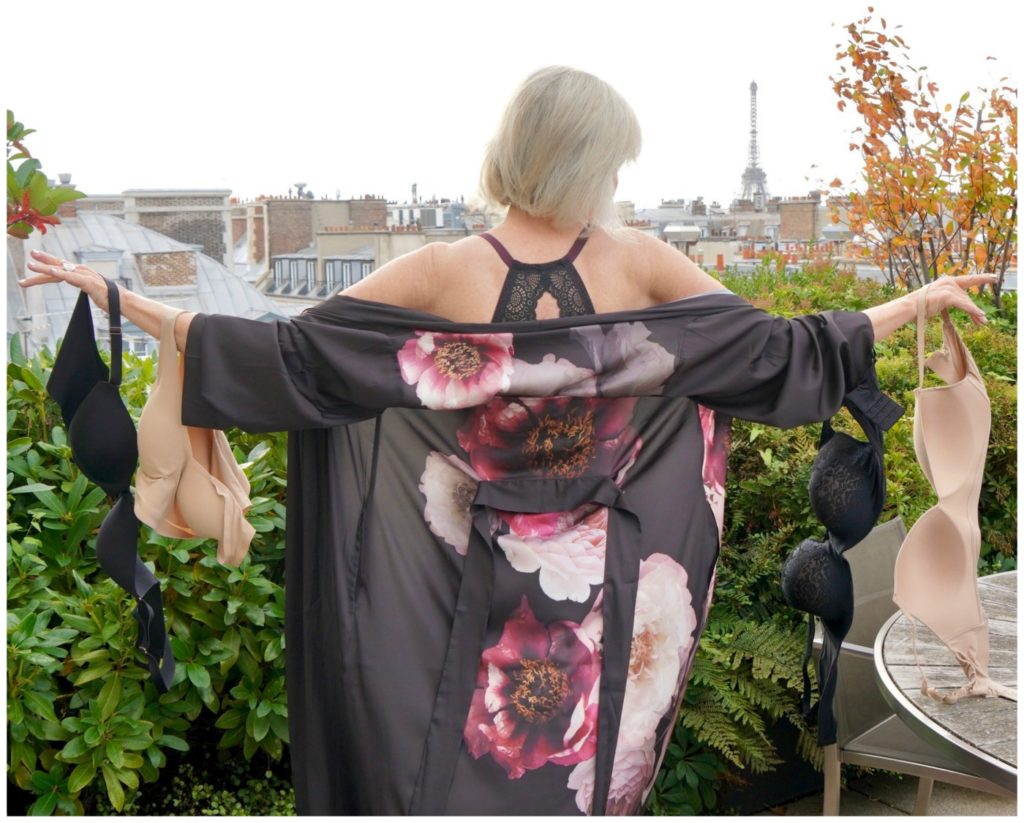 INTIMATE APPAREL BY SOMA
One thing for sure is that I was so glad I had my bra wardrobe with me. With all the different silhouettes of my tops and my evening gown, I had to have the right bras. For me, Soma Intimates has all of the solutions! They offer sizing from a 32A to 46H.

STREETSTYLE BY CHICOS
Major style watch, blazers never go out of style but this season they are really having a moment. I loved the metallic threads in this blue tweed blazer because I dressed it down with my jeans and then I restyled it into a cocktail look with leather skinny pants and sequin camisole.

This Kaftan was a MAJOR hit during my trip to Paris! I was ecstatic to shoot this and share how truly beautiful Shahida Parides kaftans are. There's no doubt about how luxurious this line is and the quality is unbelievable. Unfortunately, my kaftan is unavailable but you should definitely check out the latest kaftans, wrap dresses, tops, shorts, ETC. this brand has it all for those special vacations or resort days.
ENTERTAINING PARIS STYLE
CASUAL DINING OUT
This black velvet top was so chic for our dinner at a local bistro near our Paris Perfect apartment. It can be worn with skinny jeans, black leather pants, black sequin pants, or black velvet leggings or pants. Add some rhinestone earrings and you have instantly elevated the look. Casually elegant is what I would say.

SheShe style watch to wear just about anywhere, this cozy sweater can be styled over and over. A great piece to pack for a cool-weather trip. Pair it with black skinny pants or skinny blue jeans or I would also throw it over a fall floral dress and belt it. So many options here.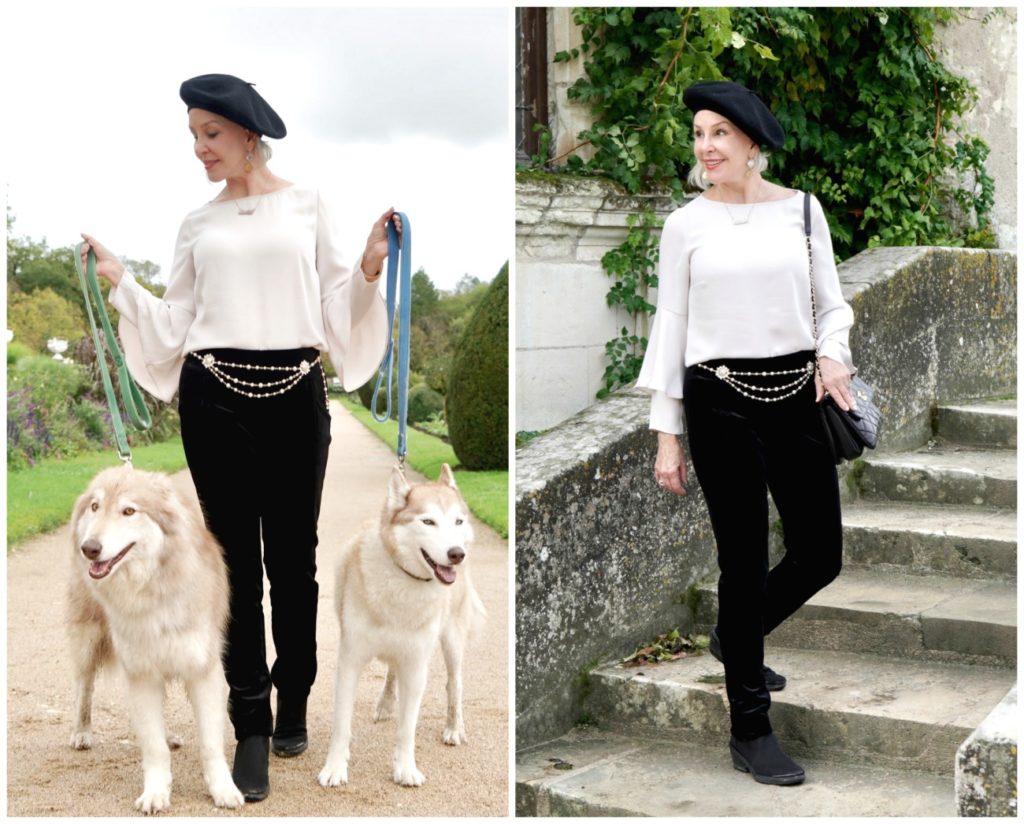 MY LOIRE VALLEY LOOK
When I pack for trips, I take items that can be worn with different things in my suitcase. These velvet Juliet pants from Chicos were worn over and over. I layered the knit poncho (in top photo) over this beautiful tier sleeve top and velvet pant to keep me warm while touring the cold damp castles. Accessories can go a long way in changing up outfits. I wore my Chanel pearl chain belt as a necklace in the next look.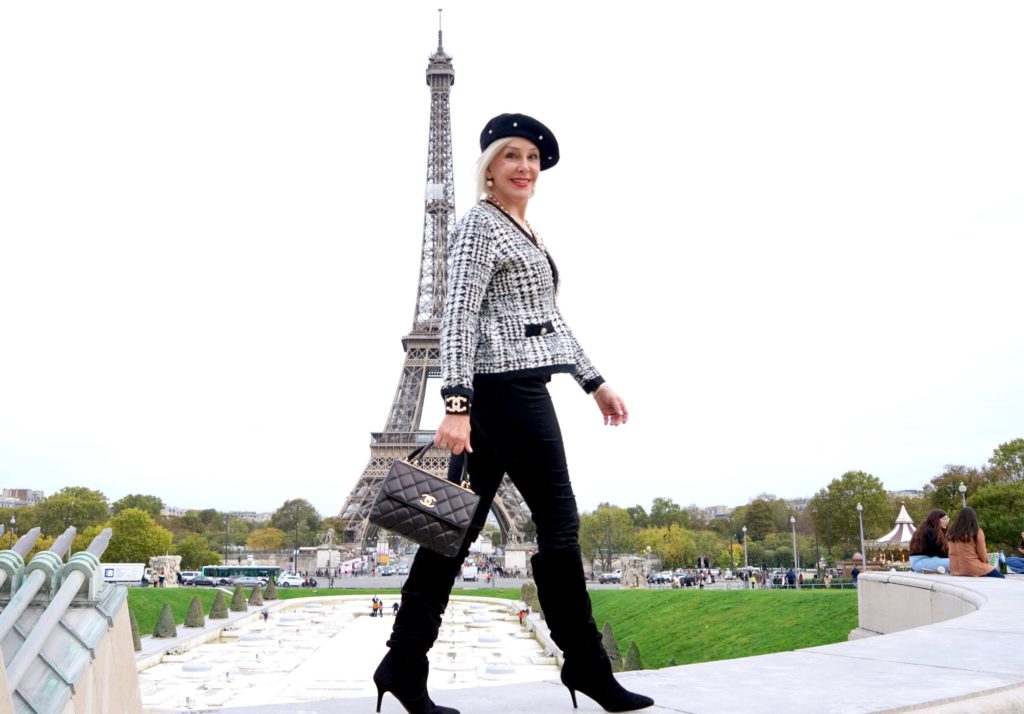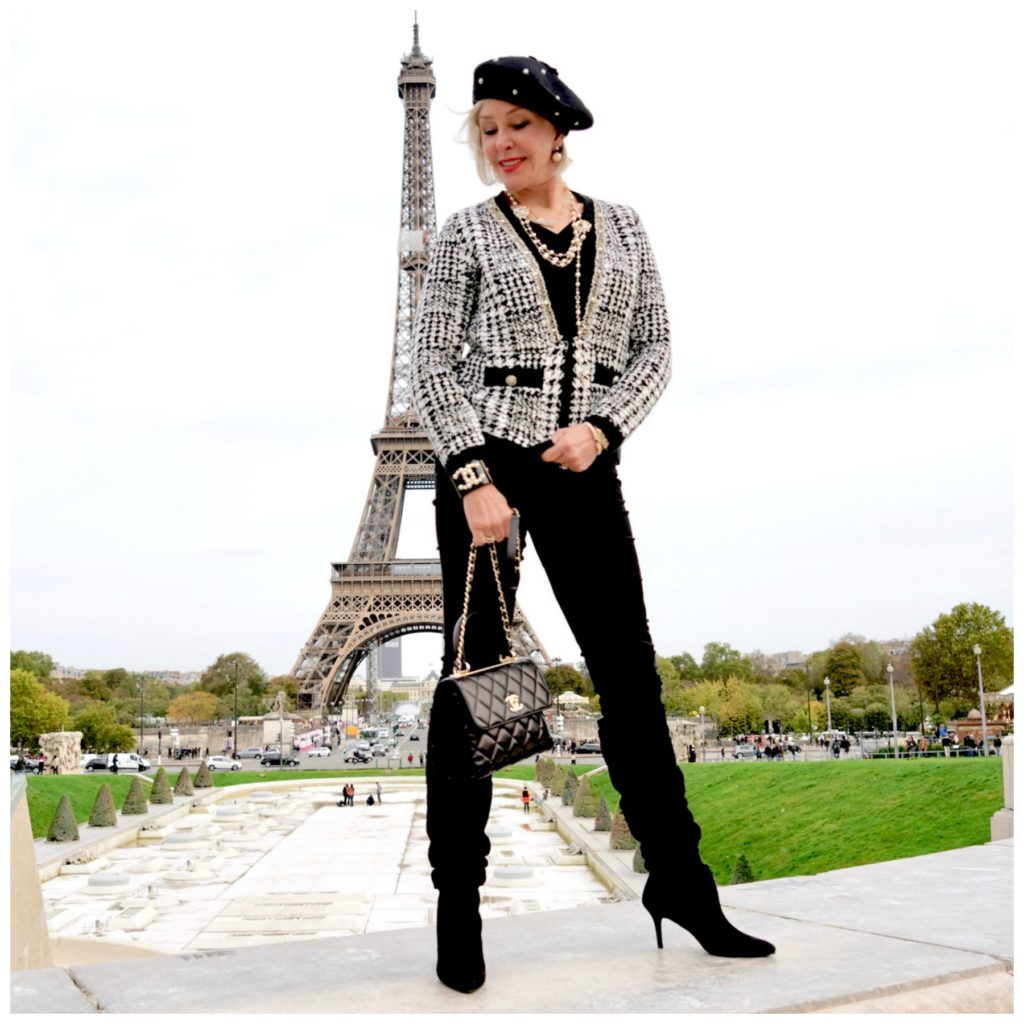 PARIS CHIC
Is there a chicer Parisian look than this knit cardigan? It screams Chanel to me and we all know they start at $5000 and go up. This piece is only $129 but has all the class and styling to make you feel so Paris Perfect!! I love creating a look for less!

SHESHE'S TIDBITS
I went to New York last week where I was invited to Oprah's Favorite Things. Yes, even though Oprah doesn't have a show anymore, she still has an O's Favorite Things party in NYC. I am over the moon that I was invited to this event. I had to buy a huge suitcase to get all of my goodies home. The December issue of Oprah Magazine is now on newsstands. Check out the back inside page and you will see yours truly. This issue also has over 70 items that Oprah chose as her favorite gift-giving ideas.
Gala's, weddings, graduations, holidays or just everyday wear…..we have fashion suggestions for you, so stay tuned. Be sure to check out the ShopSheShe tab at the top in the menu bar. Hover over and choose the category in the dropdown. We try to keep it up to date with the latest and greatest for all budgets. Subscribe here and then you won't miss a post. Simply enter your email in the pop-up box or below.
WELCOME new readers. We are a fashion/travel/lifestyle blog. We talk about anything and everything, from fashion, travel, health issues to even an occasional recipe. Let us know if there is a topic that interests you. We will do our best to bring that story to you. Have a great week sweet friends and thank you for following along. Without you, we could not continue on this crazy fun journey.