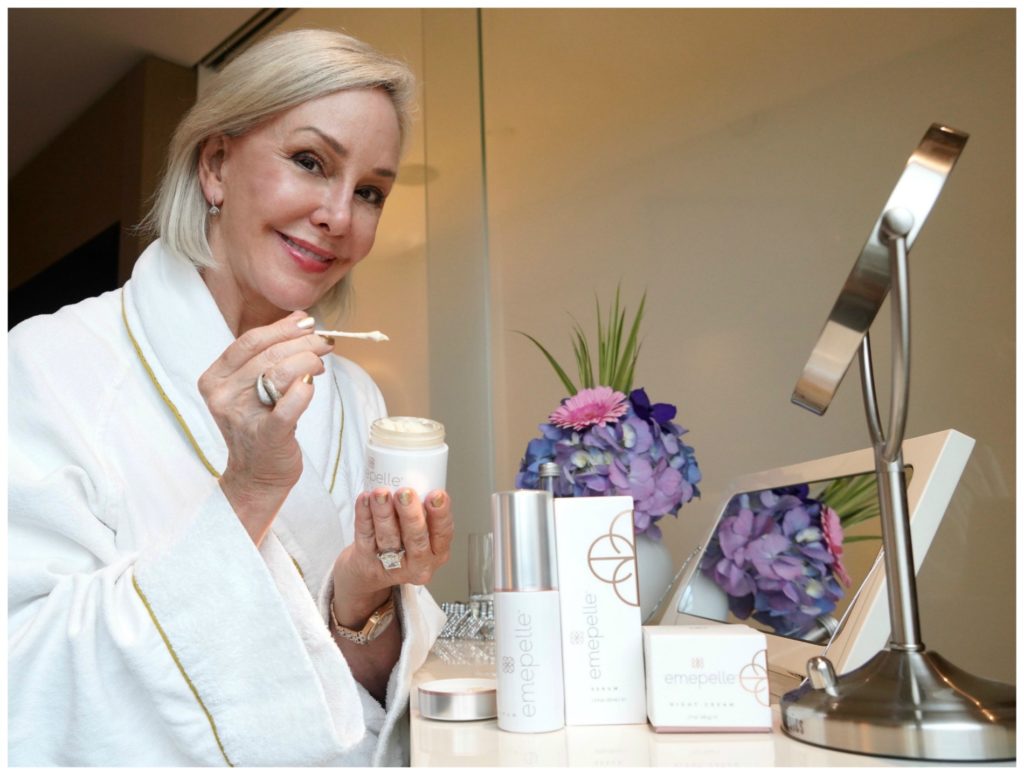 This is a sponsored post, however, all thoughts and opinions are my own.
Who would have ever known that our hormones/estrogen can play such havoc in our lives? Our moods, our body temperatures, our hair, skin & nails and much more are affected by the change in our estrogen levels that happen especially later in our lives. My mom did not share this with me, did yours? Probably not! Today I am going to share a couple of products by the brand Emepelle. They have taken it upon themselves to find products for our aging skin that is directly affected by a lack of estrogen.
With a new patented ingredient called the MEP Technology®, Emepelle uses is it to uniquely power and helps restore Estrogen Deficient Skin . This technology improves firmness, hydration, and luminosity. Women have been affected by Estrogen Deficient Skin since we were created and no cosmeceutical until now has been able to safely and effectively address the condition.
WHAT IS ESTROGEN DEFICIENT SKIN?
If you are perimenopausal, in menopause, or are postmenopausal and feel like your skin is sagging, more fine lines than ever before, has lost its glow and your moisturizer no longer seems to help, then you probably have Estrogen Deficient Skin.
As we age and approach these menopausal years our estrogen levels naturally decline which contributes to skin aging. This decrease in estrogen leads to Estrogen Deficient Skin, a key factor that contributes to skin aging.
Estrogen Deficient Skin Checklist:
These symptoms will come on gradually but then one day you will look in the mirror and boom, realize a dramatic change. It is called Estrogen Deficient Skin. The following are the signs to look for
DULLNESS
THINNING SKIN
FINE LINES & WRINKLING
I am over the hump of menopause and for sure I have every one of the symptoms of Estrogen Deficient Skin. I do not need a doctor to tell me that, so what is a girl to do…oh my? Enter Emepelle.
EMEPELLE WITH MEP TECHNOLOGY®
MEP Technology is an innovative ingredient that provides benefits exclusively for the skin. It helps address collagen loss and restore the natural function of Estrogen Deficient Skin, common at perimenopause and menopause. MEP is clinically proven to safely and effectively help improve dryness, dullness, laxity, atrophy, and the appearance of fine lines for more healthy, youthful-looking skin.
Please note that MEP is not estrogen, or a hormone replacement and it is not able to cause any effects elsewhere in the body.
AFTER 14 WEEKS' APPLICATION OF MEP:
54% Improvement in dryness
39% Improvement in dullness
19% Improvement in laxity
EMEPELLE PRODUCTS
This silky, lightweight and reinvigorating serum features revolutionary MEP Technology® for perimenopausal and menopausal skin.
Specifically formulated to help reinvigorate skin's natural source of radiance
Safely and effectively targets a root cause of Estrogen Deficient Skin for a more healthy, youthful-looking appearance
Provides powerful antioxidant activity for daytime protection
Fast absorbing and oil-free, making it suitable for layering with other products and under makeup
Ideal for daily AM and/or PM use in all skin types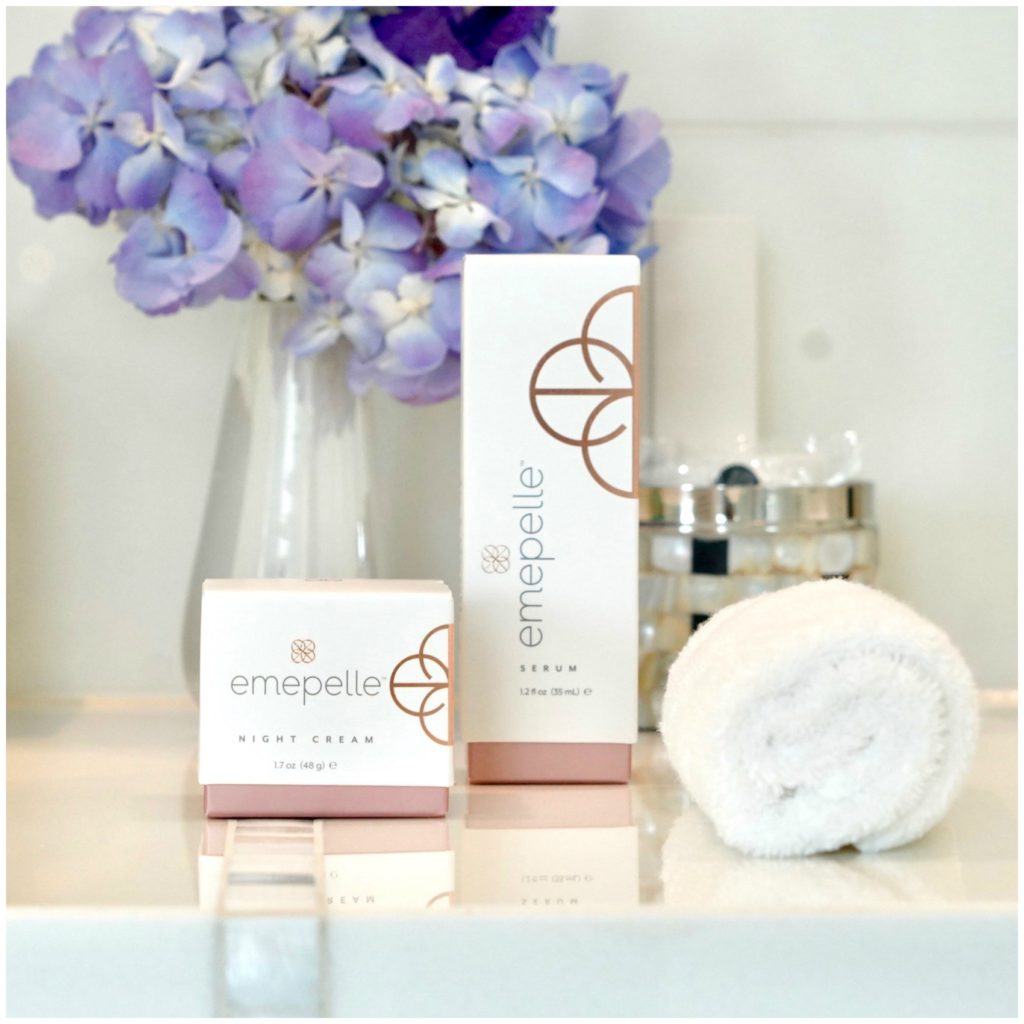 Directions: Use once or twice daily, or as directed by your skincare professional by applying one pump evenly to cleansed, dry skin. Don't forget your sunscreen if headed out for the day.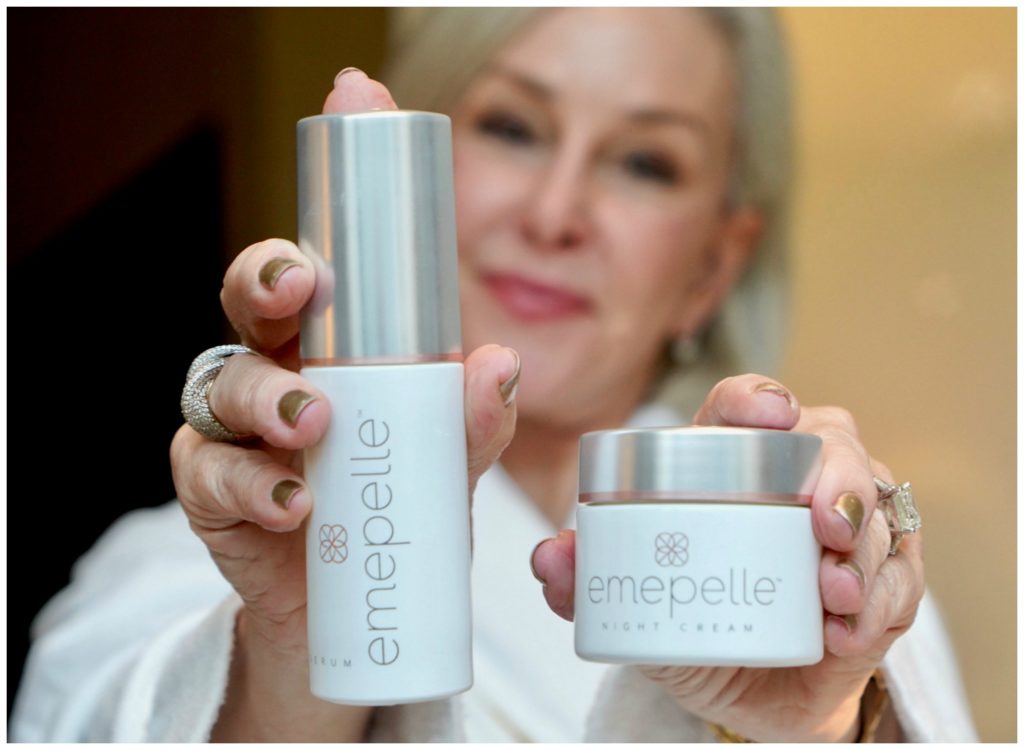 The Emepelle Night Cream is so luxurious, nourishing, and restorative. It features revolutionary MEP Technology®
To help restore vitality and luminosity to mature skin, it harnesses the skin's nighttime repair activities
Safely and effectively targets a root cause of Estrogen Deficient Skin for a more healthy, youthful-looking appearance
I love that it contains a unique combination of retinoids to help reduce the appearance of fine lines and wrinkles
Its rich formulation maximizes hydration and nourishment of perimenopausal and menopausal skin
For all skin types, but if you have a sensitivity to retinol then please consult your skincare professional.
The night cream features many ingredients that I love and look for in my creams. Hyaluronic Acid that holds in moisture for hydration, Peptides that fight oxidative stress and Niacinamide which helps even skin tones and texture. These all work together to bring back that youthful appearance.
Directions: Apply evenly to cleansed, dry skin. Use nightly, or as directed by your skincare professional. Both the serum and the night cream can be used alone but I like to mix a little concoction together and apply.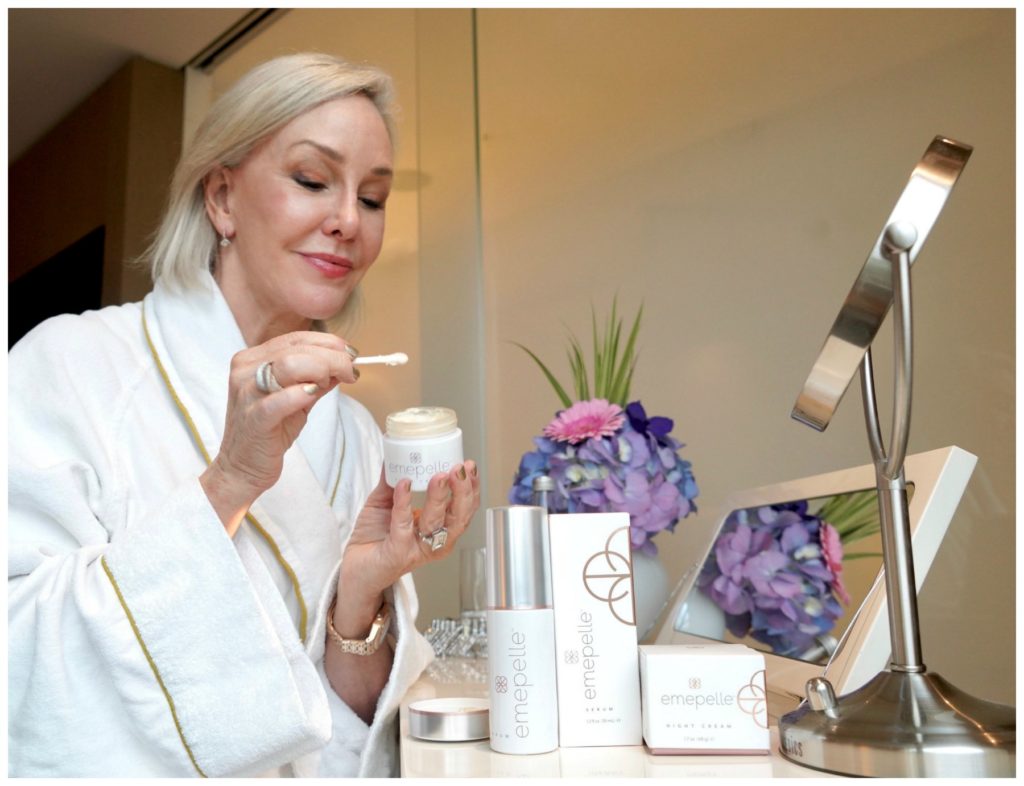 MY RESULTS
So far, I have been using Emepelle about 9 weeks and I am already loving the way my Estrogen Deficient Skin is starting to look and feel like my skin of my 40's. The next photo was taken about 12 weeks ago. Even though it is hard to see the difference, look at under the eyes at the fine lines and then my skin tone compared to the photo at the vanity. I see an improvement, don't you?
PHOTO BEFORE STARTING EMEPELLE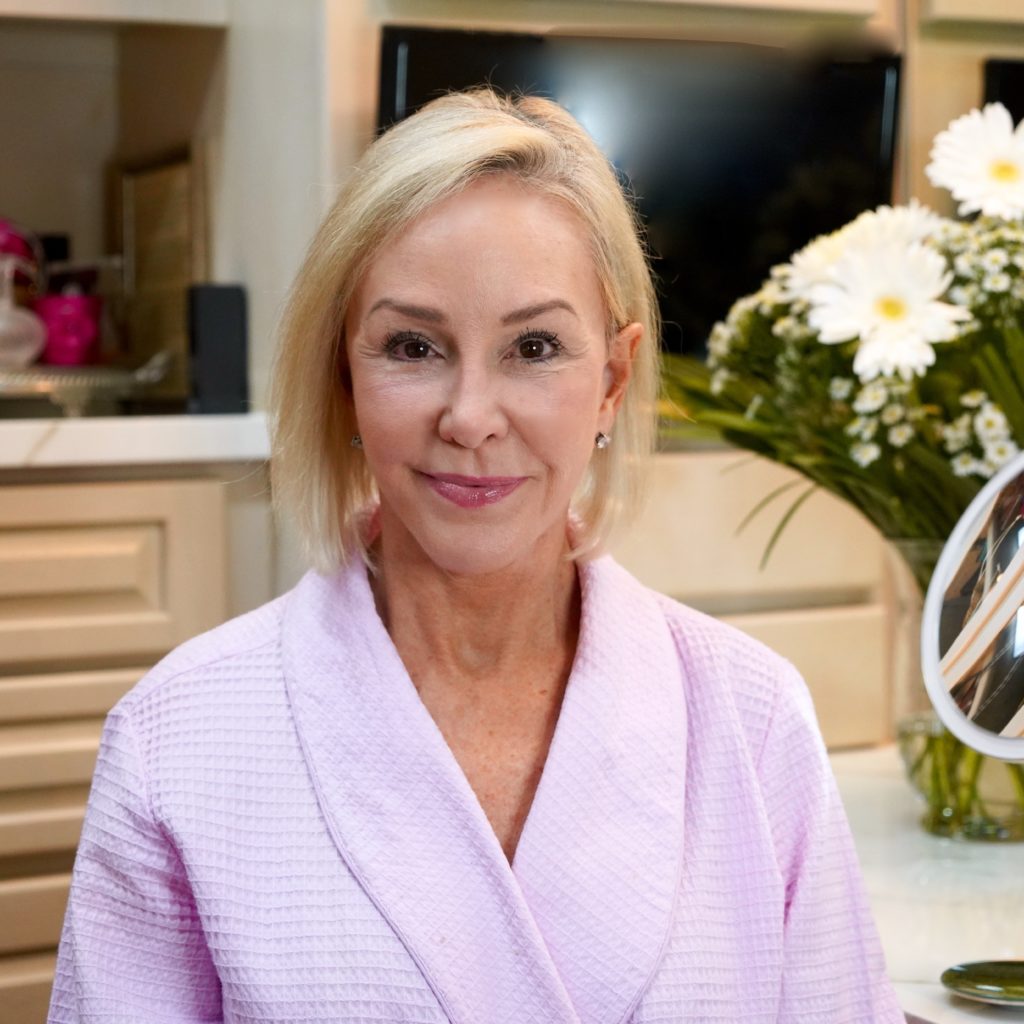 First of all my dry skin patches & flakiness are all but gone and my foundation goes on so much smoother. My skin appears to be tighter and I have had so many compliments on my skin overall. That to me is the tell-all that I have that glow back.
With all of the travel I have been doing in the last couple of months, Emepelle has proved to fight for me combatting the elements of dry airplane air, heated hotel rooms, and drier climates than I am used to. I was just doing a video for Memphis Travel last week and I was so glad to have that glow back for the camera.
So, if you are headed into menopause or beyond then more than likely you are experiencing Estrogen Deficient Skin. I highly recommend this one and only brand that has a serum and a night cream using the special MEP Technology ingredient. It battles dry skin, fine lines and wrinkles, and dull complexion caused by loss of estrogen.
PHOTO: 9 WEEKS USING EMEPELLE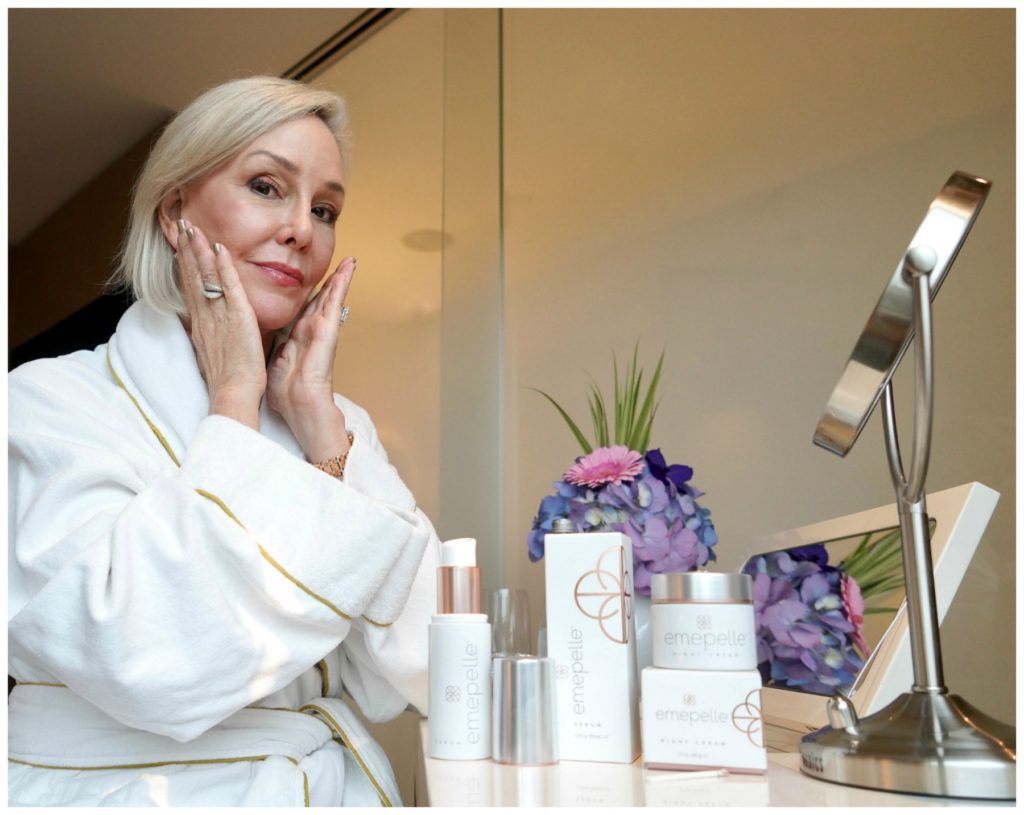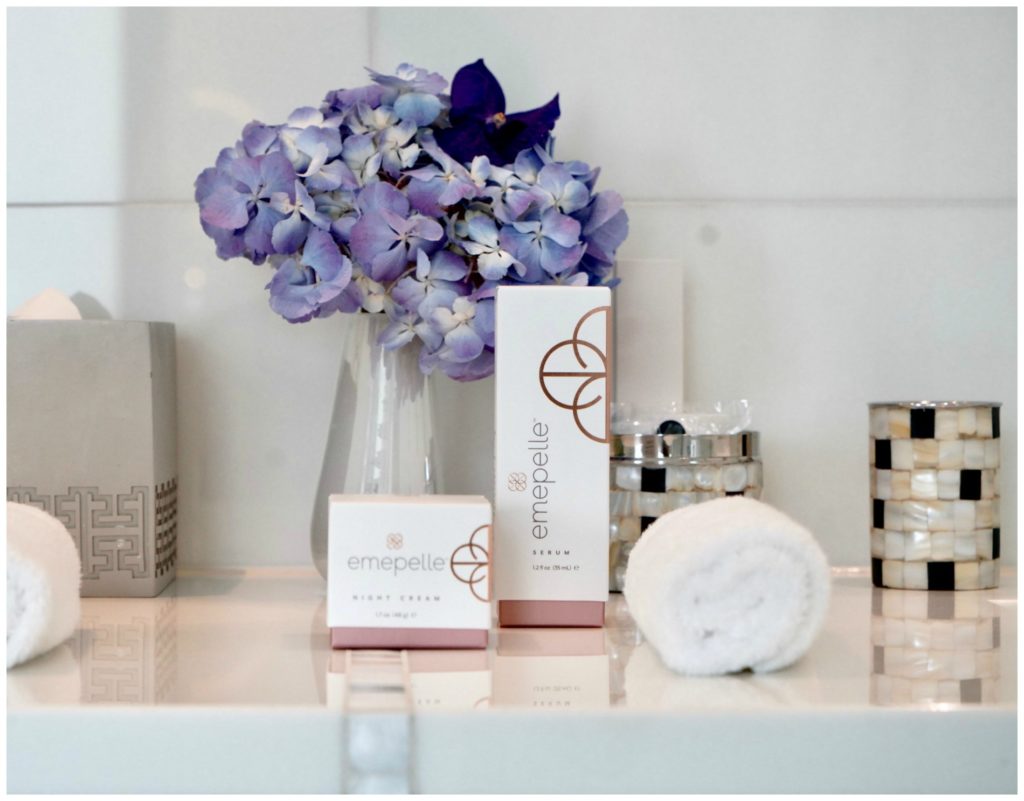 One thing for sure we know is that we do lose estrogen levels as we get older, some more than others. Emepelle is the first company to formulate products to combat those symptoms of dry skin, fine lines, and dullness that come because of low estrogen levels. My journey has shown great results, so I am giving a thumbs up on Emepelle. You can purchase these products at www.lovelyskin.com. You can also find an authorized skincare professional that carries Emepelle in your area on the Emepelle Product Locator.
SHESHE'S TIDBITS
Whether you are ready or not, the Christmas season is upon us. Over the next 3 weeks we will be bringing you all of the best sales and our top picks in many categories. If you have any questions or requests we are here to work for you. Just leave a message in the reply box below.
Gala's, weddings, graduations, holidays or just everyday wear…..we have fashion suggestions for you, so stay tuned. Be sure to check out the ShopSheShe tab at the top in the menu bar. Hover over and choose the category in the dropdown. We try to keep it up to date with the latest and greatest for all budgets. Subscribe here and then you won't miss a post. Simply enter your email in the pop-up box or below.
WELCOME new readers. We are a fashion/travel/lifestyle blog. We talk about anything and everything, from fashion, travel, health issues to even an occasional recipe. Let us know if there is a topic that interests you. We will do our best to bring that story to you. Have a great week sweet friends and thank you for following along. Without you, we could not continue on this crazy fun journey.