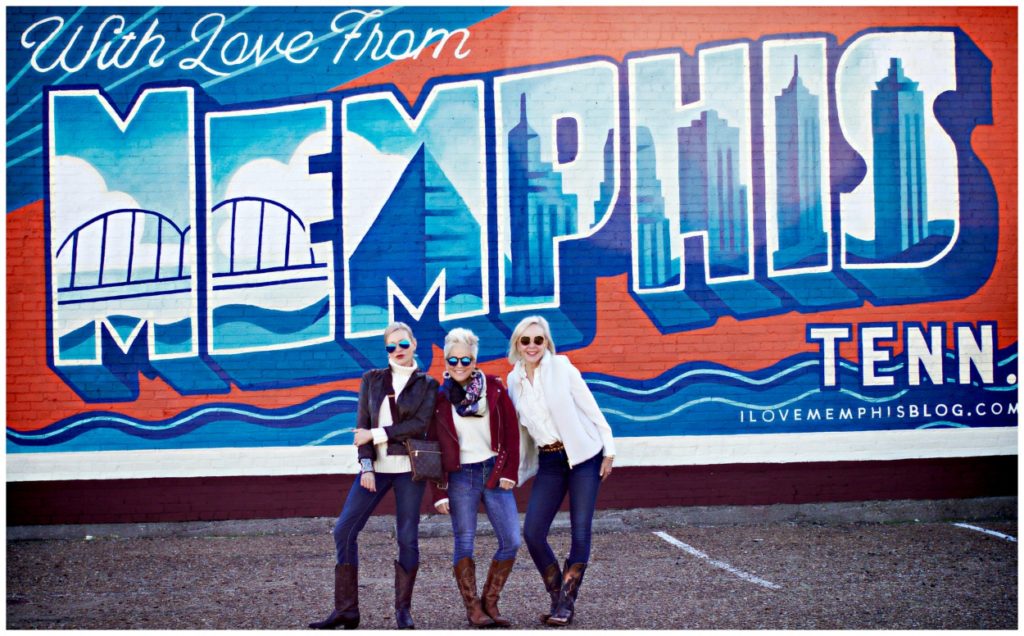 Have you ever been to Memphis, Tennessee? I was there way back in the 1970's but I am here to tell you today that this city should definitely be on your bucket list. After you read this post you will have seen the very best of Memphis giving you a great travel guide on where to stay, where to eat, places to visit. If you are planning your trips for 2020 then you should put Memphis on your list.
This post is in partnership with Memphis Travel. All opinions are my own.
MY TRAVEL TEAM
First of all, I am traveling again with my Rockin The Ages girls Shauna of Chic Over 50 and Jamie of More Than Turquoise blogs. We have been on several trips together this year and it seems that the experiences just keep getting better. I especially love discovering great places right here in our own country. This post is full of photos and I will give you brief descriptions with links to other sites for more information. So sit back, put your Peeper's on, turn on a little soul or rock n' roll music and enjoy this journey through Memphis, Tennessee.
BIG CYPRESS LODGE
This hotel though…..can we talk? It is an outdoorsman dream come true. The decor is the most glamourous lodge and you can shop Bass Pro Shop without leaving the premises. Norman would be in heaven!! It is also a great place to stay for a family vacation. Centrally located on the edge of downtown Memphis and the Mississippi River.
This hotel built inside the Bass Pro Pyramid is a giant cypress swamp environment with ponds, alligator pools, and duck aviaries.
FEATURES
Ten Aquariums with 600,00 gallons of water and more than 1,800 fish
Big Cypress Lodge is a grand full-service 104 room hotel with tree-house cabins, banquet rooms, and spa.
It has the largest assortment of waterfowl and related hunting equipment ever assembled.
The hunter will especially love the specialty shops such as the Beretta Gallery that offers their customers premium-grade firearms and custom fittings
Also, interactive wetlands and waterfowl education museum.
Uncle Buck's Fishbowl and Grill looked like so much fun. It is a nautical-themed restaurant with a saltwater aquarium.
THINGS TO DO
We wanted to bowl in their 13-lane themed bowling alley but all of the lanes were taken when we had a few minutes of free time. There were additional entertainment areas including an arcade, billiard room, and pistol and archery ranges.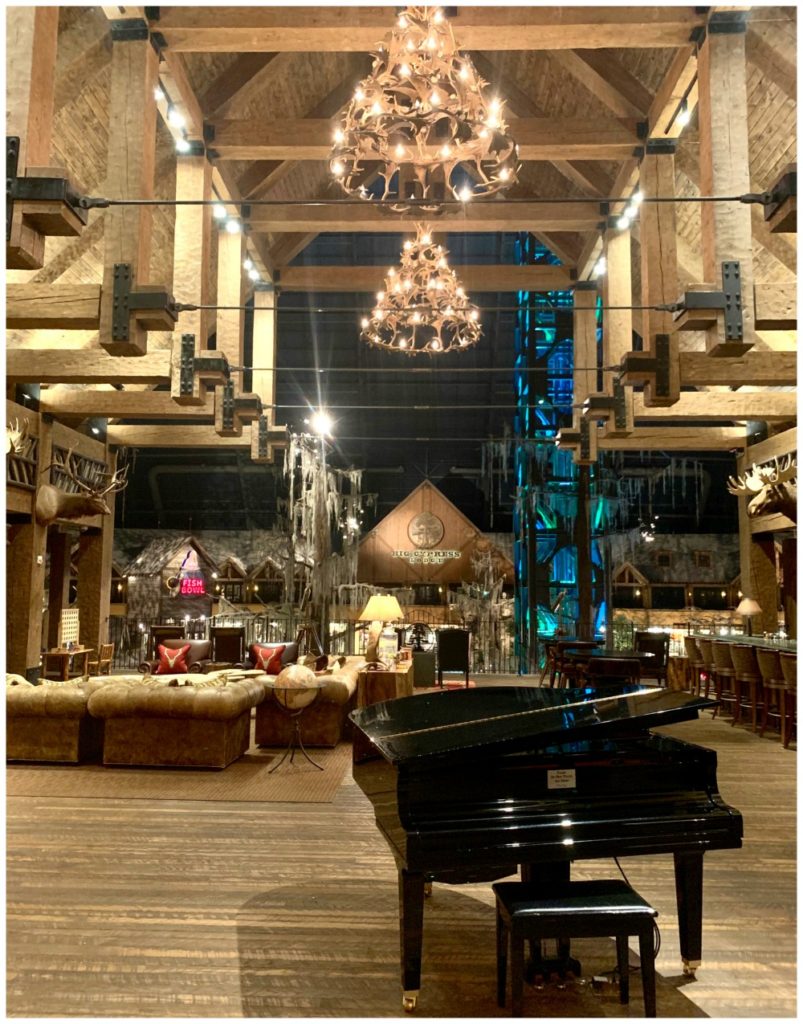 The lobby was spectacular with the eye-catching decor at every turn.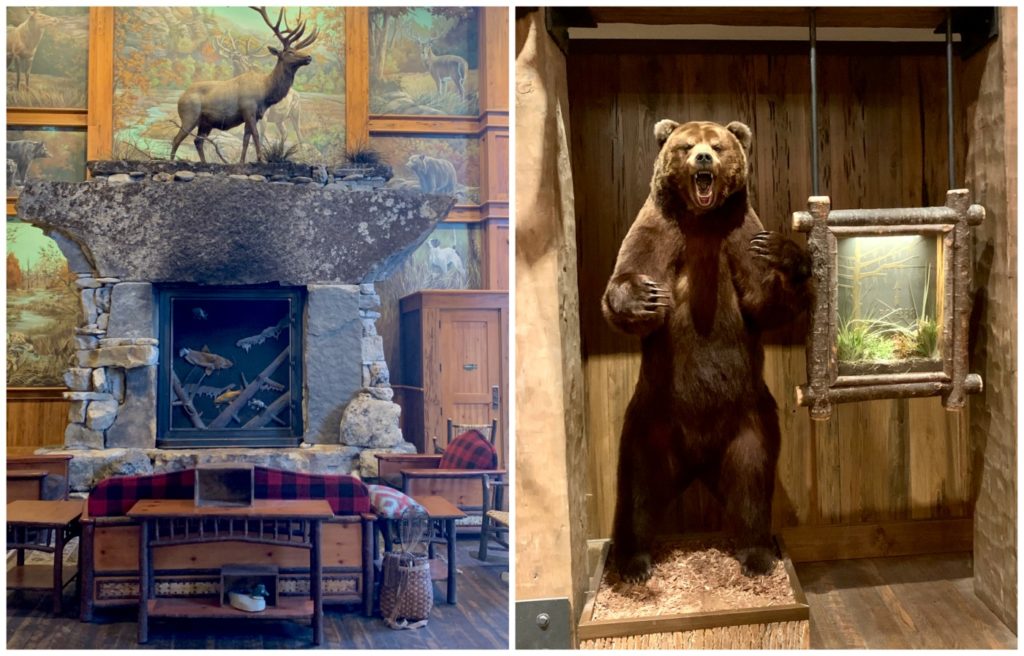 GOVERNOR'S SUITE
Because there were three of us, our host Memphis Travel put us all together in this fabulous 2 bedroom suite with a kitchen and living room. It had 3 Queen Beds and 3 bathrooms making it so good for us to have our own space.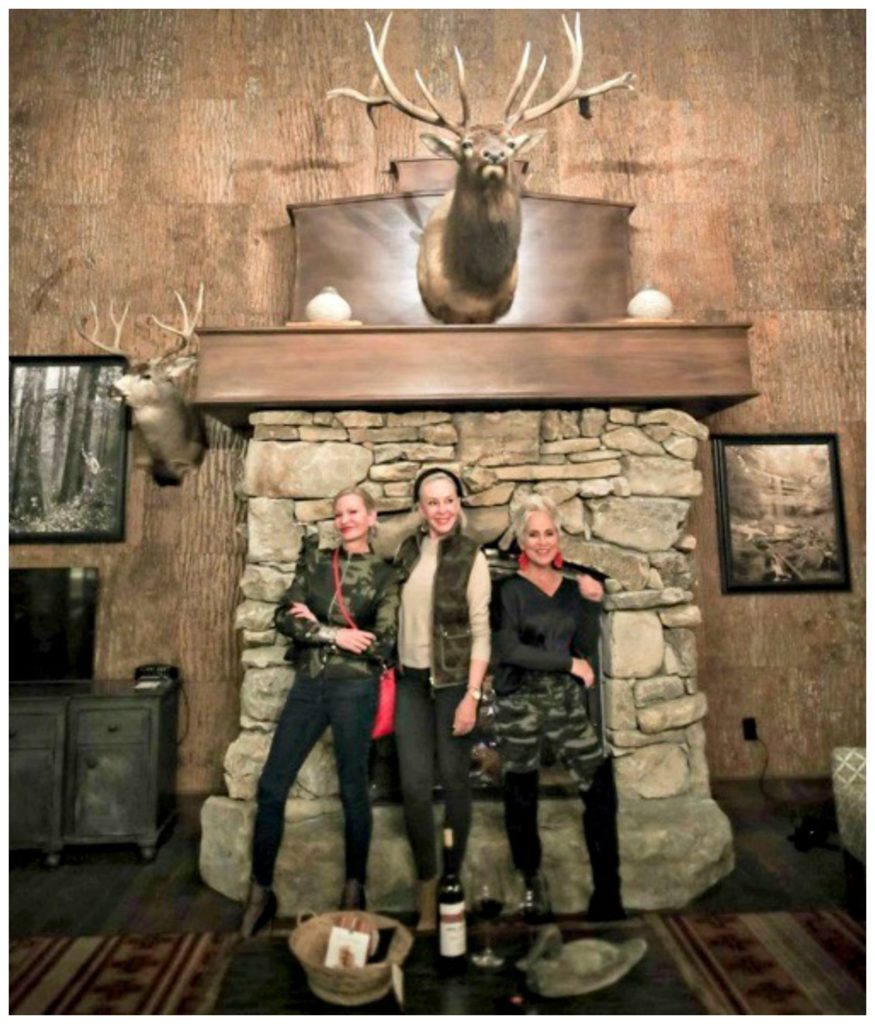 ELEVATOR
The photo below on the left and above is our living room and the lower right is the world's tallest freestanding elevator 28 stories to the top of the Memphis Pyramid. For more information about the Cypress Lodge and how to book your reservation click here.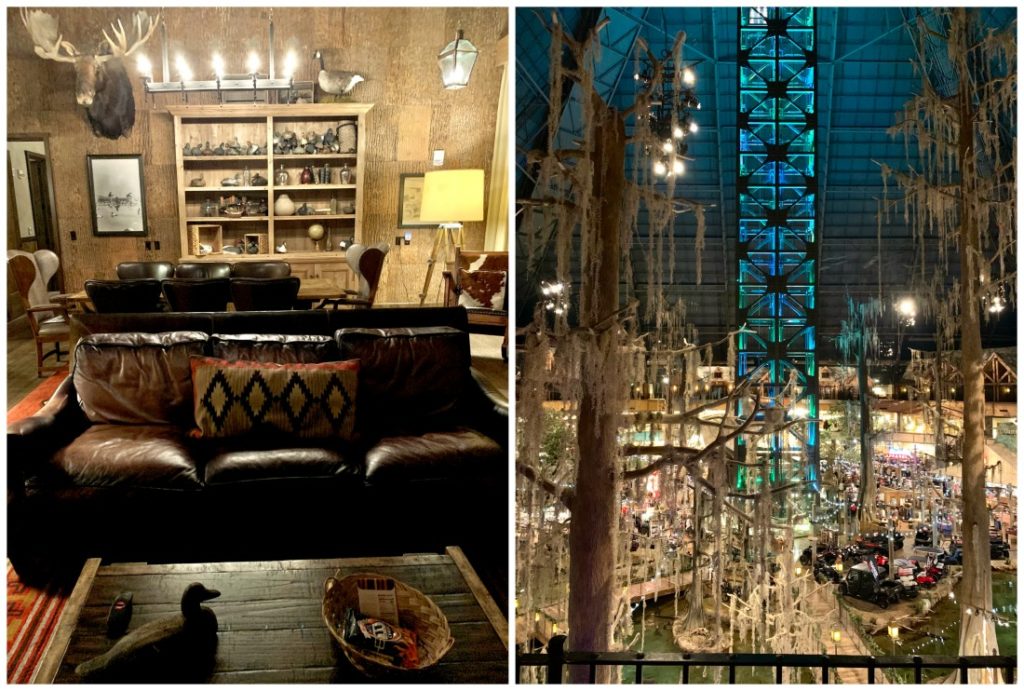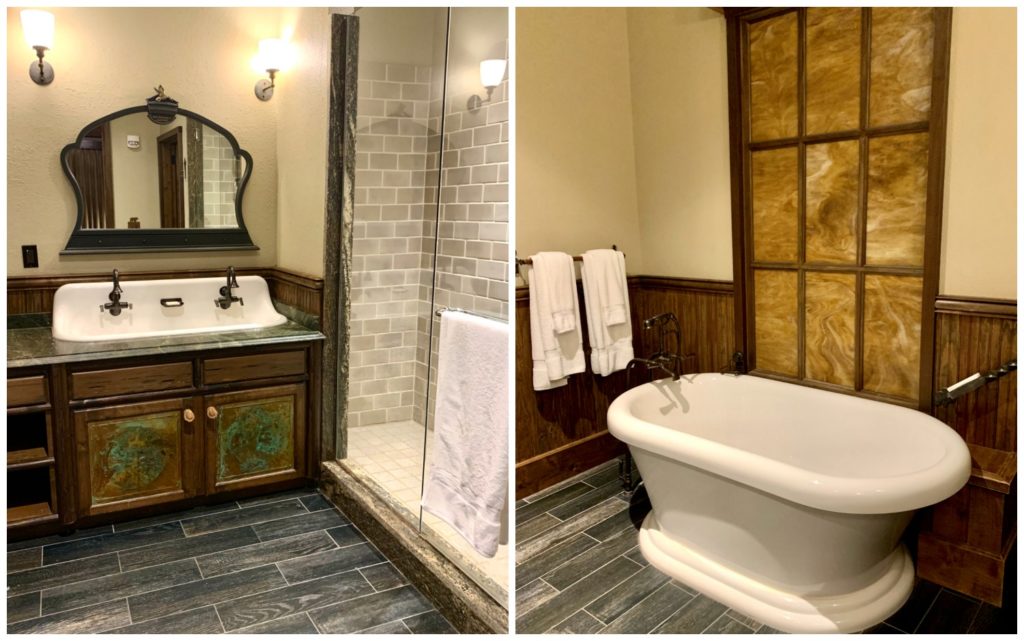 After we settled in our beautiful suite at the Cypress Lodge, we met up with Alex, Leah and the Memphis Travel team for a delicious farm to table dinner at Bounty on Broad St. No need to order too many sides because they serve large family-style servings. We had fun sampling so many good healthy foods here and of course had to try their famous fries.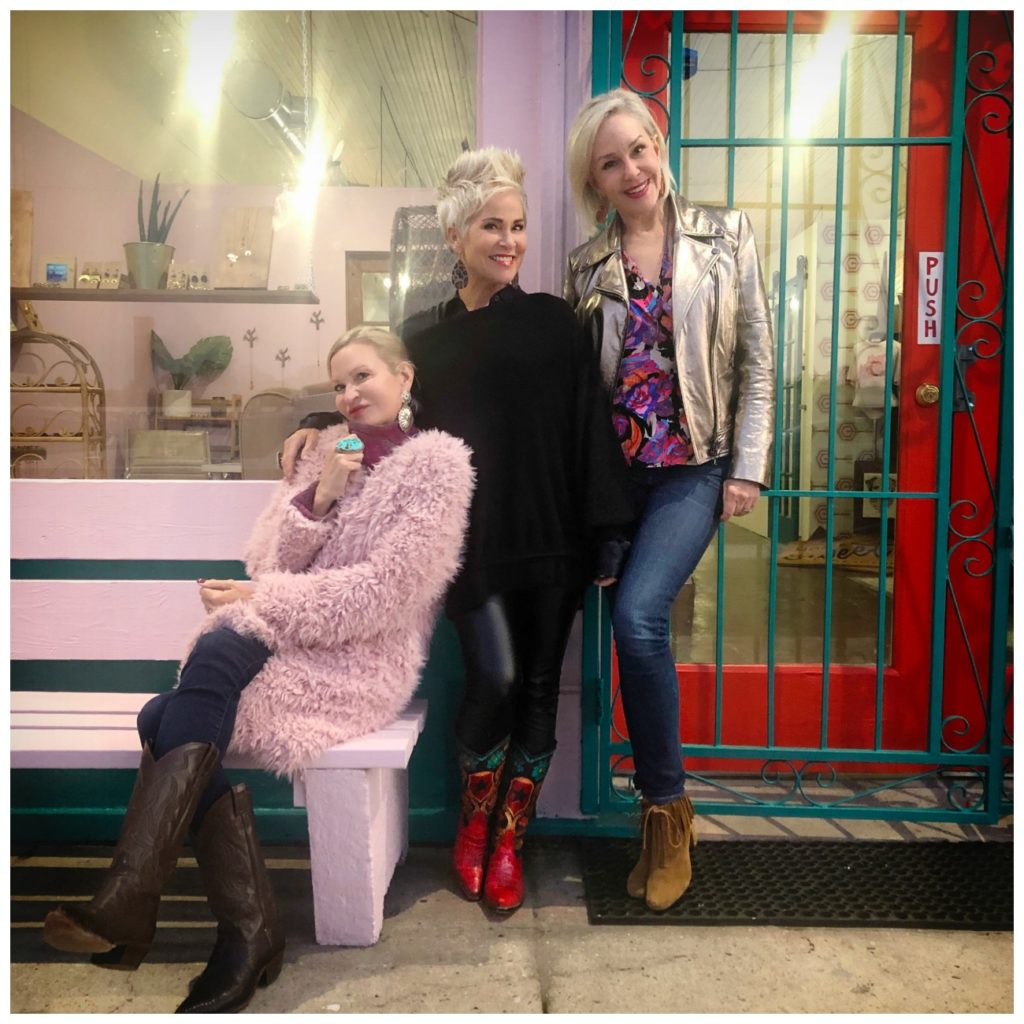 Our first-night photo in front of a mural on Broad St. A side note, Memphis has this cool artsy vibe so we were in photo heaven with all of their wall murals located throughout the city.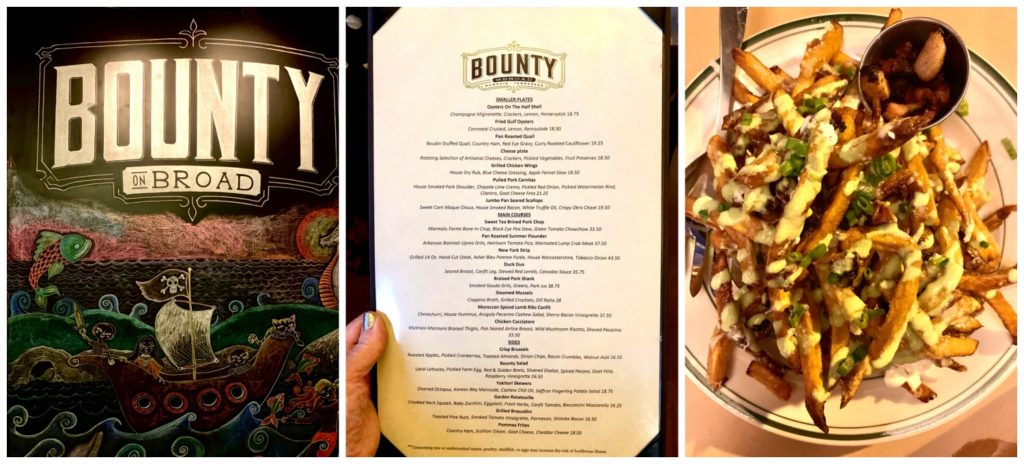 Sunrise Memphis
Probably my favorite food in Memphis…..especially for Brunch. The Sunrise Memphis is an eclectic diner specializing in classic breakfast favorites and house prepared artisan meats. On Saturday's you'll enjoy live music. Even though I di not partake, the Bloody Mary Bar sure looked so enticing but I did indulge in their oh so famous & delicious KING BISCUIT! It was huge!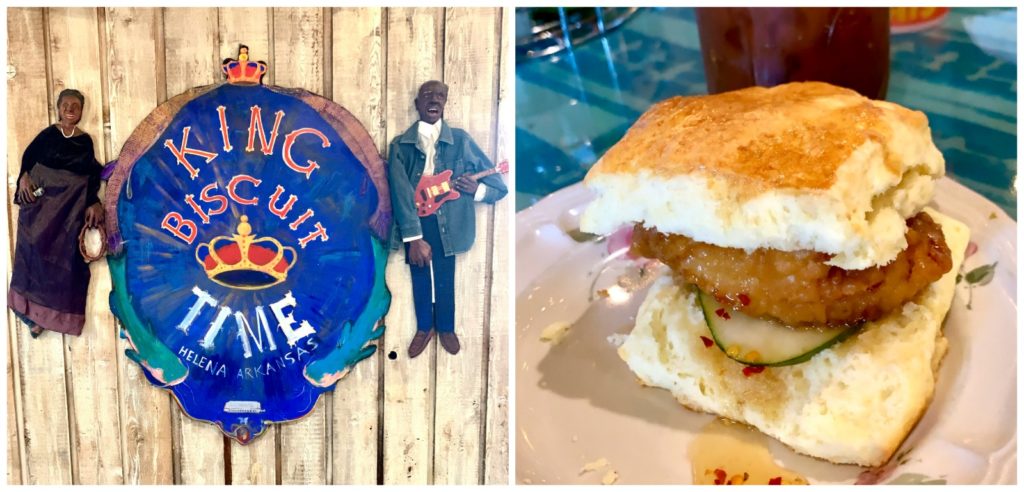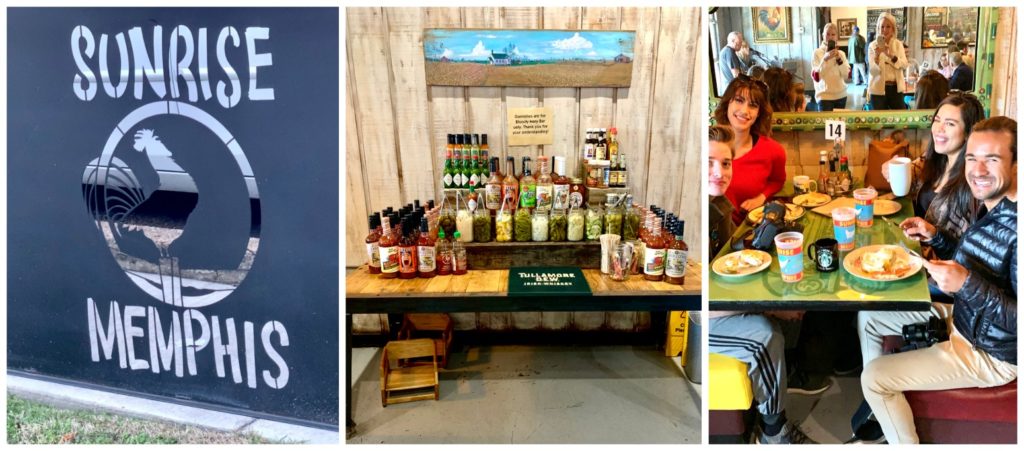 Our Memphis Travel group above right. Bloody Mary Bar above center.
I know, you are saying to yourself, SheShe really did drink that Bloody Mary. Well, it was made for the photo but I did taste it. Sooooo good!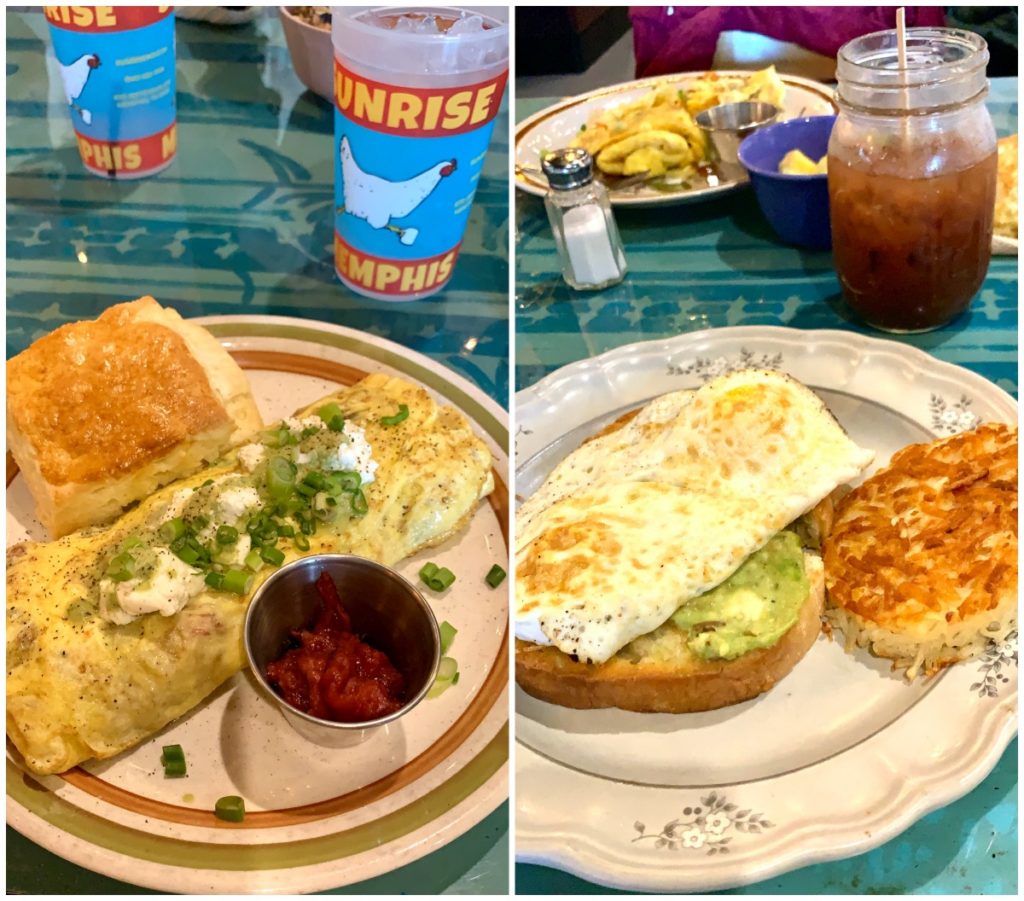 Above: Omelet & avocado toast with over-easy eggs on top.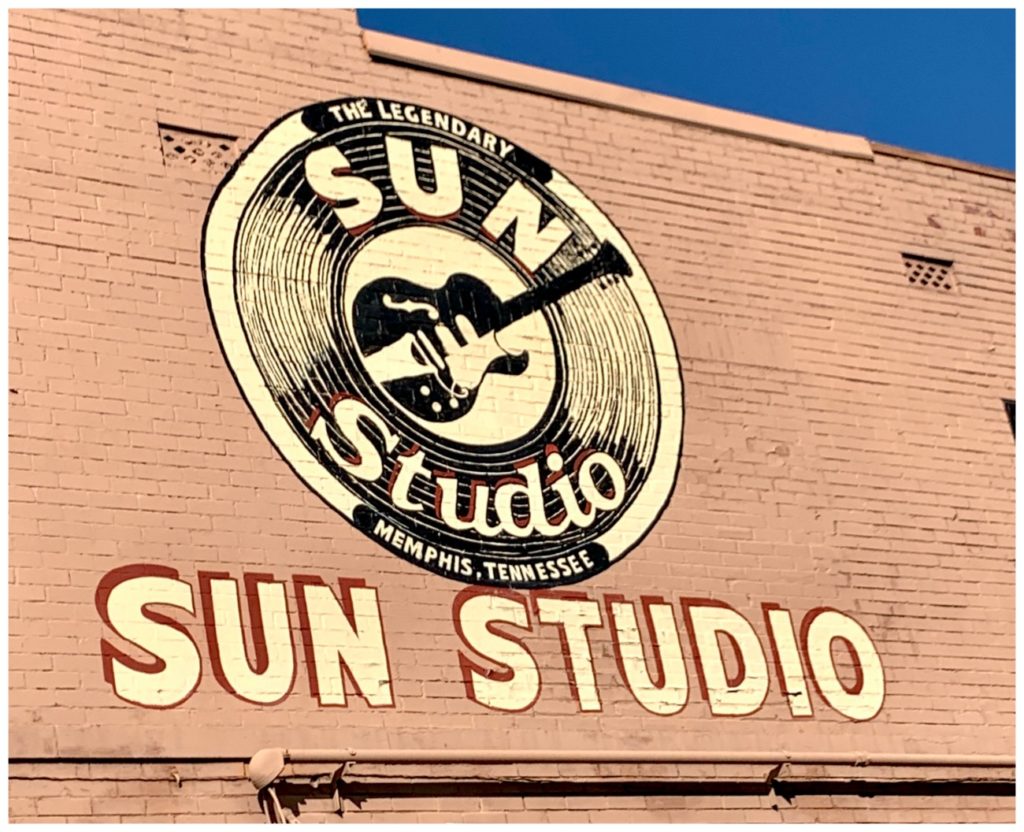 SUN STUDIO
Busy day and our first stop was the famous old SUN STUDIO. Sun Studio is known worldwide as "The Birthplace of Rock'n'roll". It is the discovery location of musical legends and genres of the '50s from B.B. King and Elvis Presley to Johnny Cash and Jerry Lee Lewis; from Blues and Gospel to Country and Rock'n'roll. Their goal is to spread the story of Memphis' history and culture through the music that put Memphis on the map. 
Our tour guide Crockett Hall sent us back in time with his remarkable way of storytelling. Again, we were all taken to a place long ago where we could feel the spirit of the time. All Sun Studio tour guides are local musicians.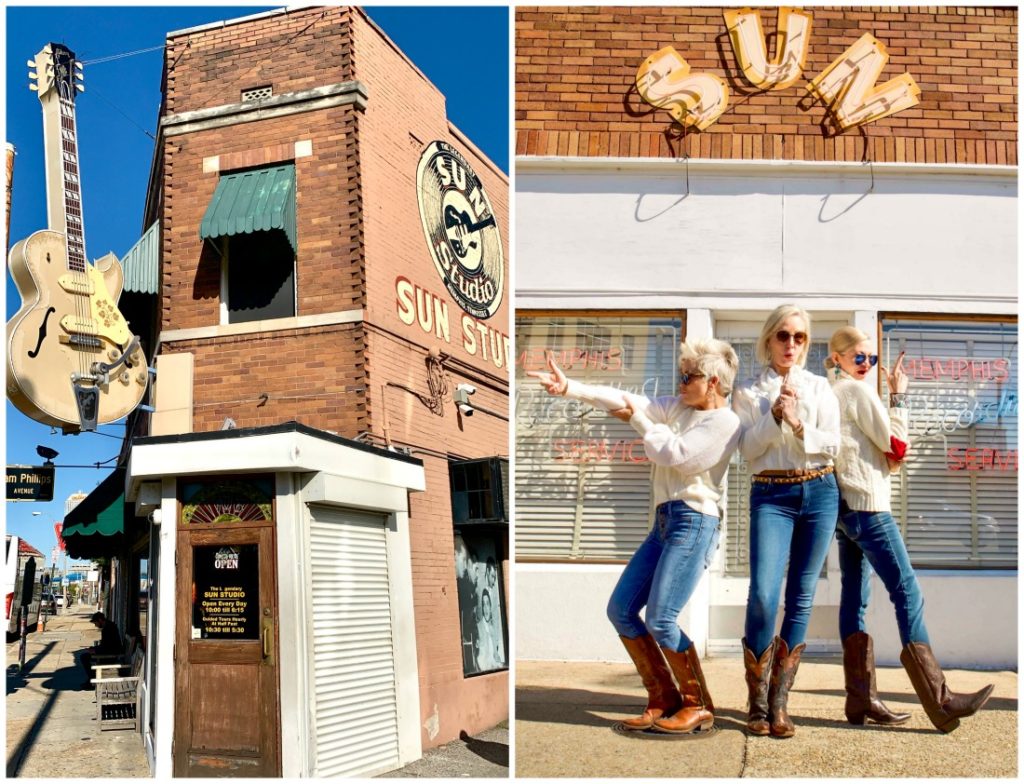 Above right: Elvis Angles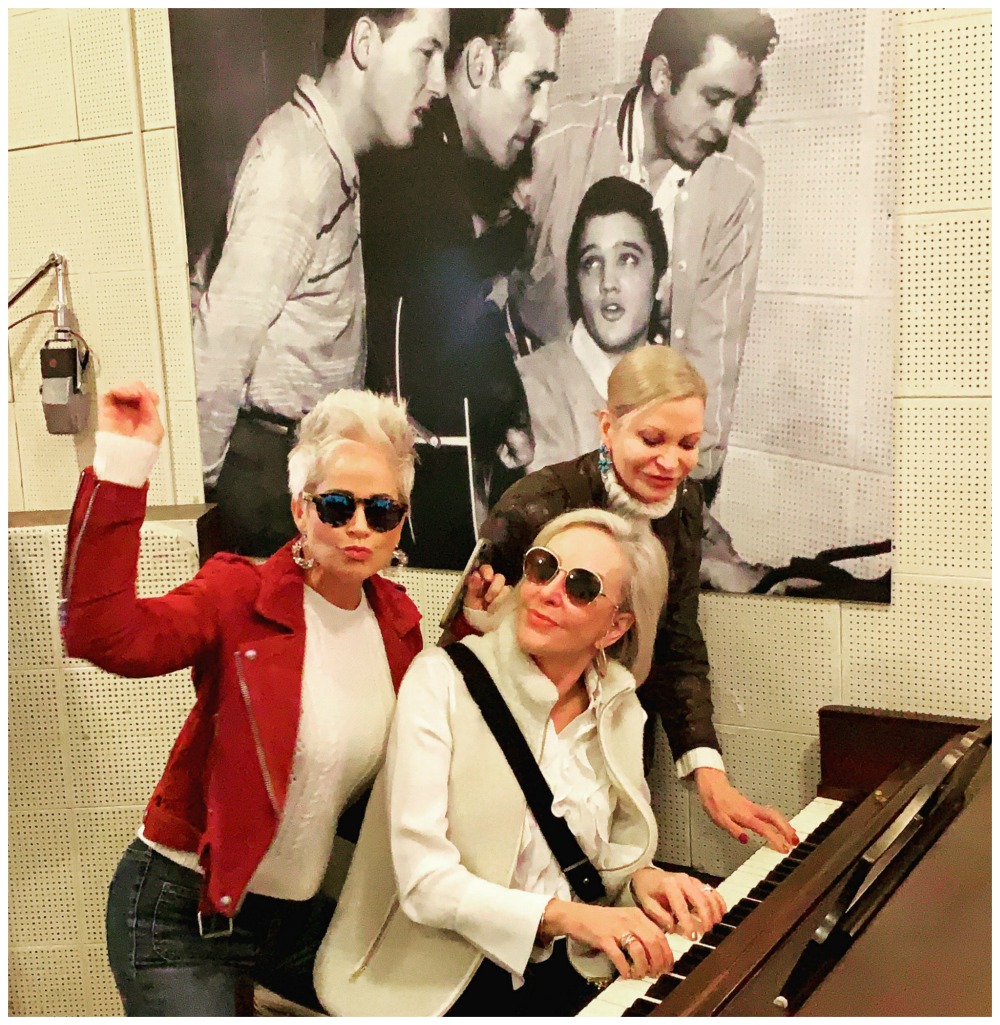 Getting into the spirit of that day…….and oh what a day when these musicians came together for a jam session for the very first time. Can you name them? They were all virtually unknown. Left to right Jerry Lee Lewis, Carl Perkins, Johnny Cash, and Elvis was seated at the piano. Read more about the history of this museum here.
EDGE MOTOR MUSEUM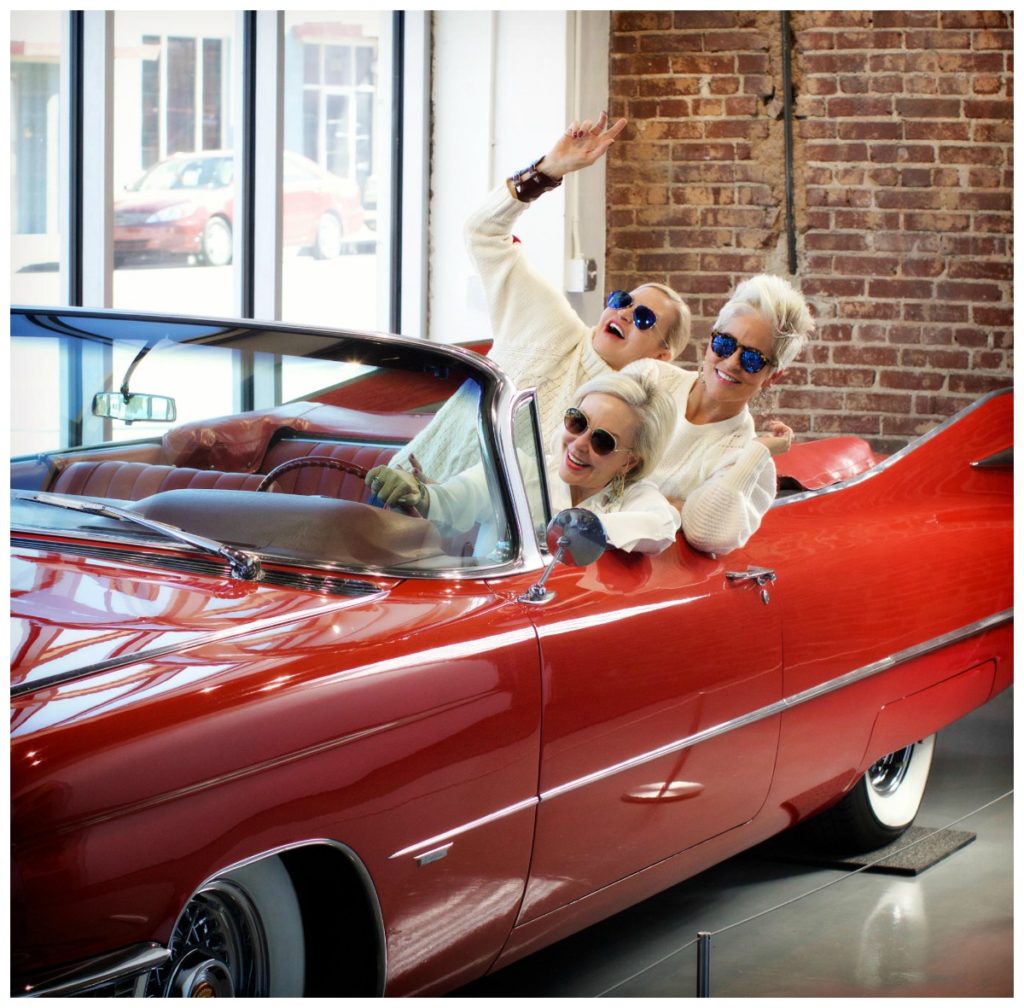 Edge Motor Museum opened in 2019. This museum is not a personal collection of cars. Each automobile is selected based on its historical and cultural significance. They aim to educate every guest about these cars, but also about what was happening around us when they were made.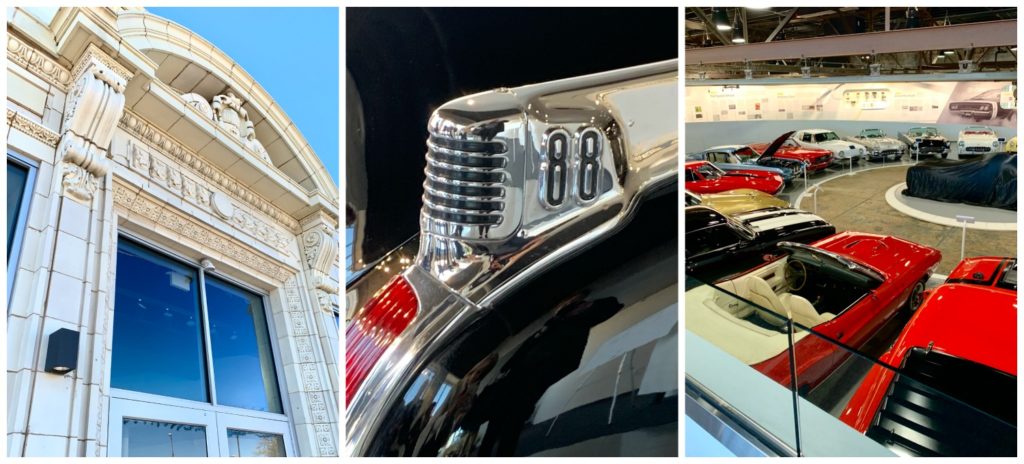 Notice that the tail light of the older model Delta 88 (center) looks like an old microphone.
Charlies Vergos RENDEZVOUS
Not that we were hungry after our huge breakfast but we just had to pop in the most famous BBQ restaurant in Memphis. These guys are so good that they ship their ribs all over the world! Some of the waiters have been working there for 30 years. For over 70 years, the Vergos family has been serving their signature dry rub ribs in a basement through a downtown alley across from the Peabody Hotel. And while the world outside has changed considerably, very little has changed in that alley basement. Read more about the history of the Rendezvous on their website https://www.hogsfly.com/history-traditions/
RIVERBOAT CRUISE
This 90-minute tour took us down the Mighty Mississippi with historical commentary. One story our guide told us was how Memphis's main river park, Tom Lee Park, received its name, "Tom Lee witnessed M.E. Norman capsize in the swift current 15 miles downriver from Memphis at Cow Island Bend. Although he could not swim, he rescued 32 people with five trips to the shore. (I think he really knew how to swim) Lee acted quickly, calmly and with no regard for his own safety, continuing to search after night fell. Because of his efforts, only 23 people perished."
Read more about Memphis River Boats here.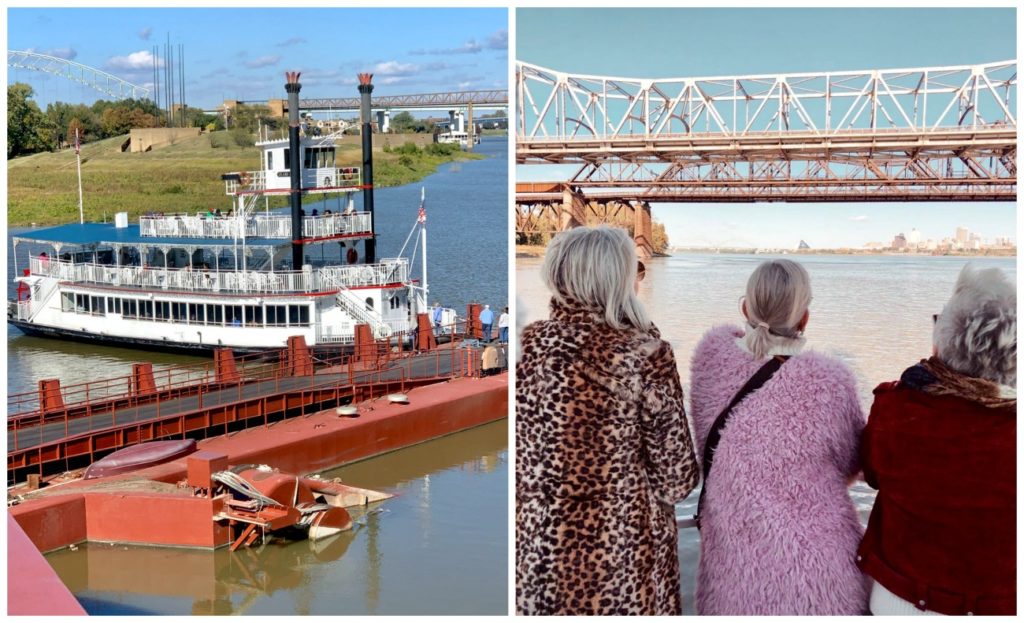 COCKTAILS & THE LOOKOUT
Before dinner, we headed back to the Cypress Lodge and dolled up for our Saturday night out on the town. We rode the tallest freestanding elevator to the top of the pyramid to the Lookout. There you can enjoy a delicious meal or specialty drink with gorgeous views of the Mississippi River and Memphis city skyline. What a beautiful scene to behold!!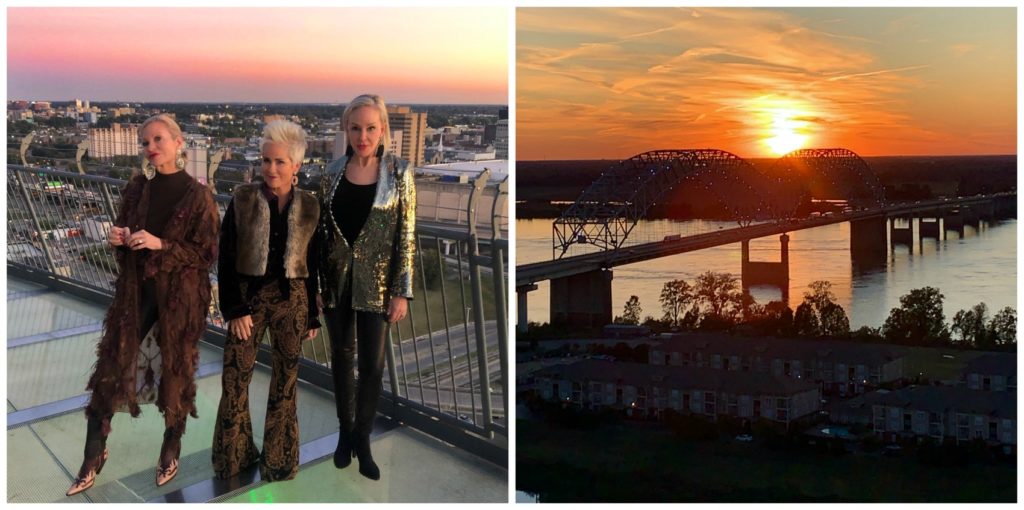 DINNER: FELICIA SUZANNE'S RESTAURANT
This night we enjoyed a great innovative New South meal at Felicia Suzannes's prepared by Chef Felicia Suzanne. She loved having us in, cooking for us and having her photo made. Her passion for food is obvious with the wonderful dinner she prepared. A thumbs up for sure!!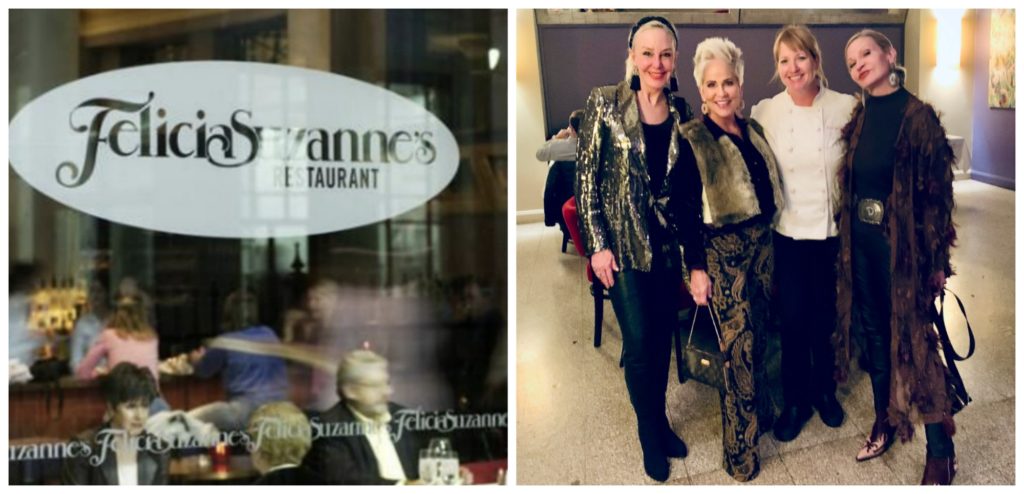 SATURDAY NIGHT FEVER ON BEALE STREET
Ok, so you must know that we let our hair down and we really did feel a little like Travolta strutting down Beale Street a la SATURDAY NIGHT FEVER! I can hear that song play in my ears as I am writing. The crowd that night was full of the University of Memphis Tiger Football fans because ESPN's College GameDay was filmed on Beale that morning. We walked around and did a lot of people watching but nothing like what took place on the dance floor at B.B. King's night club. I did break out some SheShe moves that had been locked up in me for years. Needless to say, I was a little sore the next day.
Beale Street is one of America's iconic streets filled with the best live music in the world and you haven't experienced Memphis unless you explore Beale St. Read more here about other famous historical spots that you should try as well.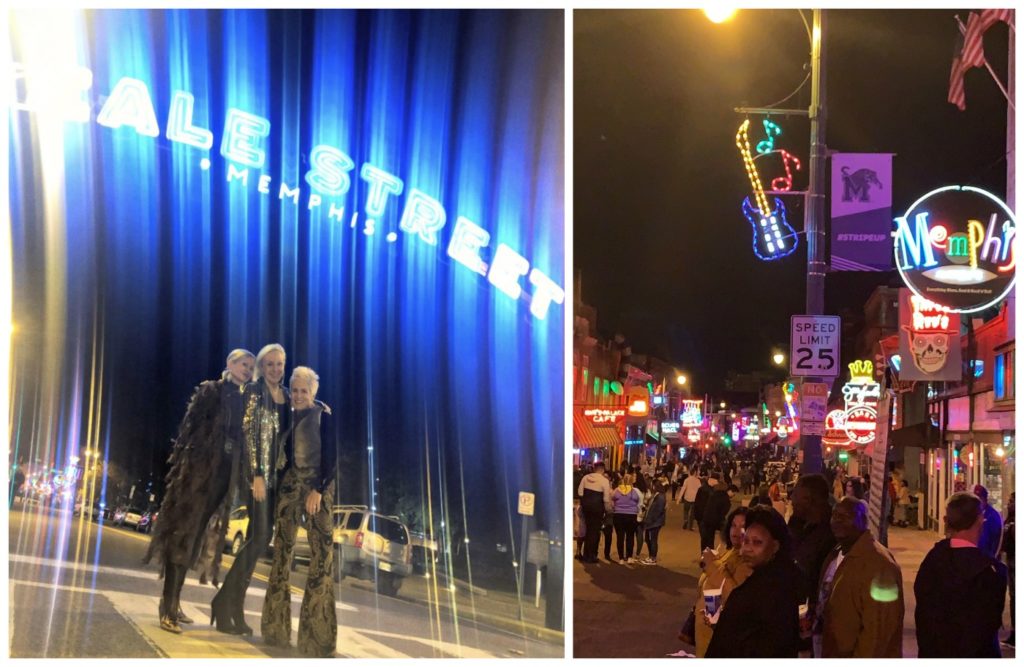 CENTRAL STATION HOTEL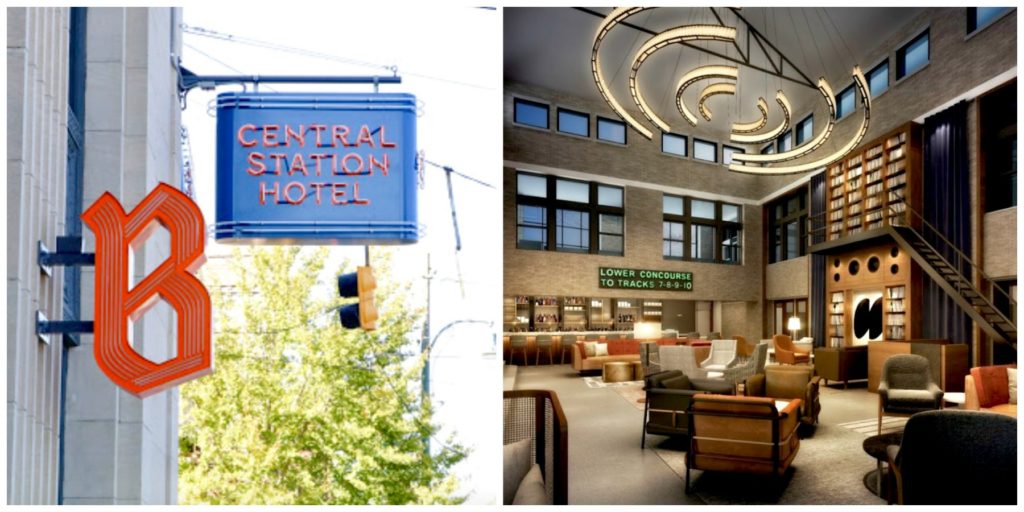 Left photo: This lobby bar is called 8 and Sand.
We checked out of the Cypress Lodge and checked into the Central Station Hotel before heading to brunch ……again. This hotel is located in the heart of the South Main Arts District. It has been an active train station for over 100 years and remains as one today with daily stops from the City of New Orleans. While getting ready for bed I actually saw it stop right down from my room window. I was jumping up and down waving at the conductor to no avail. These childlike behaviors come out every now and then.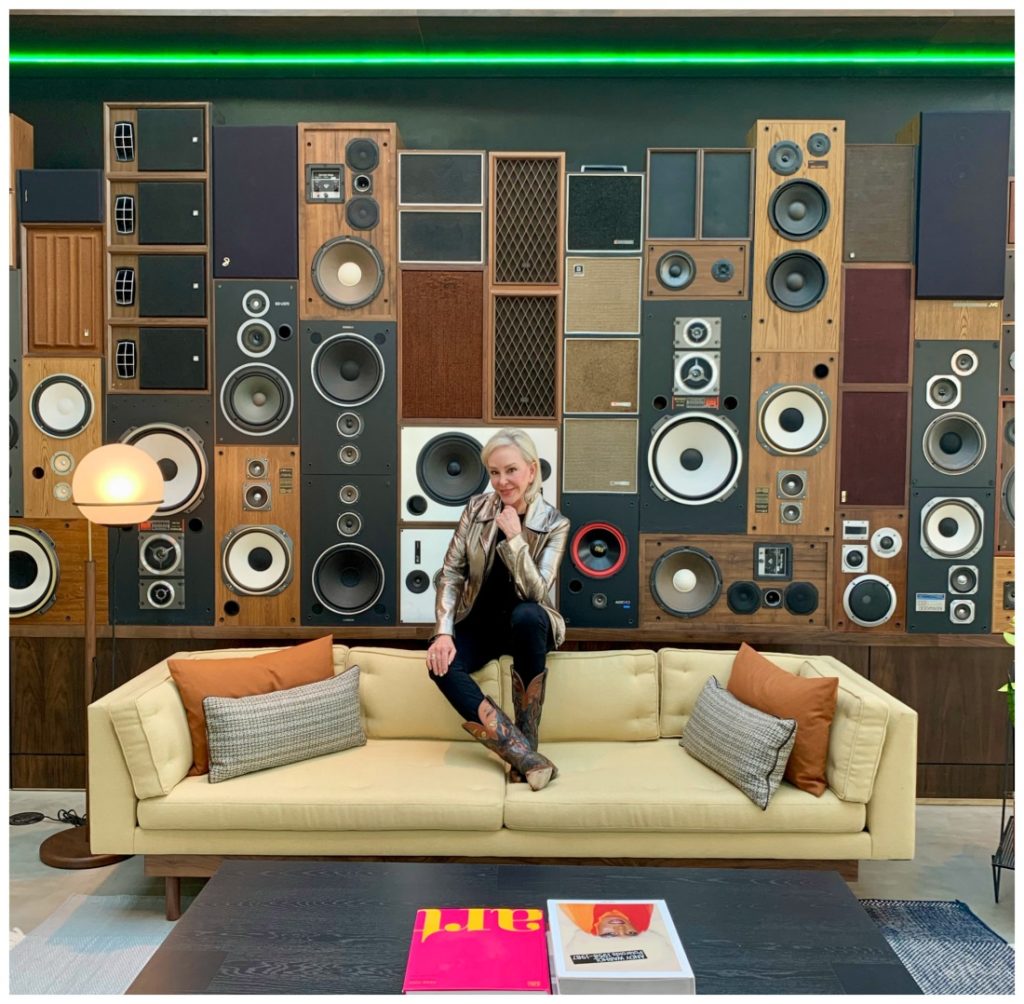 Central Station Hotel lobby: The photogenic speaker wall is made of Egglestonworks Loudspeakers, a locally made brand.
LAFAYETTE'S FOR BRUNCH
Lafayette's Music Room is another delicious brunch spot located in Midtown's Overton Square where brunch is served Saturdays and Sundays between 10-3. "The original Lafayette's Music Room was short-lived but still vividly remembered. During the 1970s, it was a small but influential venue rooted in the most happening corridor of Memphis. It now serves as a key stop on the showcase circuit for up-and-coming touring artists and has helped launch careers like Billy Joel, KISS, Barry Manilow and more.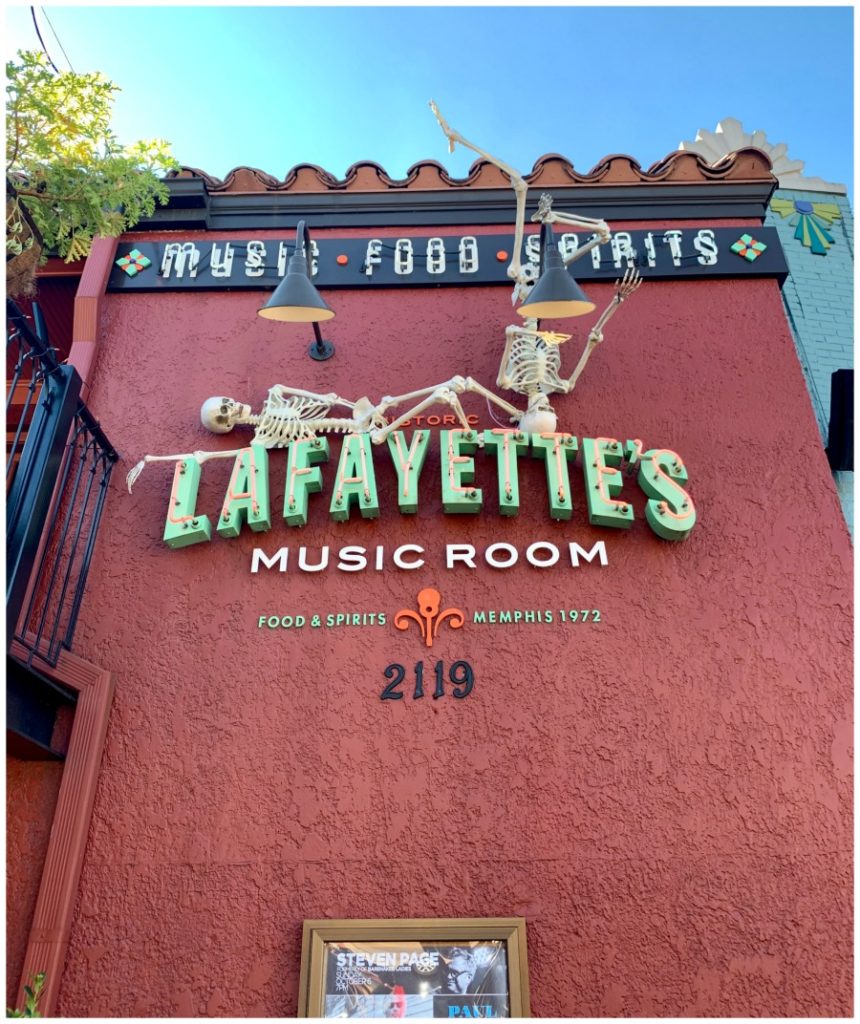 After lunch, we strolled around the Overton Square area popping into Crazy Beautiful boutique and a pastry shop 17 Berkshire for some treats.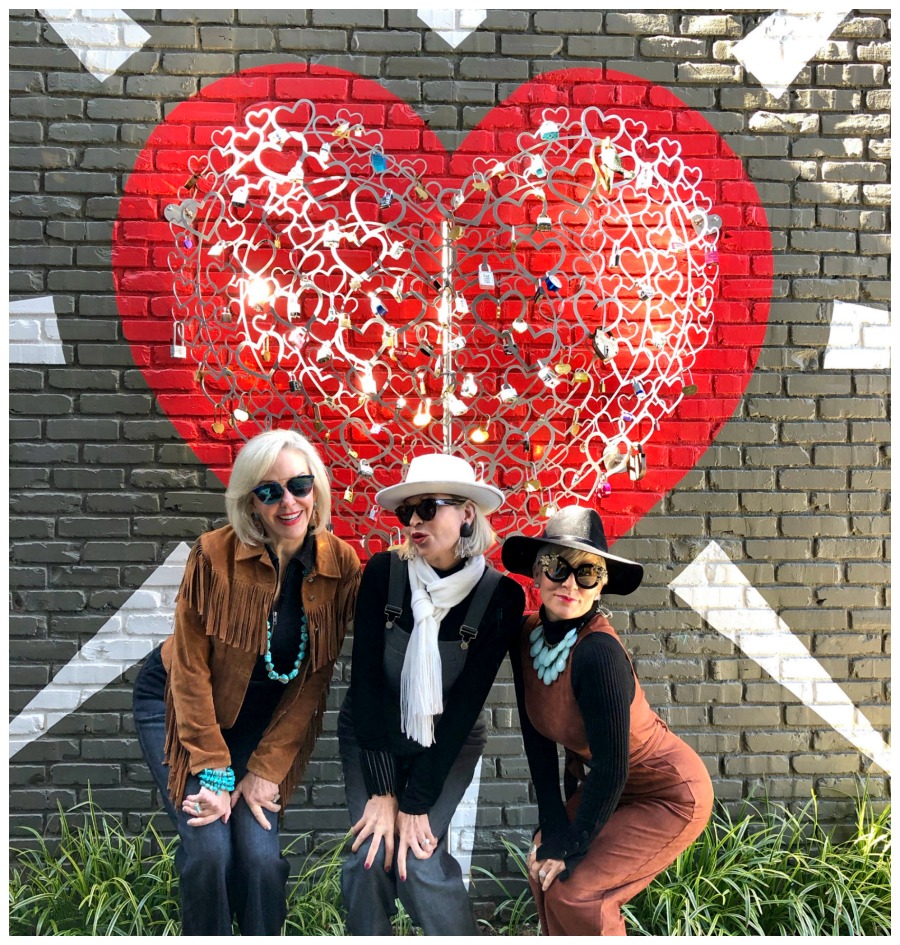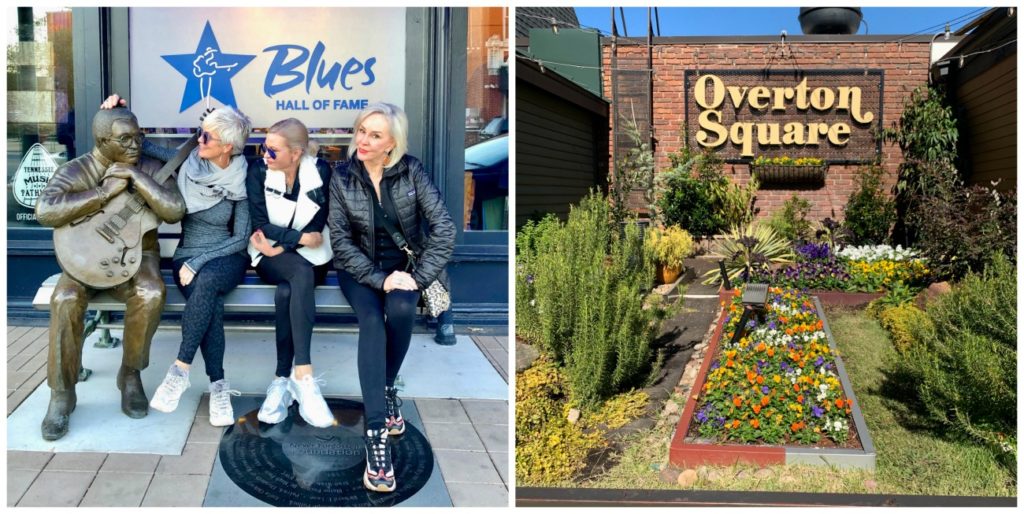 SHELBY FARMS PARK
Now for some outdoor fun at Shelby Farms Park just a short drive from town. We changed our clothes and enjoyed a beautiful afternoon on one of the available rented bikes. Here you can also rent canoes and paddleboards as well as go ziplining, do a horseback ride and more. I was totally surprised to learn that it is 5 times the size of Central Park in New York City and is home to thriving herd of buffalo. This was the perfect afternoon and a nice break from the city!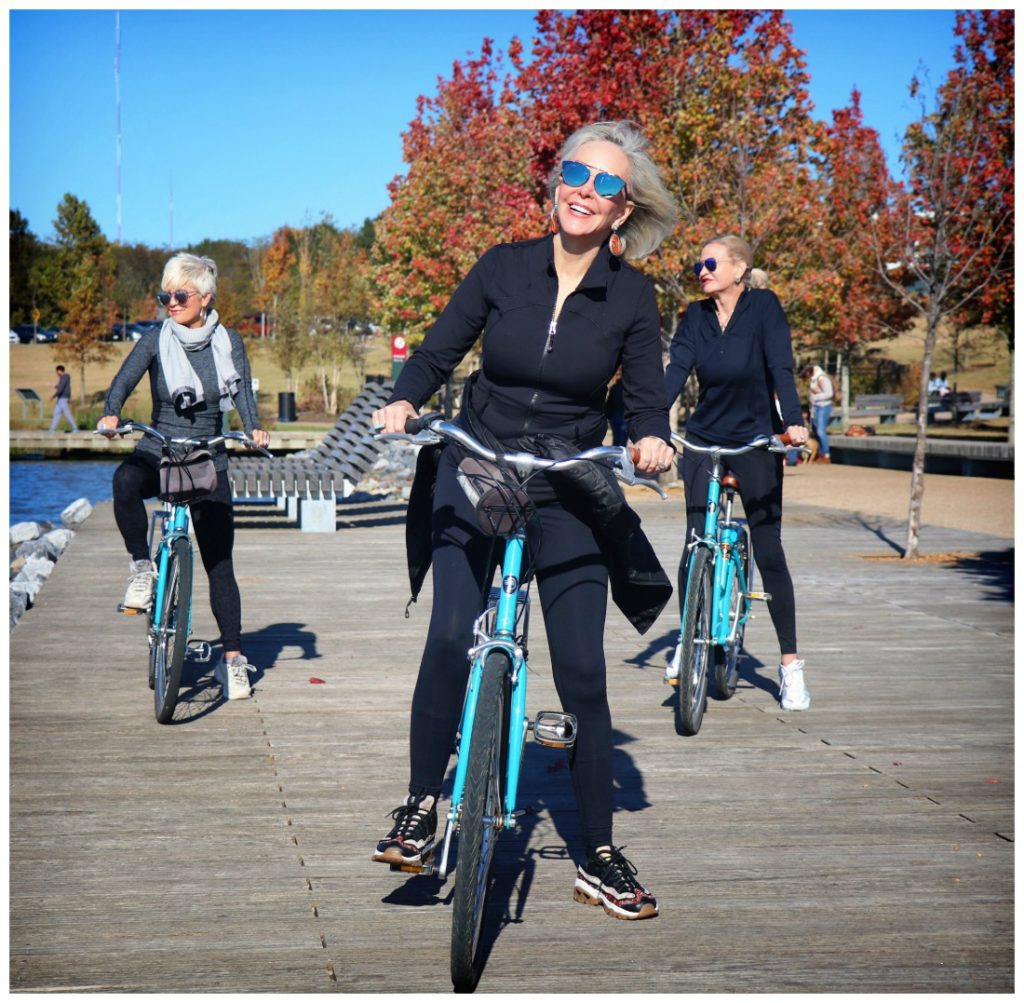 STAX RECORD CO.
More music history learned here at Stax Record Co. Located in Memphis' Soulsville neighborhood, Stax is home to artists such as Otis Redding, Booker T. & the M.G.'s, Issac Hayes, and more.
This was a fun stop because we bought t-shirts that said HOT BUTTER SOUL and got to dance it up again on a dance floor inside the museum.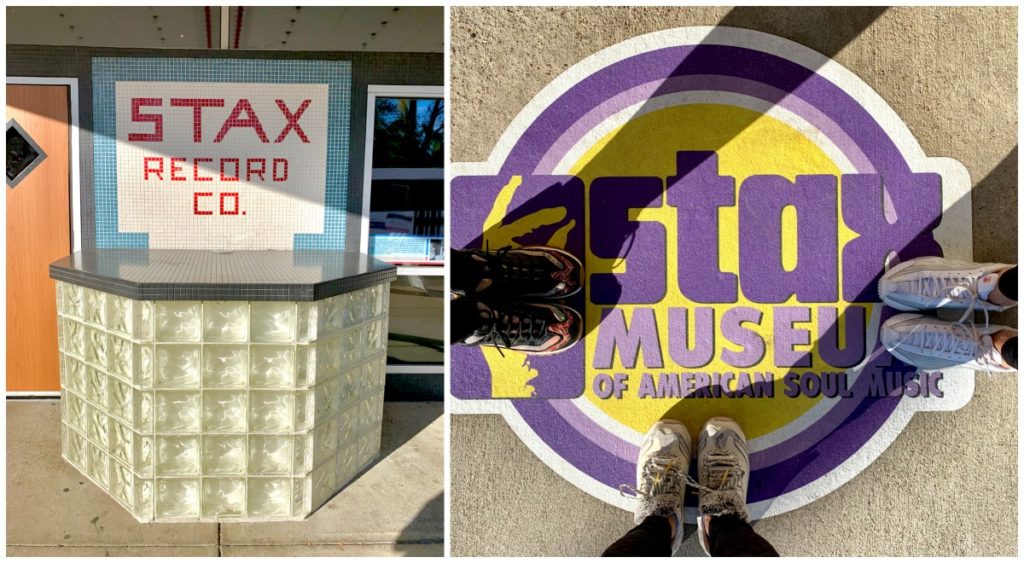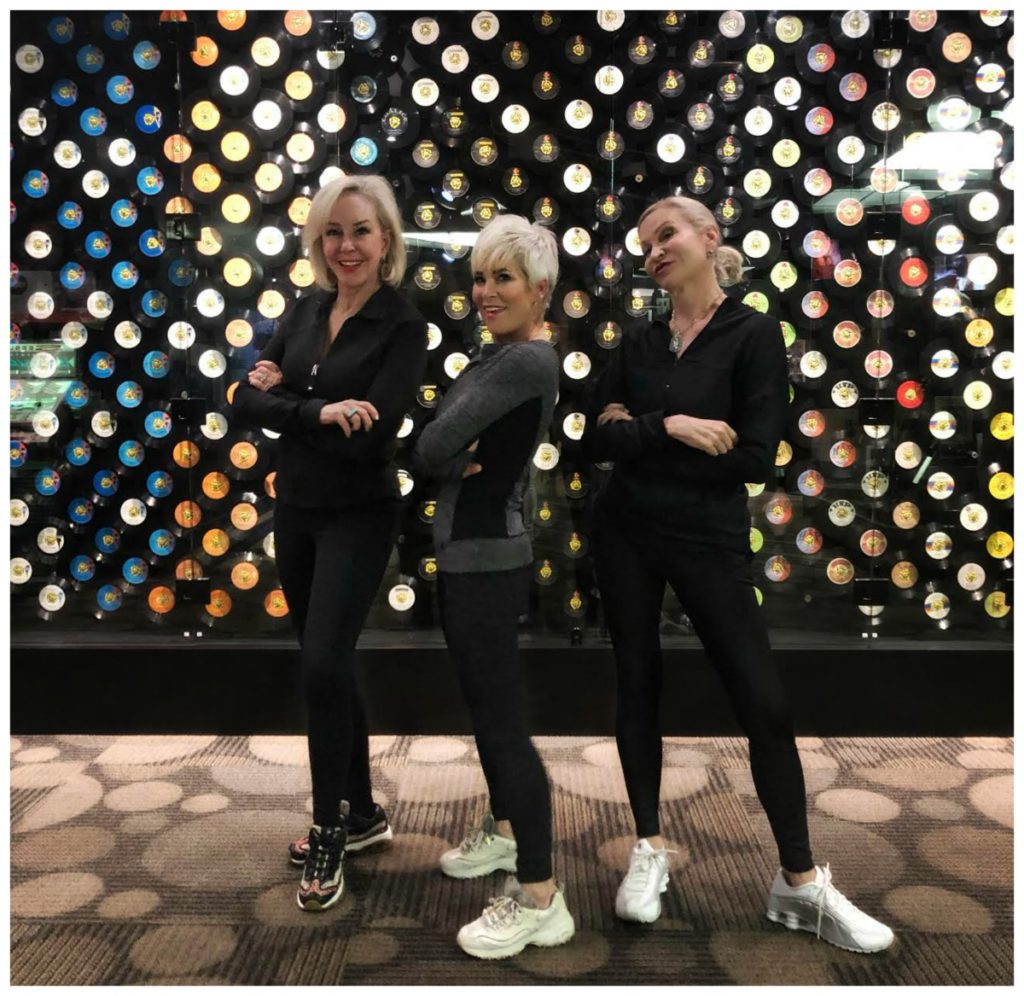 RIZZO'S FOR DINNER
After an action-packed day, we actually worked up an appetite. We changed clothes and walked down the street (South Main Arts District) from our hotel to Rizzo's. Chef Michael Patrick opened up his restaurant to give us a private dinner where he served up his specialty Lobster "Pronto Pups" as a starter and the blueberry white chocolate bread pudding as a dessert. He describes his food as "Reimagined Southern cuisine. You can find Rizzo's open for lunch, dinner & weekend brunch in rustic-chic digs." I loved it so much!
NATIONAL CIVIL RIGHTS MUSEUM
Our last day in Memphis was so special to me because we visited 3 very iconic places. First, we checked out of Central Station Hotel and then walked over to the National Civil Rights Museum where we spent a couple of hours but I could have spent all day there. I will go back again someday because there is so much more history I didn't get to starting before slavery all the way to present-day. This museum was built around the room of the Lorraine Motel where Dr. Martin Luther King was assassinated back in 1968.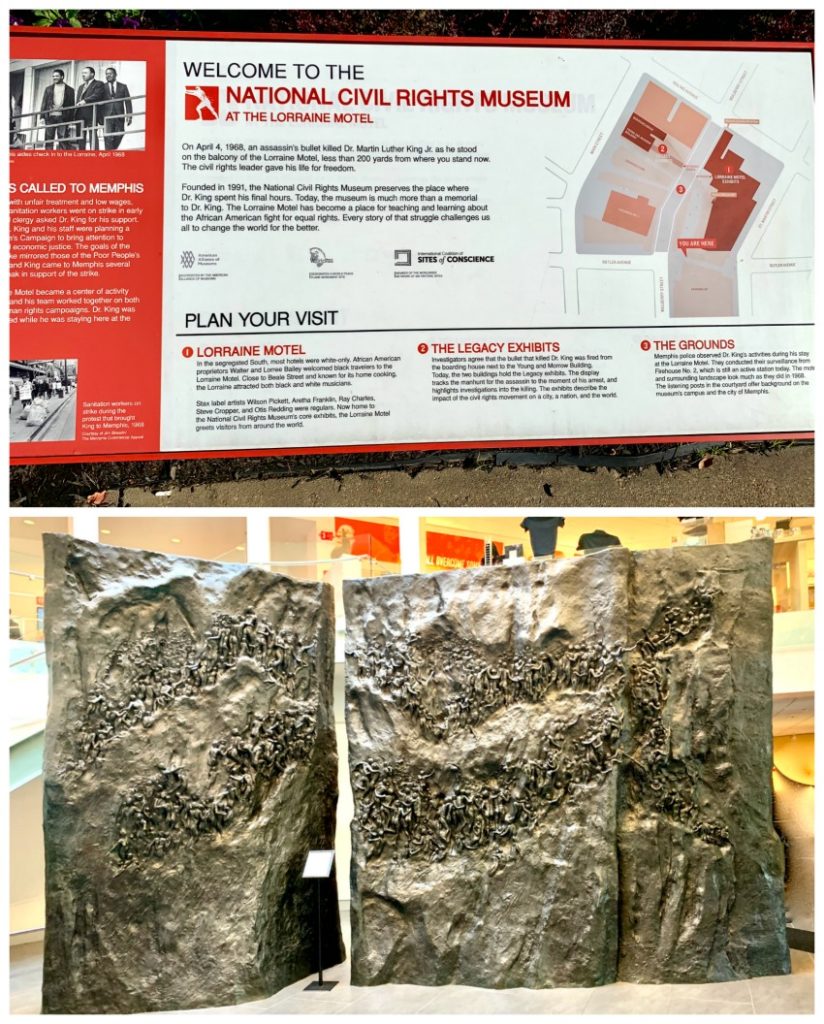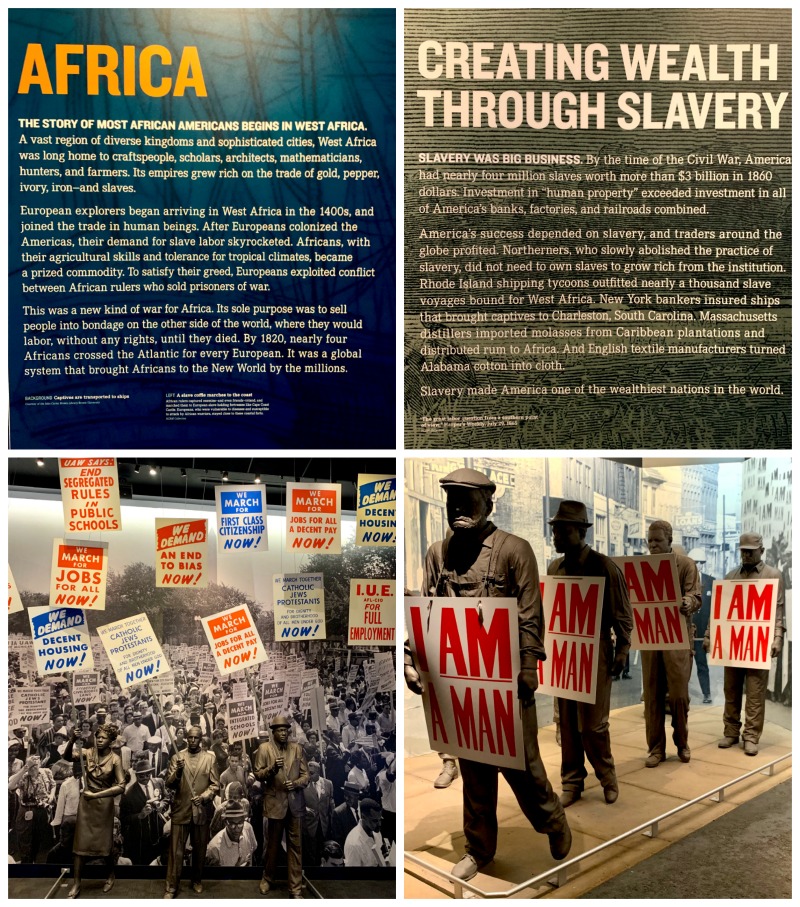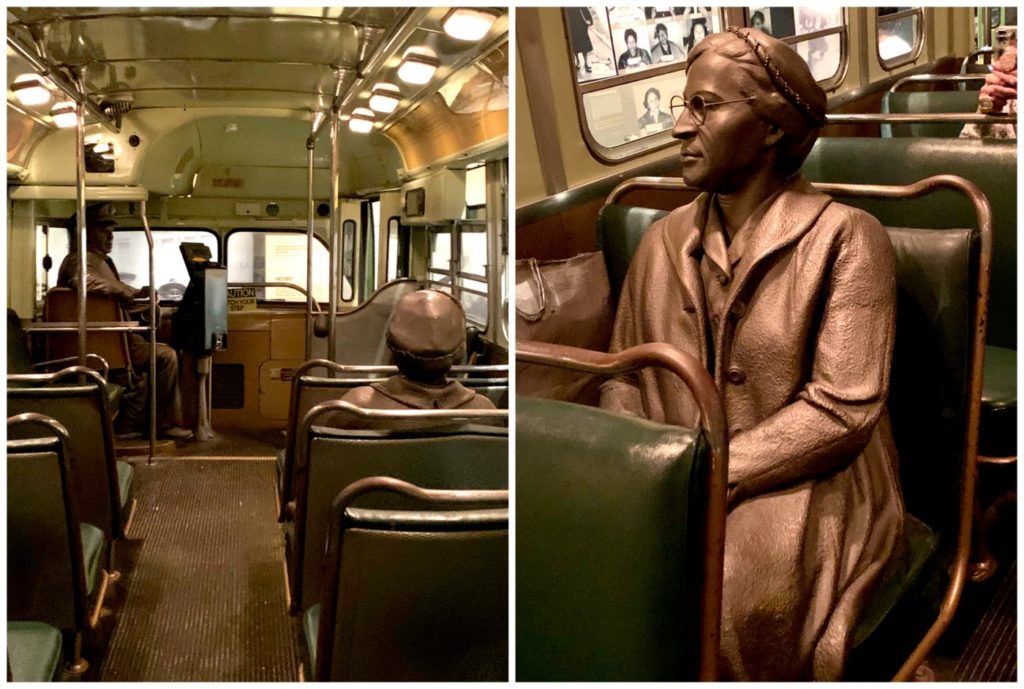 Remember Rosa Parks? Not only did she stand up for her race, but she also stood up for women of every color leading the way for women's rights. Amazing woman!!
It is truly one of the best museums I have ever visited because every time period, every exhibit was a story and oh so well done. Towards the end, I became very emotional especially when we stood right under the Lorraine Hotel sign that reads "I HAVE A DREAM MLK".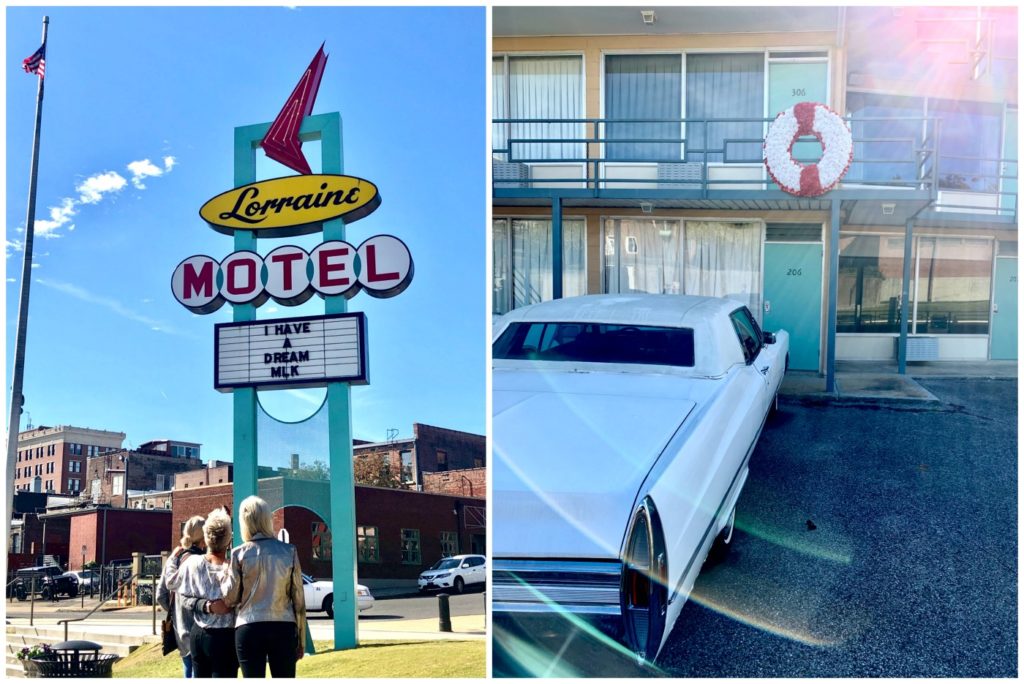 PEABODY DUCK MARCH
Still in the South Main Arts District, we had to hurry over to the historic Peabody Hotel because we didn't want to miss the famous PEABODY DUCK MARCH! This quacky tradition started all the back in 1940 by Bellman Edward Pembroke, a former circus animal trainer. His job was to get them each day from the rooftop of the hotel, down the elevator and to the fountain where they stay until the duck master takes them back up. Edward became known as the "Duck Master" where he served his duties for 50 years until he retired in 1991. Read here for more details about how this tradition started.
We had the honor of meeting the new Duck Master and in fact, he pulled Shauna from the audience to be the "honorary Duck Master" where she went up the elevator to the rooftop with him to get 6 ducks and bring them down for the march to the fountain. We were all so excited that we failed to get very many photos, but she did her job well!!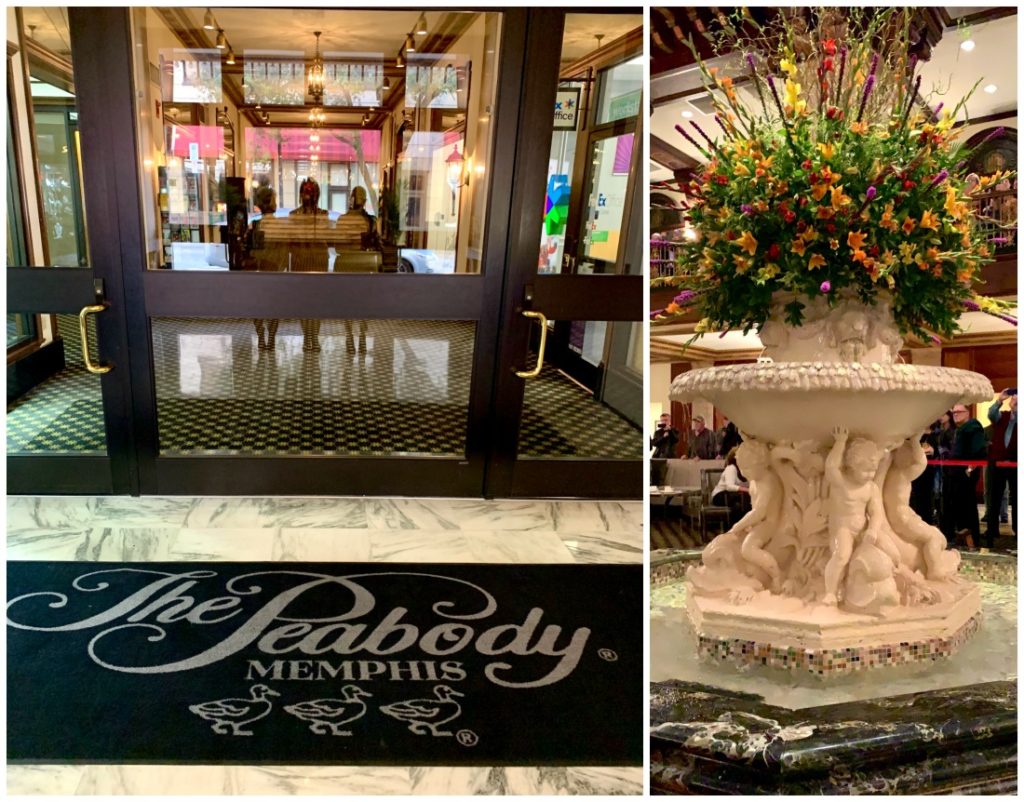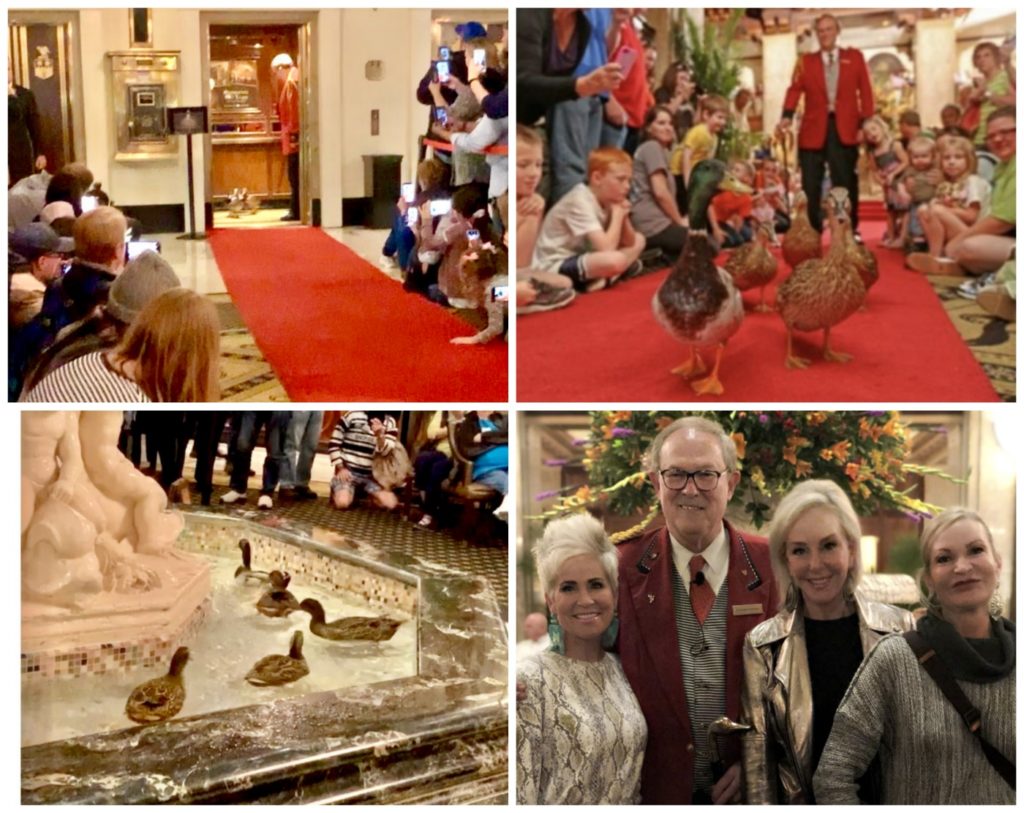 Lansky's, an old family clothing business in Memphis is now in the Peabody Hotel so, after the duck march, we popped in for some shopping. Lansky's was known as the clothier to the King. Do you know who the King is? Yes, ELVIS!
We had so much fun shopping at this store and had the opportunity of meeting Julie Lansky, granddaughter of co-founder Bernard Lansky. It is worth it to stop by this well-curated store where you will find so many things you will want! Jamie (below right) did some damage!!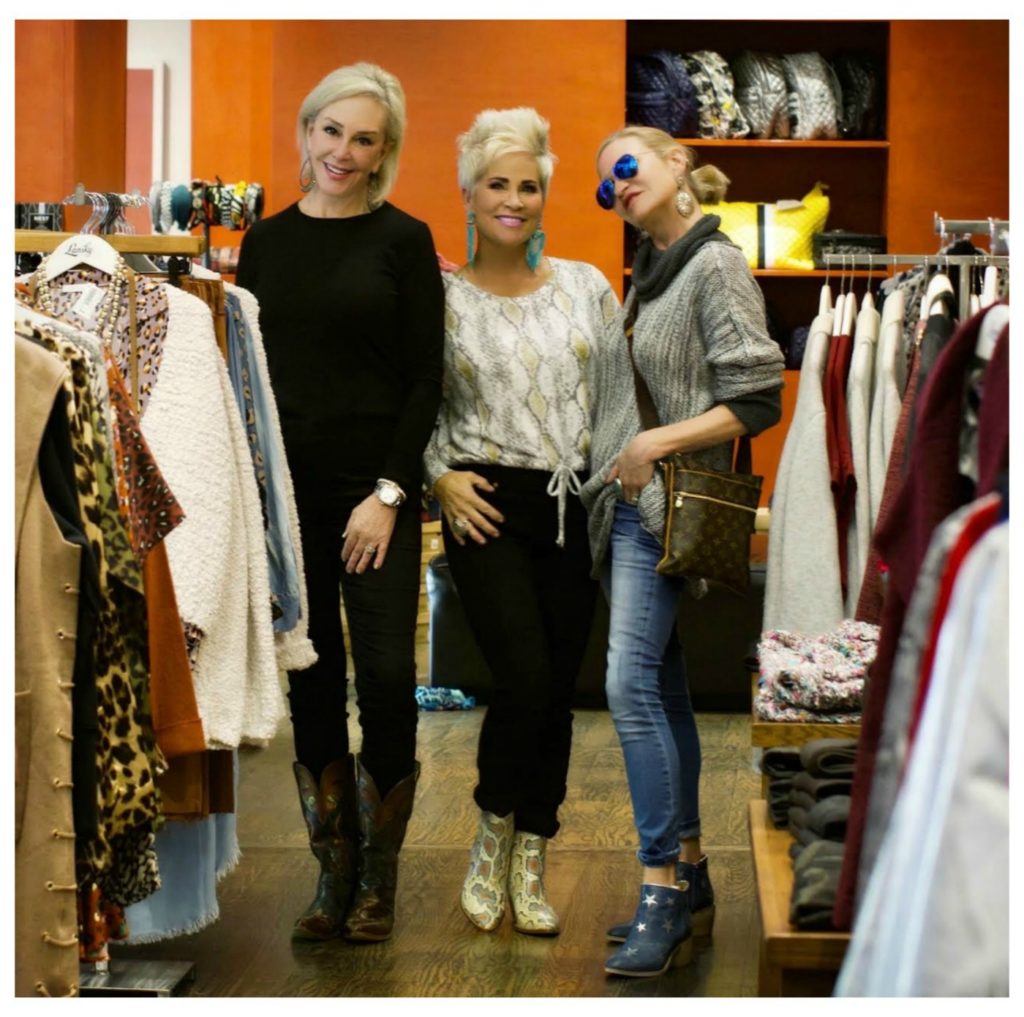 BEAUTY SHOP
Yes, that's right, an old-timey beauty shop and in fact, was formally Priscilla Presley's curl & dye shop. Thank goodness it is still there but now as an adorable lunch spot. They have the best corn fritter's that I have EVER had. Being originally from East Tennessee, I have had my share of corn fritter's but never like the ones served at the Beauty Shop.
Located in the Cooper-Young neighborhood of Midtown this cute, cute lunch spot is owned by Karen Carrier. I love that she kept that nostalgia feeling by making choice seating under the old Belvedere hair dryers.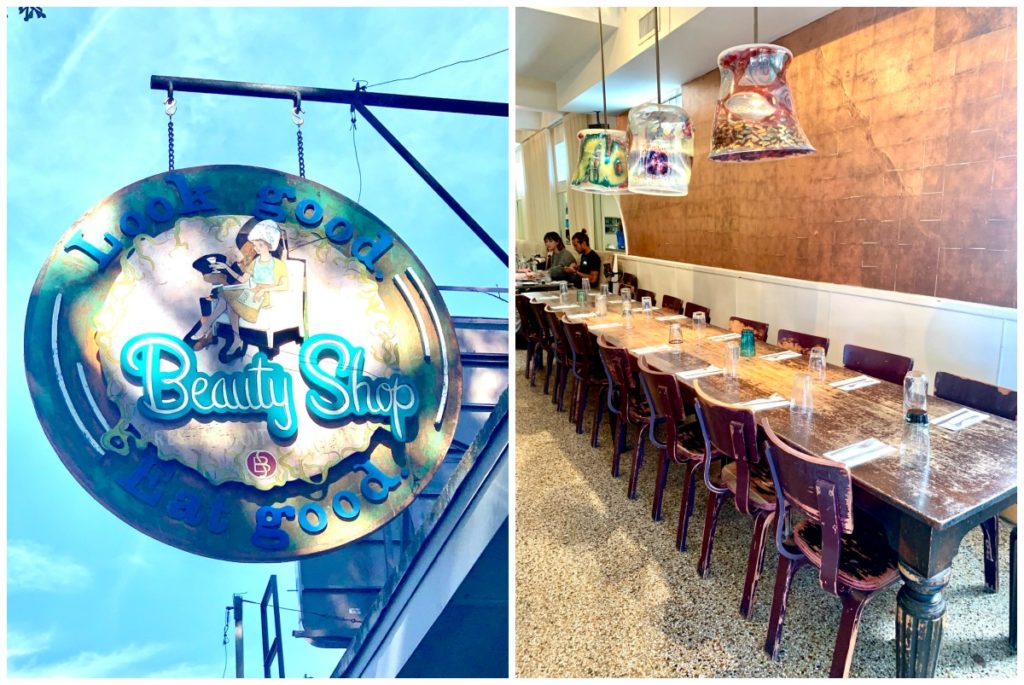 And YES, they serve up the best milkshakes too!!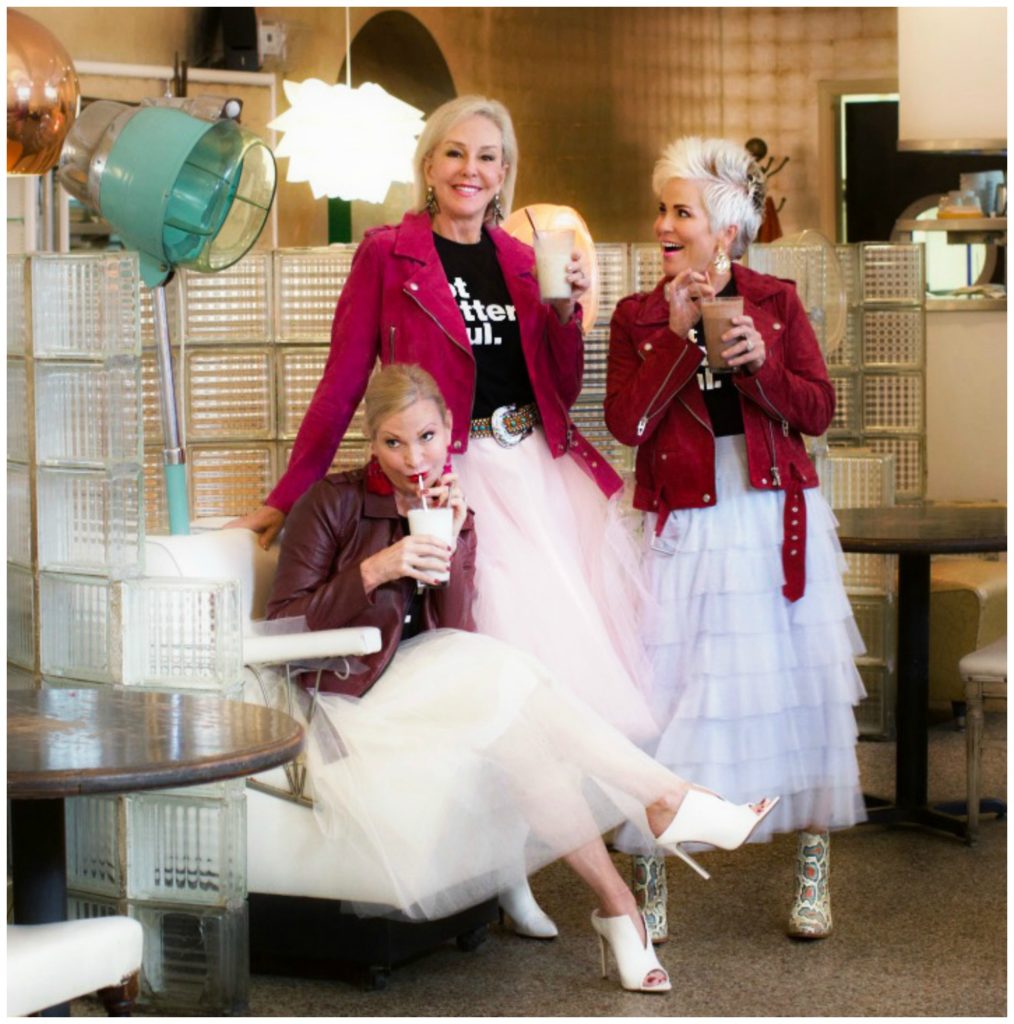 GUEST HOUSE GRACELAND
Last night in Memphis at the Guest House Graceland. This hotel located right across the street from Elvis Presley's mansion "GRACELAND" is a AAA Four Diamond Resort that was designed with the help of Priscilla Presley to reflect Elvis' style.
This hotel rolled the red carpet out for us with a very warm welcome from the entire staff but especially from the night manager Anna Hamilton. She was
Did you see the Hallmark movie "Christmas at Graceland" with Kellie Pickler? I just happened to catch it the other night where Graceland never looked so beautiful. I was there about 25 years ago and I thought it was special then but under the guidance of the estate and the new owners, it has been able to create a place where we can just go back in time and really feel the spirit of Elvis Presley.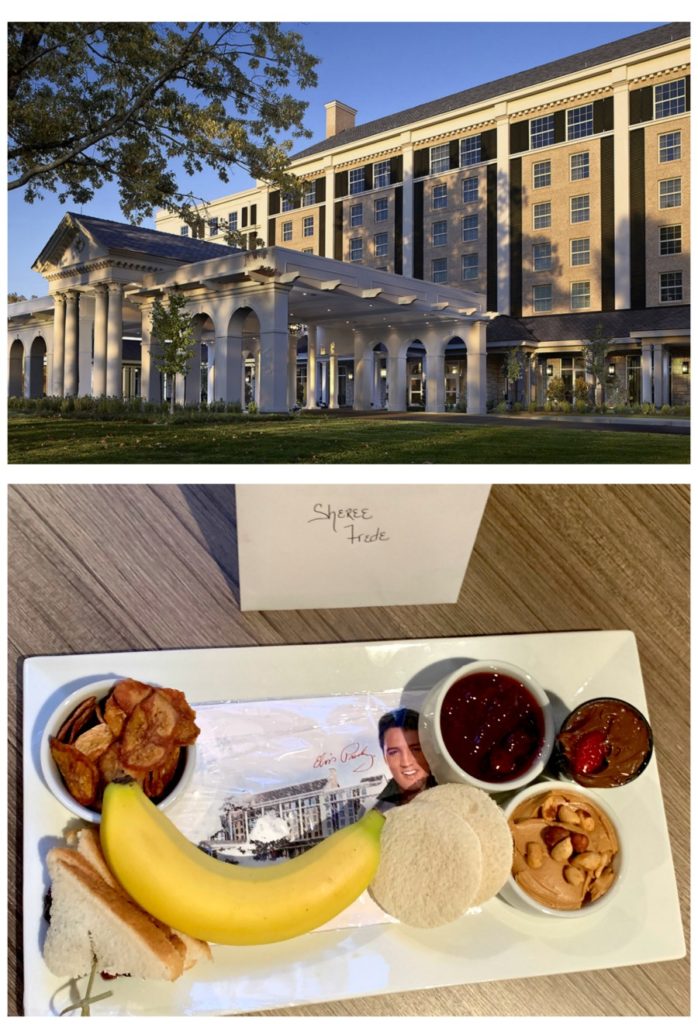 One of the down-home things they do at the Guest House is a peanut butter bar. When we got home from our dinner we had a plate with peanut butter, white bread, banana, and jam. This was one of Elvis's favorite meals.
Below, notice the shapes of the walls, the lamps, chairs, and ceiling. Priscilla Presley had a direct hand in designing these elements that reflected the Elvis style.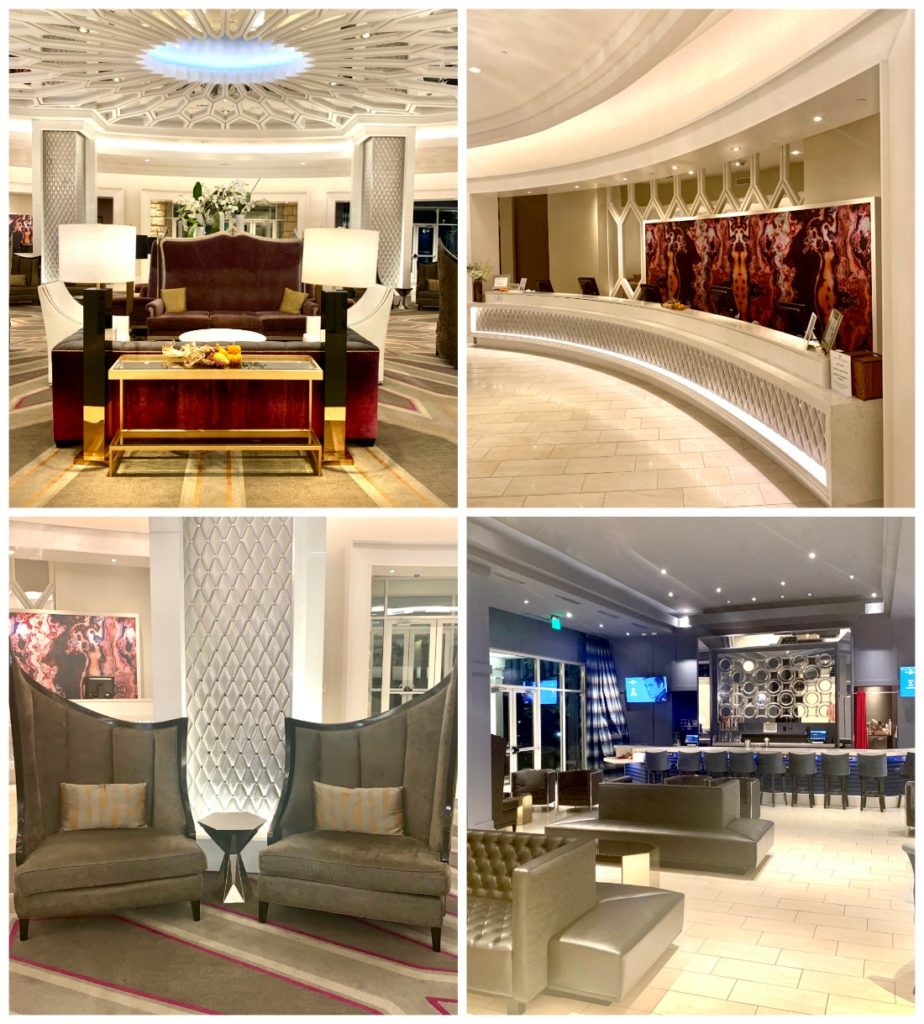 TCB SUITE
Do you know what TCB stands for? It was created by Elvis "Taking Care of Business". You will see it everywhere at Graceland. Our suite was beautiful with a dining area, living area separated by a TV wall and then the most beautiful velvet turquoise bed you ever did see.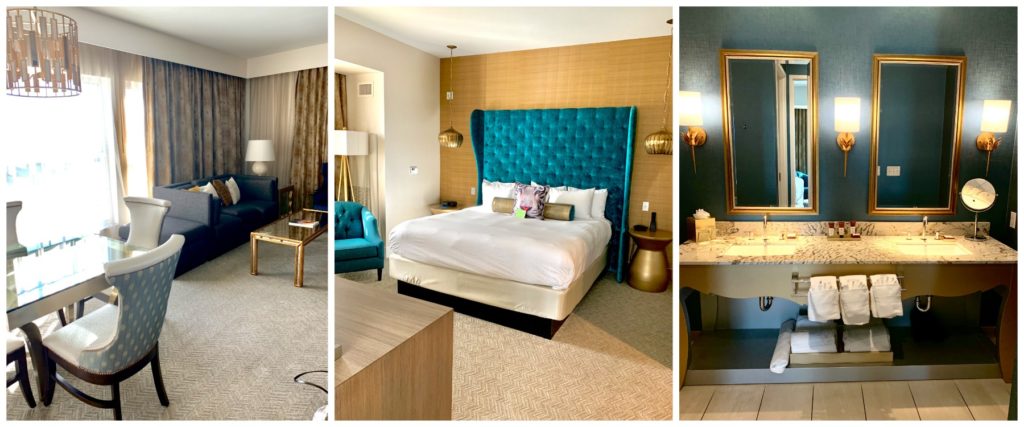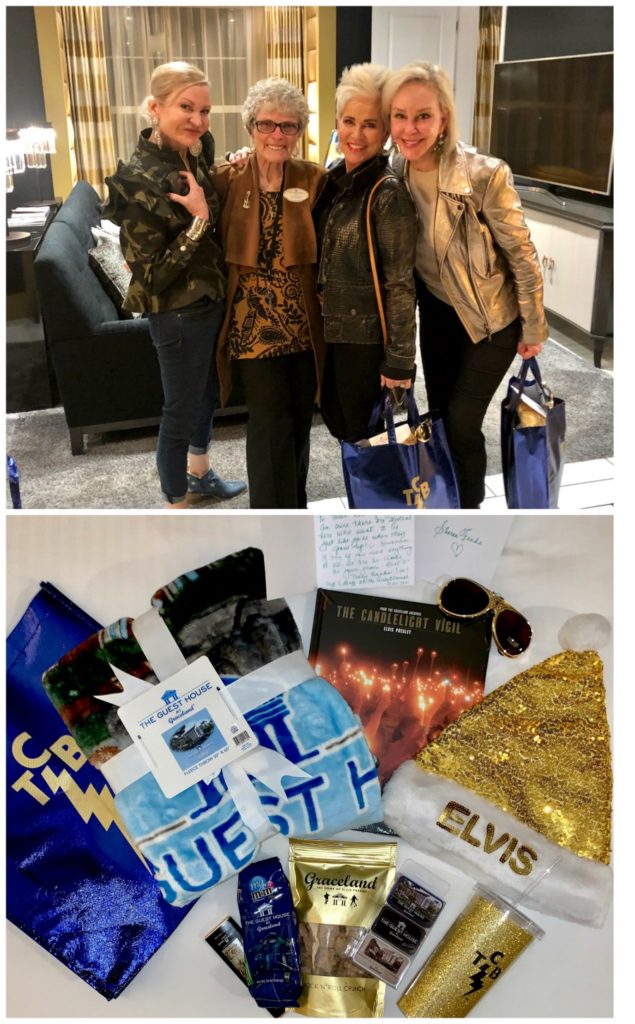 Thank you, Anna (photo above) for our Elvis memorabilia. Did you see our Instastory while we were in Quebec wearing our Elvis hats and Sunglasses? Anna gave us a personal tour of a special suite at the hotel. Hint….the PP suite.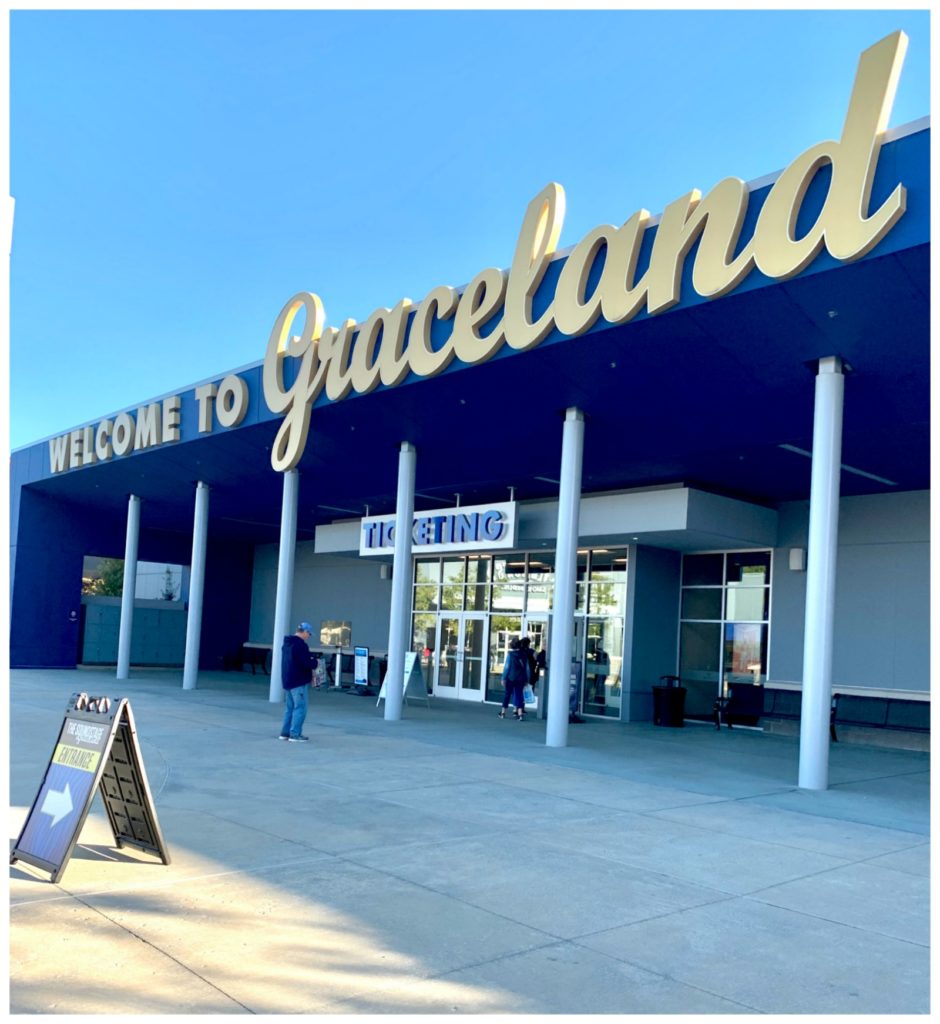 GRACELAND
It is really hard to take you through Graceland as I saw it. I grew up with Elvis Presley and had the biggest crush on him from the time I was 4 years old watching his movie's in the back seat of my mom and dad's car and then seeing him when I was in college up close right before he went on stage at a concert in Knoxville, TN. I still had that same little girl crush as did at 4 years old.
FUN FACT: Graceland is the 2nd most visited home in America, right after the White House. For more on this iconic place go to www.graceland.com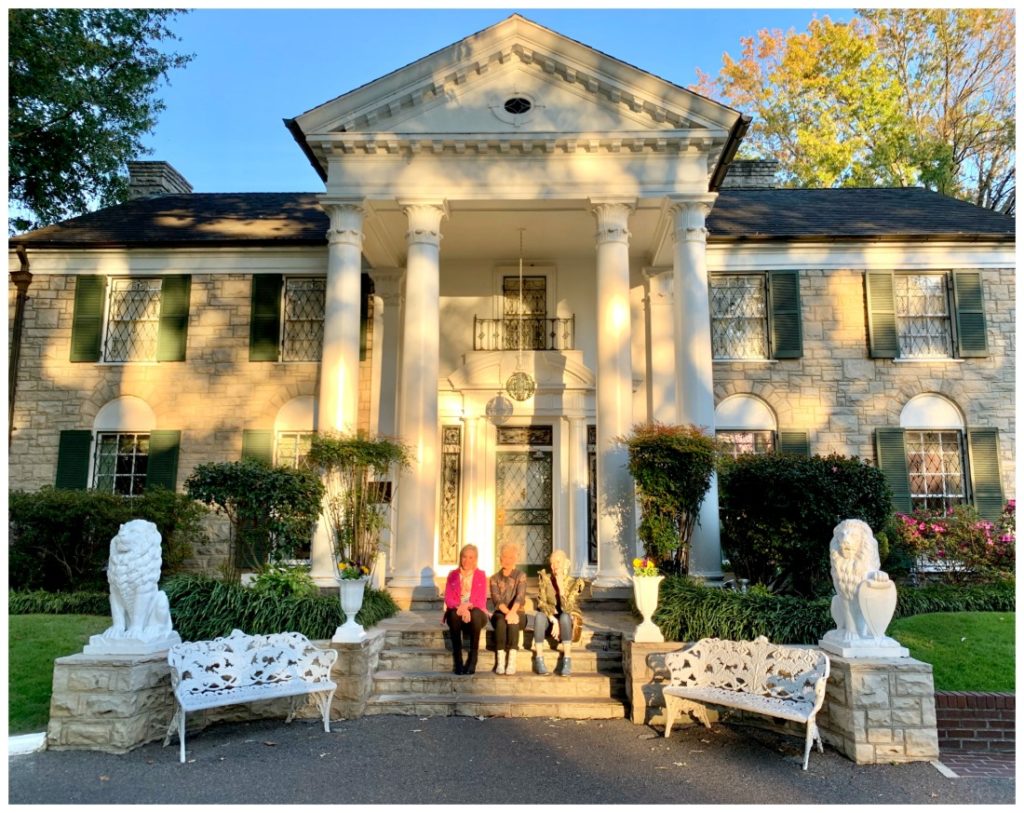 Elvis's taste was rather gaudy for the times but now I look at it and it seems really cool and eclectic. I especially love the pool room where he spent a lot of time with his buddies. His airplane had a living area, a place to work and a bedroom/bathroom.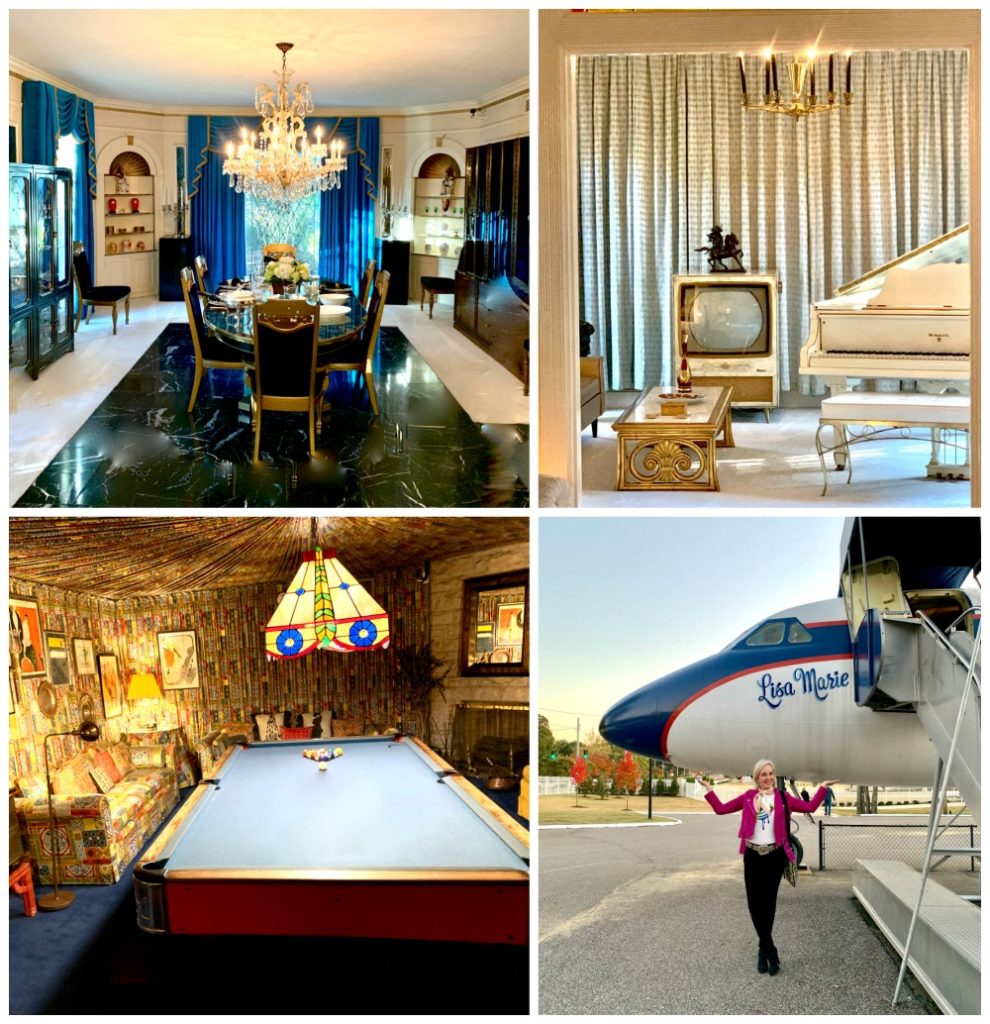 Elvis had a rather large collection of cars, boats, and motorcycles and he set his own looks with over the top costumes. My favorite, however, was the black leather skinny pants and black leather moto jacket. Do you remember the his first TV special when he wore it? OMG I was just dying because he looked so hot!!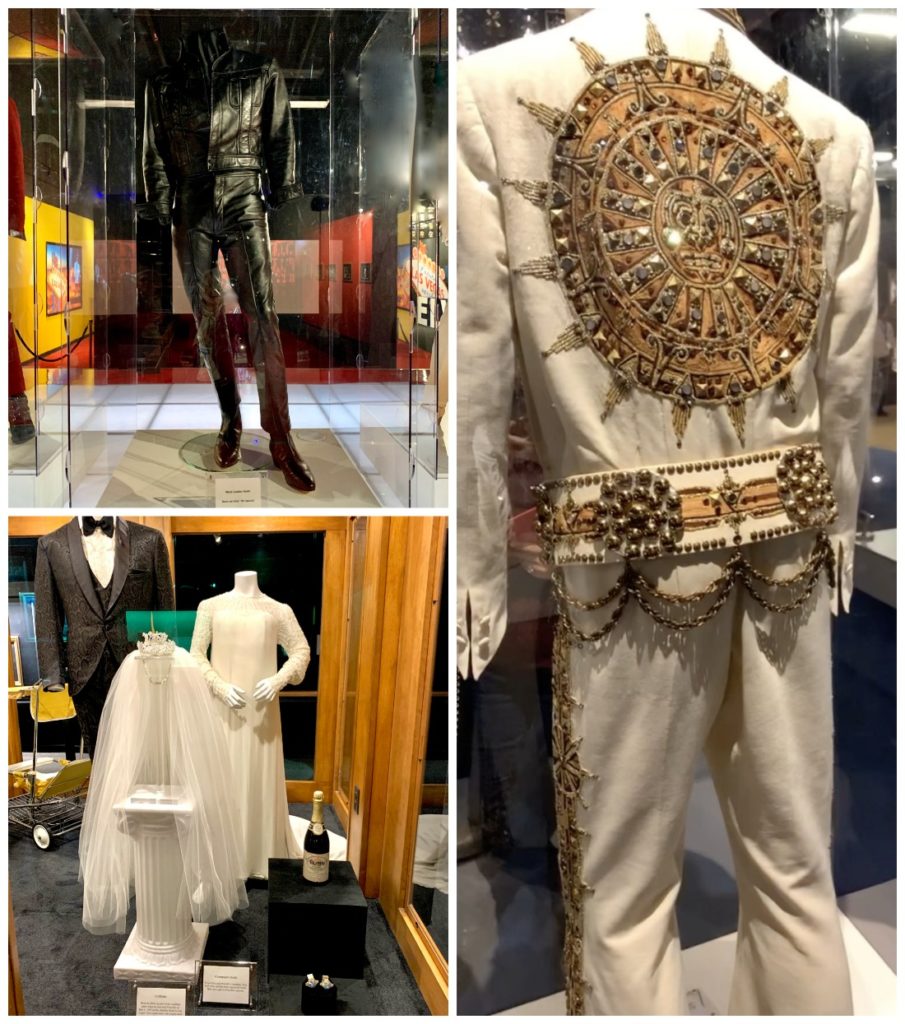 One of the most famous photos was when he and Priscilla were married. In the photo above left, is their wedding attire.
Then there was that day…….I remember the exact time and place where I was when I heard the news that Elvis Presley had died at the young age of 42 years old. I was about 22 years old and I had just seen him in concert. The world stopped for me and for so many who loved and adored him. There will never be another being like him. Rest in peace Elvis!!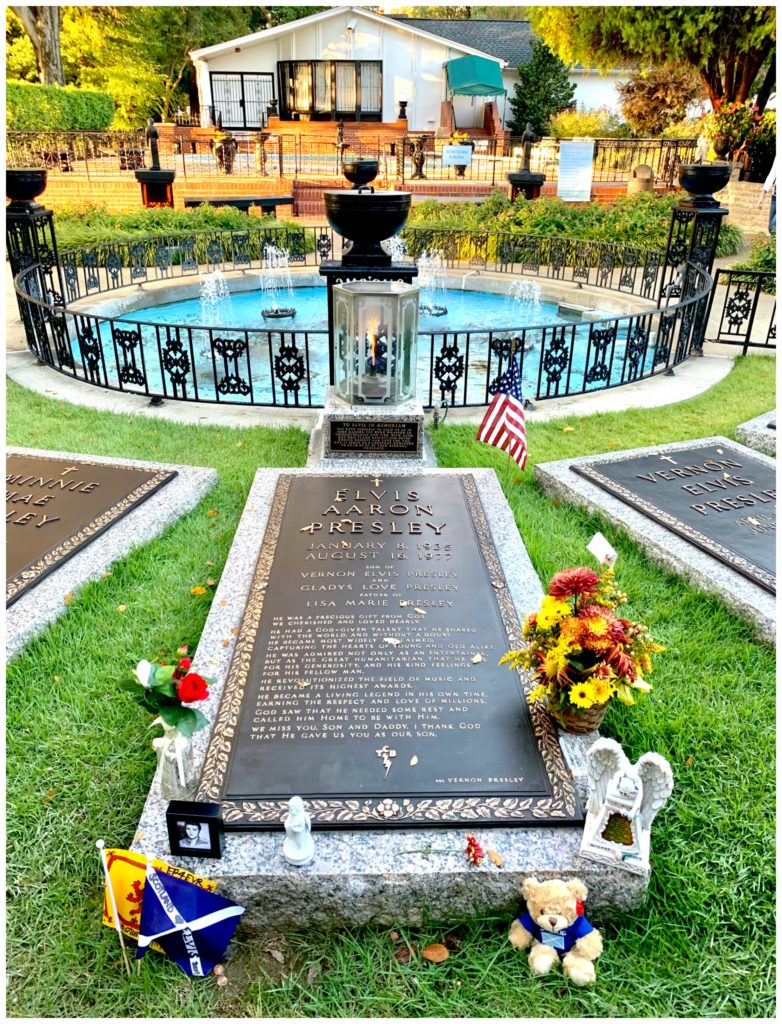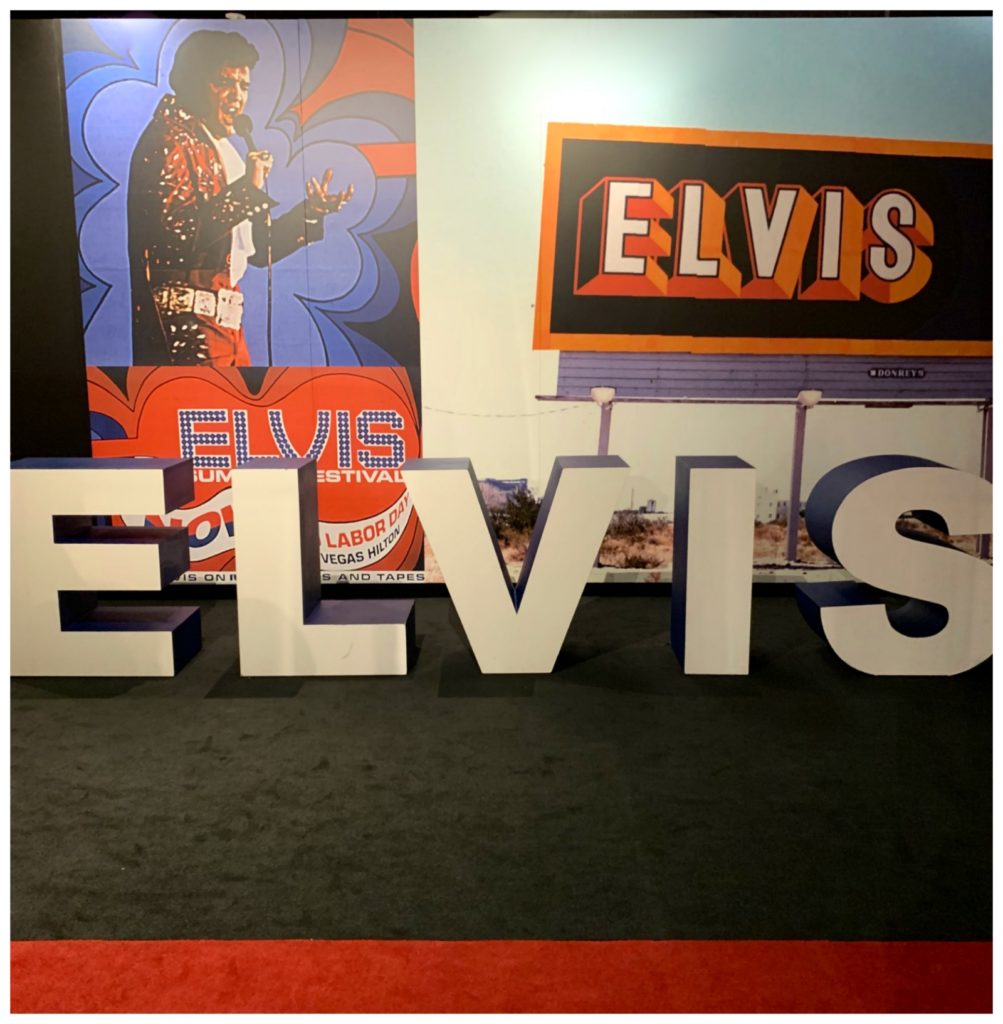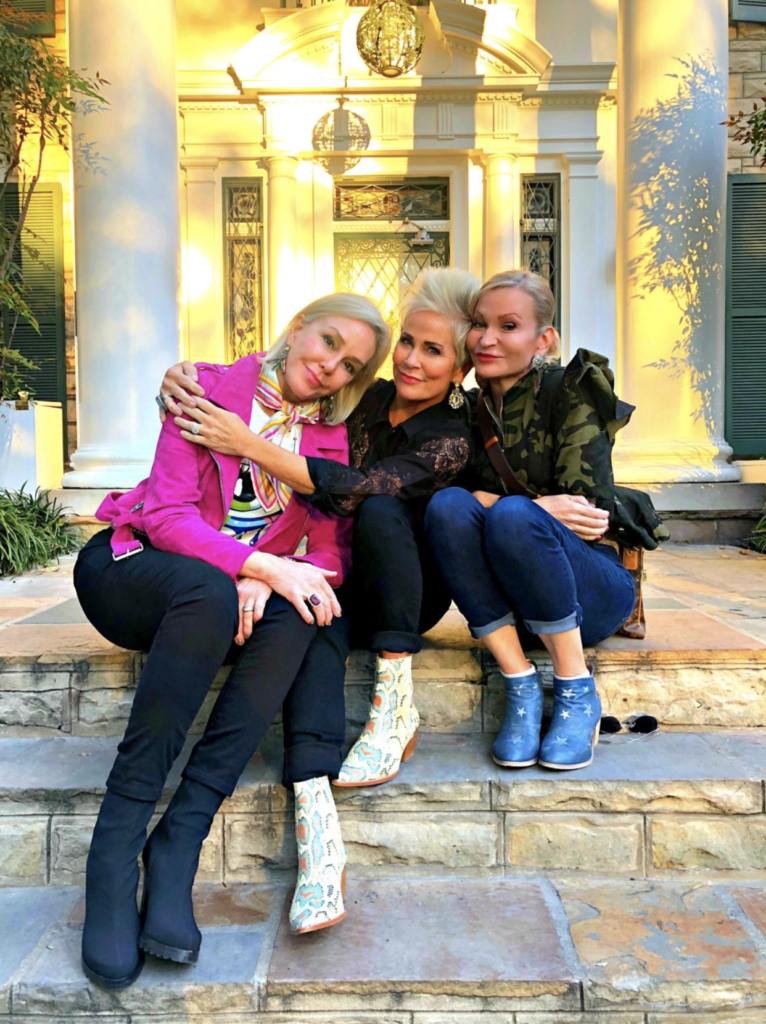 DINNER: ACRE
We wound up our 4 days eating at the charming restaurant Acre. Chefs Wally Joe and Chef Andrew Adams made sure we sampled the best of the house. Our entire Memphis Travel Team joined us where we discussed all of the fun highlights of our time in Memphis. To sum it all up, Memphis should definitely be on your bucket list for you, your girlfriends, husband, boyfriend, sisters' business meetings and so on. What I am trying to say is there is something for everyone to enjoy in Memphis, Tennessee! History, food, music, the arts, lodging……Memphis has it ALL! I will be back!
SHESHE'S TIDBITS
Well, I am back home from the beautiful region of Quebec, Canada and boy was that an experience that I cannot wait to share with you all! So keep coming back and you can read all of the fun details!
Gala's, weddings, graduations, holidays or just everyday wear…..we have fashion suggestions for you, so stay tuned. Be sure to check out the ShopSheShe tab at the top in the menu bar. Hover over and choose the category in the dropdown. We try to keep it up to date with the latest and greatest for all budgets. Subscribe here and then you won't miss a post. Simply enter your email in the pop-up box or below.
WELCOME new readers. We are a fashion/travel/lifestyle blog. We talk about anything and everything, from fashion, travel, health issues to even an occasional recipe. Let us know if there is a topic that interests you. We will do our best to bring that story to you. Have a great week sweet friends and thank you for following along. Without you, we could not continue on this crazy fun journey.