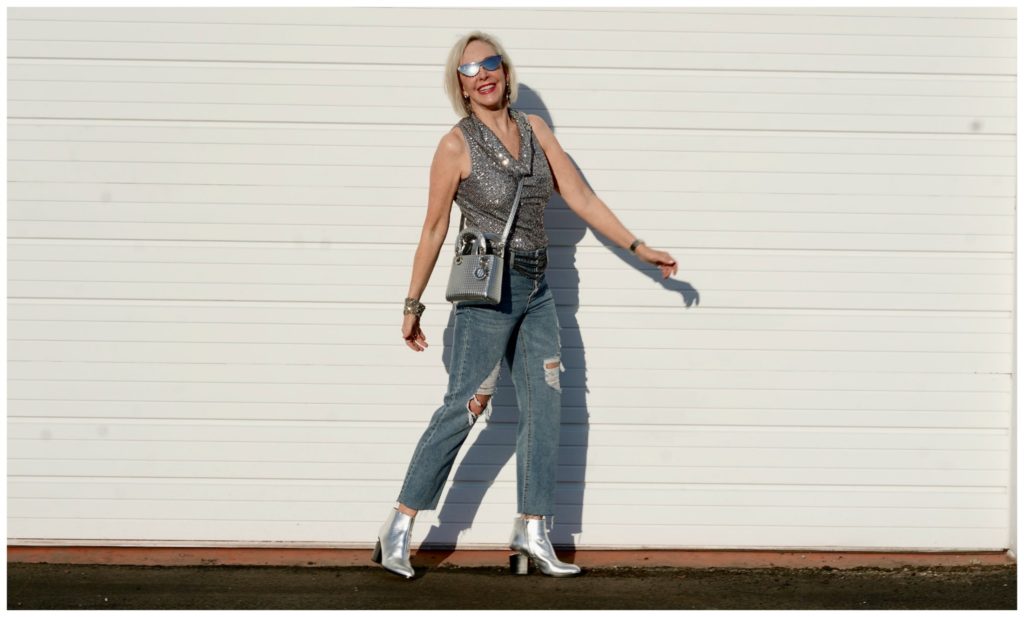 Sequins are definitely popular this season as well as super chic and will hopefully give you some sparkle today in light of our world crisis. While sequins can easily look tacky we have all of the how to's on how to wear and style them. Most of the style tips are perfect for transitional as well as all year long.
MESSAGE FROM SHESHE
Before we get into our style post, I want to let you know that we already had several fashion posts prepared before this coronavirus pandemic. After much thought we decided to go ahead and share them with you. Here at SheShe Show we would be so sad if we couldn't find a magazine or website about fashion to dream about. We don't want to seem insensitive at all but we hope you too will find something here to take you to another place. We need to continue to believe that we will be back to a normal life very soon. XO, SHESHE
How to Wear Sequins
Below are all of our favorite trendy ways to rock your sequins!
TOPS
Here are our favorite picks for sequined tops that are versatile and classy!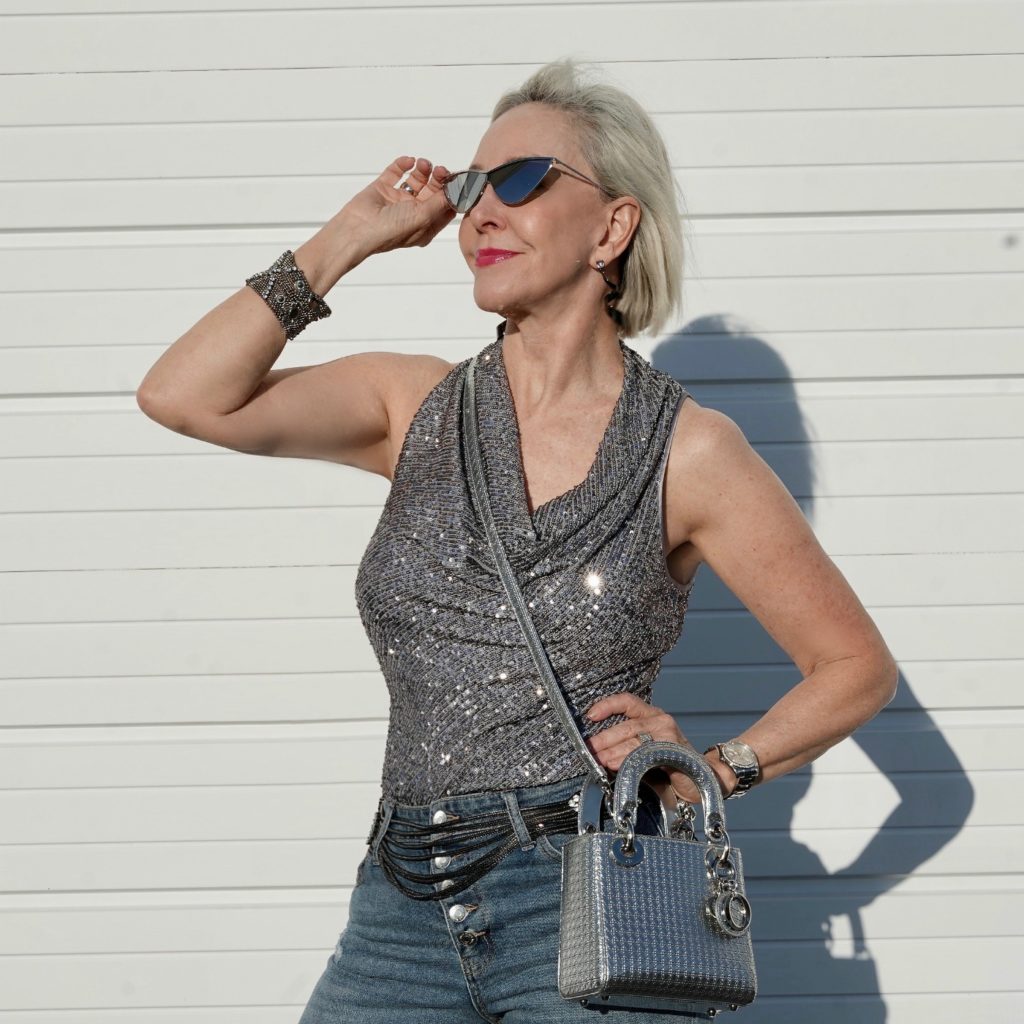 With Denim

I love pairing my sequins with denim! As you can see in the images I have paired my sequin top with destroyed denim! Wearing sequins with denim definitely dresses down your look and gives it a cool daytime flare.
With a Sweater

It's not exactly sweater weather right now but even a light sweater will do. A sweater and sequin skirt combo ( see examples below ) is always cute and you can't go wrong. Pair with sneakers or a cute pair of heels.
A Skirt

Skirts are always great transitional pieces. Midi skirts are always trending and classy. Wear a sequin midi skirt and pair with a blouse, sweater or graphic T and you will instantly have that cool NY street look!
Pants

These sequin pants can also be fun to style with the sweaters above.
Sequin Blazer/Jacket

If you have been following me for some time now you might has noticed how much I LOVE sequin blazers and jackets! Something about them makes me feel edgy. I would wear it over dressy wide legged or skinny pants as well with jeans.
Sequin + Basic Tee
A go to look no matter the season is definitely a basic t-shirt and some sequins! It looks simple and charming especially under a sequin blazer and skirt like above.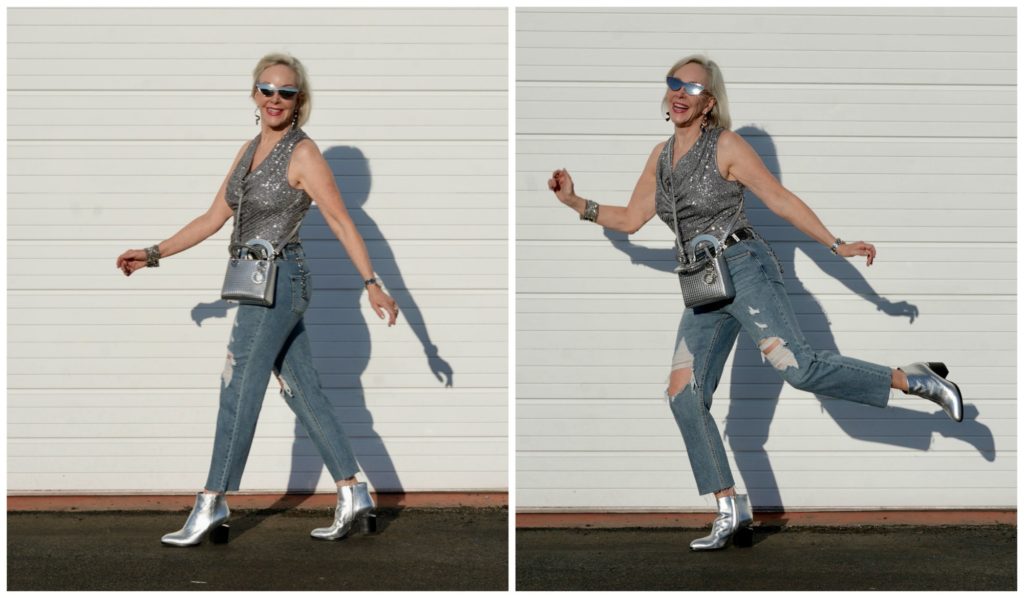 Dress It Down With Sneakers
Sequins can kind of make an outfit look very glam sometimes and to dress it down add sneakers. Below are some of my favorite sneakers to rock with my sequins.

Toughen Up With Leather

Adding a leather jacket over a sequin camisole with jeans or over a sequin skirt or sequin jogger definitely gives you an edgy flair!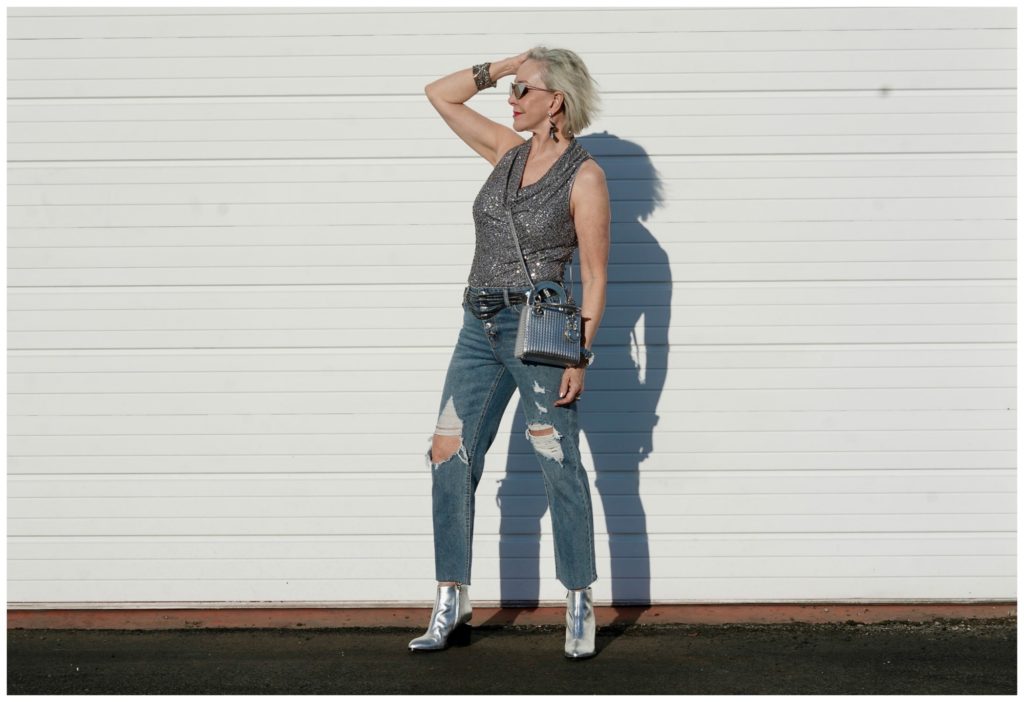 OUTFIT DETAILS

SHESHE'S TIDBITS
Well, what a difference a week can make in this world, right? For maybe the first time ever in my 65 years I am at a loss of words. I am praying, being diligent and trying not to panic. Stay safe and try to keep calm! This too will pass…….. but we just might have a new normal when it is all over.
Gala's, weddings, graduations, holidays or just everyday wear…..we have fashion suggestions for you, so stay tuned. Be sure to check out the ShopSheShe tab at the top in the menu bar. Hover over and choose the category in the dropdown. We try to keep it up to date with the latest and greatest for all budgets. Subscribe here and then you won't miss a post. Simply enter your email in the pop-up box or below.
WELCOME new readers. We are a fashion/travel/lifestyle blog. We talk about anything and everything, from fashion, travel, health issues to even an occasional recipe. Let us know if there is a topic that interests you. We will do our best to bring that story to you. Have a great week sweet readers.