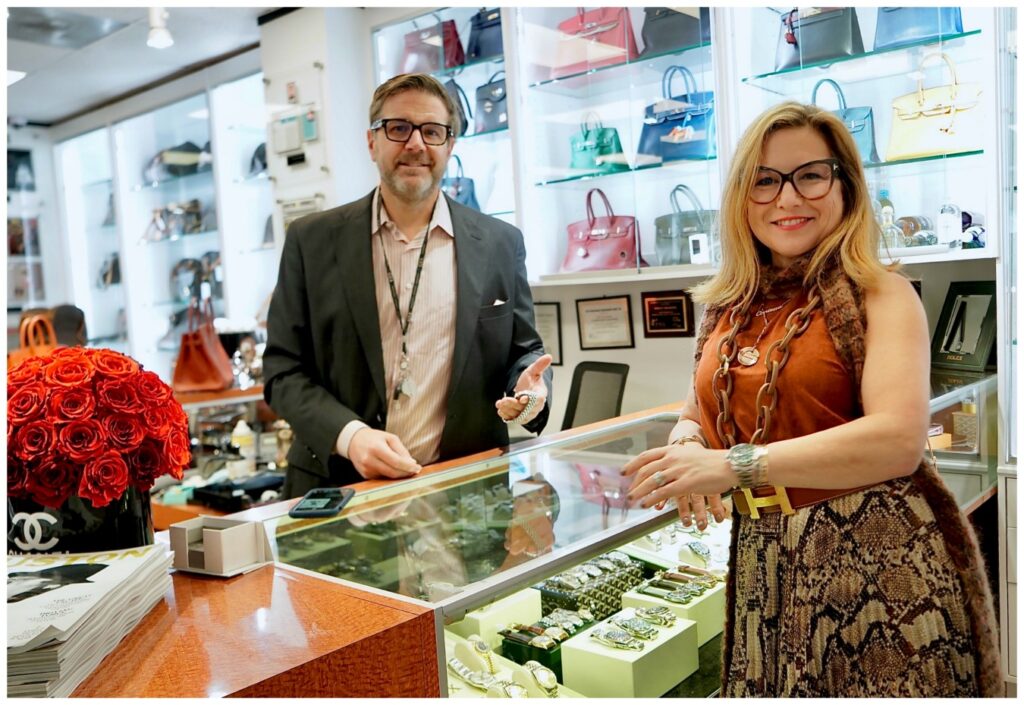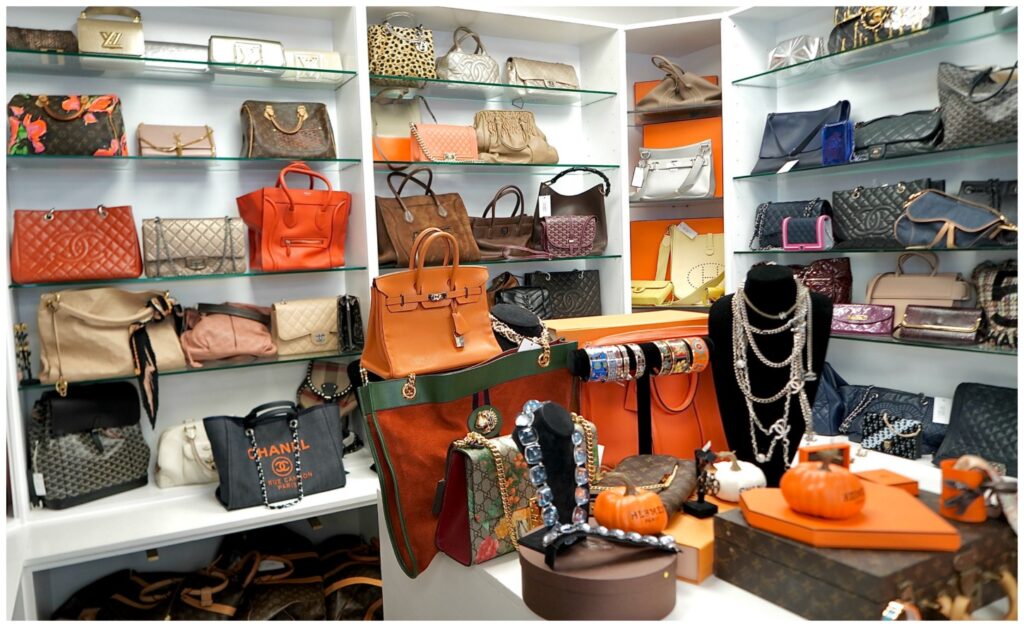 I recently made some significant trades with some of my fine luxury goods that I haven't worn in a while for some different merchandise that I will enjoy until I am ready to change up again. Today I am excited to tell you all about 2 distinct companies The Vintage Contessa and Times Past co-owned by two of my dear friends that helped me make a really sweet deal!
ABOUT THE VINTAGE CONTESSA AND TIMES PAST
An internationally recognized showroom based in Houston is a one-stop, family-run shop for high-end vintage and estate pieces. Dynamic husband and wife duo, Rob and Donae Cangelosi Chramosta travel the world sourcing the finest estate jewelry, luxury watches, designer handbags, and accessories, GIA certified diamonds, rare coins, gold, silver, and antiquities that appeal to collectors around the globe.
This dynamic team has built its international reputation utilizing their buying expertise, value, honesty, and integrity. They scour the globe in the quest to purchase the finest curated collection of authentic, timeless, luxury pieces (I must say, they do find the finest). Each item they sell has been purchased personally and/or vetted by their team, rather than offering products on a consignment model like many other sites. They offer a 100% authenticity promise.
Throughout the year, the team travels around the world to source the most beautiful items, all of which are 100% authentic with an authenticity promise. This makes The Vintage Contessa & Times Past the ideal destination for first-time luxury buyers and collectors alike.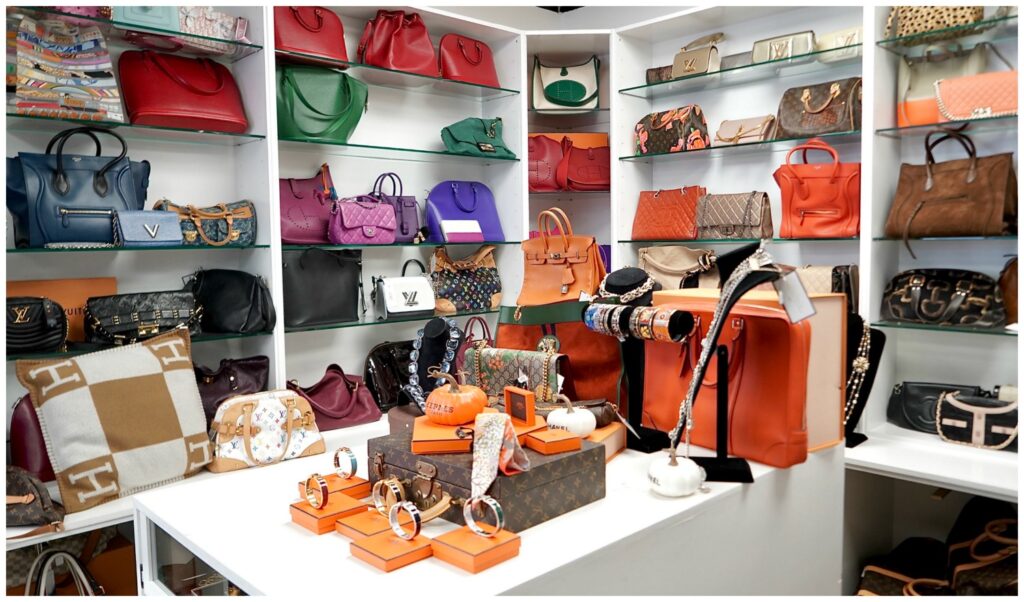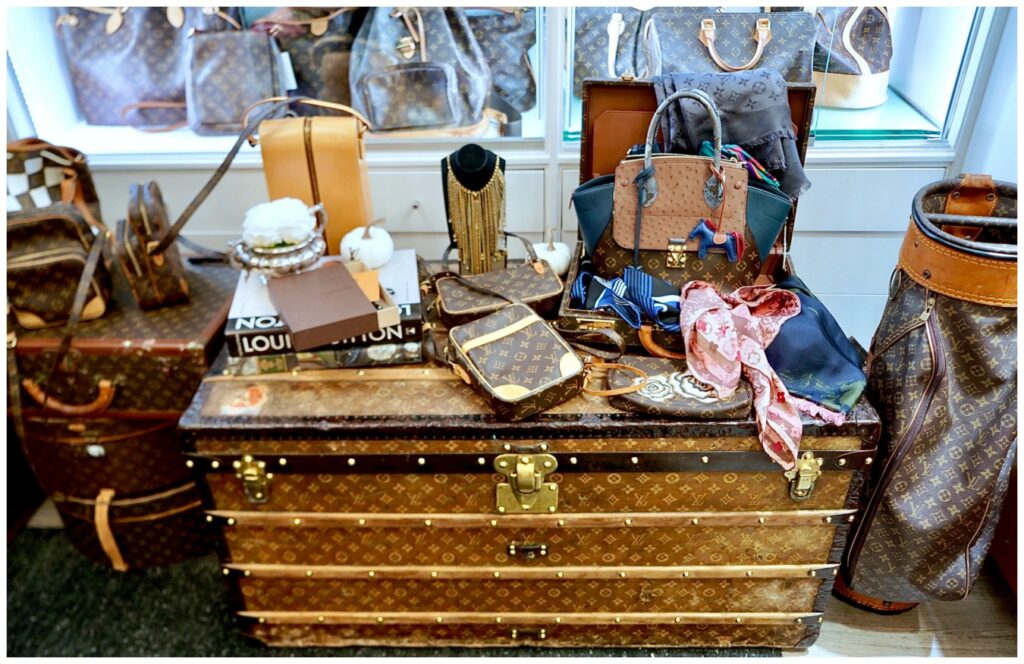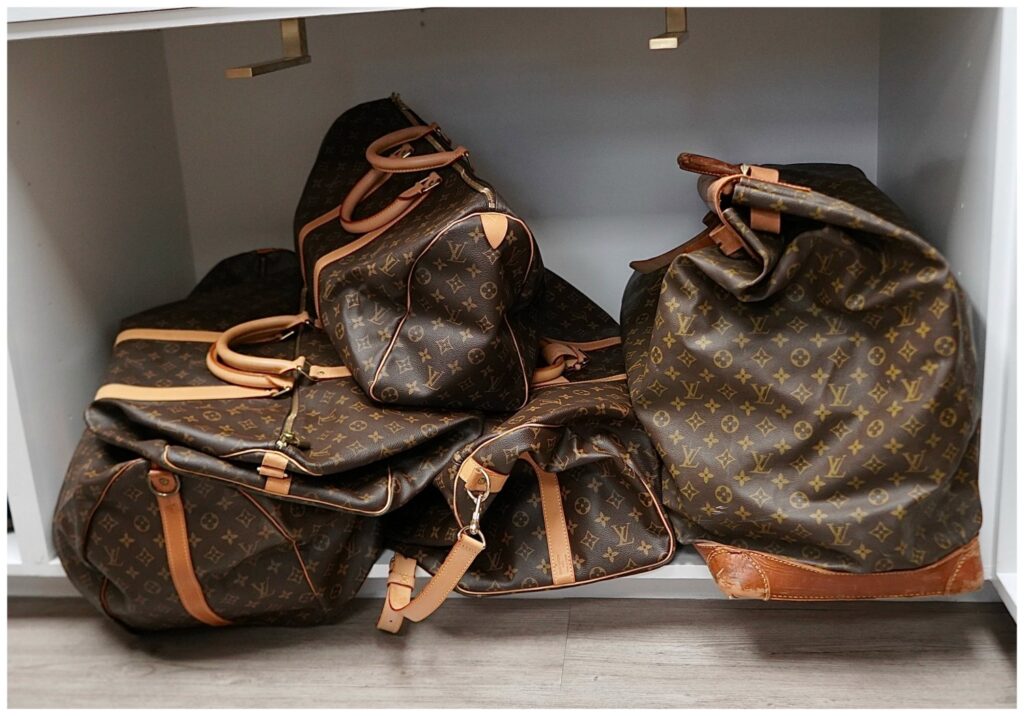 A SWEET DEAL FOR SHESHE
A fashionista dreams of owning a Hermes Birkin bag. In 2011 when I sold SheShe Boutique I decided that I would take a little of the profit I made on the sale and invest in my very own Birken bag. By the way, they are a great investment. I traded mine in for more than I originally paid for it.
When I bought this bag at the Hermes store in Houston, this brick red color was the only color available to me at the time. I would have to wait in line for who knew how long before I could snag one in another color. Even though I liked the color, it was still not in my color wheel. I wanted a bright-colored bag that Hermes is known for.
Finally, a few weeks ago when Donae and I were planning our podcast together I asked her if they had a smaller bright orange Birken in stock. Guess what…..she did and I was on my way to make the trade. (see below photo) I also had a Patek Phillip watch that was just sitting in my safe never being worn. I took it to Rob and to my surprise I came out with my new orange Birken bag and a nice check in my hands!! Wha hoo…….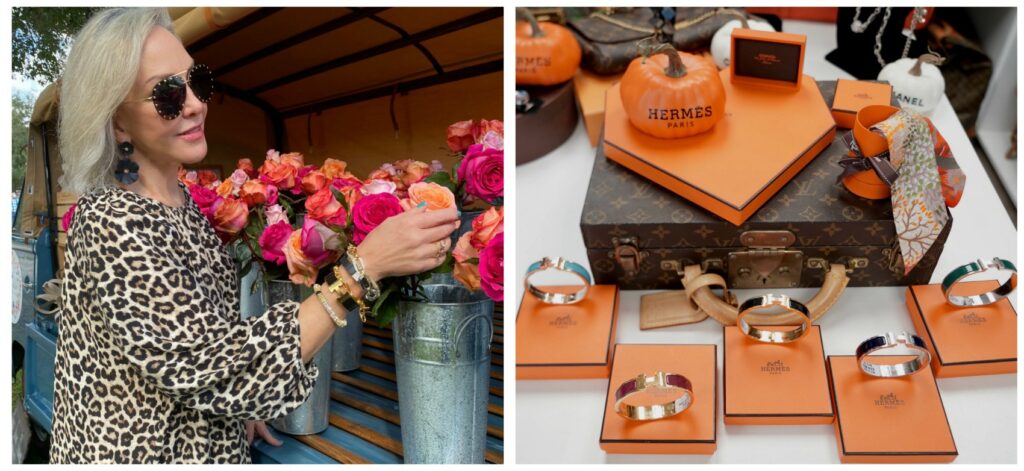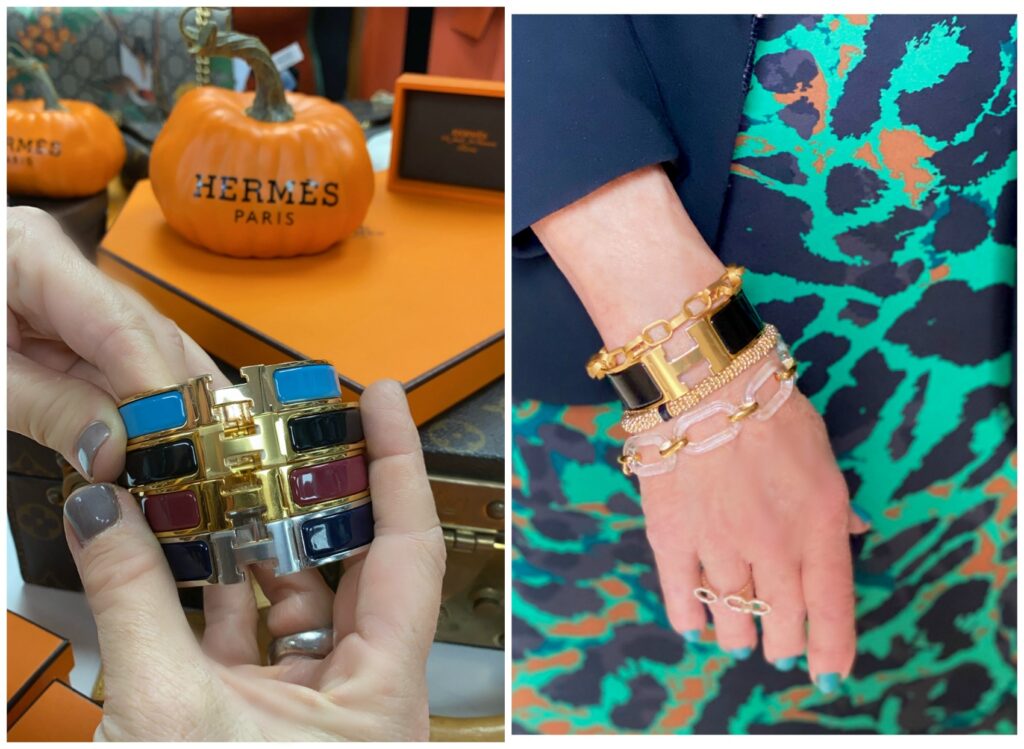 About Vintage Contessa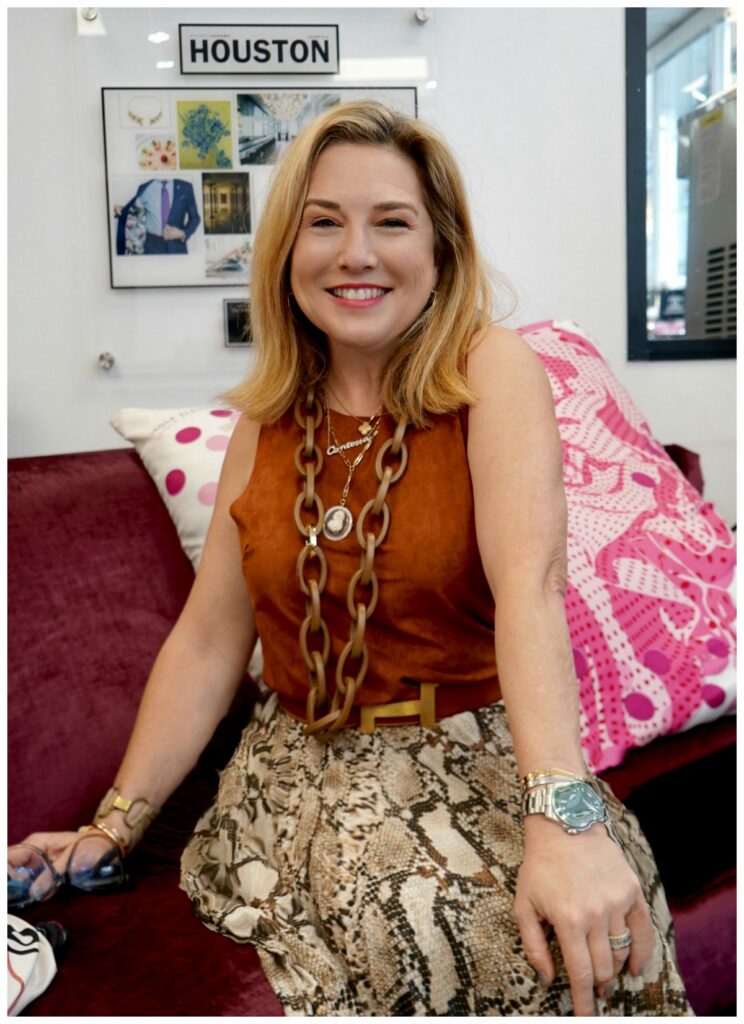 Donae Cangelosi Chramosta, co-owner of Vintage Contessa & Times Past, is a published writer, award-winning businesswoman, style-setter, podcast co-host. Donae is also mother to River Oaks Baptist 8th grader Bella, business partner, and wife to Rob Chramosta. I have loved getting to know this beauty over the last several years. She is the real deal!! Just take a look at all of the recognition she has received.
FEATURED
Woman of Distinction for Crohn's & Colitis
Woman of Substance for Mission of Yahweh,
HBJ Women Who Mean Business,
Heroes For Children Allie & Taylor Award,
Crime Stoppers Safe School Award,
Fashion X Style Setter,
Art Institute Commencement Speaker,
Most Stylish People by Houston Chronicle,
Children at Risk Hero of the Month,
Houston Press 100 Most Creative in Houston,
Aggie 100.
USGBC LEED AP
Living the Authentic Life Podcast
With a passion for fashion and lover of all things creative and vintage, her family and friends christened her as "The Vintage Contessa". After 70 episodes of her prior podcast, the Contessa and her husband/business partner decided to pivot by launching Living the Authentic Life Podcast. These podcasts feature accomplished stylish personalities who share their authentic journeys of commitment, connection, and purpose.
"Style is not just beautiful people, doing beautiful things in beautiful places. It includes their stories of commitment, connection, and conviction, as they live life authenticity." You should most definitely join The Contessa, aka Donae Cangelosi Chramosta for her live on Thursdays at 10 am on Facebook and available across all platforms. Additionally, she and her husband Rob connect through Instagram, Facebook, and Youtube sharing the unique stories that led them to answer the question, "How do I know it's real?"
Go here to see my live podcast with Donae. If you want to know more about me then just know that Donae knew just how to get me to share about my "authentic life."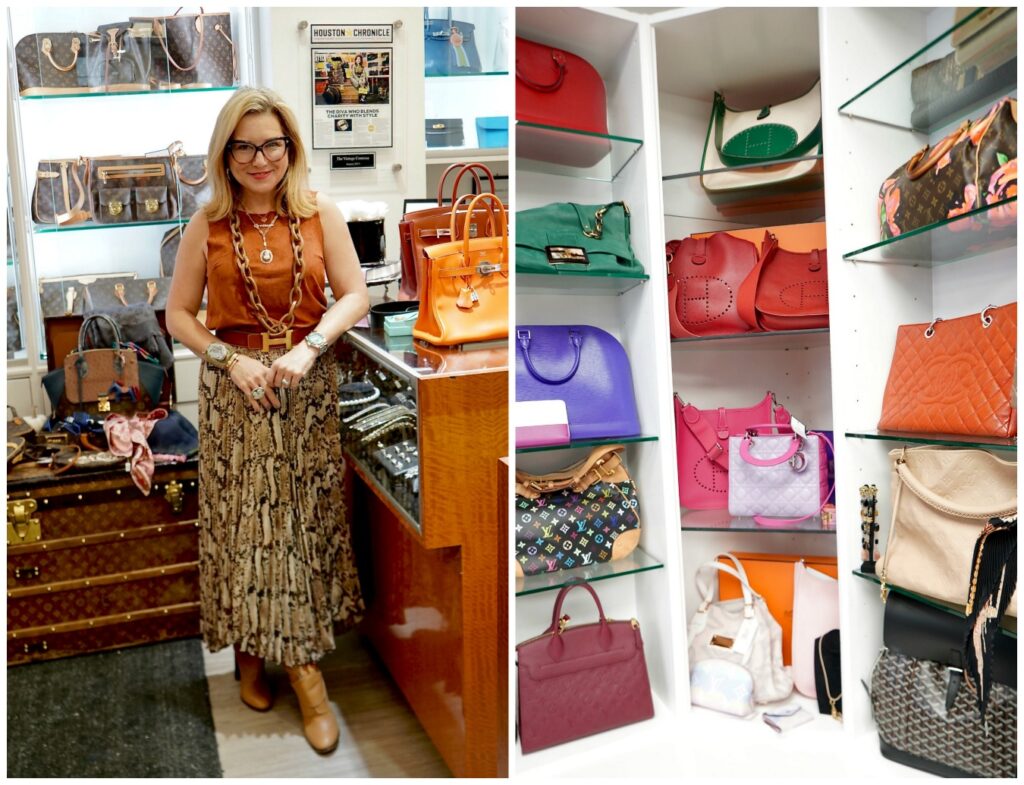 VINTAGE CONTESSA CHARITIES
Donae has been featured for her fashion, style, business savvy, and leadership in Houston, Vail, and New York. Donae and her then 6-year-old daughter Bella co-wrote and launched their children's book, "The Vintage Contessa & Princessa" donating a portion of the proceeds to pediatric cancer research. She is committed to co-chairing numerous fashionable charity events to make a difference in the health and safety of her community including:
Houston 20 to fight Sex Trafficking
St. Luke's Friends of Nursing
I-Write Bubbles & Bingo
Crime Stoppers Gala & Woman Who Shape Houston,
KnowAutism
Virtuosi of Houston High Tea with Sarah Duchess of York
Women's Home Triumph Luncheon
Risotto Festival for MSK Scarlett Fund -Citation of Merit
Children at Risk Gala
Couture Cause
Una Notte –Houston Area Women's Center
Vail Valley Foundation Youth Power 365, Magic Bus & Vail Dance Festival
U of H Table Talk Conversationalist
Boys & Girls Harbour
Style File by CultureMap
Little Black Dress Fashion Muse
25 Most Beautiful Houstonians by H Magazine
HLSR LAMB Auction Committee
Associated Catholic Charities Board of Director
CONTESSA~A WOMAN OF FAITH
A spiritual connection with family and faith is at the core of every step Donae takes in life. Growing up in a large Italian Irish Catholic family, she is deeply rooted in tradition, loyalty, respect, and a strong commitment to generations of her families' spiritual beliefs and values. If she isn't in her store in Houston, TX, you can find her traveling with her extended family in Beaver Creek, CO, Rockport, TX, or a ranch in Texas.
With a deep connection to her friends, a strong sense of adventure, and a passion for their family business, the Contessa looks forward to traveling with her husband, daughter, and closest friends back to her roots in Italy as soon as life allows.
IN CONCLUSION
If you live in Houston you can visit their showroom between 10 am and 5 pm 6222 Richmond, Suite 540, Houston, TX 77057. Due to COVID-19 guidelines please call first (713) 977-7296. You can also visit their website for more information. https://thevintagecontessa.com/ Tell Donae SheShe sent you!
What are you looking for? Do you have old jewelry, a watch, coins, gold, designer bags that you are not enjoying anymore, or are you looking for your first-time Chanel bag? I know, for one thing, I am headed back into my closet and jewelry box to see what else I can do without. Some more cash in my pocket would be great!!
This post is in partnership with The Vintage Contessa and Times Past
SHESHE'S TIDBITS
Did you have a fun Halloween? We did not participate this year and I am feeling kind of guilty but I do love to see the children. Next up Thanksgiving and we will be heading to Tennessee to visit my family. I expect that our get together might be a little different this year. What will yours be like? Crazy times we are living in….
WELCOME new readers. We are a fashion/travel/lifestyle blog. We talk about anything and everything, from fashion, travel, health issues to even an occasional recipe. Let us know if there is a topic that interests you. We will do our best to bring that story to you. Have a great week sweet friends and thank you for following along. Without you, we could not continue on this crazy fun journey.
Be sure to check out the ShopSheShe tab at the top in the menu bar. Hover over and choose the category in the dropdown. We try to keep it up to date with the latest and greatest for all budgets. Subscribe here and then you won't miss a post. Simply enter your email in the pop-up box or below. Also, download the LiketoKnow.It App, follow @shesheshow to shop all of our daily outfits, home, beauty, and more. Go here for our LiketoKnow.It tutorial.