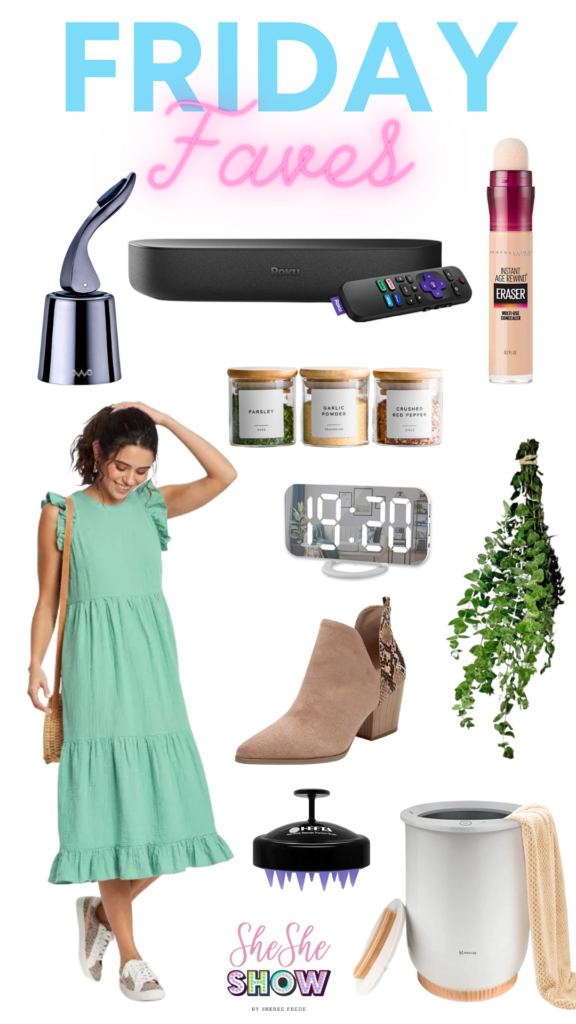 It's Friday and we are sharing all of our favorites from the week. You can find everything here from, home, lifestyle, fashion to beauty.
Friday 02|19|2021


Beauty


Hair Shampoo Brush – According to research, scalp massage increases hair thickness by stretching the cells of hair follicles. This, in turn, stimulates the follicles to produce thicker hair. It's also thought that a scalp massage may help dilate blood vessels beneath the skin, thereby encouraging hair growth. Not only this but you'll find after using a shampoo brush that your hair and scalp feel cleaner than ever!
Instant Age Rewind Eraser – America's #1 Concealer – Erase the look of dark circles, correct the appearance of redness and brighten the look of dull skin with Instant Age Rewind Eraser multi-use concealer. This is a staple and a go-to of mine! My makeup routine wouldn't be complete without it! This concealer gives me the perfect amount of coverage and it even has a sponge applicator already attached!
Home


Roku Streambar – Now we boast about Roku and this is the king of their products! Upgrade your TVs to 4k and have AMAZING sound with this Roku Sound Bar! Listen in awe as four internal speakers fill your room with clean, pure sound featuring Dolby Audio—calibrated for full, rich sound, you'll love how great your TV sounds at an incredible value.
Shower Eucalyptus – Fresh Eucalyptus Shower Bunch with a sleek stainless steel stick-on hanger for your shower or bath. Steam releases the aromas of this fresh eucalyptus to make showers more relaxing, enjoyable, and spa-like.
Luxury Bucket Towel Warmer – This towel warmer is a necessity! You can even put blankets in it! I love the warmer for my robes! Perfect for hopping out of the shower or a nice bubble bath. I think Mr. Norman needs one!
Spice Labels – Give your spices a contemporary and modern look while elevating your cooking experience with the Contemporary Collection of spice labels. Eliminate all of the visual clutter with the uniformity of these bestselling spice labels, giving you a calming effect every time you open your spice cabinet.
Digital Alarm Clock with Dual USB Charger Ports – This is sleek and so cool! Plug this clock in and you can also charge two devices off of it! Love it! This clock has to be one of my favorites of 2021!
Wine Preserver – Cannot finish that bottle of wine alone? Just insert the OWO wine stopper into the bottle and pull the handle down to seal the wine bottle airtight and finish at a later time! For under $10, you no longer have to let good wine go to waste!
Fashion


Cute Summer Maxi – This freshly dropped Target Maxi Dress is a must-have! Transition perfectly to spring\summer with this fab find! Check out how many other colors are available here!
Ankle Boots – Faux suede upper with animal print stitching to deliver fashion and durability. The pointed-toe design is always classic, simple, and timeless in style. Did I mention how perfect these boots are for transitioning into the warmer months?!
Friday Fave Shop

SHESHE'S FRIDAY TIDBITS
What a crazy week! We live in Houston and like many around the nation have been under siege by a big winter snowstorm. In the 40 years that I have lived in Texas, I don't remember experiencing anything like the extreme cold temperatures with snow that we have had this week. Texas power grid could not handle the demand because of many reasons so millions of Texans have had no power all week. Cold days and nights with businesses closed across the state. Now we are under a boil water advisory. We had so many broken pipes including my own and fortunately, we got right on it and our plumber made it by late today to fix ours. One more night of below-freezing temps then they start going up.
ABOUT SHESHE SHOW
WELCOME new readers. We are a fashion/travel/lifestyle blog. We talk about anything and everything, from fashion, travel, health issues, skincare tips, to even an occasional recipe. Let us know if there is a topic that interests you. We will do our best to bring that story to you. Have a great week sweet friends and thank you for following along. Without you, we could not continue on this crazy fun journey.
Be sure to check out the Shop SheShe tab at the top of the menu bar. Hover over and choose the category in the dropdown. We try to keep it up to date with the latest and greatest for all budgets. Subscribe here and then you won't miss a post. Simply enter your email in the pop-up box or below. Also, download the LiketoKnow.It App, follow @shesheshow to shop all of our daily outfits, home, beauty, and more. Go here for our LiketoKnow.It tutorial.