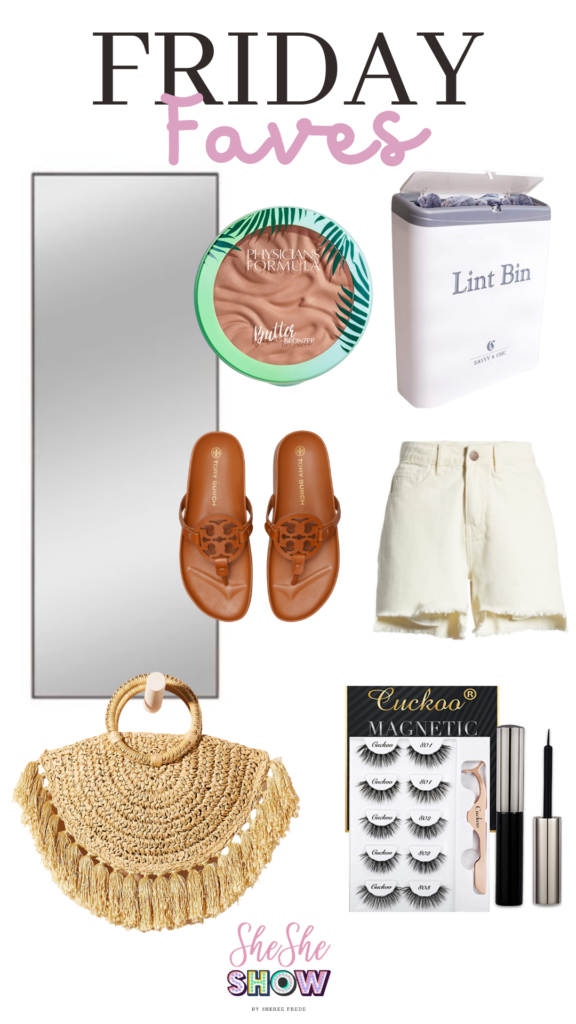 It's Friday and we are sharing all of our favorites from the week. You can find everything here from, home, lifestyle, fashion to beauty.

Friday 03|05|2021
Fashion

Marisol Straw Tote Bag – I am getting ready for a trip back out to Sanibel and I am feeling all of the beach and summer vibes, soo this straw bag really spoke to me! I love that while it may be a straw tote, the straw tassels really make it stand out.
Tory Burch Miller Cloud – I love the Miller sandals but I have a high arch, let's face it – I have a weird foot. So when I saw these I fell in love and knew I just had to have them! A new addition to the iconic collection. Comfort is considered in every detail: a molded footbed wrapped in the softest leather. A dual-density foam core for flexibility and optimal rebound. Our signature Double T — laser-cut with hand-painted edges — hugs the foot for a perfect fit.
Boyfriend Shorts – Frayed, staggered hems complete the well-loved look and feel of these nonstretch cutoffs with a comfy fit that feels like you stole them from his closet. These shorts cover the booty and hit that pretty part of the leg in the front like I like to say!
****When you buy Treasure & Bond, Nordstrom will donate 2.5% of net sales to organizations that work to empower youth.
Friday Home Finds

Affordable Floor Length Mirror – We had been on the prowl for a mirror for my office for quite some time. I wanted a large one but struggled to debate how much I wanted to spend and where it could fit. Finally, I found this mirror at Bed, Bath, and Beyond! It's modern, sleek, and AFFORDABLE. At only $106 I knew this was the one, and it is even prettier in person. You can lean it, hang it, or use the stand attached to it.
Lint Bin – Stay tuned for a laundry refresh and organizing blog which will feature this nifty bin! Perfect for lint and dryer sheets. Our laundry is always done in the laundry room and never leaves until it is ready to go to its designated spot. This lint bin comes in handy when it comes to disposing of lint and dryer sheets (or receipts, paper, etc., whatever I find in my husband's pockets)!
Beauty

Magnetic Lashes – So I am not one to spend hours on my face nor am I a master at applying false eyelashes. With that said I sought out these magnetic lashes that have been trending for some time now. I have zero regrets and love that these magnetic eyelashes are easy – apply the eyeliner and the lashes naturally gravitate to it! Super simple and super chic! These are under $20 for the pack of 5.
Murumuru Butter Bronzer – This bronzer by Physician's Formula is a MUST-HAVE. It may be drugstore makeup but it is not drugstore makeup quality. I would definitely say it is one of my top favorites and a go-to. Murumuru Butter Bronzer does not give that odd brown color, but instead a rich glowy bronze. Click here to get it and don't forget the coupon to save $2. Normally it is $15 and you can get it now for only $9.00.
Friday Shop

SHESHE'S TIDBITS
Is it already Friday? Dang, this week went by fast. I spent most of the weekend hammering out content trying to catch up. This weekend starts birthday celebrations. We had 4 birthdays this week plus mine on Monday. Dinner with family tomorrow night and then Monday night with friends after we get back to Sanibel. I am really looking forward to our time there.
As always we appreciate your comments. It is the only way to know if you are enjoying our content.
Have a GREAT weekend!!
ABOUT SHESHE SHOW
WELCOME new readers. We are a fashion/travel/lifestyle blog. We talk about anything and everything, from fashion, travel, health issues, skincare tips, to even an occasional recipe. Let us know if there is a topic that interests you. We will do our best to bring that story to you. Have a great week sweet friends and thank you for following along. Without you, we could not continue on this crazy fun journey.
Be sure to check out the Shop SheShe tab at the top of the menu bar. Hover over and choose the category in the dropdown. We try to keep it up to date with the latest and greatest for all budgets. Subscribe here and then you won't miss a post. Simply enter your email in the pop-up box or below. Also, download the LiketoKnow.It App, follow @shesheshow to shop all of our daily outfits, home, beauty, and more. Go here for our LiketoKnow.It tutorial.