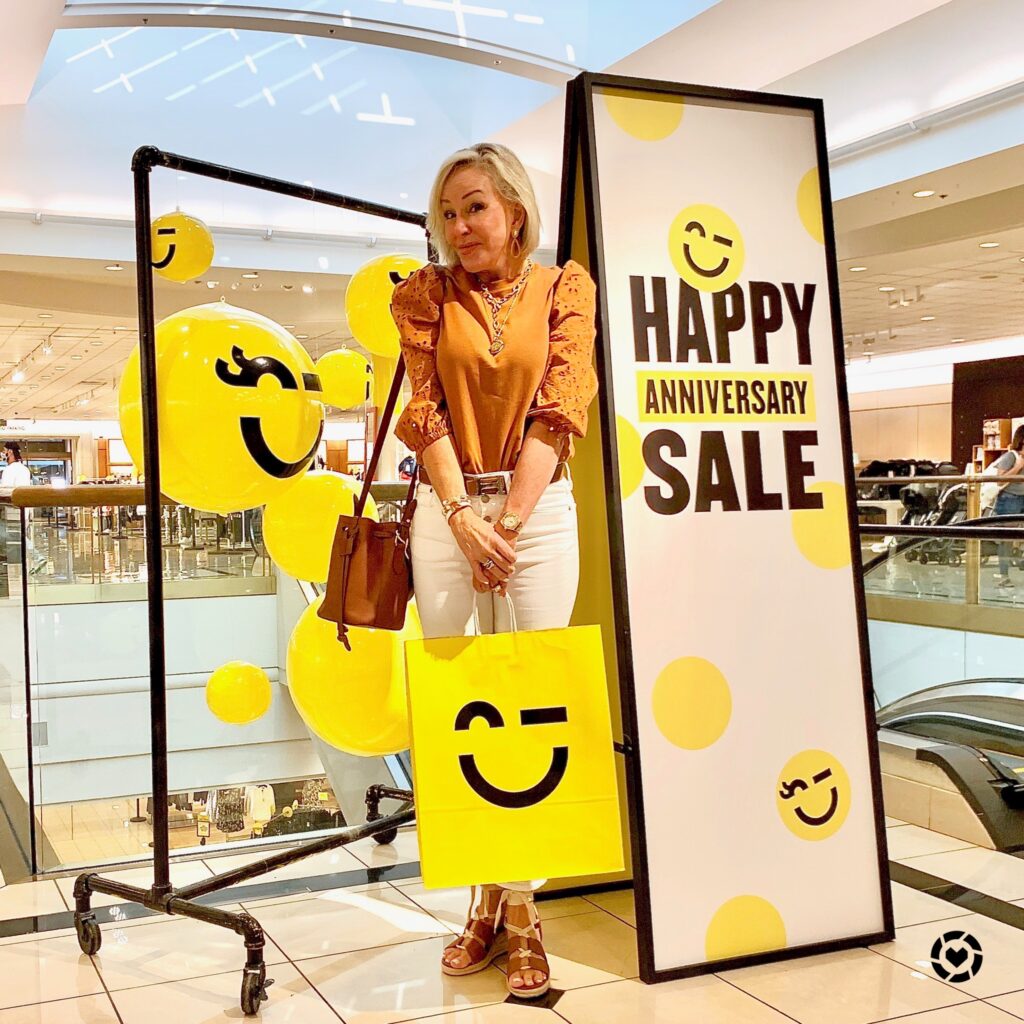 The N Sale preview is live! That means we are hunting out the best deals for you all and have the best strategies for a better shopping experience. The best deal for me is finding those great investment pieces that will be worn year after year.
How to shop at Nordstrom (and why)
If you are not a regular Nordstrom shopper, you may be under the impression that it doesn't work if you're on a budget. Or everything is overpriced. Maybe even "Why in the world would I shop there when I can get the knock-off or something similar at Amazon for half the price?"
Don't get me wrong, I love budget shopping and a good deal, but the majority of my closet are quality pieces from Nordstrom that have held their quality and wash and wear well. I have also found that quality pieces fit and feel better and the material is everlasting when cared for properly.
By shopping strategically at Nordstrom and spending a few extra dollars for quality, you could end up spending less and love your closet even more than if you shopped clearance or for cheaper pieces that will not last the season and much less, years to come.
Before you quit reading because that cute pleather jacket under $50 is on your mind, take in a few of these reasons to invest in your wardrobe. Most of us would agree that quality almost always beats bottom-of-the-barrel prices or sheer quantity. I would much rather have 4 great tops that seem as if they were made for me – than to have 20 tops that are poor quality and will need to be thrown out after a few wears.
The N Sale Investments
When I think about investment pieces I think about leather goods, premium denim, greats boots, handbags that always are on-trend, etc. Things that I can wear over and over. Also, think about the basics! This is a great time to get those basics to build your wardrobe and seasonal capsule.
Leathers


A great leather jacket is a must in my book! Leather jackets are great for fall/winter and using them as a layering piece will help you transition from summer to fall and fall to winter. In my lifetime I have never seen leather jackets go out of style. In fact last year, our leather jacket picks from the N Sale were our top sellers! Click here to see all of their leather jackets!
N Sale Handbags


Speaking of leather, leather totes are always a must-have and worth the investment. These bags make great for travel, running errands, the gym, just about any occasion! Also, there are tons of great designer handbags that are on major sale! I think now is a great time to invest in these pieces.
Boots + Booties


Generally speaking a great boot or bootie trends every year. They are a necessity for every girls' closet. I am still trying to figure out if the typical knee boot will be popular this year or not? If yes, this is my pick for tall boots! What do you predict? I for sure know that the combat boot and chunky boots will be trending this year following that 90's nostalgia that has been 2021.
Premium Denim


Finding premium denim on a great sale is a no-brainer for me. Cheap denim is only good for so many washes and wears. Let's be honest here, luxury denim fits WAY nicer, looks better, and feels like its value. Budget-friendly denim is good for those trendy pieces that most likely will not be a thing year after year. So your best bet when splurging on denim is those jeans and jackets that you will use over and over again. I suggest a good skinny, bootcut, flare, crop and, maybe even a distressed jean is always a good choice.
Nordstrom Shopping Tips
N Sale Investment Shop

SHESHE'S TIDBITS
We are in Tennessee on Tellico Lake visiting my sisters for the 4th of July. I have sort of learned how to wake surf, paddleboard, and kayak. My body is in total shock!!! I will say though that I haven't missed a meal, so it's a good thing I am burning a lot of calories. Today will be another fun-filled day on the water. I feel like we are at some kind of recreational spa in the mountains. Thank you Lord for this blessing of relaxation with my family that I haven't seen in almost 2 years. Hope you all are having a blessed weekend on this special holiday.
Have a wonderful weekend, sweet friends!
ABOUT SHESHE SHOW
WELCOME new readers. We are a fashion/travel/lifestyle blog. We talk about anything and everything, from fashion, travel, health issues, skincare tips, to even an occasional recipe. Let us know if there is a topic that interests you. We will do our best to bring that story to you. Have a great week sweet friends and thank you for following along. Without you, we could not continue on this crazy fun journey.
Be sure to check out the Shop SheShe tab at the top of the menu bar. Hover over and choose the category in the dropdown. We try to keep it up to date with the latest and greatest for all budgets. Subscribe here and then you won't miss a post. Simply enter your email in the pop-up box or below. Also, download the LiketoKnow.It App, follow @shesheshow to shop all of our daily outfits, home, beauty, and more. Go here for our LiketoKnow.It tutorial.