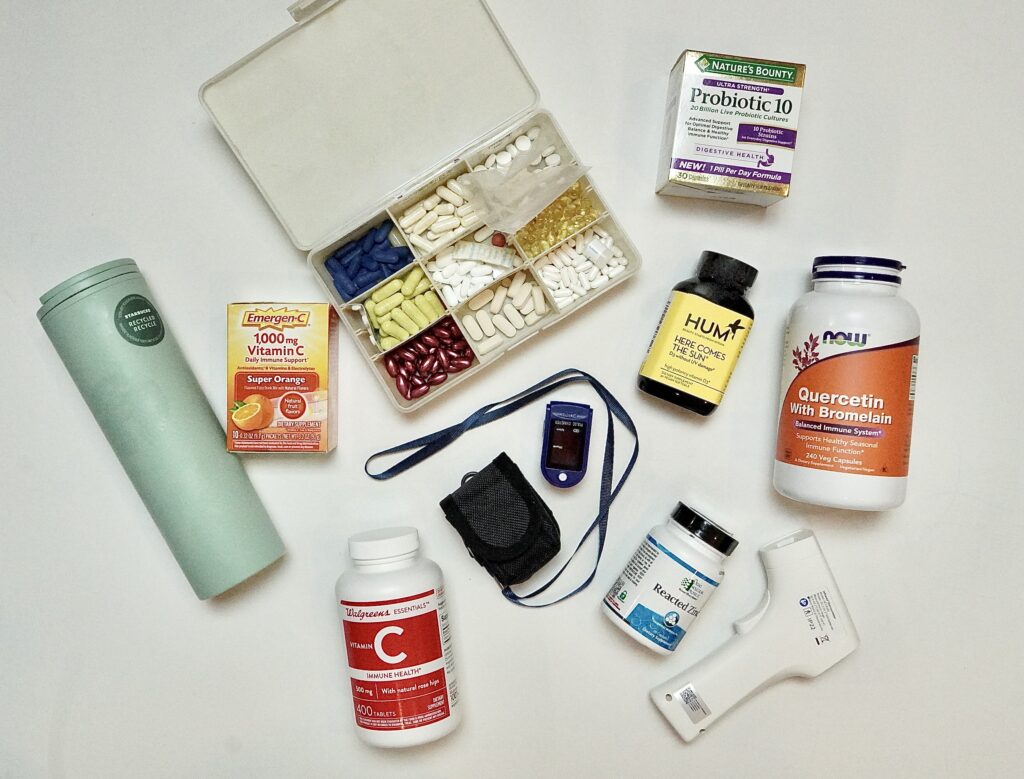 Supplements do help our immune systems. The life we once knew has changed dramatically due to a very dangerous and contagious virus called COVID-19. Since it invaded our world we are on our third variant. That being said, keeping up with the best things we can do to protect ourselves is constantly changing but there is a cocktail of supplements that can help boost our immune systems that are constant.
ESSENTIAL SUPPLEMENTS
I am certainly not a doctor or not even a nurse but since the early stages of COVID, we have been advised over and over to take a cocktail of supplements every day as well as drink a lot of water. Even if you come down with one of the Coronoa viruses, taking these supplements can reduce the symptoms.
Reacted Zinc
I know you are wondering what is the difference in Zinc and Reacted Zinc. Here is what I found from www.orthomolecularproducts.com (Reacted Zinc is formulated with the superior amino acid chelate form, zinc bisglycinate, which does not ionize in the gut and therefore is not impacted by dietary factors and is absorbed at a higher rate than those formulated with zinc salt forms.) Refer to the directions for the amount to take.

Vitamin D 3
I call these suppplements sun in a bottle but without the bad UV rays. We need this every day in our lives, expescially if you don't spend much time outside.

Probiotics
I have been taking Probiotics for many years. Check out this site www.ushealthreport.org It explains all about these supplements.
Probiotics are "good" bacteria that:
Supports healthy gut function and digestive health†
Supports healthy immune system function and a healthy GI tract†
Supports normal microflora in the gut and normal digestion†

Quercetin With Bromelain
I have a friend who is a health-nut girl and she recommended this supplement. We just now started taking it after hearing more of the benefits that it offers when it comes to several illnesses, especially lung diseas.
www.Healthline.com says Quercetin is a plant flavonoid and has potent antioxidant and anti-inflammatory properties. In a preclinical model of chronic obstructive pulmonary disease (COPD), quercetin reduced markers of both oxidative stress and lung inflammation and also reduced rhinovirus-induced progression of lung disease.

Emergen-C | Vitamin C | Airborne
I have also taken Vitamin C every day for at least 45 years and I do believe I have avoided many viruses because I have that added layer of protection. This vitamin flushes out of your system fast so you can take it several times a day when you are feeling like you have something coming on.

Medical Devices
THERMOMETER
Every household should have a thermometer!! The old fashion ones that I used under my tongue back in the day are fine but now you can buy a digital one for less than $15. Put it to your forehead and click. Voila…..you can read your body temp instantly!!

OXIMETER
Do you know what an oximeter is. It is another great little enexpensive device that you can use to monitor your oxygenation. It reads your level of oxygen in your lungs.
An SpO2 of 100% has effectively zero clinical difference to a 96% reading. As a good rule of thumb, a person with COVID-19 monitoring his or her clinical status at home will want to ensure that the SpO2 reading stays consistently at or above 90 to 92%.
I hope this information helps. I used it last week

HYDRATION
Of course, we all know the benefits of drinking a lot of water. Basically 8 16oz. of water a day but that could be more or less depending on your weight and height. Did you know that many elderly people die of dehydration. It can cause all kinds of problems. I carry a tumbler filled with purified water wherever I go. I get panicked if I leave my house without my water bottle. Let's all pledge to drink our water!!

SHESHE'S TIDBITS
Hello Friends, We are @shesheshow on all social media platforms, a Fashion/Travel/Beauty/Health & Wellness/Lifestyle influencer for all ages but specifically for the mid-life woman. This year we are trying something new. As I have been spending most of my time on Instagram for the last 8 years, this year I want to give Facebook a hard run. That being said we would love for you to join us for a weekly Live Facebook show called SSN, SheShe's Shopping Network. Click here to join our group ––> https://www.facebook.com/groups/shesshesshoppingnetwork
We will host our first Live tonight, Tuesday Jan. 4thh at 8 PM CT. It will be fun and informative. We hope to see you there! And of course, if you haven't liked our SheSheShow page, then we would love to meet you there as well.
We will host our first Live Tuesday, Jan. 4th at 8 PM CT. It will be fun and informative.
We hope to see you there!
And of course, if you haven't liked our SheSheShow page, then we would love to meet you there as well. Go to https://www.facebook.com/SheSheShow/
ABOUT SHESHE SHOW
WELCOME new readers. We are a fashion/travel/lifestyle blog. We talk about anything and everything, from fashion, travel, health issues, skincare tips, to even an occasional recipe. Let us know if there is a topic that interests you. We will do our best to bring that story to you. Have a great week sweet friends and thank you for following along. Without you, we could not continue on this crazy fun journey.
Be sure to check out the Shop SheShe tab at the top of the menu bar. Hover over and choose the category in the dropdown. We try to keep it up to date with the latest and greatest for all budgets. Subscribe here and then you won't miss a post. Simply enter your email in the pop-up box or below. Also, download the LiketoKnow.It App, follow @shesheshow to shop all of our daily outfits, home, beauty, and more. Go here for our LiketoKnow.It tutorial.