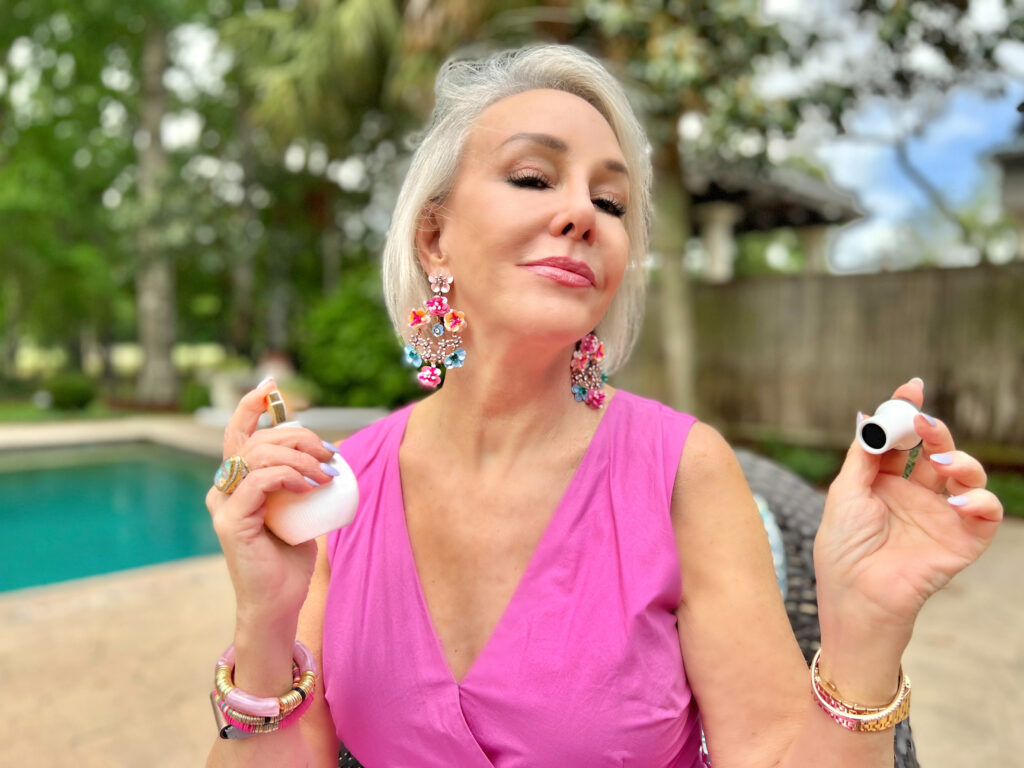 I have recently discovered luxury scents bottled with intricacy and the finest of natural ingredients. The Harmonist is the first-ever perfume line to translate the science of Feng Shui into the language of modern fragrances with a mission of empowering clients to restore physical, mental, and emotional balance. Today I am sharing with you my newfound love – The Harmonist.
About The Harmonist
Lola Tillyaeva
Lola Tillyaeva is the founder of The Harmonist. Merging the art of haute perfumerie with the tradition and philosophy of Feng Shui, Lola Tillyaeva (Till) launched The Harmonist in 2016 as an expression of a desire to render balance and harmony through the power of scent. Committed to a life-long quest to understand the mysteries and wonders animating life's fundamental questions, Lola envisioned a unique fragrance house founded on the wisdom of Feng Shui, translating its principles into perfumery. Articulating a recognition that each individual possesses his/her own distinct birth element, Lola imagined The Harmonist as a vehicle to offer clients an enhanced and personalized experience in finding balance and well-being through our unique collection. With a mission of empowering clients to strengthen their self-knowledge and well-being, Lola has emerged as a singular voice within the wellness and beauty space, continually lending new purpose and possibility to the art of perfume.
The Discovery Set allows you to experience all ten fragrances in The Element Collection and discover your favorites from The Harmonist. As part of this exploration, you're encouraged to layer the scents, created to blend harmoniously and help the wearer find the perfect balance.
The Discovery Set includes a sample size of the following products:
Hypnotizing Fire Parfum 1.5ml
Magnetic Wood Parfum 1.5ml
Guiding Water Parfum 1.5ml
Metal Flower Parfum 1.5ml
Royal Earth EDP 1.5ml
Velvet Fire Parfum 1.5ml
Golden Wood Parfum 1.5ml
Sacred Water Parfum 1.5ml
Matrix Metal Parfum 1.5ml
Desired Earth Parfum 1.5ml
Each Scent
Yang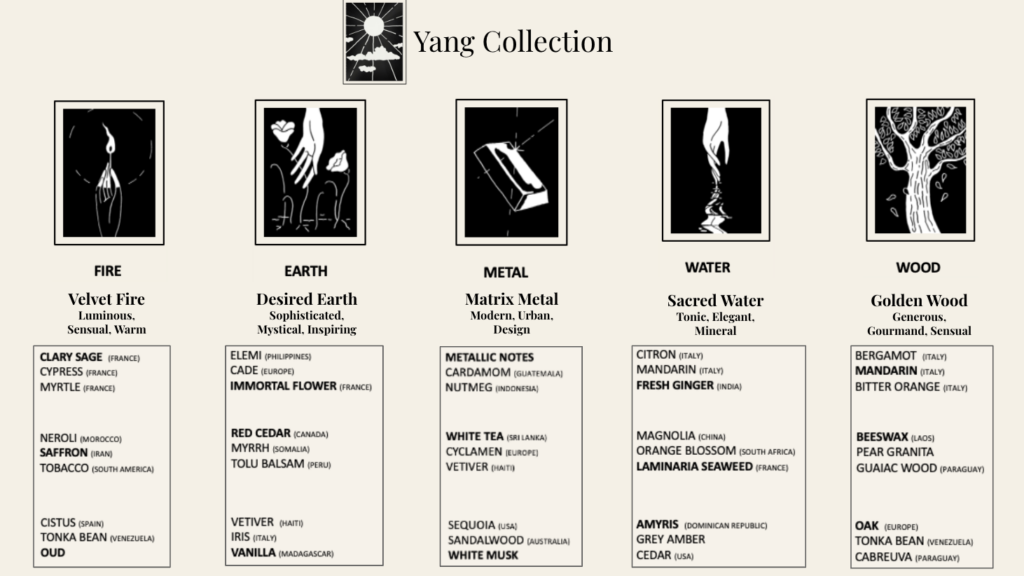 Velvet Fire: A blazing fragrance that evokes the reflection of the sun on the earth. Velvet Fire is romance in a bottle. Do any of you relate smells to textures? I do, and this scent is just like its name. Velvet Fire reminds me of the most luxurious velvets.
Desired Earth: An inspiring fragrance that evokes feelings of climbing the most striking mountain range. This was my favorite – the deep, rich notes of myrrh and the hint of vanilla that follows, are so rich and luxurious. One thing to note about The Harmonist's scents is that they are not simply one smell in a bottle. Each scent has many scents to it.
Matrix Metal: A modern fragrance that offers a hot-cold accord with metallic and creamy freshness.
Sacred Water: An invigorating fragrance that evokes the immensity and tranquility of the ocean. Sacred Water is for sure a wake-up smell! This scent is so invorgrating and my first sniff – I was excited!
Golden Wood: A nourishing fragrance that evokes the centuries-old tree. This smell was very clean yet sensual. I like to wear different scents depending on the time and place. This is one I would definitely wear in the morning.
Yin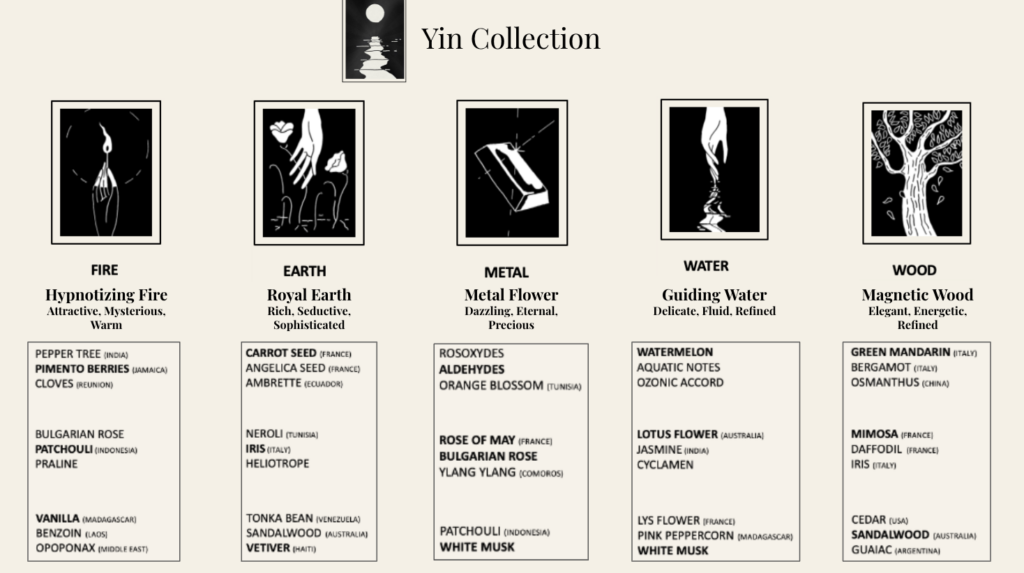 Hypnotizing Fire: A captivating fragrance that evokes the mystery and the sensuality of a flame. This scent is feminine and flirty. The notes of Pepper Tree and Patchouli add mystery and warmth while the Bulgarian Rose and Praline add a feminine touch of sweetness.
Royal Earth: A seductive fragrance that evokes the richness of fertile and nourishing soil. When I first smelled Royal Earth, I felt empowered and strong. This scent has a very nonchalant power to it. If you are one who likes rich scents but is afraid of bolder scents, this one is perfect to express sophistication and beauty.
Metal Flower: A precious fragrance that evokes a refined and dazzling rose like a perfumed jewel. Aaah, Metal Flower – is everything you think it would be. Fresh, floral, and feminine with a slight musk from the White Musk. With it being the White Musk, it is not a very heavy scent. Very dainty and soft.
Guiding Water: A subtle fragrance that evokes the morning dew. Guiding Water reminds me of spring-blooming and summer picnics! The sweet watermelon and jasmine awaken my senses to brighter days and the Pink Peppercorn reminds me of summer's most romantic sunsets.
Magnetic Wood: An optimistic fragrance that evokes the renewal of nature, the force of life. Magnetic Wood is one of the freshest scents I have found by The Harmonist. The Green Mandarin, Daffodil, and Iris give off the scent of cleanliness and freshness. The Sandlewood and Bergamot add a sense of elegance! Fresh and elegant, are two of my favorite things!
I encourage you to try layering your favorite scents for a new, custom experience. With that being said, there was one scent in particular that I instantly connected with. Desired Earth. This scent is everything I love in a fragrance – romantic, empowering, flirty, rich, and sophisticated. The first thing I could smell was the Red Cedar and Myrrh followed by Veltiver and Immortal Flower making a fresh and feminine yet powerful and assertive scent.
Luxury Made for You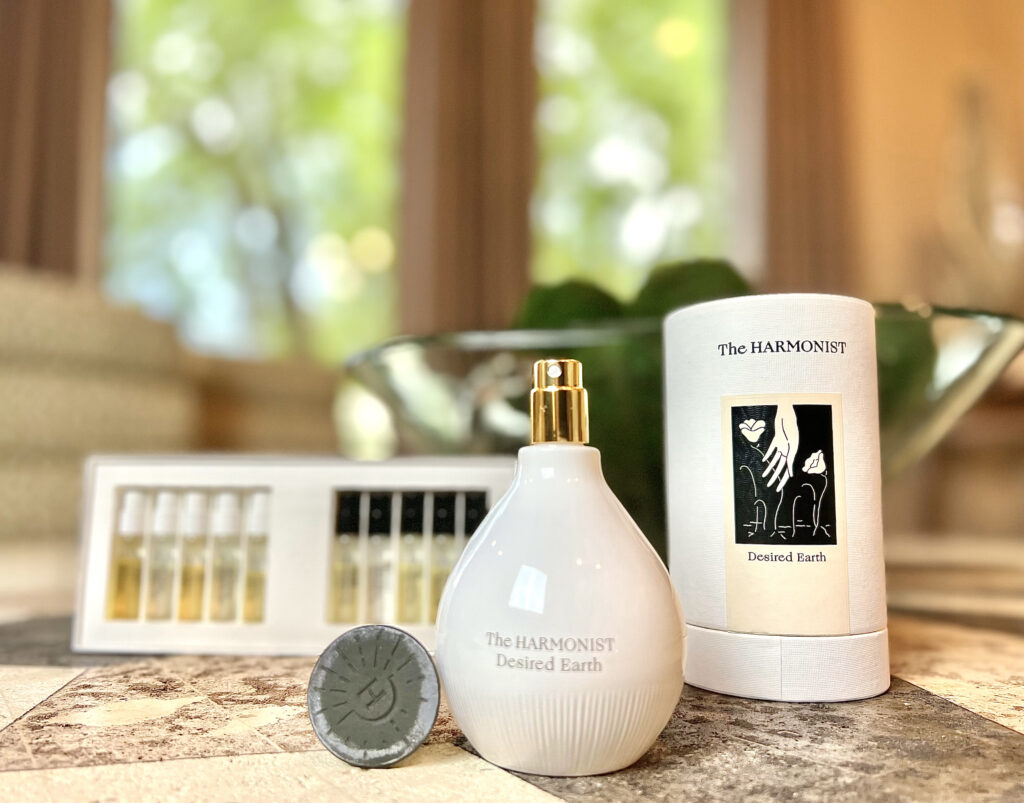 The Harmonist has brought luxury and individuality into my life through the simplicity of such intricate fragrances. My senses have been heightened and awakened and continue to be daily with the ease of a spritz. This perfume is not just any kind, it's out of this world and has a much higher concentration of world retrieved ingredients making my scent last much longer than my usual fragrances. The Harmonist is definitely a head-turner as noses follow! The Harmonist is not only available online but also available at Neiman's, Bergdorf's, Bloomingdales, etc with a standalone flagship in Paris! I'm headed overseas soon and maybe I'll stop by!