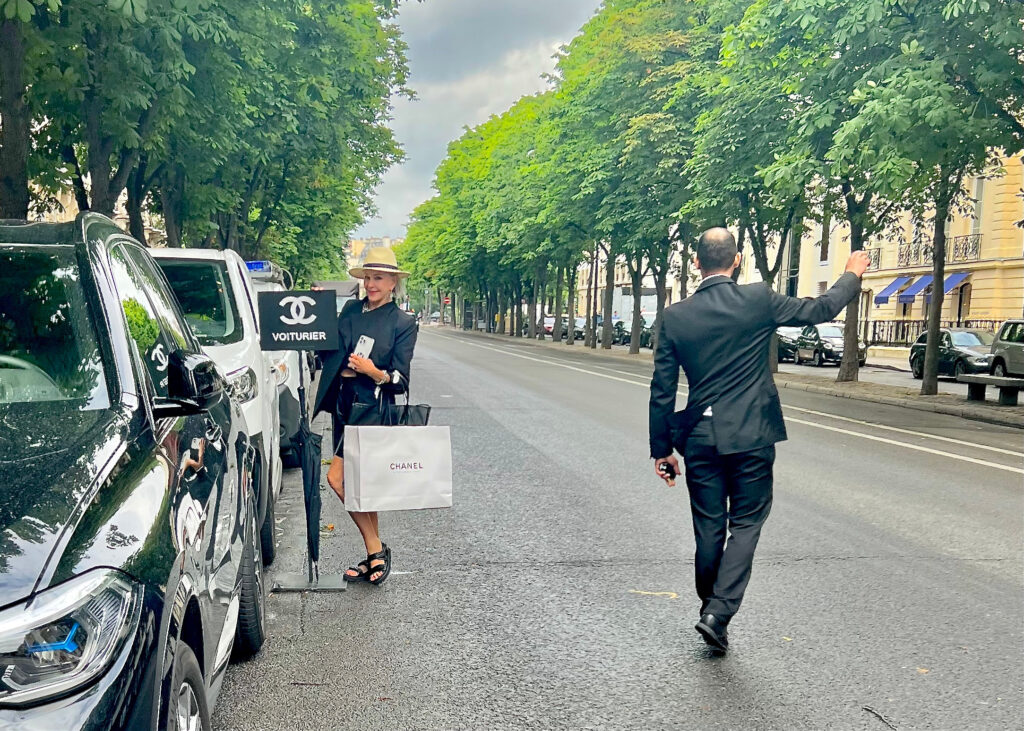 Paris has so many beautiful and historical things to see and do, but let's be real…I go to SHOP! Luxury shopping in Paris is not as easy as it may seem! You do not just walk into a store and get that Birkin bag you've dreamed up…there's a process. So today we are sharing some tips and ways to Luxury shop in Paris!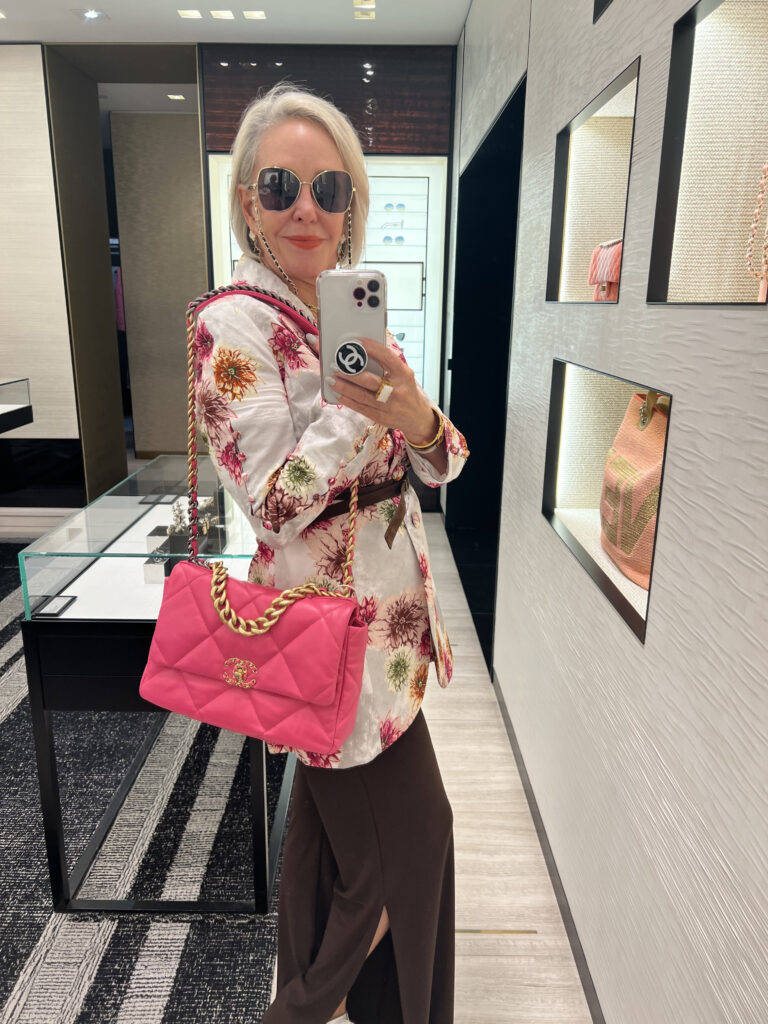 Shop My Look

TIPS + INFO
STORES OPENING HOURS IN PARIS
Most stores are open from Monday to Saturday from 10 AM to 8 PM. Some close at 7 PM or for an hour during lunch. On Sundays, most of the stores in the Le Marais and Champs Elysées neighborhoods will remain open.
This is something of a small revolution in France. Stores were required by law to close on Sundays until very recently, so expect most stores in other neighborhoods to remain closed.
For the most flexible shopping, head to the Galeries Lafayette department store. This shopper's paradise is open until 8 PM, seven days a week.
TAX REFUND IN PARIS (VAT)
If you're not a resident of one of the European Union nations when traveling and shopping in France you can claim a tax refund of 12% if your purchases exceed 100€. The tax refund can be done at the airport, before leaving the EU using a PABLO affiliate machine.
Keep in mind, that there are often long lines for the refund machines at the airport, so expect to wait, and there is no customer service available. When you are at the airport, customs may expect you to show your purchases to match the receipt. So try to have that ready to save you time and make the process go along faster.
There is only one store in Paris that offers immediate cashback of VAT – the Galeries Lafayette department store. The seamless process is much easier than getting your refund at the airport since you'll get cashback immediately (more shopping, ladies?) and the friendly staff speaks multiple languages.
You just need the receipt of your purchase and your passport, the cashback is only available on the day of your purchase and does not apply to Lafayette Gourmet and Louis Vuitton.
Tip: download the app Lineberty and save time in the detaxe line.
EXCHANGE POLICIES
The exchange policy in Paris is probably similar to the stores you shop at every day. Most purchases can be exchanged or refunded within 3 weeks or 1 month.
If you are unsure of the store's return policy, check your receipt. You will generally find those details there. If you don't speak French, ask the staff at the store or at your hotel to explain.
Keeping your receipt is a MUST in France! No receipt often means no refund and the French really are a stickler for this rule. Clothing must be in perfect condition in order to return or exchange items. In France, they are not as lenient as US stores.
PACKAGING
To save space in your luggage be sure to send your boxes and everything that comes with your purchase back home. Yes, it may cost you, but your item holds lots of resale value if you have everything that came with your purchase.
Public Transportation
The nearest metros are Pont de l'Alma and Champs Elysees. I like to suggest booking a car for the day if you are going to be doing some major shopping. On my big shopping days, I like to get a car for the day and that gives me immediate access to my ride. Also, it is a great place to keep your purchases safe while you continue about your day splurging!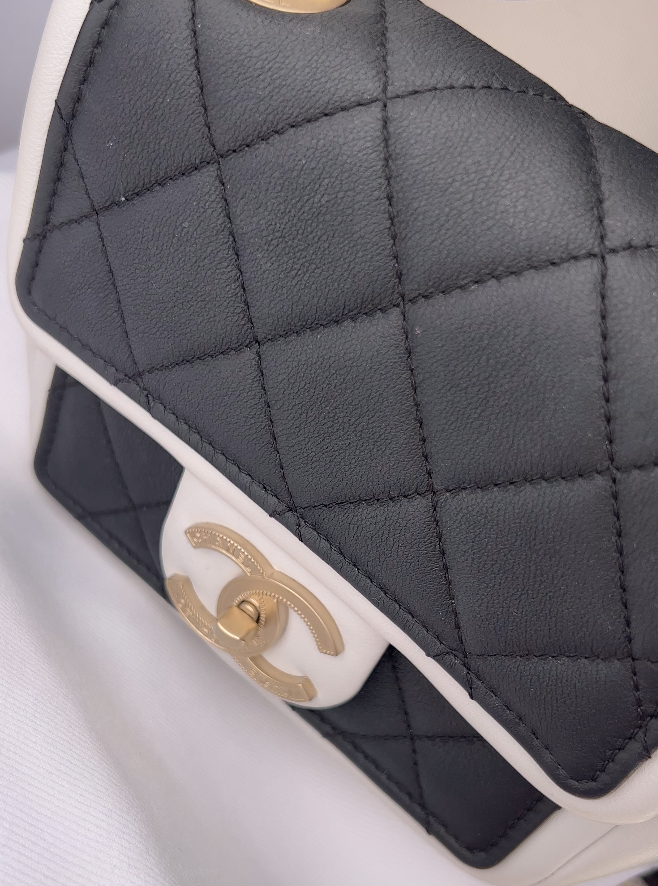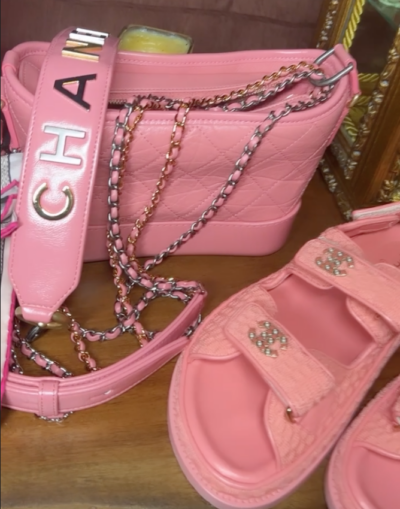 WHERE TO SHOP
TRIANGLE D'OR
Shopping in the Triangle d'Or in Paris, you will find so many flagship stores on this street that you will be overwhelmed with the Paris shopping possibilities: Dior, Chanel, Louis Vuitton, Ferragamo, Dolce e Gabbana, Max Mara, Christian LaCroix, Valentino, Prada, Ungaro, Joseph, Bonpoint, Jean Louis Scherrer, Gucci, Pucci, Loewe, Krizia, Bulgari, Calvin Klein, Nina Ricci, Ynes de la Fressange, Donna Karan, Celine and so much more.
GEORGE V
Just around the corner, on Avenue George V, you can shop at Louis Vuitton, Hermes, Gianfranco Ferré, Givenchy, and Kenzo. Rue Francois 1er intersects George V and Ave. Montaigne in Paris, forming the shopping triangle. Here you can find Rochas, Courreges, and Balmain on this exquisite street.
CHAMPS ELYSEES
Carry on to Champs Elysees in Paris to shop at trendy Zara and one of every girl's favorite beauty stops at Sephora's flagship store. You will be passing the newly remodeled Louis Vuitton flagship store and won't be able to resist all of the arm candy and even their beautiful luggage. One thing to note about Zara is that it is unlike usual American stores. Yes, Zara has always been super trendy and a hit – wait until you see it in Paris.
Rue Saint-Honoré
On Rue Saint-Honoré you'll find a host of flagship stores from various luxury brands on Rue Saint-Honoré. Labels like Balenciaga, Givenchy, and Yves Saint-Laurent can all be found on this street. Maison Chanel is the birthplace of Chanel as we know it today. The building comprises several floors that include a boutique, a large gallery room that was used for fashion shows and fittings, the famous mirrored staircase that led to Coco's private apartment, and her work studio and office which are still used today. Their flagship stores are a marvel to behold with each one trying to be the very best on the block. The companies hire special designers to create their impressive storefronts which must reflect both the personality and status of the brand in question. Even if you're not planning on picking up a new wardrobe, it's worth visiting Rue Saint-Honoré for window shopping alone
TIPS + TRICKS FOR LUXURY SHOPPING
While we have mentioned lots of sought-after brands and designers, it's not so simple to get into all of these stores. Specifically, Hermes. If you are wanting to shop designers, prepare for long lines, wrapped around the building. As most places open at 10 AM I do suggest getting in line as early as 8/8:30 AM. Louis Vuitton is one to note that ALWAYS has a line, with shoppers arriving hours before the store opens.
Hermès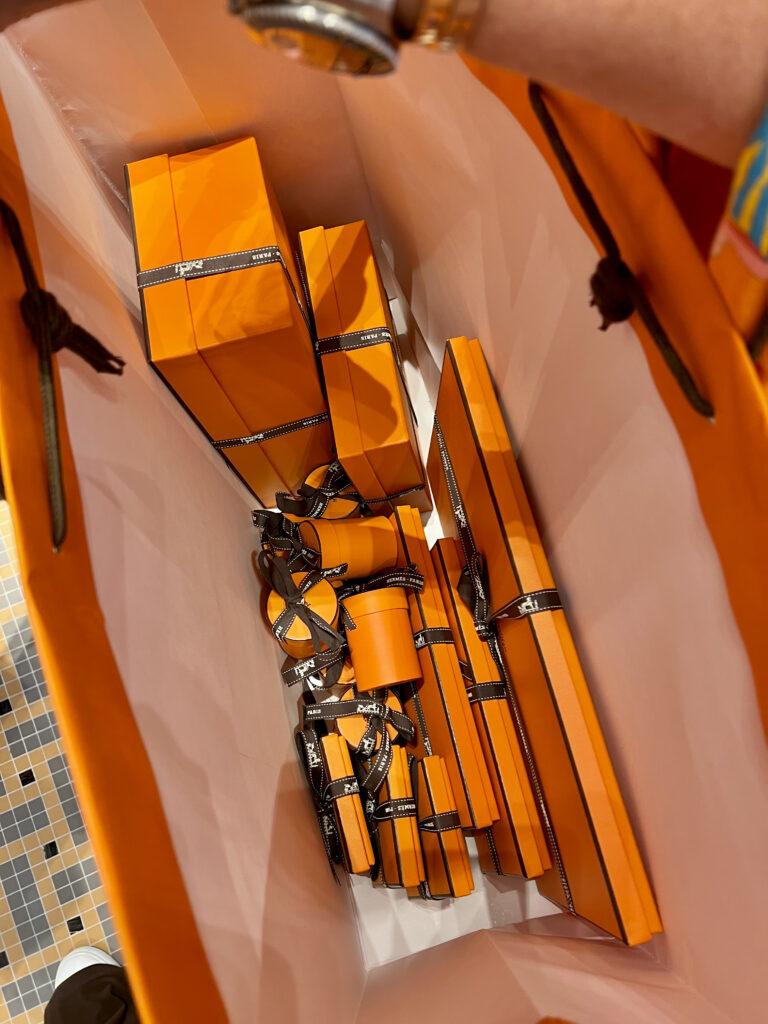 Luxury shopping is all about perception and the experience and Hermes has it down. Out of all of the designers, Hermes has it all covered. Getting that dream Birkin or Kelly bag. You MUST make an appointment. The day before you want to go to the Hermes store, go to their website on your smartphone and request an appointment. Be prepared to enter your name, phone number, and passport information. You can only book an appointment between 10:30 AM and 6:30 PM on your smartphone. There is no guarantee that you will get your dream bag either, so make sure you have plenty of ideas of what you would like.
THE VINTAGE CONTESSA + TIMES PAST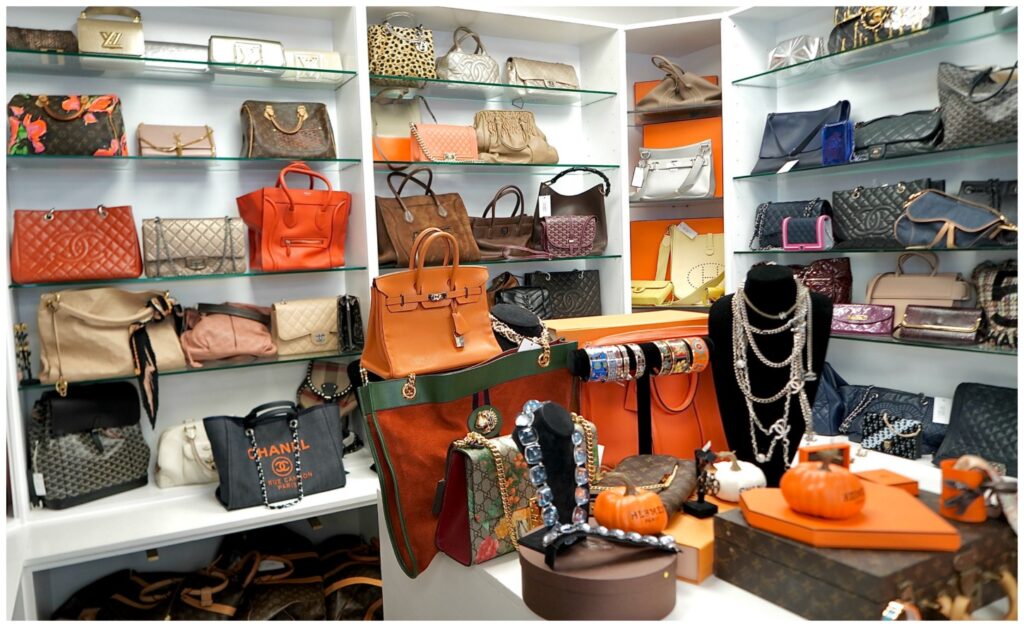 The Vintage Contessa is my go-to when I cannot get to Paris, looking for the bag I'm eyeballing, or maybe just in the mood to treat myself! If there was a bag overseas that you could not snag…I HIGHLY suggest reaching out to The Vintage Contessa!
An internationally recognized showroom based in Houston is a one-stop, family-run shop for high-end vintage and estate pieces. Dynamic husband and wife duo, Rob and Donae Cangelosi Chramosta travel the world sourcing the finest estate jewelry, luxury watches, designer handbags, and accessories, GIA certified diamonds, rare coins, gold, silver, and antiquities that appeal to collectors around the globe.
This dynamic team has built its international reputation utilizing its buying expertise, value, honesty, and integrity. They scour the globe in the quest to purchase the finest curated collection of authentic, timeless, luxury pieces (I must say, they do find the finest). Each item they sell has been purchased personally and/or vetted by their team, rather than offering products on a consignment model like many other sites. They offer a 100% authenticity promise.
Throughout the year, the team travels around the world to source the most beautiful items, all of which are 100% authentic with an authenticity promise. This makes The Vintage Contessa & Times Past the ideal destination for first-time luxury buyers and collectors alike.
SHESHE'S TIDBITS
Team SheShe did start our new Facebook group page called SheShe's Shopping Network. We would love for you to join the group and join us every Tuesday night for our Live segment all about shopping trends style tips and more. It is so much fun!!
We hope to see you there!! Here is the link to join
https://www.facebook.com/groups/shesshesshoppingnetwork
Have a wonderful day sweet friends!
ABOUT SHESHE SHOW
WELCOME new readers. We are a fashion/travel/lifestyle blog. We talk about anything and everything, from fashion, travel, health issues, skincare tips, to even an occasional recipe. Let us know if there is a topic that interests you. We will do our best to bring that story to you. Have a great week sweet friends and thank you for following along. Without you, we could not continue on this crazy fun journey.
Be sure to check out the Shop SheShe tab at the top of the menu bar. Hover over and choose the category in the dropdown. We try to keep it up to date with the latest and greatest for all budgets. Subscribe here and then you won't miss a post. Simply enter your email in the pop-up box or below. Also, download the LiketoKnow.It App, follow @shesheshow to shop all of our daily outfits, home, beauty, and more. Go here for our LiketoKnow.It tutorial.