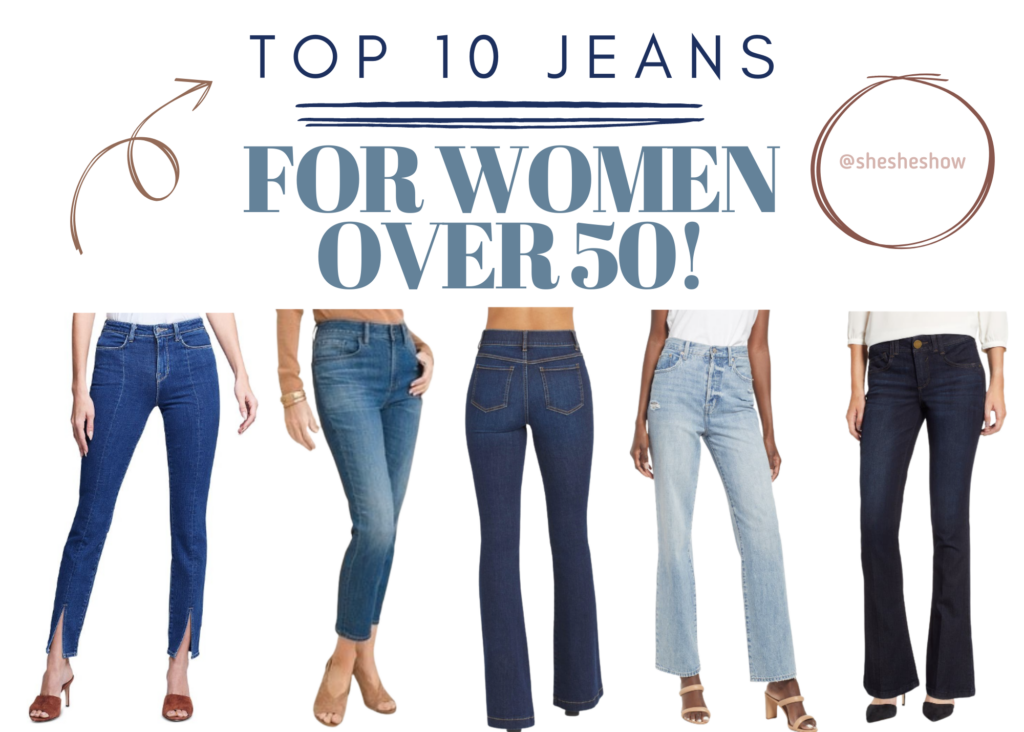 I think we can all agree that great jeans are essential for every woman's wardrobe. Finding a pair of jeans that are comfy, fit well, and stylish tends to be a lot of requests — especially as we get older! Thanks to body changes and weight fluctuations that come with aging it seems nearly impossible. Fear not, sweet friends, I have been a lover of great denim for years and have all of the best jeans for the over 50 body (I am 67), trends, and tips on wearing denim for mature women.
Deals on the Best Jeans for Women Over 50:
What Are The Best Jeans For Women Over 50?
What Type Of Jeans Should A Mature Woman Wear?
The times of restricting choices for jeans for women based on body types are long gone. Whether you're curvy, petite, tall, or with a constant change in body "type", you can easily rock ANY style. Petites are just as cute in flares, curvy is great for wide-legged, and anyone and everyone can rock the new trends.
With that being said, choosing the "right" jeans for you comes down to the FIT. For instance, if you are petite, I suggest making sure the length is correct even if that means visiting your tailor. Getting a great tailor is so important when it comes to your wardrobe. Not every curvy, petite, "average", tall, etc., woman has the same shape and body as the other – so having your jeans tailored to your one-of-a-kind body is a must. Confidence is key here, ladies.
Distressed


Can we wear distressed? At what age do we stop wearing distressed jeans? The best answer is yes we can wear them and no, there is no "right" age for distressed denim. What I will suggest is that you consider exactly how much distressing your jeans have. Slight distressing is way more "chic" for us mature ladies and we can still stay on trend. These slightly distressed jeans from Pistola are my go-to this season. The fit is great and the quality is similar to luxury.
Straight Leg Jeans


Straight-leg jeans are universally flattering on all body shapes thanks to their looser fit. The straight-leg jean is a classic and has never really gone out of style. This type of jean is perfect to take from work or to a girl's night out depending on how you style them. For work, toss on a white button-up shirt with a blazer – and to dress it up, pair it with a beautiful blouse like this one and a pretty pump and you are ready for many occasions!
Boyfriend | Mom Jeans


Most Affordable


Shaping Jeans


Jeans that flatter your figure AND are comfortable? Do they exist, YES! Spanx Flare Leg jeans are the answer. Designed with premium stretch denim, high-rise coverage, and hidden core shaping technology, these jeans puts a new twist on a retro silhouette. Available in XS-3X.
Comfortable


Dark Denim


Flare Leg


I love, love, LOVE, flare jeans. I think they are flattering as they elongate the leg and the flare gives the illusion of slimmer legs. The flare-leg jean is a style that is forever flattering. I am obsessing over these Spanx Flare Leg jeans. They are designed with premium stretch denim, high-rise coverage, and hidden core shaping technology, this jean puts a new twist on a retro silhouette. Available in XS-3X.
Cropped Jeans


Skinny


The term "skinny jeans" is a bit misleading, as it does not refer to the type of body the jeans are for, but rather the body-hugging fit of the jean! For a sleeker look, the skinny is a great choice and the #1 rule for wearing them is finding skinny jeans that you feel your best in. Finding the right fit may require taking a few specific measurements, such as your inseam (aka the distance from the inside crotch seam to the bottom of the leg), your waist (which should be taken slightly above your belly button), your hips at their widest point, and the circumference of your thigh.
As far as sizing goes, your size may vary from retailer to retailer or brand to brand. Check reviews for other buyers' tips (like if they run large are small, long in length, etc.). If you are in a fitting room, bring several sizes to keep you from getting discouraged by having to go back and forth searching for that perfect fit.
*TIP: When you find your perfect jean, get another in a size up, just in case of weight fluctuation or you plan on wholeheartedly enjoying a large meal.
The Jean Shop

SHESHE'S TIDBITS
Team SheShe started our new Facebook group page called SheShe's Shopping Network. We would love for you to join the group so you can join us every Tuesday night for our Live segment all about shopping trends, style tips, beauty, travel, and more to help women look and feel confident and be in the know. It is so much fun!!
We hope to see you there!! Here is the link to join
https://www.facebook.com/groups/shesshes
*CHECK OUT MY INSTAGRAM SHOP TO SHOP ALL OF MY INSTAGRAM LOOKS
*YOU CAN ALSO DOWNLOAD THE LIKETOKNOW.IT APP AND FOLLOW ME ON IT BY CLICKING HERE. Go here for our LiketoKnow.It tutorial.
* STAY IN THE KNOW: SUBSCRIBE HERE to receive exclusive sale alerts, helpful style tips, and fabulous giveaways, AND GET ACCESS TO MY VIP ONLY FOR SUBSCRIBERS!
*Be sure to check out the Shop SheShe tab at the top of the menu bar. Hover over and choose the category in the dropdown. We try to keep it up to date with the latest and greatest for all budgets.
Have a great week sweet friends and thank you for following along. Without you, we could not continue on this crazy fun journey.
XOXO, SheShe
ABOUT SHESHE SHOW
WELCOME new readers. We are a fashion/travel/lifestyle blog that focuses on midlife women. We talk about anything and everything, from fashion, travel, health issues, and skincare tips, to even an occasional recipe. Let us know if there is a topic that interests you. We will do our best to bring that story to you.
Be sure to check out the Shop SheShe tab at the top of the menu bar. Hover over and choose the category in the dropdown. We try to keep it up to date with the lat