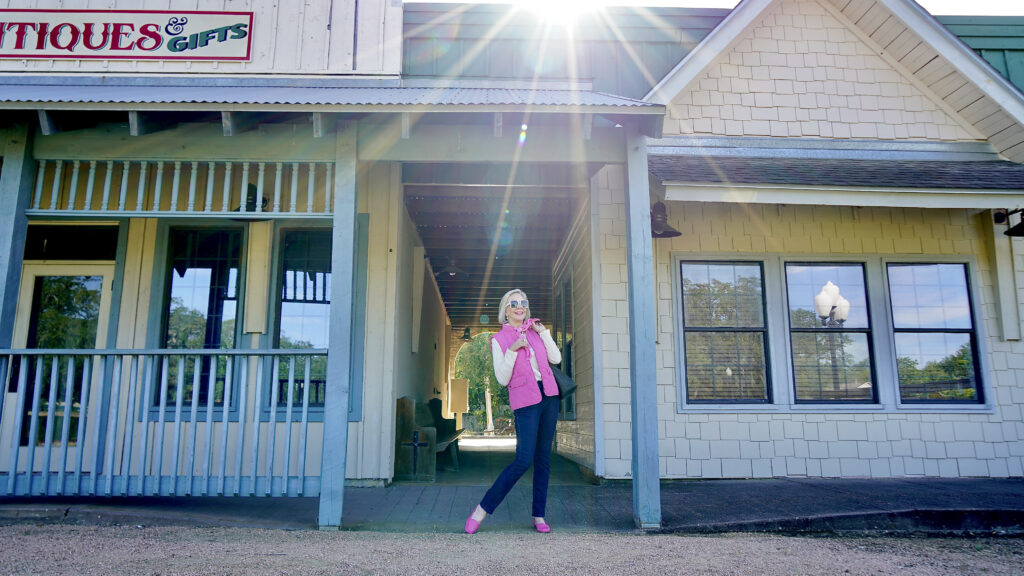 This post has been sponsored by Appleseed's. I received product and compensation, but all opinions are my own.
October is Breast Cancer Awareness Month which is such an important topic
for women. Today, I want to share with you great fashions for October, how
Appleseed's is supporting the fight against breast cancer, and a story about
a dear friend of mine who lost her life to breast cancer at a young age.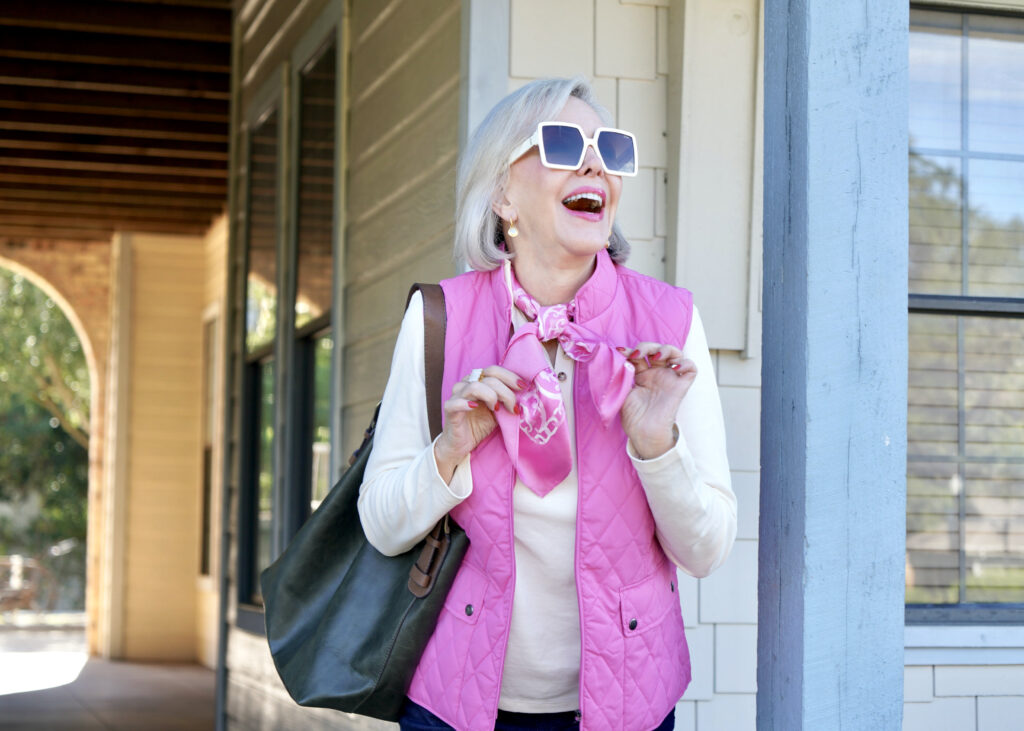 Breast Cancer Awareness Month
Breast cancer is the most common cancer in women worldwide. October is Breast Cancer Awareness Month is an annual international health campaign organized by major breast cancer charities every October. These efforts increase awareness of the disease and raise funds for research into its cause, prevention, diagnosis, treatment, and cure. Here you can find many ways to give back, help, educate, and support the fight against Breast Cancer!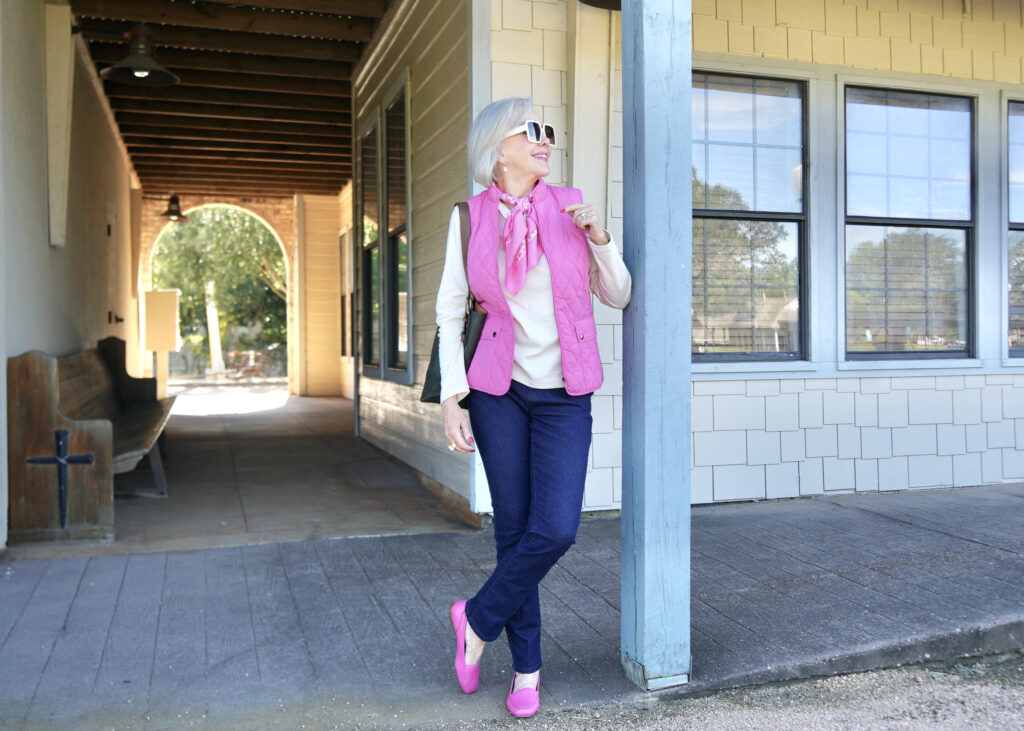 Shop My Look

Appleseed's Positively PINK!

*For each Breast Cancer Awareness Scarf (item A0C483) sold between September 6, 2022, to October 31, 2022, Appleseed's will donate $10, up to a $10,000 maximum donation, to the American Cancer Society® (ACS). ACS does not endorse any service or product. Appleseed's is not affiliated with or endorsed by the ACS.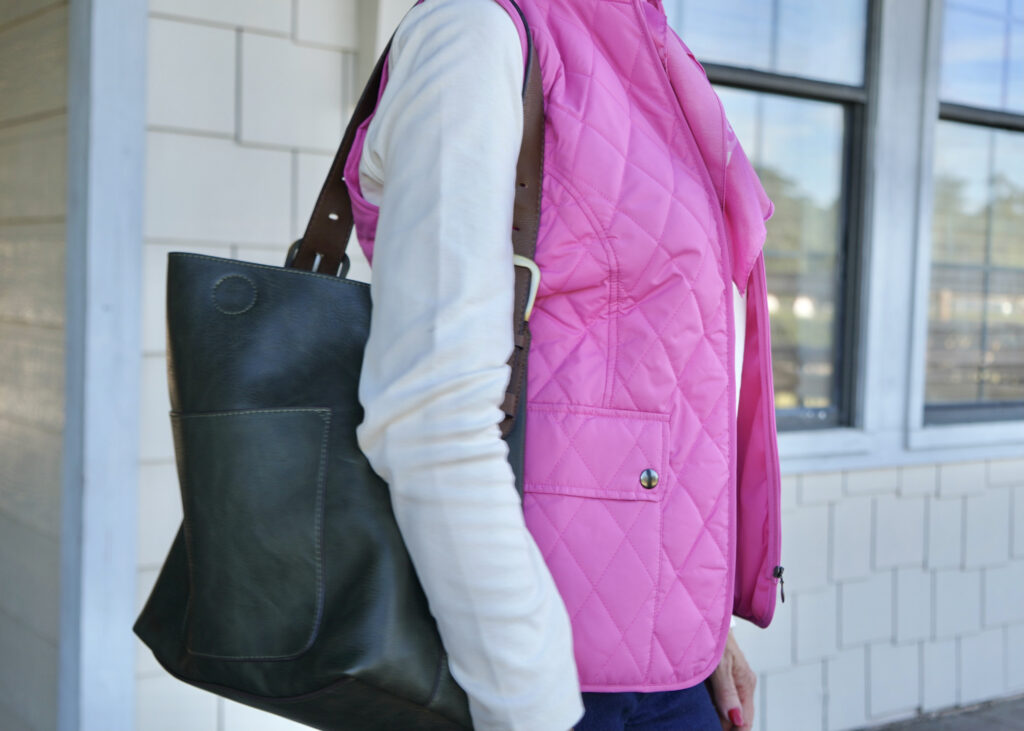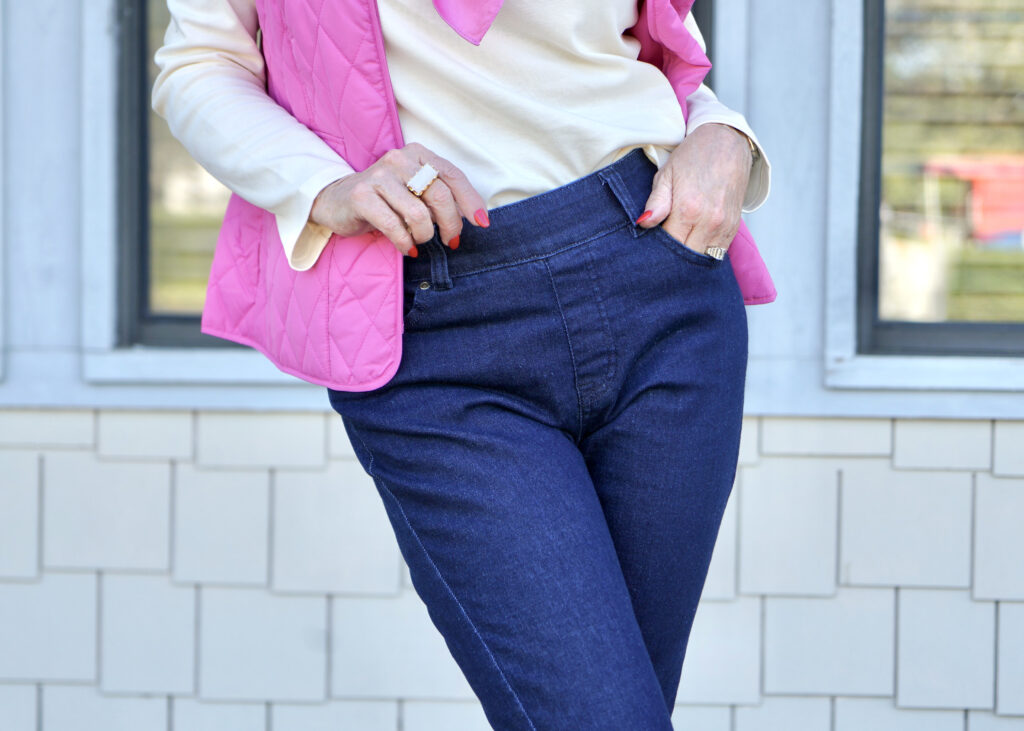 Remembering a Friend
I know several friends that have battled breast cancer and they are still writing their stories, but one of my childhood very close friends lost her battle at the age of 36 years old.
Her name is Libby and she was "Miss everything". She was a fantastic dancer, gymnast, and cheerleader in high school and college. After college, she remained front-center as she pursued a modeling career in Atlanta. Libby had so many close friends, loved life, and lived it to its fullest.
In 1988, at 33 years old Libby was diagnosed with stage 3 or stage 4 breast cancer. I can't recall what kind it was but the prognosis wasn't good. It was a shock to all of her family, friends, and acquaintances. There were some good treatments available at the time but there has been so much progress made since then with diagnosing at early stages as well as so many other milestones due to the research as well as more charitable support and awareness from companies like Appleseed's.
As a young woman in the late 80s, losing one of my best friends truly affected my life. A month before she passed, I took her to the beach so we could spend some quality time together. It was one of those times much like the movie "Beaches" with Bette Midler and Barbara Hershey. Do you remember that movie? A life was taken much too short! Let's keep fighting this terrible disease.
Fall Fashion with Appleseed's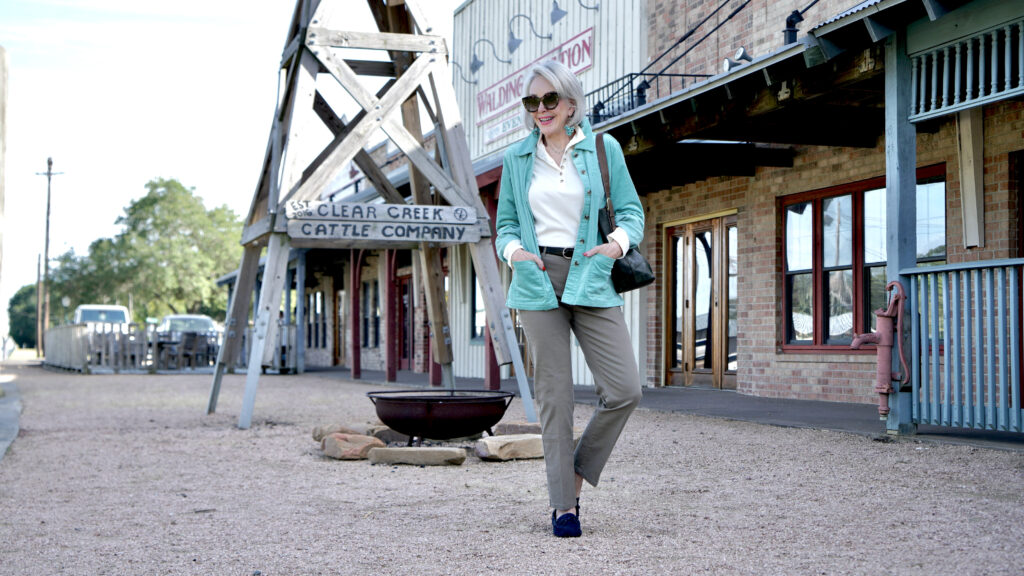 Appleseed's is a one-stop shop for it all when it comes to your fall wardrobe! They have it all to keep you chic from head to toe! One of my favorite items to shop at Appleseed's is their fabulous selection of jeans and pants! The jeans pictured with my pink vest are the EverStretch 5-Pocket Pull-On Jeans. Appleseed's softest, ultra-stretch denim pull-on jeans offer comfortable allover support and targeted tummy control with zero sagging or bagging. I'm thinking I don't have to worry about loading my plate up during the holidays! With shackets and sweaters trending this Stretch Wide-Wale Corduroy Shirt Jacket is my newest favorite! A touch of stretch updates this go-to cotton cord chore jacket, so it's softer, even more, comfortable than ever, the perfect cozy jacket (with handy pockets) for layering all season (available in 14 colors).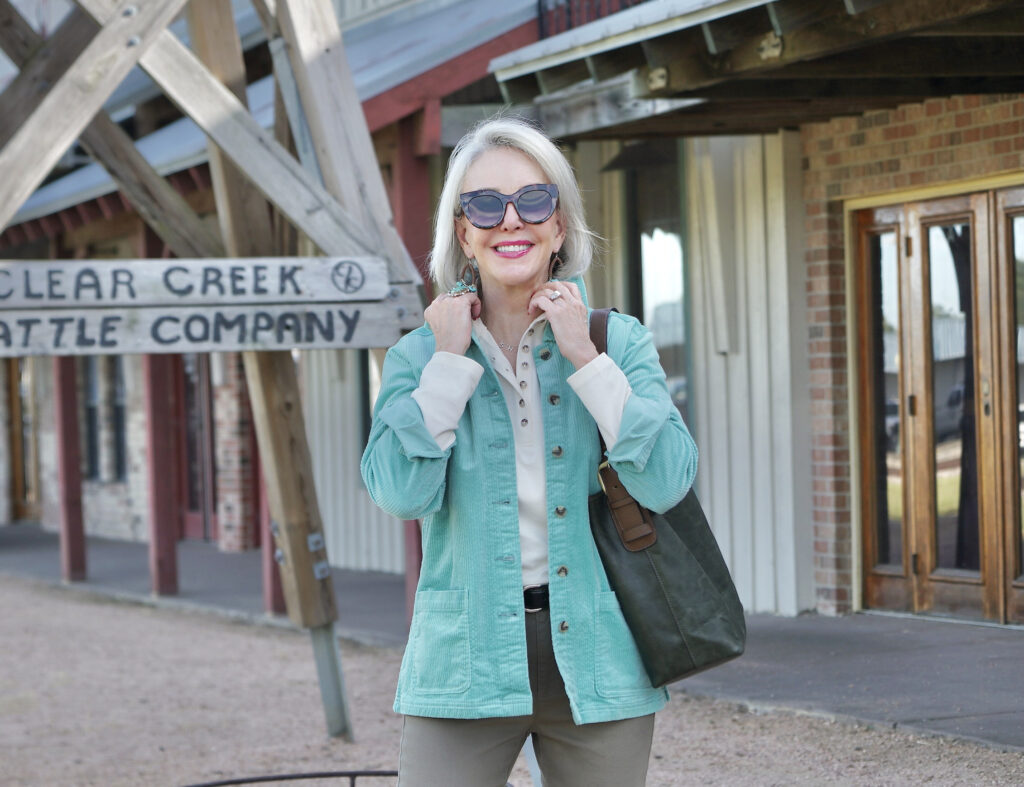 Shop My Look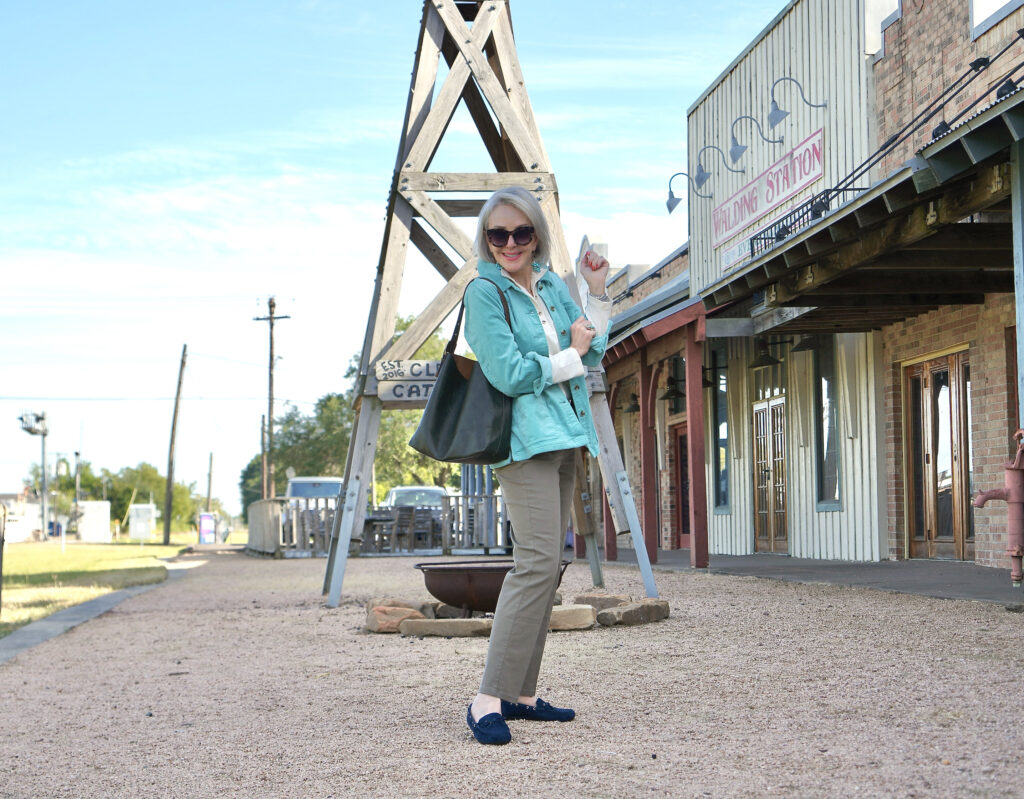 Appleseed's Shop

SHESHE'S TIDBITS
Team SheShe started our new Facebook group page called SheShe's Shopping Network. We would love for you to join the group so you can join us every Tuesday night for our Live segment all about shopping trends, style tips, beauty, travel, and more to help women look and feel confident and be in the know. It is so much fun!!
We hope to see you there!! Here is the link to join
https://www.facebook.com/groups/shesshes
*CHECK OUT MY INSTAGRAM SHOP TO SHOP ALL OF MY INSTAGRAM LOOKS
*YOU CAN ALSO DOWNLOAD THE LIKETOKNOW.IT APP AND FOLLOW ME ON IT BY CLICKING HERE. Go here for our LiketoKnow.It tutorial.
* STAY IN THE KNOW: SUBSCRIBE HERE to receive exclusive sale alerts, helpful style tips, and fabulous giveaways, AND GET ACCESS TO MY VIP ONLY FOR SUBSCRIBERS!
*Be sure to check out the Shop SheShe tab at the top of the menu bar. Hover over and choose the category in the dropdown. We try to keep it up to date with the latest and greatest for all budgets.
Have a great week sweet friends and thank you for following along. Without you, we could not continue on this crazy fun journey.
XOXO, SheShe